Trikes, three-wheelers, autocycles—whatever you want to call them—here are the top choices for three-wheeled motorcycles in 2023.
Click here to view on their site.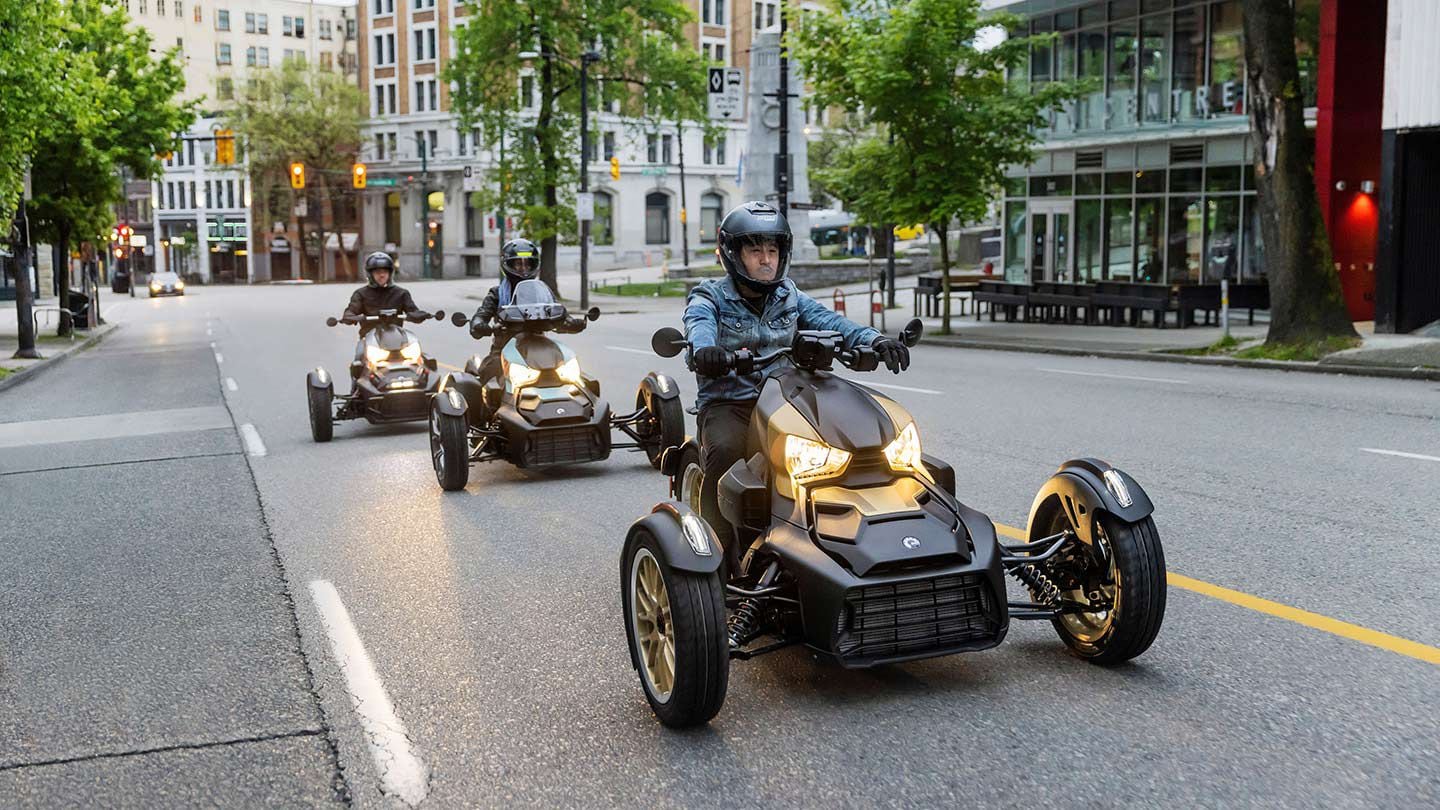 Three-wheeled motorcycles come in all configurations and sizes. (Can-Am/)Meet and greet motorcycling's
three-wheeler
subset, the midway point between bikes and cars. These engineering oddities deliver the wind-in-your-hair (or rather helmet), bugs-in-your-teeth sensory rush of a motorcycle, and at least some of the dynamic stability of their four-wheel brethren. For manufacturers, three-wheelers offer significant regulatory leniency; since they are classified as motorcycles, they needn't conform to certain automobile DOT rules, lowering costs and keeping the products less complicated in both construction and regulations.
The variety of three-wheeled "motorcycles" stretches from Harley-Davidson's
trike
lineup, which adds dual rear wheels to traditional motorcycle architecture, to
Piaggio
's leaning MP3 530 HPE Exclusive
scooter
, and to the
Polaris
Slingshot, which marries an automotive-style powertrain and body design with a motorcycle-esque single rear wheel. The ride (or in some cases drive) experience is as varied as the designs, from a full-lean ride aboard the Piaggio, to the half-bike, half-quad rush that is the Can-Am
Spyder
. As such, when shopping for a three-wheeler, consider the ride experience you most want and then grade the competition from there. Here's a variety of 2023 products we like.
Can-Am Ryker & Spyder
Bombardier is now in its 17th year producing a unique array of three-wheel
Can-Am
motorcycles. Available for 2023 are entry-level Ryker, sporty Spyder F3, and luxurious Spyder RT models. All three ranges feature dual front wheels, handlebar-type steering (power on all but the Ryker) via a linkage setup, and rear-wheel drive for their two- or three-cylinder engines. Power transmission is through either a six-speed semi-automatic or a constant variable transmission (CVT) with reverse, depending on model.
2023 Can-Am Ryker. (drew ruiz/)Starting at $8,999, the 600cc or 900cc
Ryker
adopts the styling cues of motorcycling's hot "bobber" segment, with a low-slung (23.5- to 23.6-inch) solo seat and minimalistic rear-end styling elements. Clean, spare design work and affordability are key here. Three Ryker trims are available, including the premium Ryker Rally for $13,899.
One notch higher in the lineup, the $18,499
Spyder F3
aims to attract performance-oriented riders. (Probably little coincidence that among car-racing fans, the F3 name has long been an abbreviation for the open-wheel Formula 3 class.) This one has a 1,330cc engine with a reported 115 hp. A total of five different Spyder F3 trims are available, peaking at $28,499 for the Limited Special Series.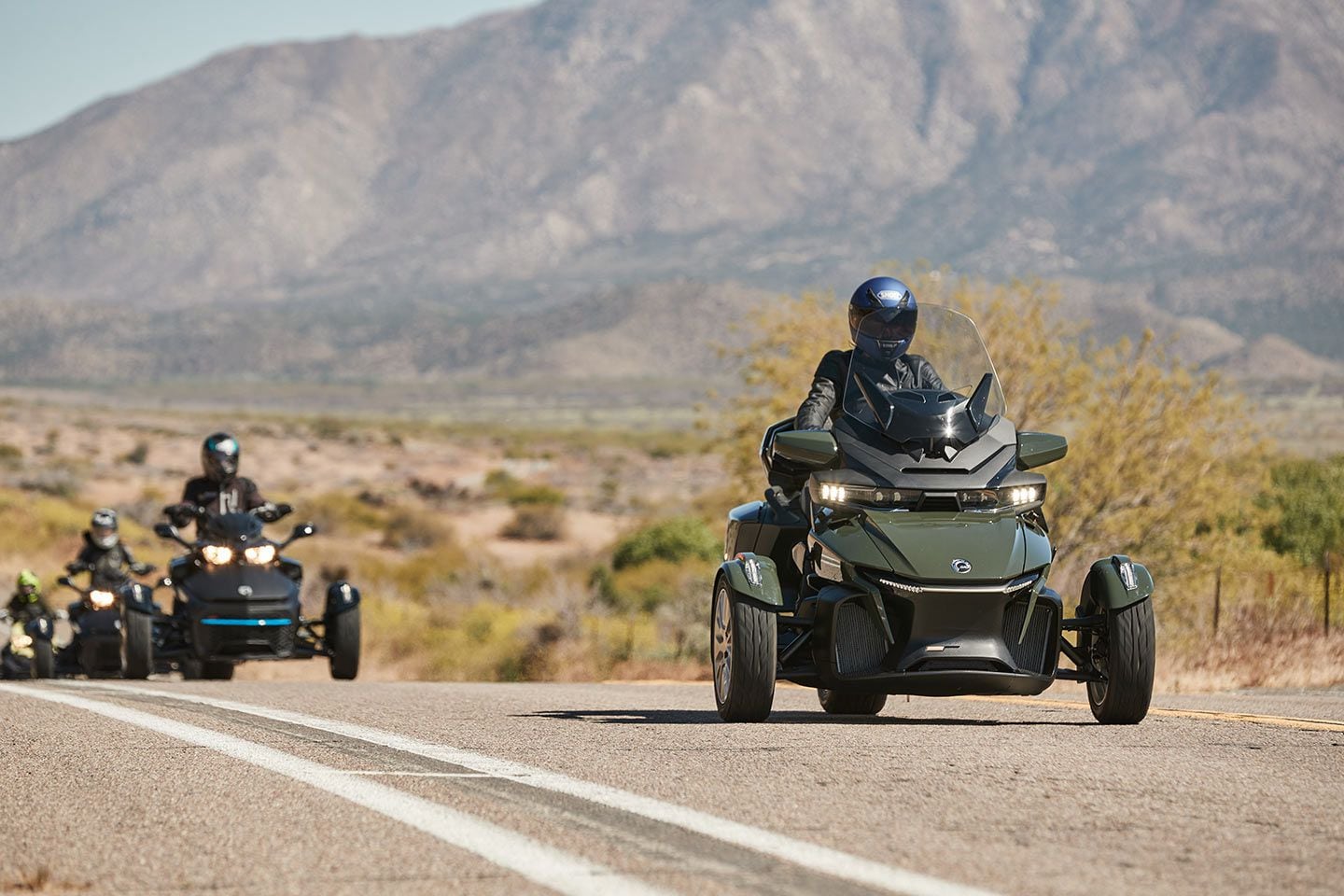 2023 Can-Am Spyder RT Sea-to-Sky. (drew ruiz/)Atop Can-Am's lineup for 2023 is the
Spyder RT
, starting at $24,699. With voluminous bodywork and comfort accoutrements such as a tall windscreen and expansive lockable storage, it is every bit the upscale touring bike. If you want it all, look for the Spyder RT Sea-to-Sky model with bespoke seats, upholstery, paint, and wind deflectors for $30,999.
Harley-Davidson Trikes
Among the current crop of three-wheelers,
Harley-Davidson
beats the others on heritage by a country mile. That's because the 2023 Freewheeler ($29,999), Road Glide 3 ($32,999), and
Tri Glide Ultra
($36,499) all owe their existence to Harley's 1932 Servi-Car. Equipped with three wheels and a large trunk, this original utility motorcycle was intended for hauling and delivery work, and to be towable. But it also served in police departments—and stripped down and chopped, in a few biker "clubs…"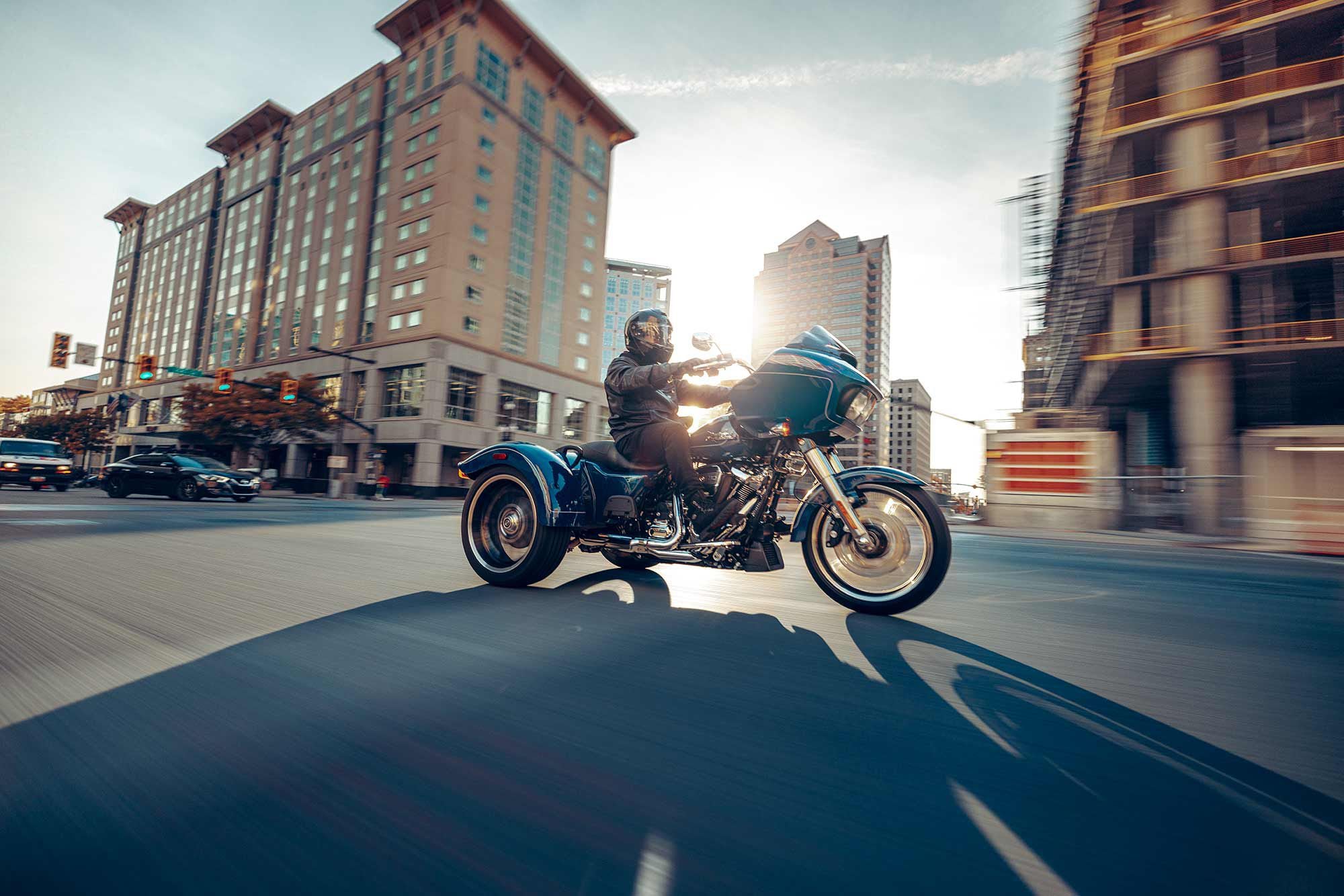 2023 Harley-Davidson Road Glide 3. (Harley-Davidson/)Fast-forward many decades, and the 2023 H-D trikes use The Motor Company's familiar
Milwaukee-Eight 114ci V-twin
, powering through a six-speed gearbox to fat alloy rear wheels and 215/45R-18 tires (205/65R-15 tires on the Tri Glide Ultra). A sharknose fairing and bright LED lighting help distinguish the Road Glide 3, while the Tri Glide Ultra adds
twin-cooling
for the engine, a protective fork-mounted fairing, luxurious two-passenger seating, an electric reverse function, and more. Storage, a perennial advantage for three-wheelers, consists of a large rear trunk on all the H-D trikes, while the Tri Glide Ultra further adds a top case.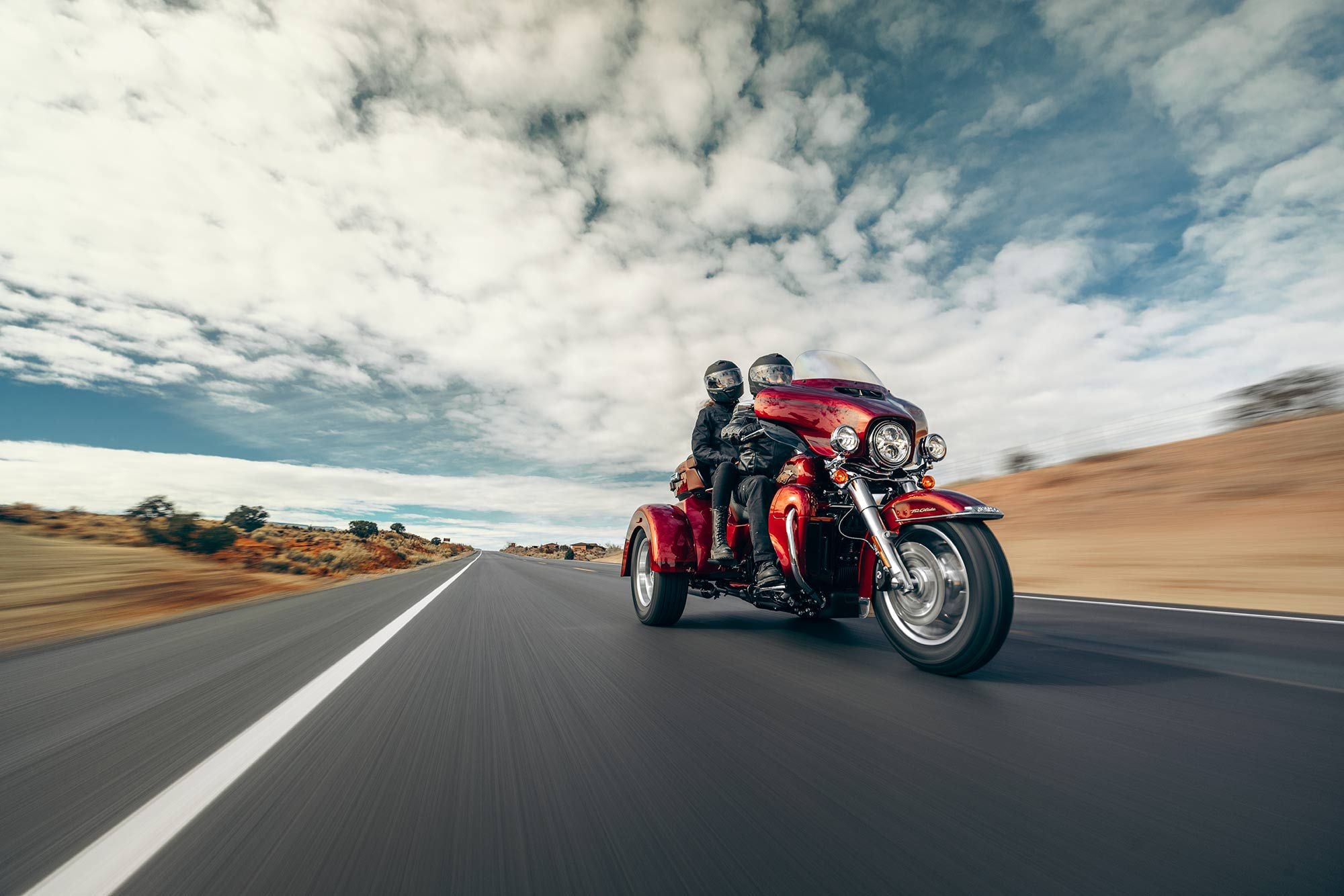 2023 Harley-Davidson Tri-Glide Anniversary. (Harley-Davidson/)Piaggio MP3 530 HPE Exclusive
Launched 17 years ago, the MP3 started a new movement in motorcycling that never quite went mainstream. A highly creative product, the redesigned
2023 MP3 530 HPE Exclusive
uses articulated front suspension and steering, backed up by a 530cc scooter drivetrain (with reverse gear added), to create a three-wheeler that leans into curves like a motorcycle.
Electric starting and a CVT automatic transmission make operation simple, so once the engine is running, it's generally a twist-to-go proposition. Triple disc brakes with ABS add confidence and security. At 617 pounds, this scooter is no lightweight, and so for stability when stopped or parked, the MP3?s suspension locks, holding the machine in an upright position.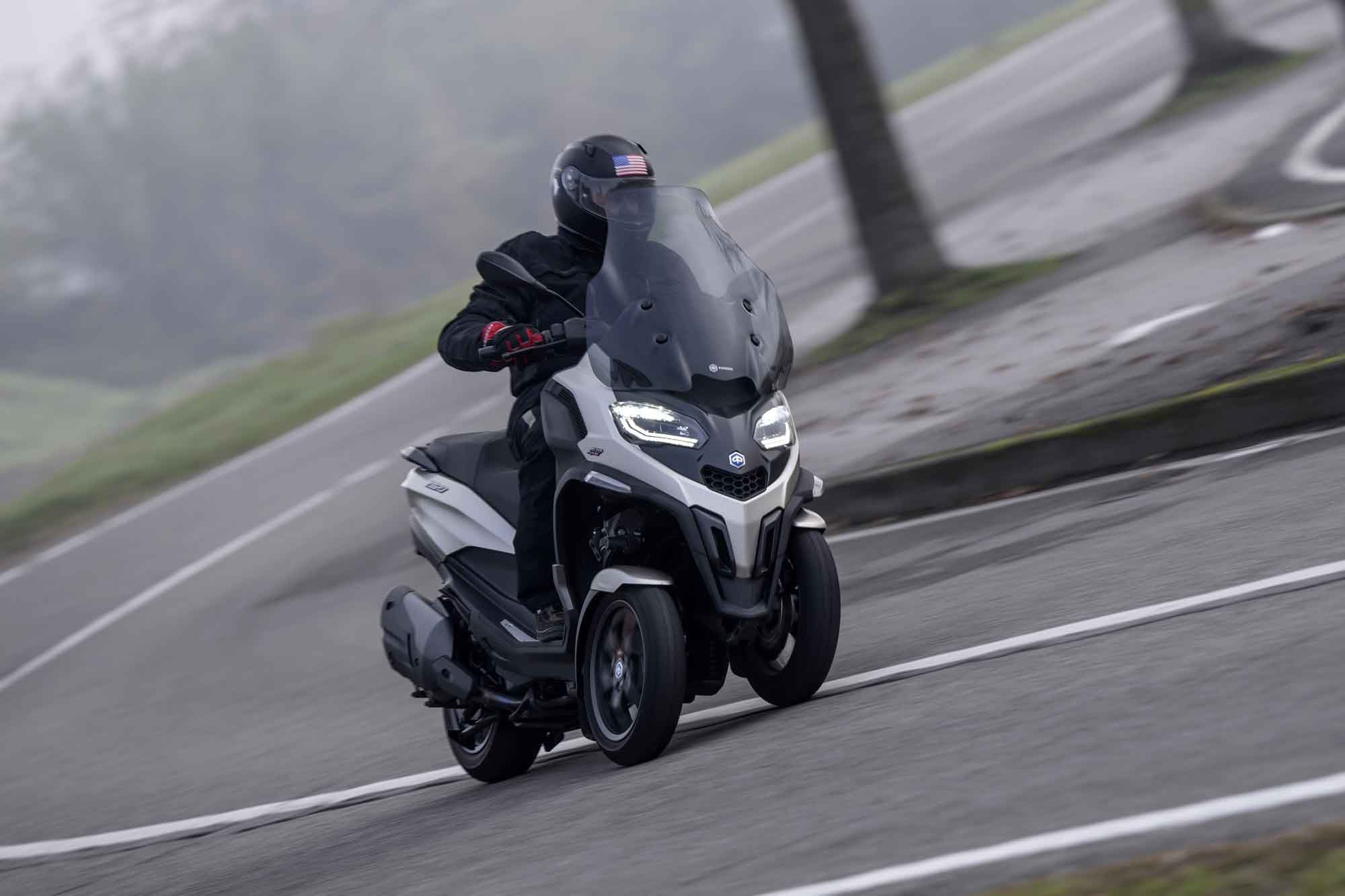 Piaggio's MP3 530 HP excels in wet and cold conditions. (Piaggio/)Priced at $11,999, the revised MP3 includes lots more than just its three-wheel stance. Features include a keyless start system, bright LED lighting—a distinct safety advantage—a big TFT color instrument display, and a handy USB port for phone charging while you ride. As well, the "Piaggio MIA System" links smartphones with the MP3 to help you manage common mobile functions such as navigation, music, text messages, and calls.
Polaris Slingshot
Although it carries a motorcycle license plate, much about the
Slingshot
is quite carlike. The 2-liter, four-cylinder engine powers through either an "AutoDrive" automatic or a manual transmission and is managed by electronic traction control. Up front, independent double-wishbone suspension with coilover dampers directly mimic sports car construction. And inside are twin bucket seats equipped with three-point safety belts—and yes, a steering wheel. Resulting is a three-wheel "motorcycle" that drives like a car, with a claimed 1.02 G lateral grip!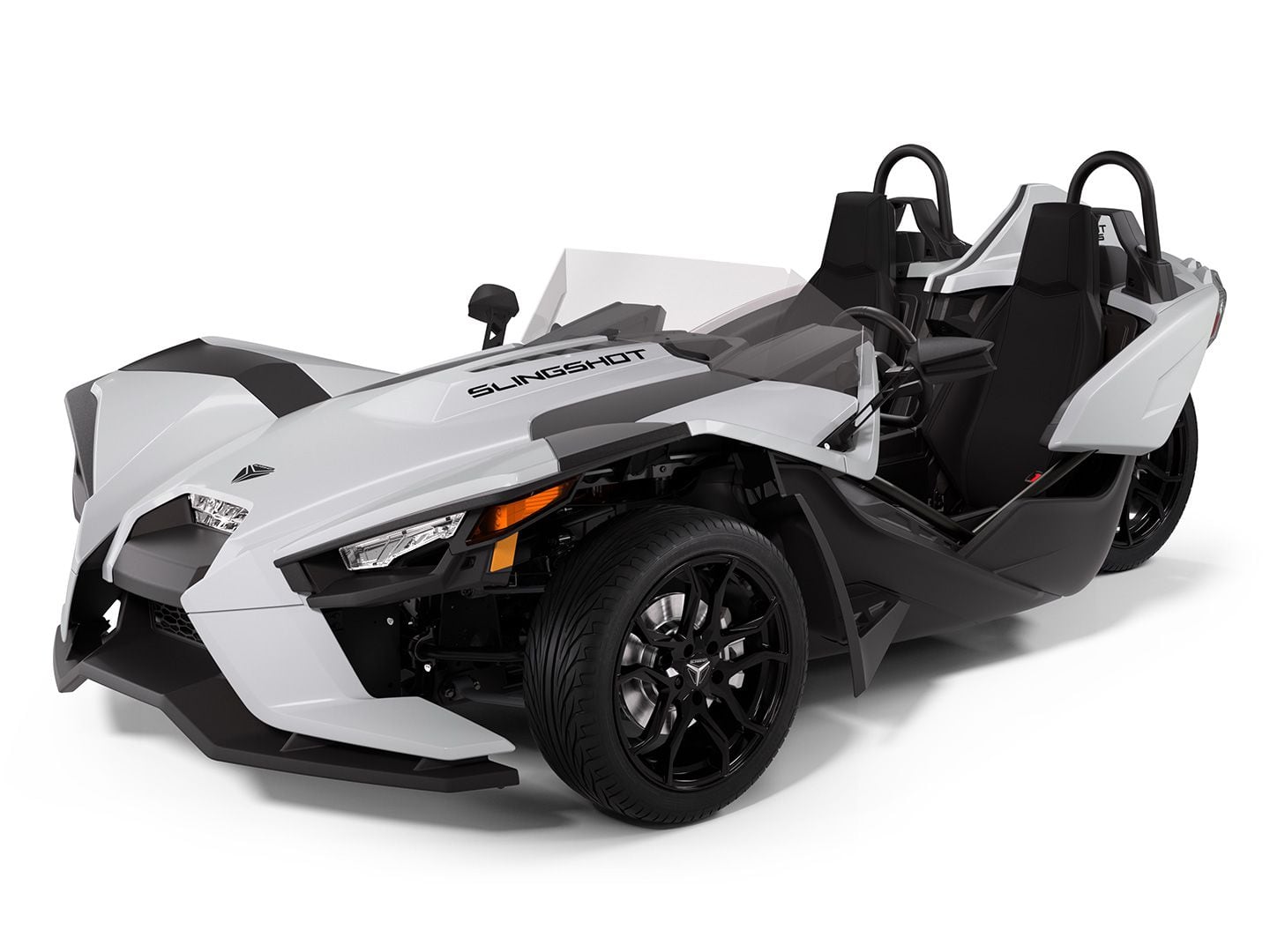 2023 Polaris Slingshot S. (Polaris/)Five models populate the
Slingshot
lineup for 2023. These include the 178 hp
Slingshot S
, weighing in at 1,636 pounds and priced at $21,499. One level up is the
Slingshot SL
; carrying a $27,499 MSRP, it adds premium paint and a punchy Rockford Fosgate audio system. Next up is the hotter Slingshot SLR, priced at $30,399 and featuring a 203 hp engine, two-tone paint, and lighting upgrades. The top two models for 2023 are the
Slingshot R
, priced at $33,999 and boasting paddle shifters, Brembo brakes, and uplevel front-end styling, and the image-leading
Slingshot Roush Edition
, equipped with slotted brake rotors, a roll cage, and soft top, at $37,349.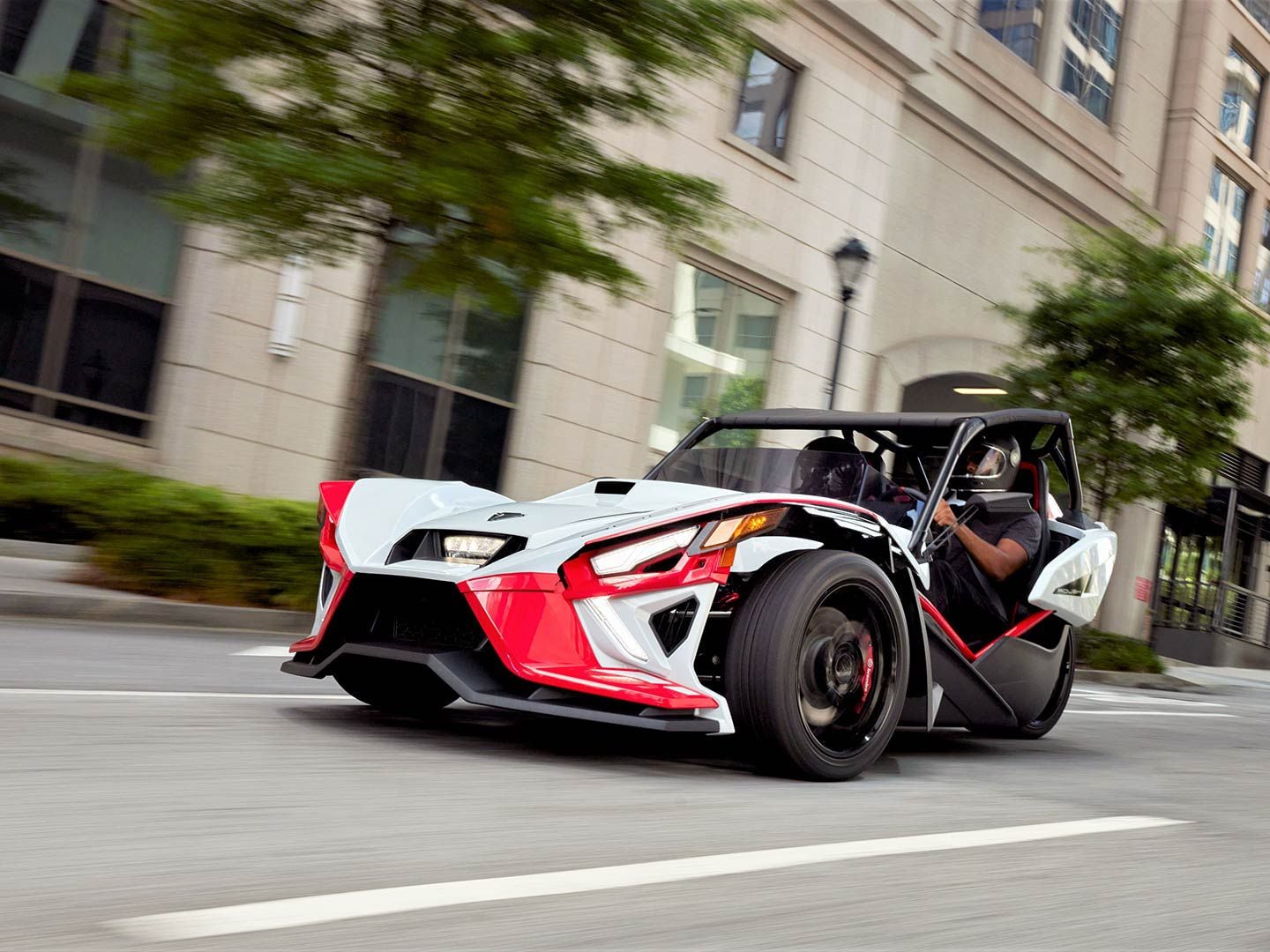 2023 Polaris Slingshot Roush Edition. (Polaris/)The ride (or rather, drive) experience is more formula car than bike. Steering is quick and direct, the engine buzzes and growls through the chassis and seats, and the wind and road noise whip through the open cockpit; there's no full windshield nor windshield wipers. As such, while it's defined as a motorcycle, the Polaris Slingshot really channels Super Mario Kart.
Ural Gear Up
Ural
's famous three-wheeler has literally withstood the test of time, because its design theme harkens back to prewar
BMW
twins hauling their utilitarian sidecars. Priced at $21,999 for 2023, the
Gear Up
comes from a 749cc opposed twin (aka "boxer"), air-cooled but featuring modern electronic fuel injection. And providing a clue that the Gear Up is designed from the ground up for
sidecar
duty, the front suspension is a leading-link unit, engineered specifically for such use.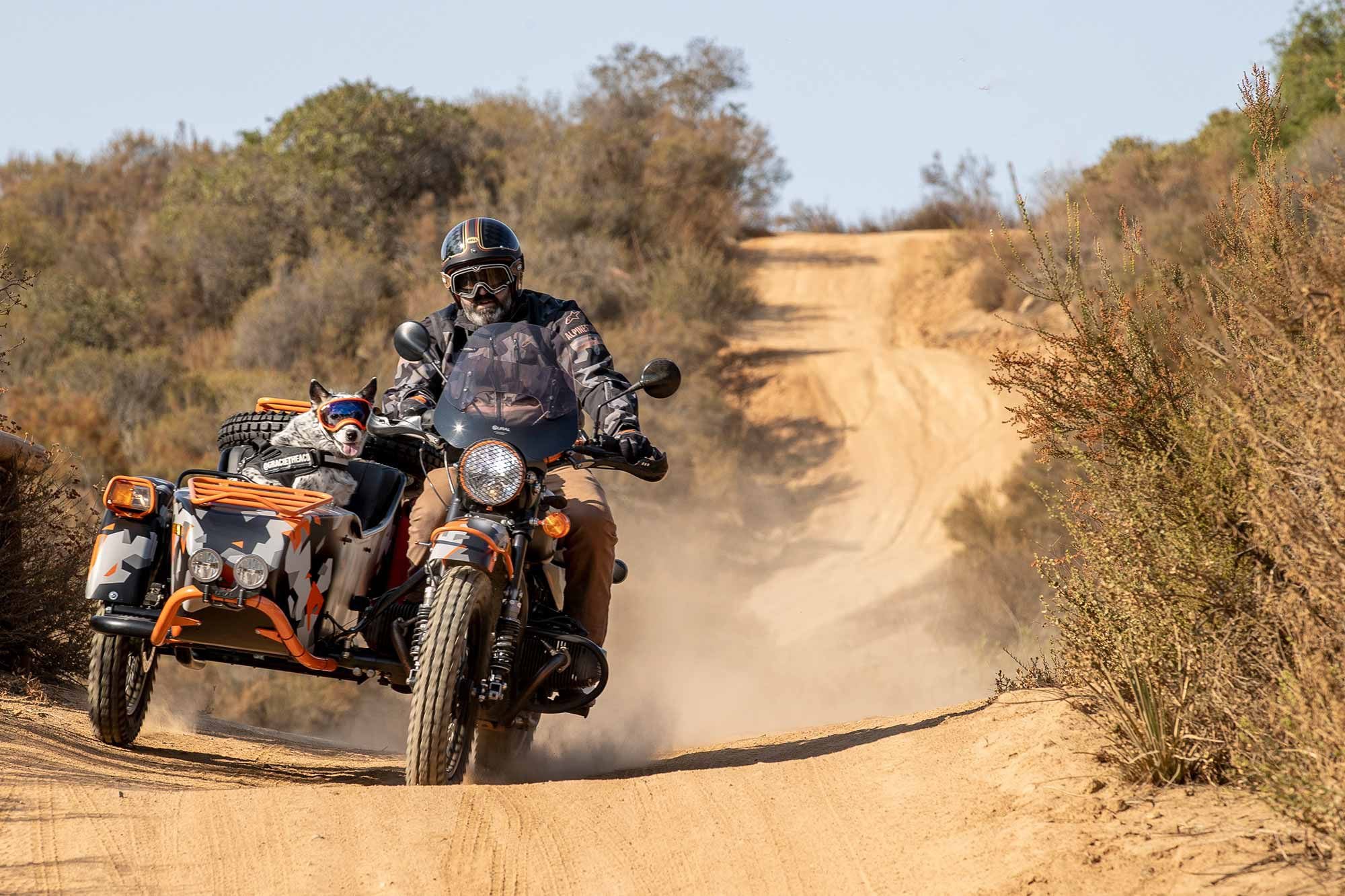 Get a Gear Up and your dog (or friend) can sit side by side with you. (Jeff Allen/)Need to get yourself through the mud or out of a jam? Salvation comes from the Ural's on-demand two-wheel drive. Just push a lever located at the right rear of the machine, and you've got it. Or another option: Engage neutral and then push a lever on the gearbox for reverse. In moments, the Gear Up becomes more than just a motorcycle with a baby buggy attached.
Riding a "sidehack" rig requires a new skill set. You'll quickly discover that the machine doesn't lean into turns like a motorcycle—in fact, at speed it may lean or tilt toward the outside like a car—and that you also need to leave room for the sidecar unit on your right. Ferrying its 730-pound heft with its under-stressed engine, the Ural Gear Up isn't fast (its recommended maximum speed is 70 mph); rather, it's a mellow ride that's capable of anything from Sunday rides to grand touring.