Click here for full story...
Review Summary
The Apollo Phantom isn't just for the scooter enthusiasts. With its proprietary design, Apollo's team has incorporated numerous features that make it a delight for riders of all experience levels to enjoy. It features a powerful 1200w dual motor, comes in hydraulic/mechanical disc brakes, and pairs with a smart app which allows an unparalleled level of customization that few scooters on the market currently provide.
Design & Style
Performance
Build Quality
Value for Money
Pros
Power dual 1200w motors.
Excellent ground-to-deck clearance.
Regenerative braking feature.
Gorgeous proprietary design.
Cons
LCD display is hard to see in daylight, especially gear speed.
Quad suspension is nice but does not perform significantly better than dual suspension.
Heavy at 35kg (77lb), but so are most scooters in this segment
Could use folding handlebars to increase portability.
4.6


































































Buy Now
Apollo Scooters US

Apollo Scooters Canada

Review Summary
The scooter boasts an eye-catching design with a matte black finish, LED components, and thoughtful features like a built-in deck hook.
The Phantom offers impressive power and acceleration with dual 1200w motors, customizable speed settings, and a top speed of up to 41 mph (66 km/h) in Ludo mode.
It provides a comfortable ride with quadruple spring suspension and air-filled tires, along with reliable disc brakes and regenerative braking. The Apollo Smart App enhances the riding experience by offering customization options, ride tracking, and more.
The Apollo Phantom is a versatile and high-quality electric scooter with a focus on user experience and community feedback-driven improvements.
Apollo Scooters: A Leader In Innovation and Design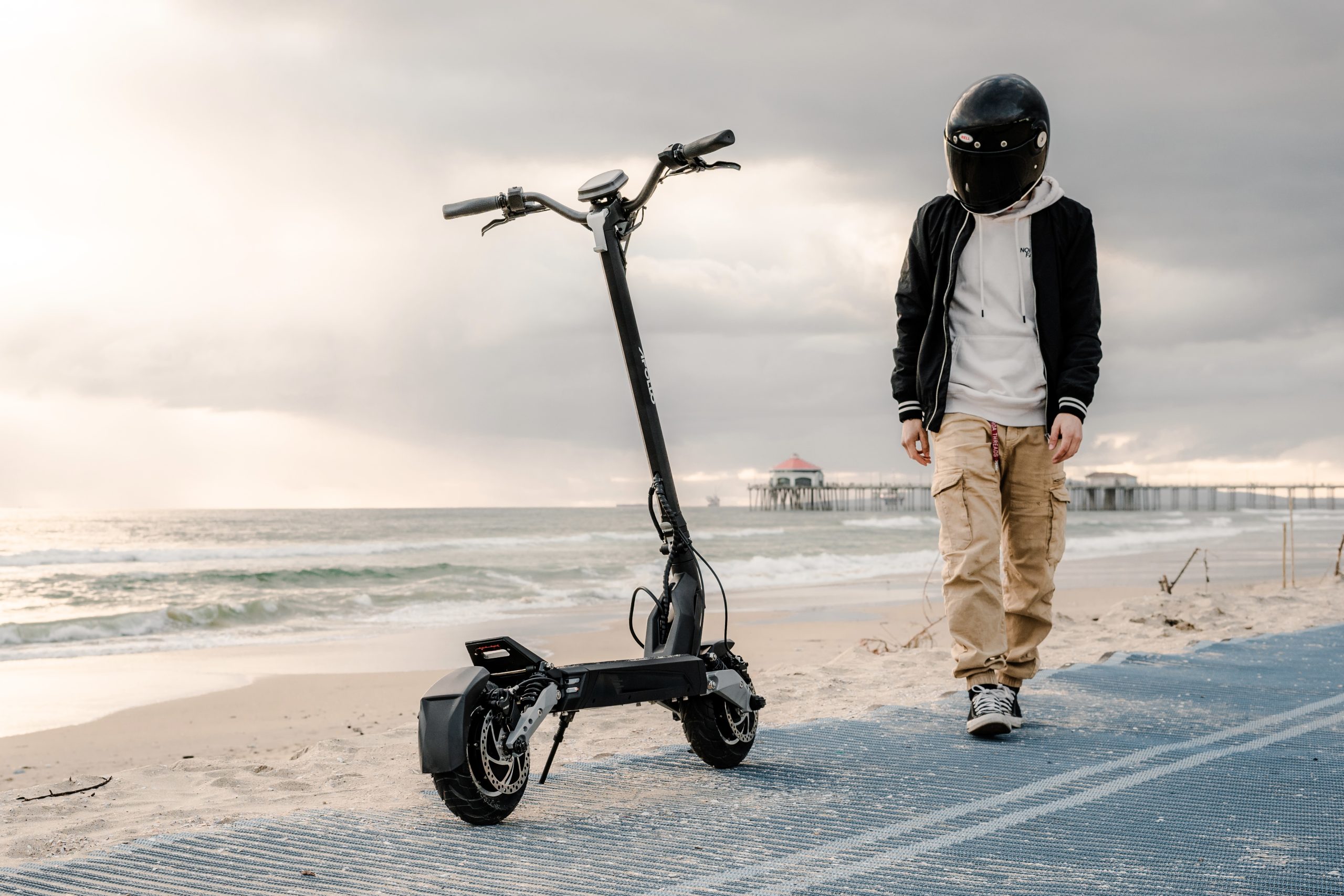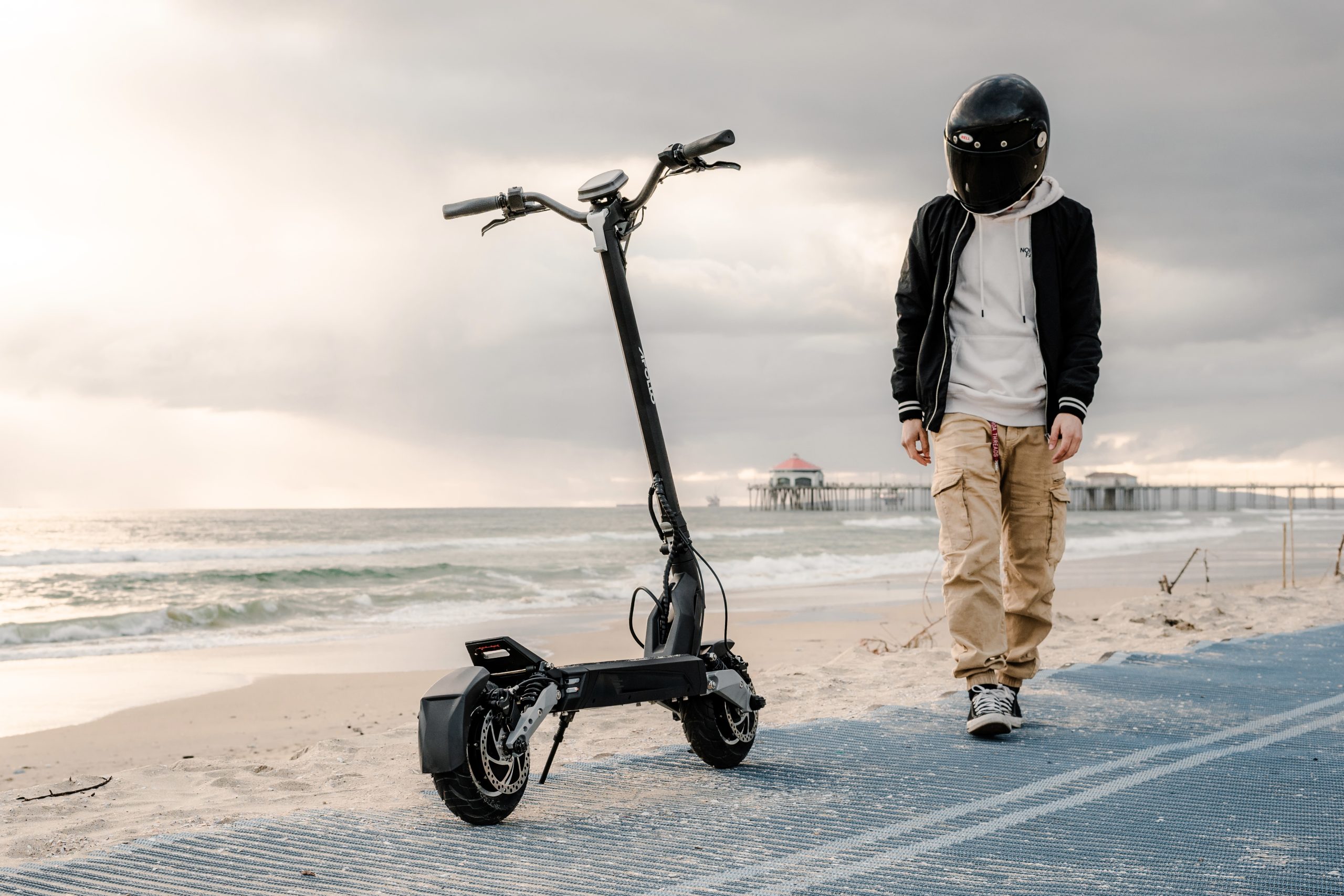 Image credit: Apollo ScootersThe electric scooter industry is competitive as brands look to carve out a name for themselves. As enthusiasts may have noticed, many electric scooters out there use ubiquitous parts cobbled together and are then rebranded but with nothing particularly new or special about them.
With Apollo's entry into the e-scooter market in 2019, they've delivered a new and exciting approach and have quickly become known for their innovative design and reinvention of what an electric scooter
should be
.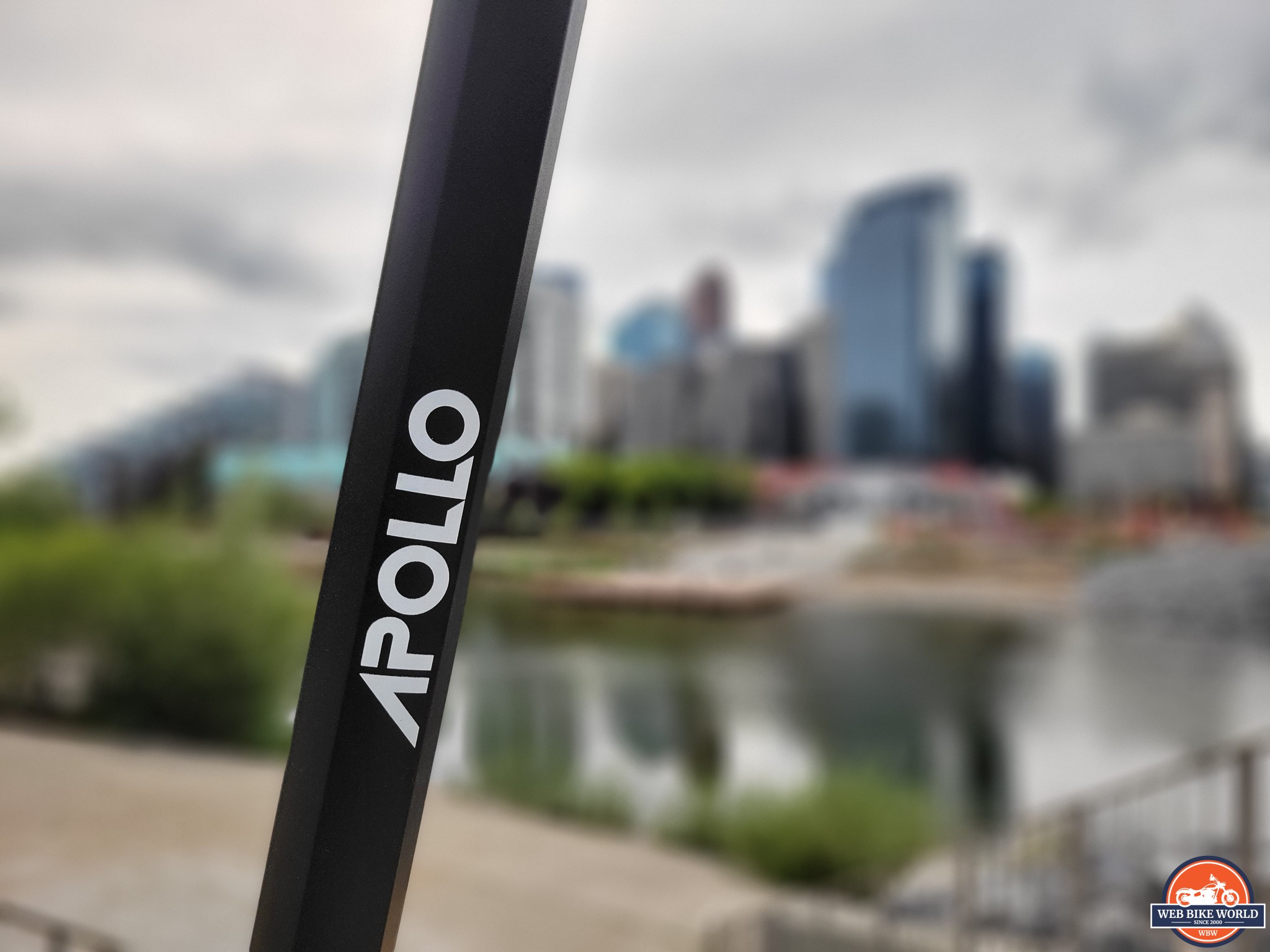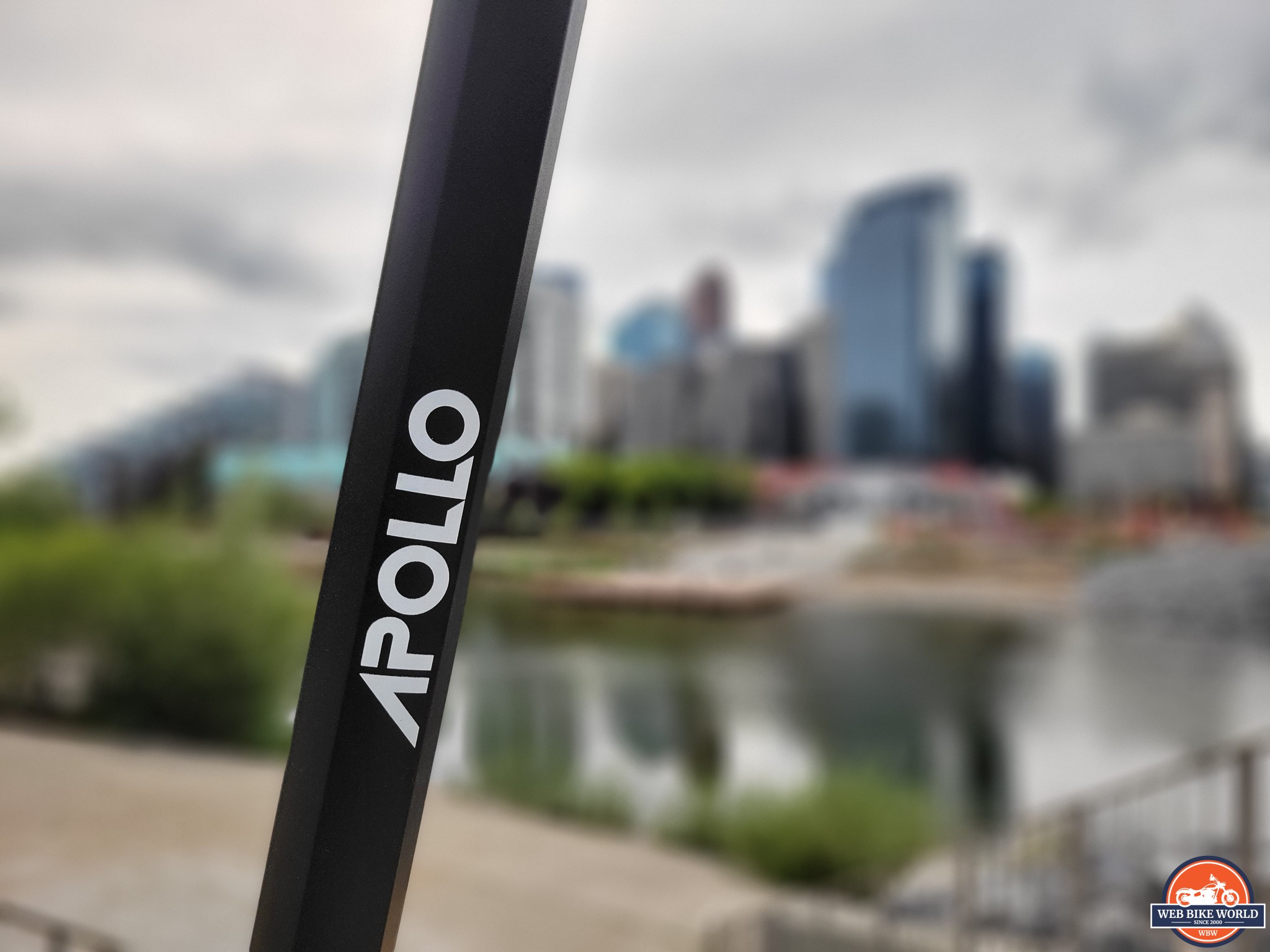 Apollo's current lineup expands over 7 different models, each meticulously designed to cater to a range of riders:
Commuter: For riders who just want something nice to get around in.
Casual: For riders who want a sprinkle of luxury in their daily riding.
Expert: For enthusiasts who want a blend of power, elegance, and innovation.
Our team at webBikeWorld was excited to get the opportunity to review their
Apollo Phantom V3 Scooter
, which sits comfortably in their expert segment for enthusiasts who are looking for that extra performance for their weekend warrior riding.
We'd like to thank Apollo Scooters for sending us this scooter for review. Collaborations are subject to webBikeWorld's
review policies
.
Apollo Phantom Unboxing and Assembly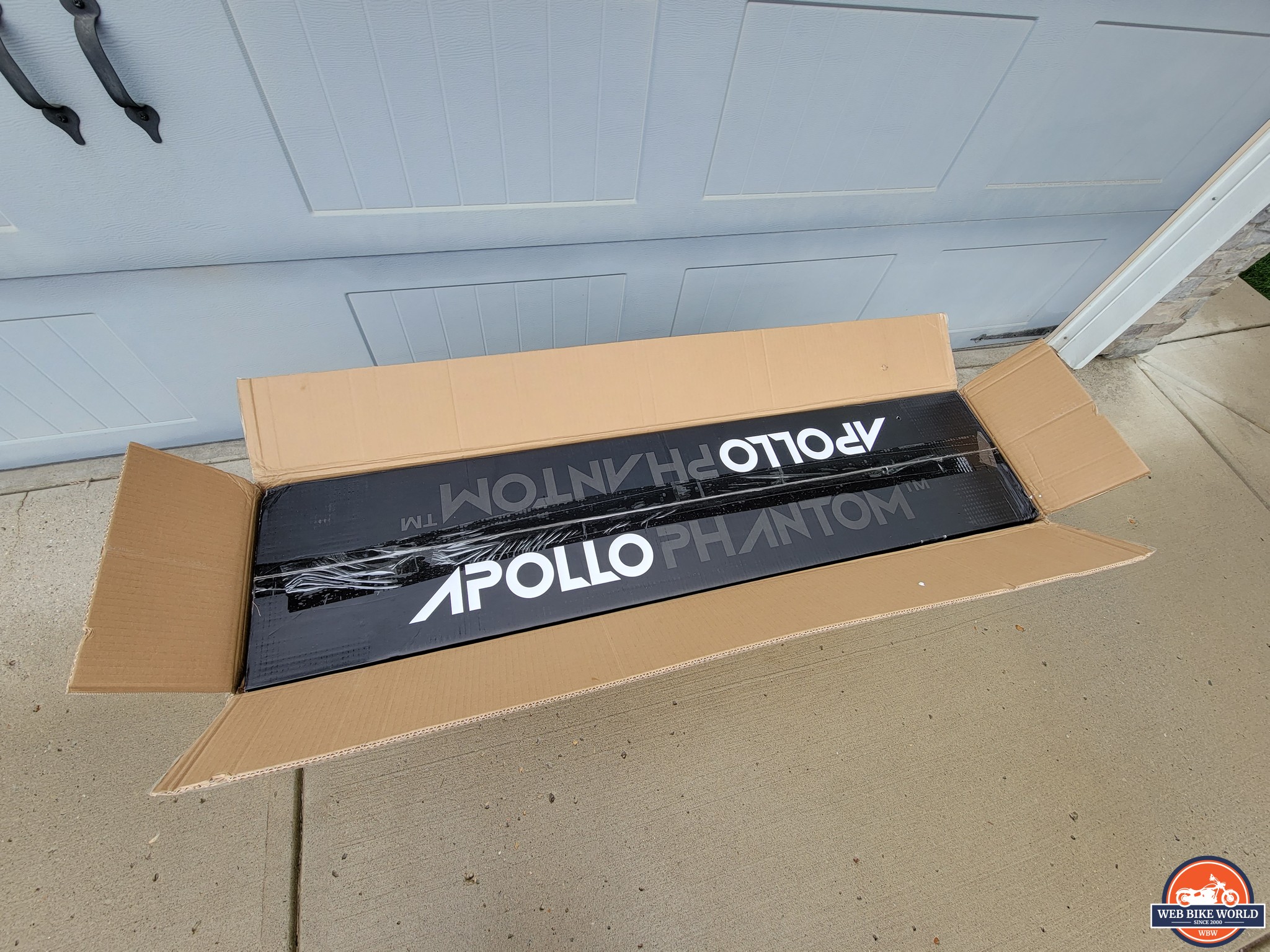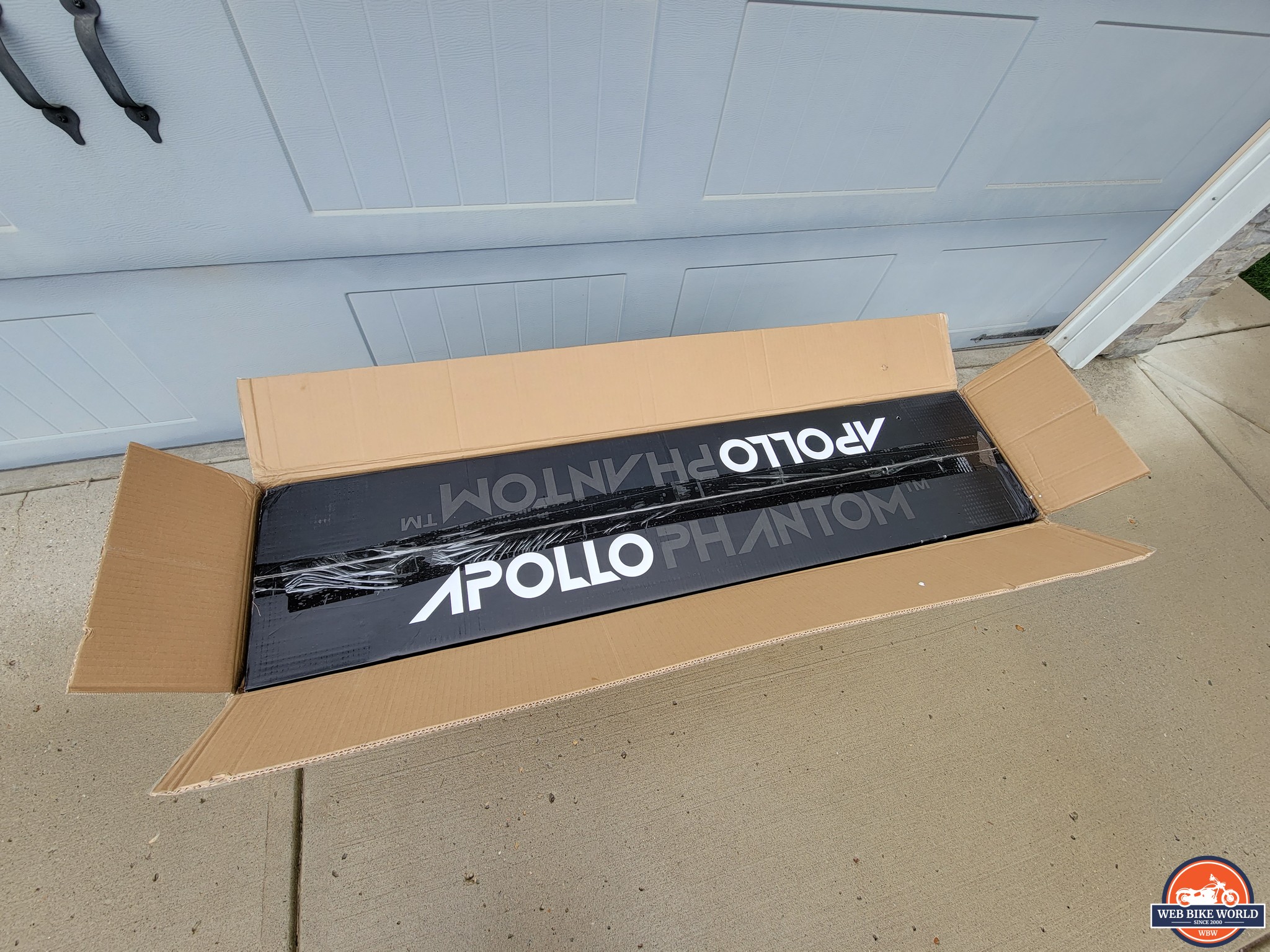 Assembling electric scooters is a no-muss, no-fuss task.
All of the scooters I've ever assembled (10+) have come in a big cardboard shipper with the scooter protected by a bevy of styrofoam.
The scooter itself is inside a nice display box of the Phantom scooter. You can appreciate Apollo's attention to detail and there was palpable excitement as I unboxed the goodies.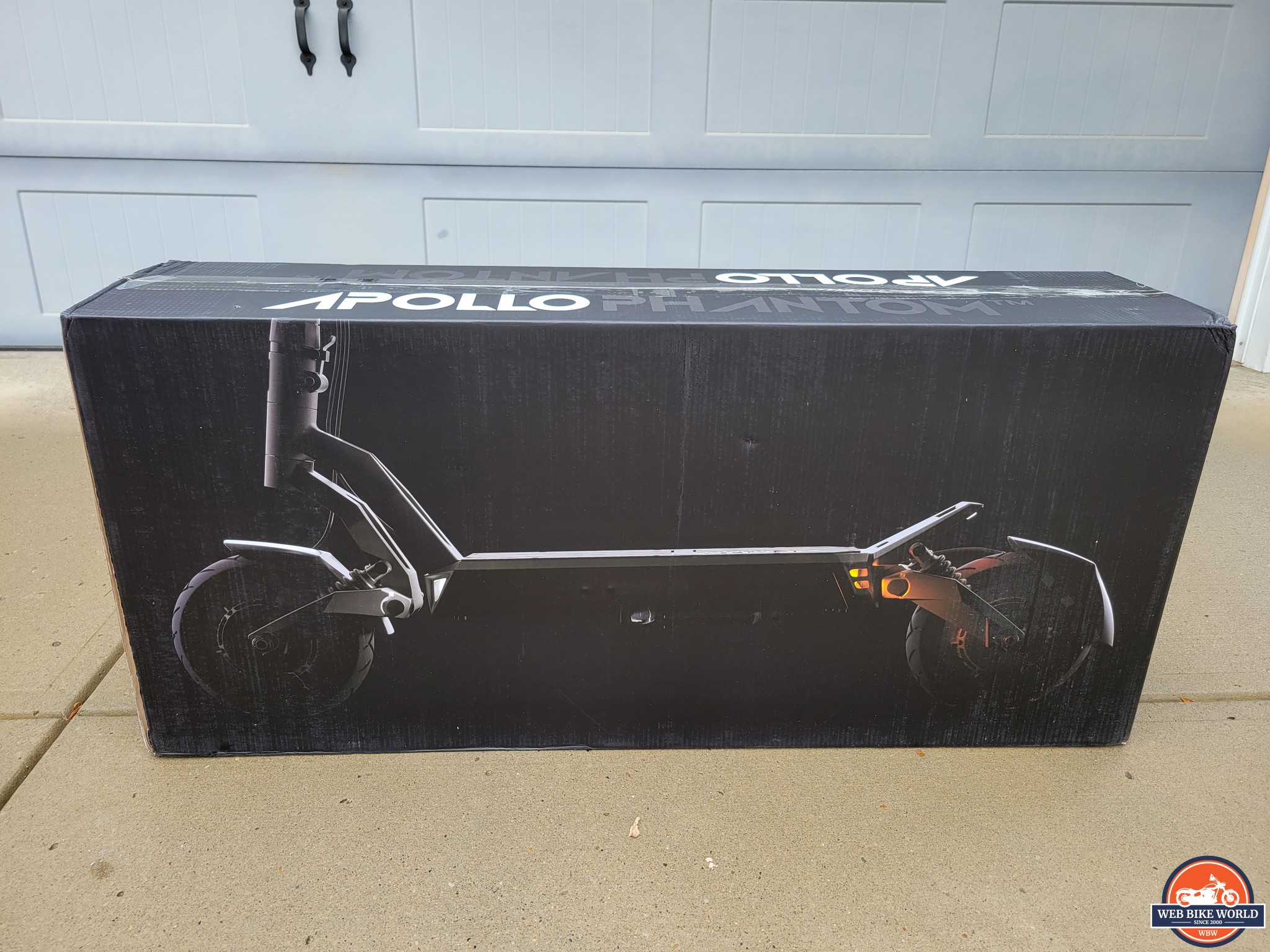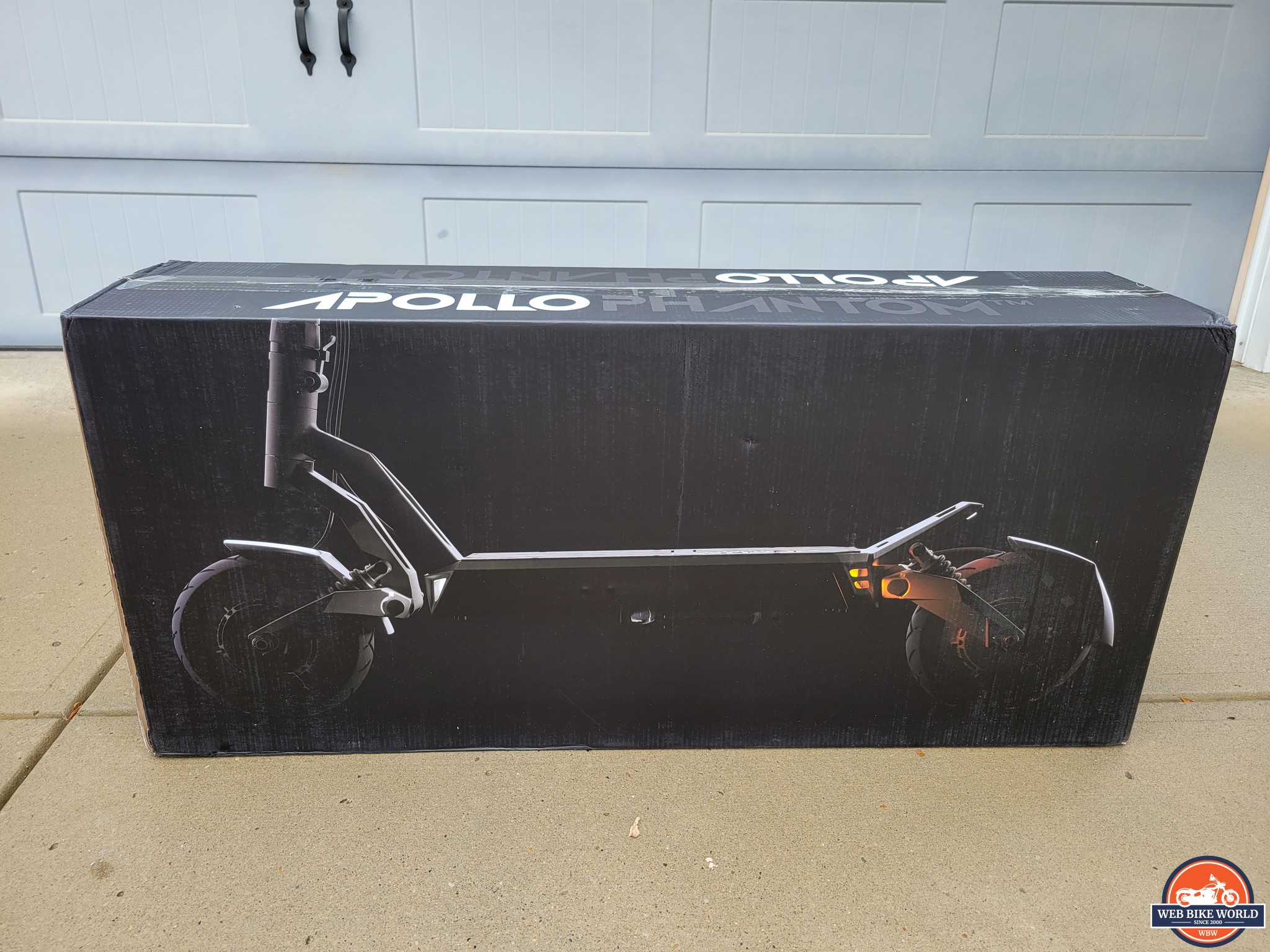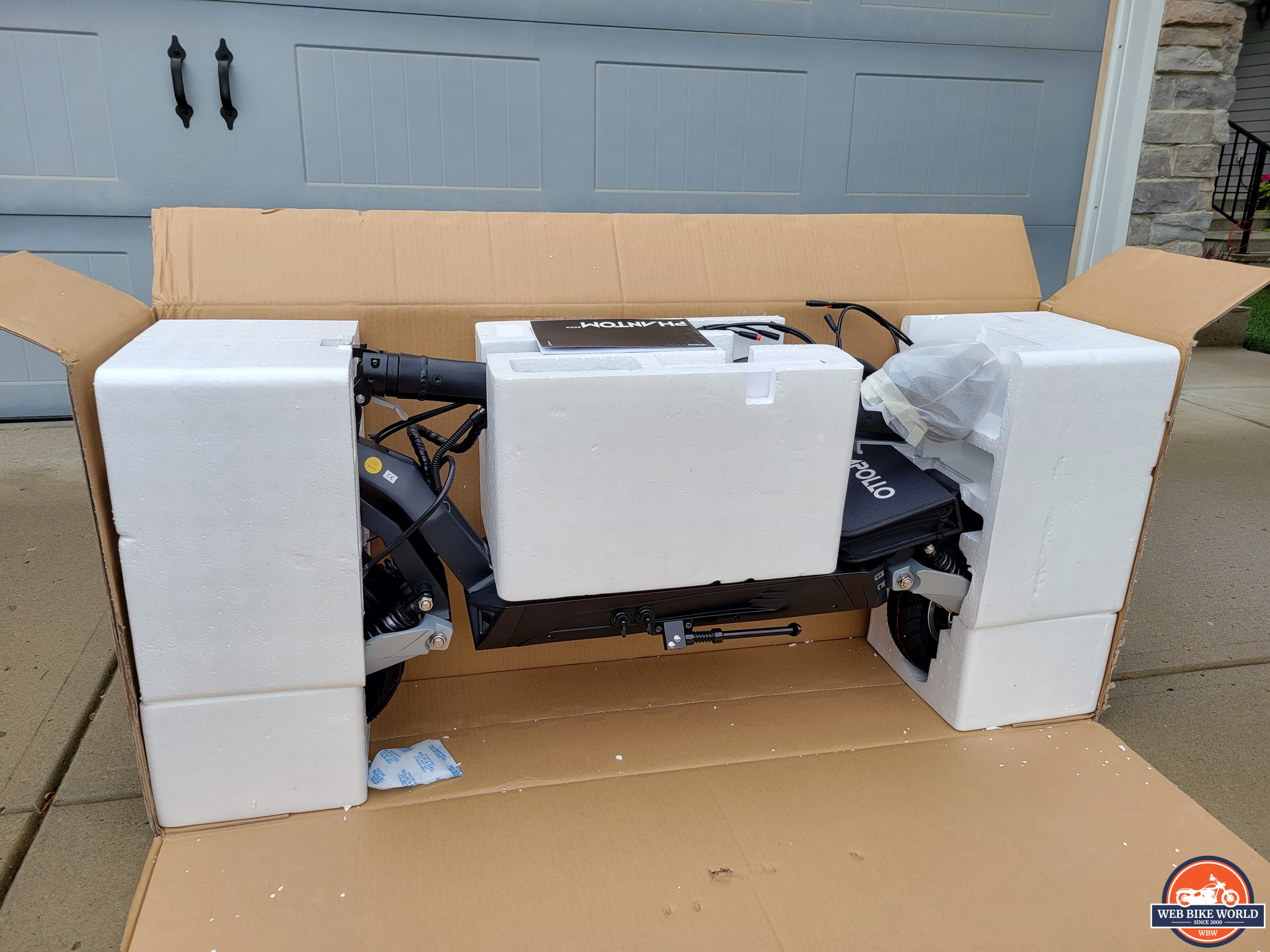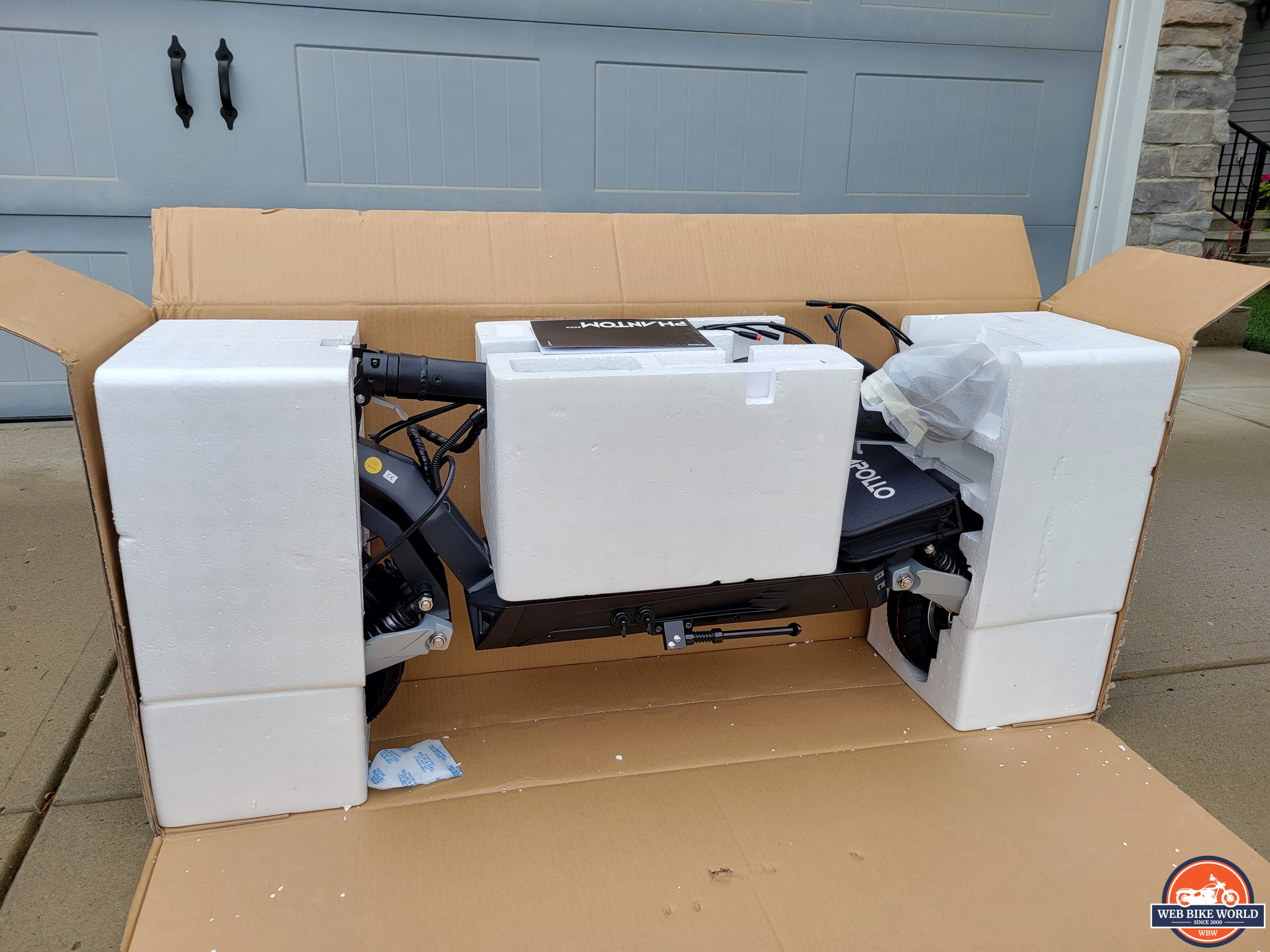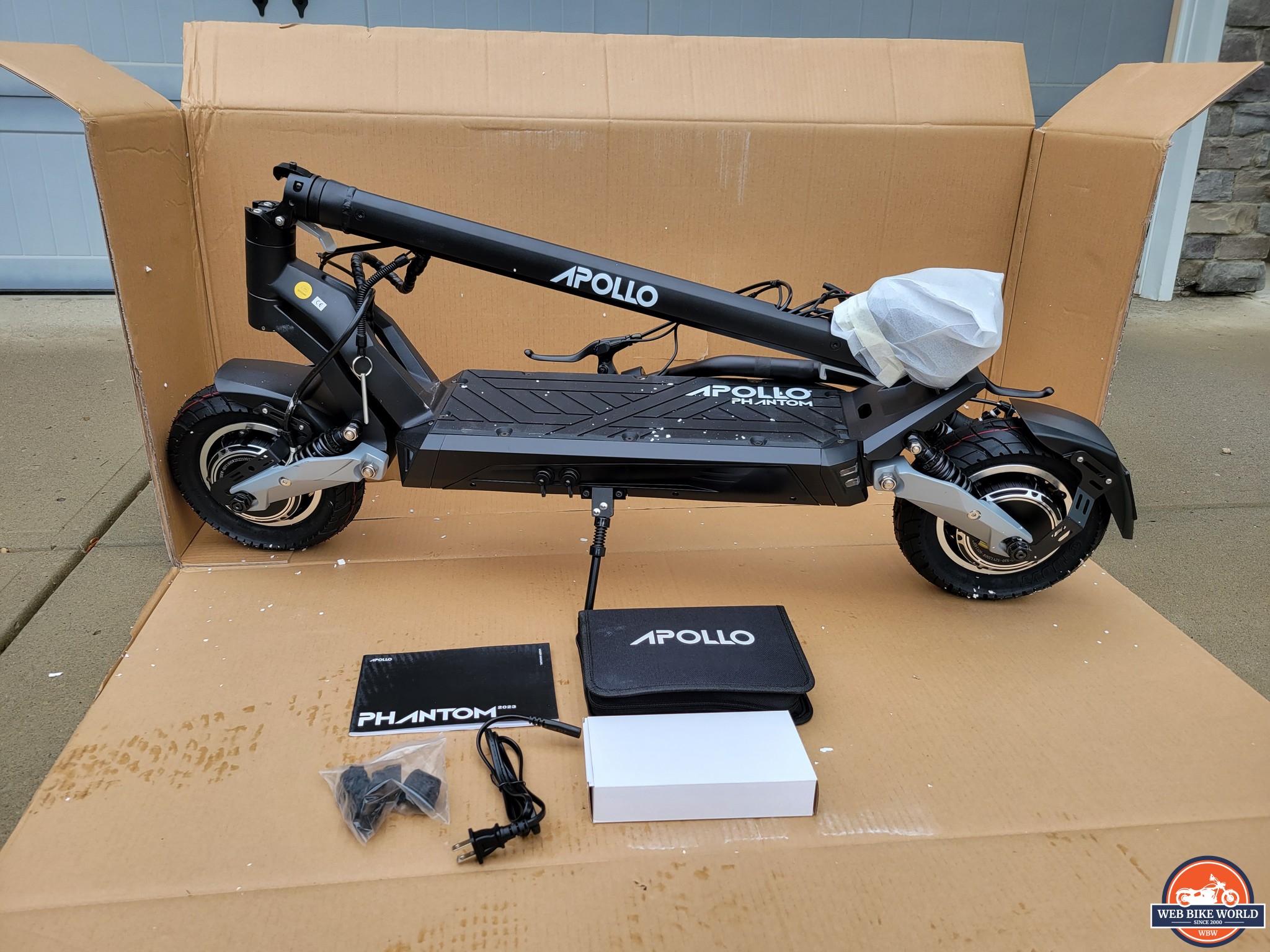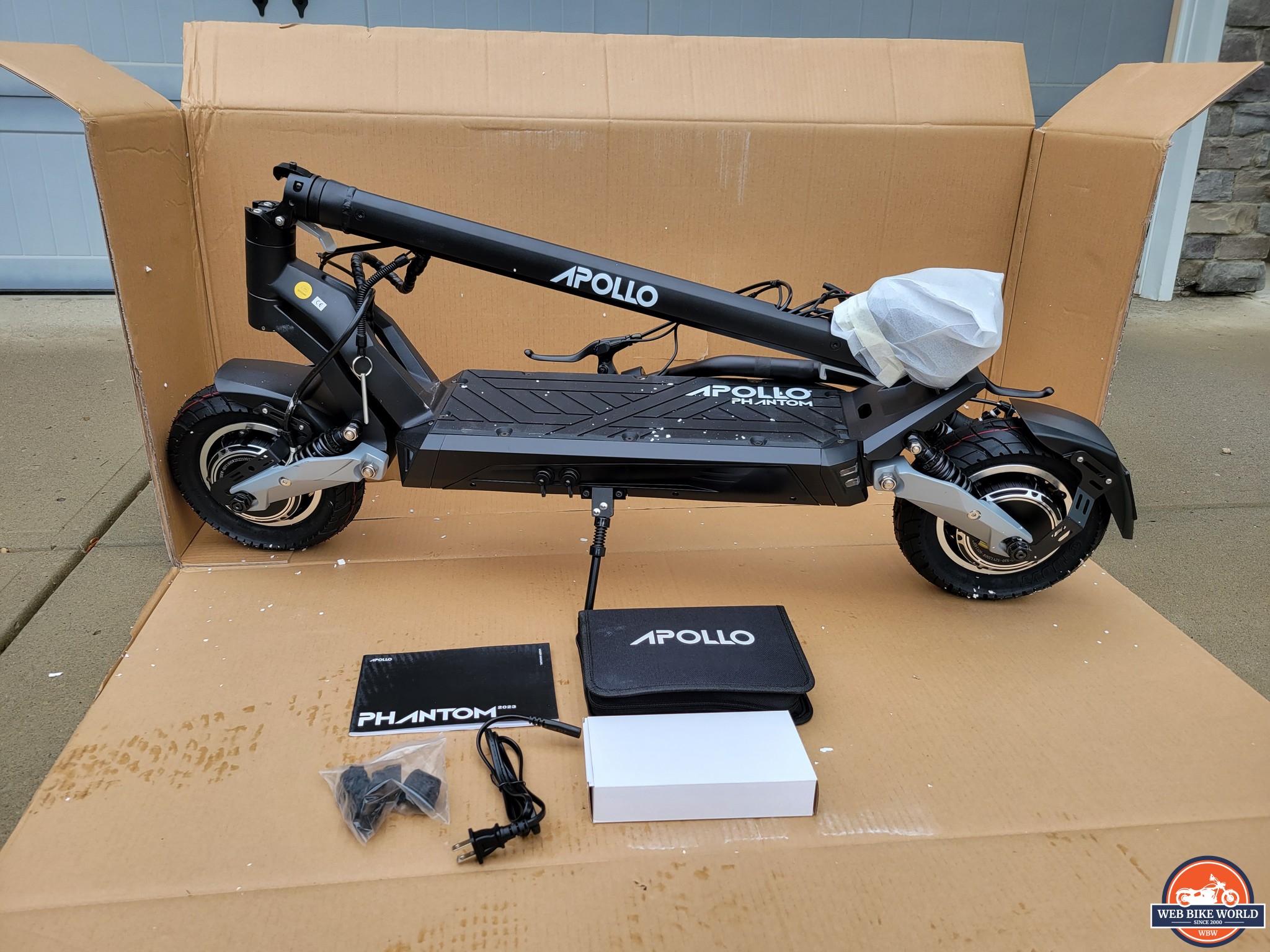 Box contents include a user manual, charger, and a generous toolkit for tightening all the bolts (super handy).
As far as the assembly goes, you can check out this video that Apollo has on their Youtube channel. The video is for their V2 which comes with the ignition key, but the process is the exact same. Give it a watch:
Apollo Phantom Technical Specifications
Price: $2399 USD / $2799 CAD
Motor: Dual 1200w Hub Motor
Battery: 52V 23.4Ah Lithium-ion battery
Range: Up to 50+ Miles / 80+ KM
Top Speed: Up to 41 MPH / 66 KMH (Ludo Mode)
Display: LED display
Suspension: Quadruple spring suspension
Brakes: Front and Rear Disc Brake, Regenerative braking
Tires: 10" air filled tube tires
Weight (w/ battery): 35 kg / 77lb
Charging Time: 12 hours (can reduce as 2 charger ports are available)
Waterproof Rating: IP54
Others: Signal indicators
Aesthetics and Design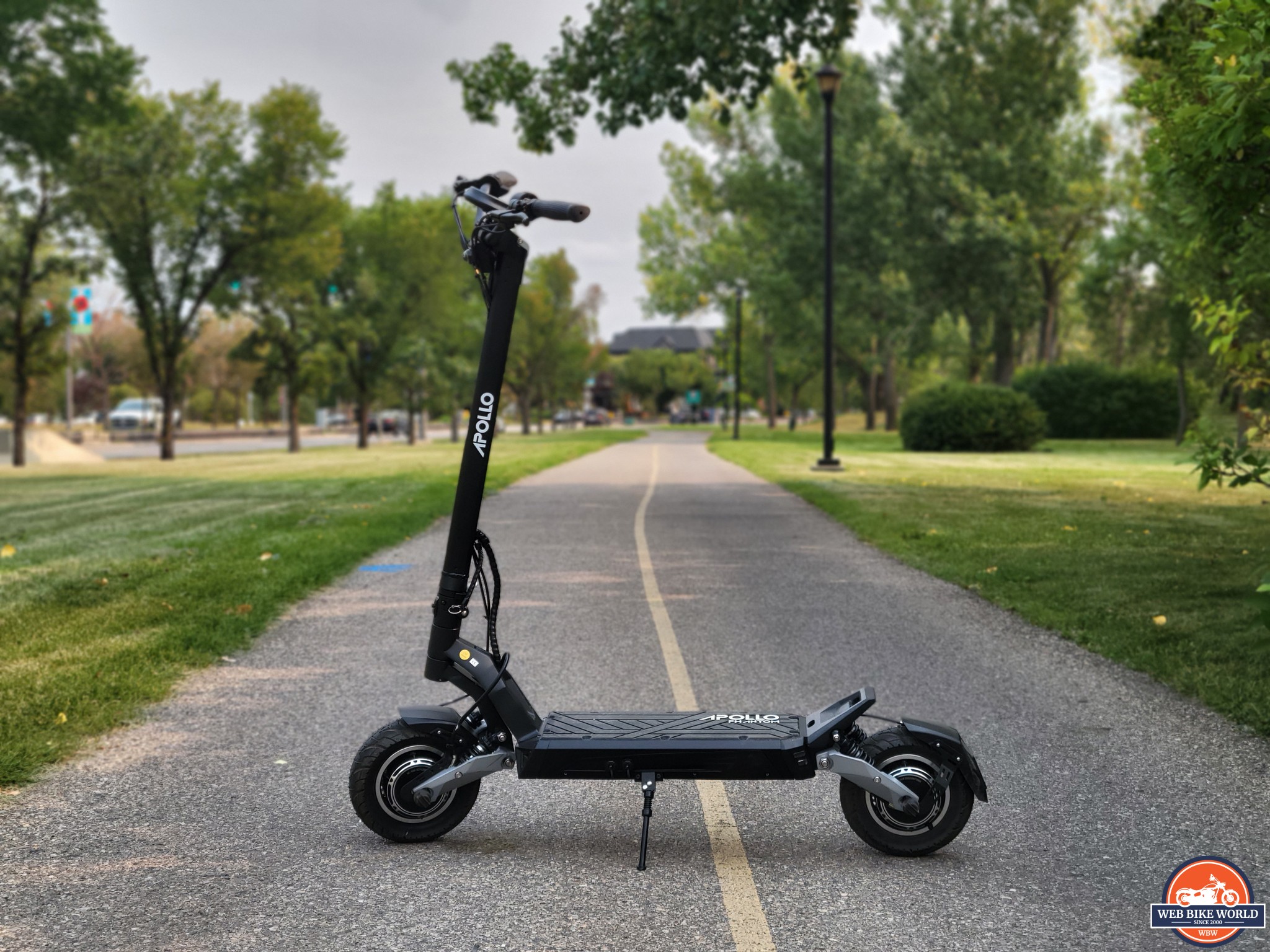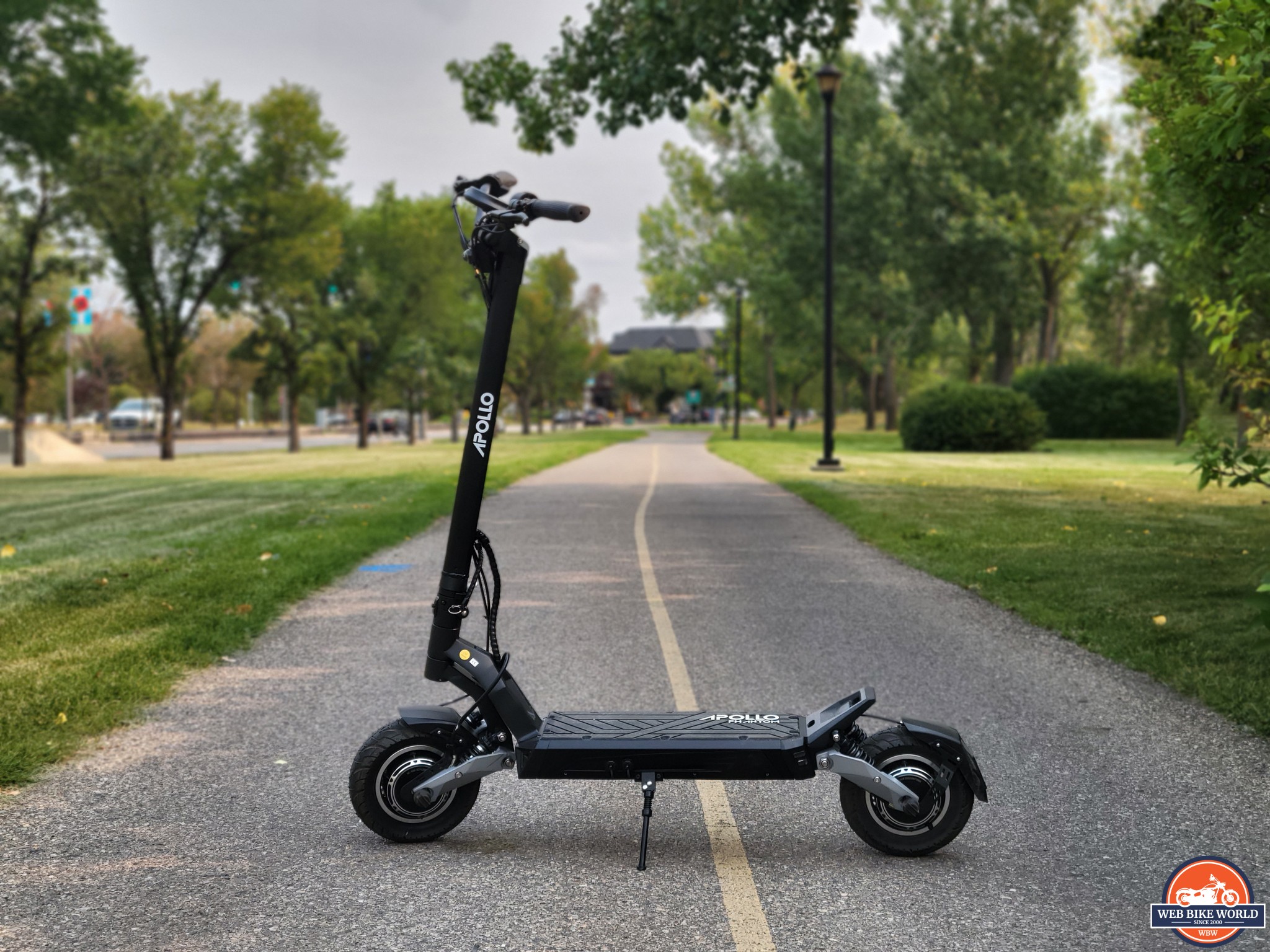 As mentioned before, many scooters on the market share the same manufactured parts. This was certainly the case with
Varla's scooter lineup
which limited their uniqueness as a brand.
With Apollo's proprietary approach to R&D, they've come up with something that is eyecatching.
When you look at the Apollo, you are naturally drawn to the tactical aesthetic of the scooter design. The matte black and silicone deck pair nicely and components such as the LED headlight seem as if it has been meticulously placed. The LED display is pleasing to the eye and there is an understated elegance to the minimalist approach Apollo has taken.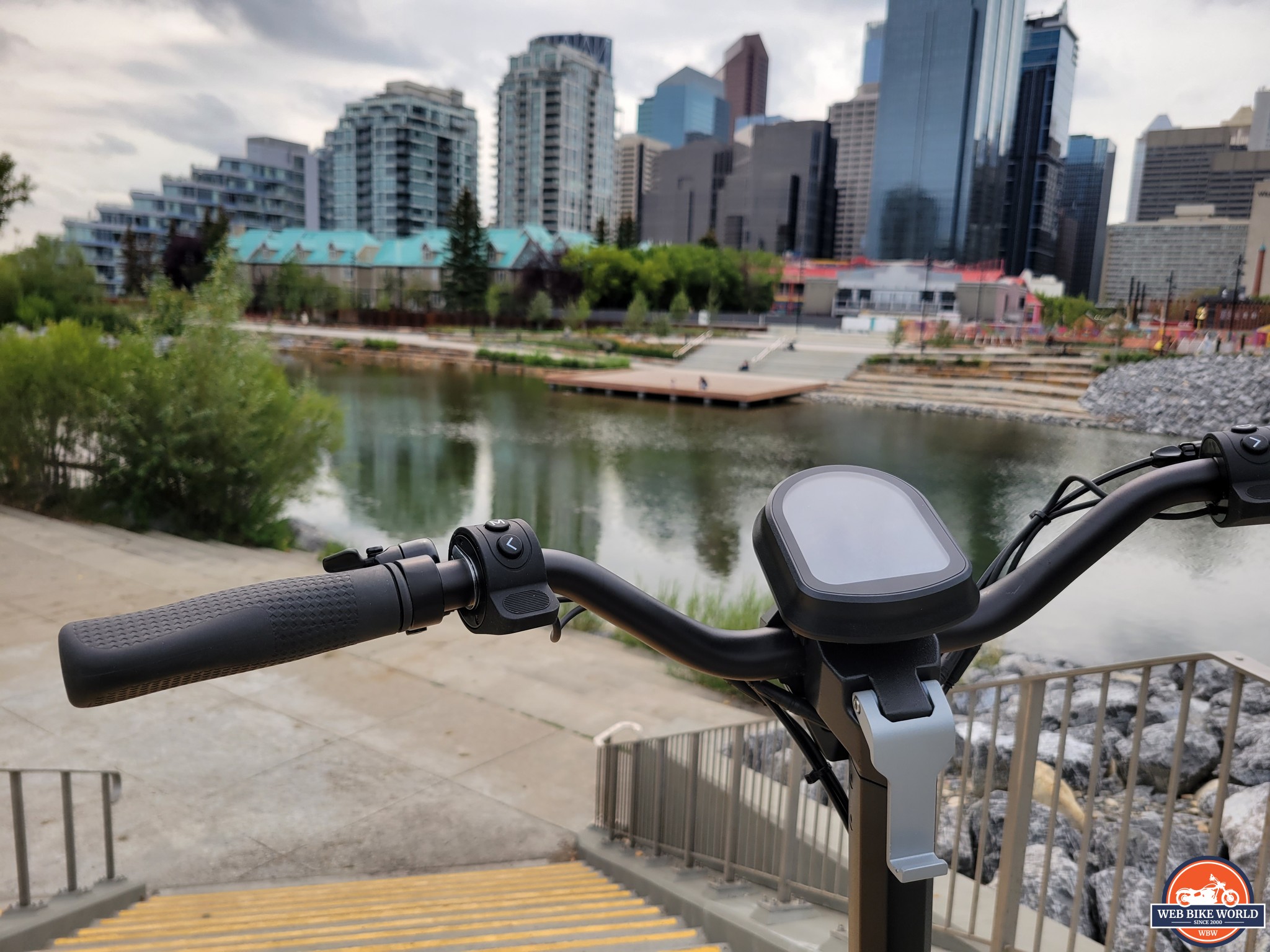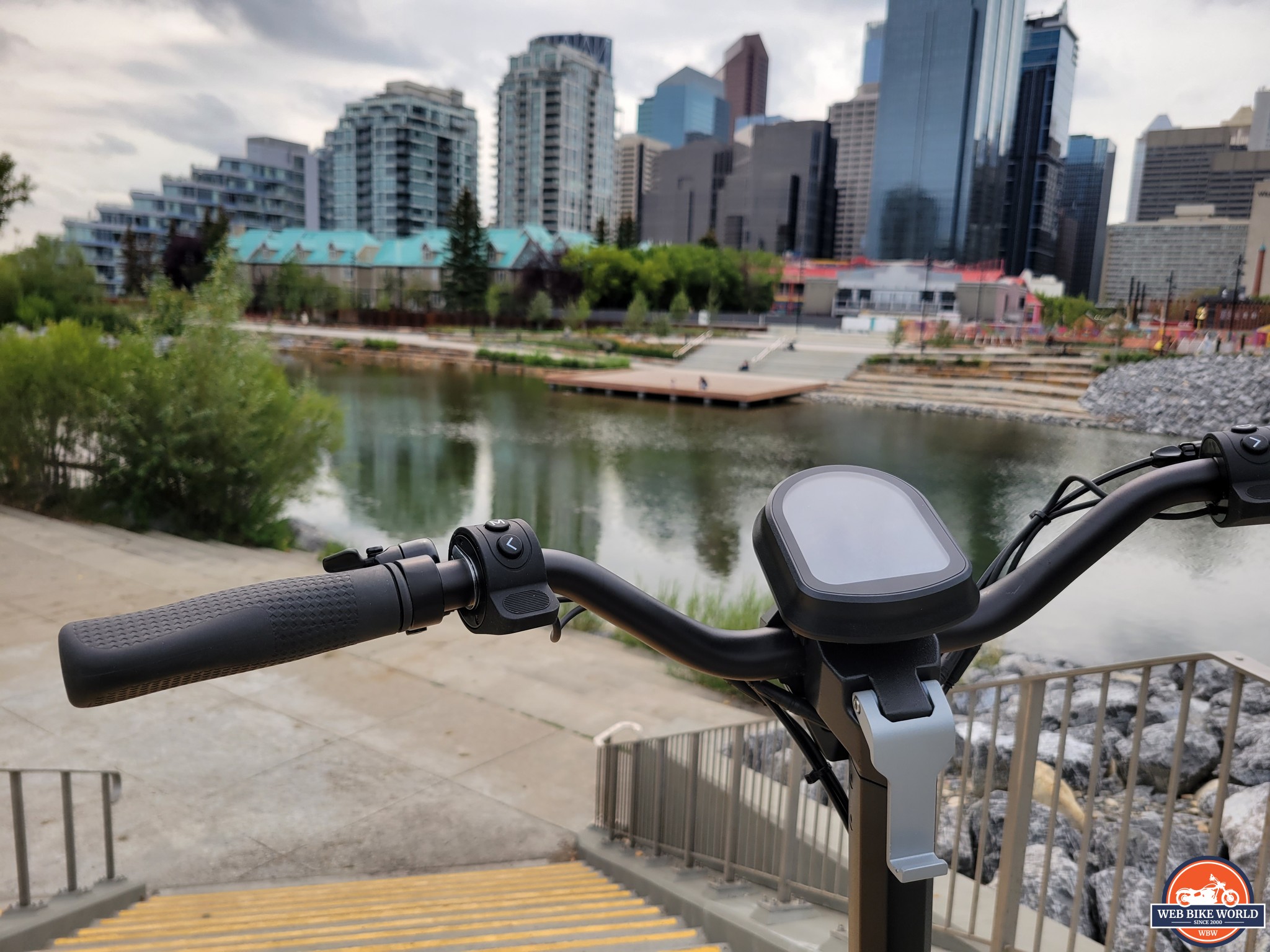 Additionally, there are thoughtfully implemented convenience and safety factors interspersed throughout the design of the scooter such as the built-in deck hook and deck handle.
While the Apollo Phantom has been placed in the luxury segment for the scooter enthusiast, it's no surprise that motorcycle riders on our team here at webBikeWorld also love to scoot around on it.
It comes with a 12-month limited warranty. Check out
Apollo's warranty page
to learn more.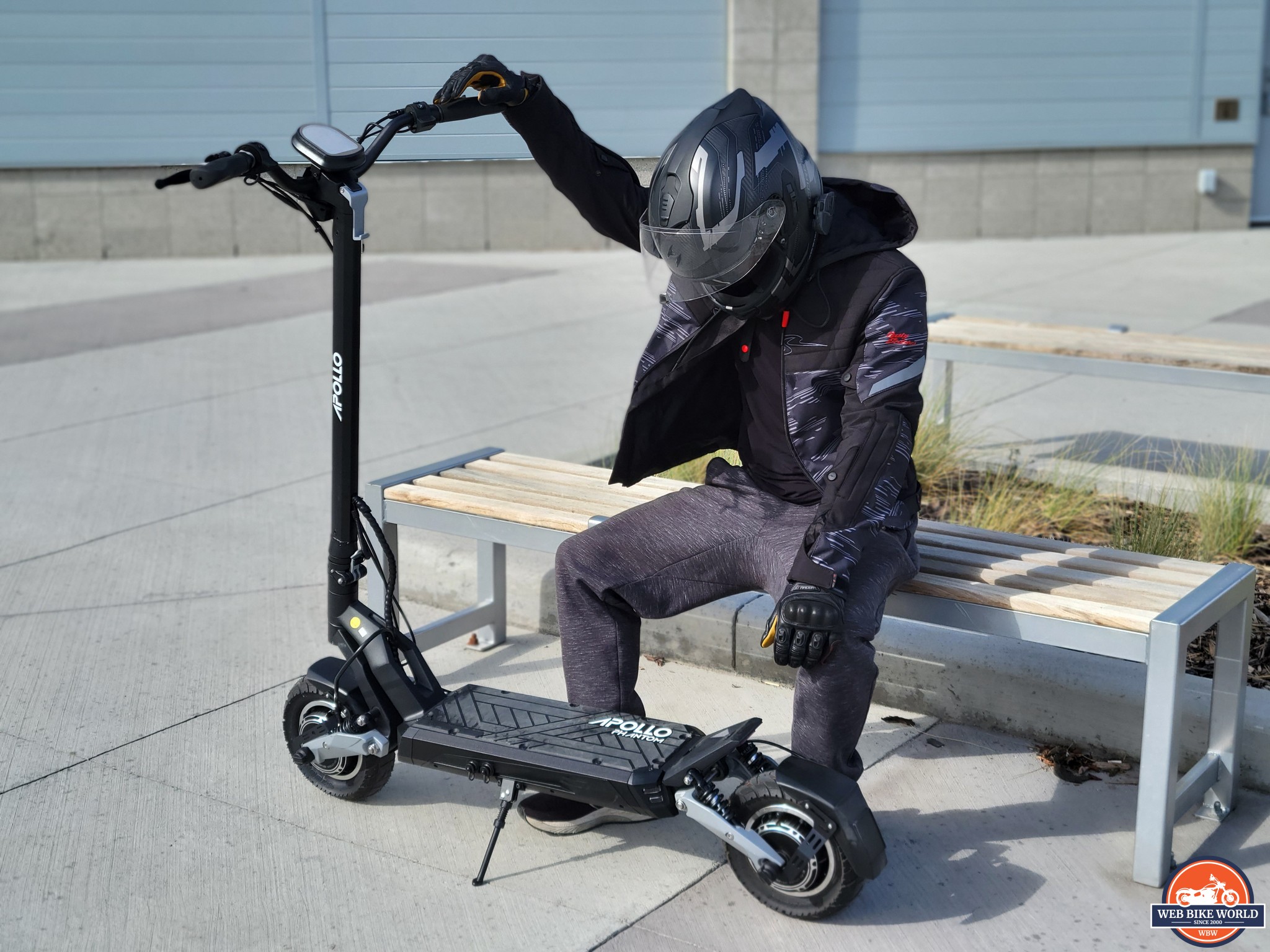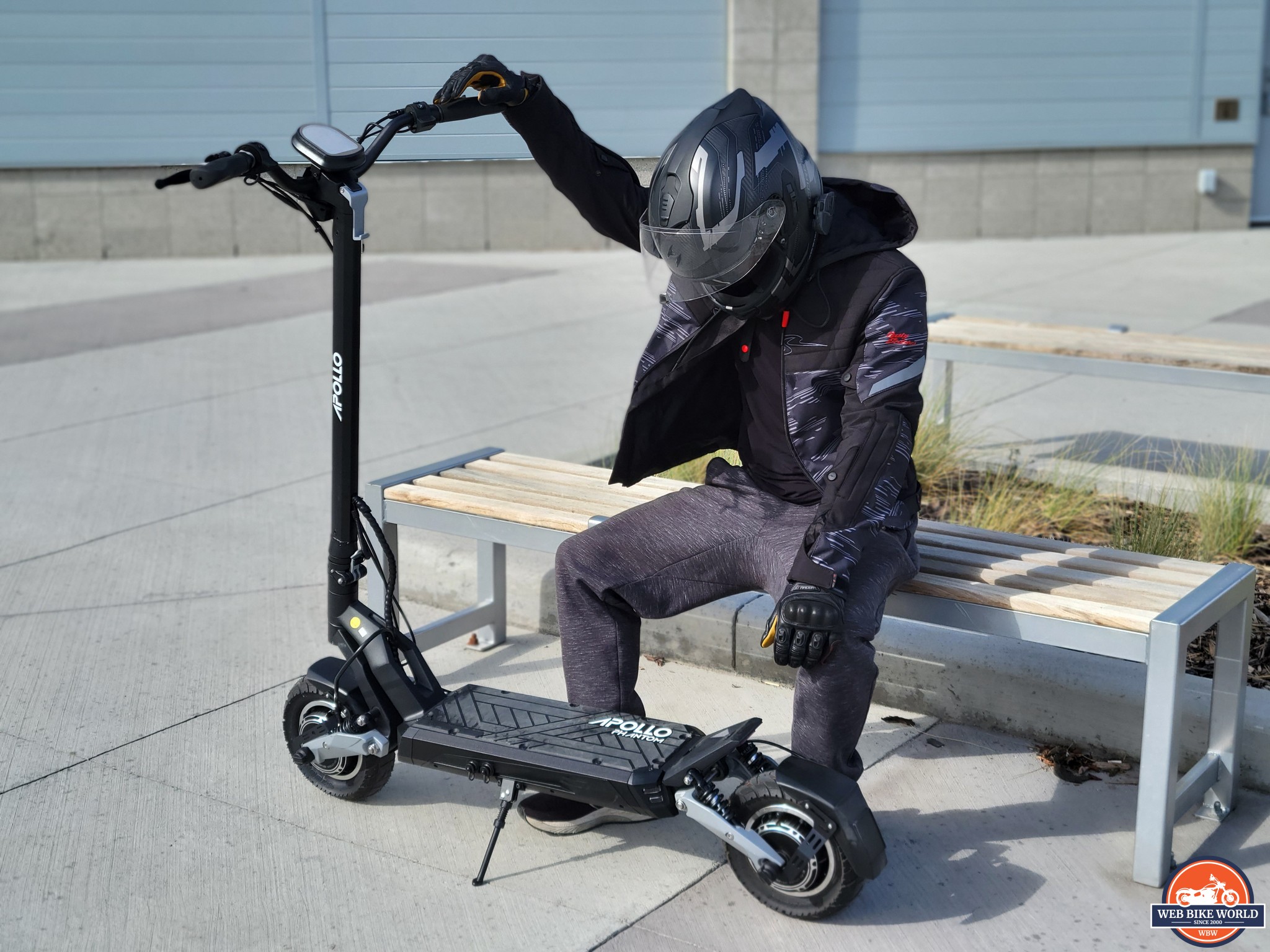 Build Quality and Components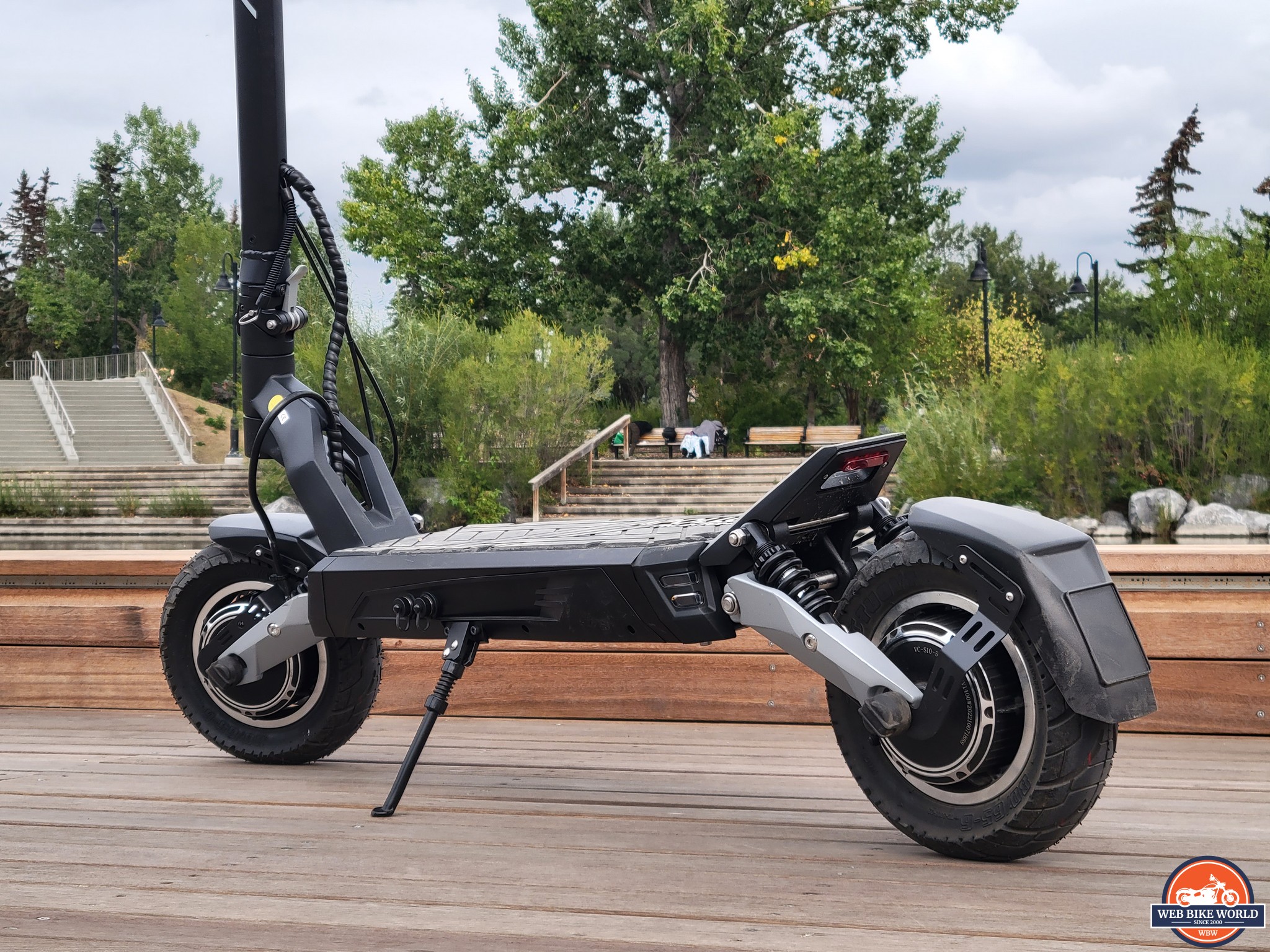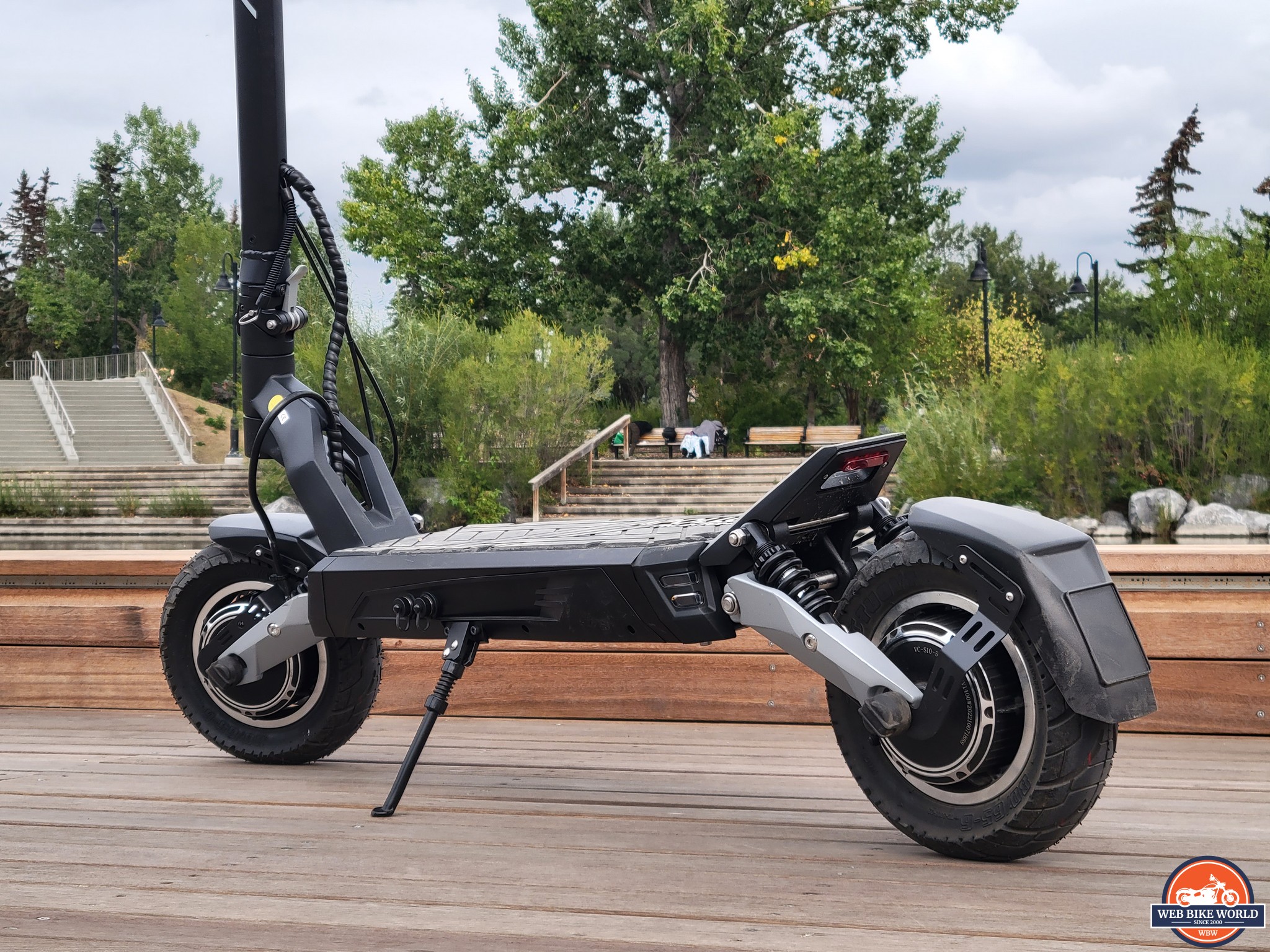 The Phantom looks great but how does it fare in quality? The body is constructed from an aluminum frame and wrapped in a deep black paint with silver accent on the swingarms.
The stem is securely attached with both a latch holder and locking pin as failsafes. This results in absolutely no play in the stem as you're riding around.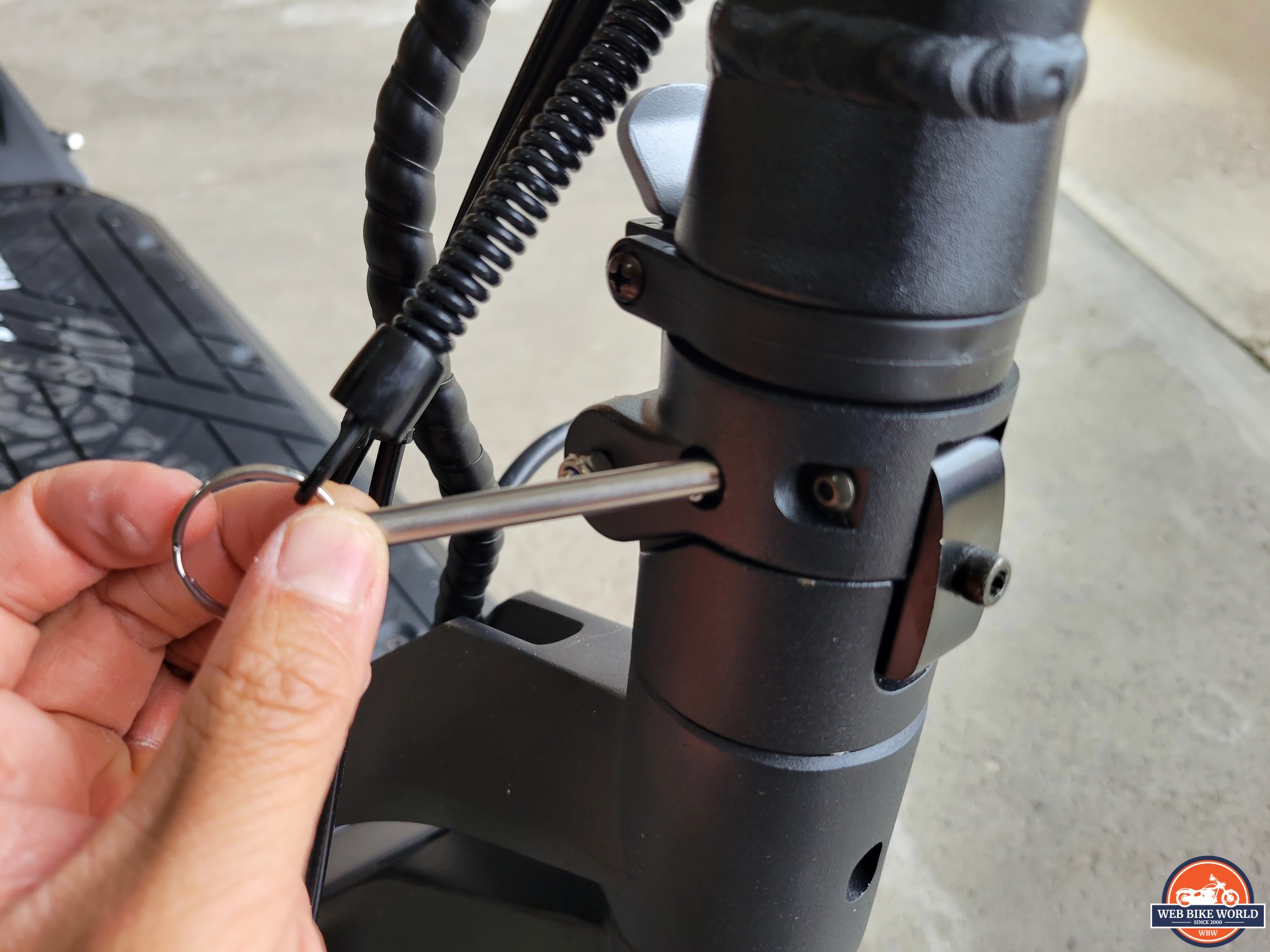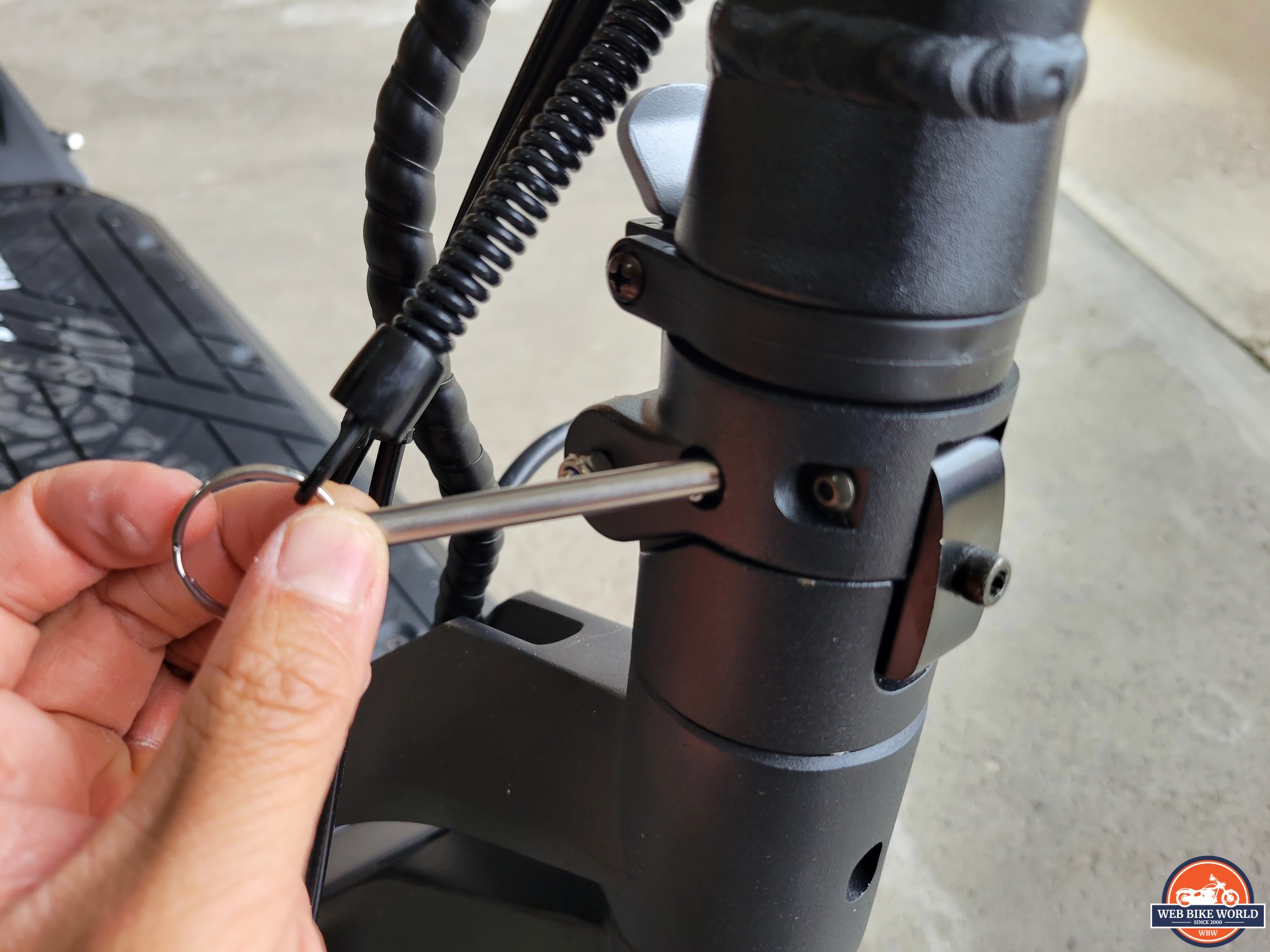 The failsafe locking pin for the stem.
In the middle of the cockpit is your LED screen
which displays your speed, odometer, and battery info (percentage, voltage, etc). I particularly like the hex design which is way better than the QS-S4 LCD Throttle that you see on a myriad of scooters. The monochrome display on the
Varla Pegasus scooter
is still my favorite, by far.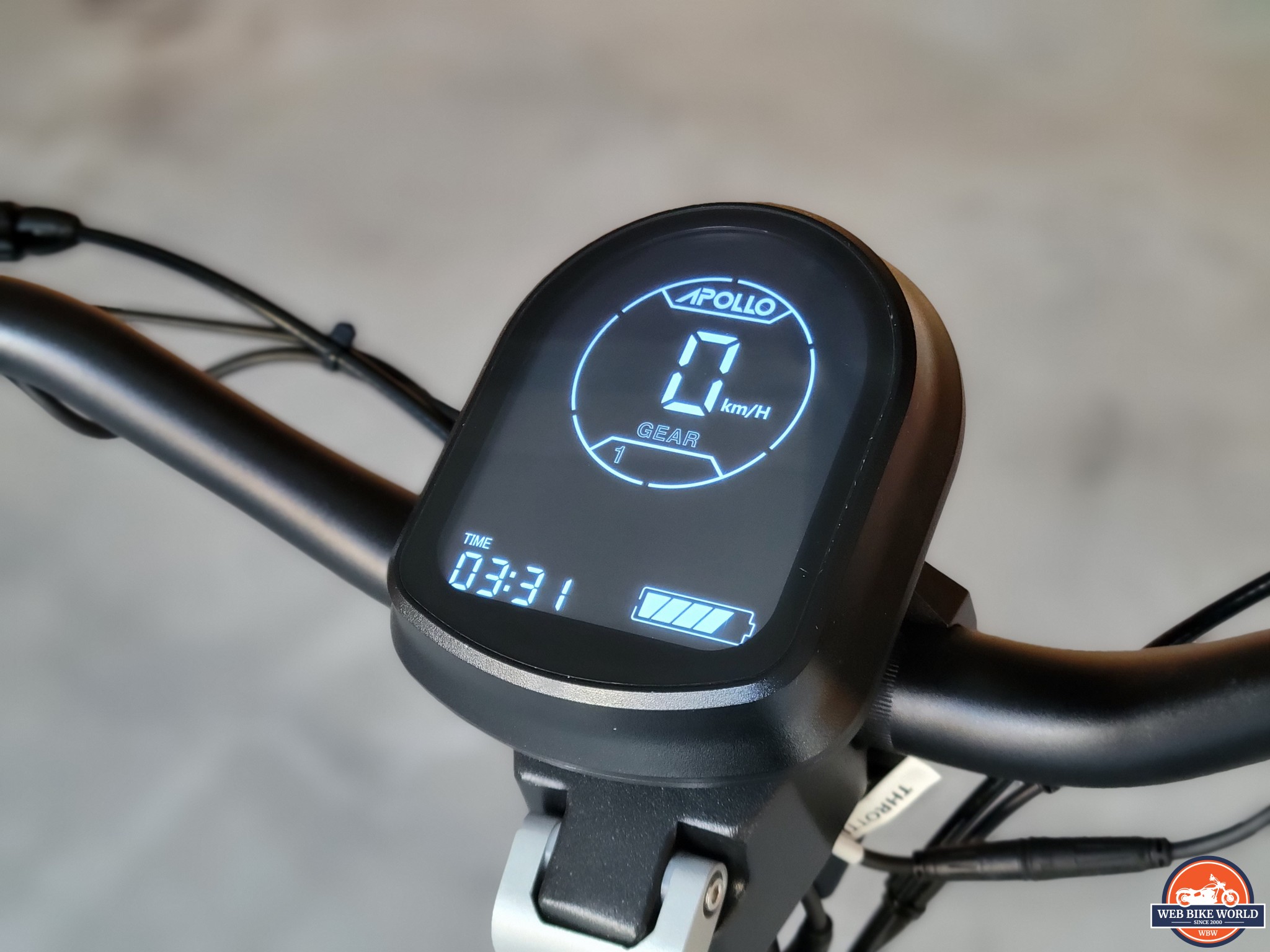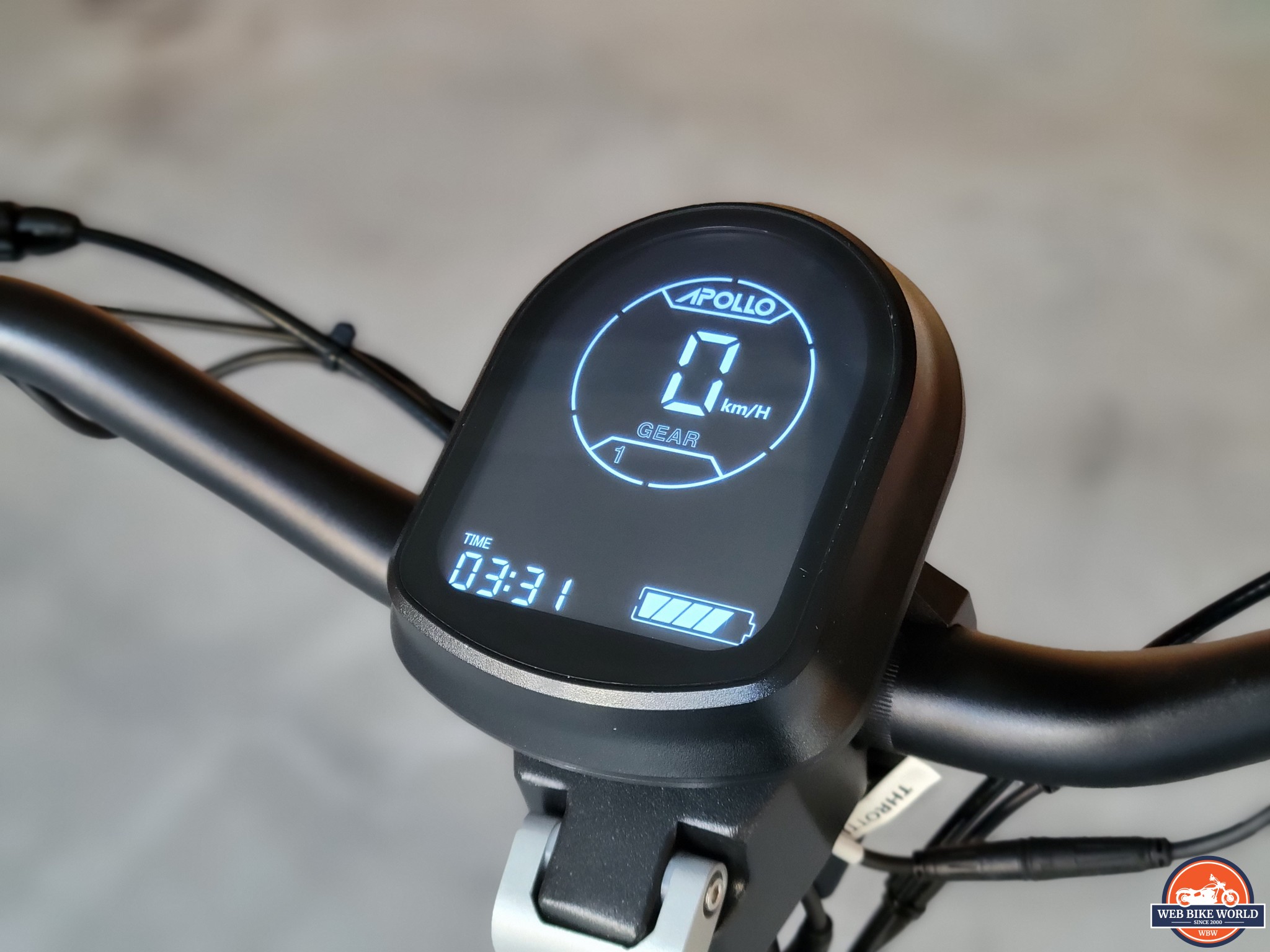 The Phantom's display is rather hard to read in direct sunlight, so I was unable to see which speed level / gear I was in which was a tad annoying.
The left side
has a thumb throttle for regenerative braking and your mode toggle button.
The right side
houses your power button.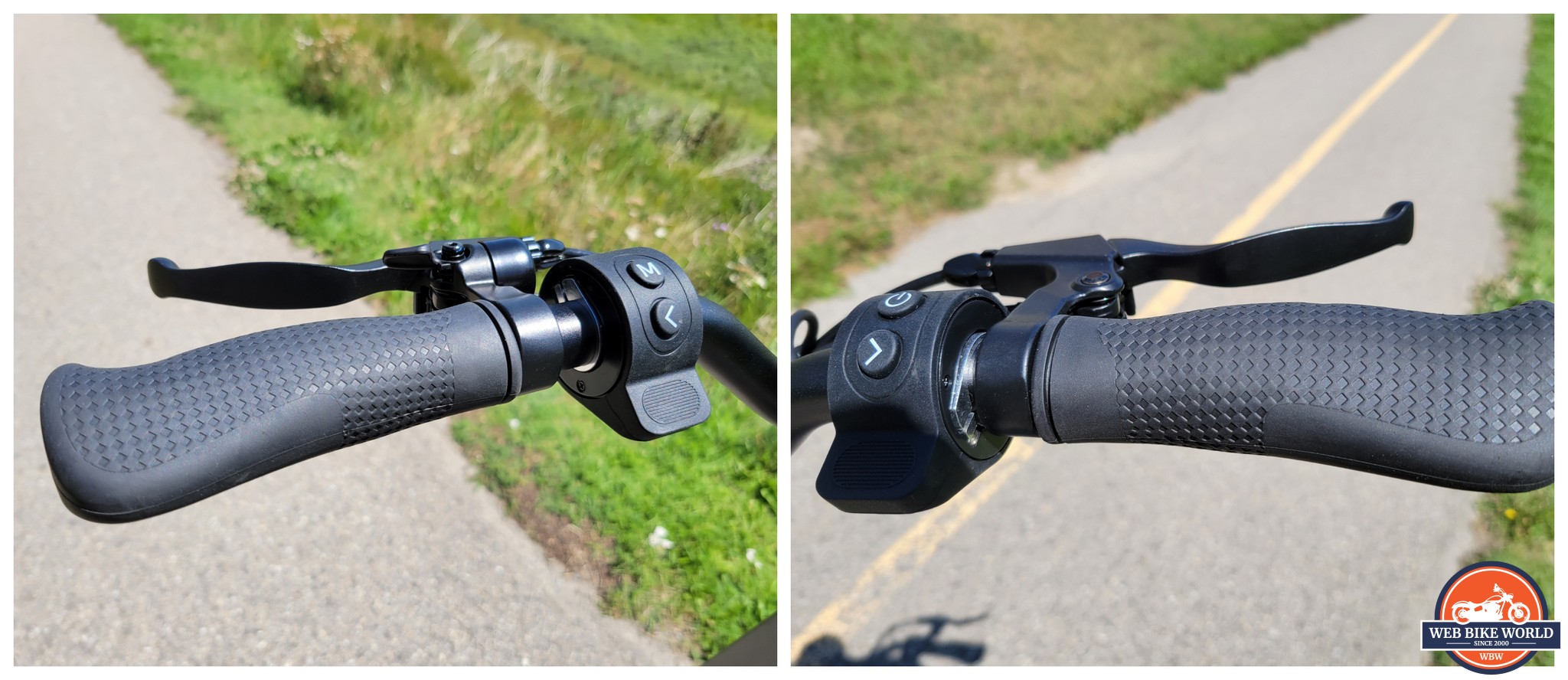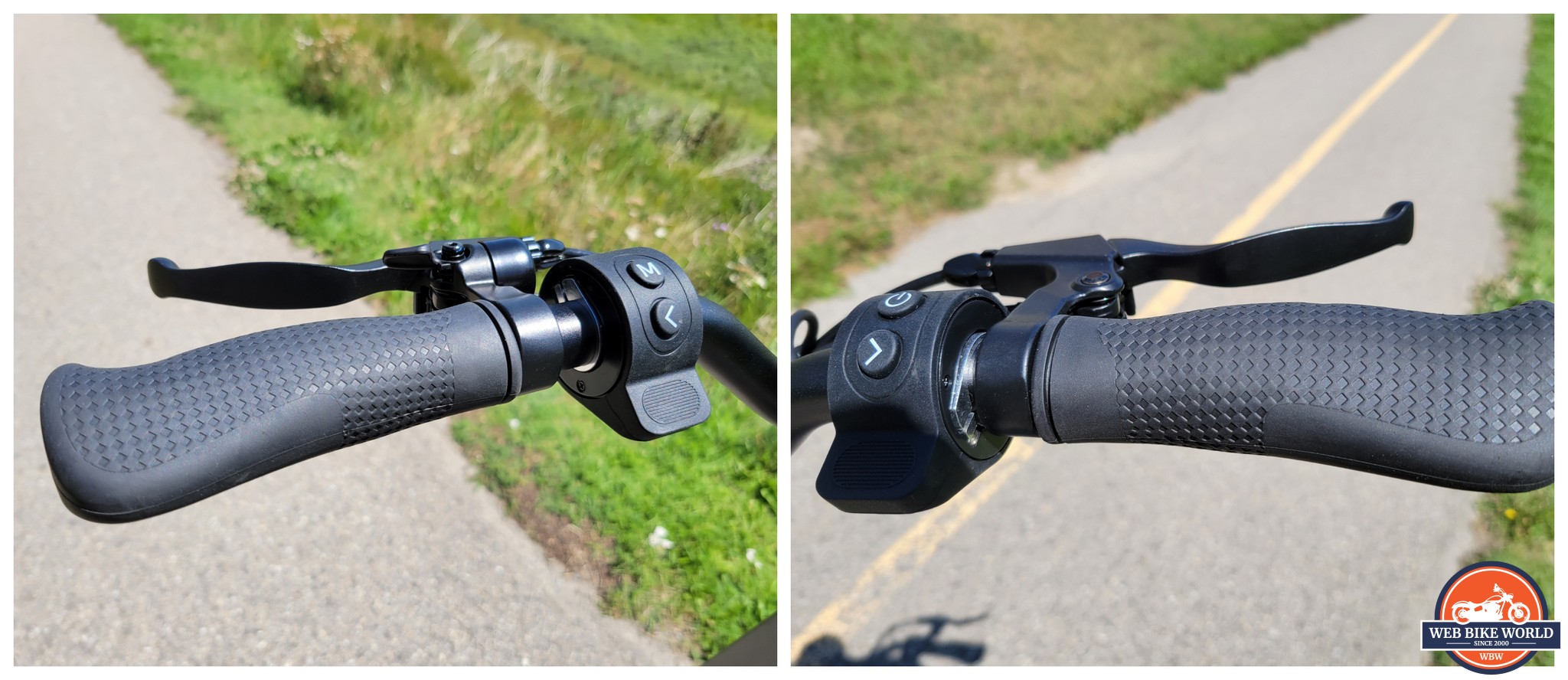 On either side of the handlebars is where you will find arrow buttons which are your corresponding turn signals.
These buttons are all covered in a grippy silicone that give it a pleasant tactile response, exactly what you want while riding a scooter. The handlebar grips themselves are ergonomic and comfortable across long distances.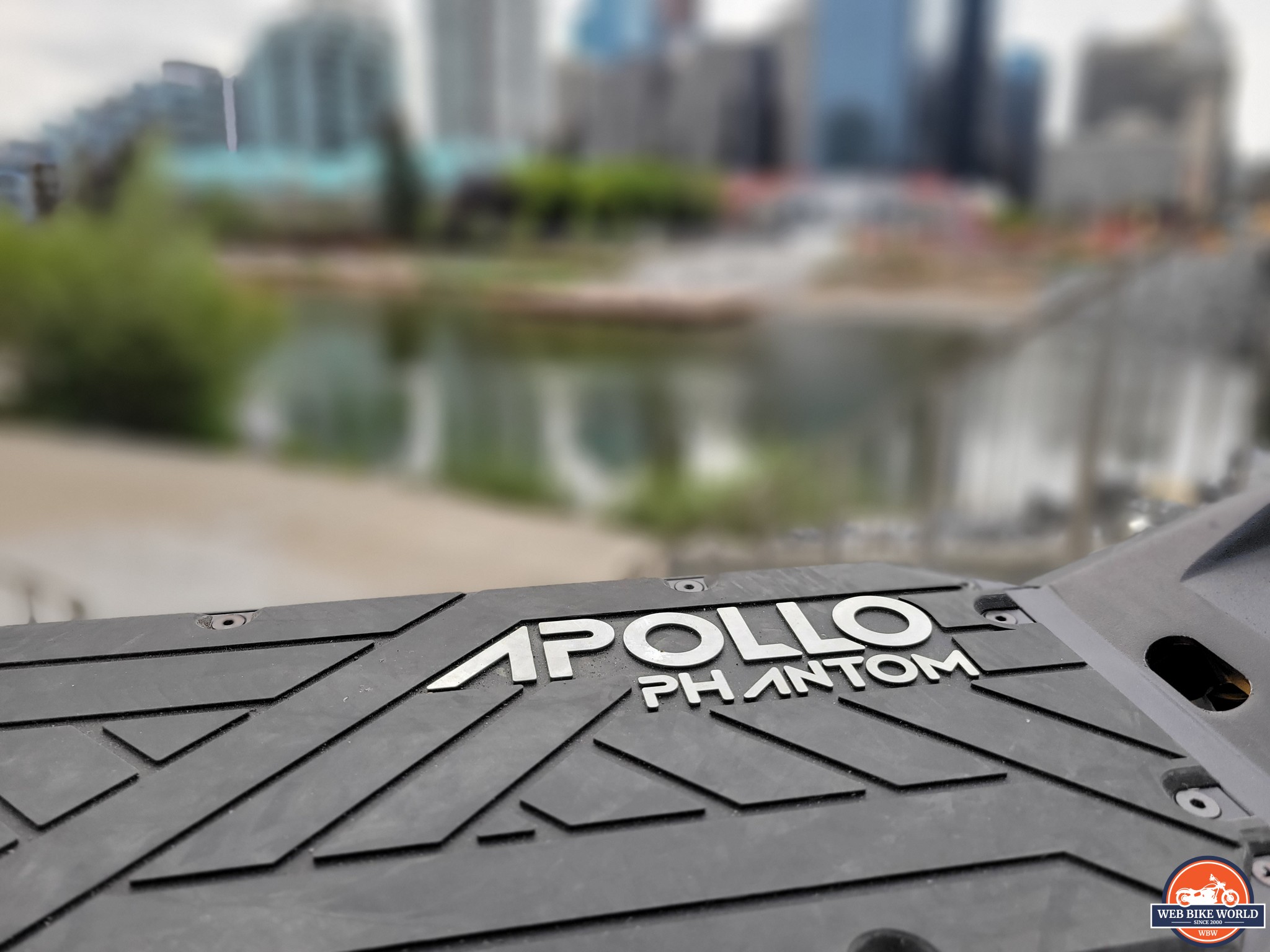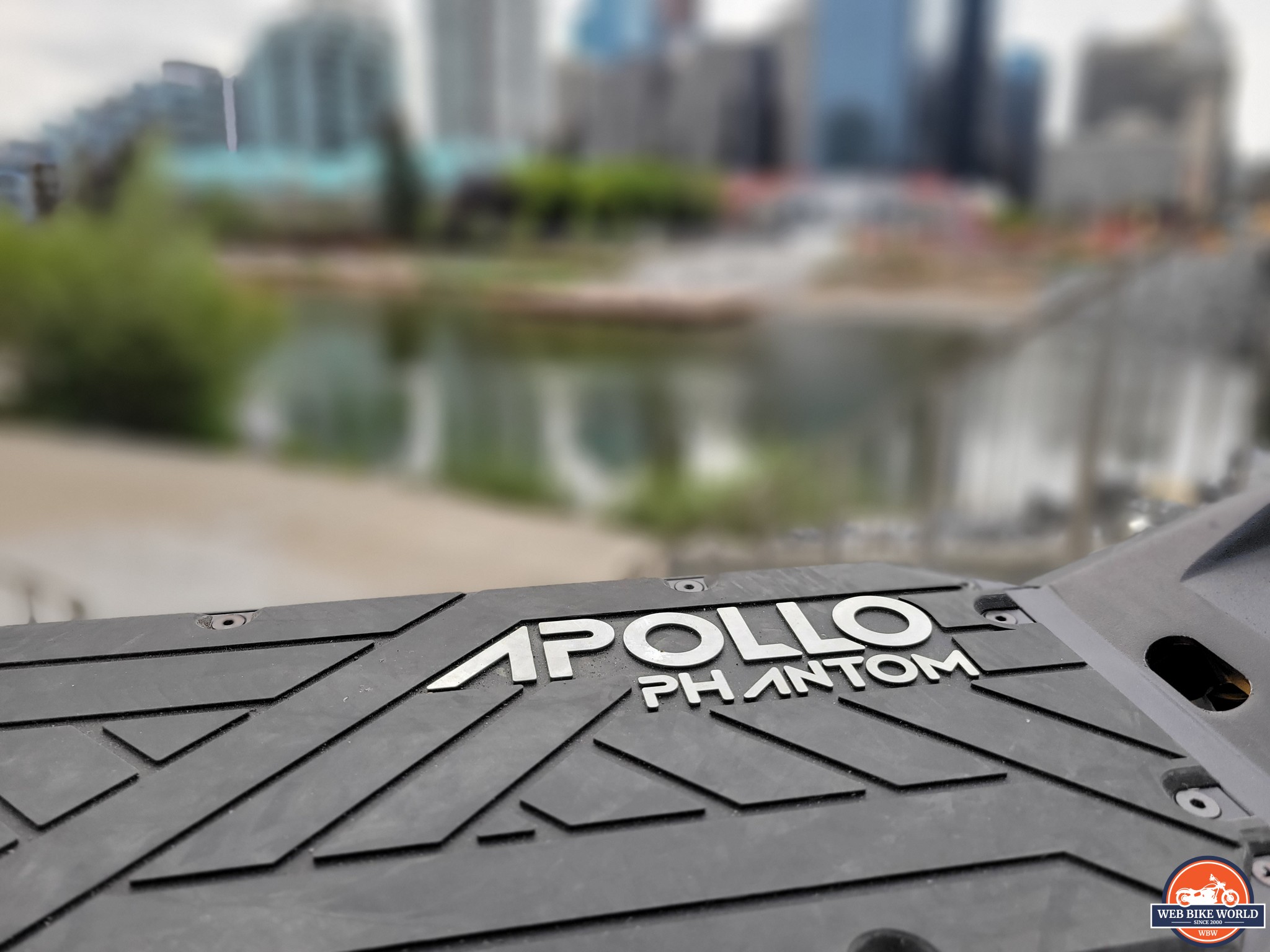 Apollo also saw fit to grace the deck with silicone in a geometric design which is gorgeous to look at and easy to clean.
There are LED turn signals at all 4 corners of the deck and are brightly illuminated for visibility.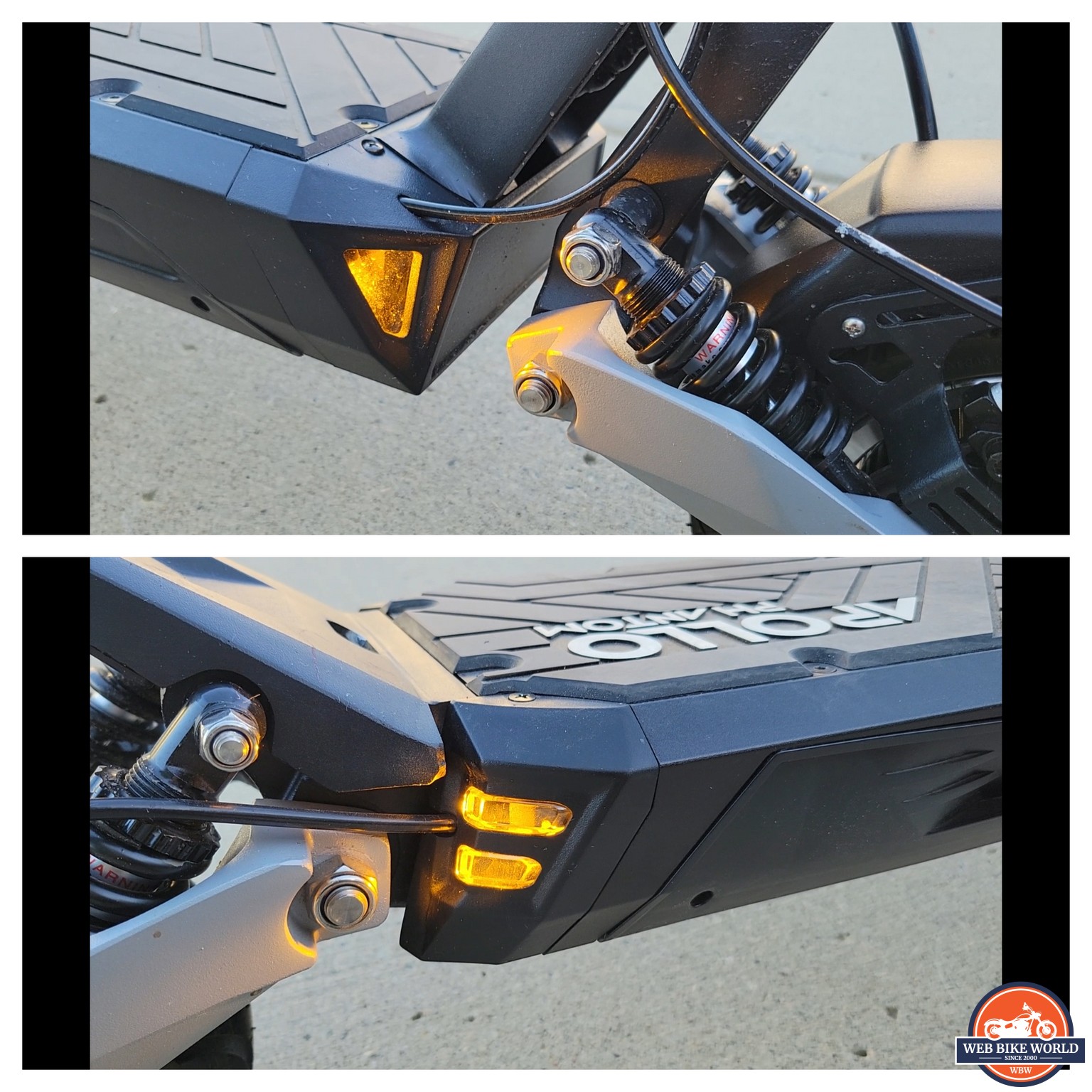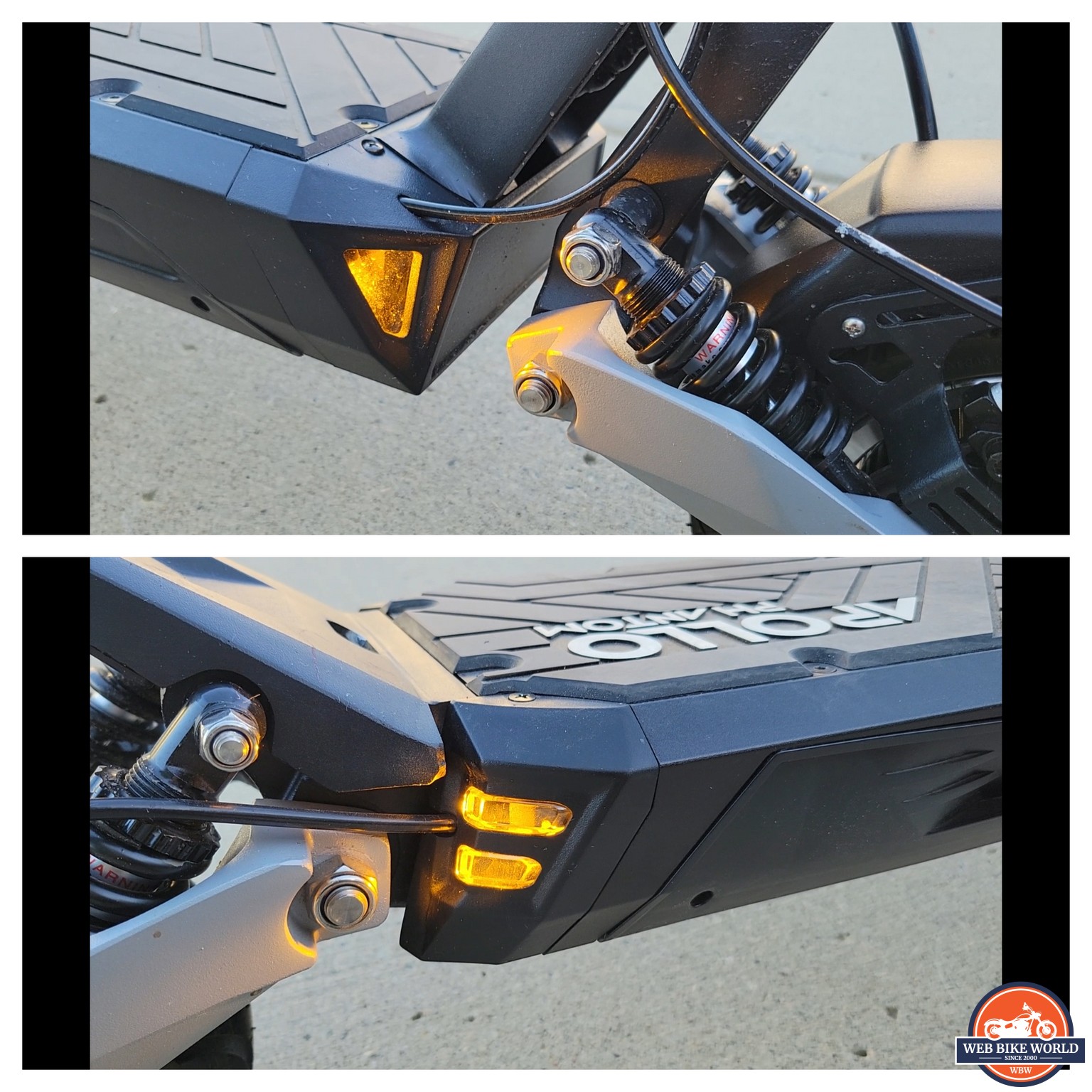 The Phantom boasts a sleek design, is interesting to look at, and scores top marks for its impressive look.
Power and Acceleration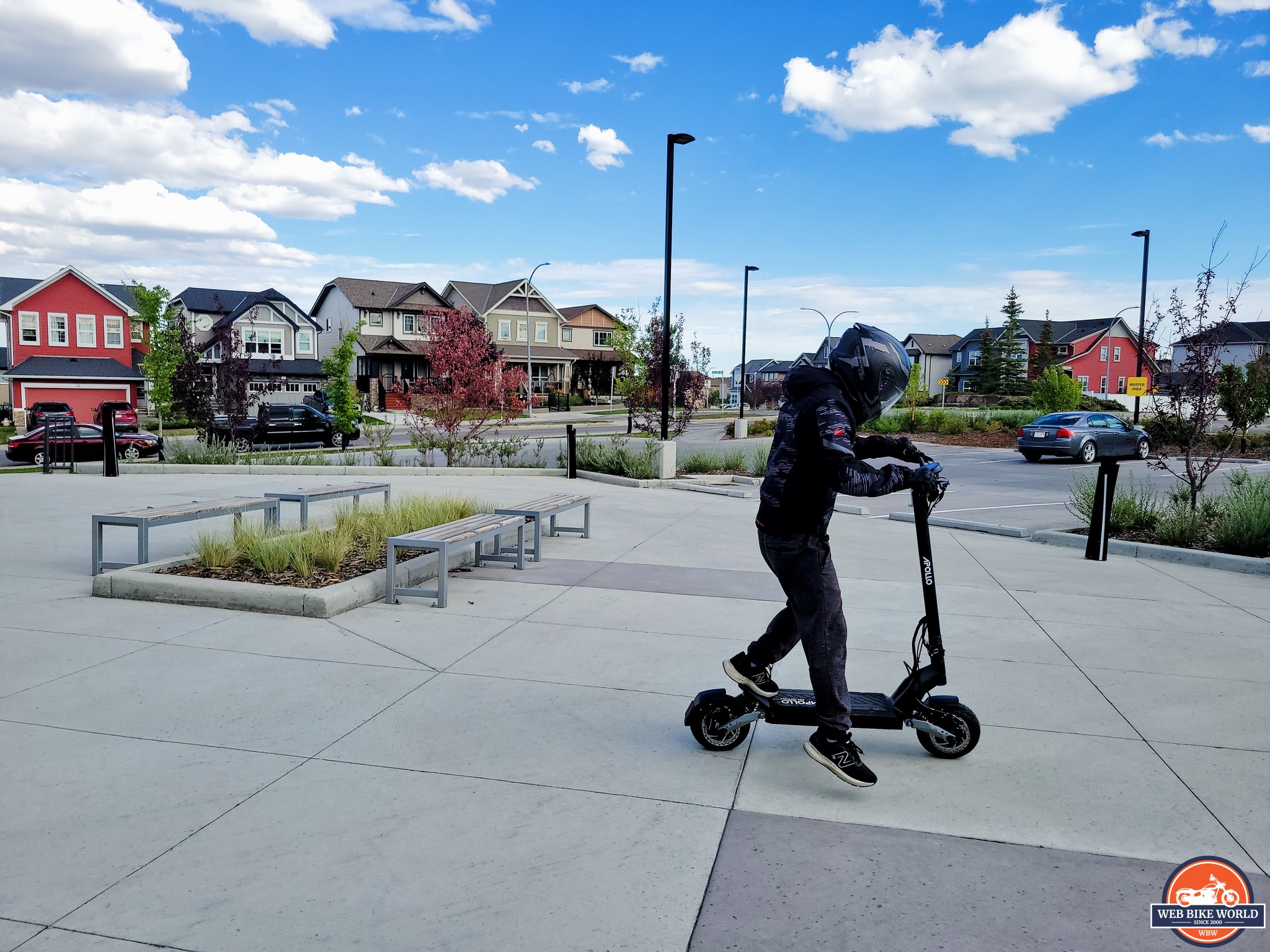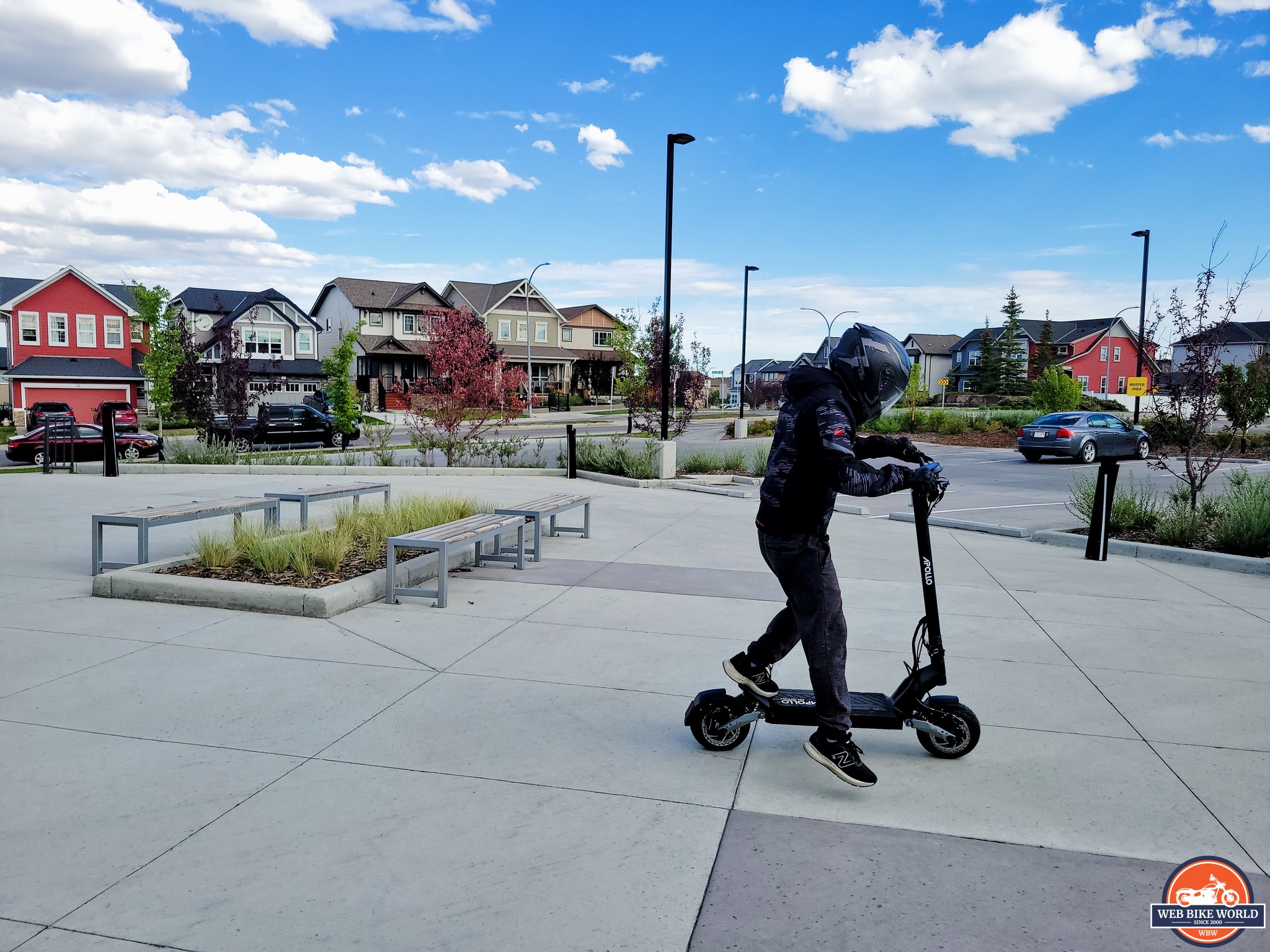 The Apollo Phantom is powered by dual 1200w motors with a combined peak output of 3200w. It's a ton of power on hand which you can access through 3 gears.
Gear 1: 15 mph / 24 kmh max. speed
Gear 2: 25 mph / 40 kmh max. speed
Gear 3: 38 mph / 61 kmh (Ludo: 41 mph / 66 kmh)
These settings can be further customized to your liking through the Apollo Smart App
which we'll get to in a moment.
We had 3 different riders test out the scooter (ranging from 145lb to 250lb) and none of us had any issues with acceleration. The Phantom is rated for 300lb so it has more than enough power for any heavier riders.
Ludo mode allows riders to eke out just a little bit more speed on their Phantom, allowing it to top out at a staggering 41mph / 66kmh.
The throttle system is not overly sensitive and is quite smooth to operate. To make things even better, you can toggle cruise control which will turn on after 5 seconds at a steady speed.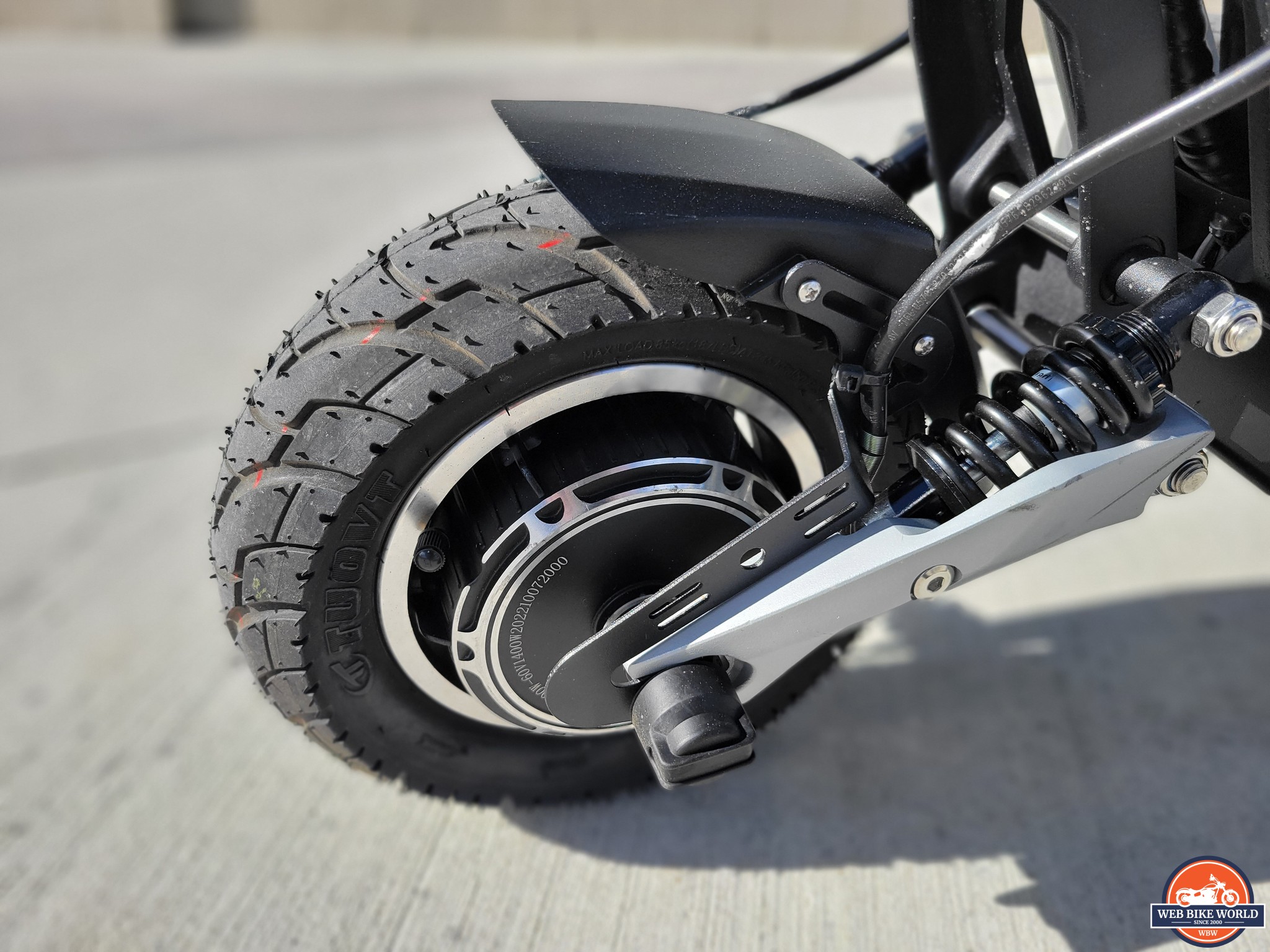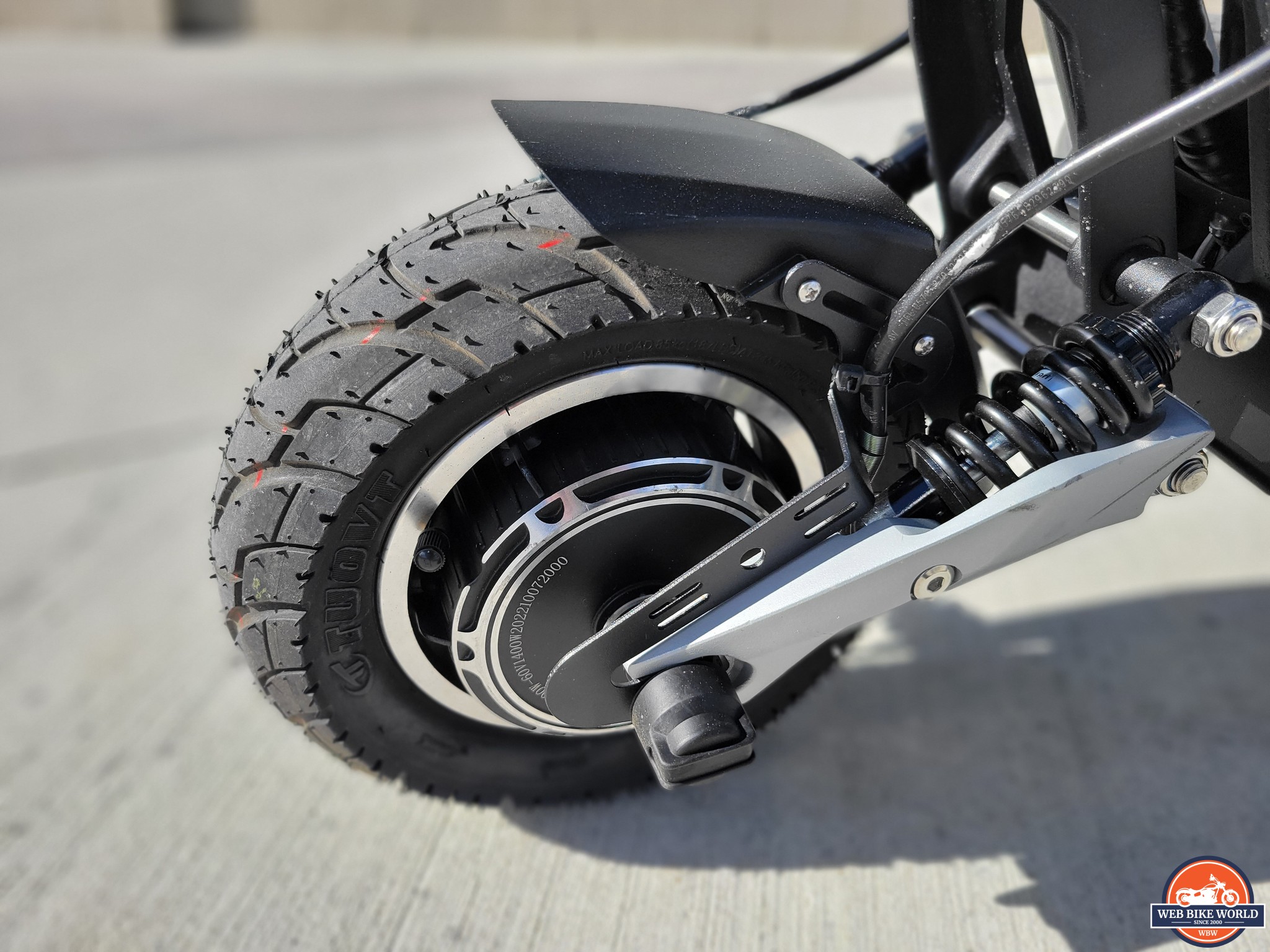 While the Phantom isn't the fastest scooter on the market, consider that it comes with a bevy of features, a proprietary design, and fantastic build quality. It's the jack of all trades which was made in part possible by all of the community feedback that it has received since V1 of the scooter.
During our testing, we took it through city streets, dirt hills, and everything in between. Some riders may say you can never have enough speed, but trust us when we say that the Phantom has enough speed to get you into trouble (if you're into that kind of thing).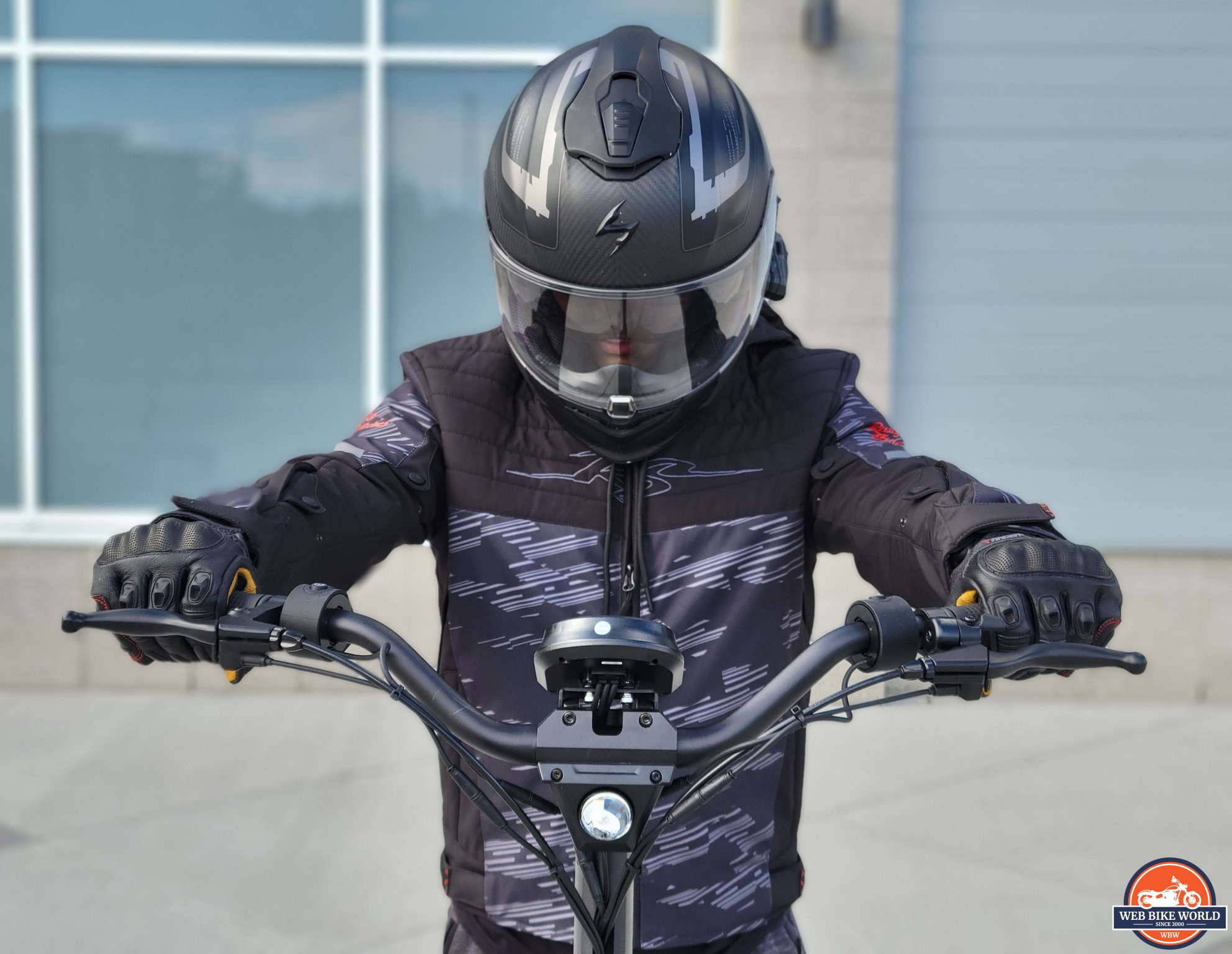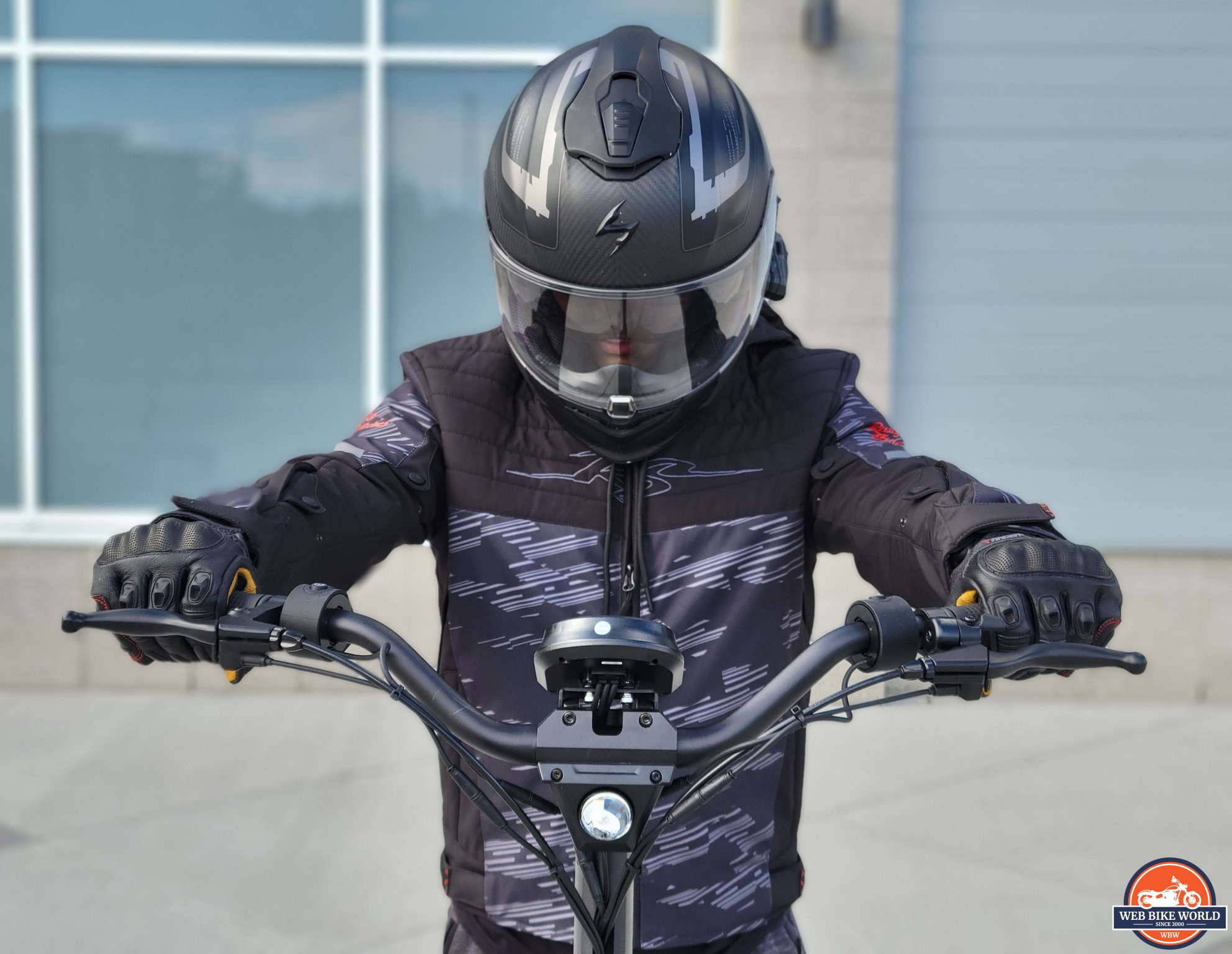 Suspension and Braking
The Apollo Phantom is a very comfortable scooter owing to its
combination of quadruple spring suspension and air-filled tires
. However, I did not find a significant difference between this setup and a dual spring suspension.
Hydraulic shocks may have a larger impact on suspension but those are usually reserved for extreme beast scooters.
Apollo's decision to go with quad suspension is a value added
and there are no negatives in this respect.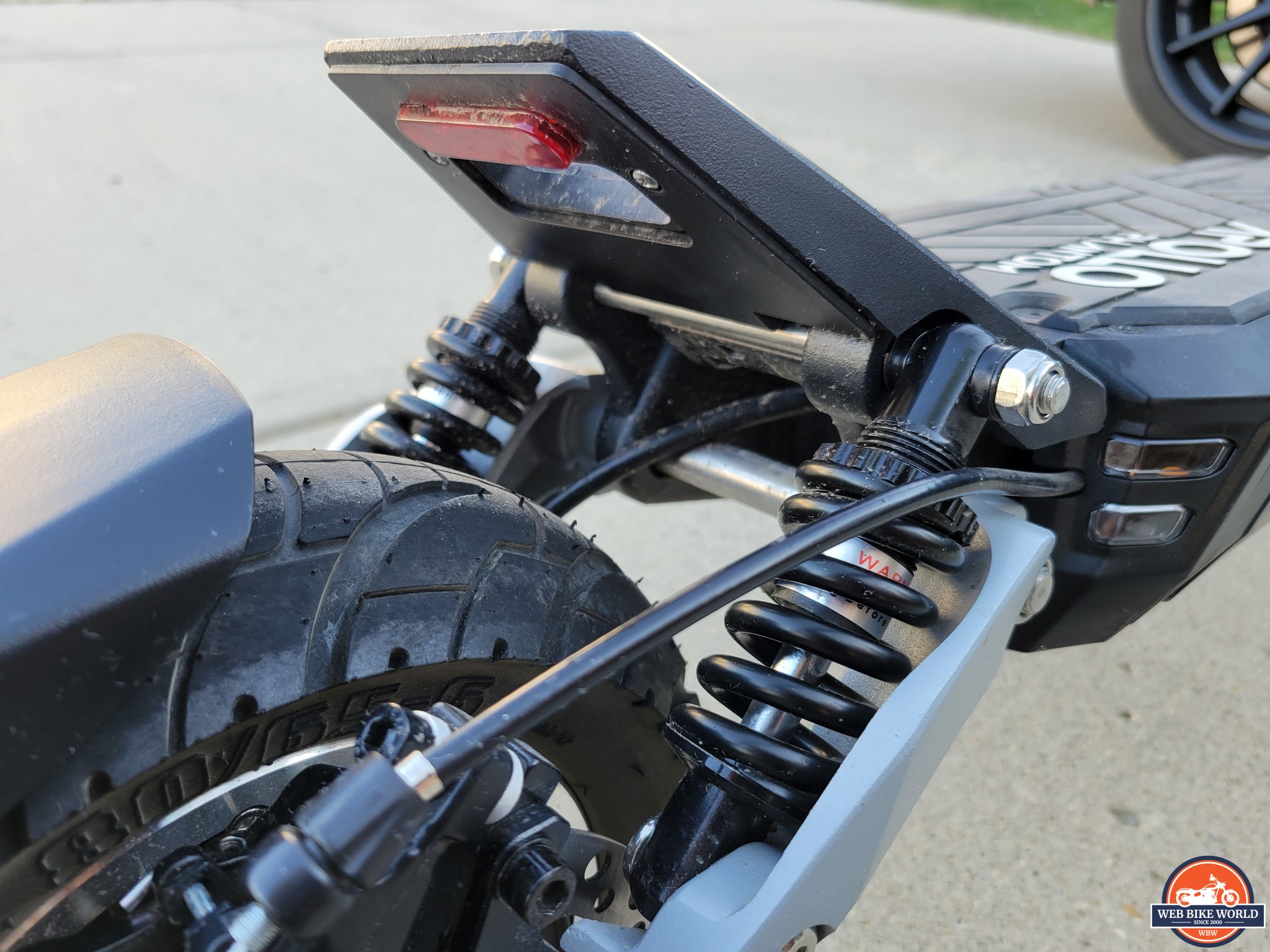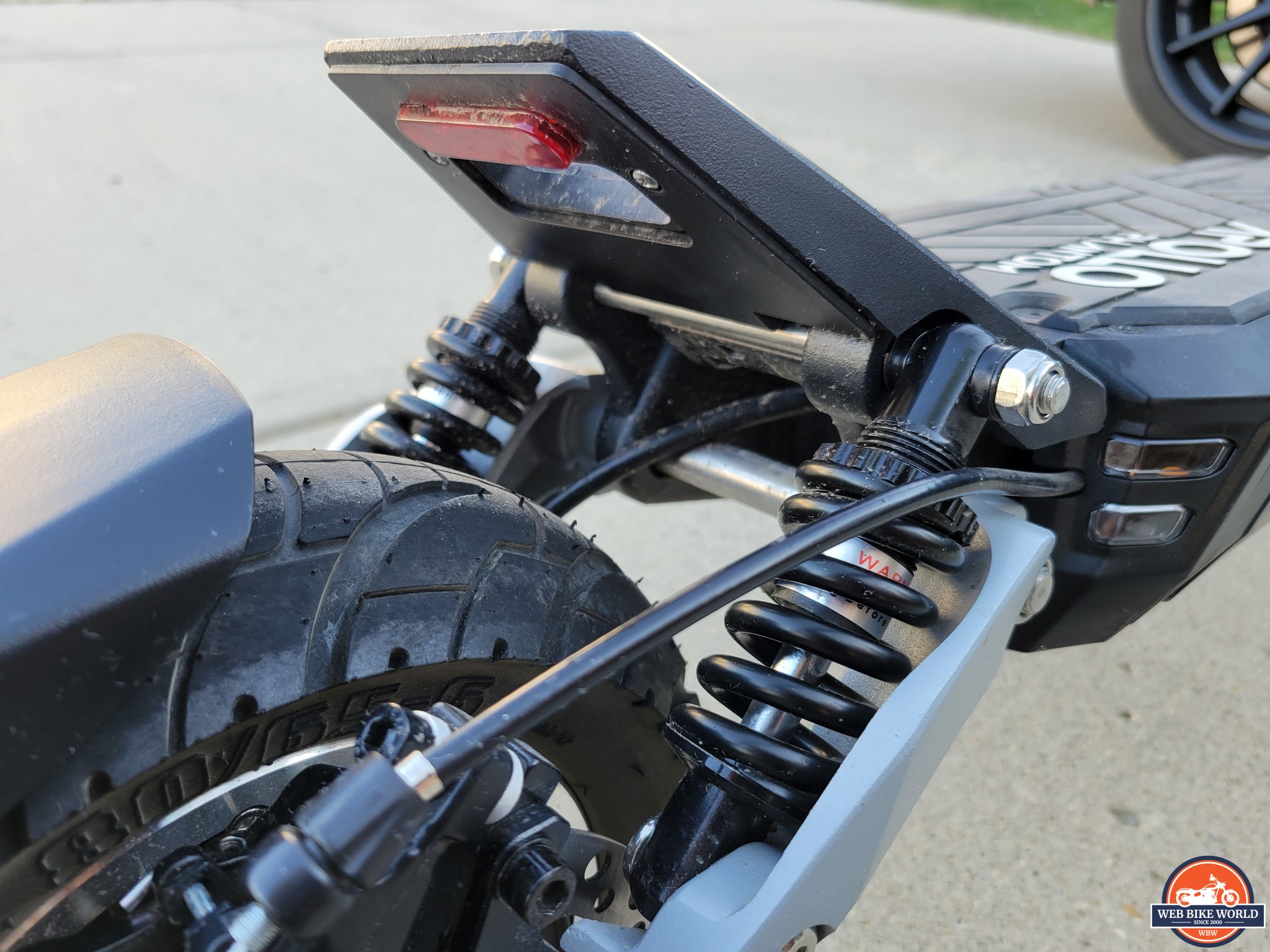 The 10" tires handle a variety of terrain with aplomb while the suspension softens any bumps in the road. Compared to the 11" tubeless tires on the
Varla Eagle One Pro
, the profile of the Phantom is rounder which results in a more nimble ride and makes cornering essentially effortless.
Additionally, there is significant ground-to-deck clearance which allowed us to go over all manner of terrain, allowing us to effortlessly freewheel it over obstacles like speed bumps.
The Phantom V3 is outfitted with disc brakes at both the front and rear, available in both mechanical or hydraulic disc brakes.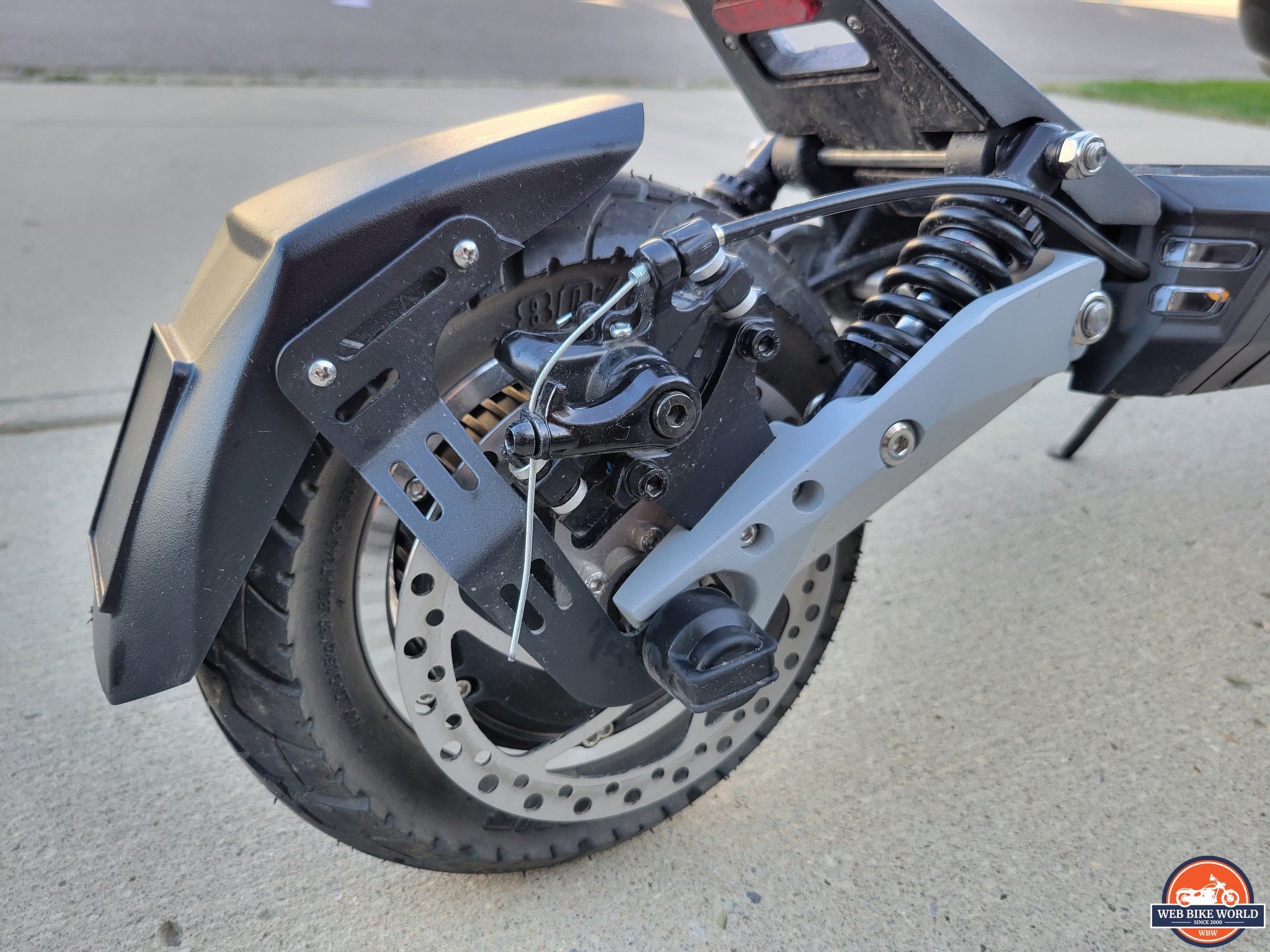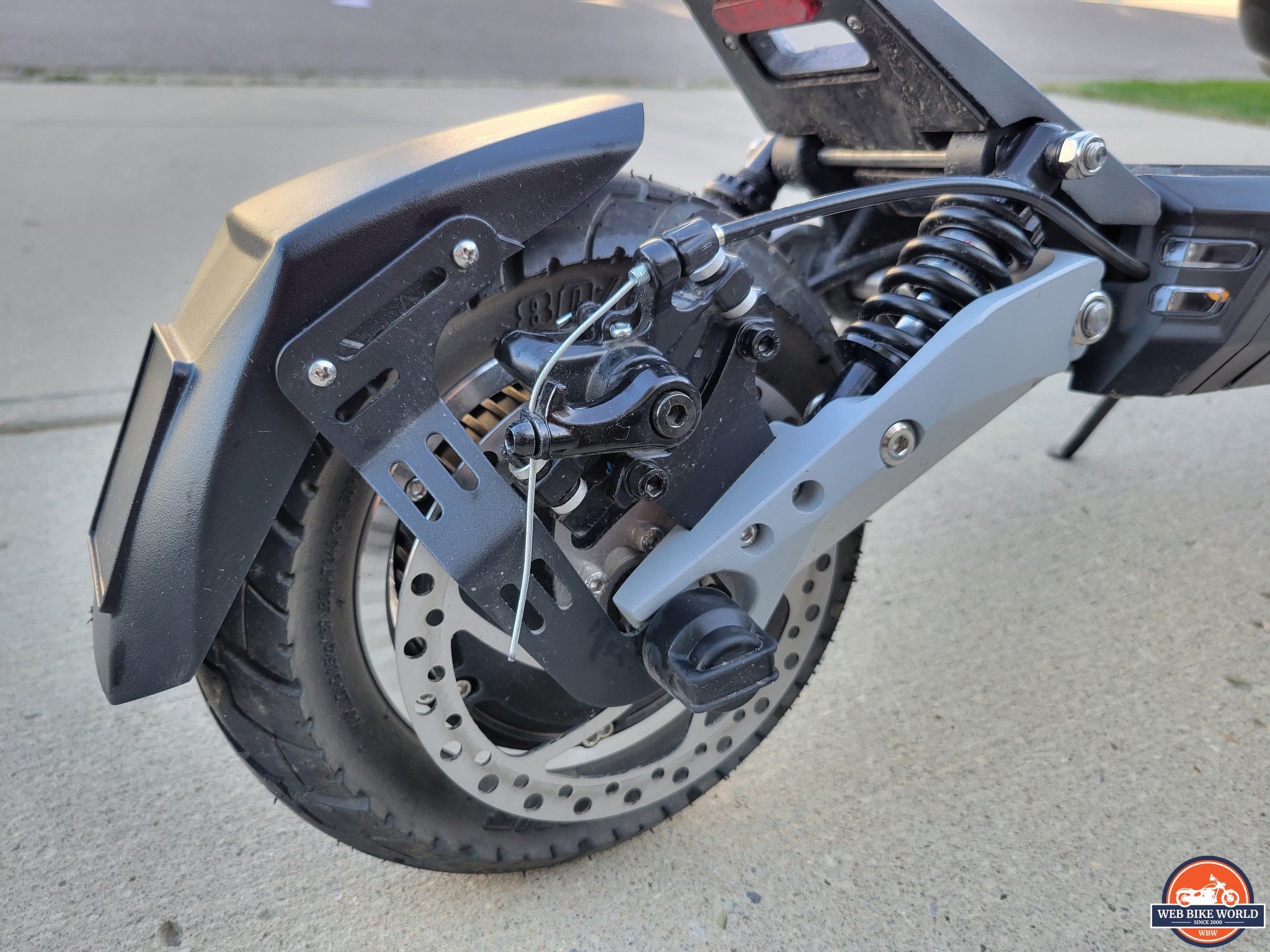 Our V3 model came with mechanical brakes and there was no compromise in its ability to stop on a dime. The levers had a great feel to them and allowed for smooth braking. During our brake tests, we were able to come to a complete stop in roughly 10 feet while traversing on flat pavement at Gear 1 (15mph/24kmh).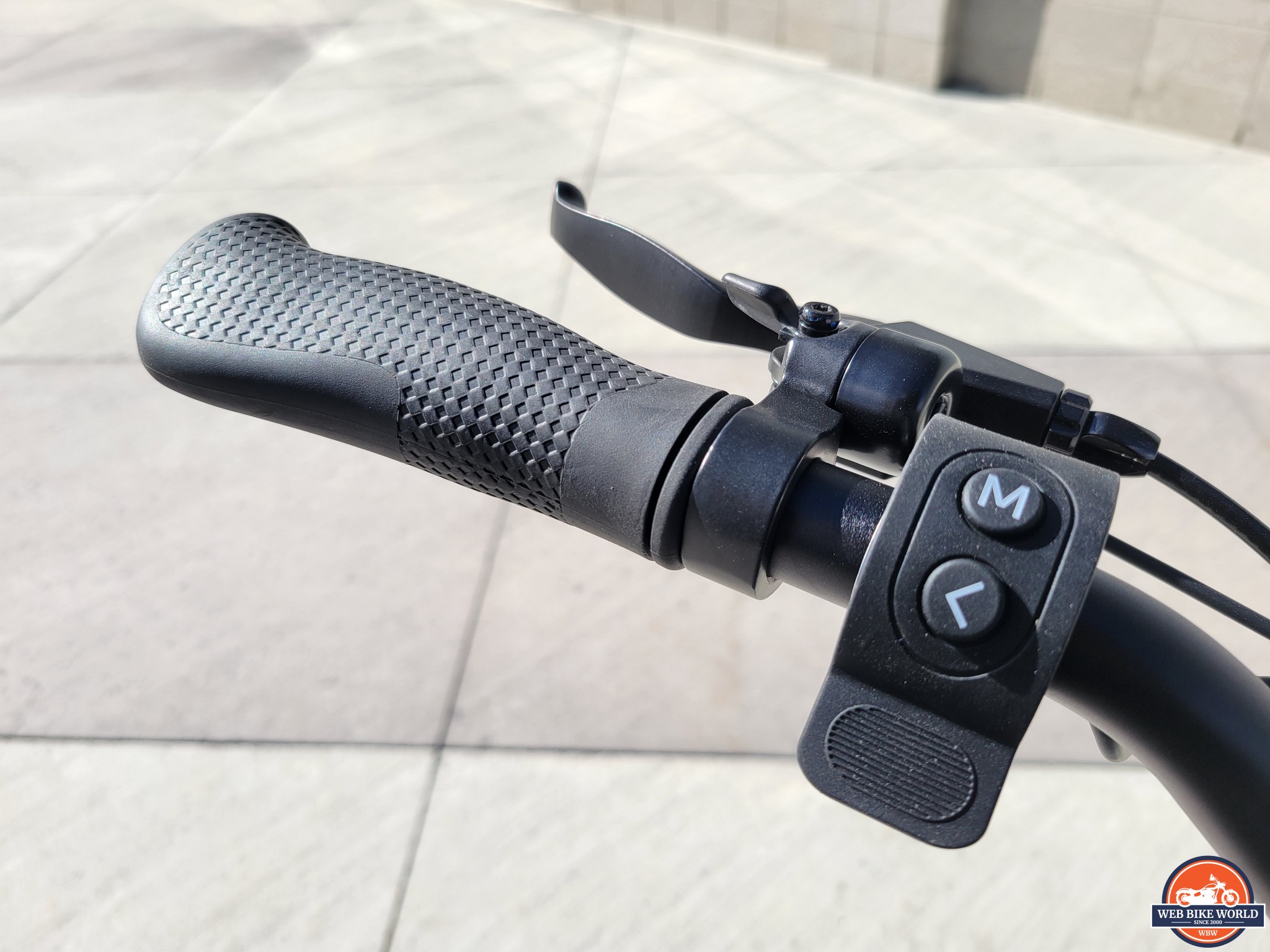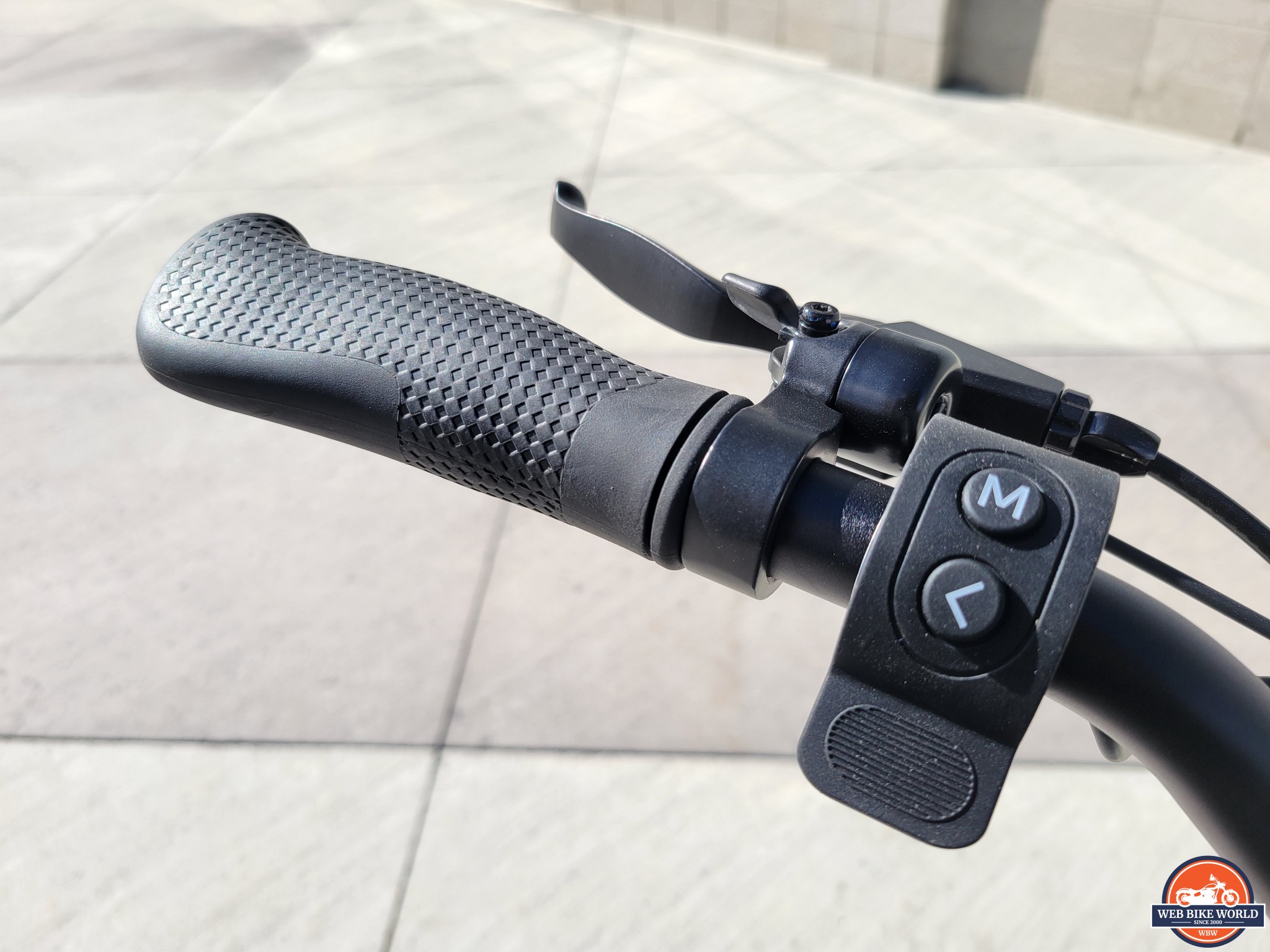 The inclusion of a regenerative braking system is something that sets the Phantom apart from other competitors on the scene. The left handlebar has a dedicated thumb brake throttle for regenerative braking which can be finetuned through the app. We set to regenerative braking to be a gradual deceleration and used the lever brakes as needed.
A word of caution here: be sure not to make the brake settings overly sensitive as this can be jarring and unpredictable, resulting in safety concerns. The last thing you want is to brake and fall over the handlebars head first.
The regenerative braking, if used frequently, will net a modest return and extend your range on a single charge.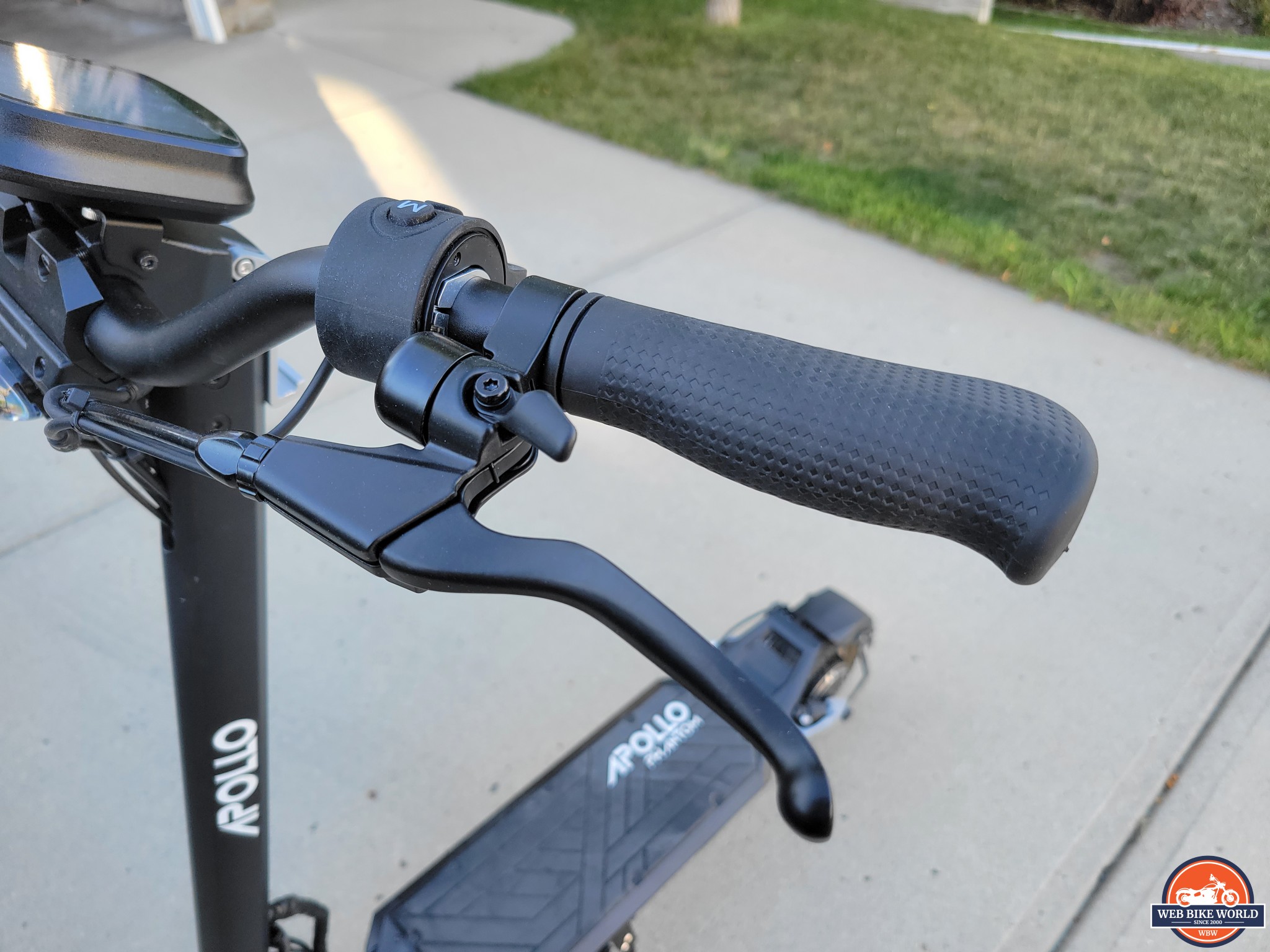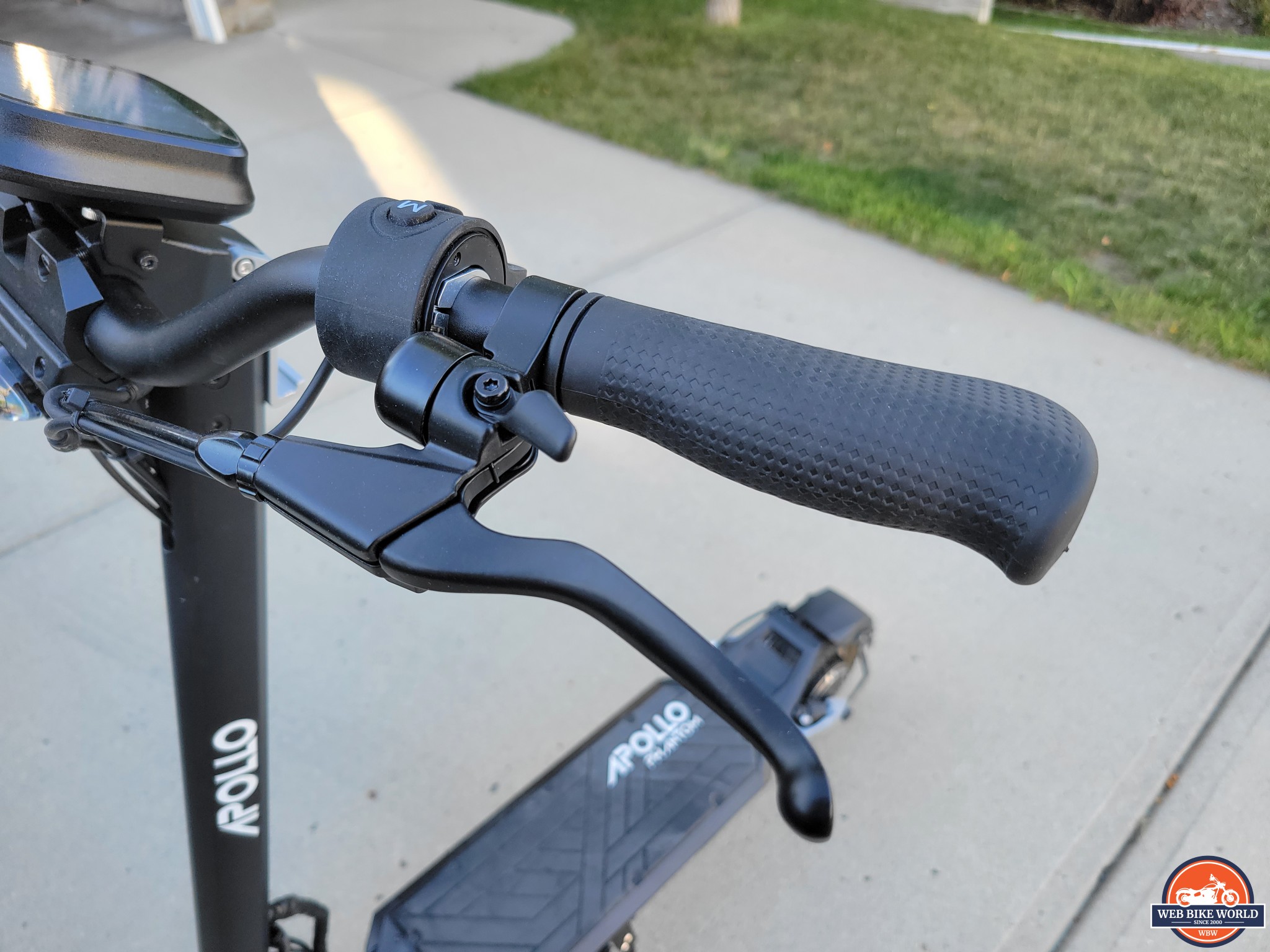 Battery and Range
The Phantom utilizes a 52V 23.4Ah Lithium-ion battery which
takes roughly 12 hours to charge
. You can use a dual charger to halve the time required and
Apollo also sells a fast charger which you can find here
.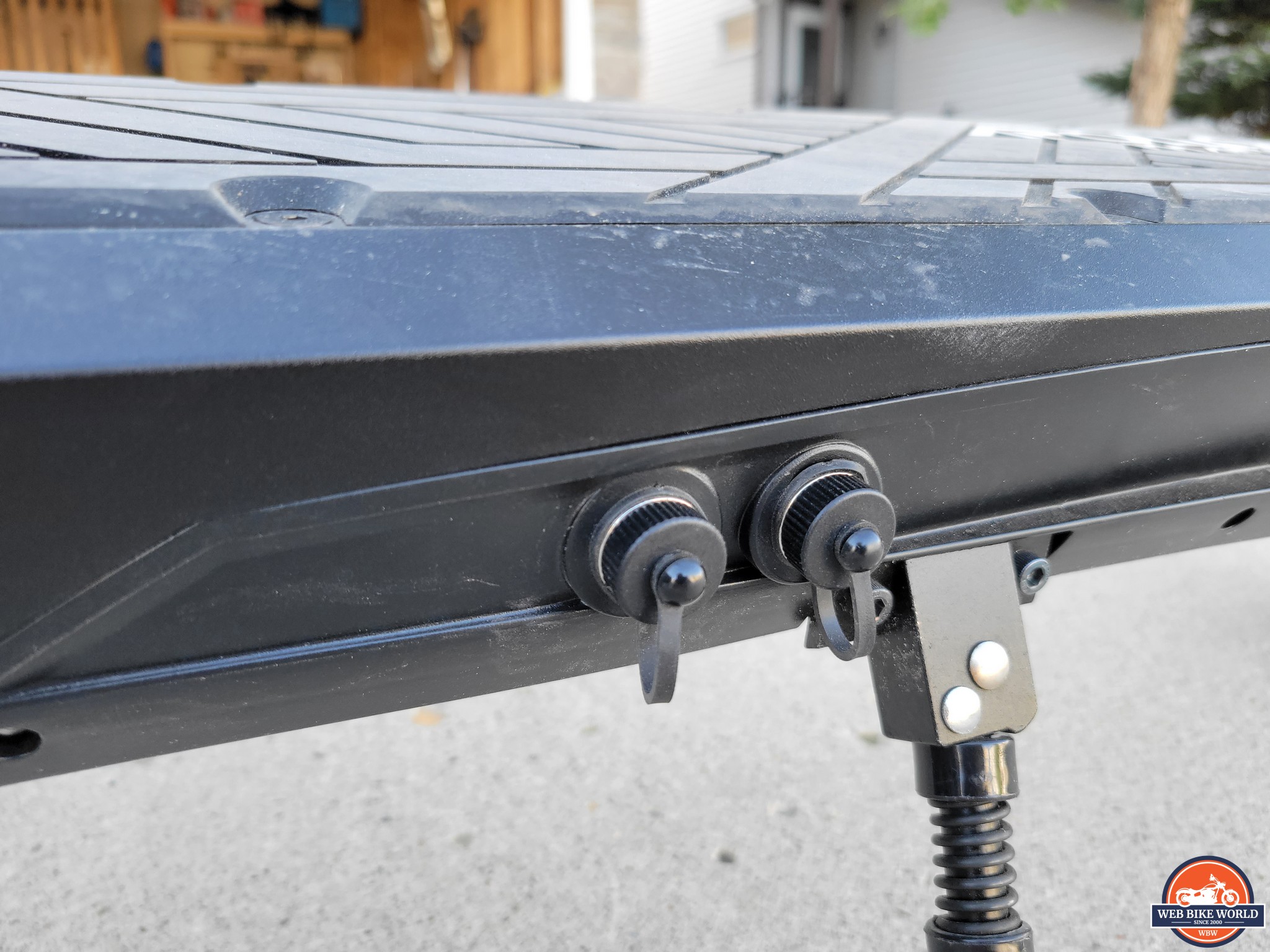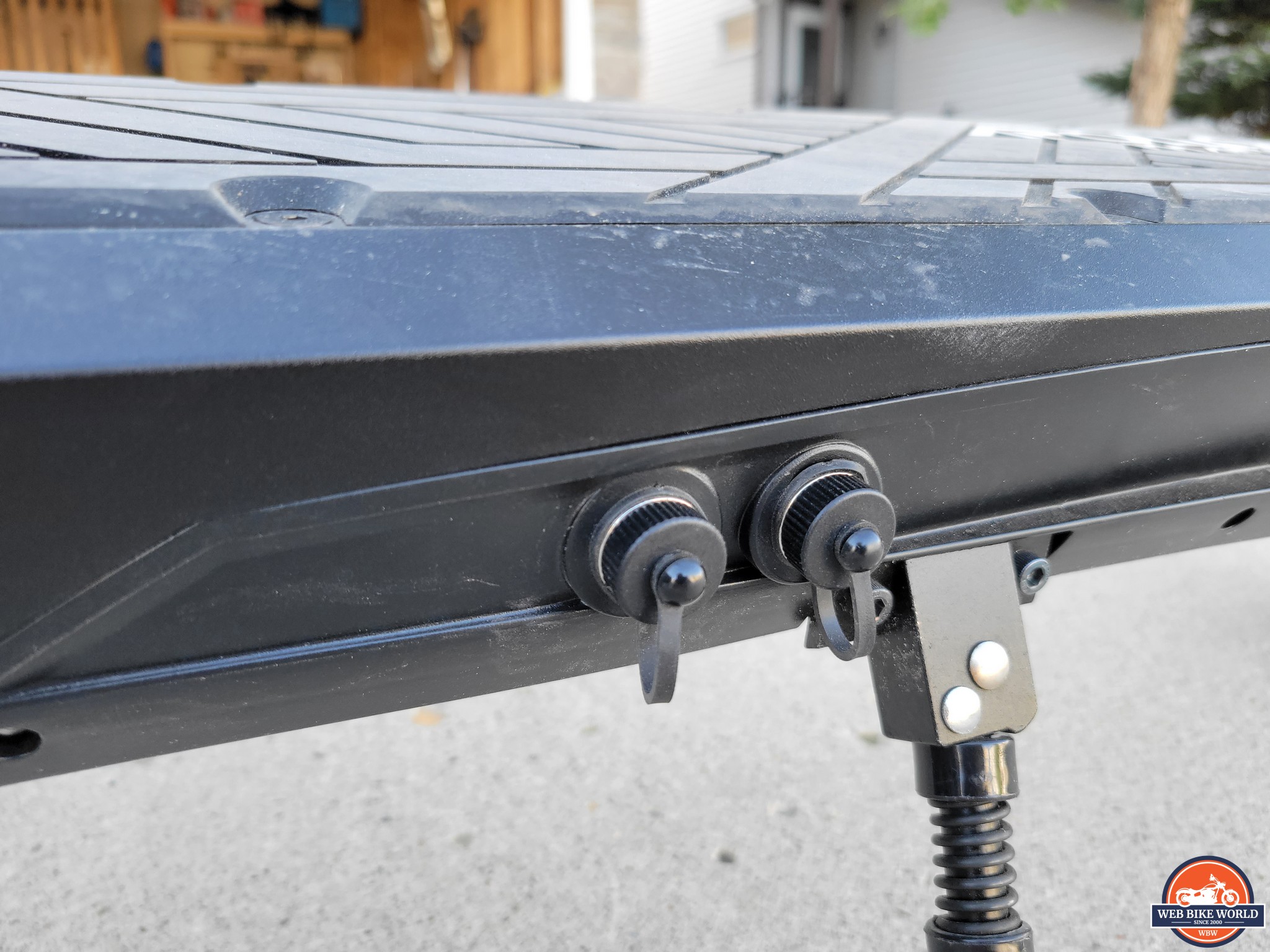 As usual, range is highly dependent on factors such as rider weight, terrain, and speed level. In our testing, we averaged around 38 mi (60km) of range on Comfort and Sport mode. Apollo markets a range of up to 80km which allows it to double as a decent commuter scooter as well, except for the fact that it does weigh 35kg (77lb), so it's a feat to lug it around.
For The Tech Savvy: Apollo App
The Phantom V3 offers a seamless connection with the Apollo Smart App which elevates your riding experience. The Apollo Smart App is available on the following platforms: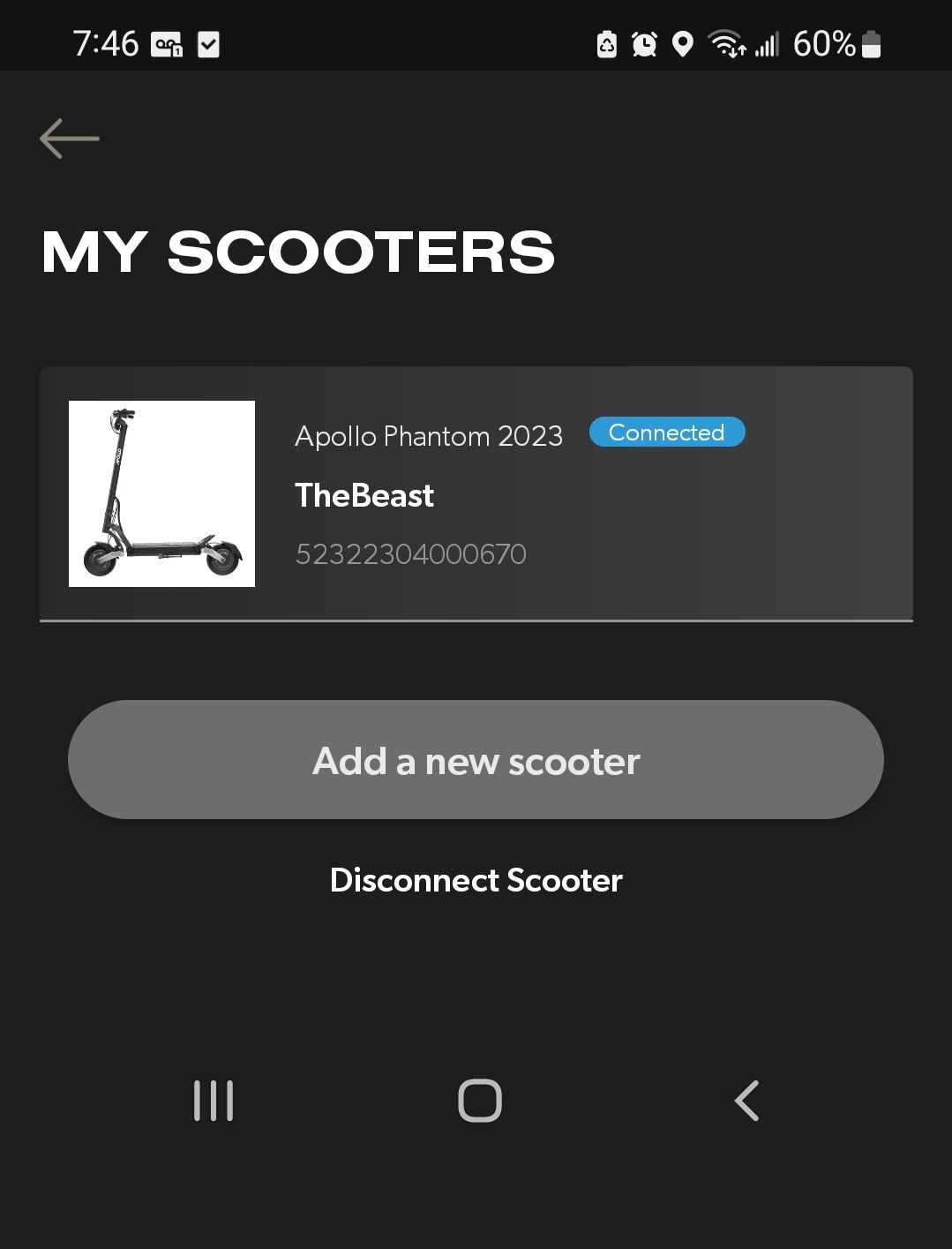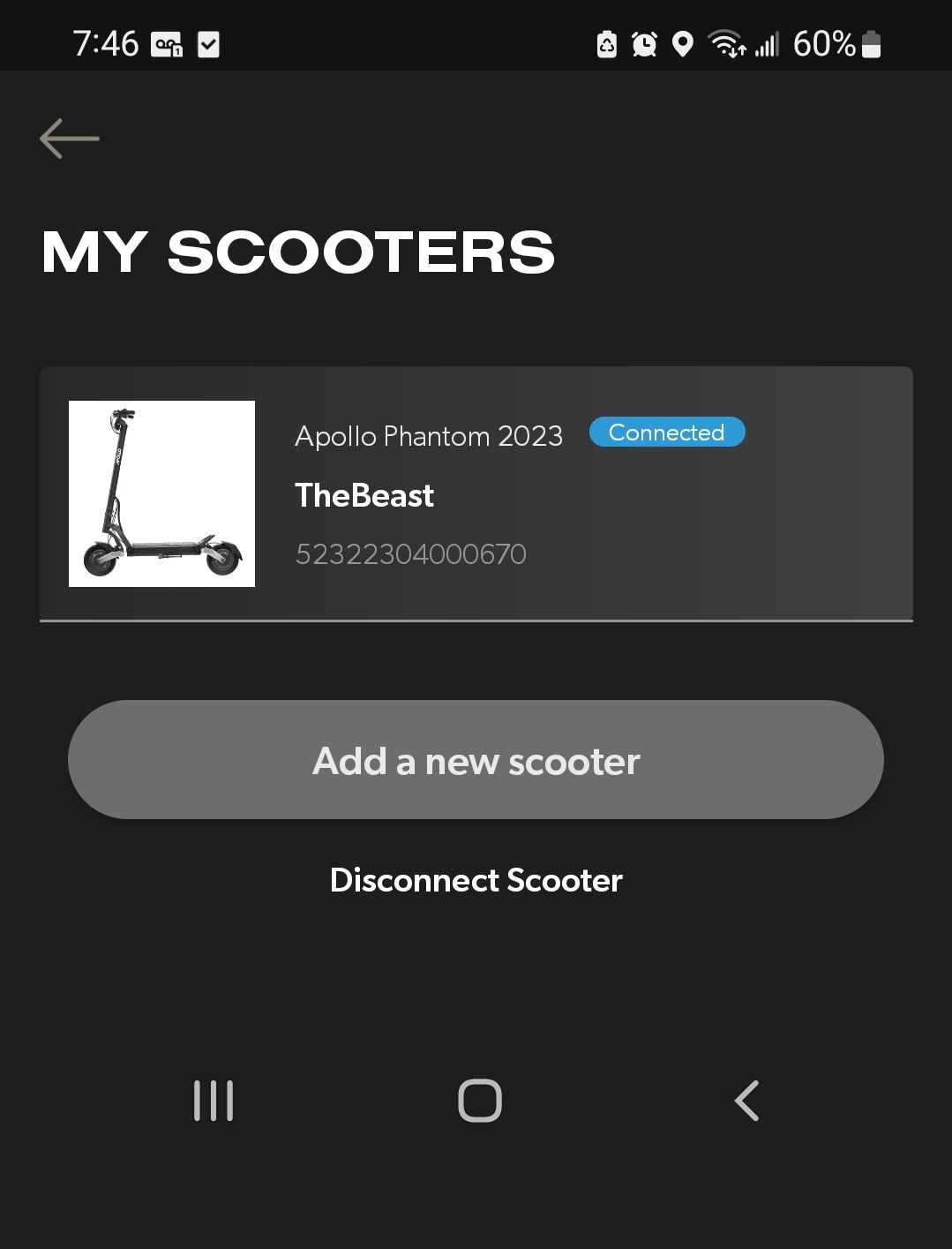 It pairs via Bluetooth and takes you through an amusing setup sequence where you pair it with your scooter. Once setup is finished, you have a number of convenience and customizability options at your fingertips.
Speed Customization
A substantial criticism that I had of the
Varla Eagle One Pro
is the lack of middle ground between Gear 1 (12mph/20kmh) and Gear 2 (26mph / 42kmh).
While that's relatively close to the default Phantom settings, it effectively meant that I couldn't do slightly-more spirited riding on urban/city roads without going over the
Canada federally regulated e-scooter speeds
, which caps PEVs at 20mph (32kmh).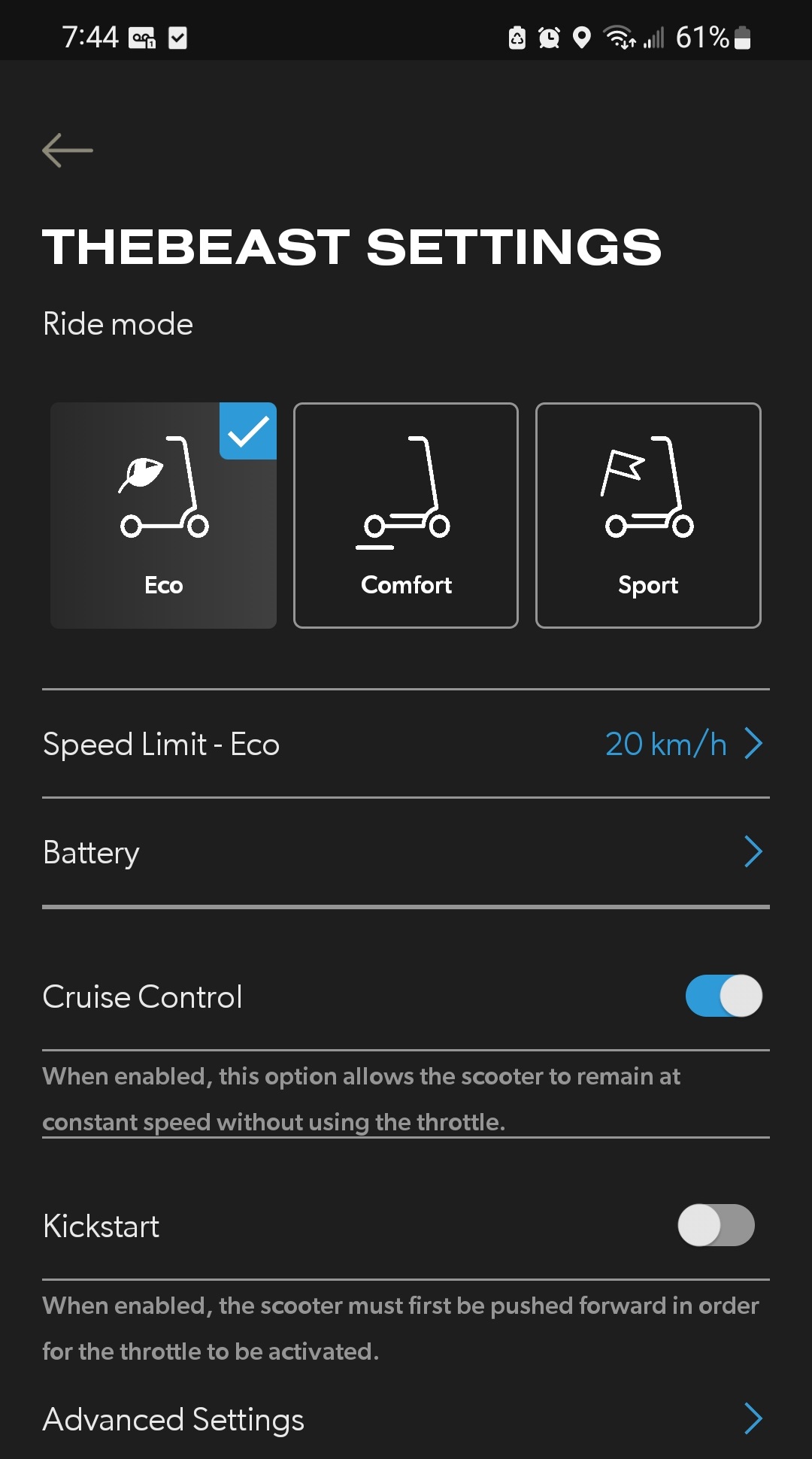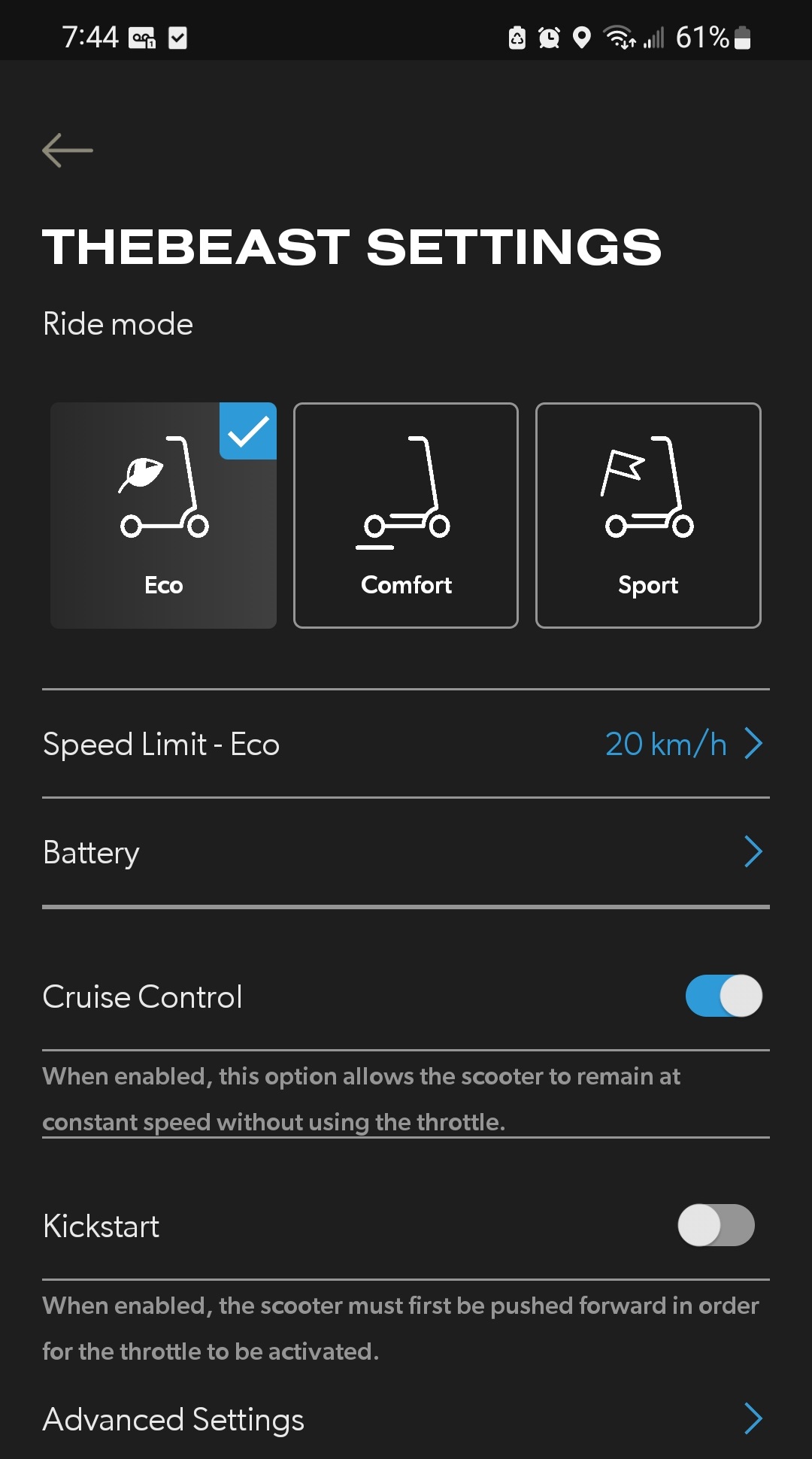 With the app, it allows users to set your 3 speed settings (Eco/Comfort/Sport) to
whatever speeds you damn desire
. That's an incredible feature that gives every rider the freedom to create a custom riding experience. As a result of this newfound flexibility, I opted for the following:
Eco Speed Limit: 12mph / 20kmh
Comfort Speed Limit: 18mph / 32kmh
Sport Speed Limit: 28mph / 45kmh
I found these settings to be the best balance for my daily riding. I always travel at least 12mph, while Comfort allows me to step it up a notch. When there's not a soul around on a bike trail, I'll put it into sport mode and give 'er.
The Phantom will take you to hauntingly (lol) high speeds with Ludo mode (41mph / 66kmh), but I prefer to leave this to the true speed demons of the scooter world.
Acceleration & Brake Response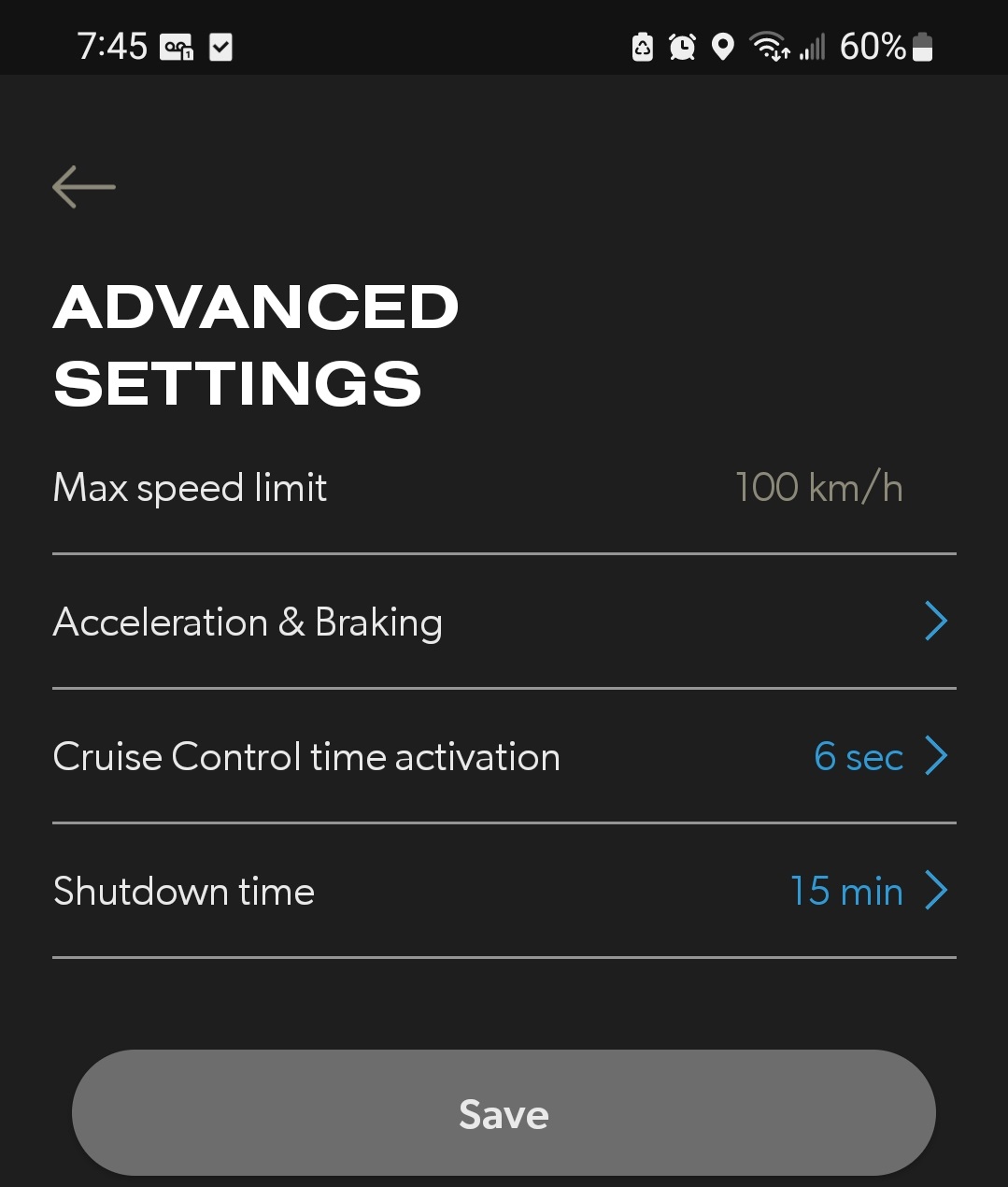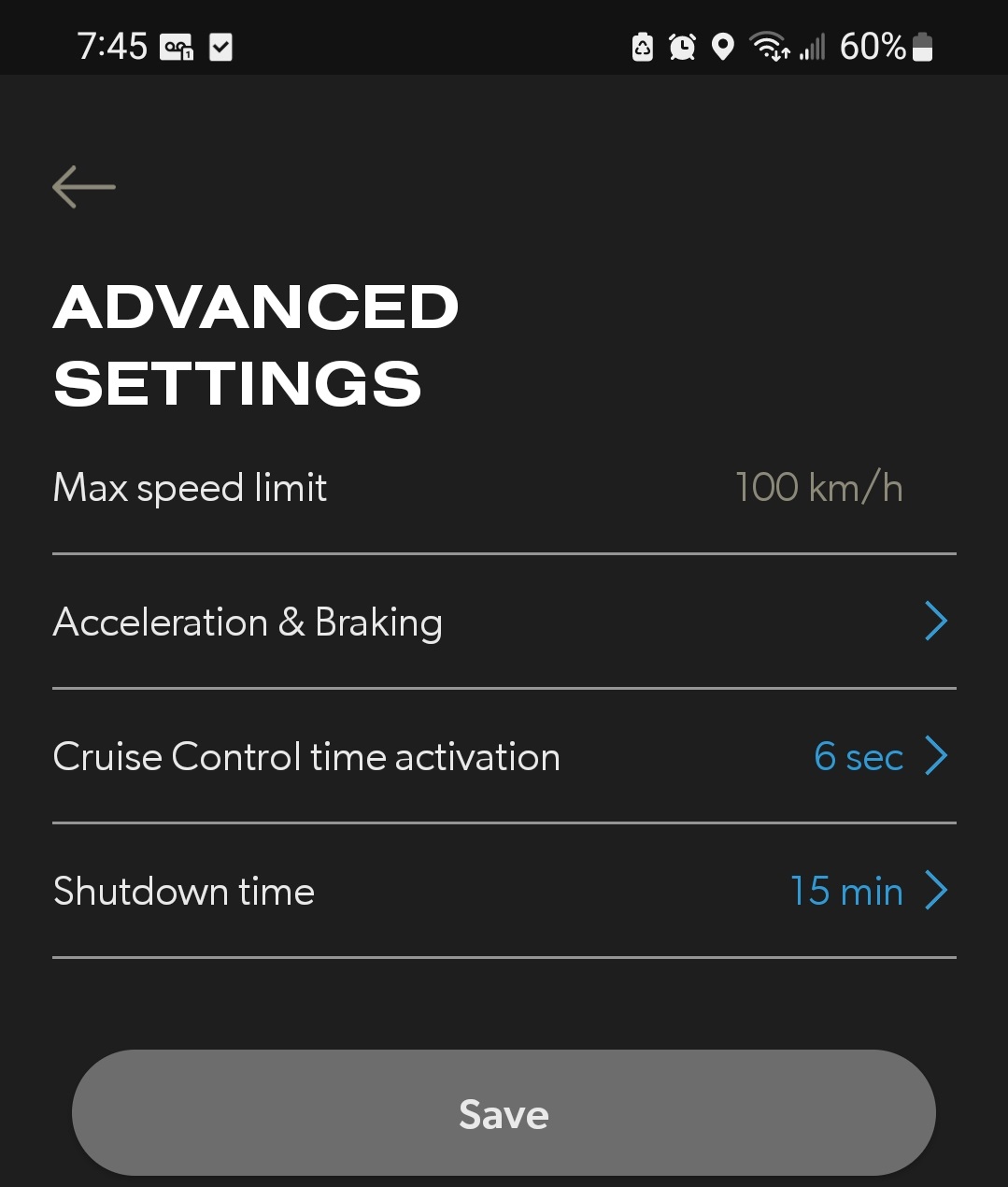 Instead of perusing through vague P-settings and holding the user manual in your other hand, the app's user-friendly interface will allow to easily adjust acceleration and regenerative braking responses (use your brake levers as you normally would; they will not be impacted by these settings).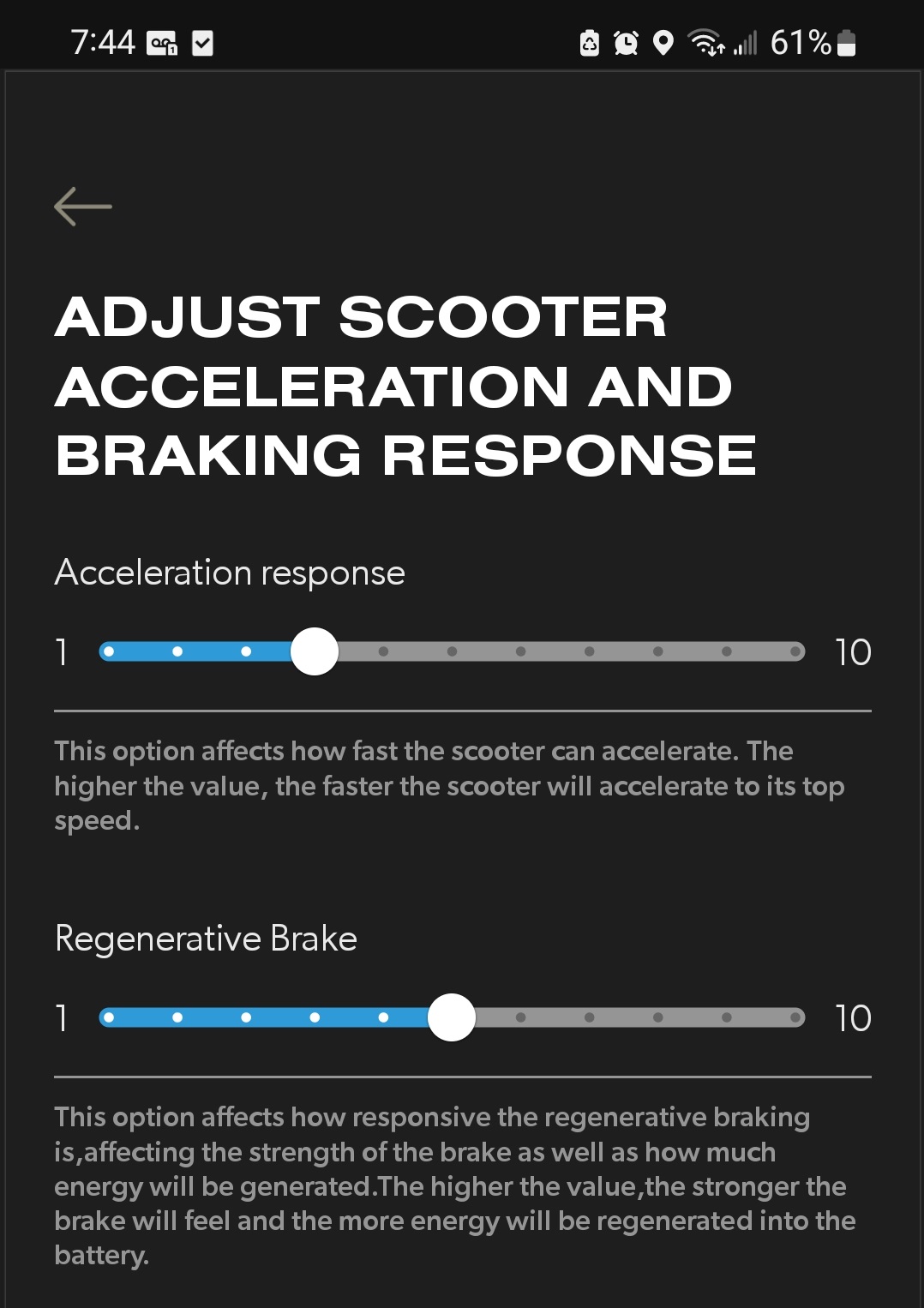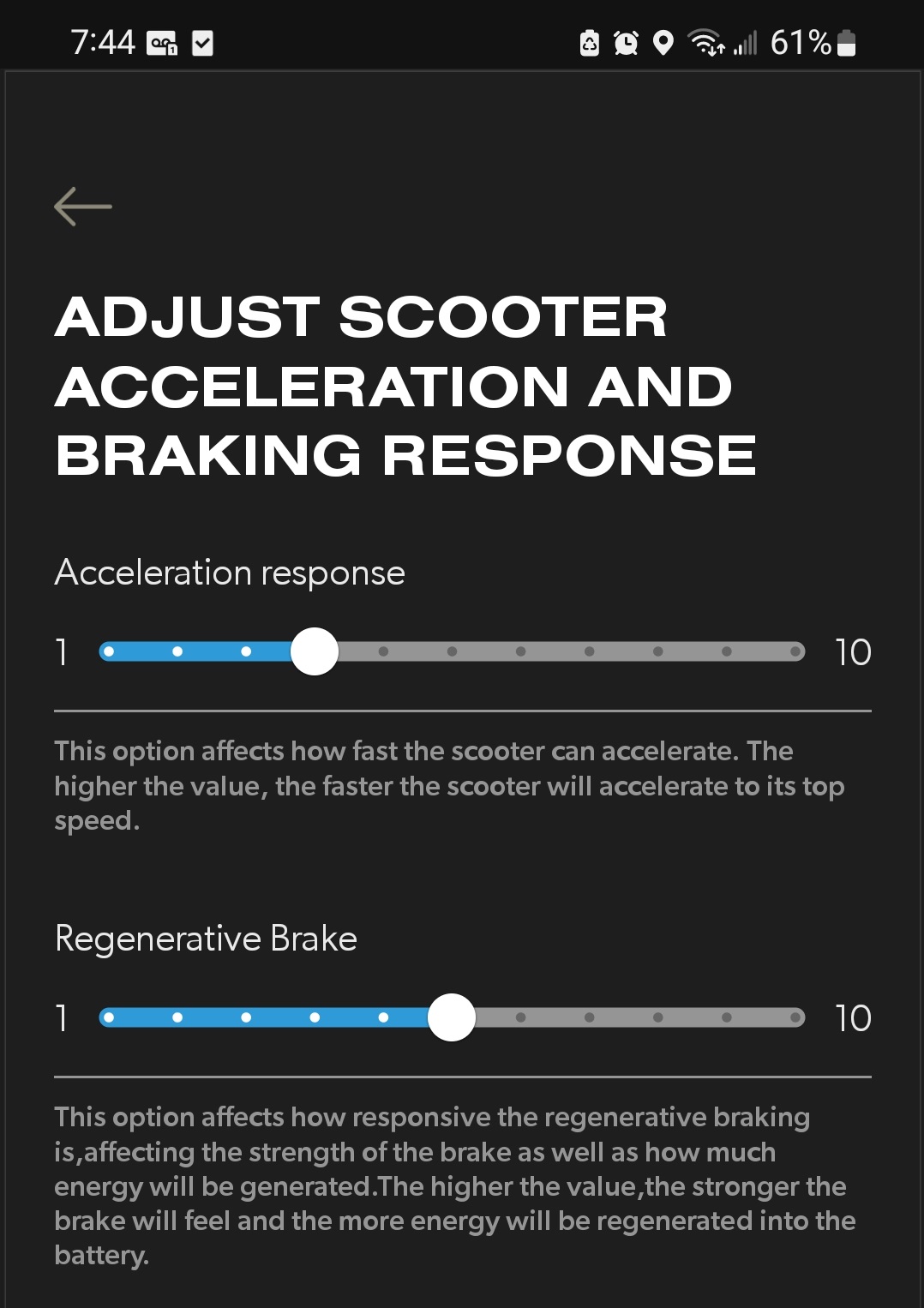 Use these to dial in how fast you want the scooter to accelerate and how strong of a braking response you want when you press on the regenerative braking throttle on the left handlebar.
It's just an extra level of customization that highlights Apollo's dedication to an amazing rider experience.
Map & Navigation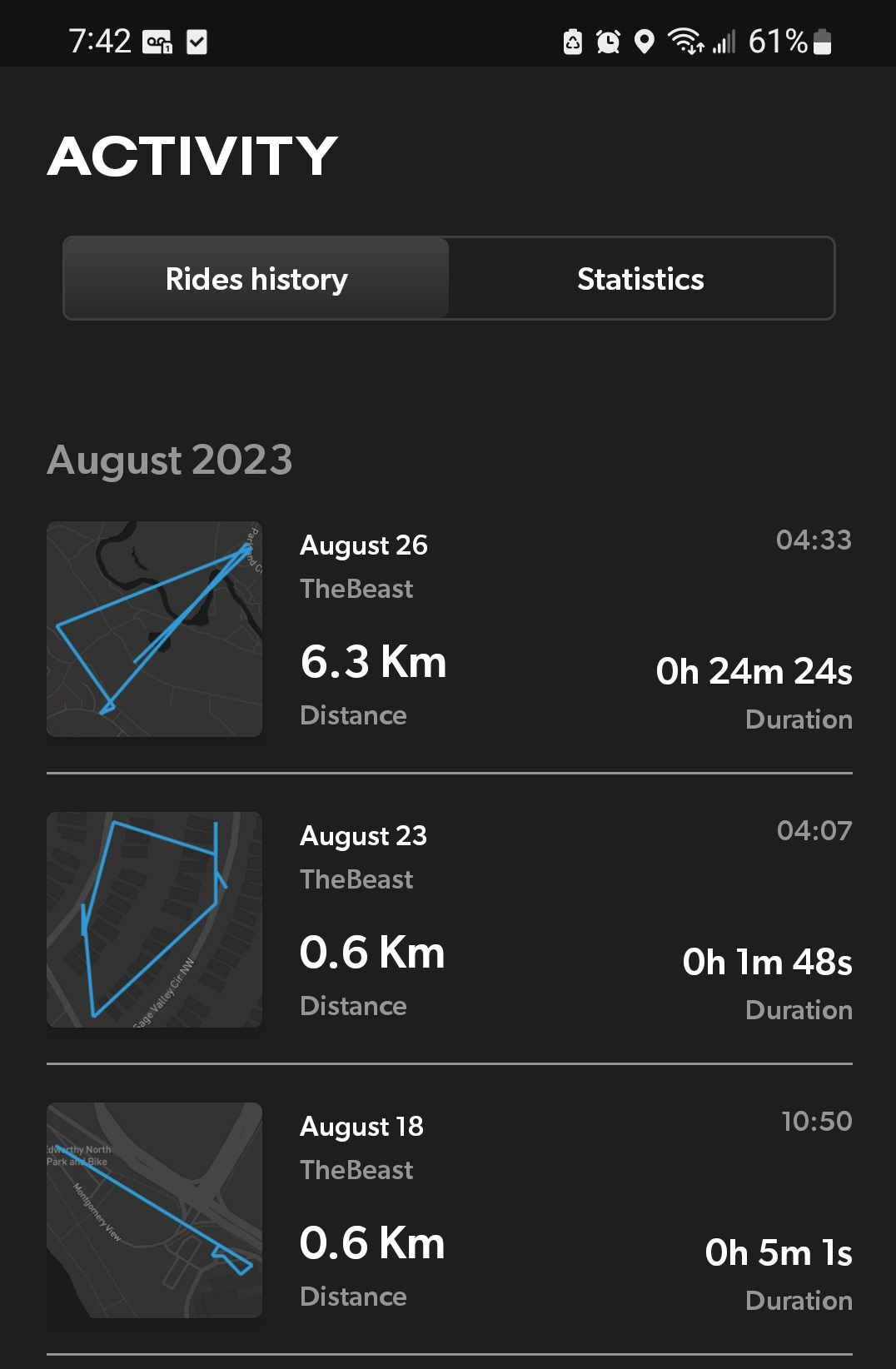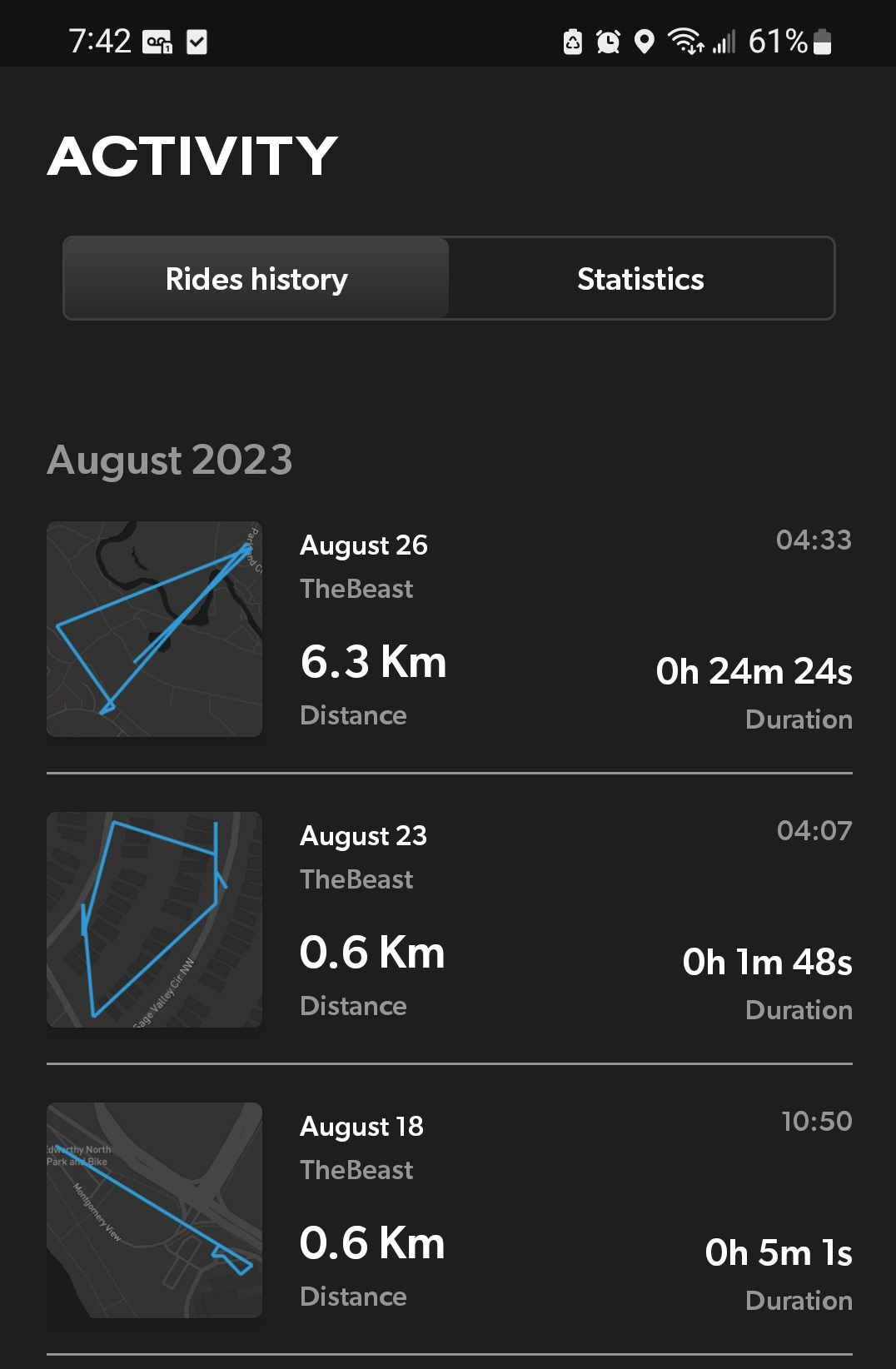 Apollo has an Auto Ride setting that will automatically record your scooter rides. You can also manually track your rides.
Ride details will record duration, distance, average/top speed, and battery consumption over the course of that particular ride.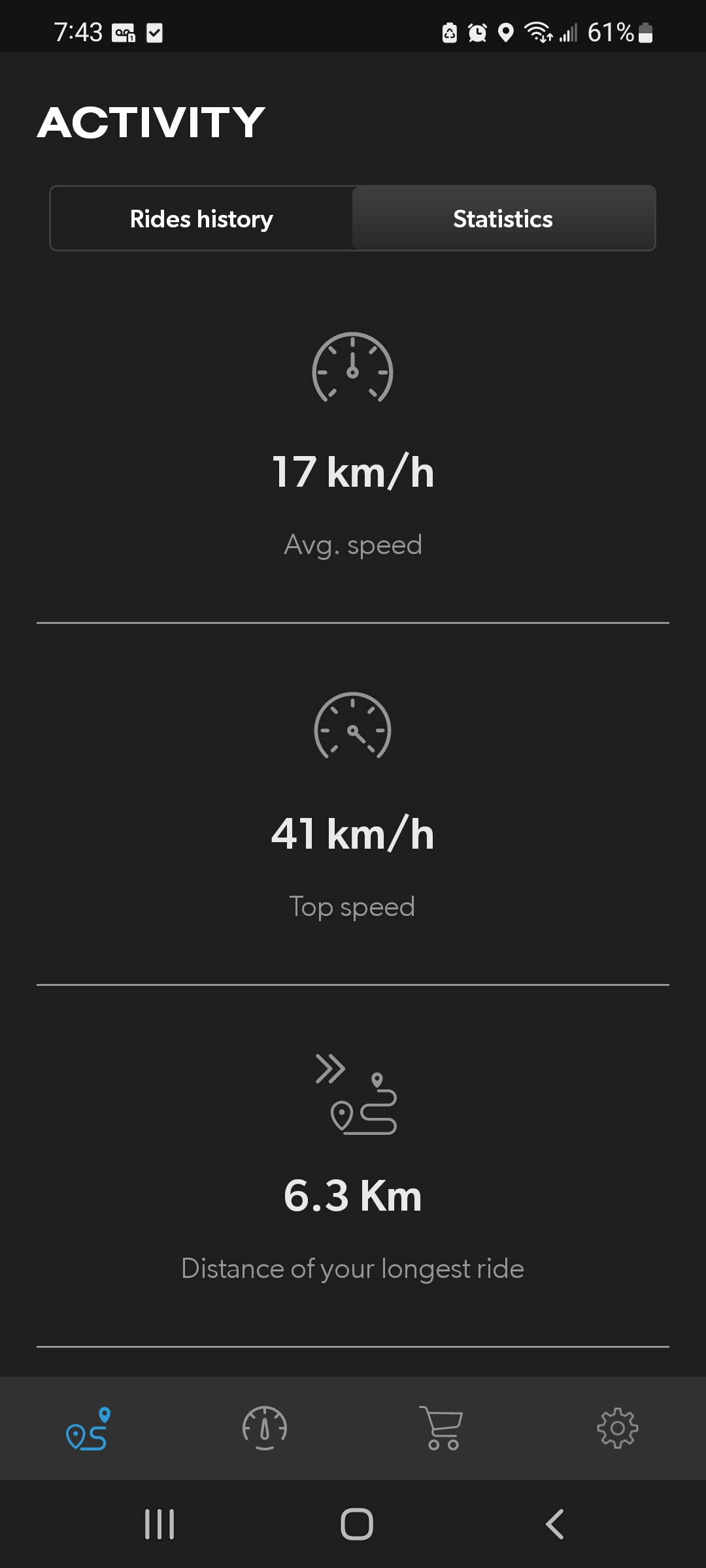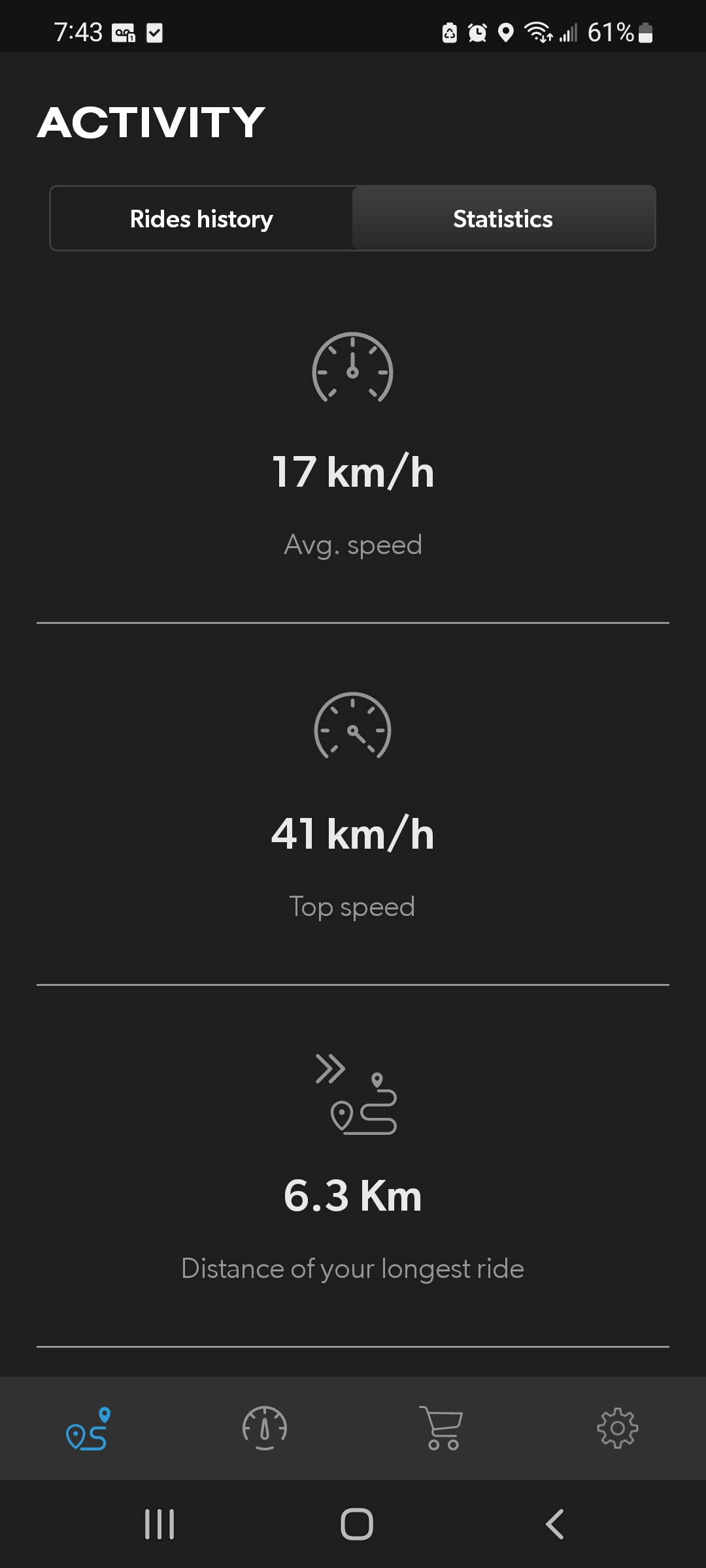 This can be beneficial if you want to use metrics to plan out your next adventure, or if you just want to record your journeys and feel a sense of accomplishment.
It also keeps a running total record of the above metrics, but only if you remember to connect the app prior to each ride.
Other Apollo App Features and Advanced Settings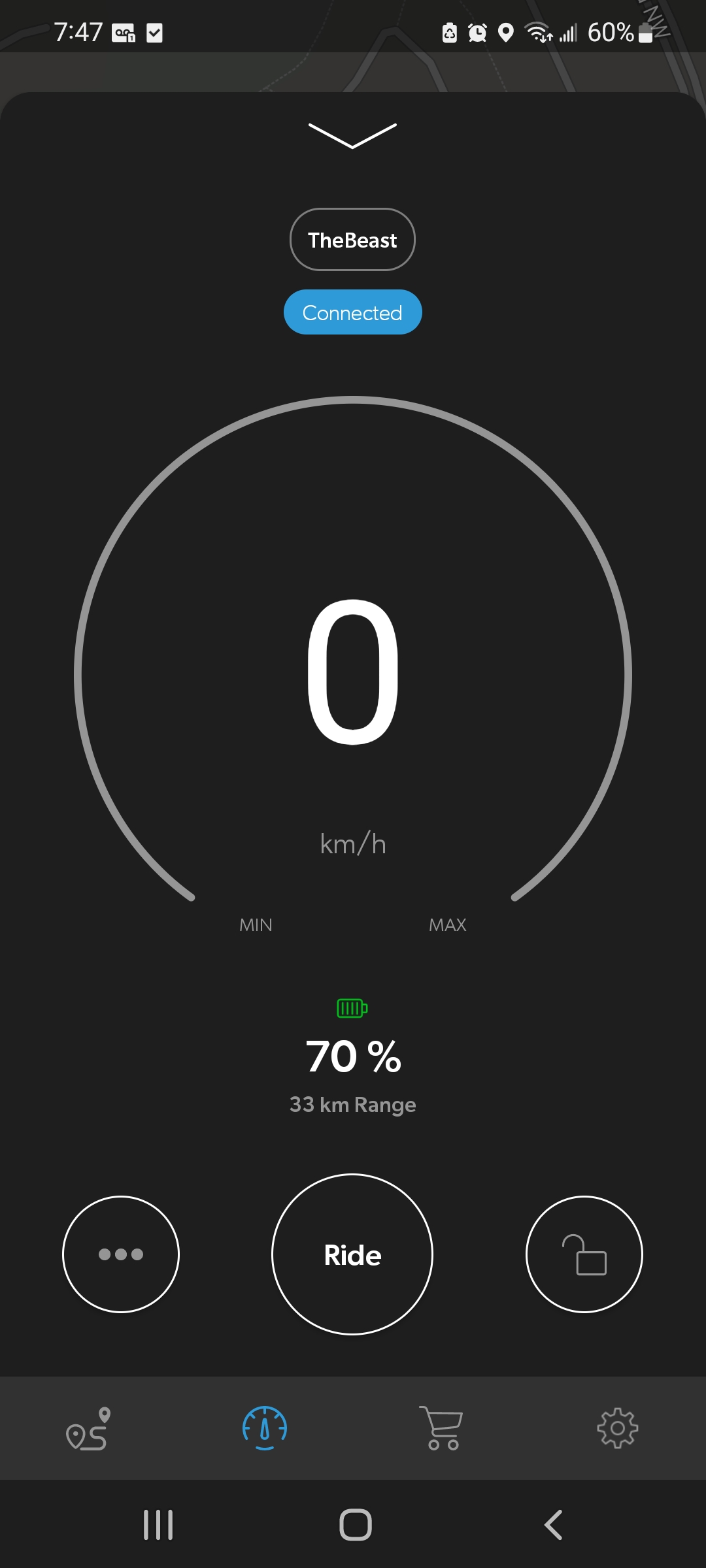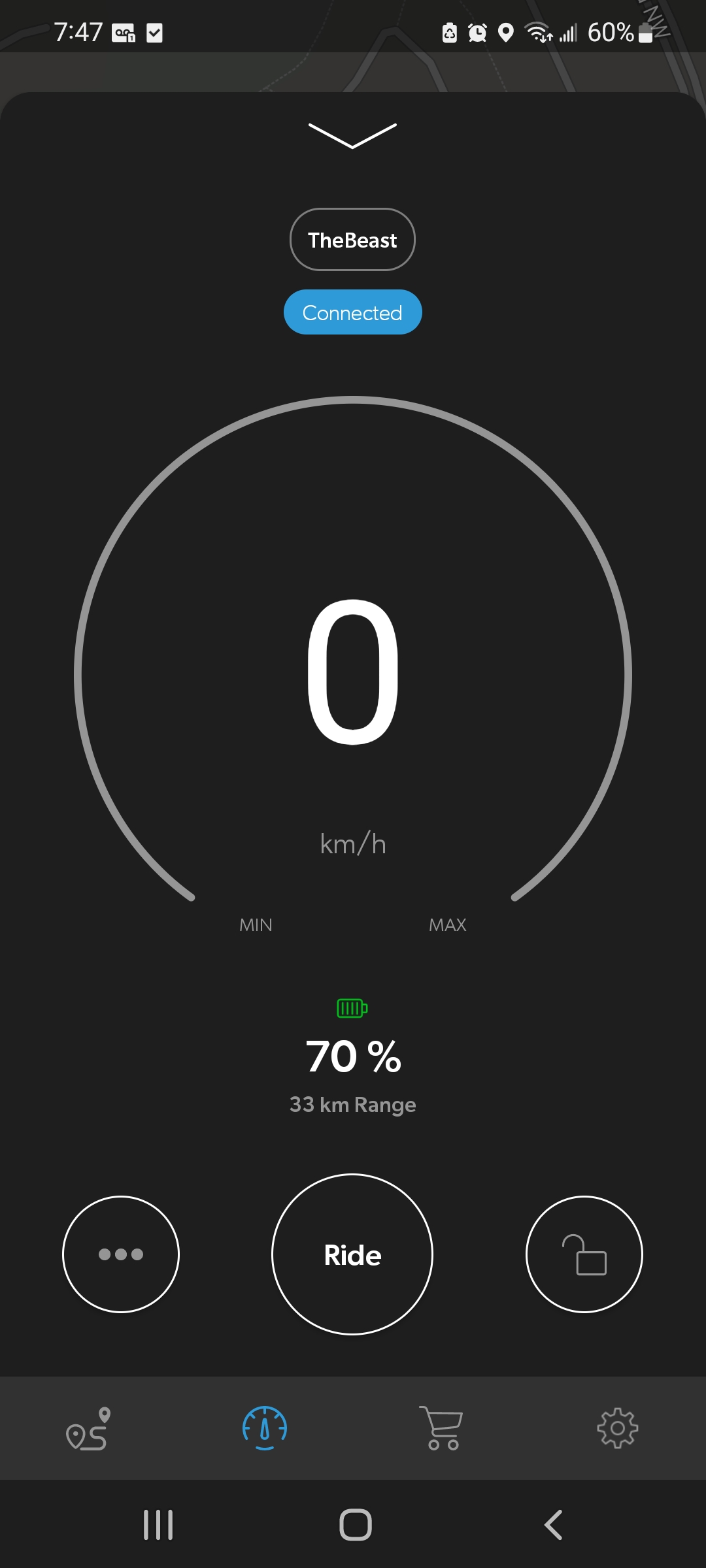 Some of the other features within the app allow you to do the following:
Add and use the app for other Apollo scooters that you own.
Access the quick nav menu to toggle your LED headlights, cruise control, and speed modes.
Lock your scooter so that you cannot accelerate (someone can still pick it up and steal it though).
Shop on Apollo's online store for accessories and parts.
Overall, I commend Apollo for the addition of the app. The ability to customize my speed settings is already worth it and they continue to make updates so I look forward to other features that may become available in the future.
Verdict: The Apollo Phantom Is For Everybody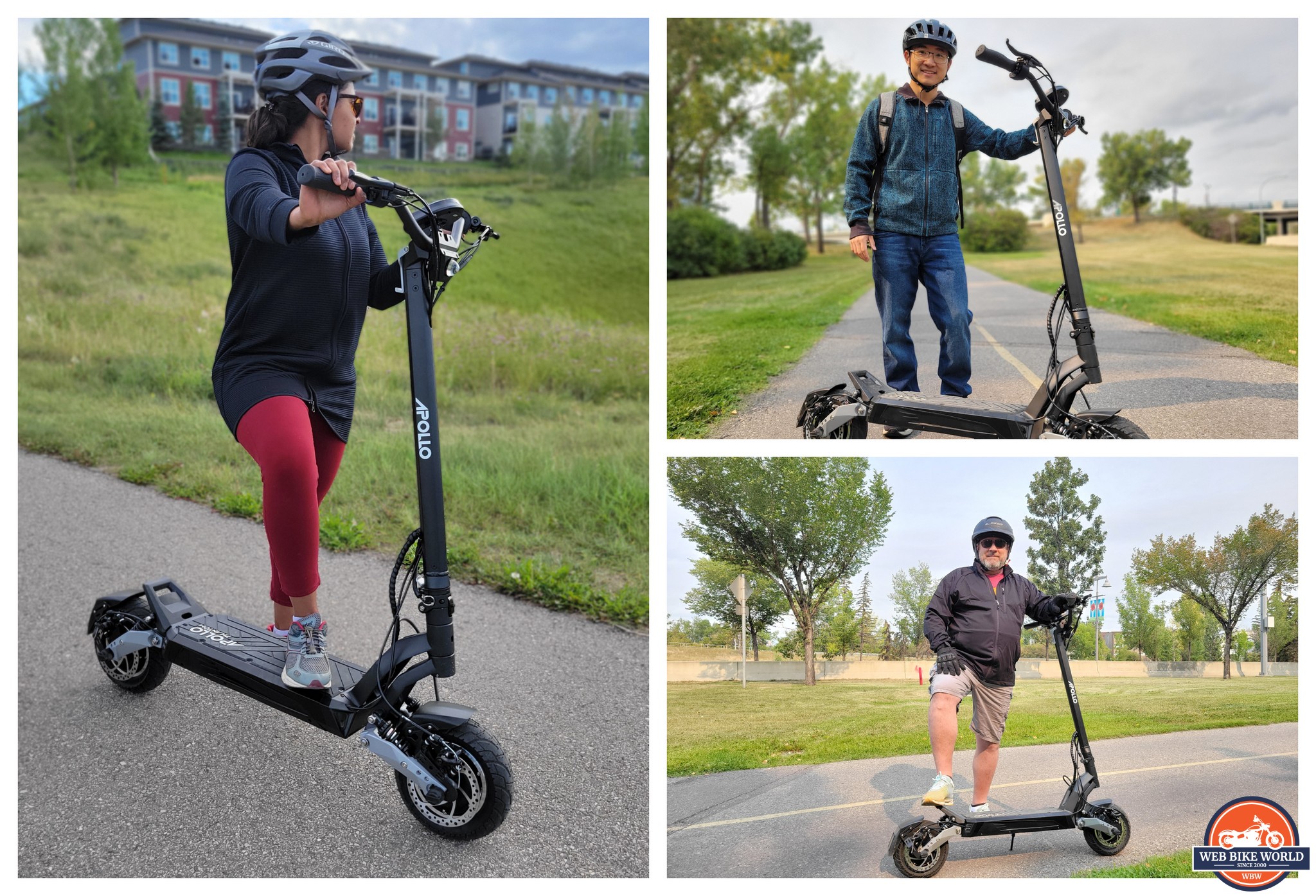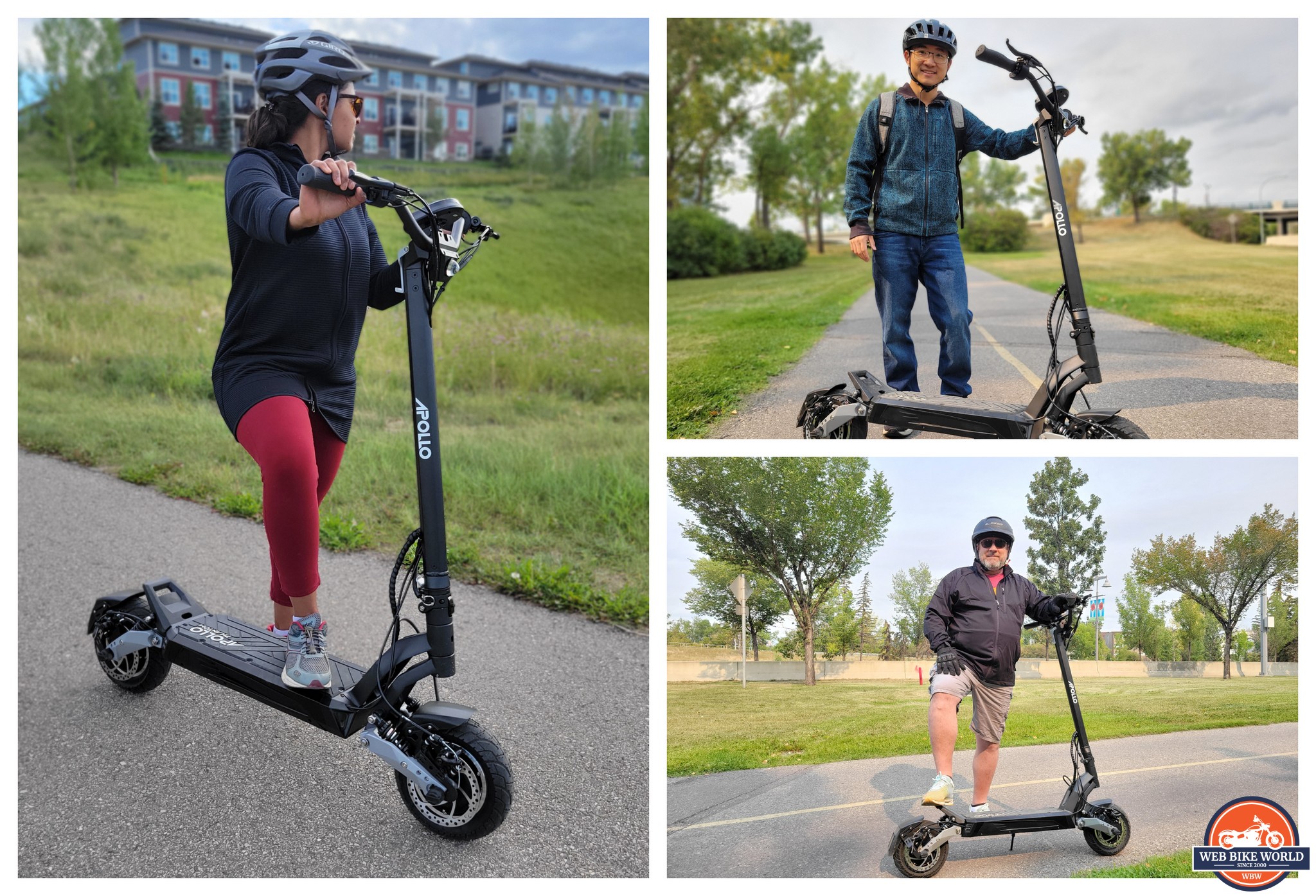 Although the Apollo is marketed as a luxury performance scooter, we had 3 riders of various experience and all found it to be an enjoyable riding experience, even if it's more scooter than they need.
The level of customization available means that you can tailor it to your liking. As such, it's a versatile offering that isn't just limited to scooter enthusiasts.
It competes directly with others in the segment at the price point of $2399 USD / $2799 CAD, but you're also buying a brand with a strong focus on R&D, customer end-to-end experience, and upgradeability.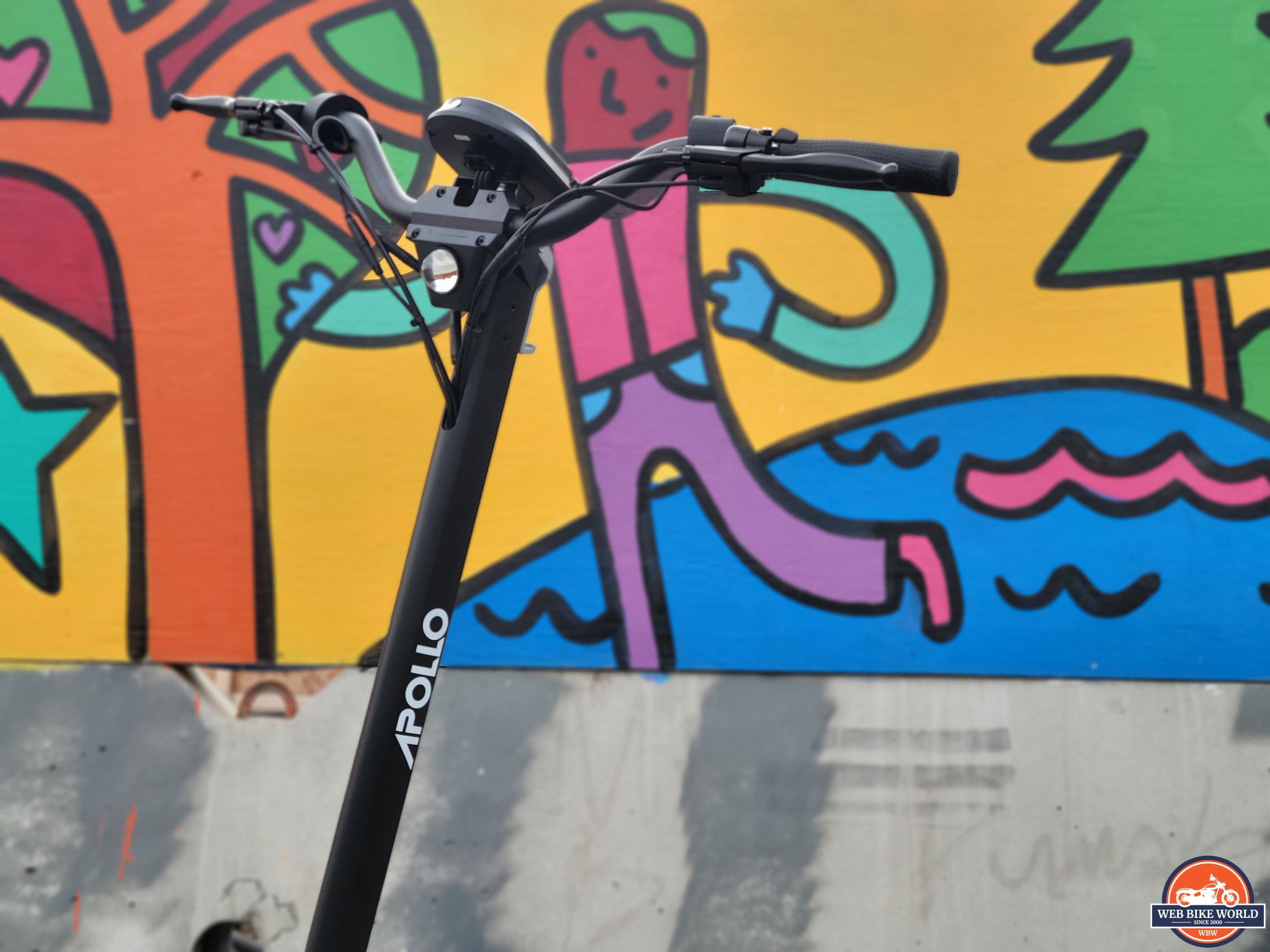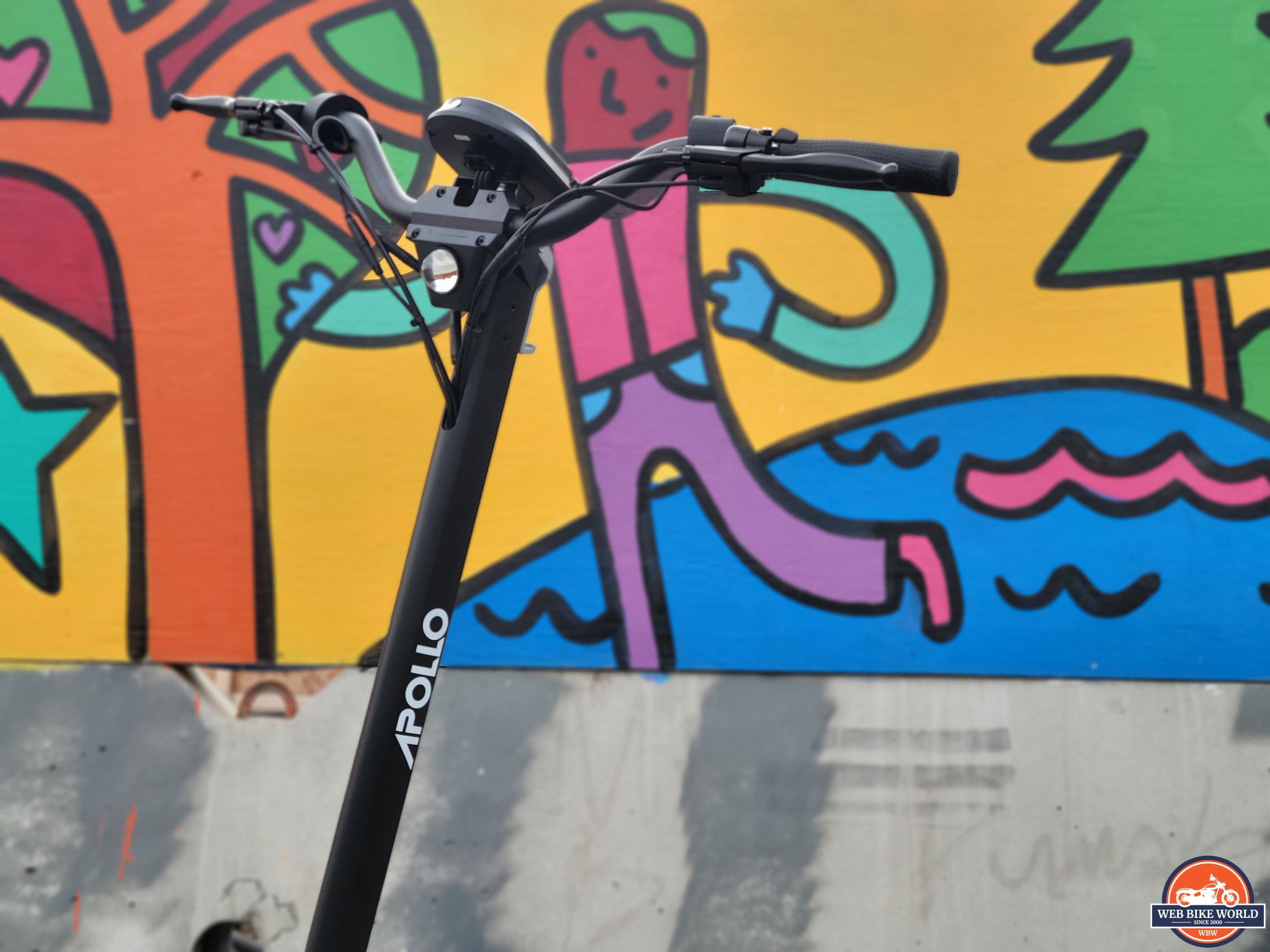 The Phantom V3 is a direct byproduct of Apollo's dedication to relentlessly seek and apply community feedback, which is why I was impressed by
all of the nuanced details
that it brought.
If you're looking for an electric scooter that does everything extremely well,
buy a Phantom because you won't regret it.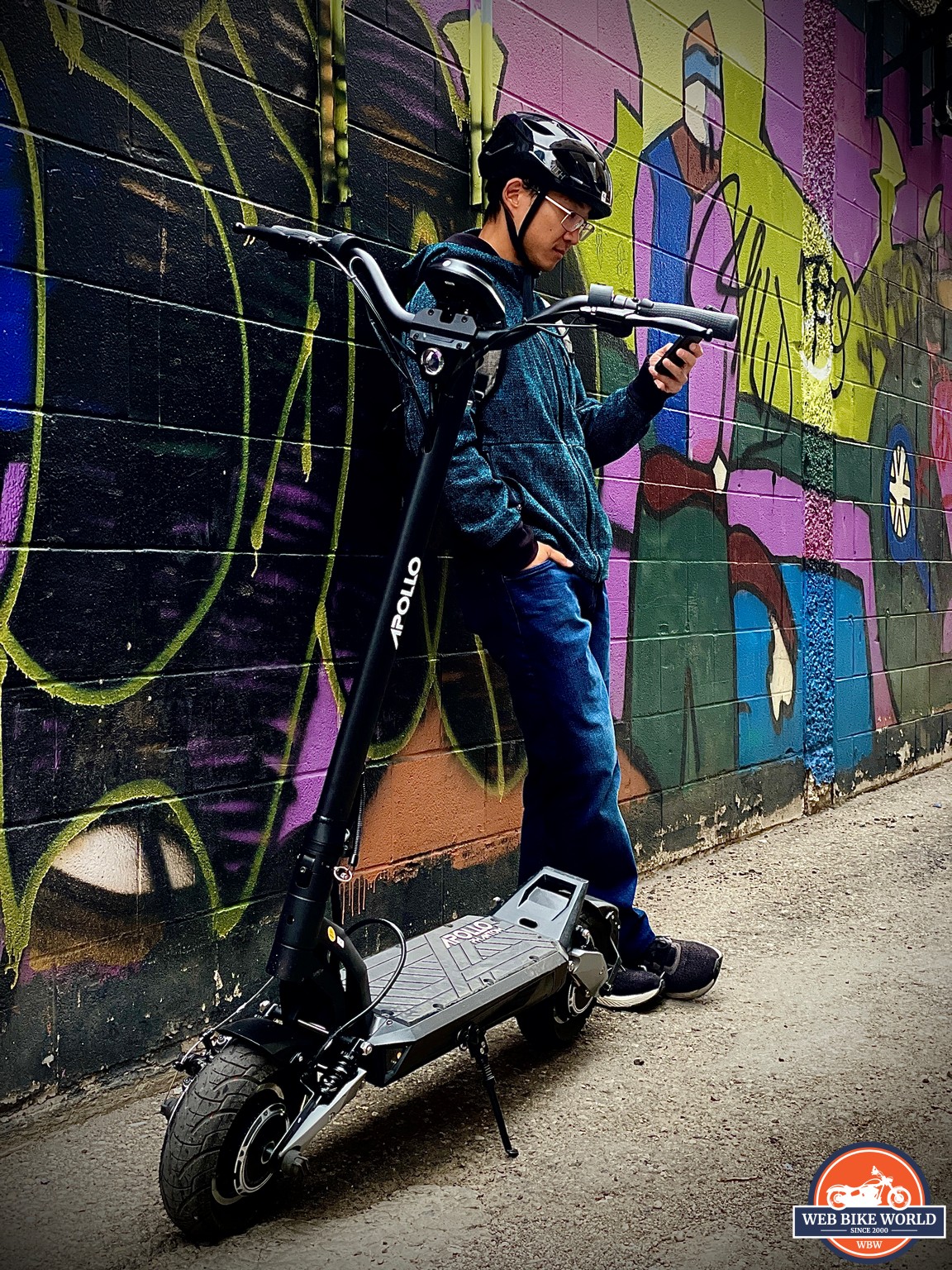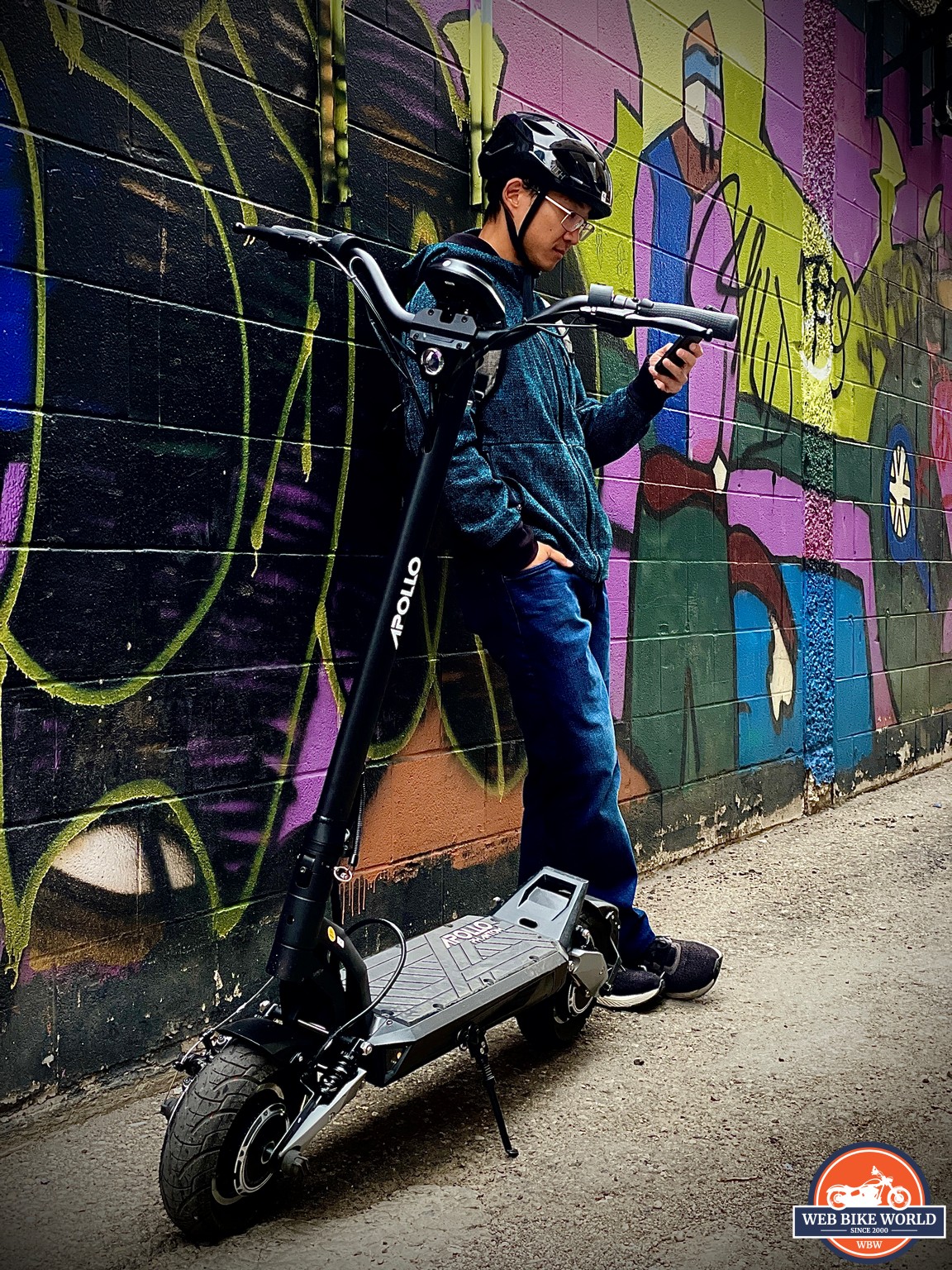 The post
2023 Apollo Phantom V3 Electric Scooter Hands-On Review
appeared first on
webBikeWorld
.