More, from a press release issued by FIM EWC: BOL D'OR BEST FOR YOSHIMURA SERT AS YART HOLDS ON FOR EWC TITLE GLORY     *Suzuki-powered squad […]
The post
World Endurance: Bol d'Or 24-Hours Race Results And Report
appeared first on
Roadracing World Magazine | Motorcycle Riding, Racing & Tech News
.
lkQp64bxjuL0oTpWlQIUIWPFNM9XvQ-metaQm9sIGQnT3IgcHJvdmlzaW9uYWwgcmFua2luZy5wZGY=-

More, from a press release issued by FIM EWC:
BOL D'OR BEST FOR YOSHIMURA SERT AS YART HOLDS ON FOR EWC TITLE GLORY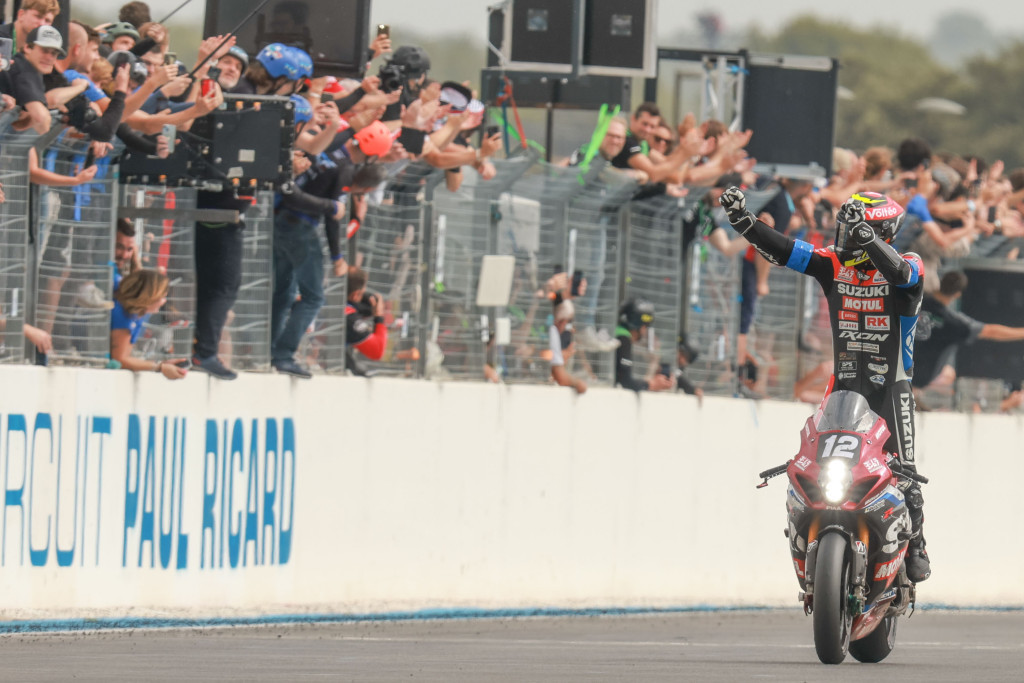 Yoshimura SERT Motul (12) won the Bol d'Or 24-hour FIM Endurance World Championship race. Photo courtesy FIM EWC.
*Suzuki-powered squad wins epic FIM Endurance World Championship season finale
*Yamalube YART Yamaha EWC Official Team lands overall EWC title joy in tense finish
*FIM Endurance World Cup goes to Chromeburner-RAC41-Honda after late drama
*Honda Viltaïs Racing beats BMW Motorrad World Endurance Team to runner-up spot
*Five motorcycle manufacturers in the top five underlines competitiveness of EWC
For immediate release (17 September 2023):
*Yamalube YART Yamaha EWC Official Team is the winner of the 2023 FIM Endurance World Championship following a tense climax to the season at Circuit Paul Ricard this afternoon as Yoshimura SERT Motul won the 86th Bol d'Or.
Austria-based YART was one of six teams in EWC title contention starting the legendary 24-hour event, but it endured a nervy conclusion to the race due to a temperature issue that forced the team to make multiple pit stops for running repairs.
With defending champion F.C.C. TSR Honda France retiring at 03h30 following a technical failure and the BMW Motorrad World Endurance Team dropping out of the lead fight due to two unscheduled pit visits, YART essentially needed a top-nine Formula EWC finish to secure the EWC's biggest prize.
Running with a special livery to commemorate the 25th anniversary of the Yamaha R1, the Bridgestone-equipped YART trio of Niccolò Canepa, Marvin Fritz and Karel Hanika rode faultlessly, eventually finishing in fourth position to secure EWC gold, having held the race lead on numerous occasions.
"The team did an amazing job, I'm really proud of them and my team-mates were riding superbly," said Czech Hanika, whose Yamaha was fully functioning at the finish. "Big thanks to Yamaha for this opportunity. Every rider participates in this championship because they want to win and that's why we are here trying to do our best."
Having experienced a season of more lows than highs, Yoshimura SERT Motul was determined to end the 2023 campaign on top of a race that would mark Sylvain Guintoli's final EWC outing with Suzuki power. Despite Gregg Black and Étienne Masson competing as a duo for the final nine hours after Guintoli fell ill, Yoshimura SERT Motul triumphed by a clear margin. That was despite Black being one of eight riders to fall on oil at the end of the Mistral Straight this morning, which triggered a lengthy safety car period.
"It's incredible," said UK-born, France-based Black. "We've had a pretty hard season but we've been performing, so to finish the season like this with this result is just incredible. The team did a great job, my team-mates also. It was a hard one but we got it and we got the pace and we could win the Bol d'Or. We're really happy."
Honda Viltaïs Racing couldn't quite repeat its Bol d'Or-winning heroics from 2022 but it did secure a season-best second as riders Florian Alt, Steven Odenaal and event rookie Leandro Mercado impressed on the Pirelli-shod #333 machine. BMW Motorrad World Endurance Team, featuring Jérémy Guarnoni, Illya Mykhalchyk and Markus Reiterberger, completed the podium, its third top-three finish of the year.
Team Kawasaki Webike Trickstar moved into fifth behind Yamalube YART Yamaha EWC Official Team when TATI Team Beringer Racing dropped out earlier this morning. The Kawasaki-powered TATI outfit had enjoyed a brief stint in the lead during the opening hour when it capitalised on its decision to use intermediate tyres for the rapidly drying conditions.
Having taken the coveted EWC crown at Circuit Paul Ricard 12 months ago, F.C.C. TSR Honda France hit trouble shortly before 3am when Mike Di Meglio was forced to push the #1 Honda after it stopped at the entrance to the pitlane. Despite its best efforts, the team was forced to retire with a terminal technical issue at 03h26. Along with team-mates Josh Hook and Alan Techer, Di Meglio knew hopes of another EWC title would be salvaged if its main rivals also stopped. In the event, it was a frustrating finish to an otherwise strong season.
Maco Racing Team beat Team LRP Poland to sixth place among the Formula EWC squads with Team Bolliger Switzerland, Moto-Ain and KM99 next up. Belgian outfit KM99, making its Bol d'Or debut, was in the top five when an electrical issue struck at 01h25.
Wójcik Racing Team's #77 dropped out shortly after eight hours having been delayed by an electronic issue early in the race. Motobox Kremer Racing spent six minutes repairing its Yamaha after Christian Napoli was caught up in the multi-bike accident at Signes Corner.
Chas Davies stopped from the lead battle with 40 minutes of the race run to hand over to Xavi Forés. But his replacement was soon in trouble after a collision at the final corner left the Spaniard limping to the side of the track and his Ducati Pingale V4R suffering terminal damage. The incident led to an early safety car intervention.
DELIGHT FOR CHROMEBURNER-RAC41-HONDA, DESPAIR FOR NATIONAL MOTOS
There was Dunlop Superstock Trophy delight for Chromeburner-RAC41-Honda but despair for National Motos Honda, which lost the Bol d'Or category win and the FIM Endurance World Cup for Teams in the final hour after a technical fault struck.
Swiss brothers Sébastien and Valentin Suchet, plus Frenchman Guillaume Raymond were on course for double delight at Circuit Paul Ricard but their late heartache let in Kawasaki-powered Team 33 Louit April Moto for the race victory and Chromeburner-RAC41-Honda for the Superstock title.
Team 18 Sapeurs Pompiers CMS Motostore took third behind Chromeburner-RAC41-Honda with Pitlane Endurance – JP3 fourth, BMRT 3D Maxxess Nevers fifth and Wójcik Racing Team sixth followed by 3ART Best of Bike. OG Motorsport World Endurance Team was in third but slipped back as TRT27 Bazar 2 La Bécane also showed strong early form.
Having started the Bol d'Or in contention for Dunlop Superstock Trophy honours, Honda No Limits and Tecmas-MRP-BMW Racing Team dropped out in the opening stages. The former was eliminated in a collision, while Kenny Foray had covered a little more than 30 minutes when engine failure forced the #9 into retirement. ADSS 97, Falcon Racing and Slider Endurance were also unable to go the distance.
The post
World Endurance: Bol d'Or 24-Hours Race Results And Report
appeared first on
Roadracing World Magazine | Motorcycle Riding, Racing & Tech News
.