Click here for full story...
Review Summary
The Racer USA Verano is an excellent example of a short-cuff, high-ventilation glove that offers good protection without compromising comfort and breathability. The Verano features a sturdy cowhide construction with ample vent holes throughout the top of the unit. Despite being a fairly plain style, the premium feel of these gloves is precisely what the Racer brand is known for putting out.
Build Quality
Fit & Comfort
Protection
Value for Money
Pros
Heavy ventilation
Lightweight & very nimble
Satisfies CE EN 13594:2015 Level 1 safety testing
Knuckle reinforcement
Additional palm padding
Competitively priced
Cons
Lacking safety features of a fuller coverage glove
Only available in a single colour
Not touch screen compatible
4.3
Buy Now
Racer Gloves USA

Review Summary
The Racer USA Verano is a simple short-cuff black leather glove with plenty of ventilation.
The Verano gloves are well-built and should hold up for the long run.
Racer USA notes that they fit about a ˝ size larger than other gloves, so attention should be paid to the sizing chart if ordering online.
Coming in at just under $70 USD, the Verano gloves are a solid summer option that won't break the bank.
First Impressions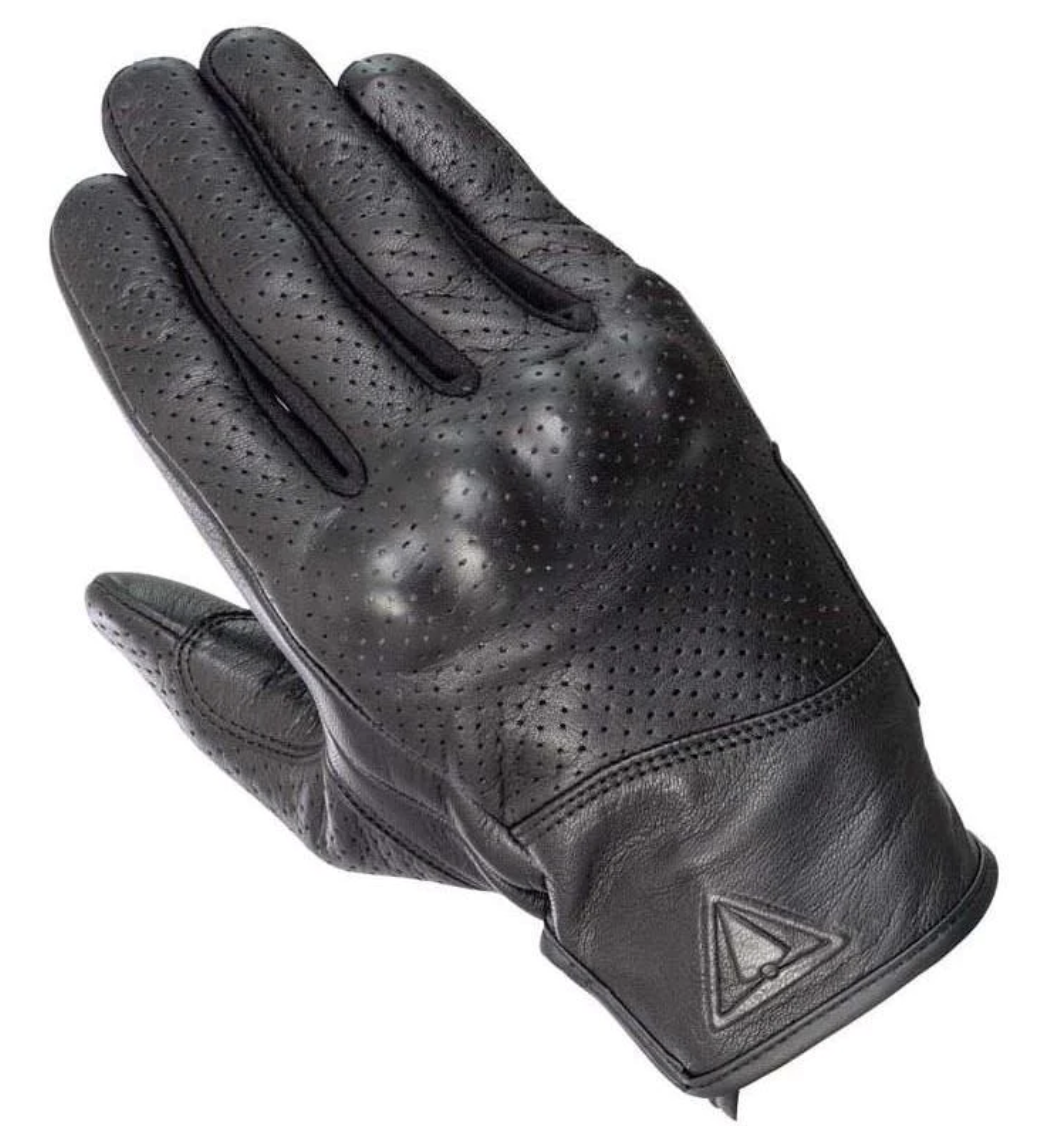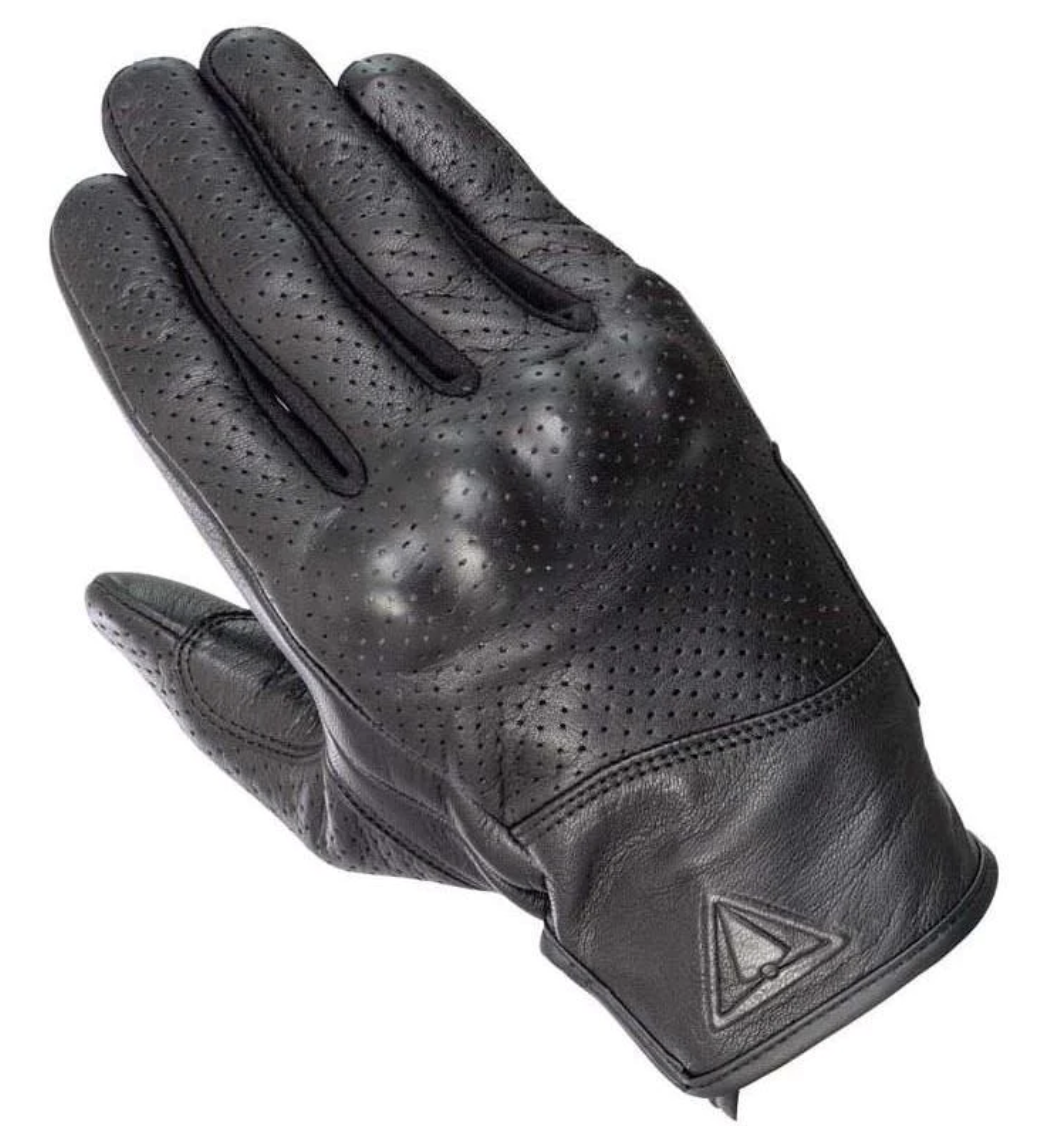 Image Credit: Racer Gloves USA
Racer USA
is the only distributor in the USA for products made by the Austrian brand Racer Outdoor GmbH. Racer has been around since the early '90s and has made a great name as a trusted motorcycle gear manufacturer.
At first blush, the Racer USA Verano is your standard black leather
short-cuffed glove
that everyone has a couple of pairs of kicking around. However, Racer truly has produced something unique here. I've had the pleasure of putting over 2,500 KM on these gloves since receiving them and have gotten to know them pretty well.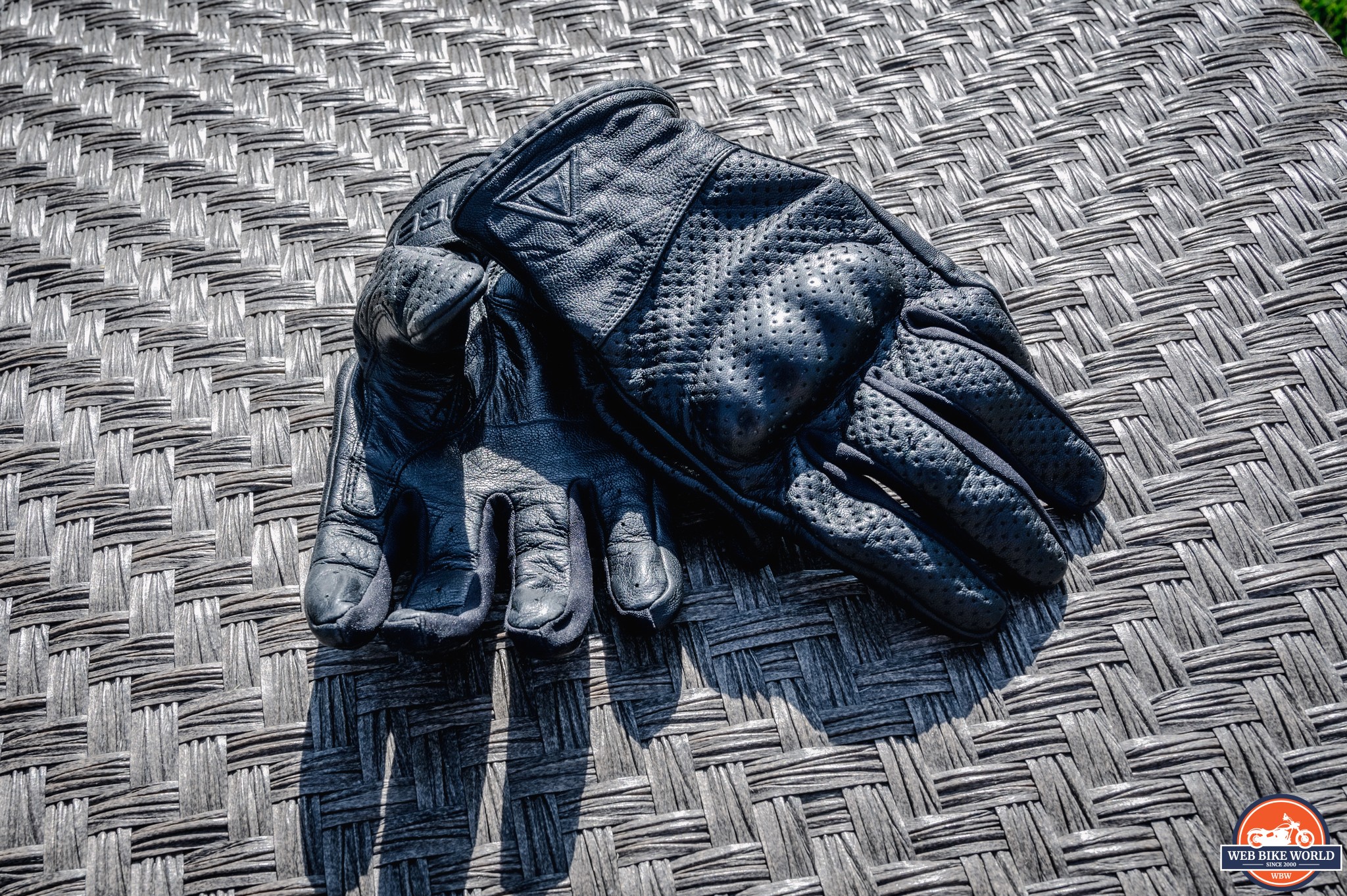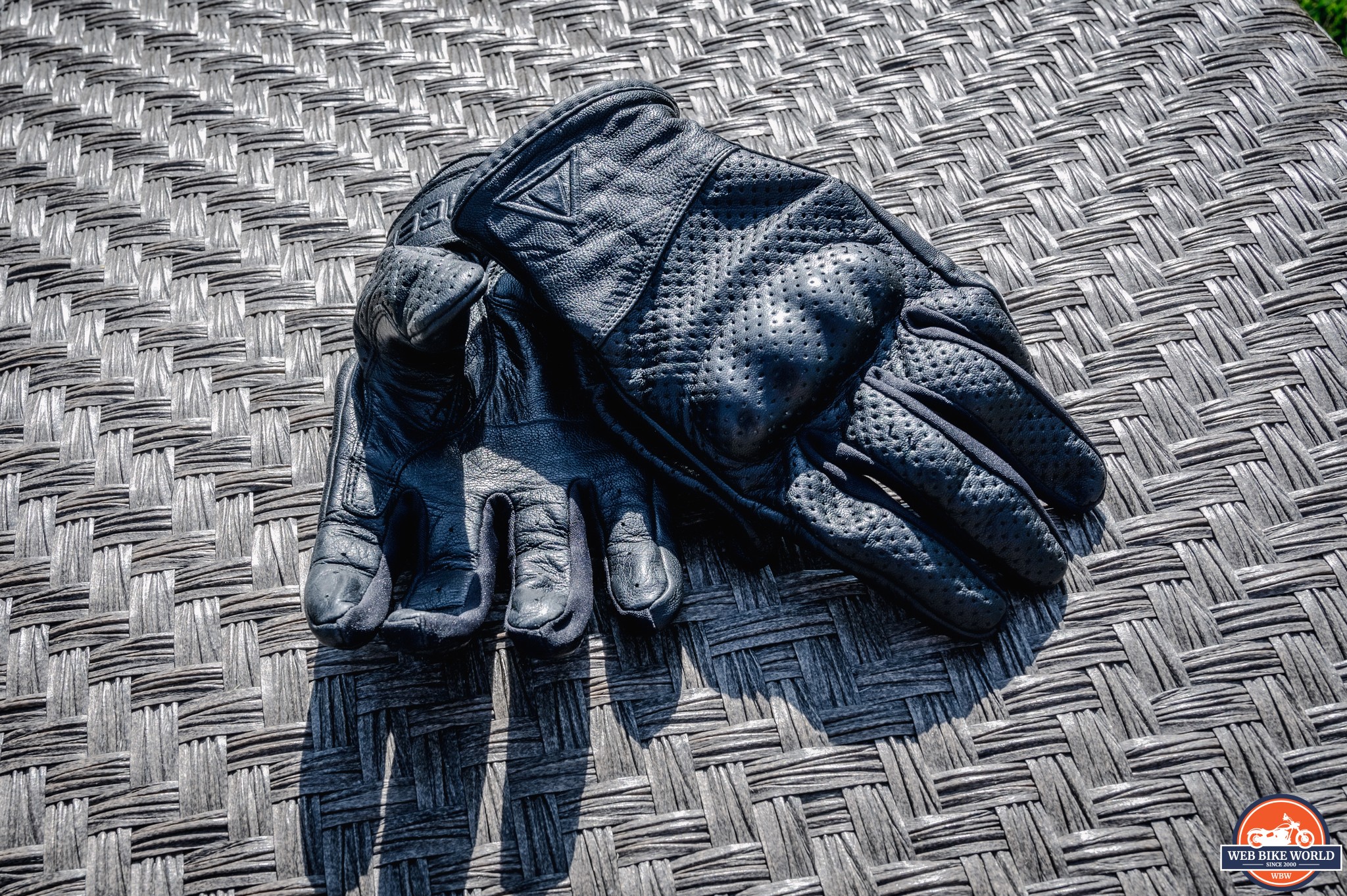 Packaging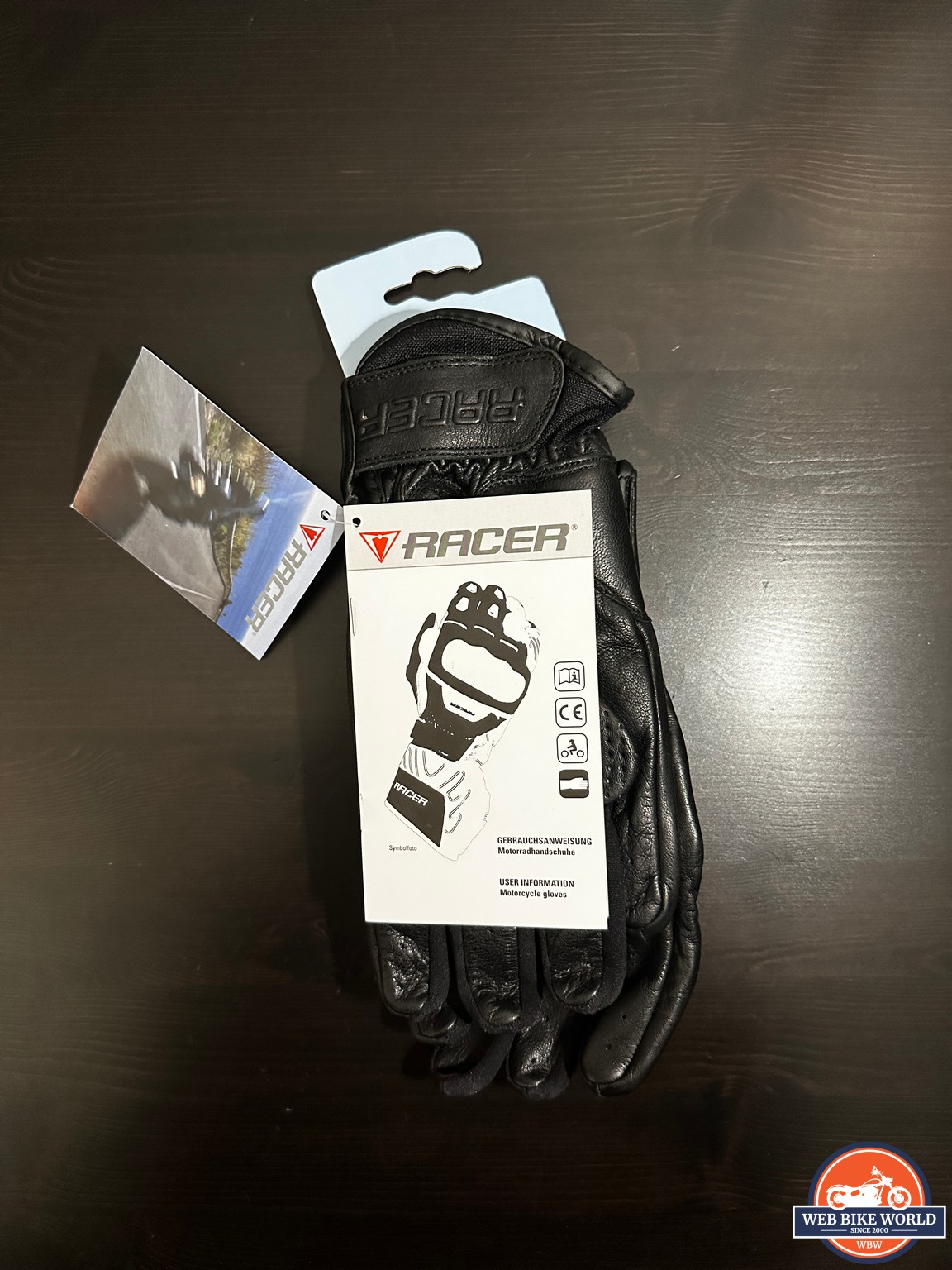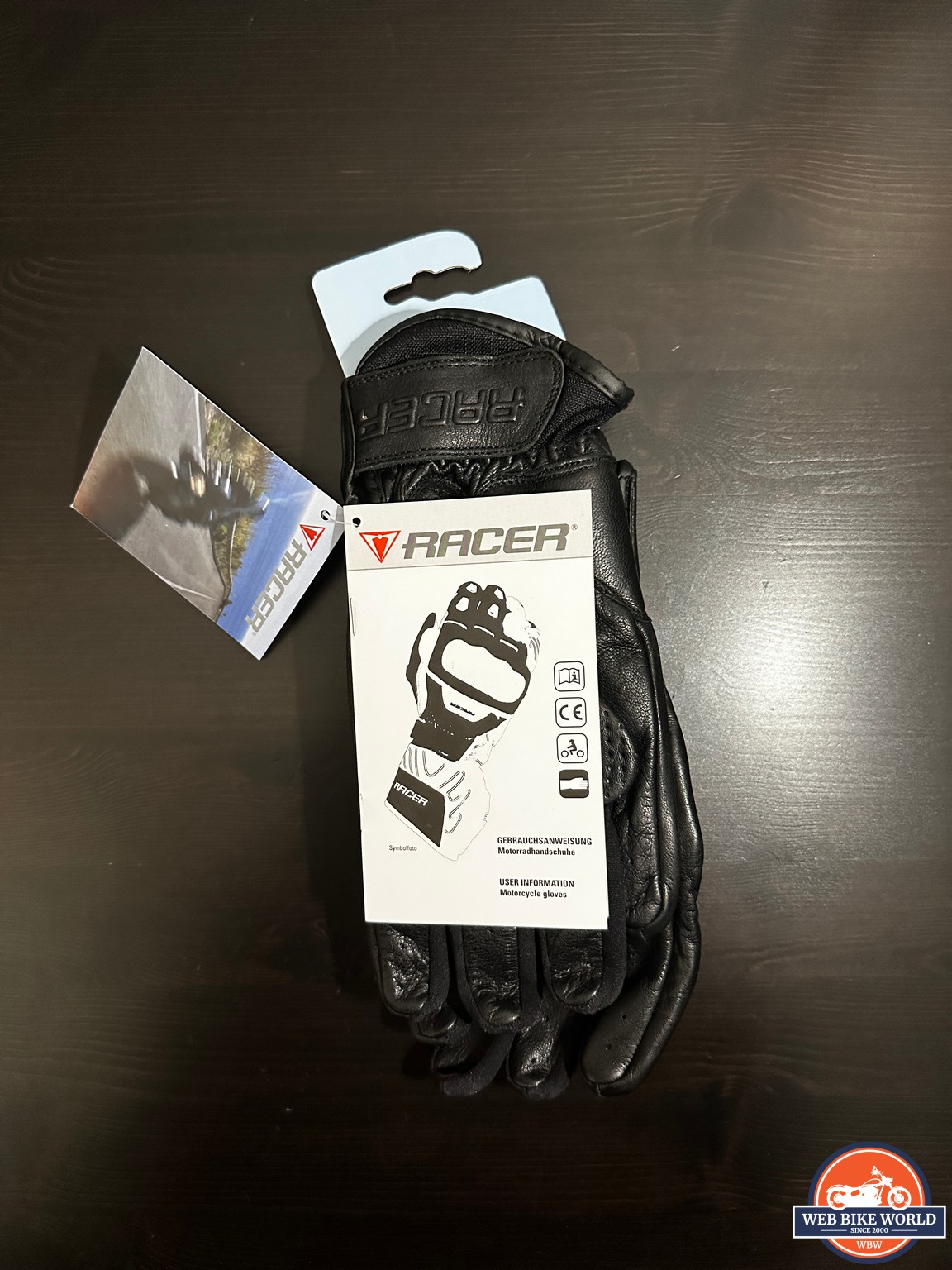 The Verano gloves arrived in basic fashion, along with the Racer USA Visor Protector Sleeve (More on that below). Attached to the gloves is a generic Racer gloves information pamphlet printed in German and English, detailing glove usage and care – a nice touch, although the pamphlet appears to be for a variety of glove models, so nothing specific to the Verano is included here.
Build Quality
Everything about these Verano short cuff gloves feels premium for what they are – they are made of cowhide leather, with lycra lining on the sides of the fingers for extra flexibility. Inside, they are lined with black polyester, which breathes well and adds to the comfort. They're extremely easy on the hands and feel really light, but there's no doubt they'll keep your fingers safe in the event of a wreck.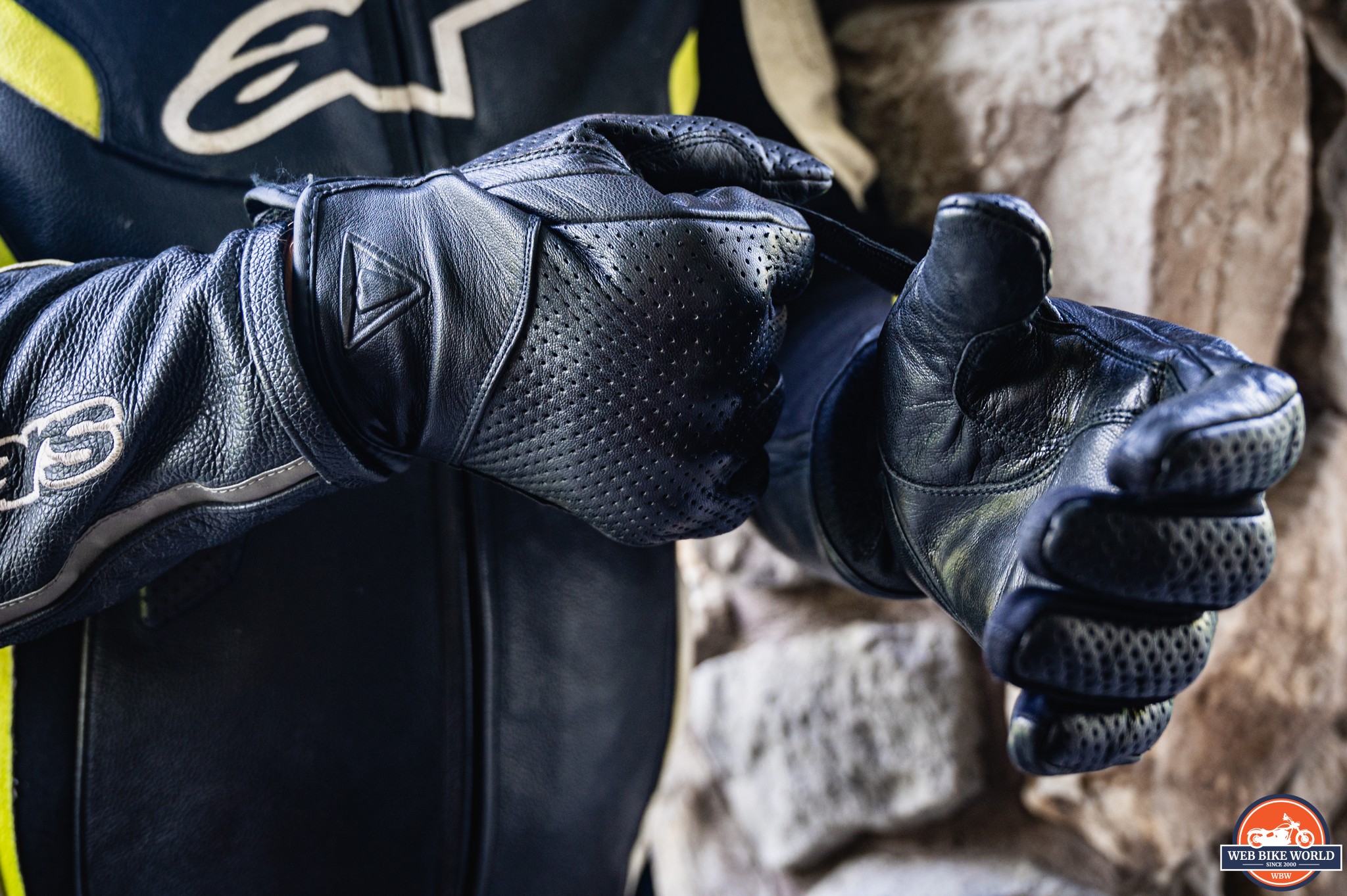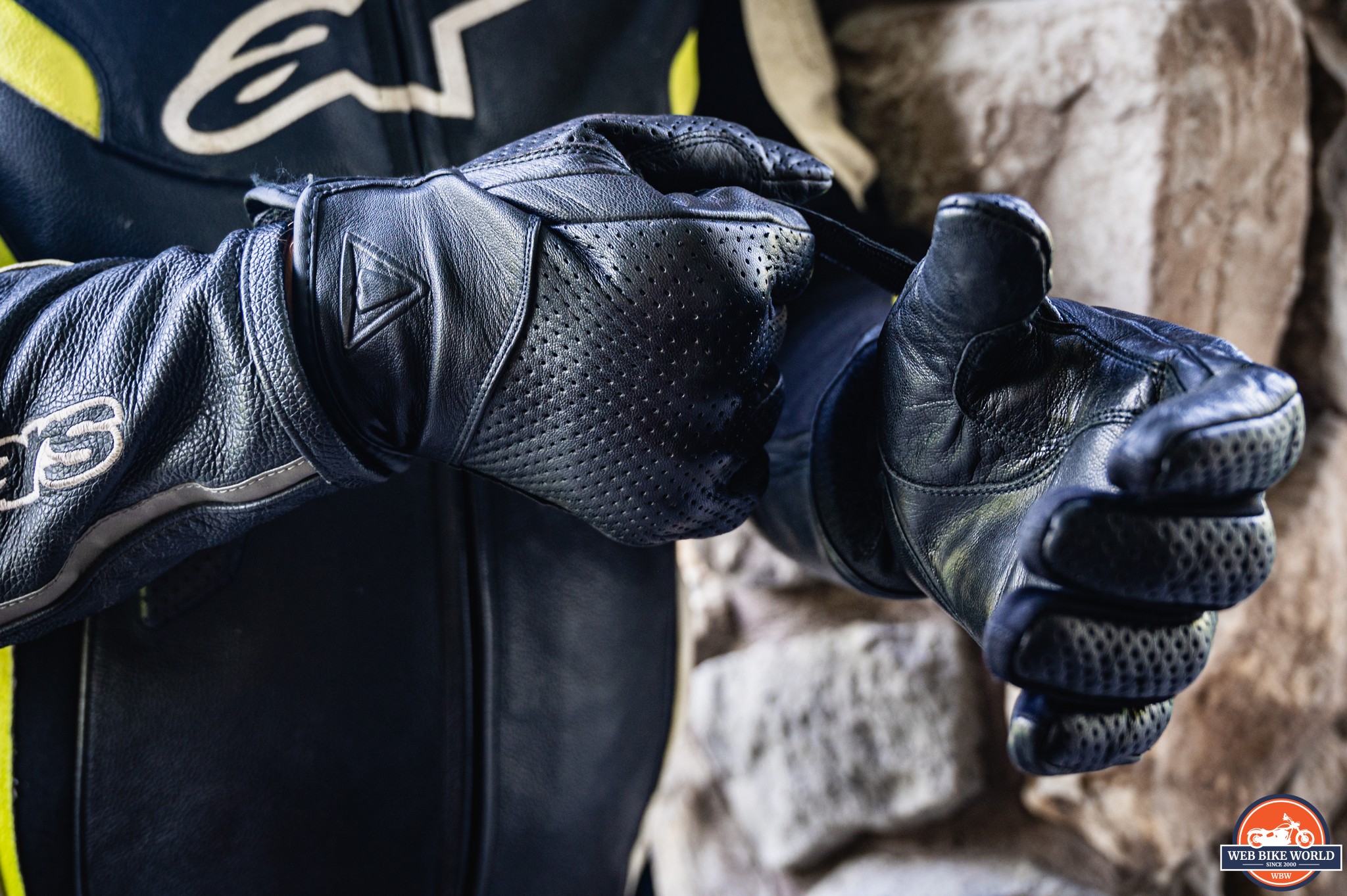 The knuckle plating feels solid but doesn't get in the way of hand dexterity and isn't noticeable when they're on.
The key feature of these gloves is the venting perforations all across the glove, which help to keep your hands
cool and comfortable during a warmer ride
– something they excel at.
While the Verano gloves aren't touch-screen compatible, the velcro wrist strap makes it easy enough to slip them on and off in a blink if you need to use your phone. The Racer name is embossed along the strap, with the company's logo embossed on the top of the wrist section. It's a subtle but nice piece of branding that will surely hold up better than a printed logo.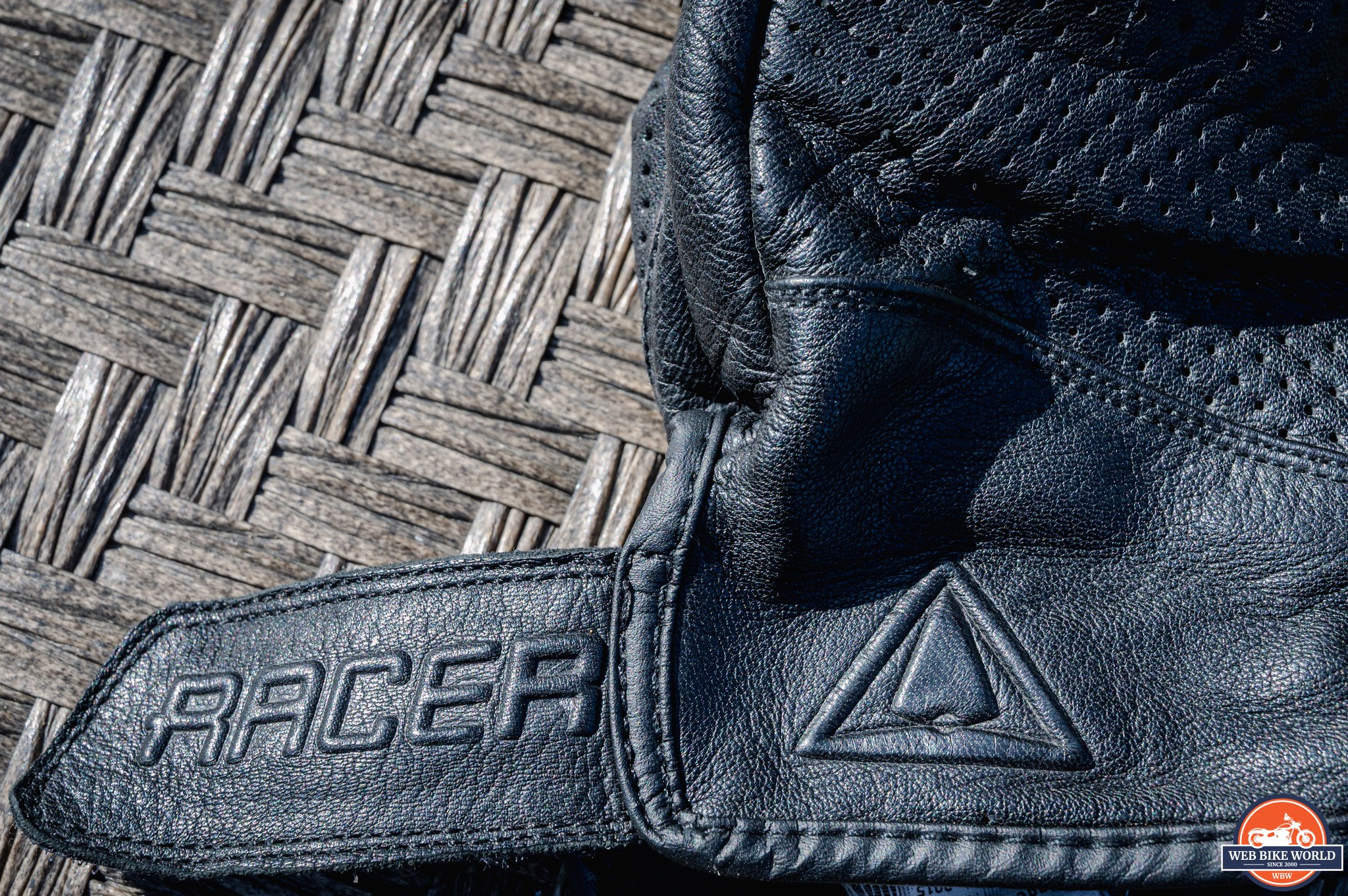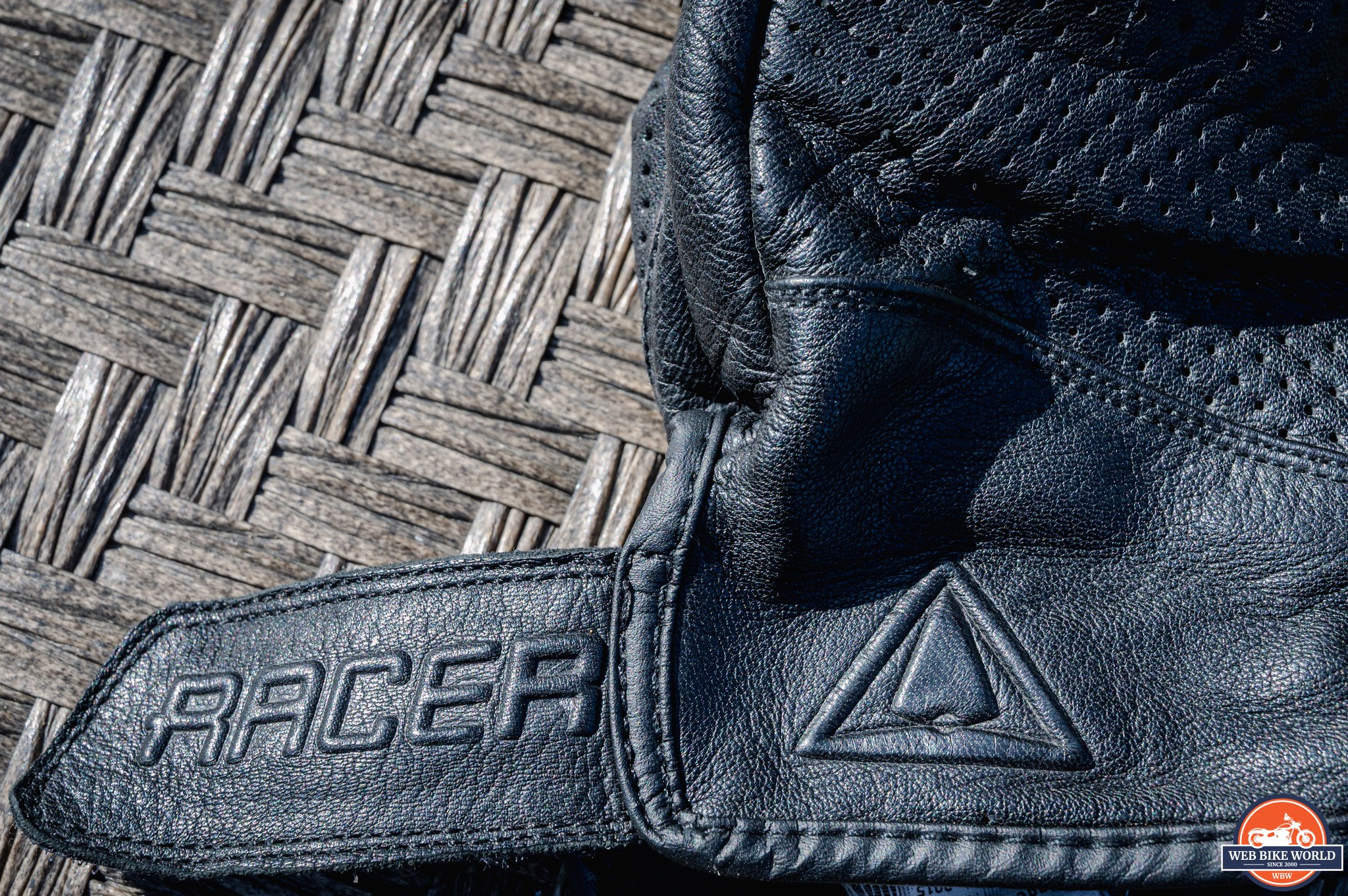 Stitching
Visible stitching on the gloves is minimal, however, they are all high quality, and I haven't noticed any popped seams or loose threads throughout my time wearing the Verano gloves.
Comfort and Fit
Sizing
Racer USA does note on their website that the Verano gloves tend to run about a ˝ size larger than other gloves – I bit the bullet and still requested the same size I typically wear, as I wanted to see how they matched up. I was pleasantly surprised to find that the Veranos actually fit pretty comfortably, even after breaking in. Maybe I got lucky, or maybe I've been wearing too small gloves this whole time – either way, it's worth reading over a
glove size guide
and keeping an eye on the Racer sizing chart, especially if youre ordering these online and won't have a chance to try them on.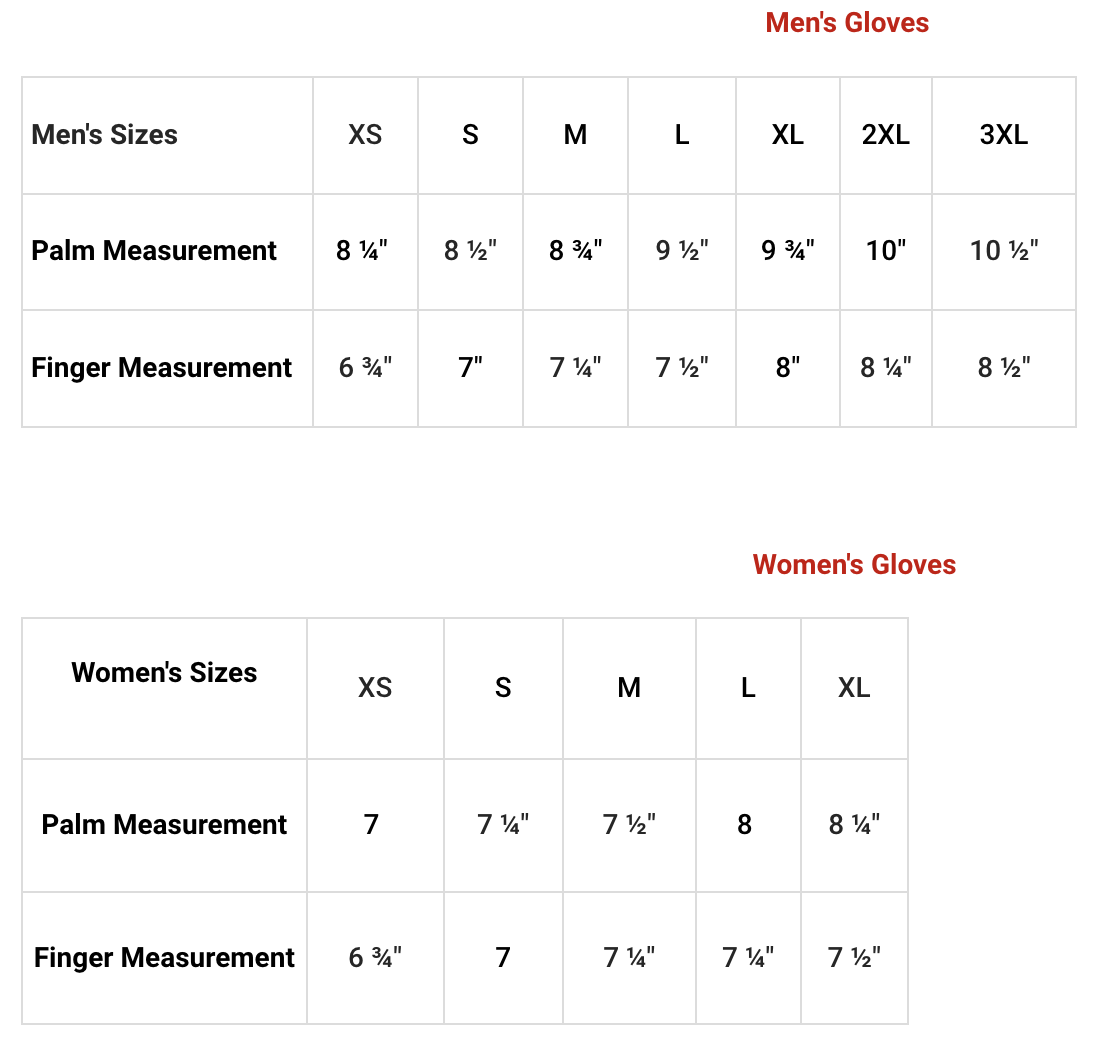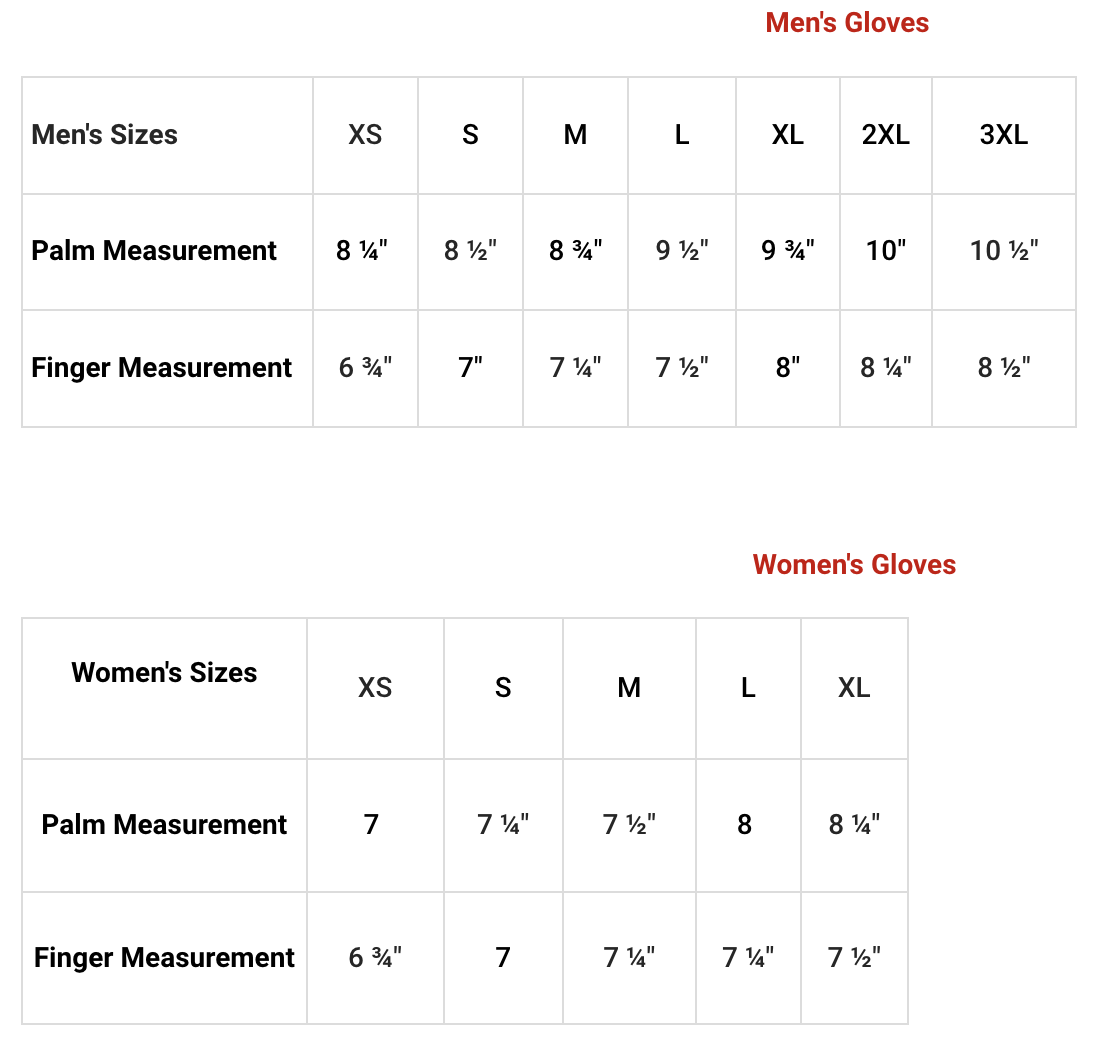 The Racer Verano Sizing Chart. Image Credit: Racer Gloves USA
Fit & Finish
Visibly, the gloves are a plain, average-looking, black leather pair without much to set them apart from any others, however, the real charm comes from the comfort factor. After breaking in, the gloves are very soft and flexible. They are extremely easy to utilize handlebar controls with, and I found them dexterous enough to navigate pockets and zippers on my jacket without any trouble.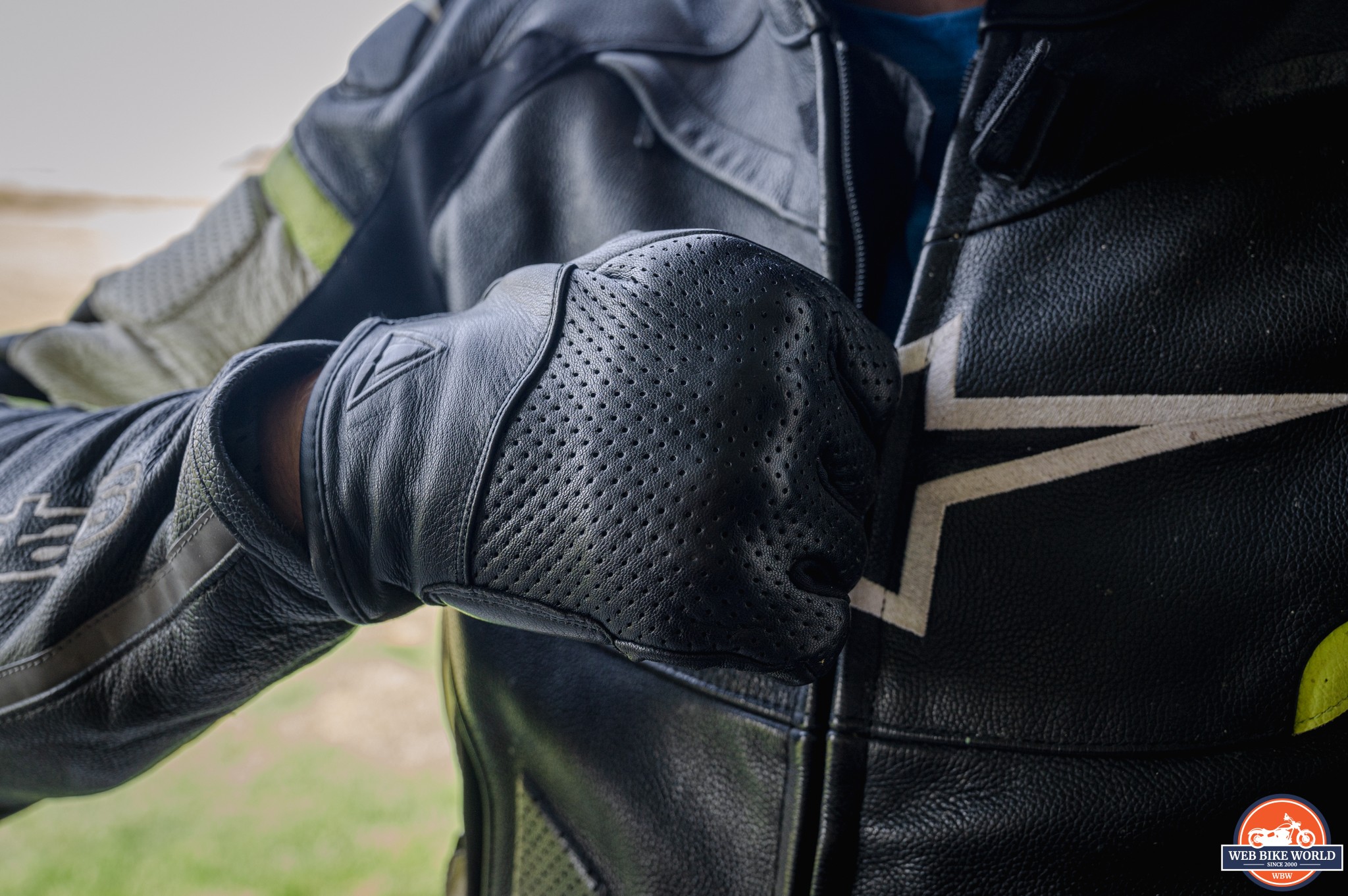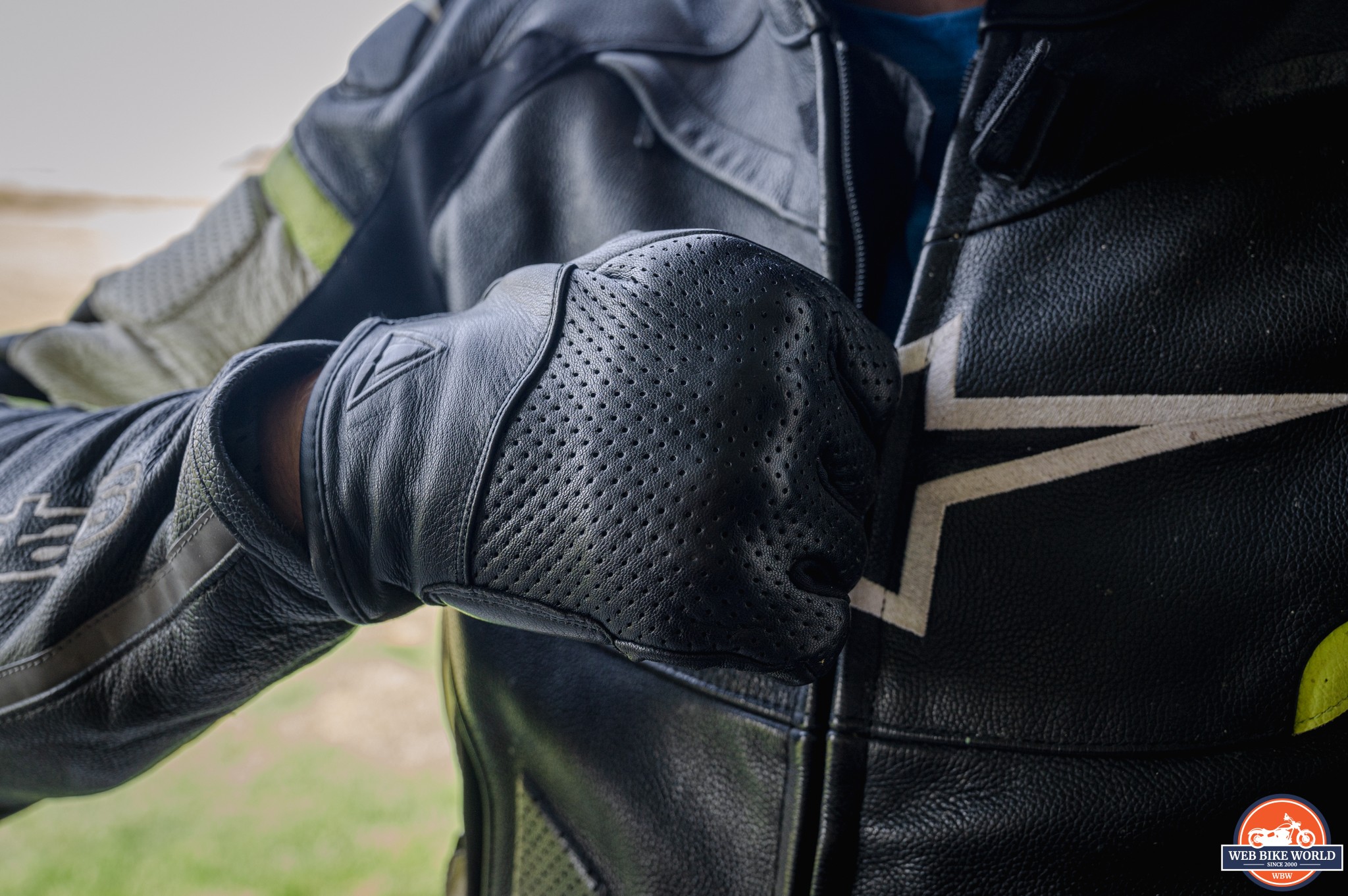 They are heavily ventilated on the top, with rows of pinholes that provide excellent ventilation through to the gloves' inner lining. While they are obviously geared more towards being a light summer glove, I found them to be comfortable in just about every temperature I rode in, from 35 °C ( 95 °F) down to about 10 °C ( 50 °F).
The bottom cuff of the glove is loose enough to be matched with various jackets or to be worn comfortably with a t-shirt if that's your preference.
Protection
Typically, I prefer to ride in full gauntlet gloves, however, I've spent a lot of time in the Verano gloves over the last few weeks, and I will say that while these short cuff gloves may lack some safety features found in a more comprehensive glove, They did do a good job at making a safe unit without killing the comfort. The Racer Verano gloves are CE Level 1 rated under EN 13594-2015. This rating indicates that they have been tested against various factors and have achieved the minimum allowable results.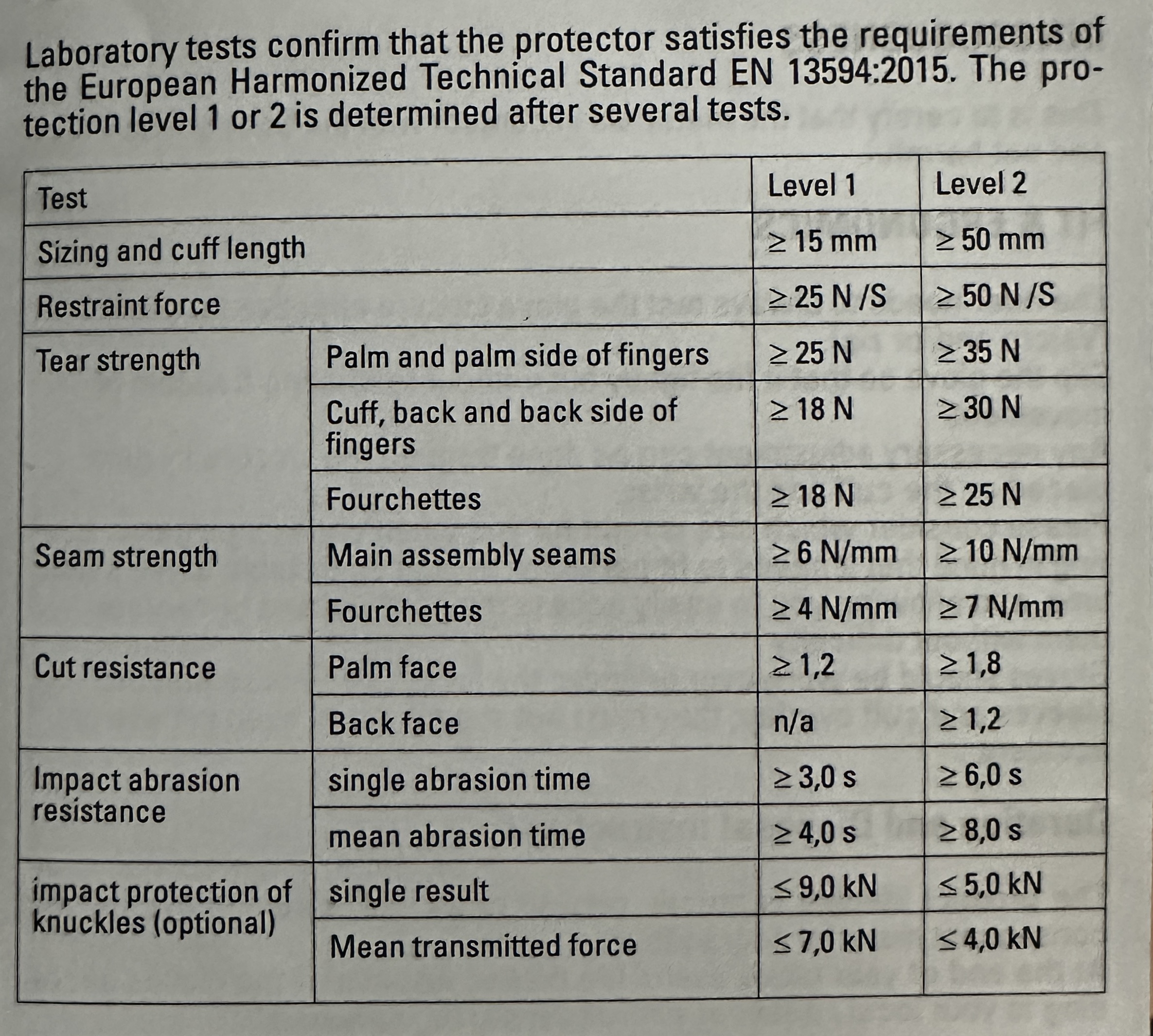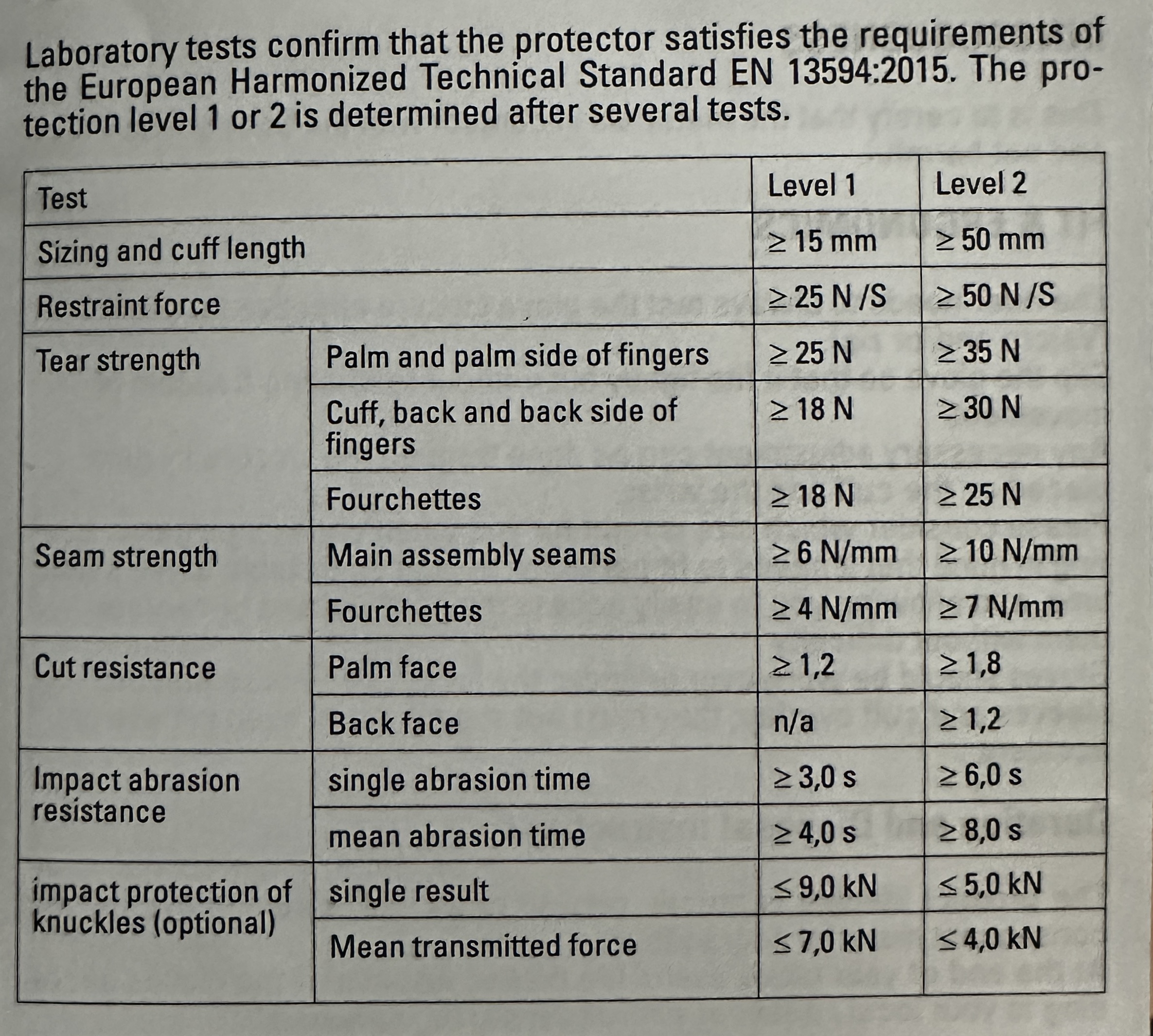 The EN 13594:2015 Testing Chart. Image Credit: Racer Gloves USAA CE rating when buying bike gear is much the same as an ECE or Snell rating when shopping for a helmet – not necessary, but a huge asset in terms of safety.
Typically CE level 1 indicates that the gear provides adequate protection while having minimal ergonomic drawbacks.
The biggest safety features in the Verano model are knuckle protection reinforcement and additional leather in the palm area for padding and protection.
A big concern many riders have with short cuff gloves is that they don't cover enough skin – The bottom cuff is just long enough to bridge the gap to the sleeves of a jacket, and I didn't ever feel like I was left overly exposed when wearing them with a variety of jackets. If something with more coverage is what you seek, there are
a variety of other glove styles on the market
, many of which Racer USA has within its inventory.
Knuckle Protection
The gloves are rated for KP ( Knuckle Protection), which means that the knuckle reinforcement on the gloves has passed an impact test.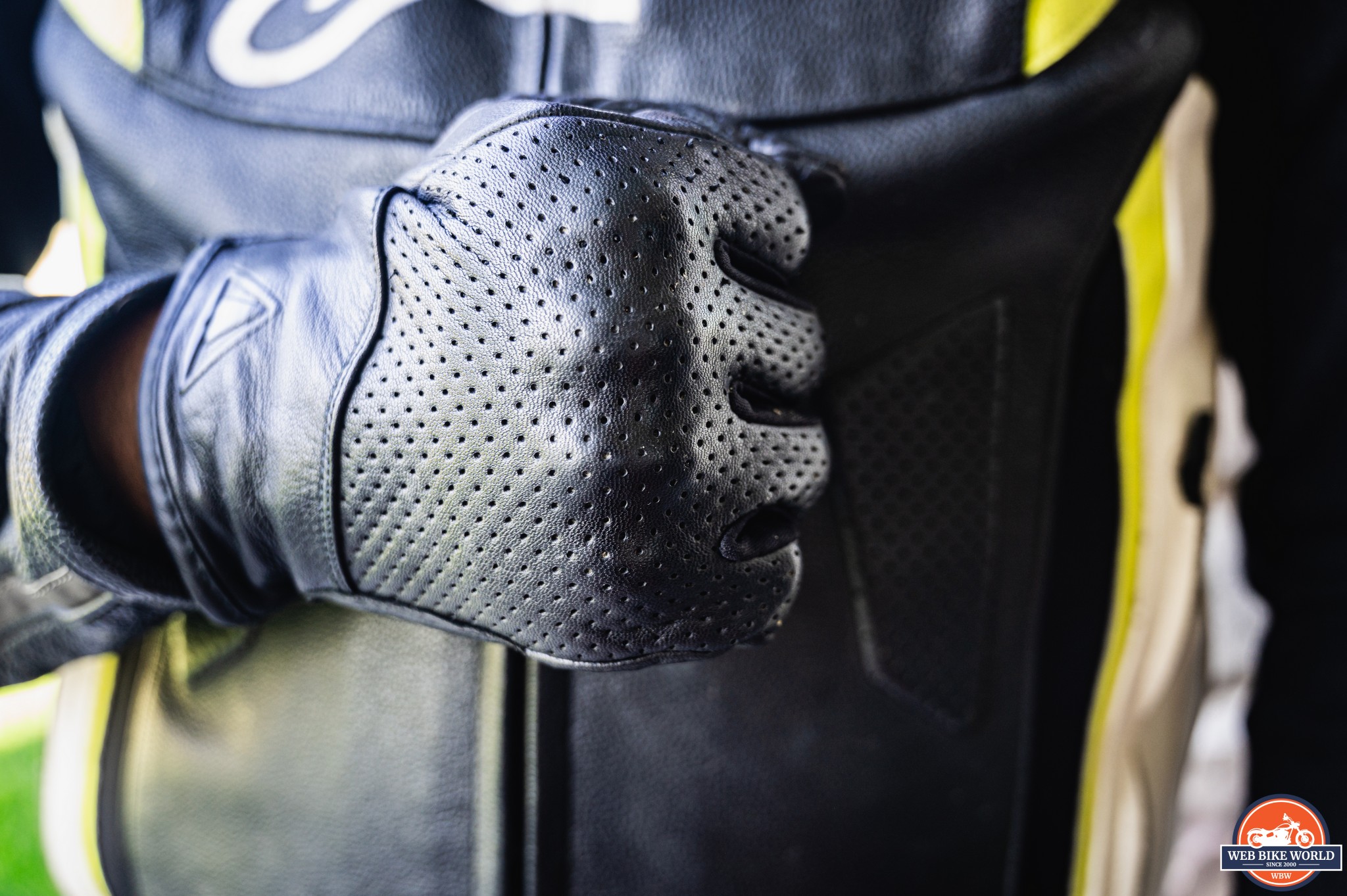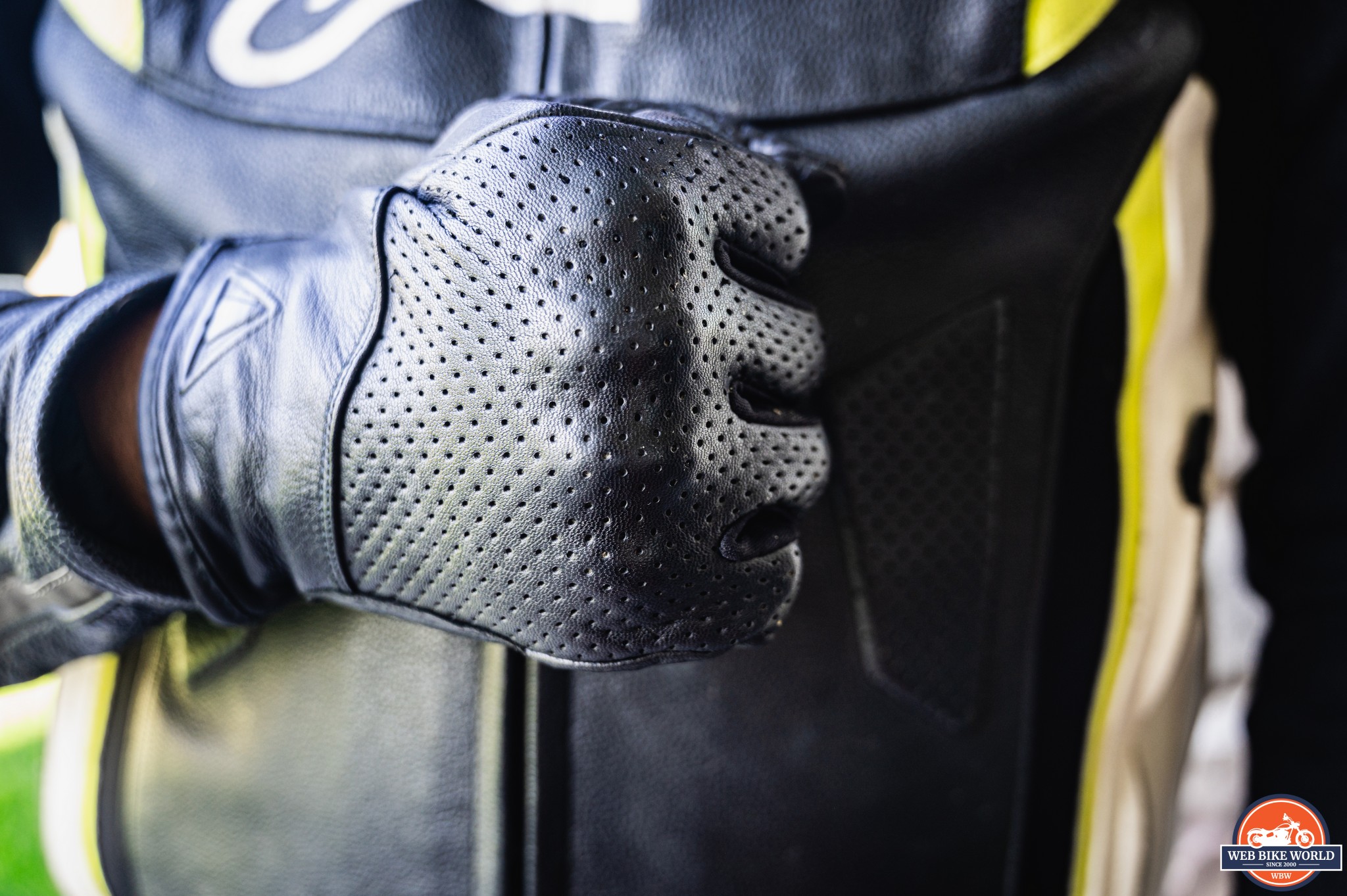 Leather Palm Padding
While these gloves do lack palm sliders, the additional padding on the palm of the gloves is well placed in that it doesn't hinder the useability of the glove but does provide some reassurance that the delicate bits of your hands will be decently protected in a tumble. The padding also helped a bit with comfort during longer rides.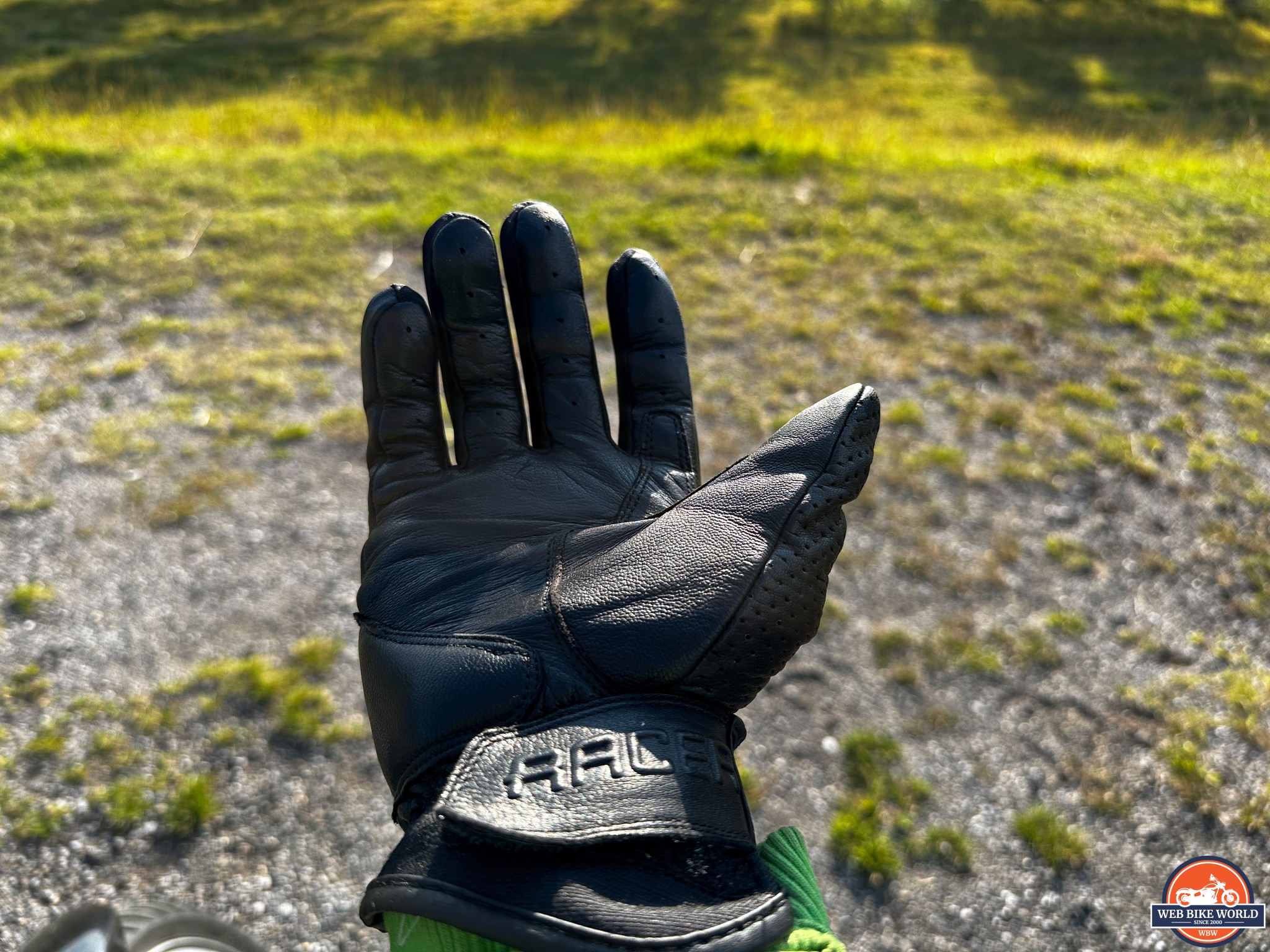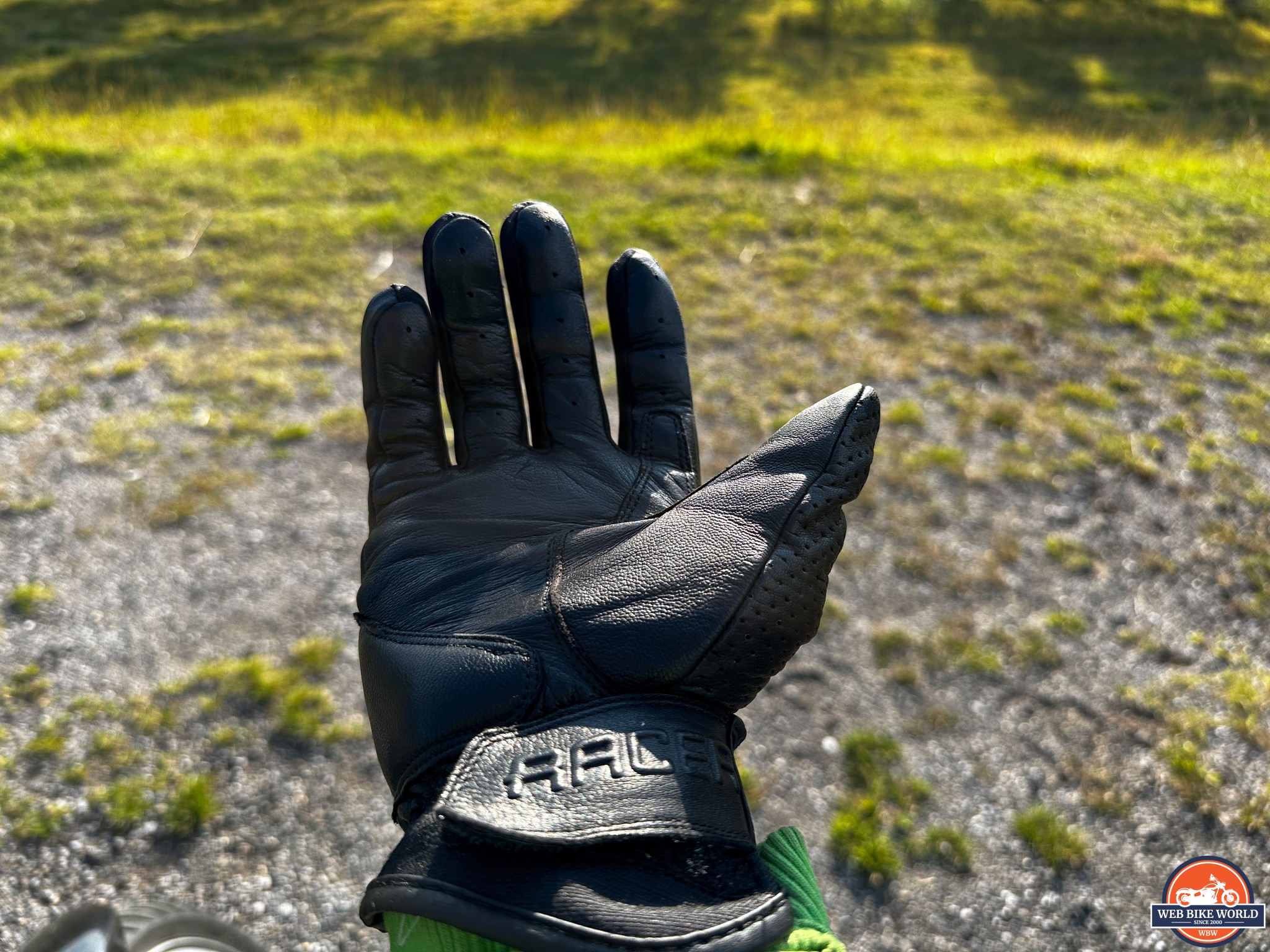 Value for Money
Coming in right under the USD $70 mark, these gloves sit pretty average among other short cuff offerings on the market, and given their overall comfort and quality, they feel like a pretty good choice for the money, especially when you consider that they're made by a premium brand like Racer who offers gloves upwards of the $250 mark. With over 25 years of experience in the motorcycle gear game, Racer has had some time to figure out the market, and I can't help but feel like they hit the nail on the head here.
Real World Riding
The Racer USA Verano gloves arrived at my door in the dead of summer heat, less than 24 hours before I was to leave for an 800+ KM ride down to Glacier National Park – what better chance to try out some new gloves?
The Verano gloves held up excellently during the journey and kept my hands comfortable for the entire trip, which ranged from low-speed cruising in 30 °C to a 5 AM stint on the highway where temperatures dipped pretty low.
The ventilation is much more enjoyable than my regular full gauntlet-style racing gloves, which have been my go-to for the last few seasons. While I would likely stick to gauntlets for more high-risk riding, the Veranos never left me feeling unprotected during my adventures.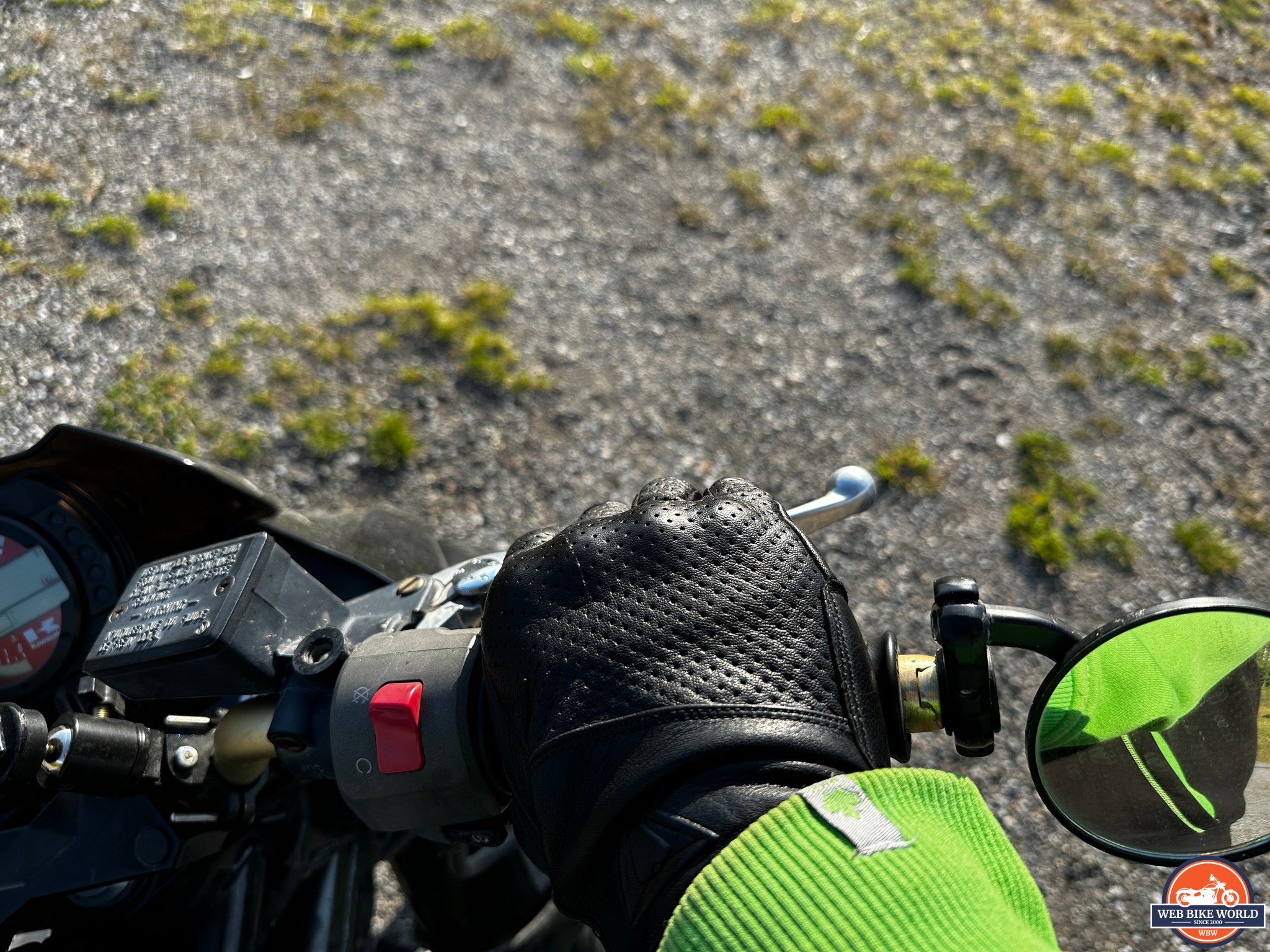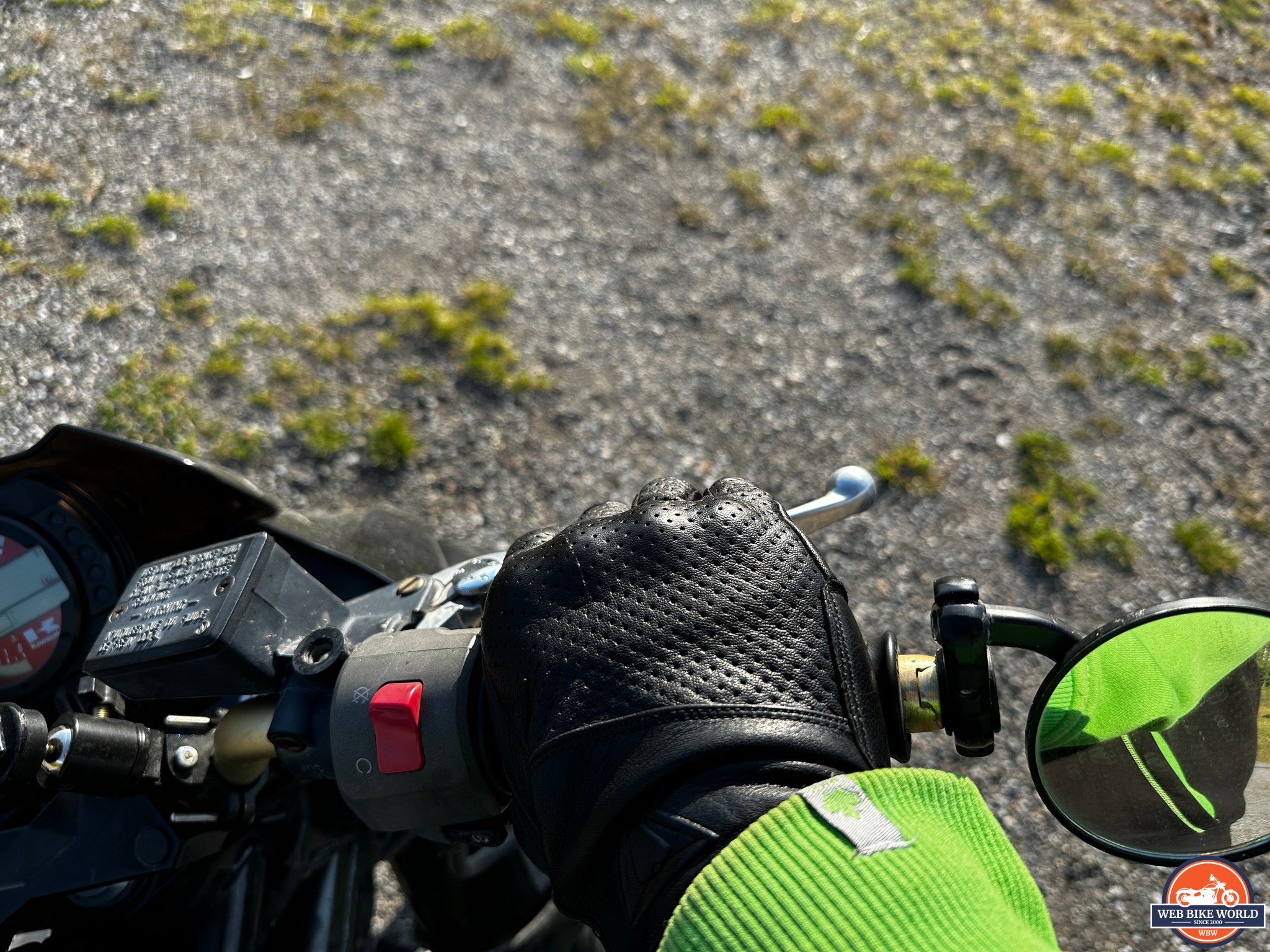 From an aesthetic standpoint ( come on, everyone knows motorcycle riding is 50% fashion show), the Veranos didn't look out of place with anything I wore, from an Alpinestars racing jacket to a hoodie.
Final Verdict
You really can't go wrong when producing a black leather, short-cuff riding glove – there simply isn't anything to get wrong. That said, Racer did a stellar job with the Verano gloves by making a well-ventilated, adequately safe, and overall stylish pair of mitts, and they will, without doubt, be a regular accessory to my handlebars going forward.
Bonus Review: Racer USA Visor Protector Sleeve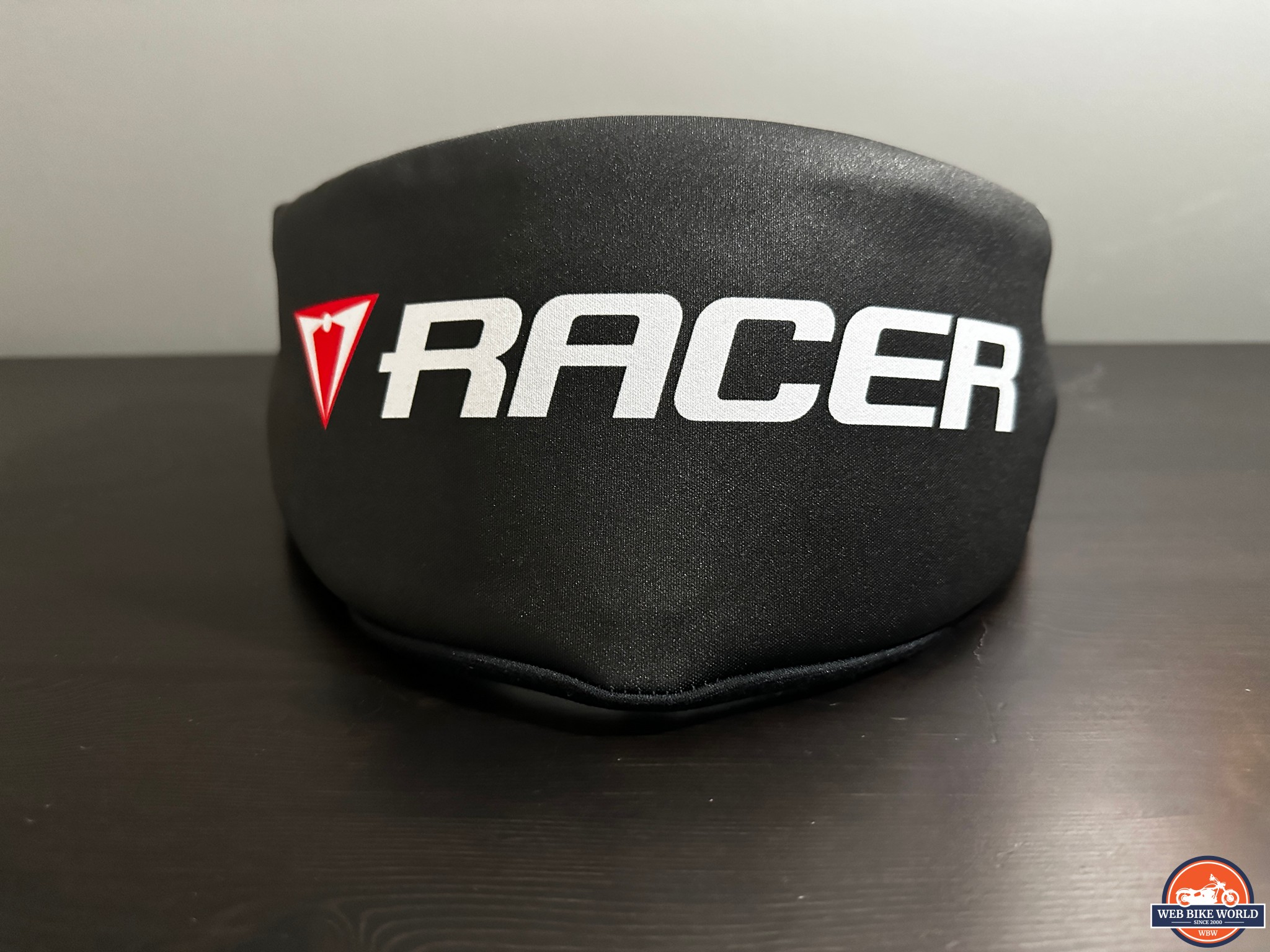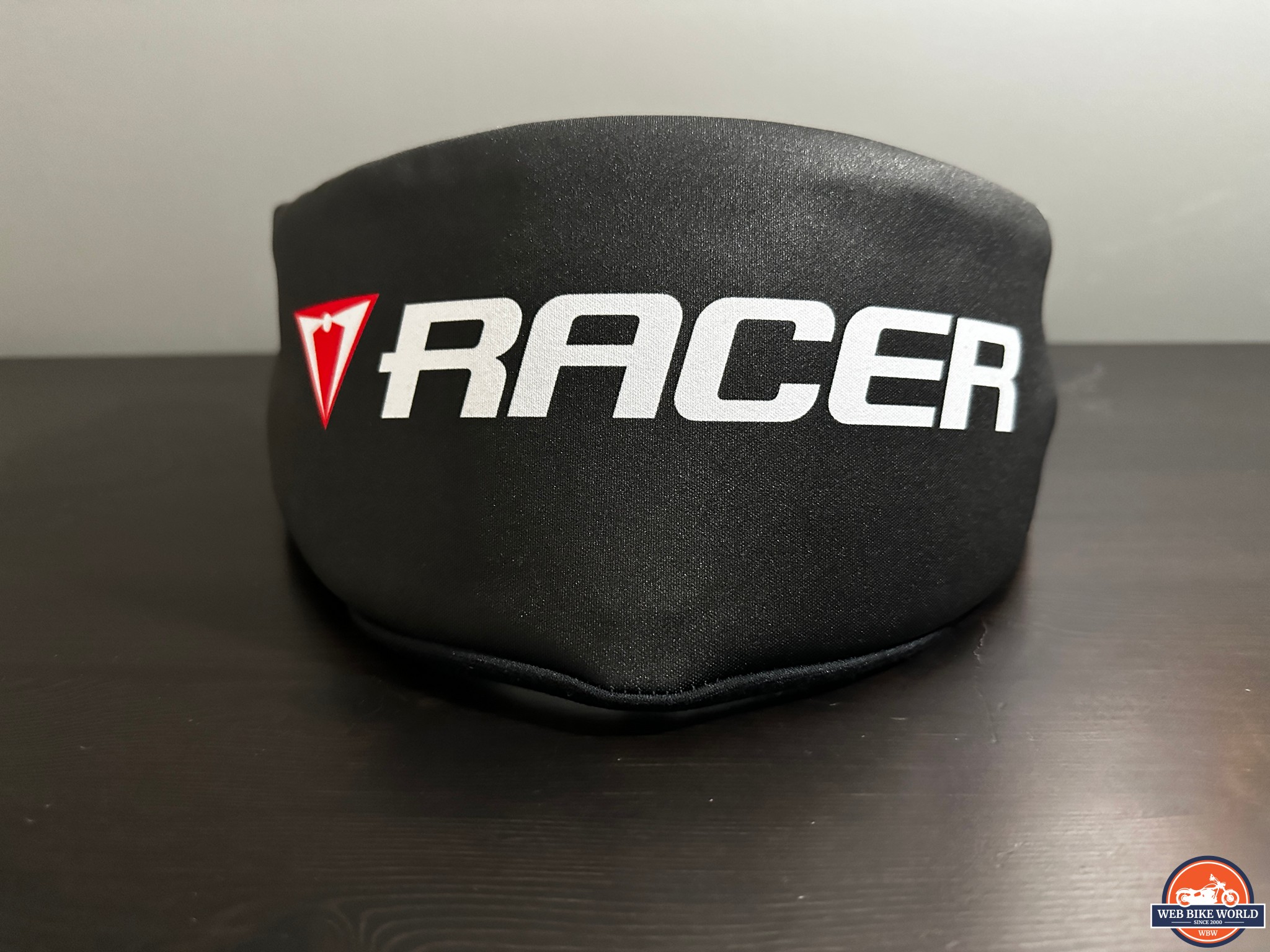 Pros
Room for storage of two visors
Durable & soft neoprene material
Universal fitment
Cons
Stiff construction makes inserting and removing visors on the fly difficult.
Important Links / Where to Buy
Along with the Racer Verano gloves, I received a new product offered by the Racer USA team – A visor sleeve. Made out of premium 4-way stretch neoprene, the sleeve, which can house two visors at once thanks to an internal split, is a great accessory for any rider. The sleeve's material is 1.5mm thick, reassuring that your spare visors will be kept safe when not in action. The material is extremely soft yet durable, and during my time testing it, I didn't discover any damage to my visors or the sleeve itself.
The sleeve is a bit on the form-fitting side, and I initially found it a little tough to maneuver the spare visor for my Scorpion Exo R1 into it; after a few uses, the material became more malleable as it broke in, and I have faith it will get easier to use as time goes on.
The sleeve is currently only available in one colour – black. The front of the neoprene is printed with the Racer USA logo, and the "racergloveusa.com" URL is placed on the top right corner if you need help deciding where to order your next piece of gear. Overall, it's a neat accessory to help keep your spare visors clean and safe, whether in storage or in being transported.
At an asking price of USD $32, the sleeve seems to be a pretty good deal thanks to its premium build quality and ability to store two visors at once. It can be purchased directly from Racer USA's website.
The post
Racer USA Verano Glove Review
appeared first on
webBikeWorld
.