The 2023 MotoAmerica AMA/FIM North America Road Racing Series finale will be held September 22-24 on the 2.25-mile, 12-turn Thunderbolt Raceway at New Jersey Motorsports Park (NJMP), in Millville, New […]
The post
MotoAmerica: Fans Don't Want To Miss The Season Finale In New Jersey
appeared first on
Roadracing World Magazine | Motorcycle Riding, Racing & Tech News
.
The 2023 MotoAmerica AMA/FIM North America Road Racing Series finale will be held September 22-24 on the 2.25-mile, 12-turn Thunderbolt Raceway at New Jersey Motorsports Park (NJMP), in Millville, New Jersey. And while some of the Championship battles have already been decided, some others will still on the line at one of MotoAmerica's most convenient venues.
NJMP has been hosting America's premier motorcycle road racing series since 2009, shortly after it was opened at the end of 2008. It is located on 500 acres immediately adjacent to Millville Airport, which started out as Millville Army Airfield in 1941, at the onset of World War II (WWII). Here, U.S. Army pilots were trained to fly P-47 fighter planes, which were nicknamed Thunderbolts, hence the naming of NJMP's primary course. NJMP also has a 1.9-mile track named Lightning Raceway, after the P-38 Lightning fighter plane from WWII, and the Liberator karting/mini-bike course, named after the B-24 Liberator bomber from WWII.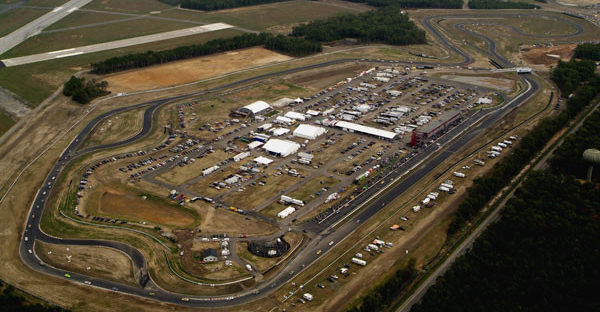 Thunderbolt Raceway at New Jersey Motorsports Park. Photo courtesy NJMP.
Millville is a relatively small town located less than an hour from Philadelphia, Pennsylvania; 45 minutes from Atlantic City, New Jersey; 120 miles from New York City, New York; and about 140 miles from the Washington, D.C. area, making the track easily accessible for the many people who come to spectate — or operate their own vehicles during track days — at the venue each and every year.
Lodging choices for those traveling to NJMP abound, including overnight rentals in the Villas of Breighton and VIP Suites located right on NJMP property with trackside views, and hotels rooms to suit all tastes and budgets are just minutes away in Millville and its neighboring communities.*Trackside RV camping and tent camping are also available for the MotoAmerica weekend.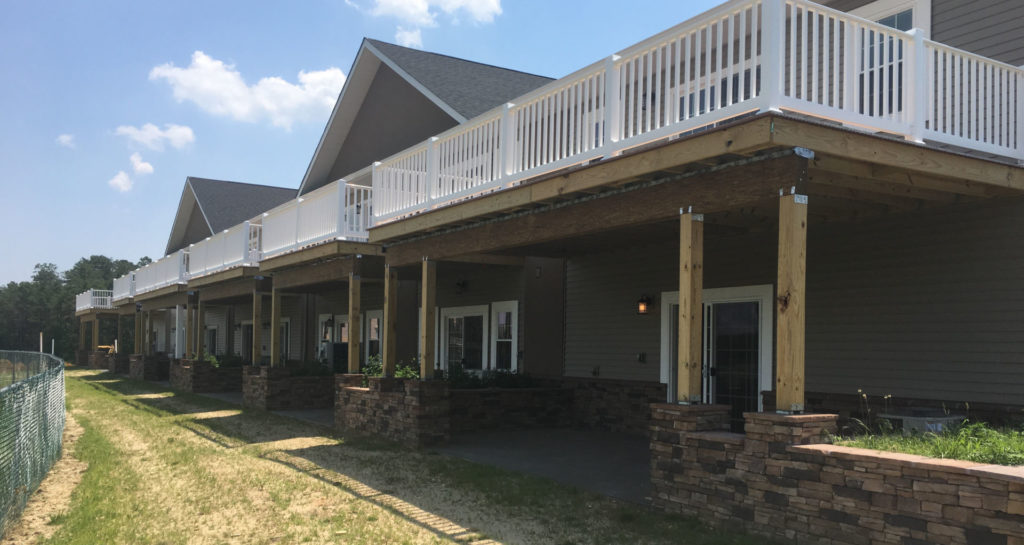 Trackside Villas and Exotic Car Garages at New Jersey Motorsports Park, as seen from the racetrack. Photo courtesy NJMP.
Access to all the action starts with tickets to the MotoAmerica event, which range from General Admission (single-day to three-day), VIP Hospitality, Harley-Davidson 120th Anniversary VIP, to the Dunlop ECSTAR Suzuki Two-Seat Superbike Experience ticket package, which includes a thrilling ride around the racetrack on the back of a Superbike piloted by retired Pro racer Chris Ulrich. Fans can also ride their own motorcycles around the track during the Harley-Davidson Parade Laps and the Cardo Parade Lap. U.S. military veterans are eligible for discounted prices on tickets, and kids 12 and under get into the event free with a paying adult. Restrictions apply.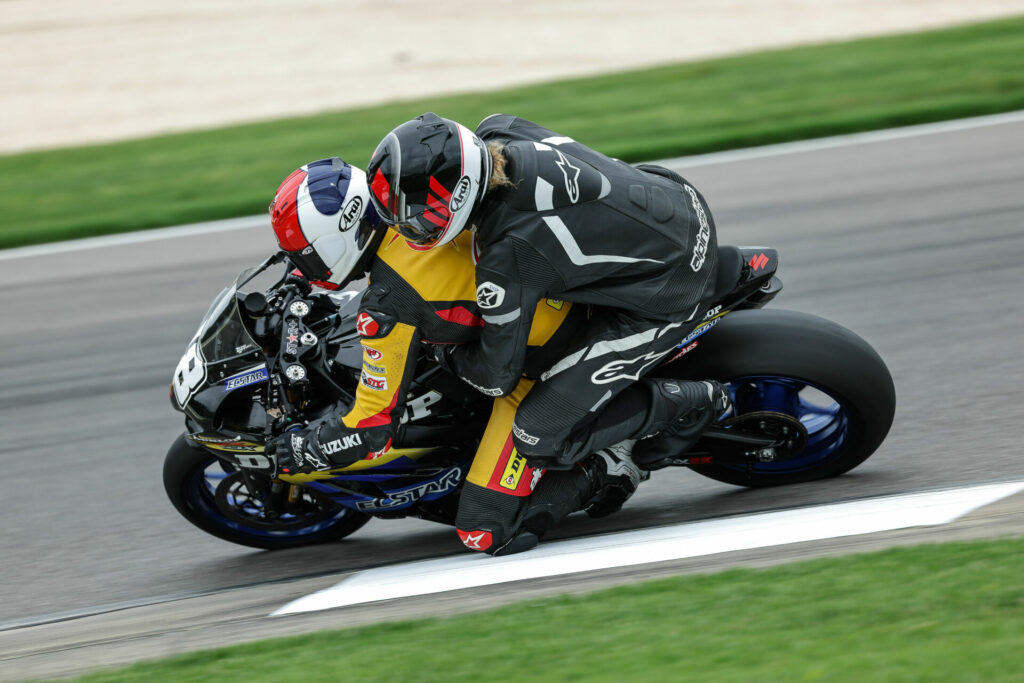 Chris Ulrich giving a ride on the Dunlop ECSTAR Suzuki GSX-R1000R two-seat Superbike earlier this season. Photo by Brian J. Nelson.
One of the best things for fans attending races at NJMP is that all of the activities at the event are within a short walk of everything else and all within view of the racetrack. The race paddock, team garages, Victory Circle, vendors, demo rides, stunt shows, concession stands, and Kids Zone featuring free carnival rides and games are all located within the perimeter of the track. And every MotoAmerica event includes the free Dunlop Hot Pit Walk and Autograph Session with all of the riders at one time on Sunday.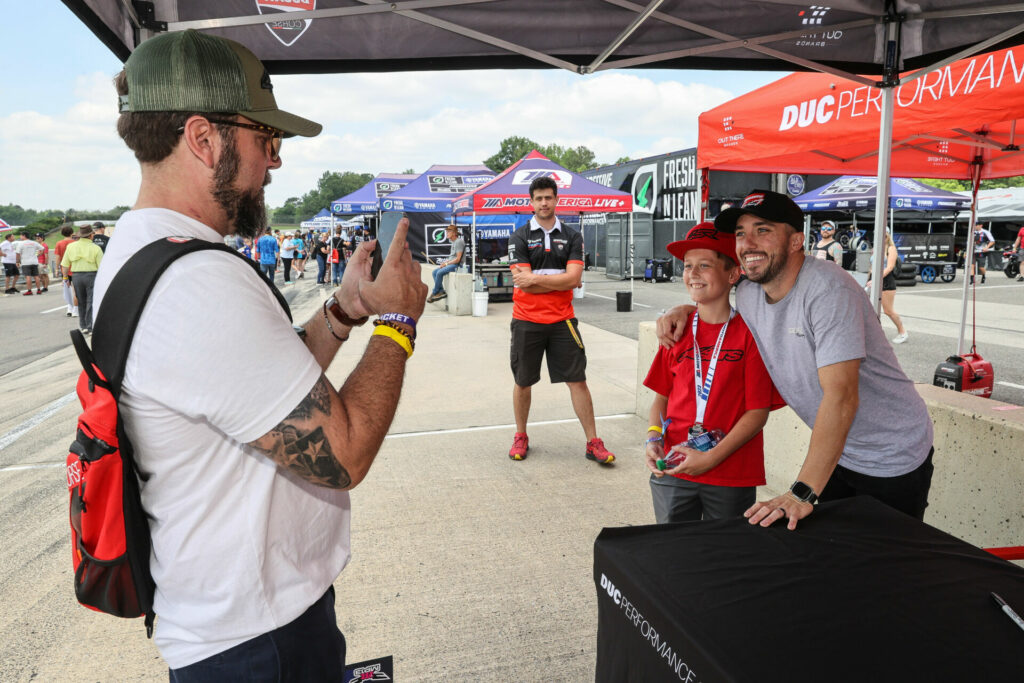 A young fan taking a photo with Superbike racer Josh Herrin earlier this season. Photo by Brian J. Nelson.
On the track, the Medallia Superbike, Supersport, Mission King Of The Baggers, Junior Cup, and REV'IT! Twins Cup classes will each have their final two races of 2023. The titles have been decided in Superbike (Jake Gagne), Supersport (Xavi Fores), and Junior Cup (Avery Dreher), but the hotly contested Championships in King Of The Baggers and Twins Cup will be decided at NJMP.
Kyle Wyman (33), Hayden Gillim (79), Travis Wyman (10), and the rest of the MotoAmerica King Of The Baggers field heads into Turn Five at Road America earlier this season. Photo by Brian J. Nelson, courtesy Harley-Davidson.
In King Of The Baggers, Vance & Hines/Mission Foods Harley-Davidson's Hayden Gillim holds a slim two-point lead over his teammate James Rispoli and an 11-point lead over Screamin' Eagle Harley-Davidson's 2021 Champion Kyle Wyman putting the title within reach of all three men. And while they are out of title contention, defending Champion Tyler O'Hara, his Progressive Insurance/Mission Foods Indian teammate Jeremy McWilliams, and Sac Mile/SDI Racing/Roland Sands Design Indian's Bobby Fong will be looking to steal some of the Harley-Davidson riders' glory at the finale.
In REV'IT! Twins Cup, Rodio Racing Powered by Robem Engineering Aprilia's Gus Rodio, who lives just up the road in Hammonton, New Jersey, leads the standings by only eight points over N2 Racing/BobbleHeadMoto Yamaha's Blake Davis and by 14 points over his own teammate Rocco Landers with 50 points still available to earn in New Jersey. But the class, which features young talent hoping to showcase themselves and move up the racing hierarchy, will also include Jackson Blackmon, Ben Gloddy, Hayden Schultz, the class debut of Avery Dreher, and the return of American Flat Track (AFT) star Dallas Daniels at this round.
In addition, the MotoAmerica Mission Mini Cup by Motul series will wrap up its 2023 season with a doubleheader event on the Liberator track this coming weekend.
The MotoAmerica action starts with practice and qualifying on Friday, followed by final qualifying sessions on Saturday morning and the first races on Saturday afternoon, and the final MotoAmerica races of 2023 take place on Sunday afternoon. Get tickets and more information
HERE
.
The post
MotoAmerica: Fans Don't Want To Miss The Season Finale In New Jersey
appeared first on
Roadracing World Magazine | Motorcycle Riding, Racing & Tech News
.