Cycle World interviews Jorge Lorenzo before the second half of the 2022 MotoGP kicks off. He opens up on car racing, rivalries, and the new crop of racers.
Click here to view on their site.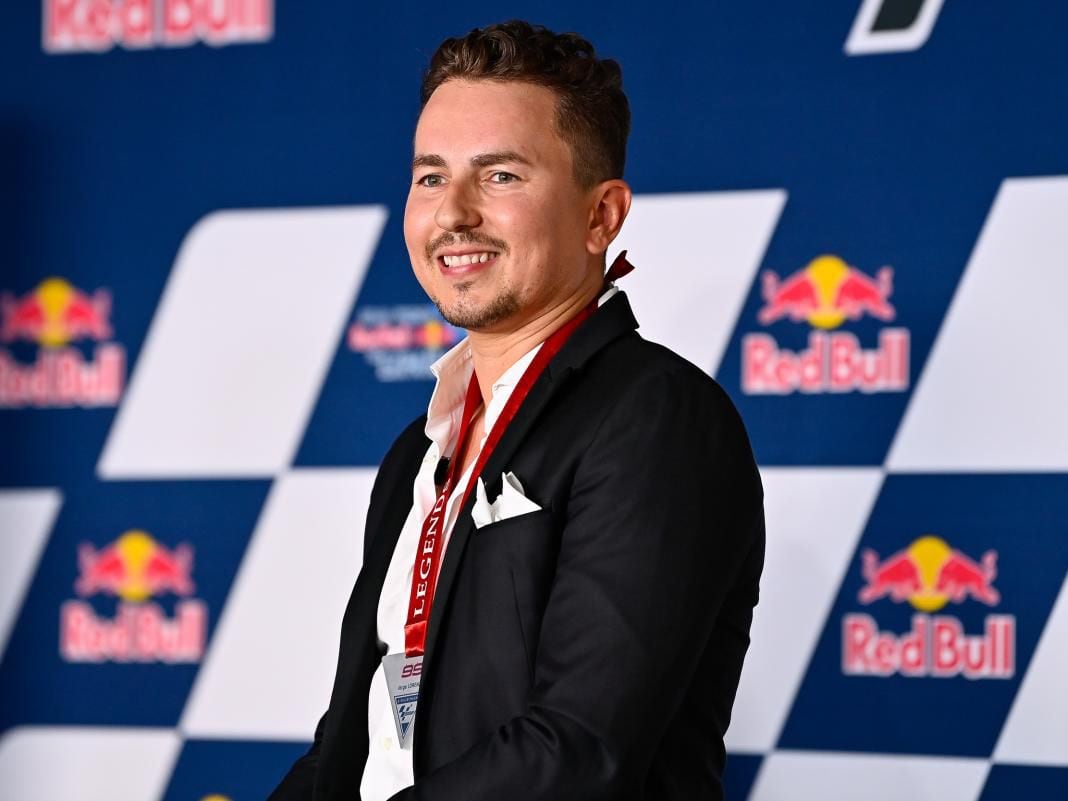 Jorge Lorenzo may be retired from motorcycle racing, but he has not left the sport or stopped racing. (MotoGP/)If there is one rider who has beaten
Valentino Rossi
heads up, it's
Jorge Lorenzo
. His epic track battles with the Doctor are some of the best in
MotoGP
history, not to mention their psychological fights behind the cameras in the Yamaha garage and the hospitality area. A complete racer with a strong personality, Lorenzo is enjoying a new chapter of his life: competing in the Porsche Carrera Cup Italia while being back in the MotoGP paddock as a commentator for Spanish TV, where he's finally free to express his mind. We spoke with him as the MotoGP championship enters in the second part of the 2022 season.
What was the highlight of the first part of the MotoGP season?
The true surprise was
Aleix Espargar
ó with Aprilia. None expected he could win some races, and now he is solid in second place. Aged 33, he is a true revelation.
Looking at the fight for the title, is
Fabio Quartararo
unbeatable?
He is the strongest rider at this moment in terms of both speed and mental strength despite the Yamaha not being the best bike on the grid. He would be even more unbeatable on a Ducati. He is a complete racer, and I see his hands very close to the crown.
What about
Pecco Bagnaia
?
He is fast, as we can see from the number of pole positions he scored. He has made many mistakes, and 66 points is a big gap, but the championship is still open.
With Valentino Rossi retiring, and before him
Casey Stoner
,
Dani Pedrosa
, and
Max Biaggi
, the MotoGP scene seems to be lacking in strong personalities.
I agree. Nowadays all the riders seem friends. Quartararo doesn't speak with Bagnaia like I spoke with Rossi. Pecco doesn't speak with
Jorge Martín
like Rossi spoke with Stoner. Nowadays, they all have good relationships.
Do you think this friendship is real?
I think it can be, because of Instagram and the chase for more likes. In a way it's good for the sport. I have very high respect for every rider, but the ruthless battles have always fired the fans. I think of the fierce stare
Gibernau
gave to Valentino in Jerez 2015, the fights between Rossi and Stoner or Rossi and Biaggi. That rivalry was in the air. It's the same in Formula One, where the rivalry of Lewis Hamilton versus Max Verstappen or Verstappen versus Leclerc is tangible. You can see it all in front of the cameras.
There was the famously placed wall within the Yamaha garage. How hard was it to be Valentino Rossi's teammate?
It was hard. Without my strong personality, probably I would have been beaten psychologically because Valentino had all the attention. Everyone loved him, and this made you feel very small. But I was determined, and once I put the visor down, my only target was to open the throttle and win. Beating Rossi with the same bike gave me a lot of satisfaction and popularity.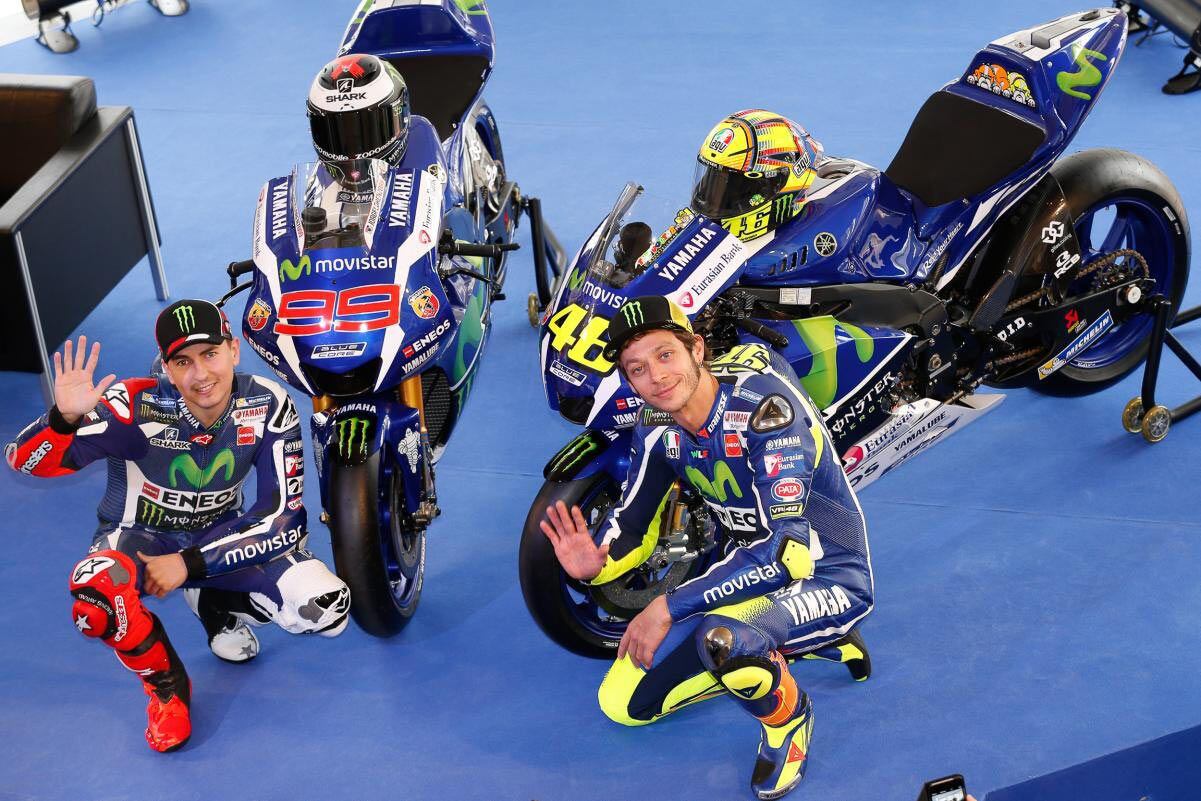 The teammate rivalry between Lorenzo and Rossi varied in intensity over the years, but it was alway there. (MotoGP/)
Looking back at the 2015 season, what is your version of the story?
That year I would have easily won the title because I was the fastest, but on race day something always happened. Like the problem with the visor, the rain on Sunday after a strong weekend on the dry in Silverstone. So despite the speed, it became a tough season. Many factors were involved, but for the Rossi-Márquez story the Argentinian GP was crucial. Valentino was responsible for
Márquez'
crash, but he didn't apologize after the race. Marc didn't like it. I think Rossi's excuses would have changed the course of things. Márquez didn't really want me to win the title; we were not friends.
How hard was it to stop racing?
It was hard, but now I found a perfect situation. You are a born racer, so now I can enjoy racing with cars like a kid in a store without the astronomic pressure of MotoGP. I used to train six hours per day with a strict diet, but now I can relax more and train only one hour per day.
Who do you see as your heir on track?
Looking at the front-runners, I see some similarities with my style in the explosiveness of Jorge Martín, the smoothness and precision of Pecco Bagnaia, and the humor of Fabio Quartararo.
Looking back, would you change anything?
Who doesn't have some regrets? We all have made mistakes and made some wrong decisions, but I would do it again. When I left Yamaha for Ducati, for example, I needed new motivation after many years with the same brand. But of course I would have won more if I remained in Yamaha, and my career would have been longer. For this reason I don't look back.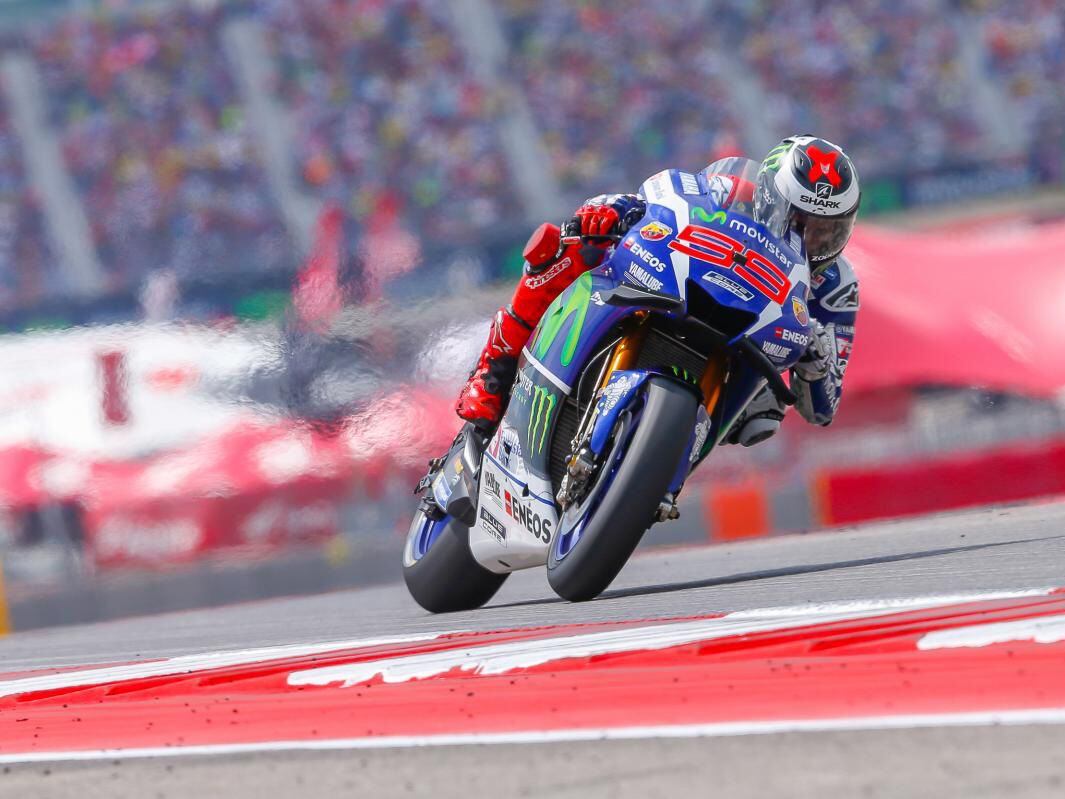 Lorenzo says he doesn't doesn't dwell on the past. (MotoGP/)
What are you like outside the track?
Just a normal guy. I try to eliminate everything that makes me suffer. To wake up early, for example (he smiles) or take unnecessary risks with the sport. We did it for too many years.
What do you appreciate more of this new chapter of your life?
Having free time. This is something I really value. And then I can race with the car and commentate MotoGP, a sport that I know really well from the inside, and the spectators appreciate it.
Looking at your career with the cars, how difficult is the adaptation to four wheels?
The car is less physical. You don't move, changing weight, as happens on a bike. You feel more protected. I really like it, but I'm still learning the secrets. Consider that I'm fighting with racers with eight years of experience and I did only three races.
Do you have something on your bucket list?
I can say that I have achieved a lot. I appreciate my health, my economic situation, and my free time. If I was to think about something for the future, I would say maybe having kids? But if that comes, it comes. No need to push anything.