The 2022 XSR900 is 90 percent new and more refined, but it hasn't lost the cool we've always enjoyed from Yamaha's stylish naked.
Click here to view on their site.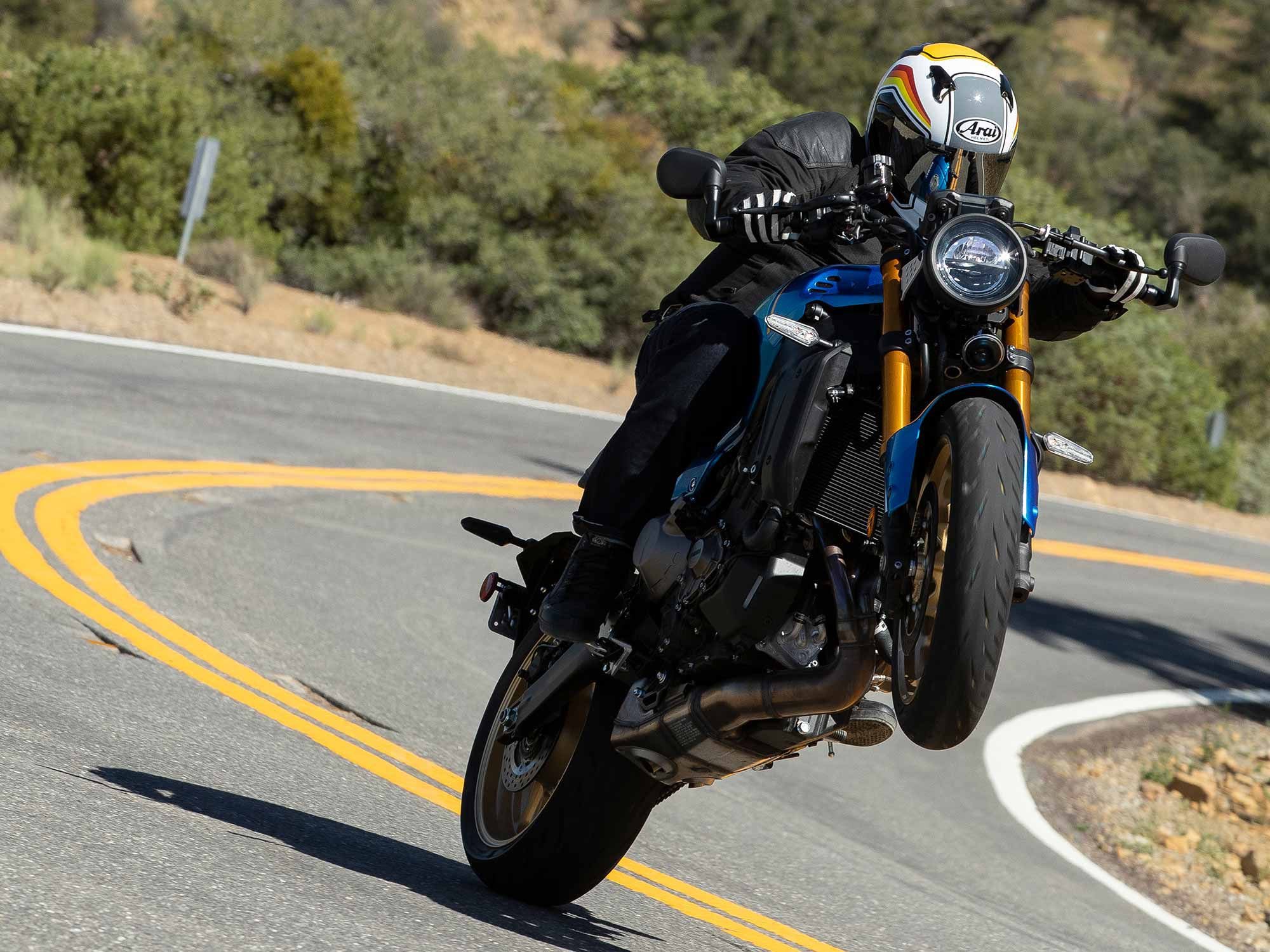 Yamaha's 2022 XSR900 is 90 percent new and more refined, but it still has its wild side. (Adam Campbell/)Despite its flaws, the
XSR900
has always been a favorite in the
Cycle World
office. Sure, throttle response was spasmodic, the suspension was cut-rate and too soft, and the front brake was only a hair less aggressive than the throttle. It rocked back and forth on its chassis in response to every command to go or stop, but still we loved it. Its CP3 triple howled gloriously, the front tire was more than happy to rocket skyward, and it looked darn cool. We loved it.
Now, for 2022
, Yamaha has massaged and restyled the XSR900, and after two days on the next-gen bike the former model is dead to us. This is what the XSR900 should have been all along.
Ninety percent of the XSR900 is completely new. Yamaha has given this throwback model a new engine and frame, fresh suspension, and spanking electronics for 2022. Just like with its naked
MT-09
, Yamaha has revamped just about everything, and it shows.
Style for Miles
Yeah, you might say, but it's just an MT-09 in a cooler suit. You're not completely wrong, but you're not exactly right, either. A handful of touches differentiate the XSR900?s performance along with its look; some notable differences in the chassis give the XSR its own personality and ride quality.
To passersby, the XSR900?s shape clearly separates it from its MT brethren. Yamaha says the old XSR was inspired by the '70s, whereas this new model has moved into the '80s. A long tank and chunky tail recalls the TZ and YZR500 racers of the era. Even the gap between the tank and seat is intentional, emulating a minimalistic racing tailsection. Customizers: Start searching for a TZ250U fairing ASAP! As it sits, the XSR900 stopped people in their tracks, and questions were plentiful, a clear indication the designers did well.
Yamaha says the 2022 XSR900's styling is inspired by racebikes of the '80s. (Adam Campbell/)With that new style comes new ergonomics. The rider's hips are positioned 5mm farther forward and 22mm lower into the bike. Handlebars are now 14mm forward of the previous position 35mm lower while the footpegs further lighten the rider triangle by dropping down 7mm and back 2mm (but are adjustable 14mm up and 4mm back by moving the brackets to the upper mounting holes). This gives the rider a more sporty slant without being cramped. The seat is firm and narrow with a steep back, and is also one of the few criticisms; after an hour in the saddle, that firmness and narrowness makes itself felt, requiring a stretch or stop. If you want to look cool, you're going to have to suffer a little.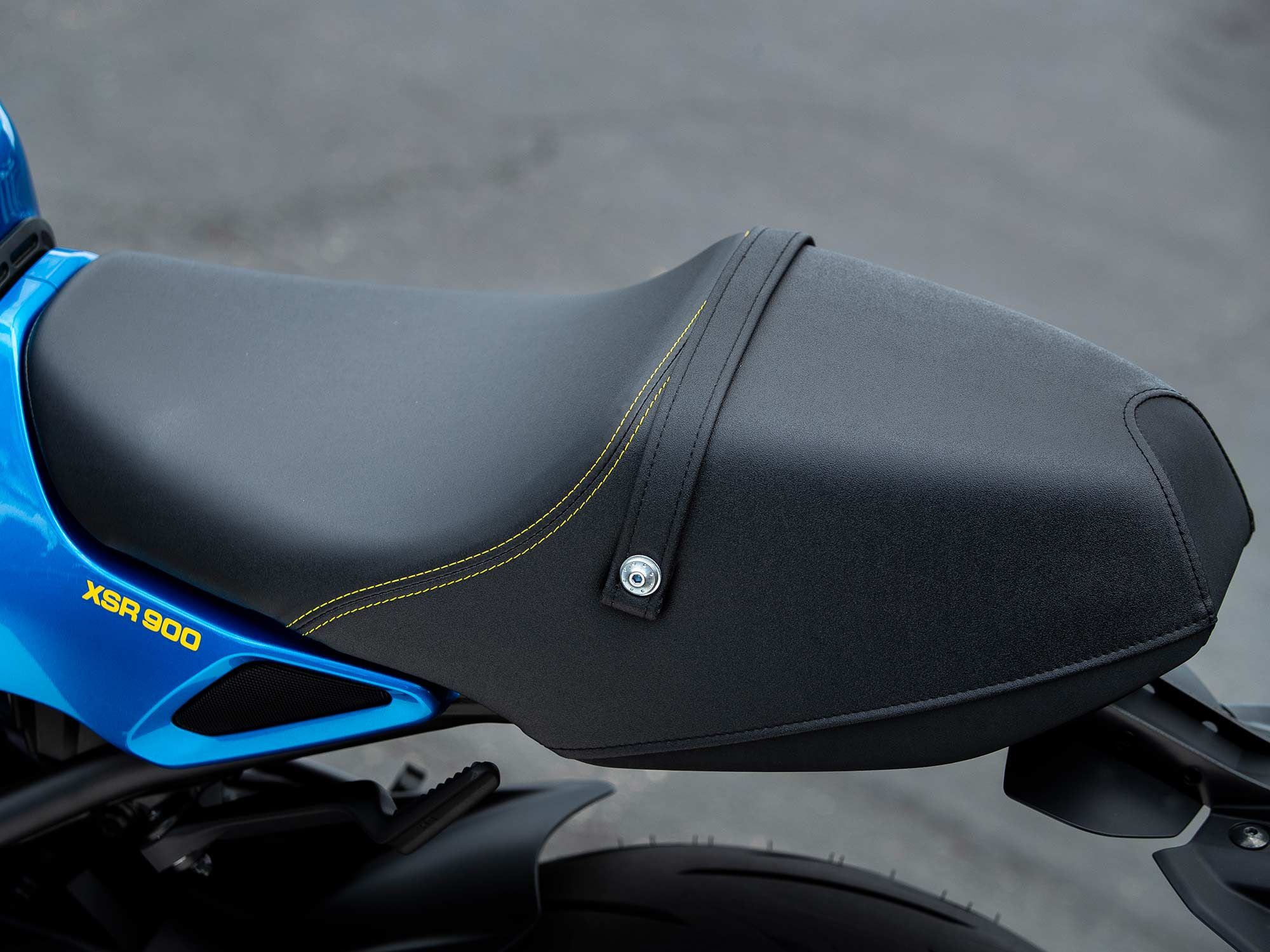 While it looks great, the seat can become uncomfortable on long rides. (Adam Campbell/)What doesn't suffer is the performance of the new XSR900. It's a massive improvement, full stop. From the additional power from the engine to the stiffer and more responsive chassis to IMU-based electronic rider aids, the 2022 XSR900 is leaps and bounds ahead of the old model.
New Displacement C3 Triple
Yamaha's CP3 crossplane inline-triple gets a larger displacement for 2022, increasing from 849cc to 890cc. This is achieved via a 3mm-longer stroke, now 62.1mm, while using the same 78.0mm bore. This is accomplished while keeping the same external engine dimensions by increasing the crankshaft throw and using 1.5mm shorter
titanium fracture-split connecting rods
. Crankshaft inertia has increased by 6 percent through this change as well. Those shorter con-rods are pinned to new concave-top forged pistons. More aggressive camshaft profiles required a wider cam chain with a hydraulic tensioner, replacing the previous mechanical spring unit. Finally, narrow and compact combustion chambers improve torque with a more efficient fuel burn.
Yamaha coaxed slightly more power from its now-larger-displacement CP3 triple. (Adam Campbell/)A new airbox with three tuned intake snorkels bumps up the efficiency while creating a more aggressive intake note. Updated throttle bodies feature a new injector angle that sprays directly at the intake valve for improved fuel atomization resulting in better combustion efficiency. Additionally, intake port volume has been reduced by 15 percent to facilitate more complete cylinder filling for more stable combustion.
Yamaha claimed a 6 percent increase in torque from the previous XSR900, though the company declined to provide information on the changes to horsepower. Following the official ride day, we put the 2022 model on
Cycle World
's Dynojet 250i dynamometer in order to get rear-wheel horsepower and torque figures. Both horsepower and torque have increased, with 106 hp at 10,000 rpm and 63.5 pound-feet at 7,000 rpm. This is an increase of 2 hp and 4.5 pound-feet, with the peak horsepower rpm being nearly identical but peak torque coming in 1,000 rpm sooner than the
2020 model last tested
.
We've never complained about power or really wanted more of it from Yamaha's CP3 engine, but we'll take it. The difference is not astounding or even easily noticeable, but snapping the throttle open rewards the rider with spirited acceleration and a wonderfully sonorous growl from the crossplane crank engine accompanied by a wicked howl from the newly shaped intakes. Toeing up on the two-way quickshifter and grabbing another gear produces a pop from the now-3-pounds-lighter underslung muffler as power is cut for a split second during the change. It all sounds and feels great, just right for this bike.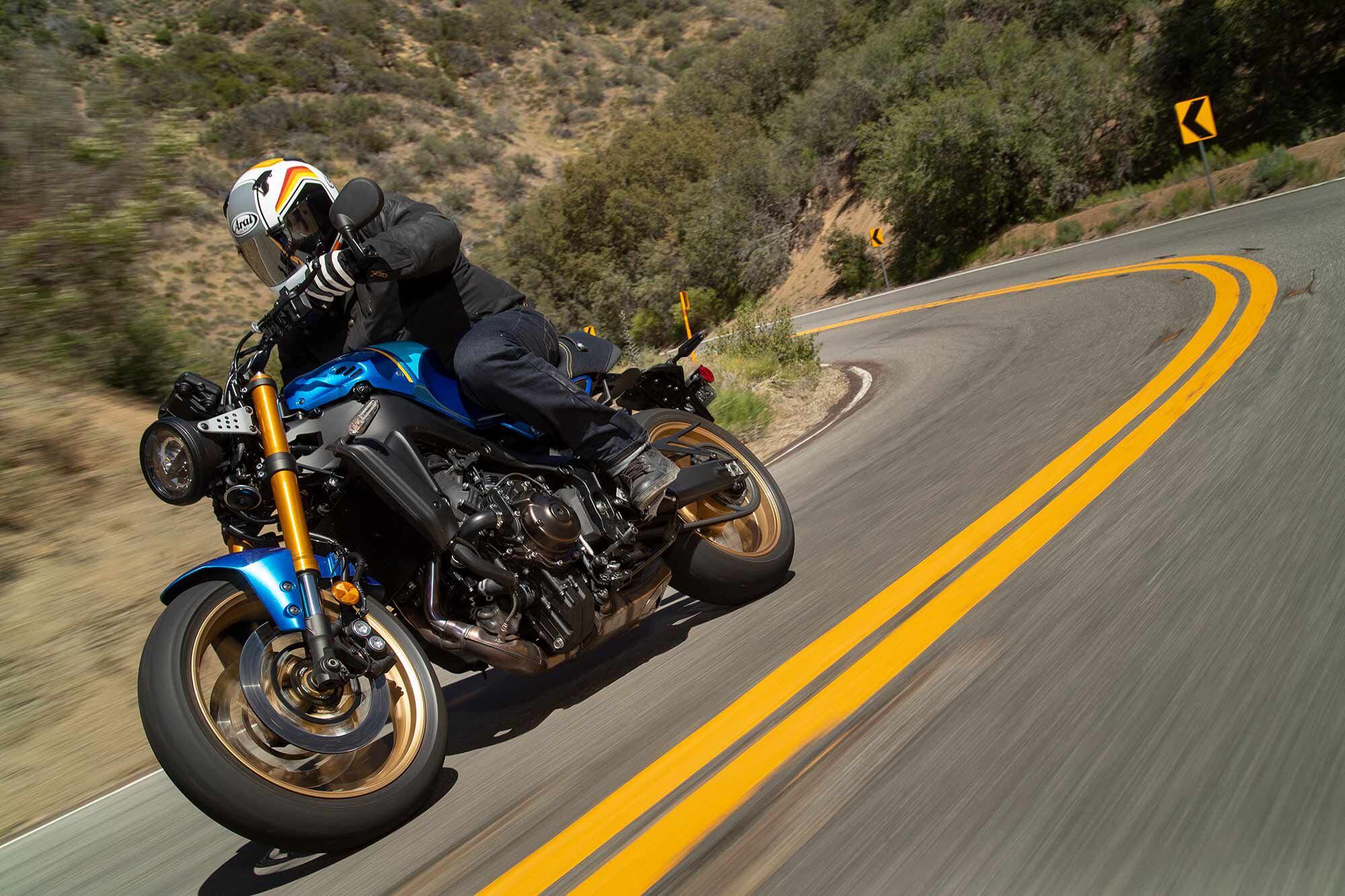 With more torque and a more stable chassis, the 2022 XSR900 exits corners with more vigor than before. (Adam Campbell/)With more torque coming on sooner than before you would expect a stronger pull out of corners, and there is, but in first and second gear it is not as noticable thanks to 3 percent taller gear ratios. This smooths out power delivery and greatly reduces the snatchy throttle response that has plagued all CP3 powered models until now. That's now all but gone, one of the greatest improvements to this new model. No longer does the bike lurch fore and aft while trying to maintain a steady throttle opening. Only at very low speeds in town at rpm below 3,000 is any jerkiness noticeable. And even then, it's slight.
IMU-based Electronic Rider Aids
A
YZF-R1
-derived IMU further increases the usability and performance of the XSR900, adding lean-sensitive traction control, slide control, ABS, and wheelie mitigation. Gone are the rudimentary engine response choices of A, B, and C; now you have your pick of four drive modes. Mode 1 is the most responsive, and even in this mode those throttle and fueling issues of old are basically nonexistent. Modes 2 and 3 further temper the CP3?s performance to what Yamaha calls a "standard" and "mild" response, respectively. Mode 4 cuts the power dramatically from the bottom and through the midrange for adverse conditions. Mode 1 was used for the majority of the day, and worked well to get the most out of every mountain corner. In town, Mode 2 mitigated the small patch of snatchy throttle below 3,000 rpm.
With the new IMU, the XSR900 offers two preset traction modes (TCS) along with one custom mode called "Manual" and off. Switching between the traction modes and power modes is simple and straightforward; select via the switch gear on the left bar, roll on the throttle and the change is made. To engage or disengage Manual TCS (TCS-M), the bike must be stopped. A thumb wheel on the right bar end adjusts the manual settings where you can choose 1 to 3 on traction control and slide control, and 1 to 3 and off for front wheel lift. The lower the number, the less intervention. TCS-1 sets all three of these to level 1 and preset 2 puts all levels in the middle at 2.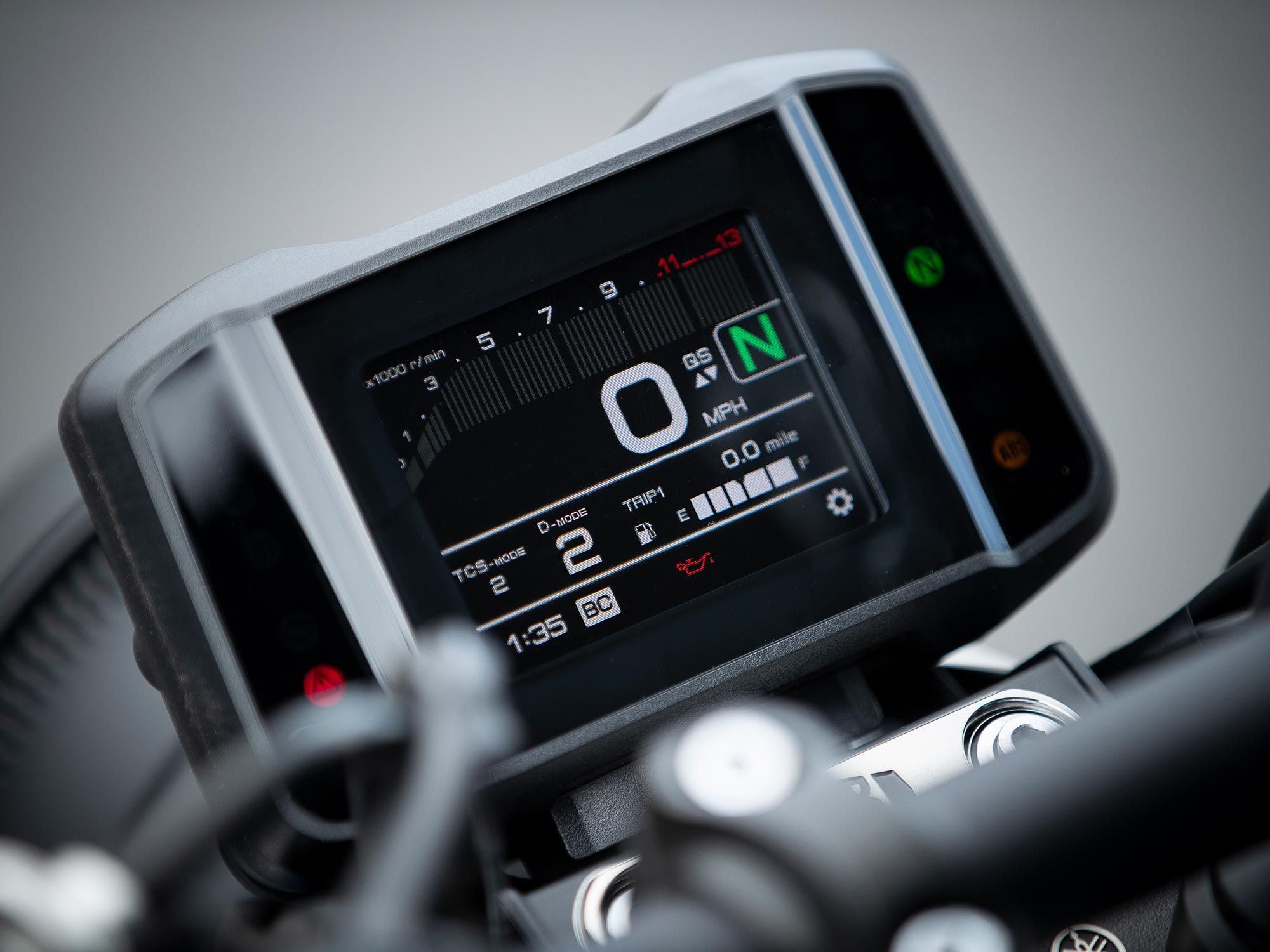 A compact TFT dash looks just right on the XSR900 and is easy to use and make adjustments with the switch gear on the left and right bar ends. (Adam Campbell/)TCS-1 is excellent even on some of the dustier mountain roads. Traction control engagement is smooth and hardly noticeable, and simply keeps the bike moving forward or around the corner with any hard cuts. TCS-2 is more aggressive, but still seamless. Both keep wheel lift low and will not slam the front down; the tire just comes back to the pavement in a light and controlled manner. Setting 3 of lift mode keeps the tire glued to the pavement. I preferred to ride the XSR900 with TCS-M set with TC at 1, slide control at 1, and lift set to off, which gives the most aggressive and entertaining ride.
Antilock braking is also lean-sensitive, but can be switched to a straight-line only mode. BC-1 is standard ABS, not utilizing the IMU data. BC-2 adds lean sensitivity and modulation as the bike leans, so set it in BC-2 and forget it for the entire life of the bike. The intervention threshold is low; even if you do trigger the system, the front lever pressure stays firm with just slight feedback. The rear ABS is slightly less refined, and you can lock the rear tire for just a split second before the lever becomes mushy and the ABS does its thing. The addition of a radial Brembo master cylinder is very welcome. Initial bite is strong, but not light-switch quick like the previous XSR. Power and feel are also top-notch from the front lever through the dual four-piston calipers and 298mm rotors. A single 245mm disc and single-piston caliper do have excellent feel until you hit the ABS.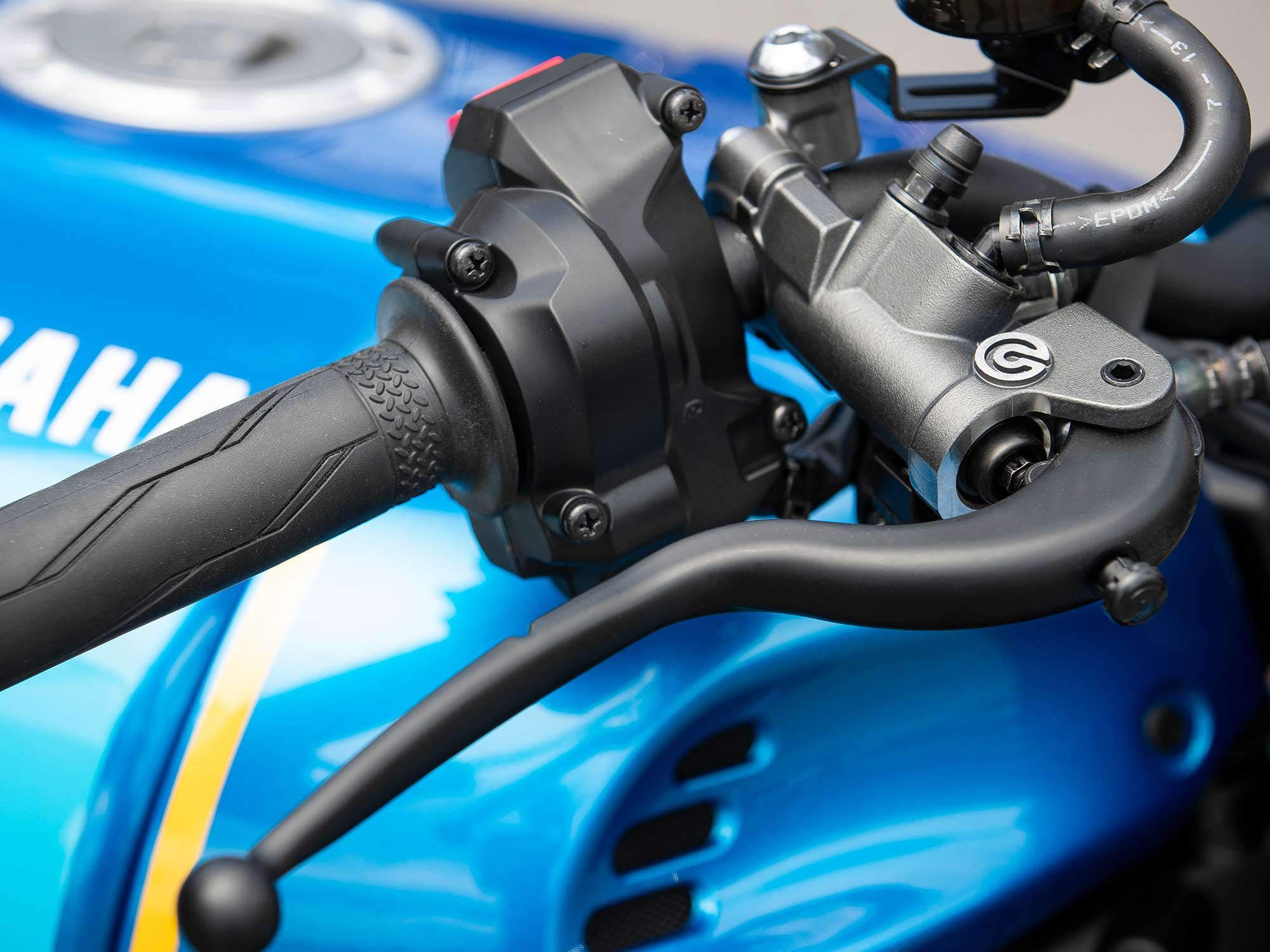 A Brembo radial master cylinder has plenty of power and initial bite without being too touchy. (Adam Campbell/)Improved Handling
As impressive as all the changes to the power and electronics are, the updated 2022 chassis is a bigger improvement. Just like the MT-09, the frame is a controlled-filled
die-cast aluminum structure
that is 50 percent stiffer laterally while having a thinner cross section. The steering head has been lowered 30mm in comparison to the previous mode to increase front end feel. A 59mm longer swingarm (from the Tracer 900) is mounted inside the frame spars for even more rigidity.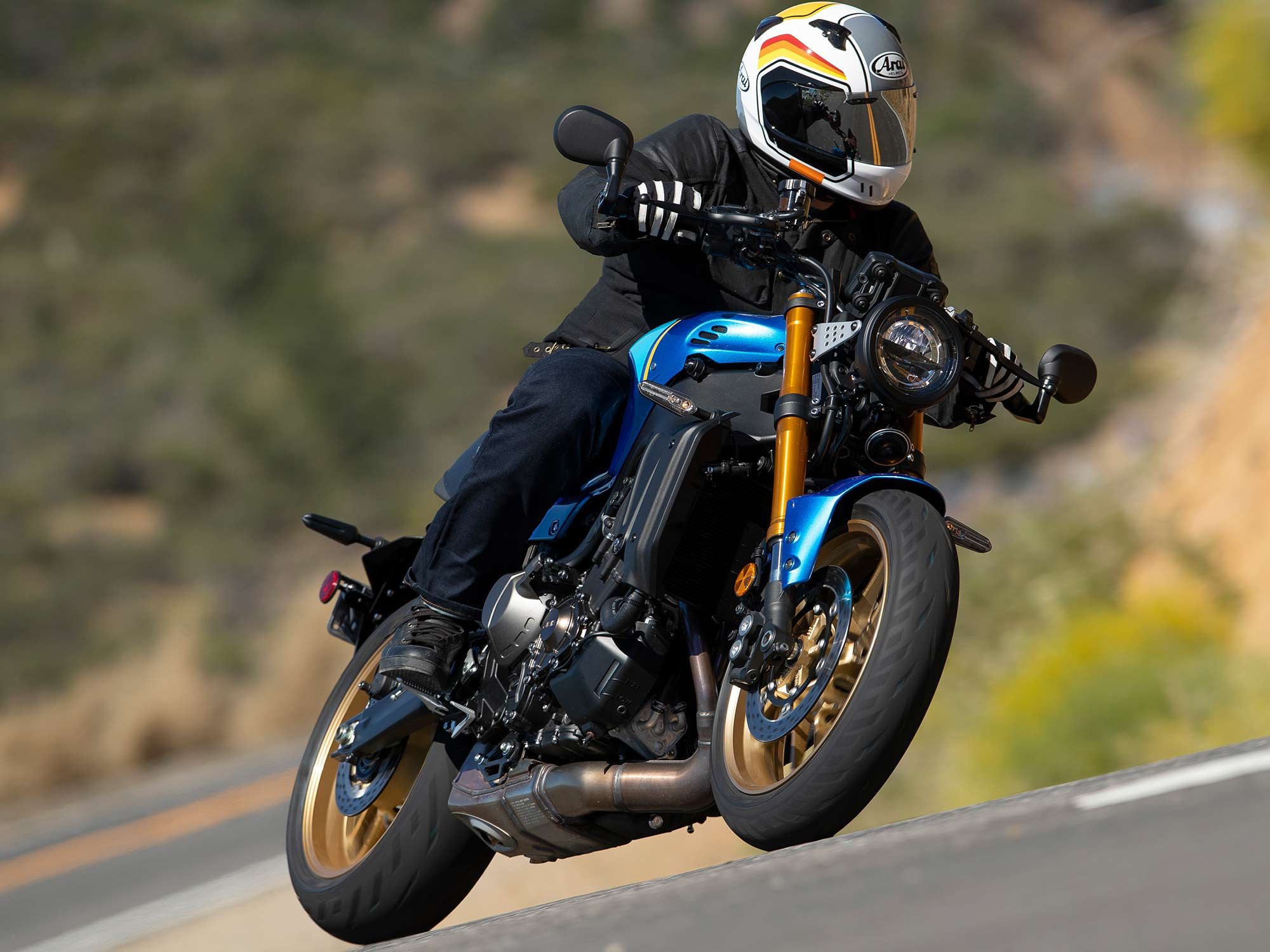 A more rigid frame and stiffer suspension settings greatly improves the XSR900's handling. (Adam Campbell/)These changes, plus a 39mm-shorter fork, have completely transformed the XSR900?s handling. It's now more stable, less prone to dive and wheelie, and less nervous overall. With this comes a change to the XSR900s character; it's less playful, or rowdy, if you will. The lowered head tube and longer swingarm keeps the front tire closer to the tarmac under hard acceleration, and wheelies are now a deliberate decision rather than a routine accident. The chassis stays inline under heavy braking, and on our test strip the XSR900 stopped from 60 mph in 130.32 feet, nearly 5 feet less than the shorter-wheelbase MT-09?s 135.09 and the 2020 XSR900?s 135.19.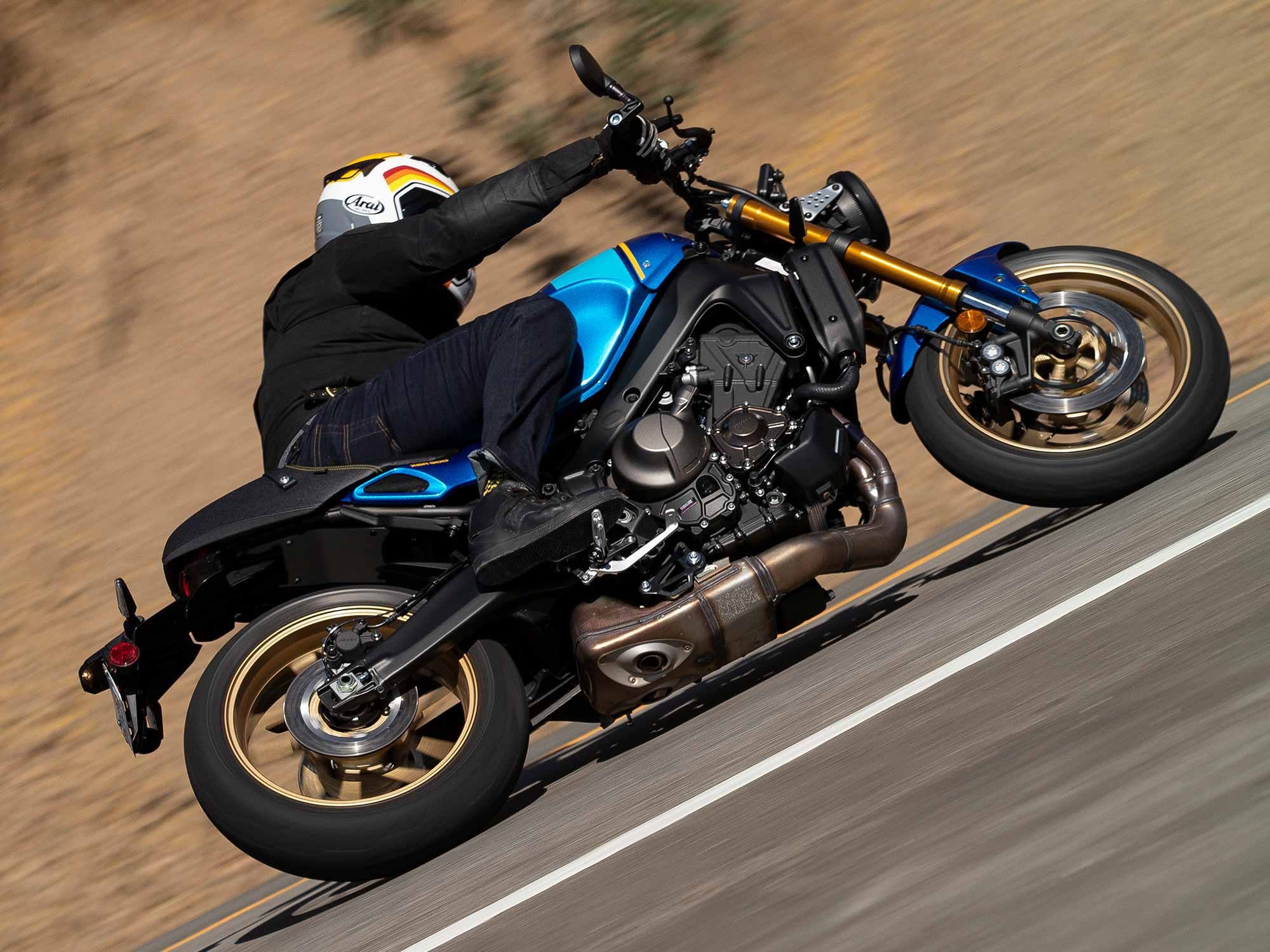 Lighter spin-forged wheels cut 1.5 pounds from each end of the XSR900, making it easier to flick the bike from side to side. (Adam Campbell/)A 3 percent taller first and second gear, combined with the longer and less wheelie-prone chassis, helps post better acceleration numbers as well. The XSR is quicker in the quarter than the MT, clicking off a 10.97-second time at 126.41 mph. That's not going to make you king of the strip, but it's a third of a second quicker than the 2022 MT-09 and six-tenths quicker than the 2020 model.
The data tells us it's quicker and faster, and our inner ear does as well, not by a newfound sense of acceleration but by the way it moves through the twisting bends with less effort. That shorter KYB fork is now 7 percent stiffer, while the KYB shock's spring rate has increased 21 percent. Compression damping is also increased on both ends: 31 percent at the front and 35 percent in the rear. Rebound damping decreases 27 percent and 11 percent front and rear, respectively. Midcorner bumps and pavement irregularities no longer upset the XSR. Instead, it simply goes where you want it. Feel from the front tire is excellent; you can really feel the front tire working. No longer are you painting with a broad brush on the road, but marking lines with a fine-point pen.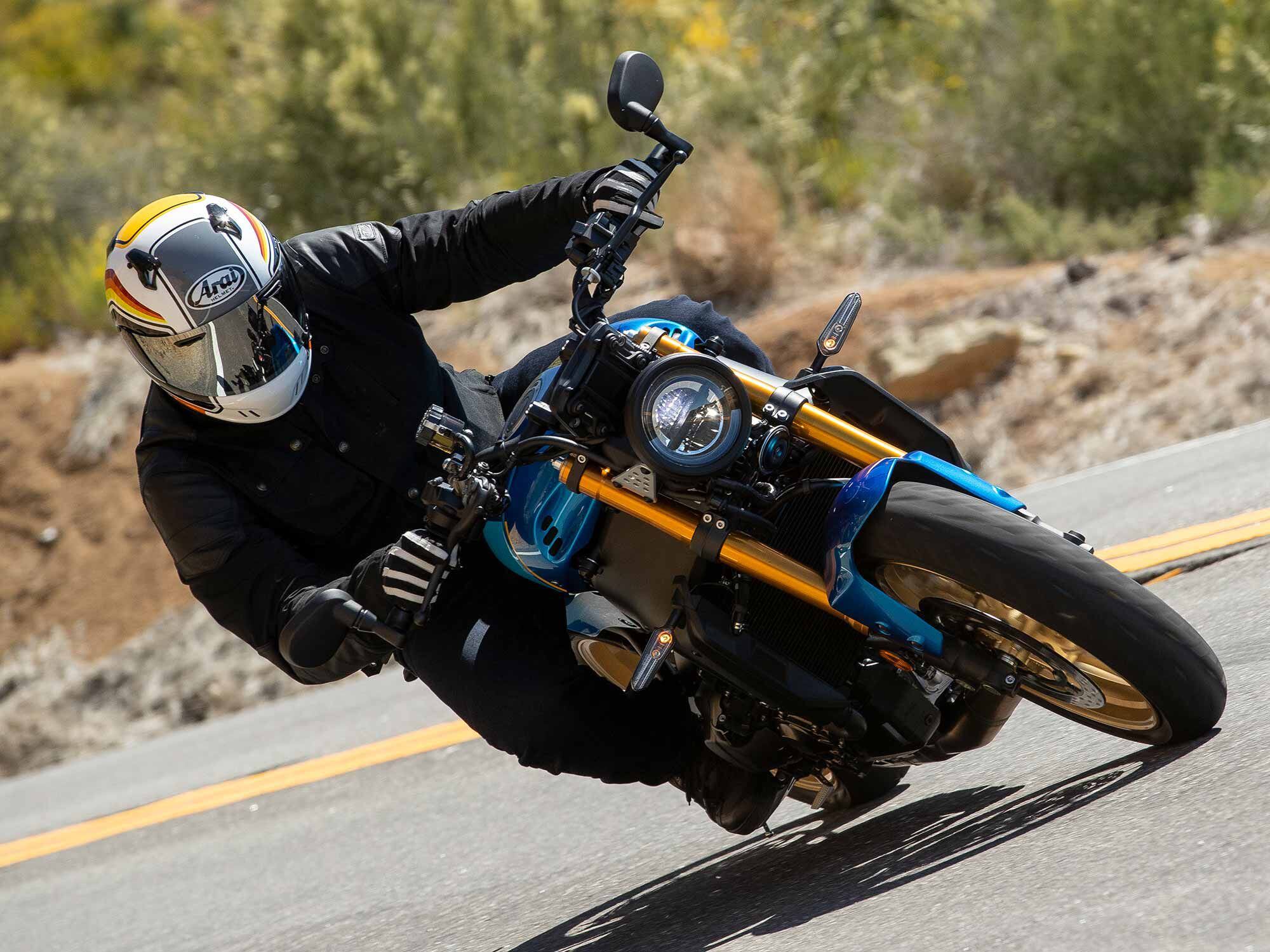 Handling is more precise on the 2022 XSR900. (Adam Campbell/)All is not perfect with the suspension and chassis, however. While the fork has preload, compression, and rebound adjustment available, the Yamaha chose to omit compression damping adjustment on the shock. And this is a place where it needs more; big bumps cause the rear travel to blow through the compression damping. And when this happens midcorner, you begin to scrape the footpeg feelers much sooner than you'd expect. Then comes a slightly too quick rebound. The bike doesn't become unstable, but it forces you to dial back the aggression. We increased the shock preload by one step and slowed the rebound by two clicks, which improved the ride for my 235-pound frame, but all it really needs is compression adjustment. Guess Yamaha needs to hit that $9,999 MSRP somehow, though perhaps it should consider losing the finely calibrated cruise control in exchange for a better shock.
Just like the MT-09, the XSR900 gets Yamaha's proprietary
spin-forged wheels
, cutting 1.5 pounds from each wheel while maintaining the strength of traditional forging methods. This reduces rotational mass by 11 percent and thus increases the agility of the XSR900. Side to side transitions and corner turn in are light and snappy. Although we didn't have a 2020 model on hand, the 2022 is clearly more stable yet quicker handling.
As noted earlier, we've always loved the XSR900. We just wished it was more composed and refined. We also felt that doing so might remove its cool, fun character, but Yamaha has succeeded in massively improving the XSR900 while keeping most of that character intact. Every bit is better—and not just a little—while still rocking that cool throwback vibe. It remains just as cool to ride as it is to look at.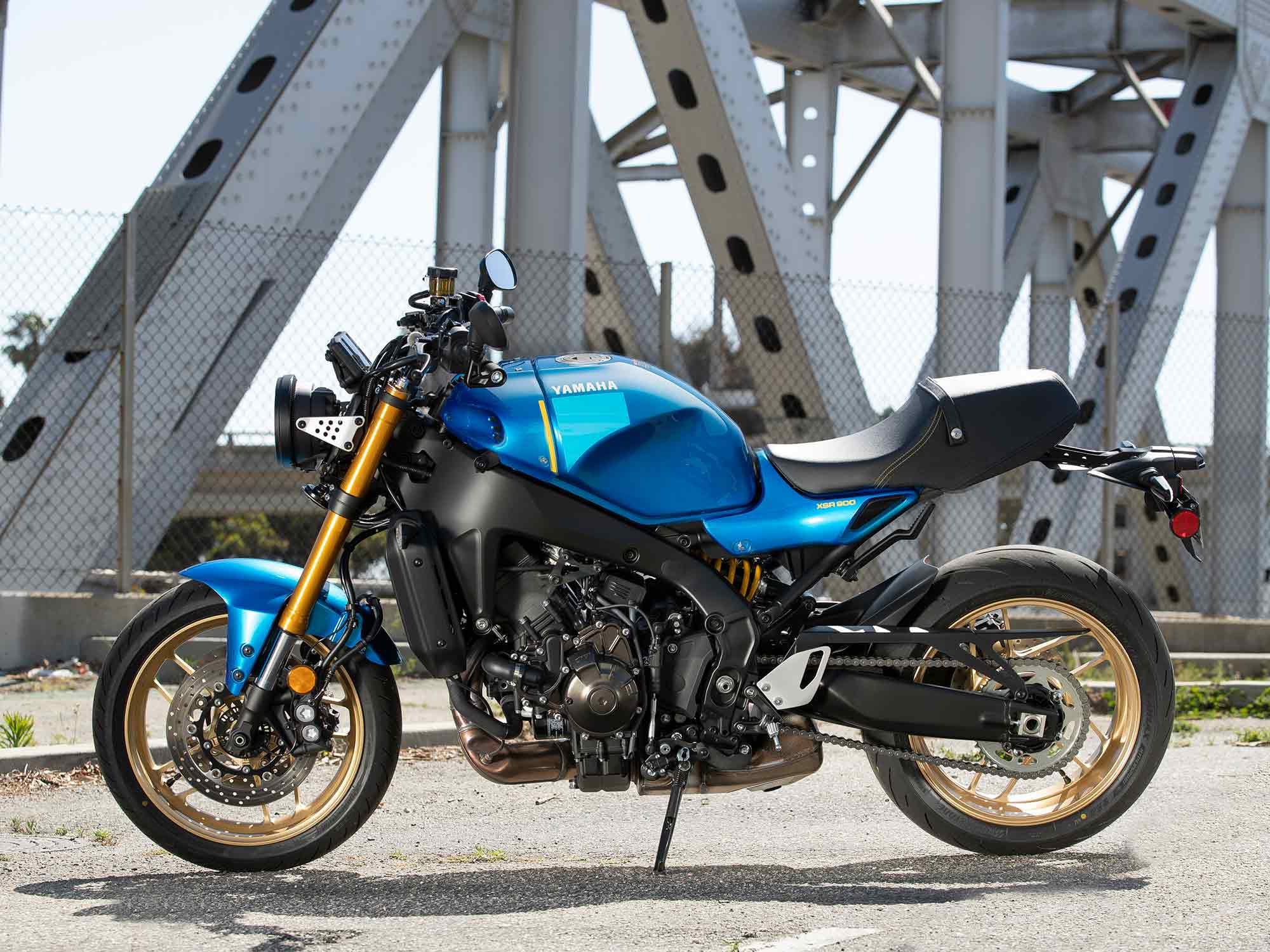 Our fondness of the XSR900 continues with the 2022 model. (Adam Campbell/)2022 Yamaha XSR900 Specifications
MSRP:$9,999Engine:DOHC, liquid-cooled, inline three-cylinder; 12 valvesDisplacement:890ccBore x Stroke:78.0 x 62.1mmCompression Ratio:11.5:1Transmission/Final Drive:6-speed/chain
Cycle World
Measured Horsepower:106 hp @ 10,000 rpm
Cycle World
Measured Torque:63.5 lb.-ft. @ 7,000 rpmFuel System:Fuel injection w/ YCC-TClutch:Wet, multiplate. slip and assist function; cable actuatedEngine Management/Ignition:Transistor-controlled ignitionFrame:Control-filled die-cast aluminumFront Suspension:KYB 41mm USD fork; fully adjustable, 5.1 in. travelRear Suspension:KYB monoshock, preload and rebound adjustable; 5.4 in. travelFront Brake:4-piston calipers, dual 298mm discs w/ ABSRear Brake:1-piston caliper, 245mm disc w/ ABSWheels, Front/Rear:Spin-forged 10-spoke aluminumTires, Front/Rear:Bridgestone Battlax Hypersport S22; 120/70ZR-17 / 180/55ZR-17Rake/Trail:25.0°/4.3 in.Wheelbase:58.9 in.Ground Clearance:5.5 in.Seat Height:31.9 in.Fuel Capacity:3.7 gal.Average MPG:45.8 mpg
Cycle World
Measured Wet Weight:428 lb.Contact:
Yamaha
CW
Measured Performance
Quarter-Mile:10.97 sec. @ 126.41 mph0–30 mph:1.47 sec.0–60 mph:3.03 sec.0–100 mph:6.32 sec.Top-Gear Roll-On, 40–60 mph:2.72 sec.Top-Gear Roll-On, 60–80 mph:2.92 sec.Braking, 30–0 mph:33.76 ft.Braking, 60–0 mph:130.32 ft.