Suzukiís new V-Strom DE models get 21-inch front wheels, updated suspension, chassis, and electronics for improved off-highway performance.
Click here to view on their site.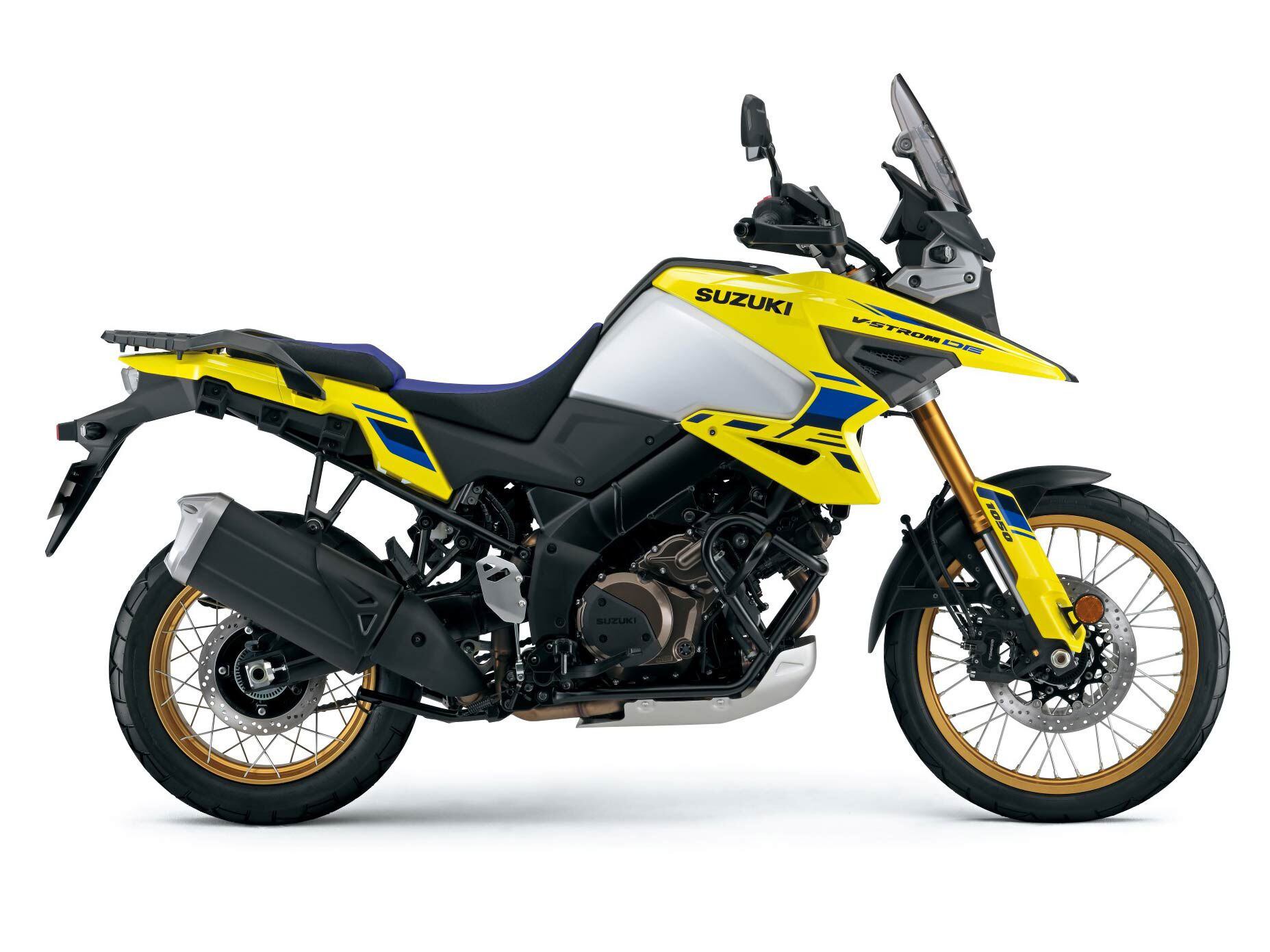 Suzukiís V-Strom 1050DE gets updates to make it more off-road worthy including updated chassis and a 21-inch front wheel. (Suzuki/)When
Suzuki
first launched its
V-Strom 1000
back in 2002, the market for big
adventure bikes
leaned more toward road-biased tourers than machines with genuine off-road capability. Thatís all changed since then, and this latest iteration of the V-Strom has too. This yearís updates are intended to let it catch up with the rugged style of its rivals.
The
V-Strom
has been through three significant updates during its life span, as well as a capacity hike to 1,037cc thatís reflected in the name of the V-Strom 1050. But the essence of the machine has always remained true to the original. The alloy-framed,
TL1000S
-derived V-twin engine and the combination of a 19-inch front and 17-inch rear wheel have always meant it was very much a road-oriented bike, an
adventure-tourer
with the emphasis on tourer rather than adventure.
The last cosmetic upgrade came with the
2020 model year
, leaning heavily into Suzukiís big trailbike heritage with styling that harks back to the DR Big (DR750S). That bike is widely regarded as the first to have sported a ďbeakĒ front fender, the styling cue thatís since been ripped off by virtually every machine trying to establish itself in the ADV category. While the
1050XT and 1050XT Adventure
versions gained a more rugged look with engine bars and wire-spoked wheels, they still had the same size rims as before. Not anymore; in 2023 the XT and XT Adventure will be replaced by the V-Strom 1050DE and 1050DE Adventure, with a 21-inch front wheel chief among changes that enhance its off-asphalt ability.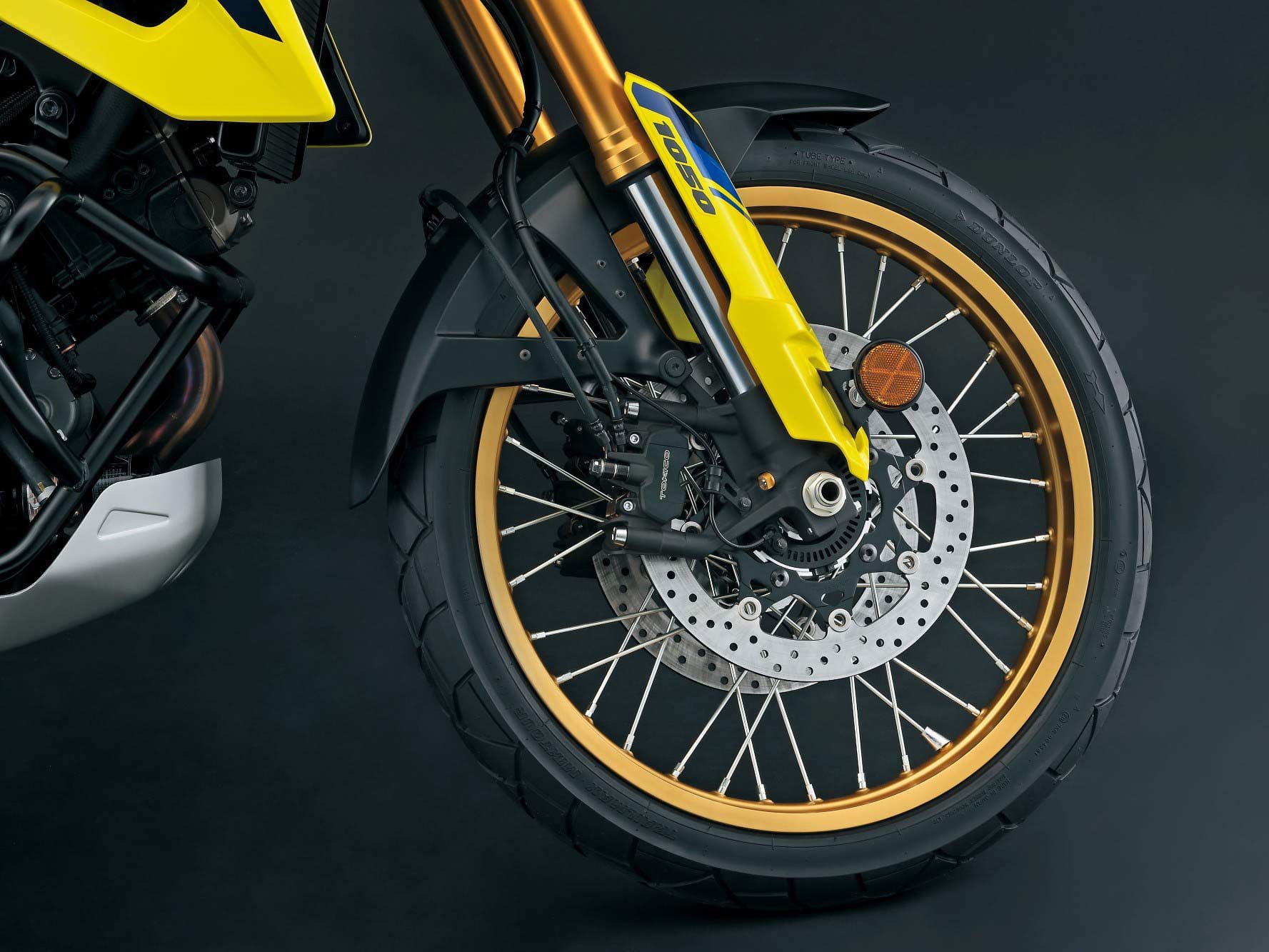 Suzukiís new-for-2023 V-Strom 1050DE and 1050DE Adventure get a 21-inch front wheel, which uses an inner tube, while the rear wheel is tubeless. (Suzuki/)The bigger front wheel, along with its matching new front fender, is the most obvious visual clue to the upgrade. Itís an unusual setup: a tubed 90/90-21 front tire paired with a tubeless 150/70-17 rear, with differently styled wheels at either end. The front has conventional spokes attached to the rimís centerline; the rear uses cross-mounted spokes. The new wheels are hung on longer-travel suspension, increasing the DEís rake and trail; the standard V-Strom 1050 sticks with the previous arrangement of 19-inch front and 17-inch rear alloy wheels.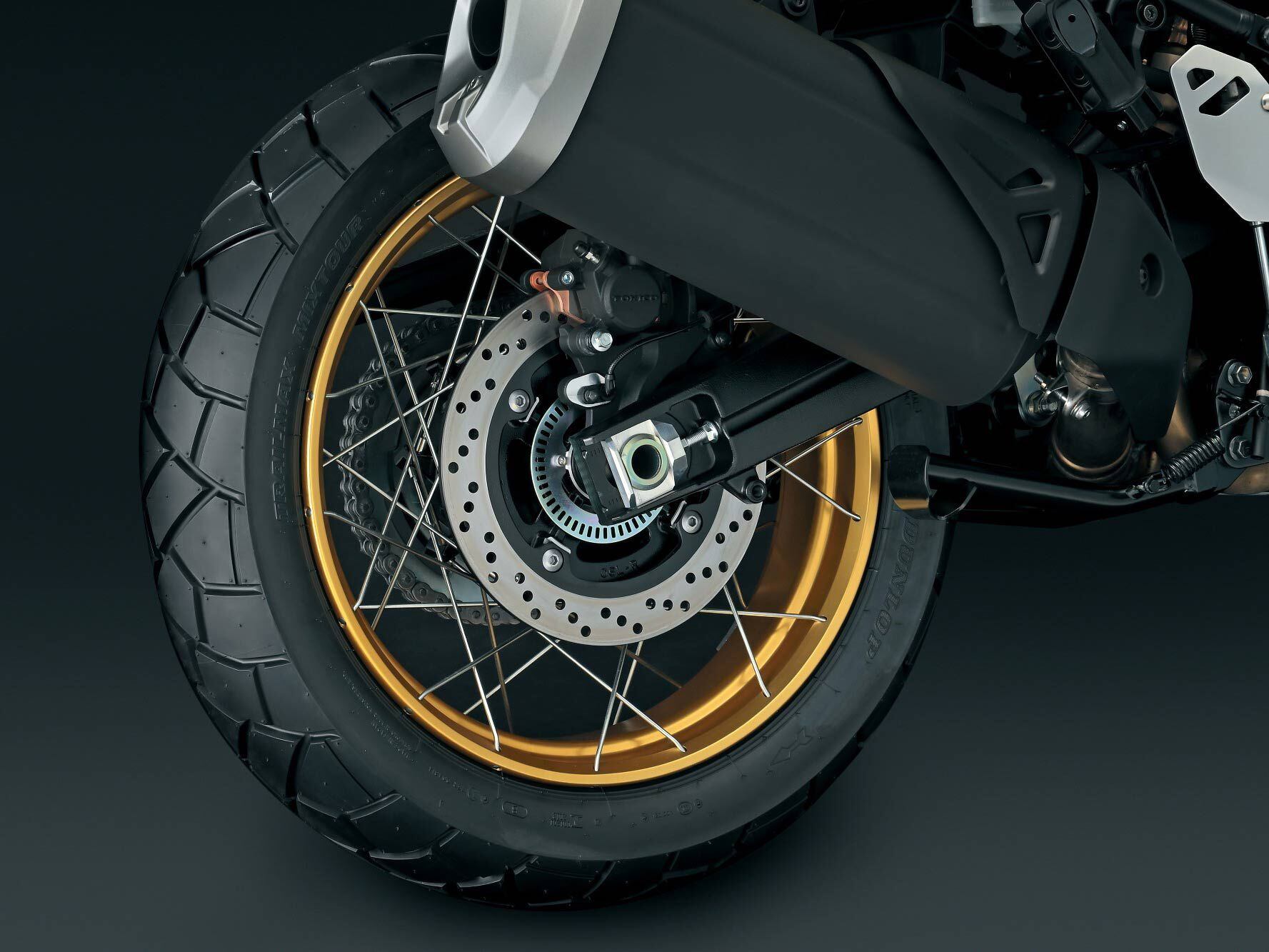 While the front end gets a new 21-inch wheel, the rear wheel remains a 17-inch unit with a cross-spoke, tubeless design. (Suzuki/)For 2023, all versions of the V-Strom 1050 get a six-axis IMU, lean-sensitive ABS, linked brakes, hill-hold control, cruise control, three power settings, and three traction-control settings. A new color TFT instrument panel manages those features. On the DE, thereís also an additional off-road setting for the traction control and the ability to disengage the rear ABS, as well as wider handlebars and new footrests. All models gain an up-and-down quickshifter.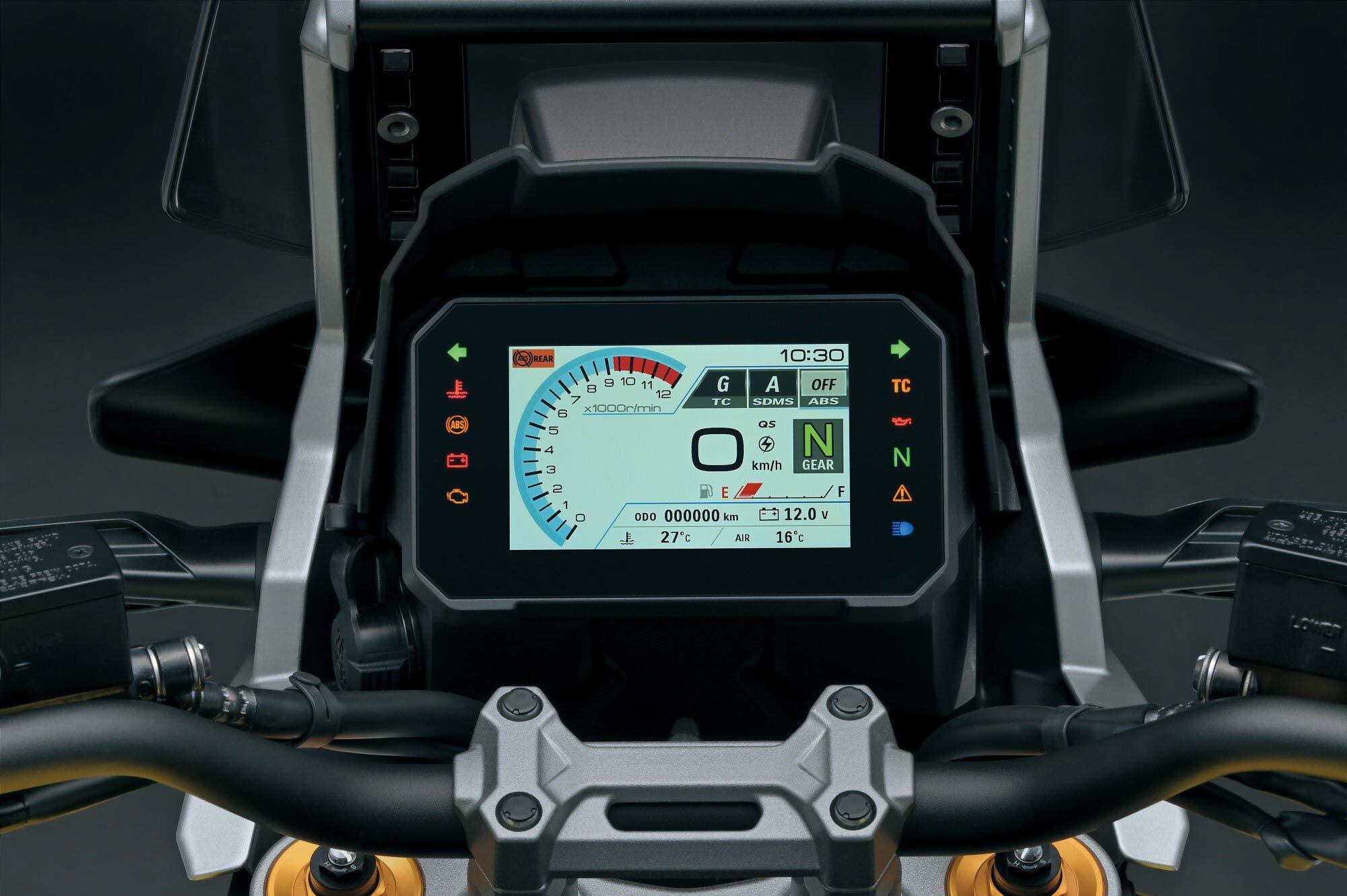 Along with a whole host of electronic upgrades, the V-Strom 1050DE gets a new full-color TFT display. (Suzuki/)Although itís visually much the same as before, the twin-spar aluminum frame has revised rigidity and the seat rails are altered to suit the updated bikeís improved off-road chops. The DE also gets a new seat, now fixed in height and lighter than the base version, plus a smaller, adjustable screen thatís easier to see over when youíre riding off-road.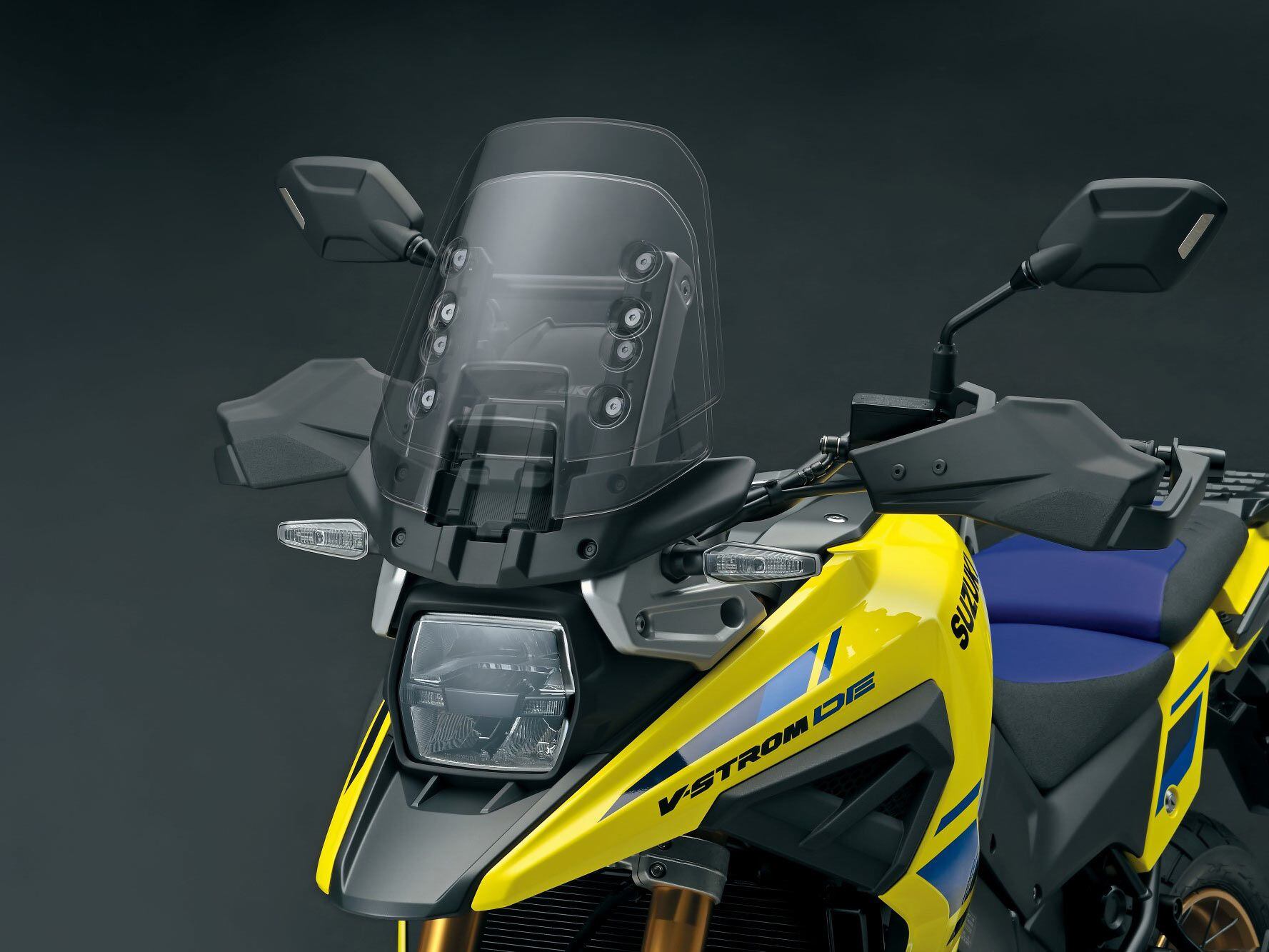 A shorter but adjustable windscreen is optimized for off-road riding. (Suzuki/)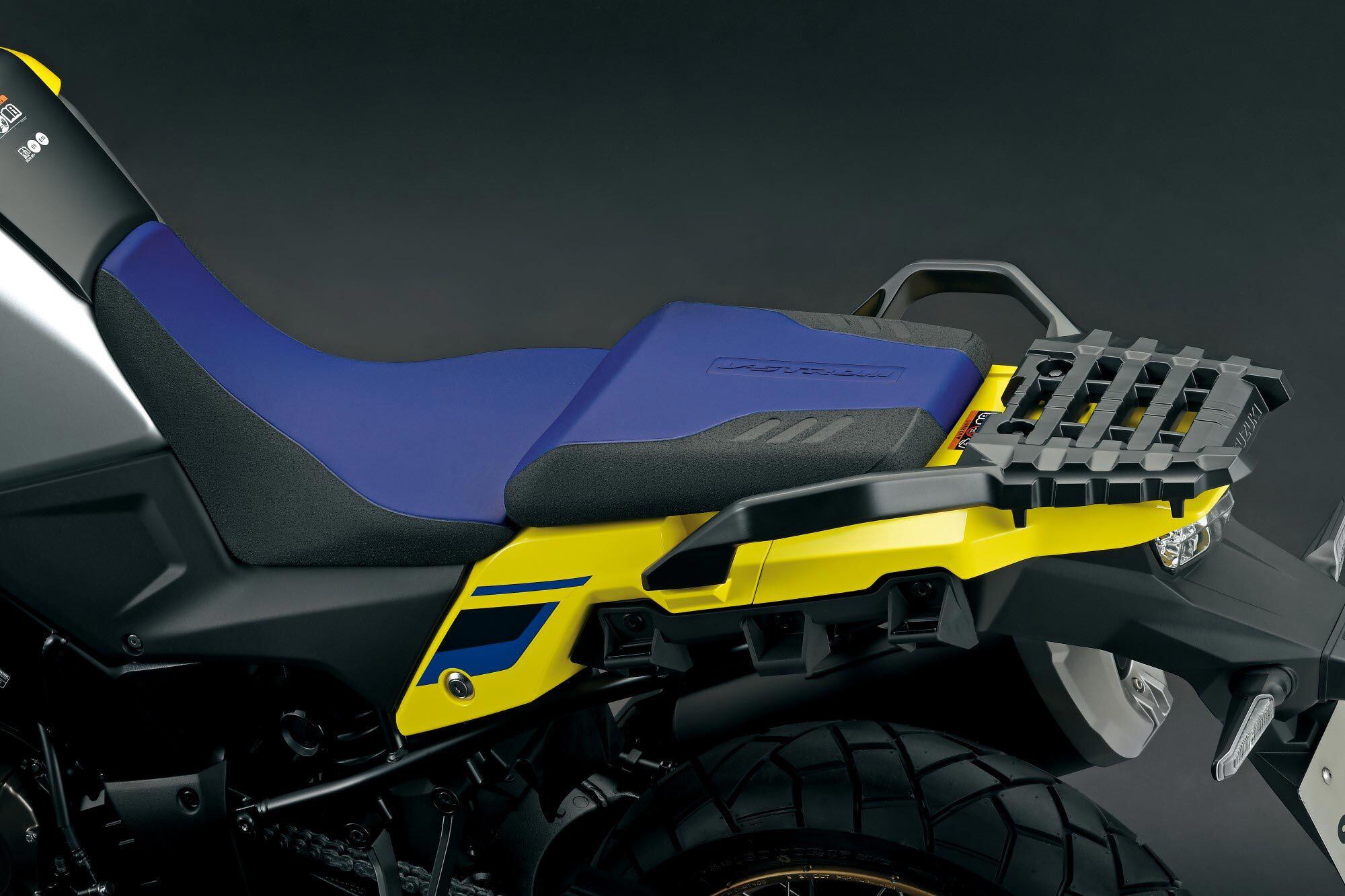 A new fixed-height seat is lighter than on the standard V-Strom 1050. (Suzuki/)The engine is essentially the same as before, with unaltered performance, though it gets new
sodium-filled exhaust valves
for 2023. Meanwhile, the transmissionís first and sixth ratios have been raised, making for a closer-ratio transmission from first to fifth while also improving highway-cruising comfort in top gear.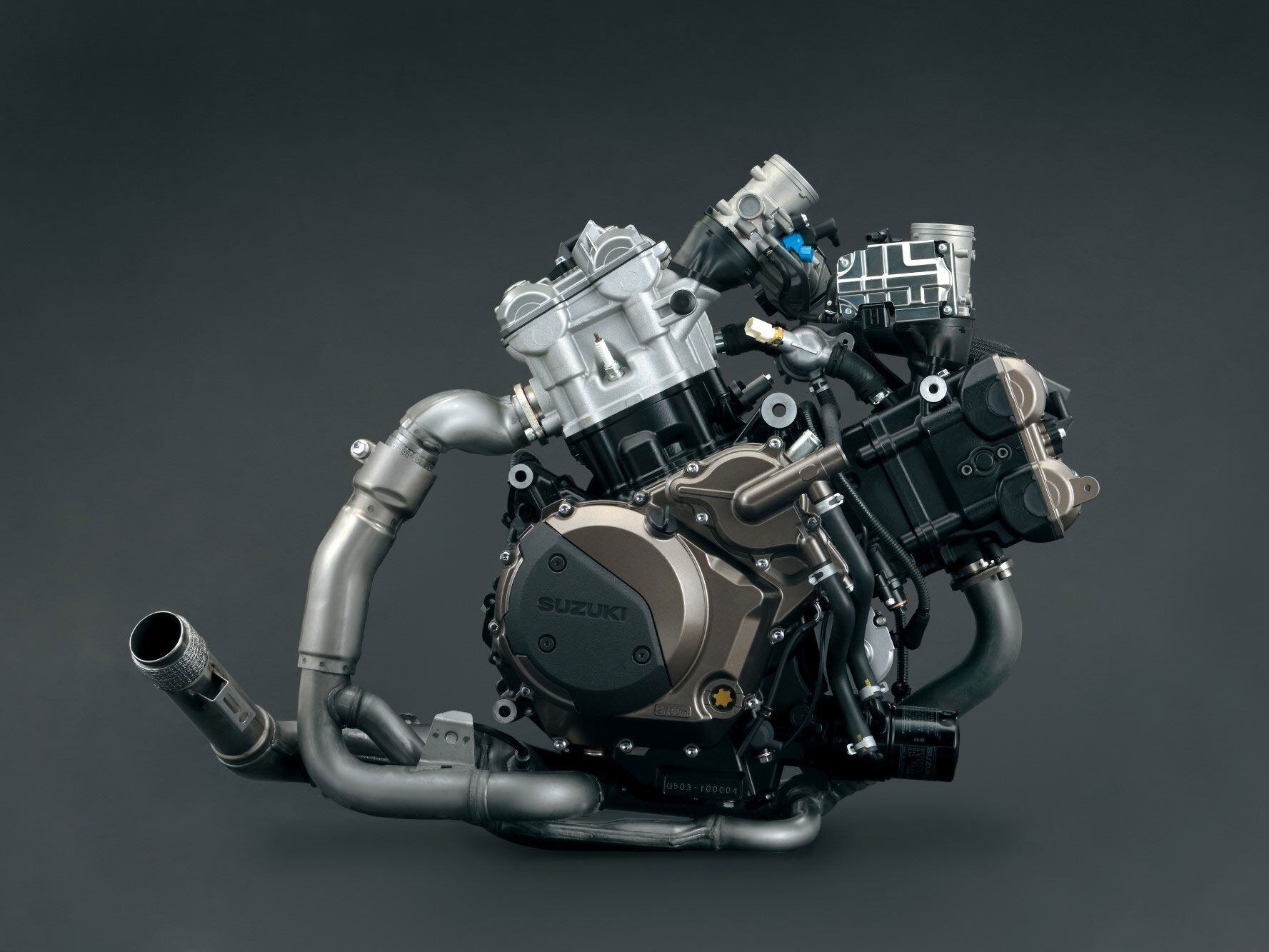 Upgrades to the V-Stromís engine are limited to new sodium-filled exhaust valves, and updated first- and sixth-gear transmission ratios. (Suzuki/)Like the old XT and XT Adventure, the new DE and DE Adventure models feature engine bars, a skid plate, and hand guards, while the Adventure also benefits from auxiliary lights and luggage. No MSRPs for the new 2023 machines have yet been announced, but prices are unlikely to stray too far from those of the 2022 versions which are listed at: $14,849 for the XT, and $17,049 for the XT Adventure.
The 1050DE comes standard with a skid plate, crashbars, hand guards, and an up-and-down quickshifter. (Suzuki/)2023 Suzuki V-Strom 1050DE/1050DE Adventure Specifications
MSRP:$TBAEngine:DOHC, liquid-cooled, 90-degree V-twin; 8-valveDisplacement:1,037ccBore x Stroke:100.0 x 66.0mmCompression Ratio:11.5:1Transmission/Final Drive:6-speed/chainFuel System:Fuel injection; ride-by-wireClutch:Wet, multiplateEngine Management/Ignition:Electronic ignition (transistorized)Frame:Twin-spar aluminumFront Suspension:43mm KYB inverted fork; 6.7 in. travelRear Suspension:Single KYB shock, preload and rebound adjustable; 6.6 in. travelFront Brake:Tokico radial-mount 4-piston calipers, 310mm discs w/ ABSRear Brake:Nissin 2-piston caliper, 260mm disc w/ ABSWheels, Front/Rear:Tires, Front/Rear:Dunlop Trailmax Mixtour; 90/90-21 / 150/70R-17Rake/Trail:N/AWheelbase:62.8 in.Ground Clearance:7.5 in.Seat Height:34.6 in.Fuel Capacity:5.3 gal.Claimed Wet Weight:554 lb.Contact:
suzukicycles.com