Honda intends to bring 10 new electric models to market in the next couple of years, aimed primarily at urban transportation and not outright performance.
Click here to view on their site.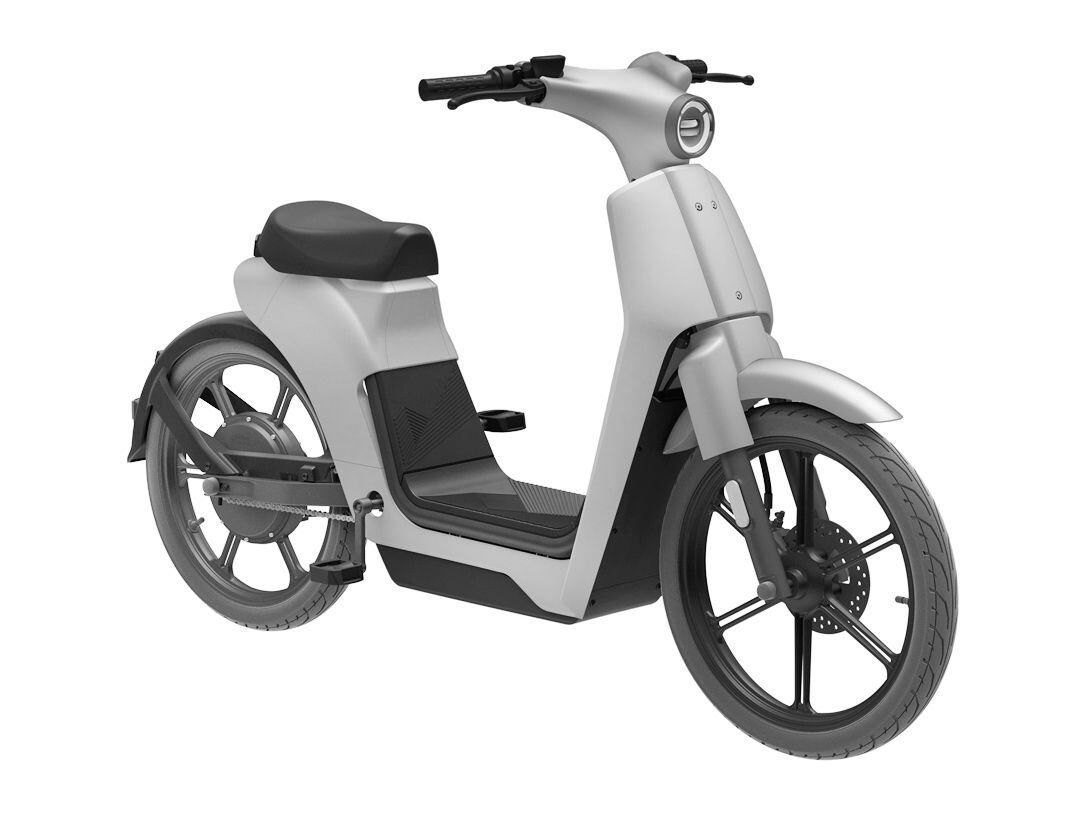 This illustration from Honda shows a new electric moped that the company intends to bring to market in the near future. (Honda/)
Honda
might still be the world leader when it comes to motorcycle technology, but the company spent years on the sidelines as companies dipped their toes into the
electric
motorcycle market. In September that changed when
Honda announced plans
for 10 new electric models between now and 2025, and almost immediately designs for one of those machines appeared in intellectual property filings in Europe.
Hondaís plans for electrification arenít likely to send shivers of excitement down the spines of seasoned riders. While weíve seen the likes of
Ducati
and
Triumph
teasing us with prototype electric bikes offering near
superbike
levels of performance, the big numbers that Honda is interested in are sales figures, not horsepower ratings. As such, most of the 10 new electric Hondas will be
scooters
, mopeds, or
electrically assisted bicycles
.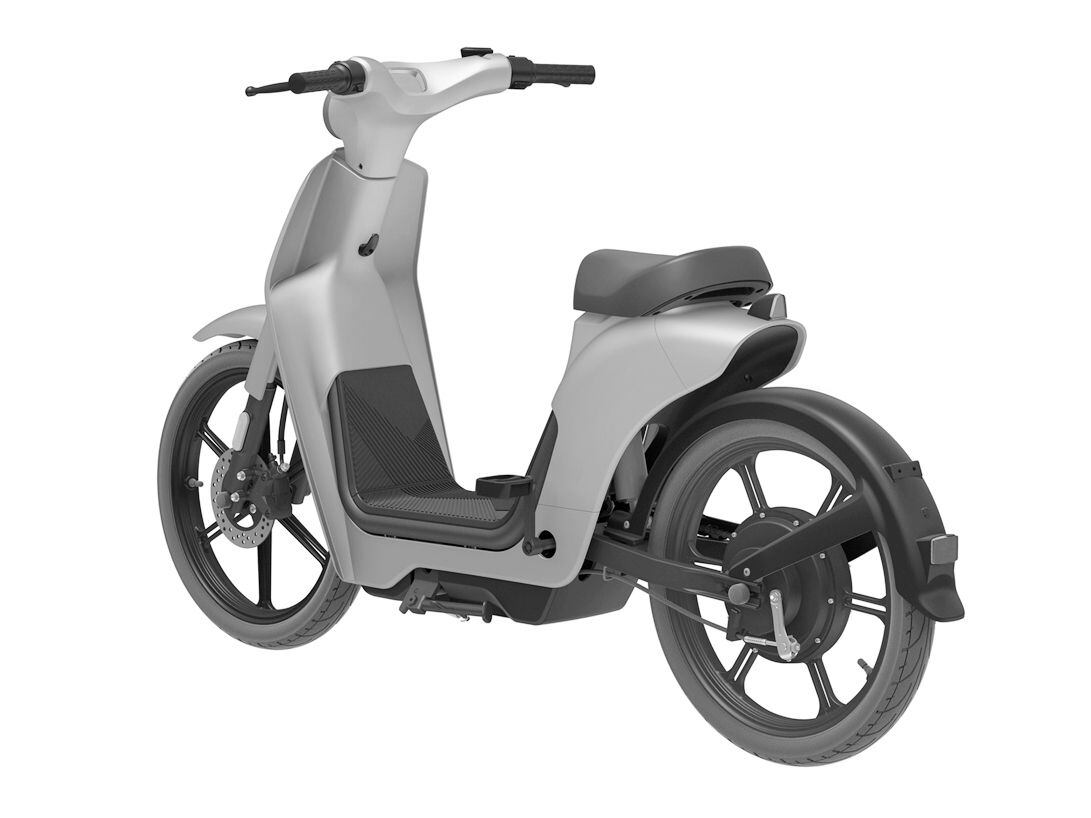 A good look at the rear end reveals the drum rear brake and a license-plate bracket, the latter of which gives us a clue to what class it will fall within. (Honda/)The designs filed in Europe show an electric bike that falls into the moped class, with a look thatís reminiscent of step-through 50cc machines like the Honda Melody. However, pedals are included so the rider can help out if the electric power alone is struggling with a hill or if extending the bikeís range is necessary. While the term ďmopedĒ has long been used for any bike in the 50cc class with limited performance, its origins lie in pedal-assisted machines, such as the Honda PA50 Hobbit and the Puch Maxi, which exploded in popularity in Europe following the 1973 oil crisis.
While pedal-assisted mopeds have largely disappeared in recent decades, the ascendance of electric bikes brings the idea back to the forefront, since pedals mean that youíre not stranded if the battery runs flat. Electrically assisted bicycles are commonplace, and there are a growing number of machines that, like the Honda seen here, are intended to be ridden like scooters but with pedals as a form of backup power.
From this top view, you can see the pedals and their spacing clearly. Think of them, and you, as an emergency backup plan. (Honda/)Itís clear from the design that the pedals arenít intended to be used constantly. The footboard, like a conventional step-through scooter, is where your feet would normally be placed, and the pedals look too widely spaced to be comfortably used for extended periods. But itís better than getting off and pushing. The Honda design uses a
hub-mounted motor
connected to the pedals with a chain and freewheel system. The battery appears to be under the footboard, with other electronics likely to be under the single seat.
Unlike pedelec bicycles (from pedal electric cycle), which are usually limited to around 15.5 mph in Europe and donít require registration, a driving license, or insurance, this is clearly intended to be a step up in terms of performance. Under European rules, mopeds are limited to around 28 mph and require a license and registration, though in some countries, such as France, they can be ridden by children as young as 14. The Honda designs clearly show a bracket for a license plate, confirming the bike has enough performance to need registration.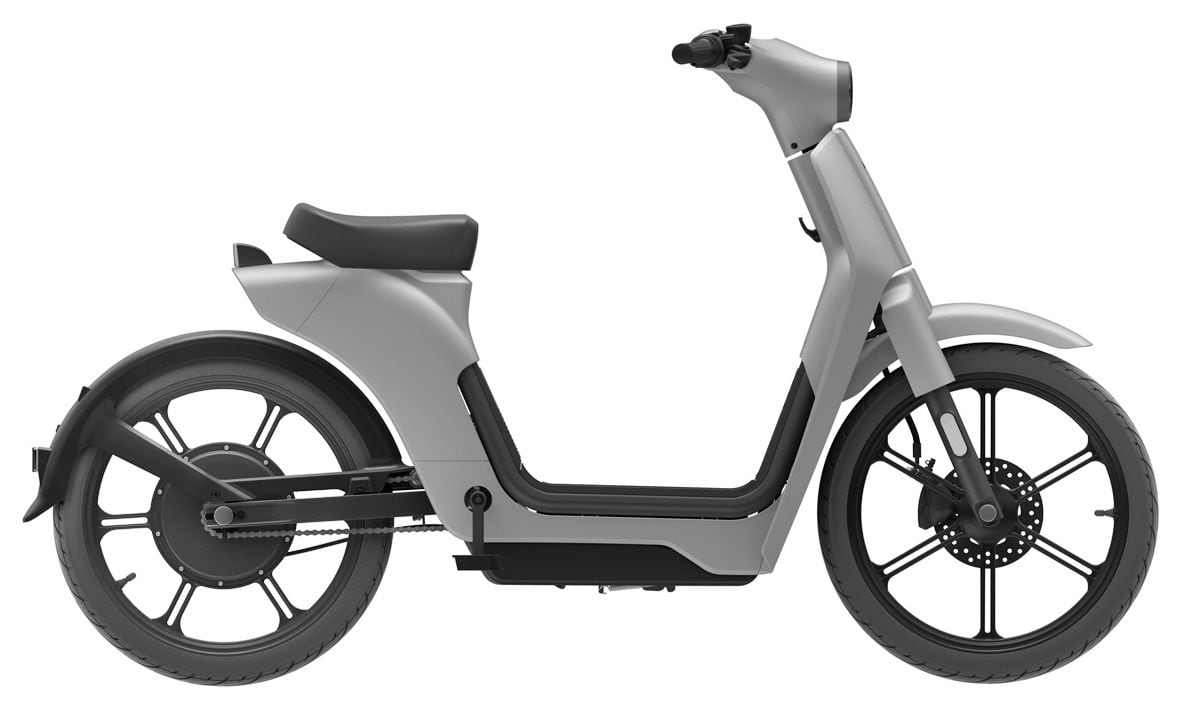 Side view shows the general layout, and also a good look at the disc front brake. (Honda/)Although simple, it has suspension front and rear, a monoshock at the back and a conventional fork at the front. The rear brake is a simple, cable-operated drum, while the front is a hydraulic disc. This brake layout again confirms that the bike is intended to fit the ď50ccĒ moped category, with a top speed of 28 mph and no more than 4kW of power; if it were faster, it would need either ABS or a linked-brake system under current European rules.
The emergence of the designs on the European Intellectual Property Organizationís website suggest that its official launch canít be too far off. Honda is expected to reveal the first of its 10 new electric bikes later this year, and this is likely to be among them.