Click here for full story...
Racer High Racer Gloves Review Summary
Review Summary
Whether you're looking for a new track day glove or prefer to ride with maximum protection at all times, the Racer High Racer Gloves fit just right (pun intended). At $249.99, the High Racer gloves offer riders of all skill levels the best protection the industry can offer at this price level. Especially at the racetrack, just ask any instructor or track day enthusiast about Racer gloves and you'll get nothing but exceptional comments.
Aesthetics
Materials
Build Quality
Fit
Comfort
Protection
Value for Money
Reader Rating0 Votes
Pros
Comfortable
Accurate fit
"Virtually no break in"
Excellent protection throughout the glove
Best Kangaroo leather on the market
Knox SPS Scaphoid Protection System
Value for features
Cons
The wrist strap could accommodate bulkier sleeve circumference
Limited airflow besides back of hand
No touchscreen compatibility for fingers
Limited colorway Black or Black/White
4.6
Excellent!
Racer High Racer GlovesImage Gallery
























Buy Now
Racer Gloves USA

There are plenty of
full gauntlet racing gloves
out there, but the
Racer High Racer Gloves
(what a mouthful) make a pretty strong case for picking them over the competition. The High Racers sit in the middle of the road price-wise, but we were blown away by how feature-rich and how comfortable these gloves are!
This is my first ever pair of Racer Gloves. In the past, I've heard and had track day buddies gloat about how Racer gloves shaved a couple of seconds off their lap time. A couple of seconds? I had to see for myself what all the rage was about.
When I was offered to test out Racer's High Racer Gloves this summer, I pounced at the chance. Besides the racetrack, I also rode with them in a variety of different situations totaling about 2,000 miles (from commuting to spirited backroad sprints on the adventure bike). The Racer High Racer gloves were worn with an Alpinestars GP Pro One-Piece Leather Race Suit, a Dainese Racing 3 jacket, and a
REV-IT Offtrack Adventure Jacket
. Find out more about my experiences below.
About Racer Gloves USA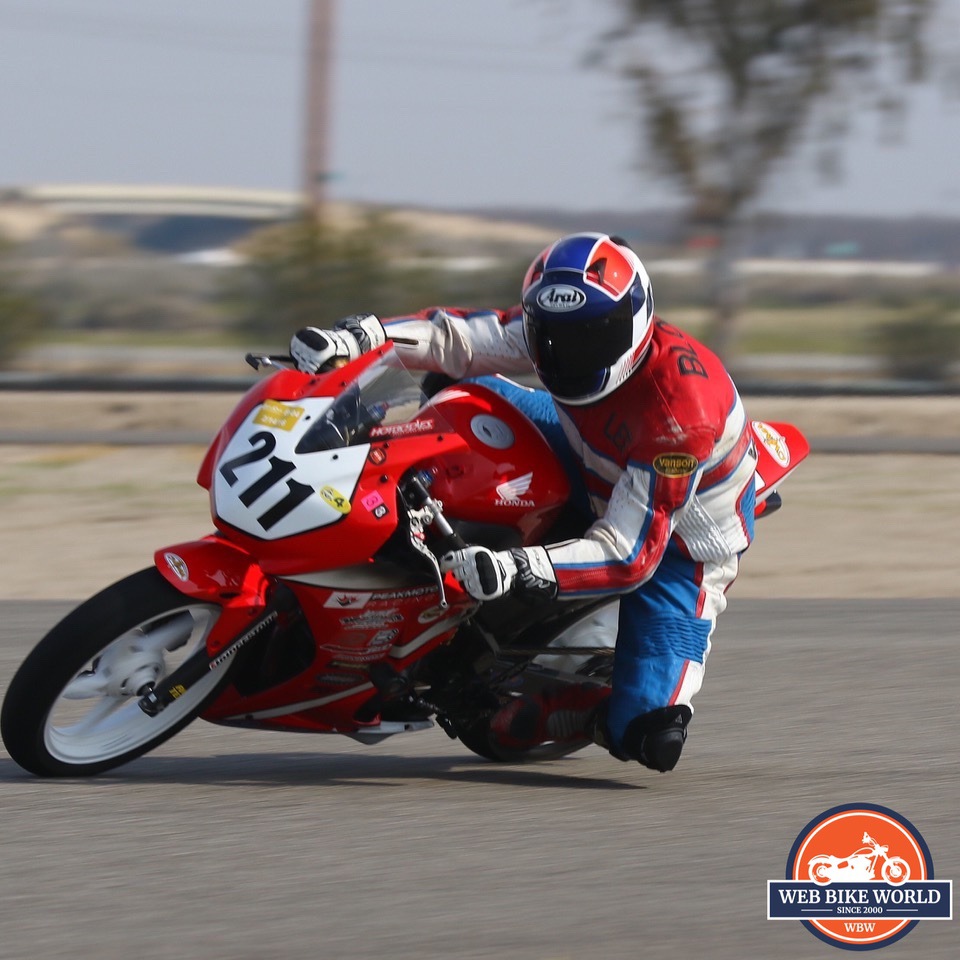 If you're not familiar with Racer Gloves USA, they are the exclusive importer and distributor in the USA for Racer Outdoor GmBH based out of Austria. Racer Austria has been creating premium street motorcycle apparel since the early 1990s and is well recognized throughout Europe. While not as well known on the international circuit, Racer's gloves are one of the industry's best-kept secrets.
Racer Gloves USA is the culmination of 25+ years in the motorcycle and apparel industries for company owner Lee Block. An icon himself, riding motorcycles since the age of 10, Lee has been a lifelong motorcyclist.
A former Loudon, New Hampshire road racer in the 1980s and 1990's, Lee has raced a variety of motorcycles at racetracks across the country. Residing in California from 1997-2018, Lee now lives in Oregon, and his current motorcycle collection consists of street, road race, and off-road motorcycles—
Hondas
,
Yamahas
, a KTM 500, and a
BMW GSA
.
Click the following links for more info about
Racer Gloves USA
and
Racer Outdoor
.
High Racer Gloves Fit & Comfort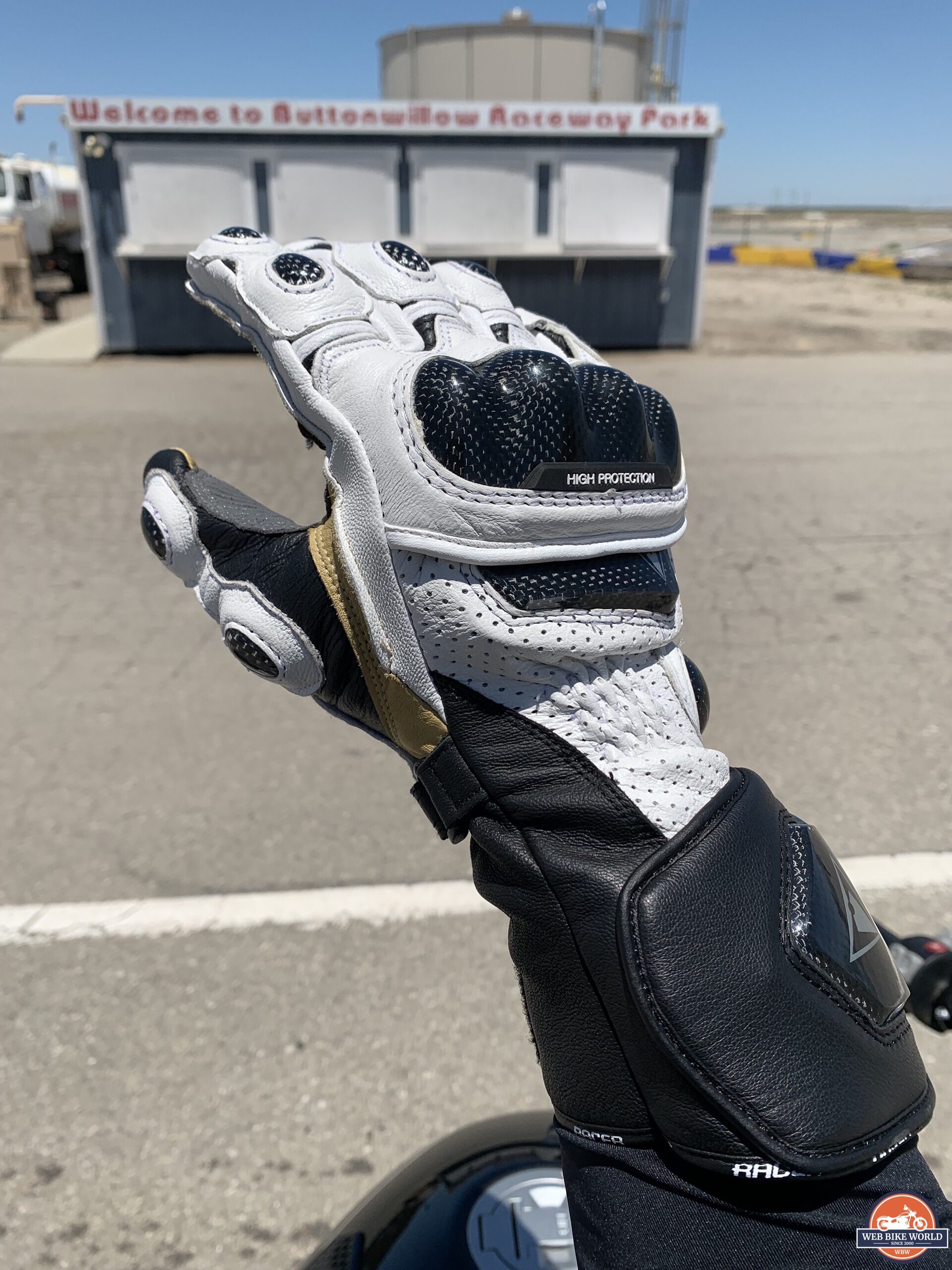 There is a reason for the exceptional comments from track day instructors and enthusiasts. The fit and comfort on these gloves are just extraordinary. Racer Gloves USA's main marketing slogan is "outstanding fit with virtually no break-in, and you have a glove you won't know you're wearing", and they are on point (note: "virtually no break in" compared with the other full gauntlet gloves in my arsenal).
The High Racer out of the bag was a bit stiff and slightly tight. When trying on the High Racer Gloves, ideally, you'll want your fingertips pushing on the end with just a little bit of pressure. As you wear them, you'll get a few mm of stretch, and the glove will conform to your hand as it gets better with mileage. For track use where you're working hard or sweating a bit in warm temperatures, usually one day (or even the morning sessions) will break in the gloves. For street use, 500 miles is about the break-in period.
Once the gloves are broken in, they'll do their job when they need to, but otherwise, you won't even know they're there. During my track day at Buttonwillow, I shaved a couple of seconds off my lap time at the end of the day!
Racer nailed the sizing with these High Racer Gloves. Per Racer's size chart, I measure 9.5" palm and 7.5" finger and wear a Large. My index, middle, and ring fingers each reach the tips of the glove. My pinky does have a bit of extra space, but this is the same with other brands and does not impede the function.
High Racer Gloves Material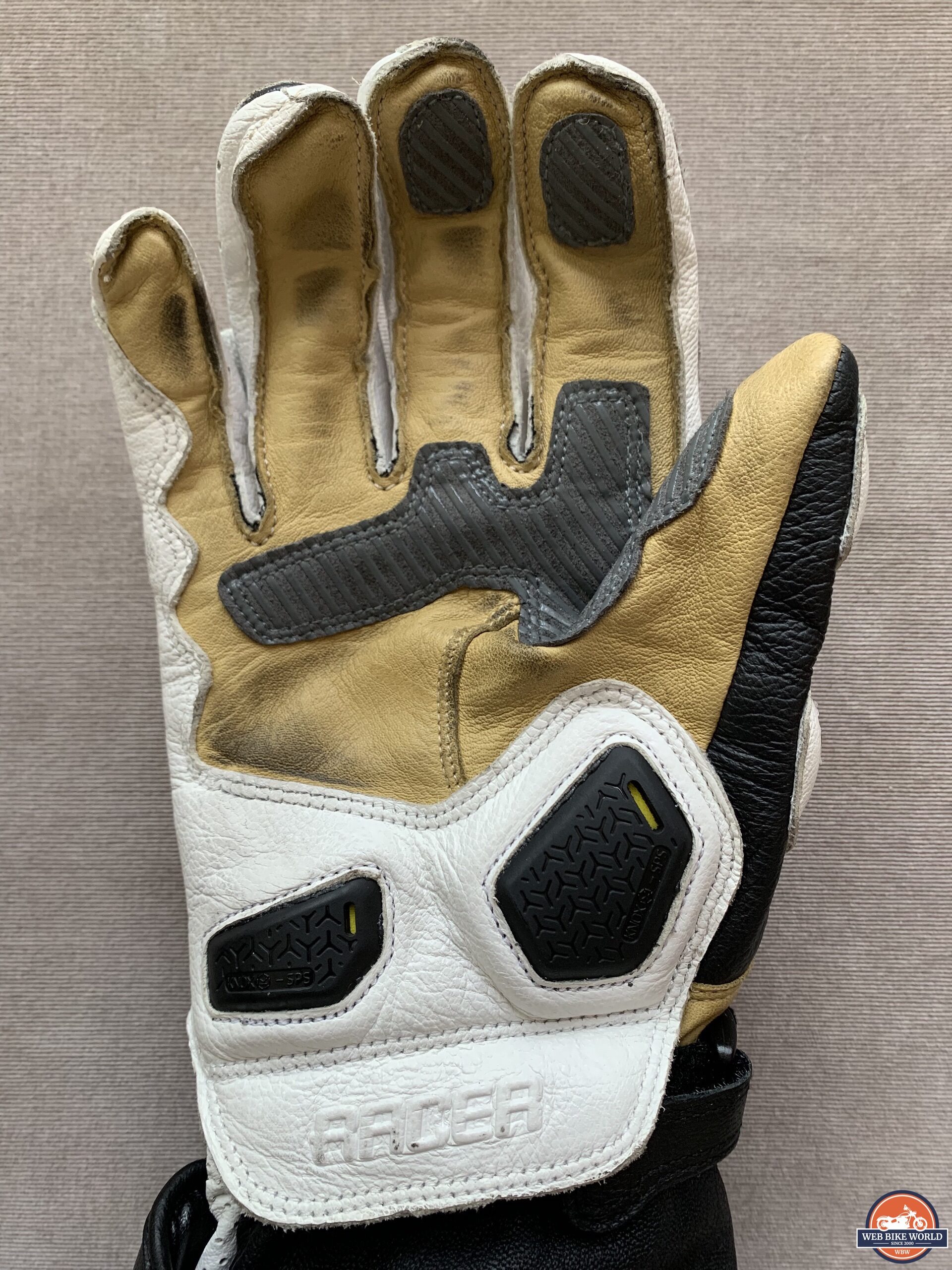 The kangaroo leather on the palm is one of the big keys to the High Racer's instant comfort. The benefit of kangaroo leather is its ability to require less material than cowhide to achieve the same abrasion resistance level. This means a thinner piece of material, which ultimately translates to an excellent feel for the motorcycle and controls—an attribute I can attest to.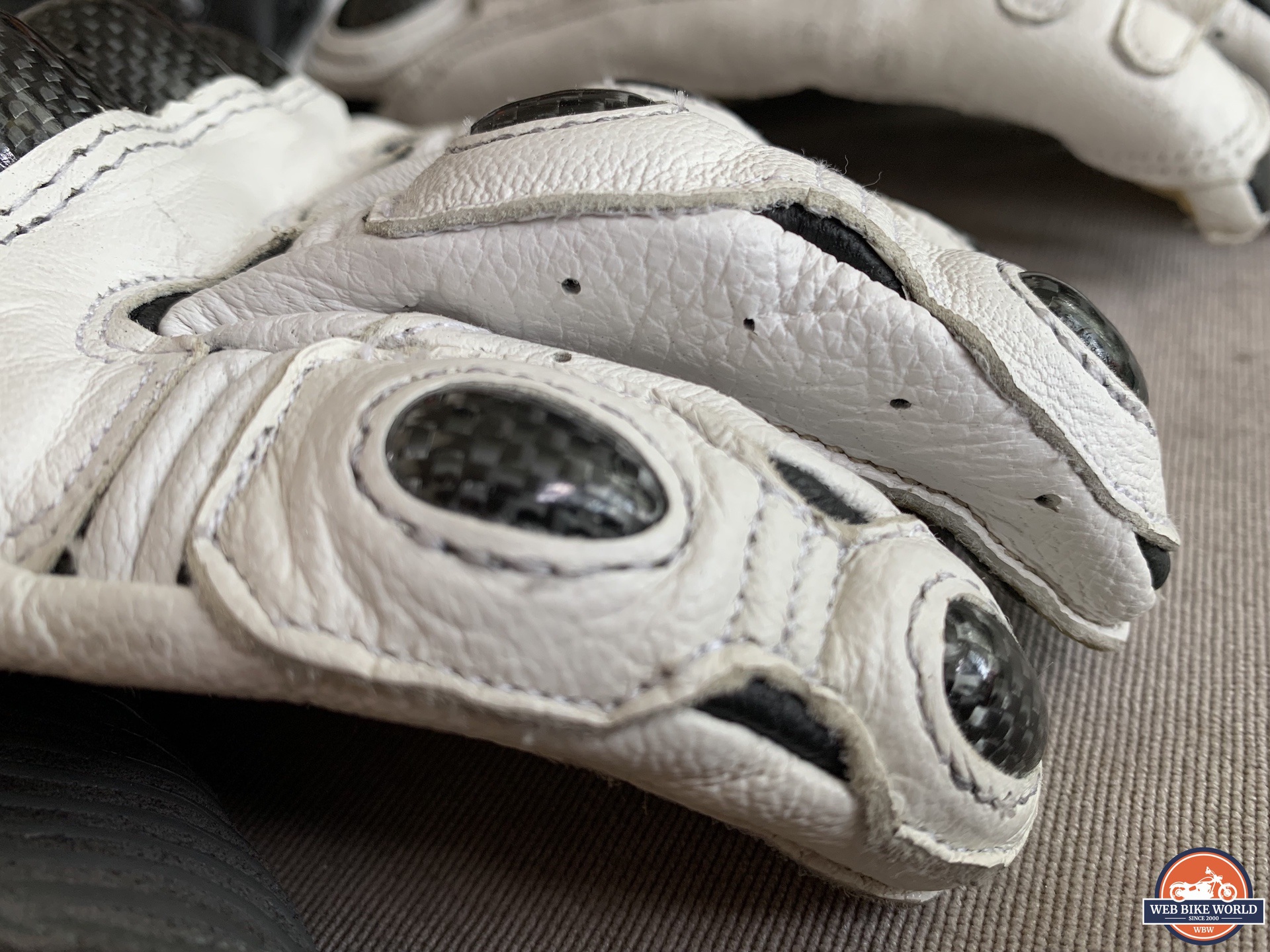 As for the rest of the glove, you'll find genuine leather, perforated across the top of the hand for a little extra airflow. The fourchettes are also made up of perforated leather to assist in ventilation—however, there were only 5 perforated holes on each, which were negligible. An elastic wrist band sewn into the interior helps keep the glove tight.
The interior of the glove is made of Teramid fabric, a patented moisture-permeable and waterproof nylon-woven fabric. This is present throughout the interior of the glove (besides the palm and fingers where the Kangaroo leather resides).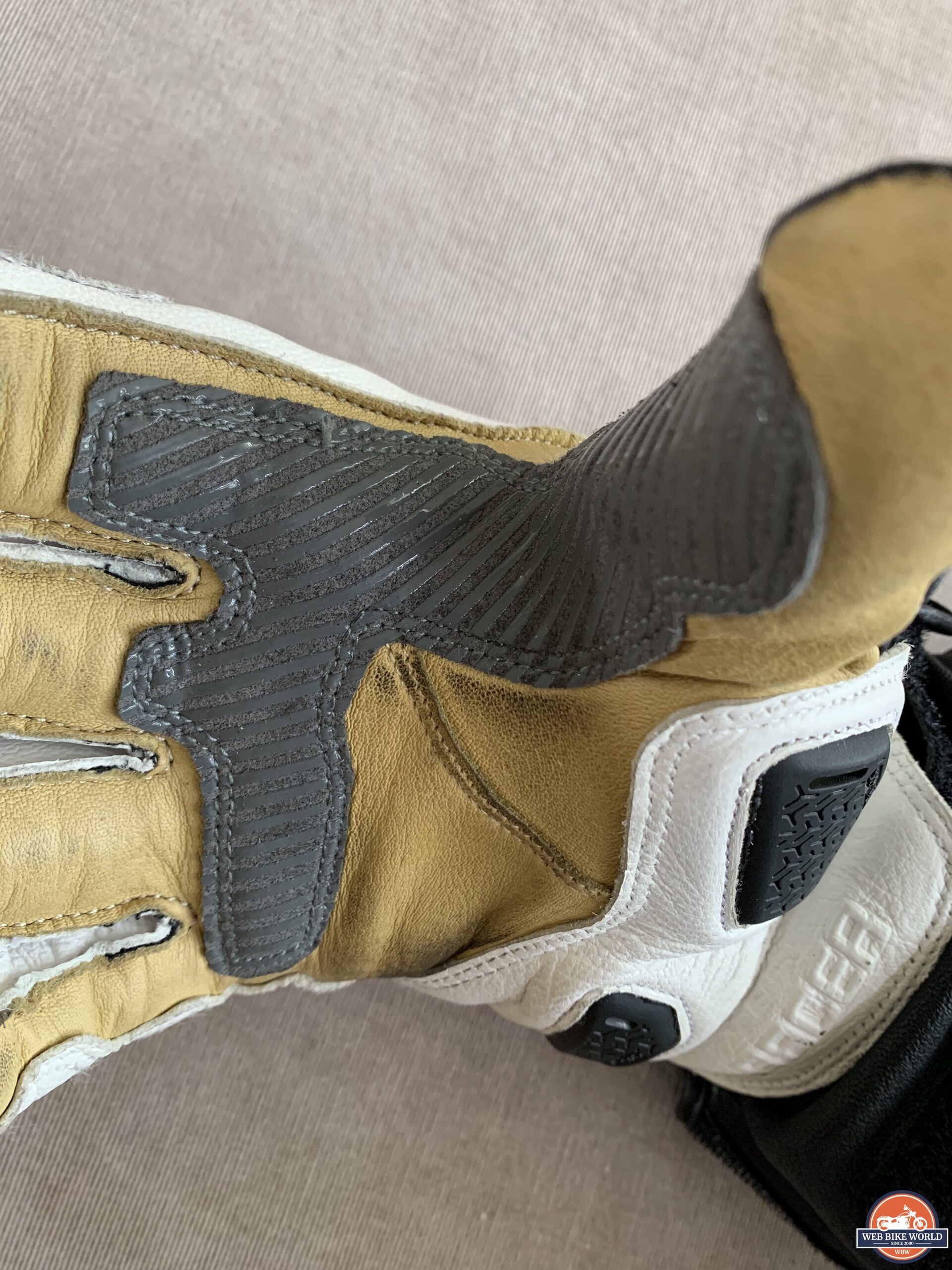 There was a problem I've always had with gloves, which the High Racer fixed via the introduction of silicone grippers on the index/middle finger and palm through the thumb. On my other gloves without this feature, my grip always slipped a bit while cornering. This might be my riding style, but the silicone grippers provide the perfect traction for rolling on and off the throttle during cornering.
I grip my handlebars like I am turning a doorknob instead of white-knuckling it. With two fingers on the front brake, I lose a bit of surface area on the grips, and the grippers around the palm/thumb assist in throttle maintenance. You can see this feature on motocross gloves as well.
The hook and loop straps work as they should and are also easy to grab with gloves on. An improvement for the next iteration would be to update to more techy and lower-profile Velcros.
High Racer Gloves Protection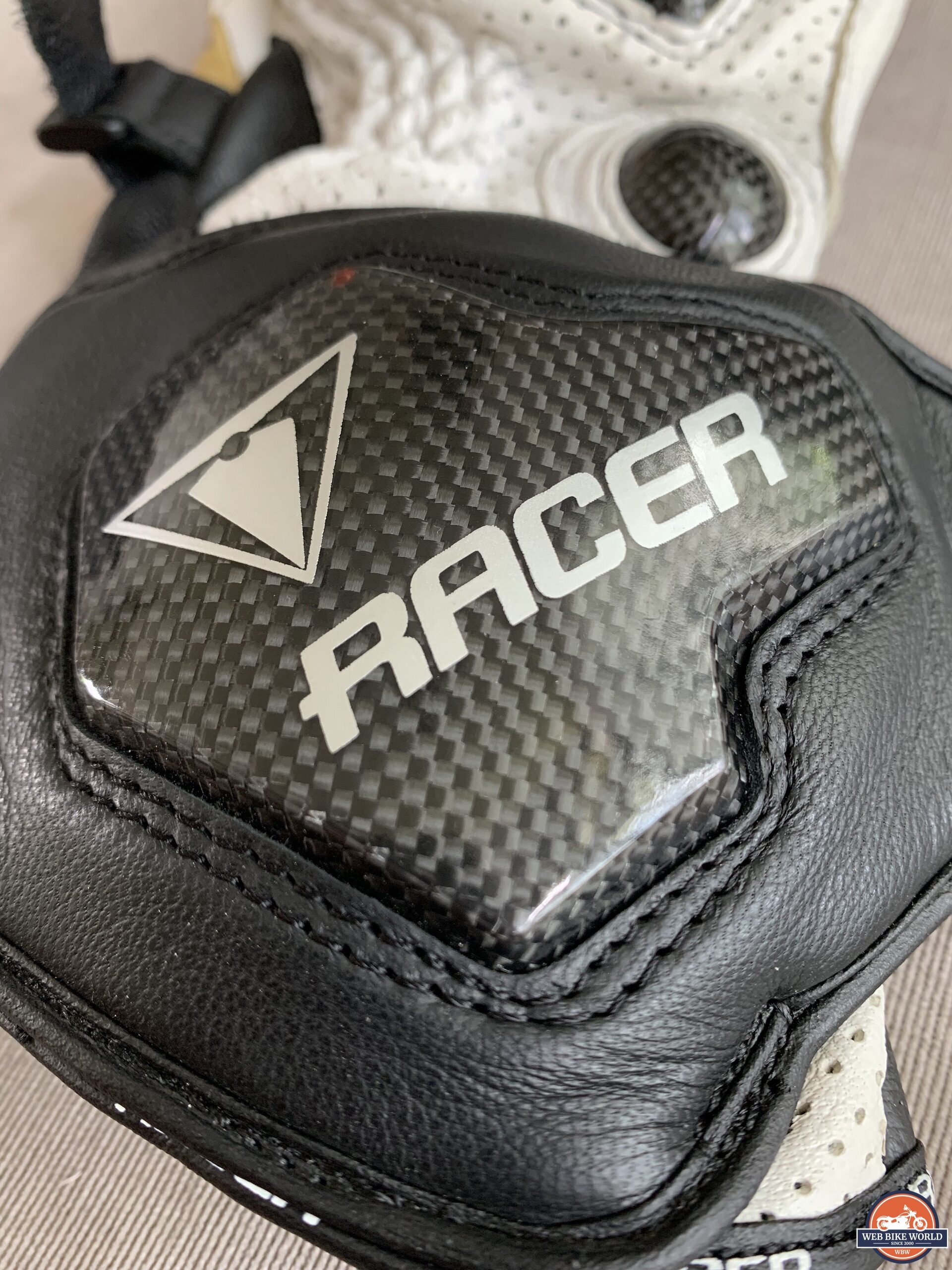 The Racer High Racer Gloves hit above their weight in protecting your hands. This is thanks to features such as the kangaroo leather palms, genuine leather, carbon fiber protectors, and Knox sliders tested and certified to CE EN13594 Level 1.
Carbon fiber armor is strategically placed across key areas of the hand. Fixed atop the thumb and fingers are small sections of carbon fiber armor with a layer of soft foam underneath. The back-of-hand carbon fiber piece provides extended protection beyond the ability of the knuckle protectors alone. The floating knuckle protection means the hand can still move through its natural range of motion without any restrictions.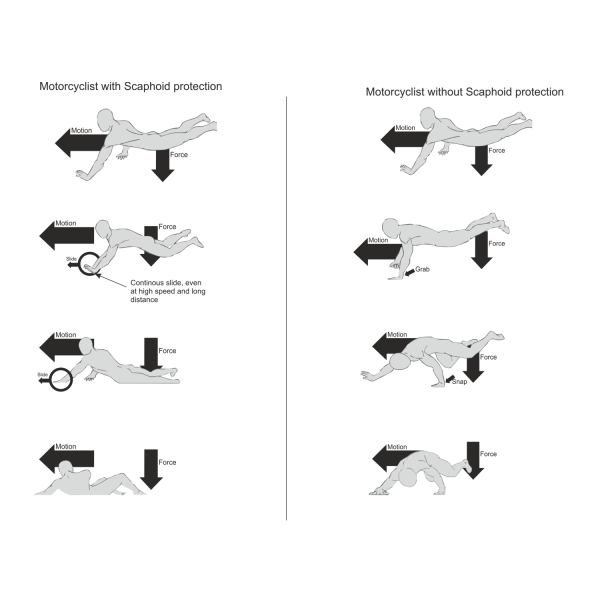 Equipped on the palm, you will see the Knox SPS Scaphoid Protection System. Standard gloves without these sliders can cause injury via hyper-extension to the wrist during a fall. The Knox sliders will act just like knee sliders, helping you guild over the asphalt instead of grabbing onto it, should you come in contact with the ground. Having crashed multiple times before, I can say that these sliders will help save your paws.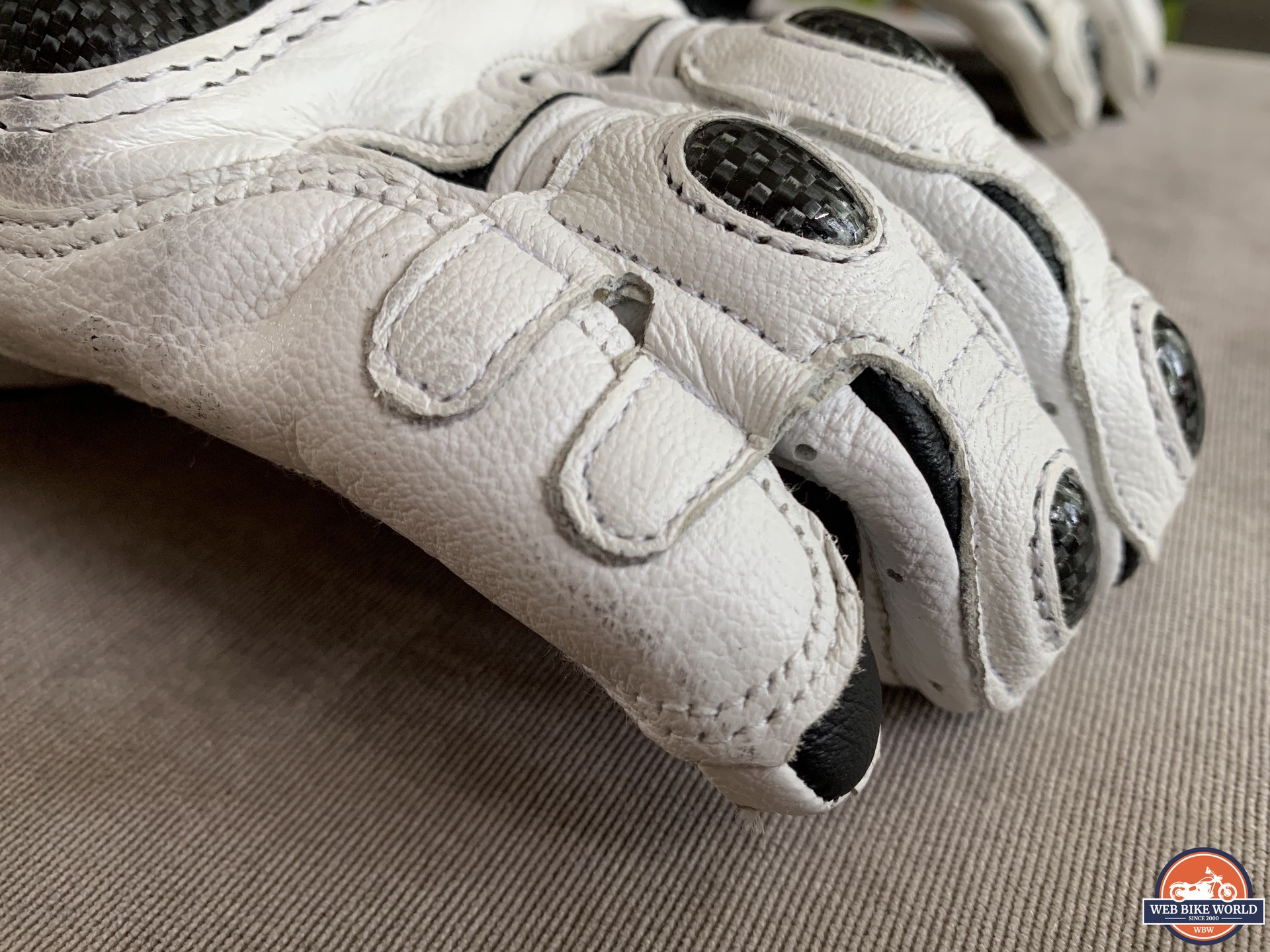 As is the norm on
motorcycle race gloves
, The ring and pinky fingers are adjoined to help prevent finger roll by keeping the "weakest link" (pinky finger) connected to your ring finger. I would like to see this on all street gloves if possible; it would give me great peace of mind.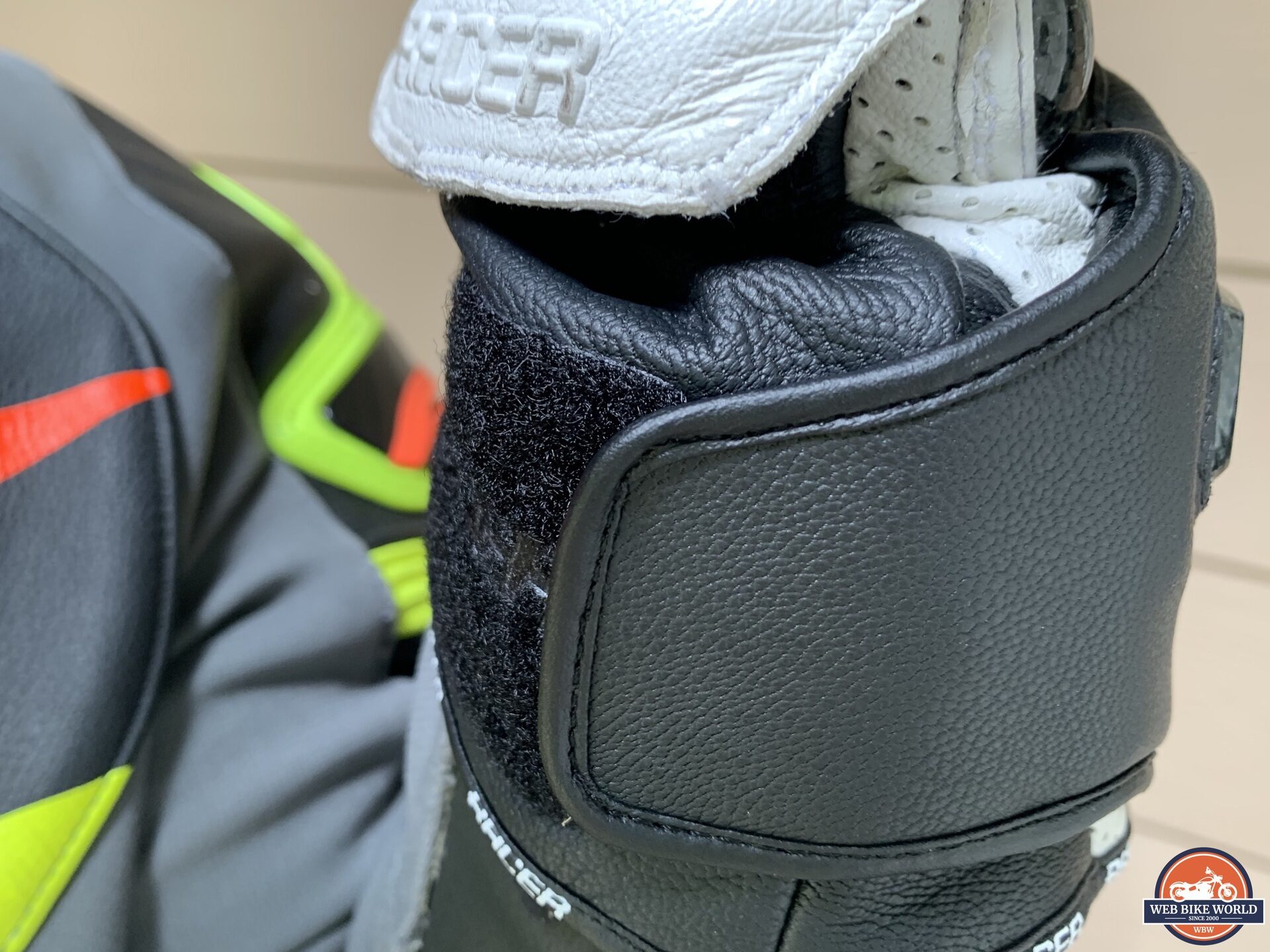 One minor gripe I had with the glove was the fitting on the wrist strap. The wrist strap was too short for bulkier sleeves such as my Alpinestars GP Pro V2 One Piece Race Suit. Along with the carbon fiber wrist protector's rigidity, it inhibited the wrist strap's ability to flex properly and fully wrap around the glove. I was at the end of the Velcro, which proved to be cumbersome to pull and attach. Either the strap can be a bit longer (although this will require the pattern to change) or the loop surface area can be extended.
High Racer Gloves Appearance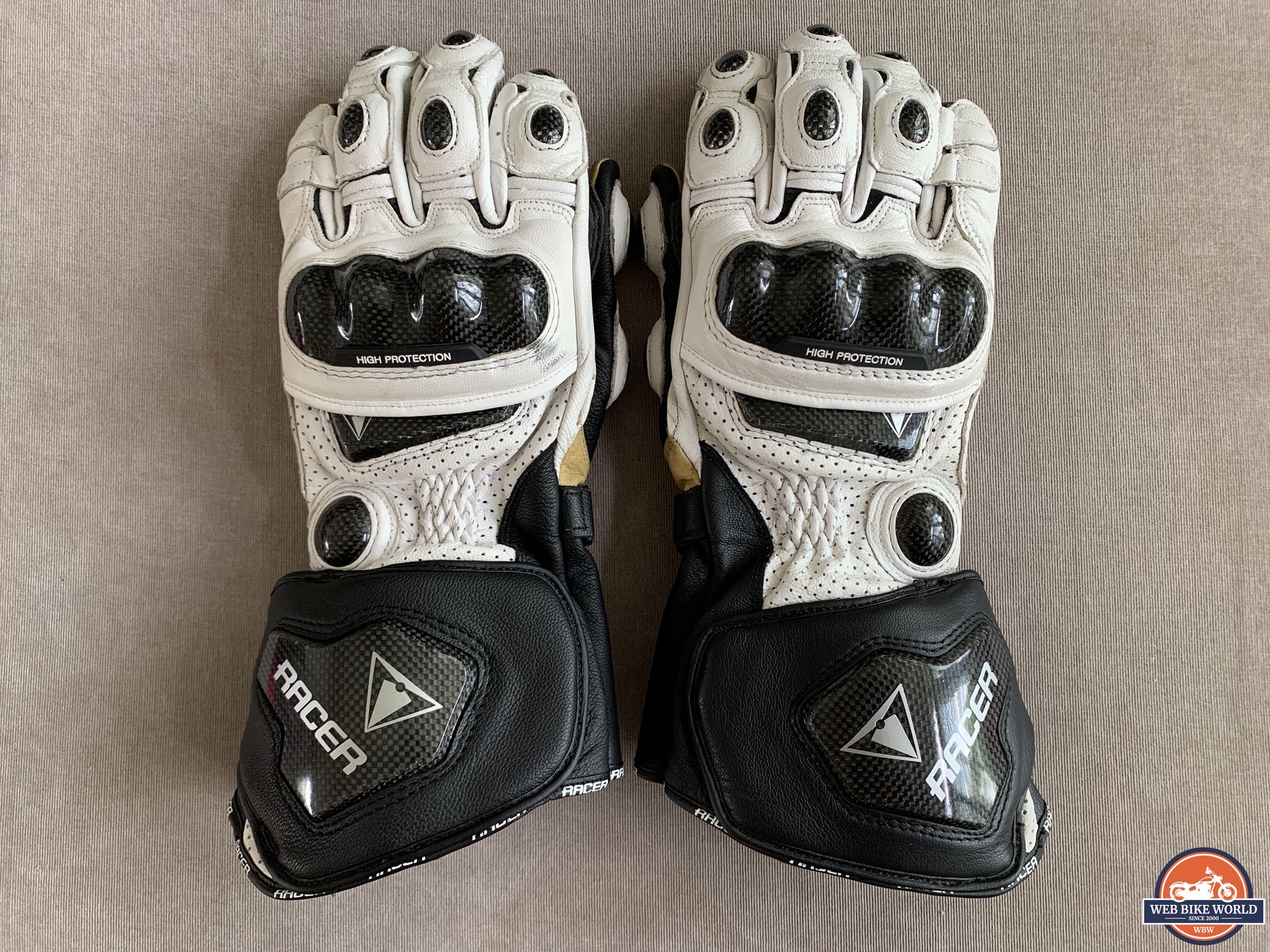 At first glance, the Knox sliders look obtrusive and seem to be in the way, but they are actually strategically placed over the scaphoid and pisiform to work with the handlebars. After riding with them, you do forget they are there.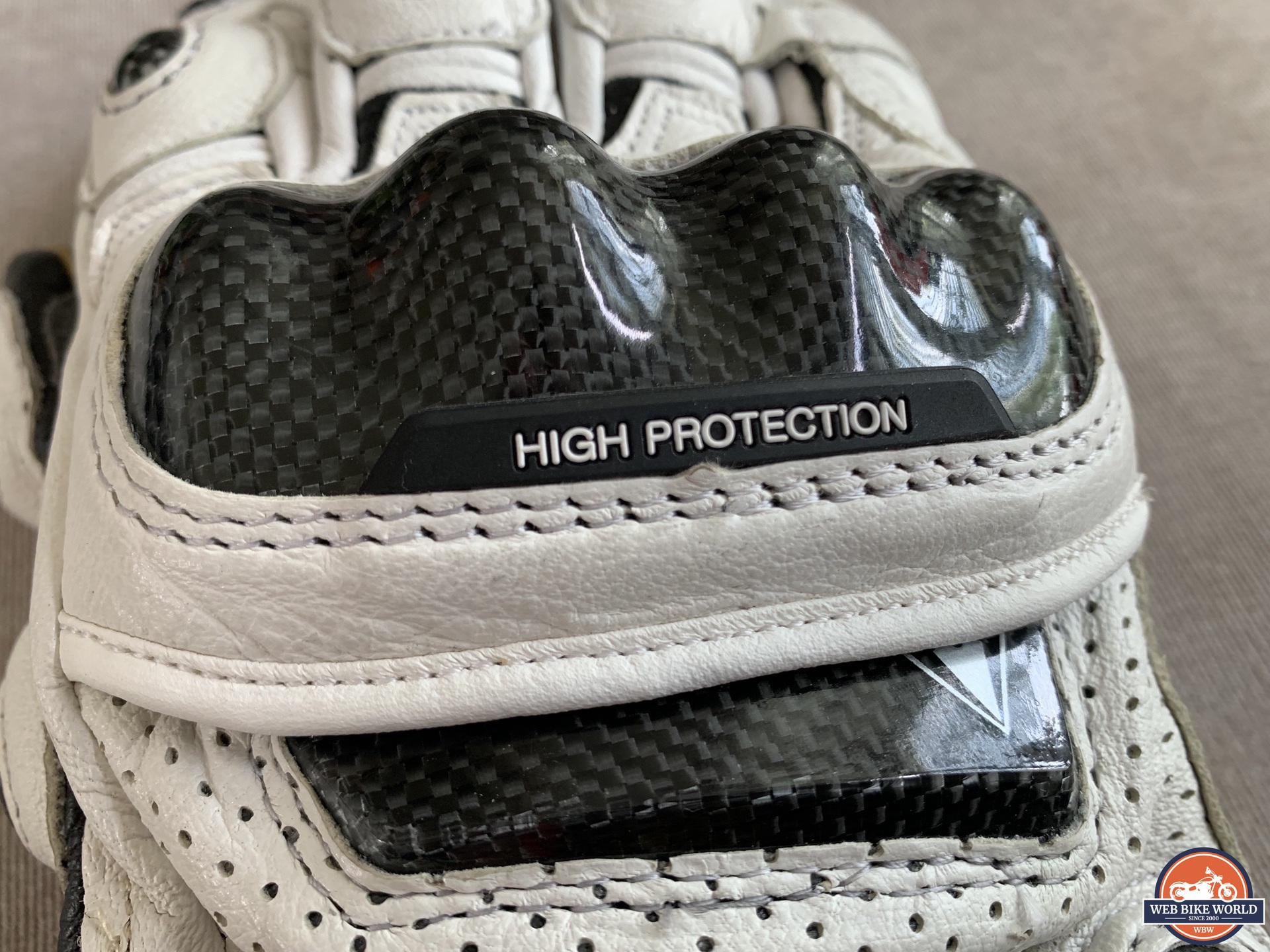 The carbon fiber weave pattern in the curvatures of the knuckles is flawless. This is pretty hard to get right in the manufacturing process without the correct know-how. Just check out the lower priced carbon fibers and you'll notice stretching and inconsistency in the weave pattern.
The overall aesthetic is starting to feel outdated when put beside a given competitor's modern design. The limited colorway selection of Black or White doesn't help either. The newer generation of riders would appreciate more colors for extra personalization. Maybe add in a neutral colorway like Nardo Grey to start off?
It's not all bad with the High Racer though. The branded piping on the cuff and stamped logo on the velcro were nice touches. The logos on the carbon fiber bits give the gloves a more techy feel as well.
High Racer Gloves Build Quality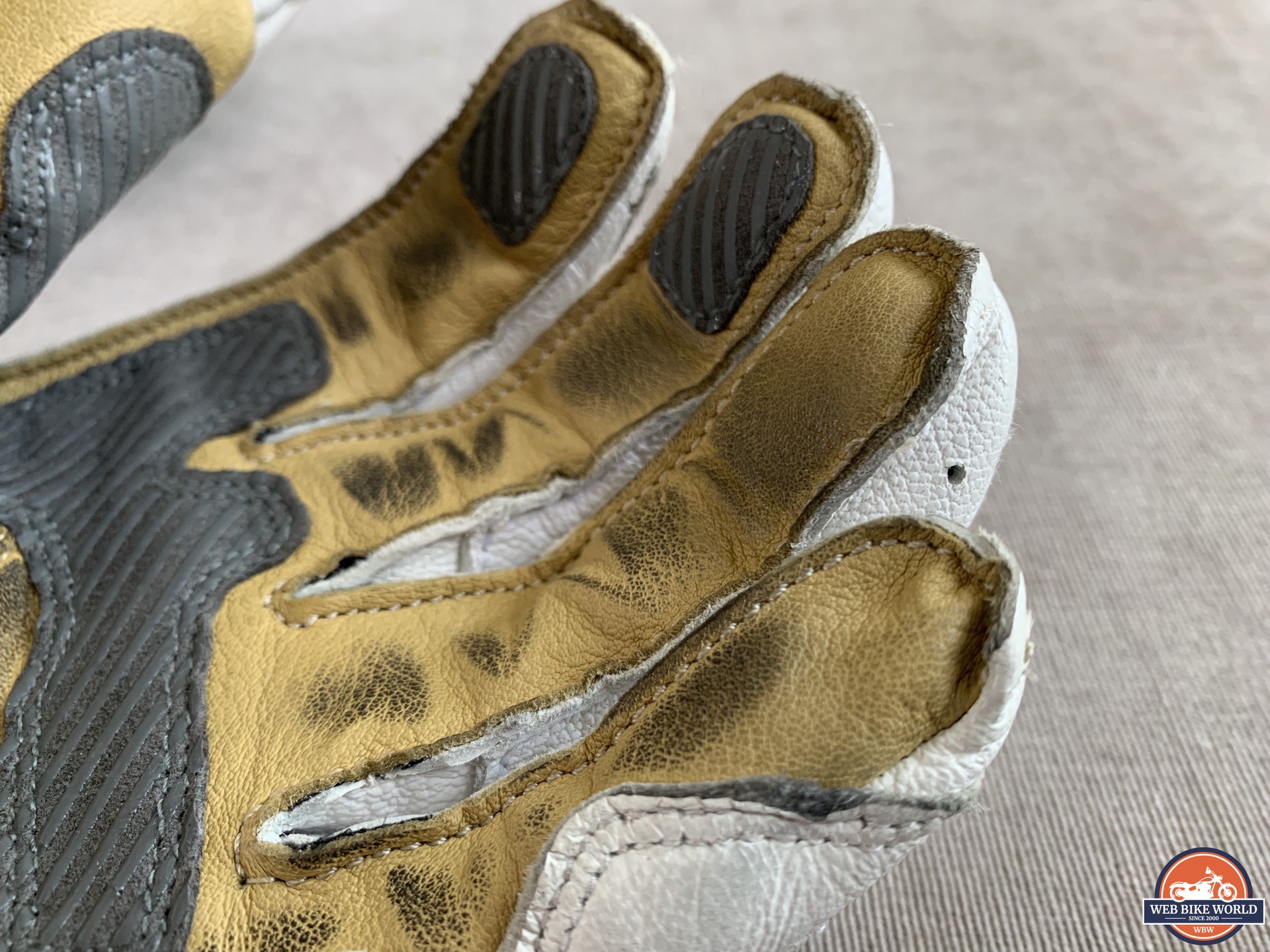 Designed in Austria and manufactured in Indonesia, these gloves are built well. As the world moves away from China as their manufacturing hub, Indonesia is the next hot spot to keep an eye on. They give the clear impression of being a well-made piece of kit. The combination of advanced materials does make for a busy glove from an assembly standpoint, but when looking over the stitching and trim work, everything seems neat and tidy.
Outer seam palm construction keeps the seams from causing discomfort on the inside of the glove when you grip your controls. A finger bridge helps minimize injury to your pinky area in the event of a lowside. Double stitching on important pieces helps too, and there's a great pattern on the fourchettes.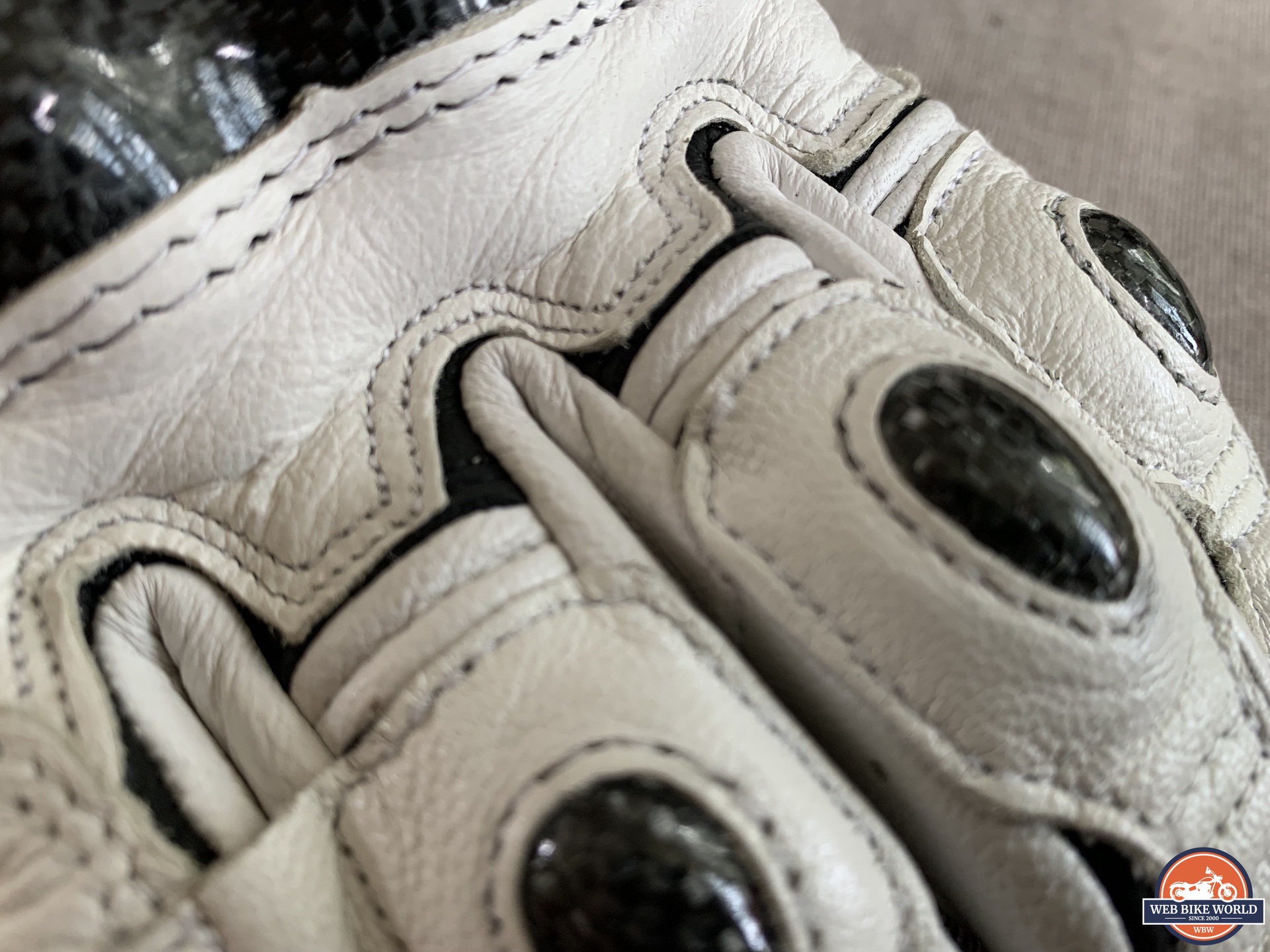 In keeping with the comfort and articulation themes, accordion paneling on the fingers allows the fingers to bend as they should. Floating knuckles with back-of-hand armor fit perfectly without discomfort. I did not have any "hot spots" while wearing the High Racer, even with my tightest grip. The precurved shape also helped in this regard.
With this product being focused on track and spirited canyon riding, there were no touchscreen fingers with grippers in its place. Commuting with these gloves will get annoying when you need to use your devices. However, I have rarely found touchscreen fingers to work in gloves that advertise them.
Overall, Racer did not disappoint in this category. The High Racer Gloves are well made.
High Racer Gloves Value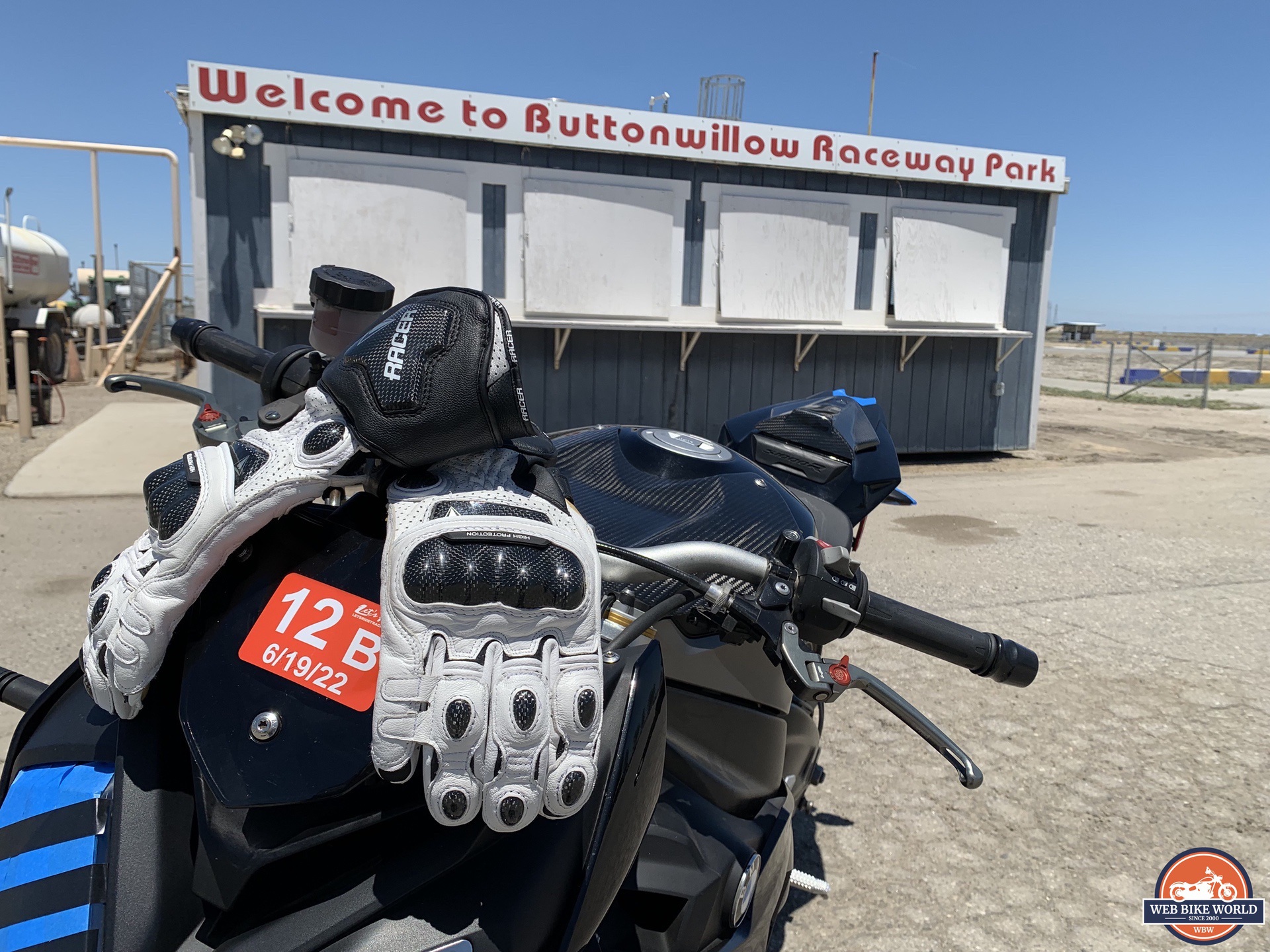 To say I'm impressed with my first Racer gloves is an understatement. They are really an excellent pair of gloves for the track but rugged enough to be worn daily if a robust pair of
street gloves
is on your radar.At $249.99, the High Racers are a great deal as far as race gloves go. If you are looking for a mid-range pair of gauntlets, then these should be at the top of your list. If you're looking for high-end gauntlets, the High Racer Gloves can also be on that list.
The two different color choices could be the limiting factor here. Sure, you won't have the flashiest gloves on the track or the canyons, but you can feel confident in knowing that you are fully protected and wear them in comfort.
Specs:
Manufacturer: Racer Gloves USA
Price: $249.99 USD
Made In: Indonesia
Colors: Black / Black-White
Sizes Available: S-3XL
Review Period: June to Aug 2022
Important Links / Where to Buy:
The post
Racer Gloves USA "High Racer Gloves" Review
appeared first on
webBikeWorld
.