Are today's racing tires the reason MotoGP racing is so good, or the reason it's so difficult?
Click here to view on their site.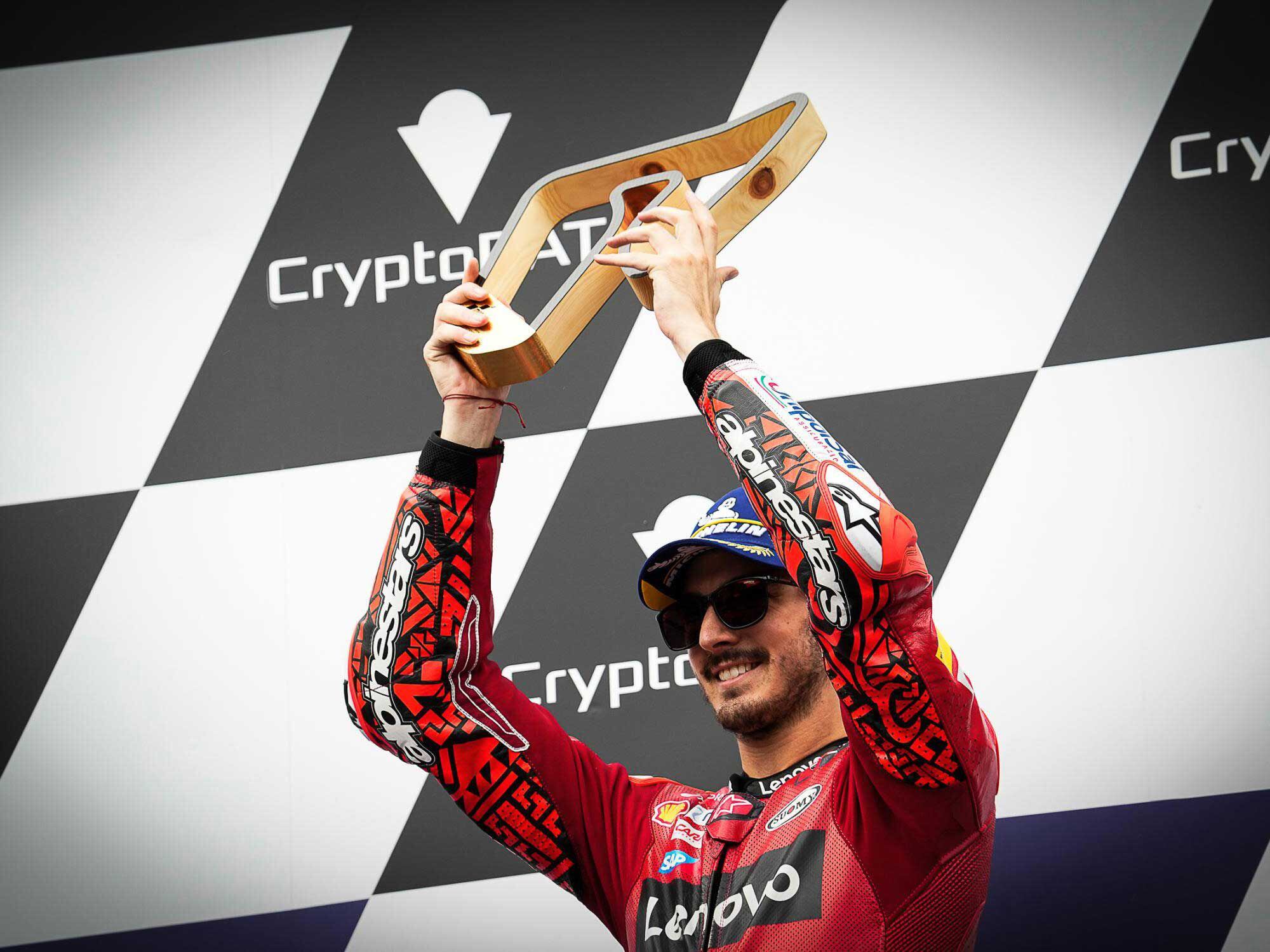 Francesco Bagnaia took the win in Austria. (MotoGP/)In MotoGP's recent changing of the guard, two major talents have emerged:
Francesco Bagnaia
(Ducati) and
Fabio Quartararo
(Yamaha). Austria turned out to be a showcase for both. Bagnaia got away well and had the pace and tire sense to lead all the way for his third win in a row, while Quartararo was able to pierce the red veil for second place and an increased point lead over
Aleix Espargaró
.
The sight of so many fast Ducatis up front in the early laps was compelling, but in this sport the variability of friction drive (rubber tires!) is the dominant reality. Quartararo, the reigning champion, took time to get his hard front tire working, and was able to make up lost places without tire difficulty. At the end it looked like he'd be beside the leader if the race had run another lap. On this track, whose connected dragstrips favor the Ducatis, Quartararo's speed came at a cost: having to ride every lap as if it were qualifying. He's become strangely, consistently good at this. Bagnaia took care to monitor their separation and won by a slim 0.492 second.
The old-timers and middle-timers are now gone:
Valentino Rossi
,
Dani Pedrosa
.
Marc Márquez
's once-upon-a-time cerebral challenger
Andrea Dovizioso
has announced his imminent retirement.
Cal Crutchlow
, always a source of valuable information both to racing enthusiasts and to the teams he served, has departed. And Márquez, the dominant talent of the past decade, remains in uncertain eclipse pending his return after injury and surgeries. The Suzukis, and more recently the Aprilias, show pace. But Suzuki will leave the series after Valencia.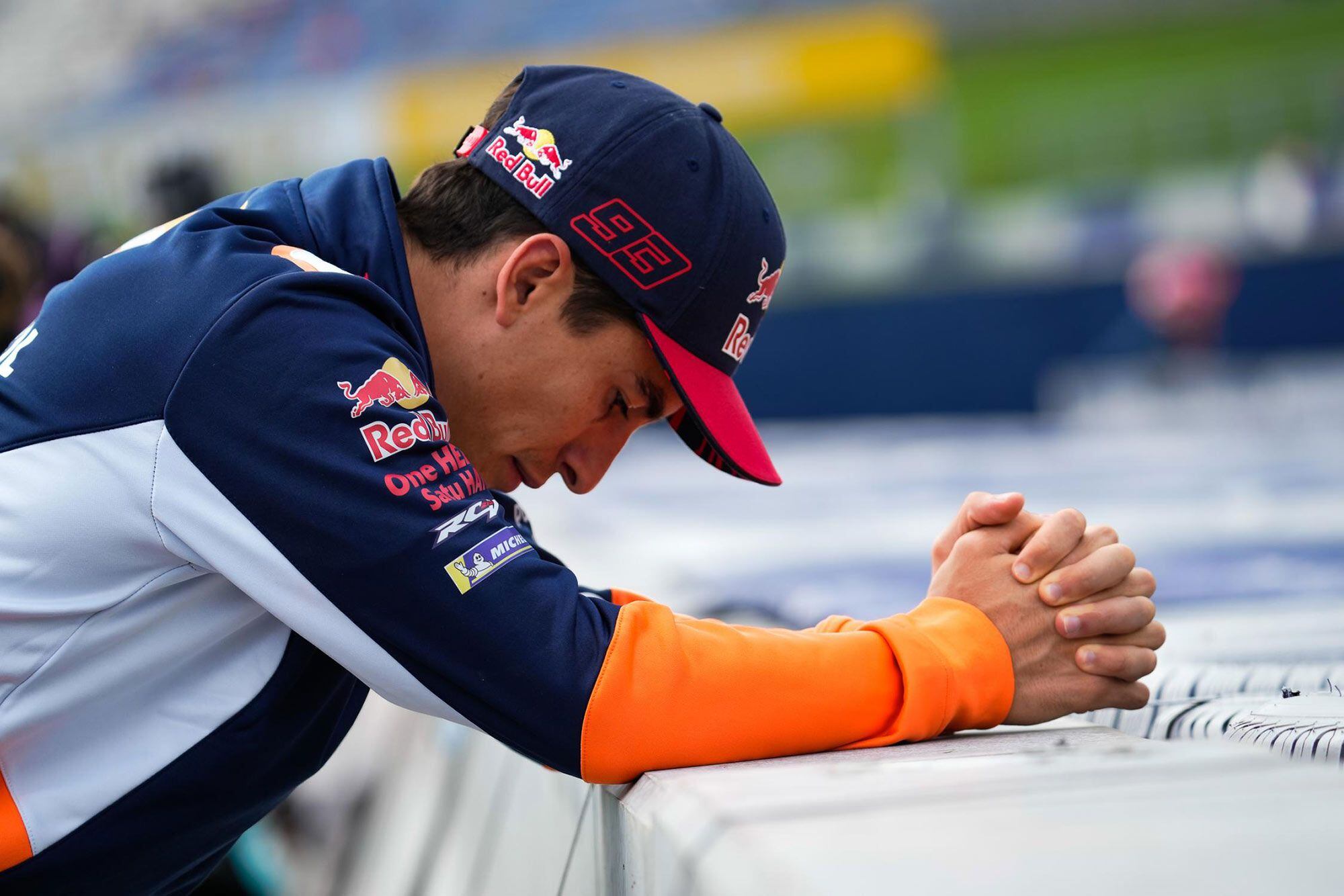 Marc Márquez's return is still up in the air. (MotoGP/)Ducati have a corps of fast riders, any one of whom is able to win when circumstances are right. So far, only Bagnaia has shown durable consistency.
Big News for 2023
New at the Spielbergring was a chicane between turns 2 and 3. Bigger news was the announcement of an additional half-points, half-distance "sprint race" on Saturdays in 2023. Claimed to add no extra mileage to race weekends, it will not affect engine allocations. The sprint race will also not determine Sunday's start positions.
Some riders see this as gratuitous added danger, others as more racing. Ultimately, despite the media focus on riders in this sport, they are employees of the sanctioning body, just as cowboys were agricultural workers. It is a rule of our time that everything in entertainment either intensifies or is left behind. The most intense parts of racing are starts and finishes, so if management believes MotoGP needs more intensity, more races, it is.
Neither Quartararo nor Bagnaia had confidence in a certain result. Realists! Bagnaia said on Friday, "It's been quite a day…I struggled a bit in the afternoon. We managed to improve. We're still missing something in the corner exit compared to Quartararo…"
Meanwhile Quartararo was trying lower ratios for first, second, and third gears precisely because the Ducatis' acceleration makes it so hard for a Yamaha rider to make a pass stick. Add to that the Yamaha's (probably) higher apex speed, Quartararo's bike being engineered (read that as "compromised") for it. Quartararo summed the day up with: "I'm on the limit, I'm pushing myself to the limit. It won't be easy but I feel we have good potential."
Enea Bastianini
(Ducati) has also won races this year, but bemoaned his own lack of consistency. "In the first part of the season I either won or finished eighth [or] tenth. This fluctuation of results must not exist!"
Qualifying
Qualifying made Sunday look steep for Quartararo: a thicket of four Ducatis ahead of him and Bastianini on pole ("…it's my first in MotoGP. I'm very happy about this").
Quartararo's observation was that "Naturally you want to be higher up the order than second row
when you do one of the best laps of your life here
.
"In qualifying, in every corner, I don't know if I'm going to turn or if I'm going to go in the gravel.
"My front is moving so much, the bike is moving, and at the end I [didn't] have one hundred percent control in the qualifying."
Bagnaia too was traveling a difficult path. "…yesterday and this morning we struggled a little bit, but then in FP4 we found something that helped me…
"Unfortunately I also crashed in that session, but my team really did an incredible job restoring the bike…"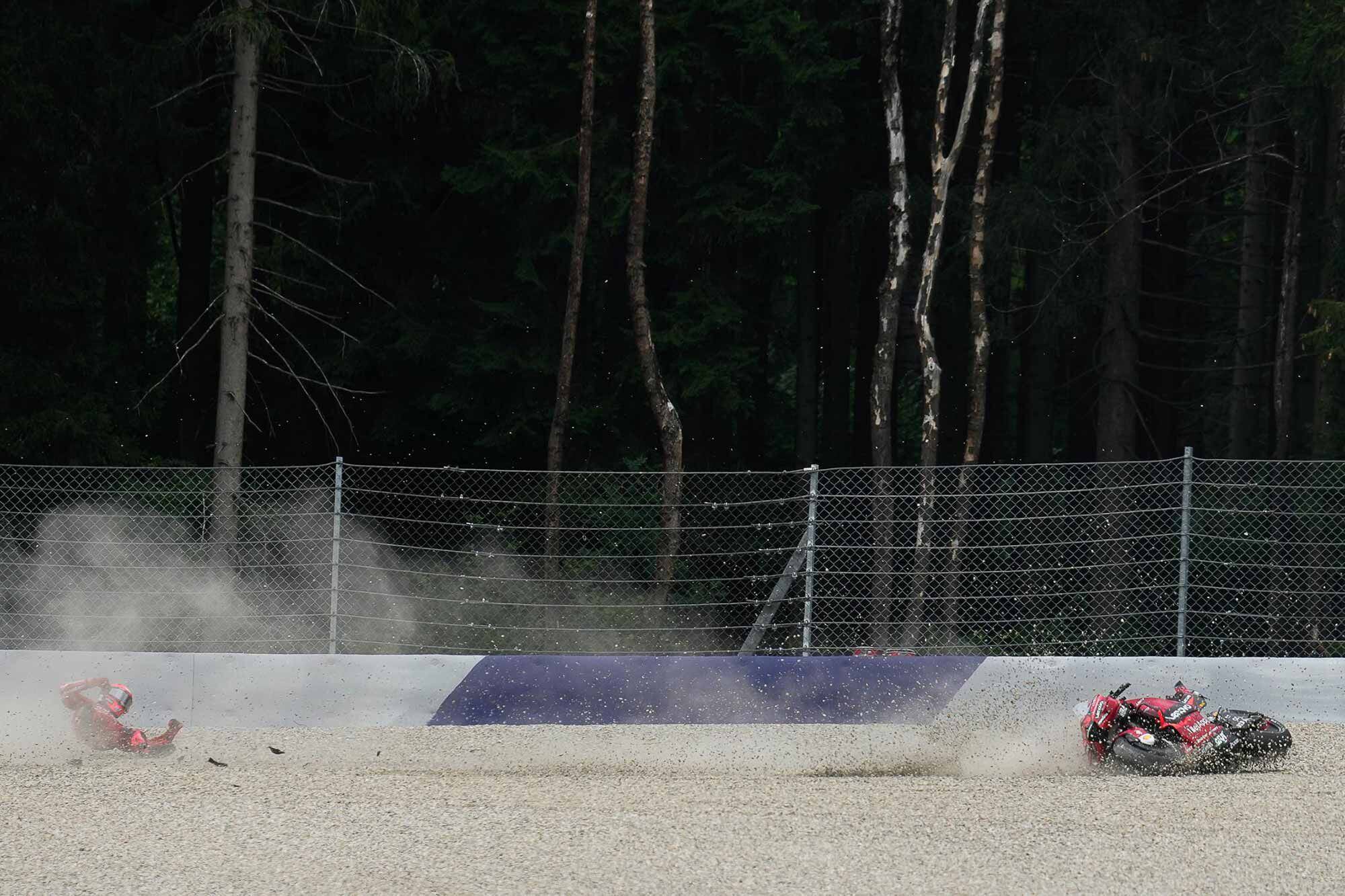 Pecco crashed in qualifying, but bounced back with a win. (MotoGP/)What about Aprilia's Aleix Espargaró, second to Quartararo in championship points? "The bike is good but it's not good enough…on this circuit, with the Ducatis.
"…there are some tracks where you have to limit the damage and take the maximum points possible.
"The Yamaha is not at the level of the Ducati and he's very close to them. He's the best rider on the grid right now. I'm sure if he had the best bike, he would win the title with a lot of [margin]."
In the race Bagnaia departed and Quartararo was fifth, behind the wall of Ducatis. "At the beginning I had a problem getting the [hard] front up to temperature. It took me a couple of laps, then I picked up the pace from there. Even the rear gave me some problems."
Meanwhile the Ducatis were on soft fronts, and Espargaró had made a weak start by failing to engage his "dragster mode" starting device.
Bastianini (Ducati) tapped a curb, bending his front rim enough to release air and forcing his retirement. At 16 laps Quartararo's pursuit resulted in
Jorge Martín
's running wide, leaving only
Jack Miller
between himself and the leader.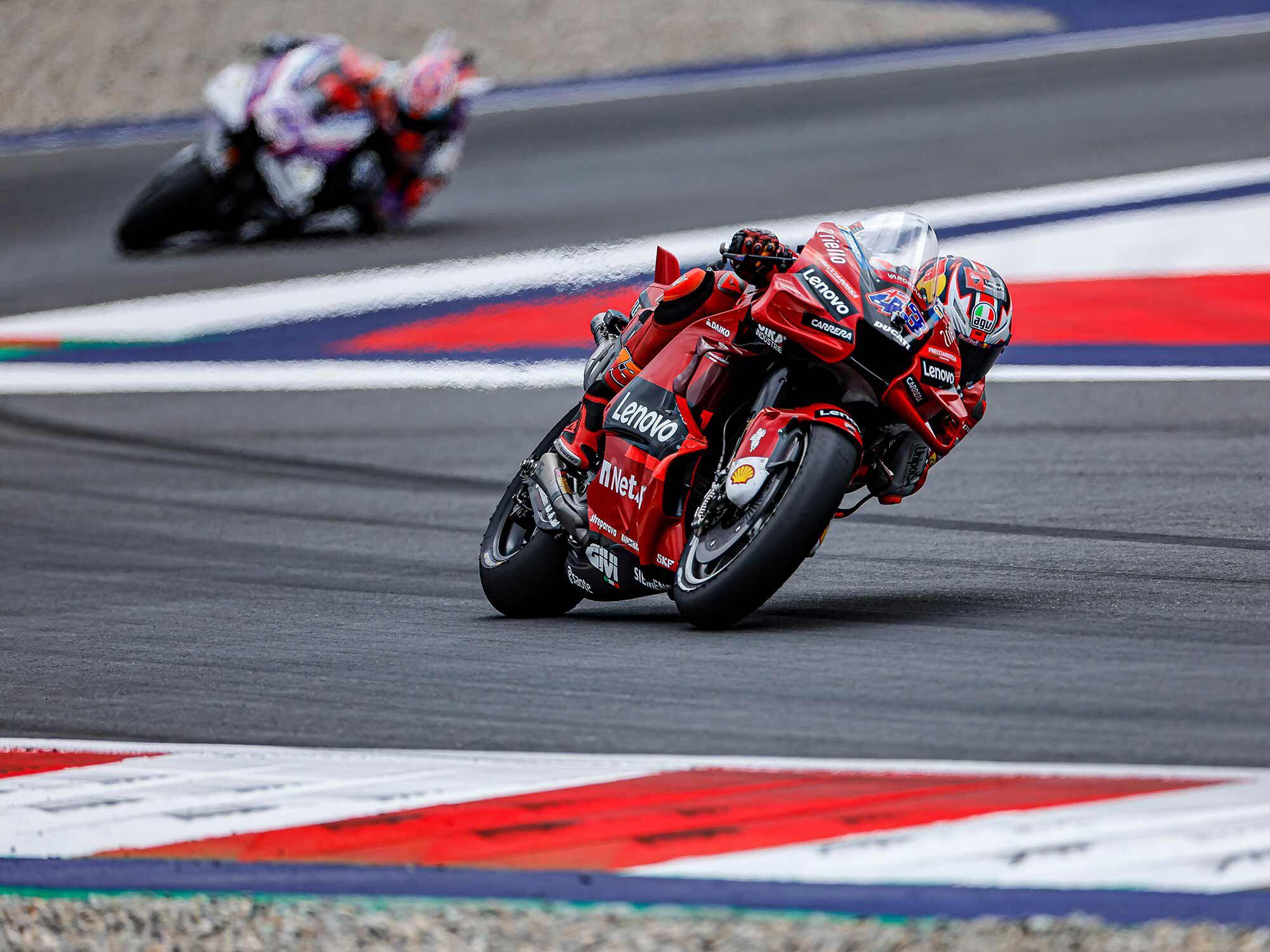 Jack Miller ran out of tire at the end and finished third. (Ducati/)With five laps left Quartararo was with Miller, and used his Yamaha's rapid direction-changing ability as an element in a surprise exit pass at the new chicane. Miller said, "Looking at it on the screens it seems like I'm racing at the speed of an old lady, but at that moment I was having difficulty facing those corners, and I had to slow down to prevent the front from closing." (
Closing
describes the lightness of the bars as grip is lost, allowing the front end to turn in.)
"He had good confidence [that hard front] and at that moment I was really suffering on the left side.
"I didn't want to put the lean angle [in] too quickly because every time I would do it I would close the front.
"I ran out of everything at the end."
This makes it clear that one thing working for Quartararo was the better condition of his tires as compared with the running wide and "closing" experienced by his Ducati-mounted rivals. Their tires were now losing their properties.
Bagnaia described his Ducati today as "perfect," which also describes his defense against Quartararo's rapid compression of the distance between them. He believed he had enough tire to stay out of reach.
"When I looked at the gap I tried to be very constant with the lap times. I tried to be as calm as possible because the front tire was closing everywhere."
Quartararo's Evolving Style
Prior to the race, Austria was reckoned to favor bikes with acceleration and strong braking. Quartararo's ability to be second here suggested he'd learned something. The more I looked, however, the more I was persuaded that his ability and willingness to continuously ride at the limit present him with constant opportunities to discover a way. I always remember that riders who say they plan to "ride harder" in the next practice often crash. You go faster, not as a result of the "trying harder" of the infamous constipated ape, but as a result of learning things that enable you to go faster. Quartararo spends a lot of time in the learning zone, at the limit where small things make large differences.
I looked at photos of him on the bike from 2019 onward. Early on, his style appears little different from the others—he moved body mass inward in corners as they did, but not to an extreme. Today he looks more like Marc Márquez on Bridgestones, his whole upper body moved radically to the inside and parallel to the direction of travel. This, I believe, has become necessary for him as a means of protecting his tires against the steady heating of long sweeping corners, tending in the recent past to cause the Yamahas to lose grip early. Keeping the motorcycle as upright as possible saves the tires.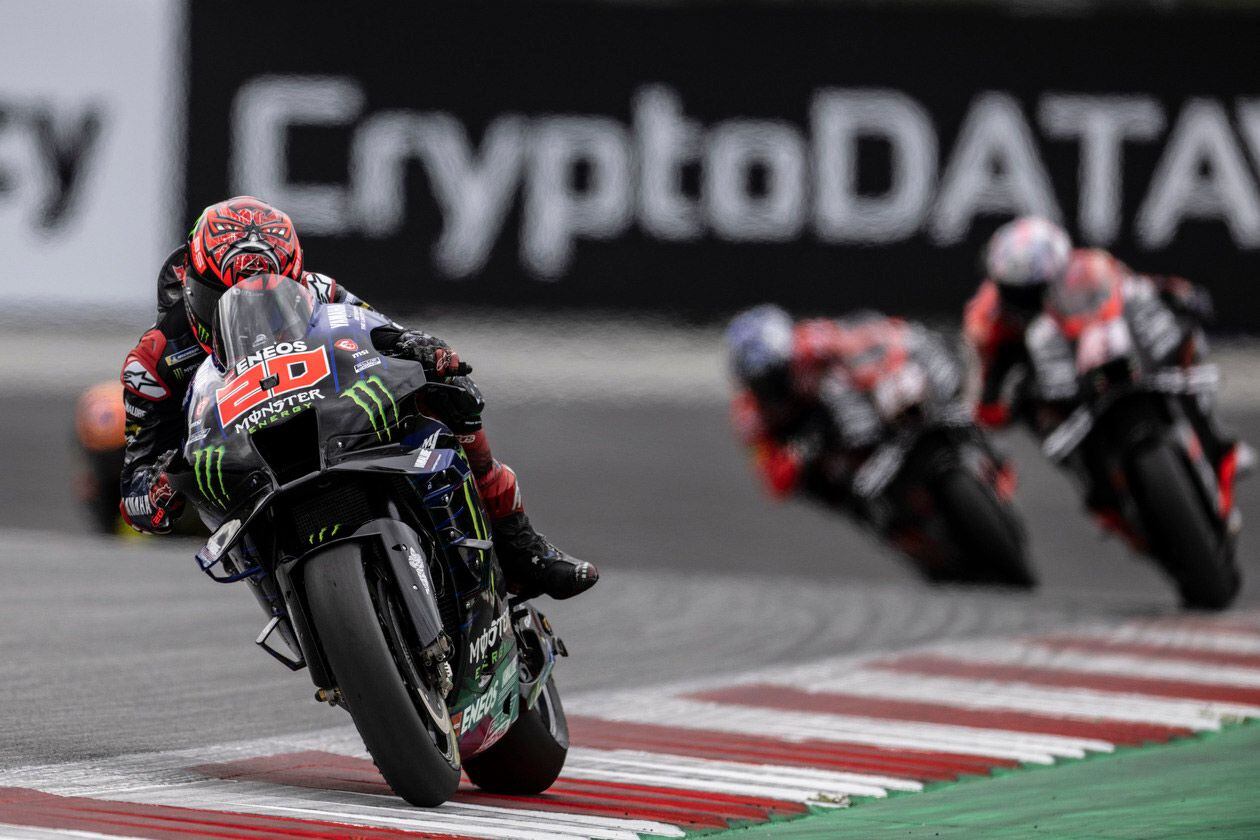 Quartararo continues to evolve. (Monster Energy Yamaha/)Tire conservation was Márquez's weapon against Rossi and
Jorge Lorenzo
: waiting behind them for their tires to lose grip near the end, then passing.
Quartararo emerged from the "new guys" in MotoGP by spending a year often finishing second to Márquez, or failing to finish at all. Then in 2021 he became champion on a motorcycle that experience had shown to be the enemy of its tires. He overcame that through what he had learned.
It will be fascinating to see this 2022 championship play out. Bagnaia is fast and has achieved consistency. He's coming, earning points. But at present he is only third in the standings, with 156 points to Quartararo's 200. Aleix Espargaró and his Aprilia are between them at 168, with
Johann Zarco
fourth with 125 and Miller fifth at 123.
Seven GPs remain, and in racing nothing is certain.