How much power does the 2022 BMW S 1000 R produce? We place Motorrad's super-naked on the Cycle World dyno to find out!
Click here to view on their site.
The
BMW S 1000 R
is a heavy hitter of the super-naked category. Derived from Motorrad's
S 1000 RR
superbike, the naked model offers ripping sporting performance in a more approachable platform. Not to mention, it's ridiculously entertaining on the street!
Motorrad
has given the S 1000 R a significant number of upgrades for the 2022 model year, including the same basic 998cc liquid-cooled inline-four engine used in the RR in effort to achieve the Euro 5 compliance while maintaining power output. In the case of the R model, Motorrad shelved the
ShiftCam variable valve timing
system, emphasizing strong midrange torque for the on-road application. The new powerplant is 11 pounds lighter than and 0.5 inch narrower than its predecessor.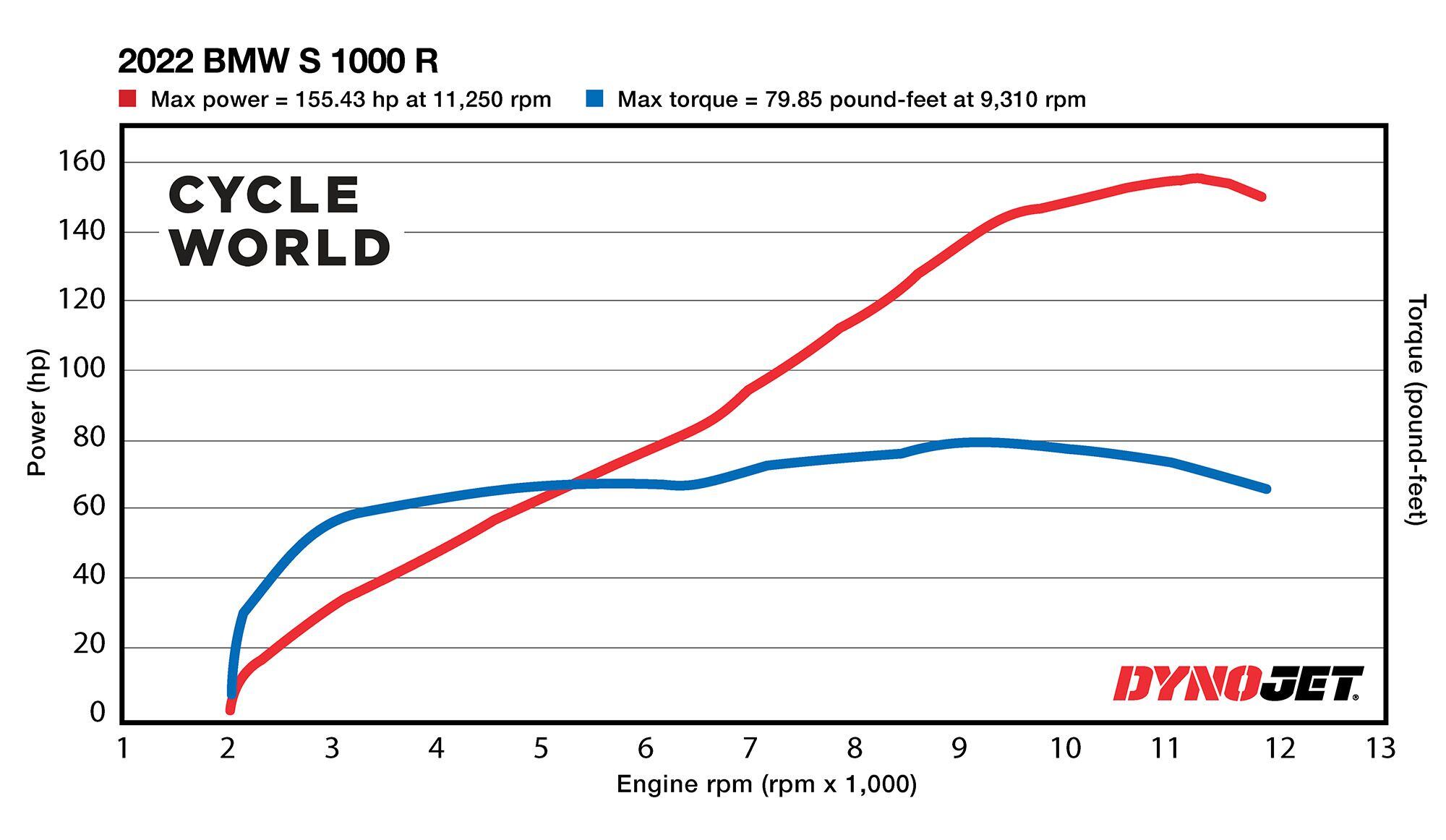 Horsepower and torque figures of the 2022 BMW S 1000 R run on the
Cycle World
dyno. (Robert Martin Jr./)We ran the S 1000 R on the
Cycle World
Dynojet 250i dynamometer, recording horsepower and torque measurements. The BMW produced 155.43 hp at 11,250 rpm and 79.85 pound-feet of torque at 9,310 rpm. Power delivery is linear until its peak horsepower, before an 800 rpm taper as it reaches its redline. The torque curve is relatively flat producing roughly 70 pound-feet of torque at 5,000 rpm and maintaining it until the next gear is required.
For reference, the S 1000 R sits just below the
KTM 1290 Super Duke R Evo
on the charts. The
KTM produced 161.12 hp at 10,100 rpm
when we last ran it on the dyno. Likewise, the
MV Agusta Brutale
pumps out more performance,
recording 170.45 hp at 13,300 rpm
.
As we've learned, performance numbers don't mean everything when it comes to real-life entertainment and value. Perhaps a shootout is on the way…