Experiencing the Goodwood Revival vintage race meeting the first time to see this thoroughly vintage racing event.
Click here to view on their site.
BMW world superbike racer Eugene Laverty leaves the paddock on his Goodwood Revival racebike, a 1929 R 57 supercharged 500cc flat twin that rips out about 75 hp in its rigid frame. (BMW/)This was better than real life.
We were living the myth of previous times that probably never existed quite like this, worshiping at the altar of combustion, abundance, and gracious living on the green and pleasant pastures (and black and exciting tarmac) of the world's finest vintage race meeting and costume dress-up.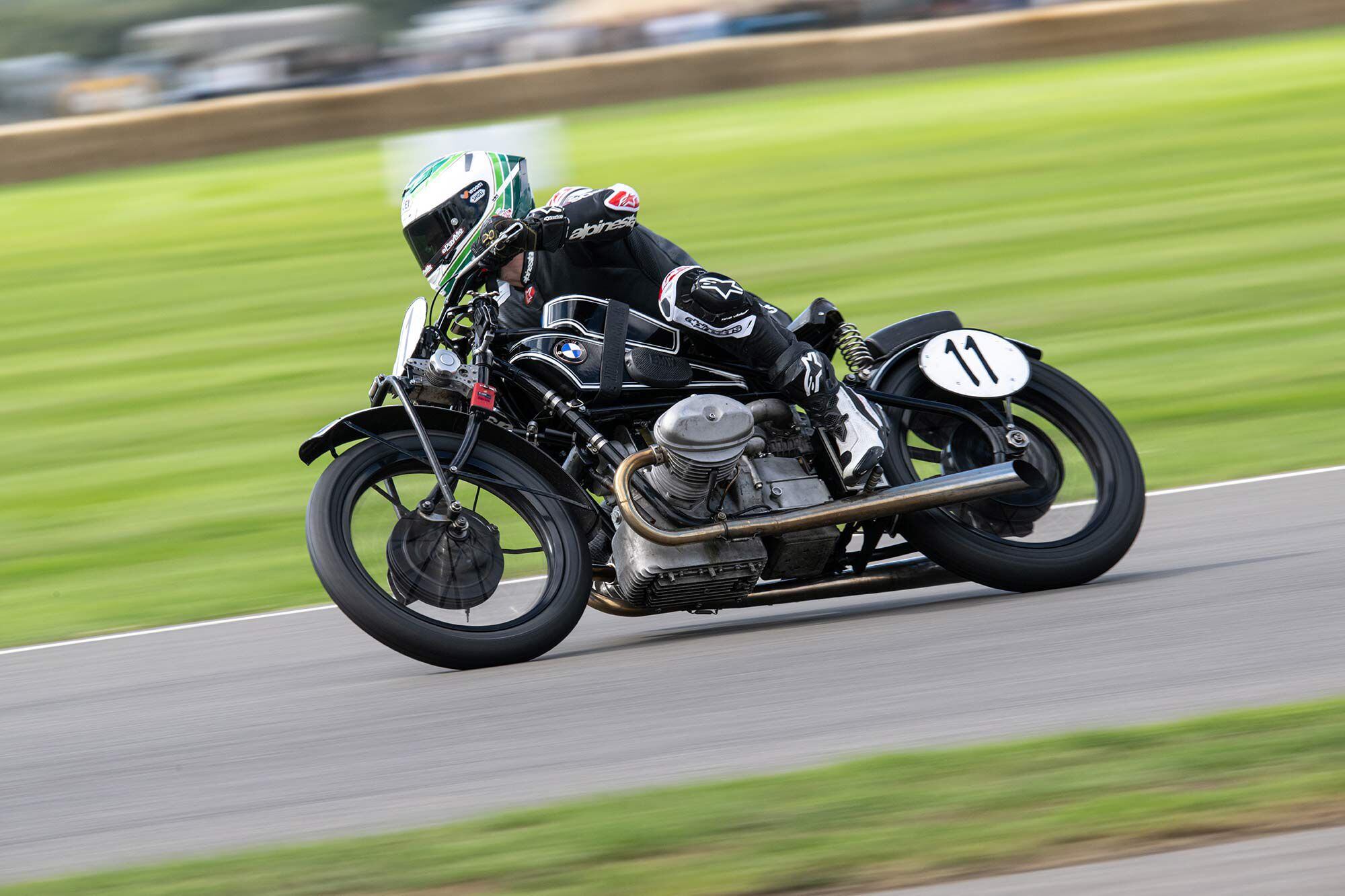 World-class talent learning the ropes on a world-class prewar grand prix racer, Eugene Laverty dropped lap times significantly over the two races at the Goodwood Revival. (Oli Tennent/)The
Goodwood Revival Meeting
celebrates transportation in the physical and spiritual sense of the word. The most exquisite motorcycles and cars well and truly raced in anger (so much sliding; why yes, I'll tap you with my bumper!) on an historic circuit in Sussex and a 12,000-acres-large estate with an elaborate retro stage set to celebrate the glory days of motor racing.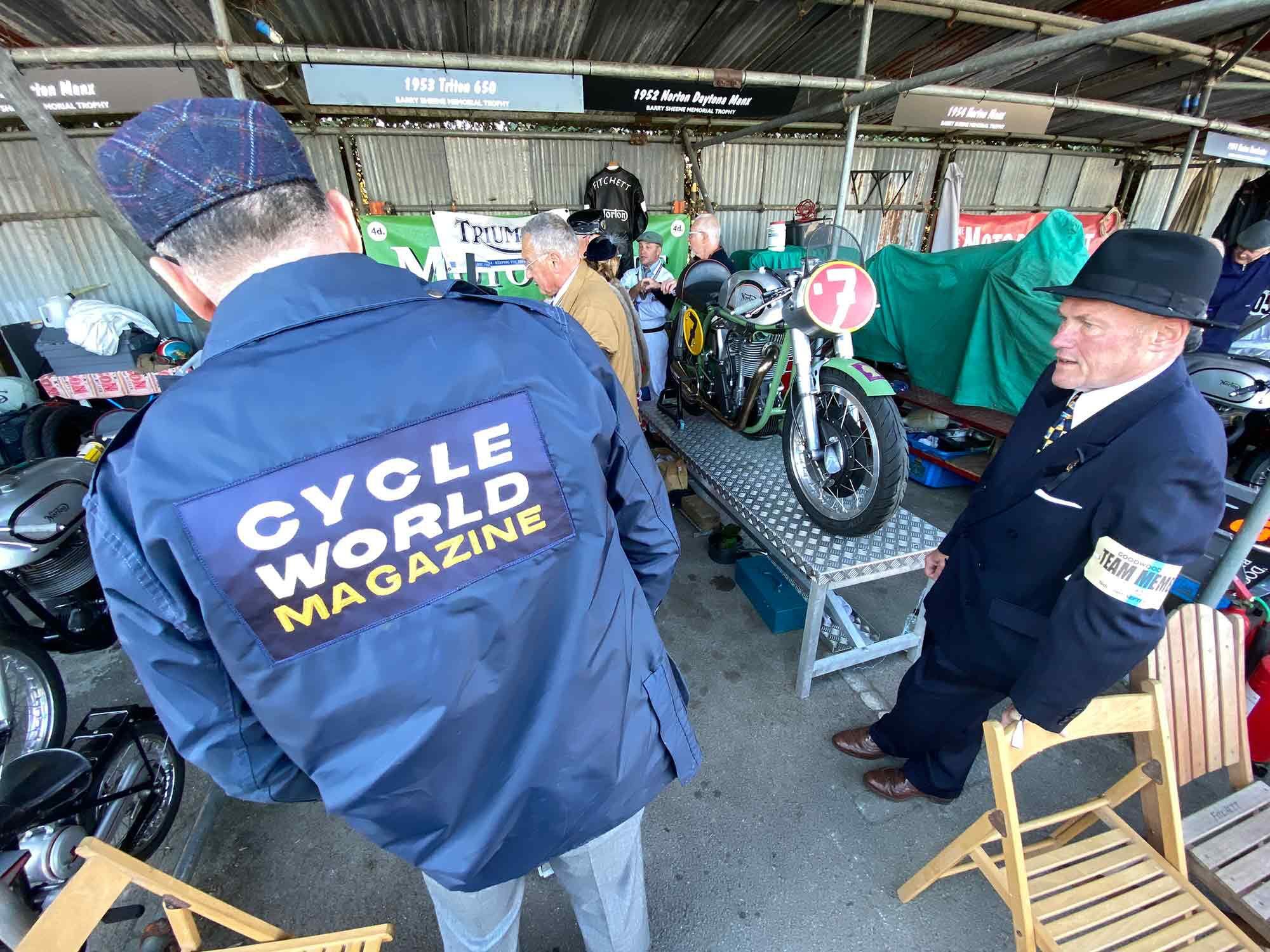 Editor Hoyer sporting founding publisher Joe Parkhurst's 1960s embroidered raincoat in the motorcycle paddock at Goodwood, getting the word on a 650 Triton (a Triumph-powered Norton featherbed) and Manx Norton. (No credit/)Your journey begins in the morning, when you dress for the period you like. I pulled founding publisher Joe Parkhurst's 1960s raincoat, complete with "
Cycle World
Magazine'' embroidered across the back, out of the archive. I paired it with a white dress shirt and narrow black tie, proper trousers, wingtips, woolen flat cap, and Wayfarers, just as I'd seen Joe wear in black and white photos from
Cycle World
's early days.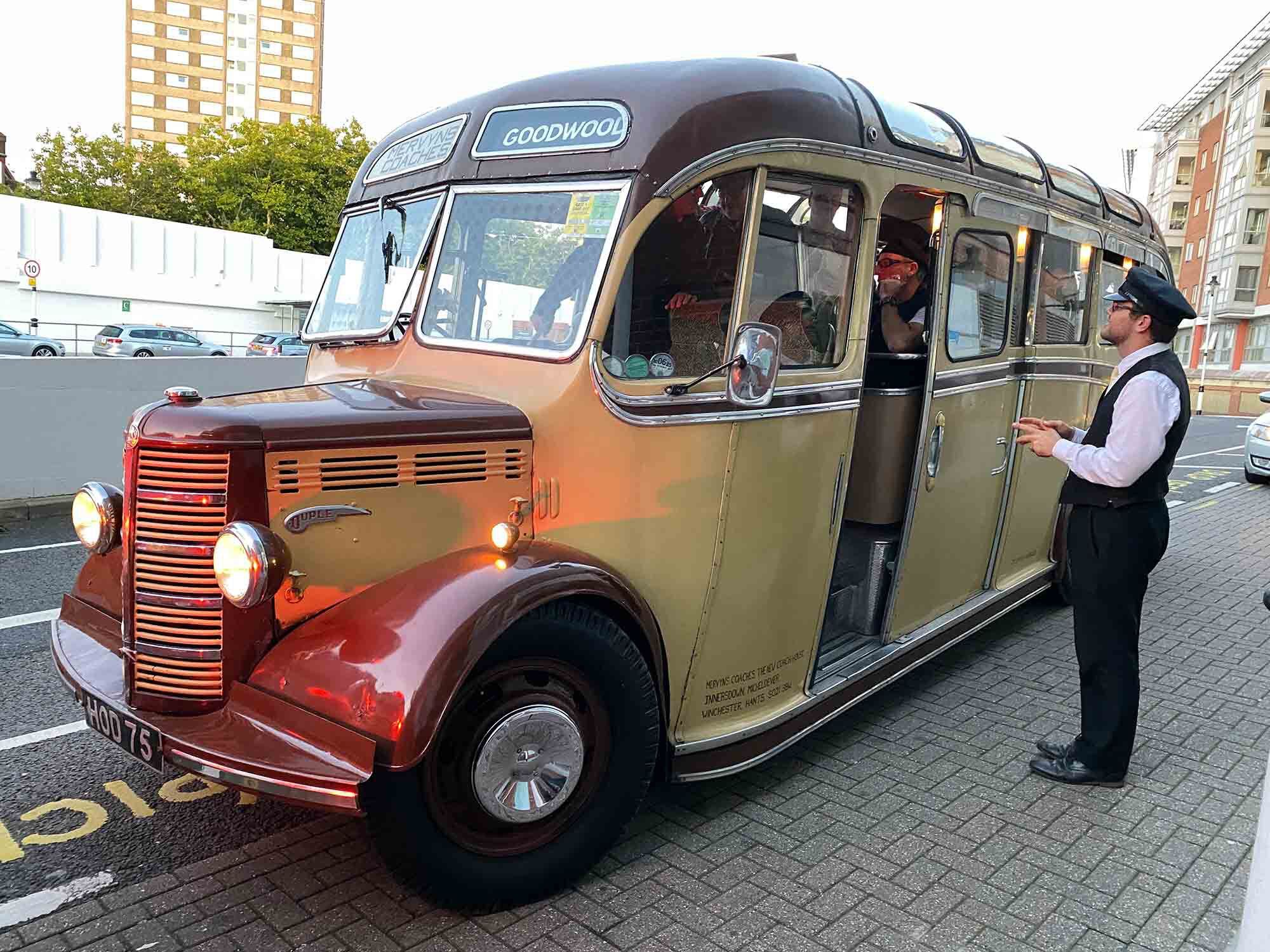 Time travel to the Goodwood Revival took place in this 1949 Bedford OB coach powered by a 3.5-liter Chevrolet Stovebolt inline-six (Bedford was GM's British truck division). (Mark Hoyer/)The journey continued in the art deco-styled 1949 Bedford (part of Vauxhall and owned by GM) bus that carried our group to the circuit. After that, it was but a few steps through the gate before nostalgia's warm and cozy blanket wrapped us in the glory of motor racing's past. In the same way that movies and costume parties let us escape daily mundanity through suspension of disbelief and wholehearted engagement in something else, the Goodwood Revival carries us away.
We were here for the
BMW motorcycles
, but it was the BMW Group as a whole, owners of Mini and Rolls-Royce, that made all the magic happen. As a company, BMW celebrates its own heritage in the showroom with
R nineTs
and
R 18
cruisers on the Motorrad side, while the automotive side cares for its classics with genuine parts support at BMW dealers (sadly, for my 2002-enthusiast friends, this is more outside the US than in). As for its British brands, well, the Rolls factory is on the Goodwood grounds, and Minis are built in Oxford, not far to the north on beautiful, narrow green lanes, where we found it even rains in England when the sun is shining. While I find modern Rolls styling a bit like being bludgeoned with a gold bar, I have to say they've honored the marque by hand-making these spectacularly grand and luxurious automobiles in England to absolutely suit the intended, more sufisticated clientele. Saphistacated? Hey, I'm still trying. For further insight into my spiritual position, I do admit I once nearly bought a 1934 20/25 "small horsepower" Rolls-Royce dashingly bodied in aluminum by Thrupp & Maberly, and of course it was one of the first models produced to be driven by the owner rather than a chauffeur. For yet still even further insight into my spiritual position, there were motorcycles to buy instead.
Bike Shed London is a complete barber-tattoo-parlor-bar-restaurant-motorcycle-club experience, and suitably decorated with a custom R 18. (BMW/)We arrived in London in time for dinner at The Bike Shed, a social destination, restaurant, and club for all things stylishly two-wheeled, where we were greeted by BMW factory-supported World Superbike racer Eugene Laverty and his wife Pippa, along with Stephan Reiff, vice president customer, brand, and sales, and Dominic Thönnes from product management, among others whose avocation was to make it all happen.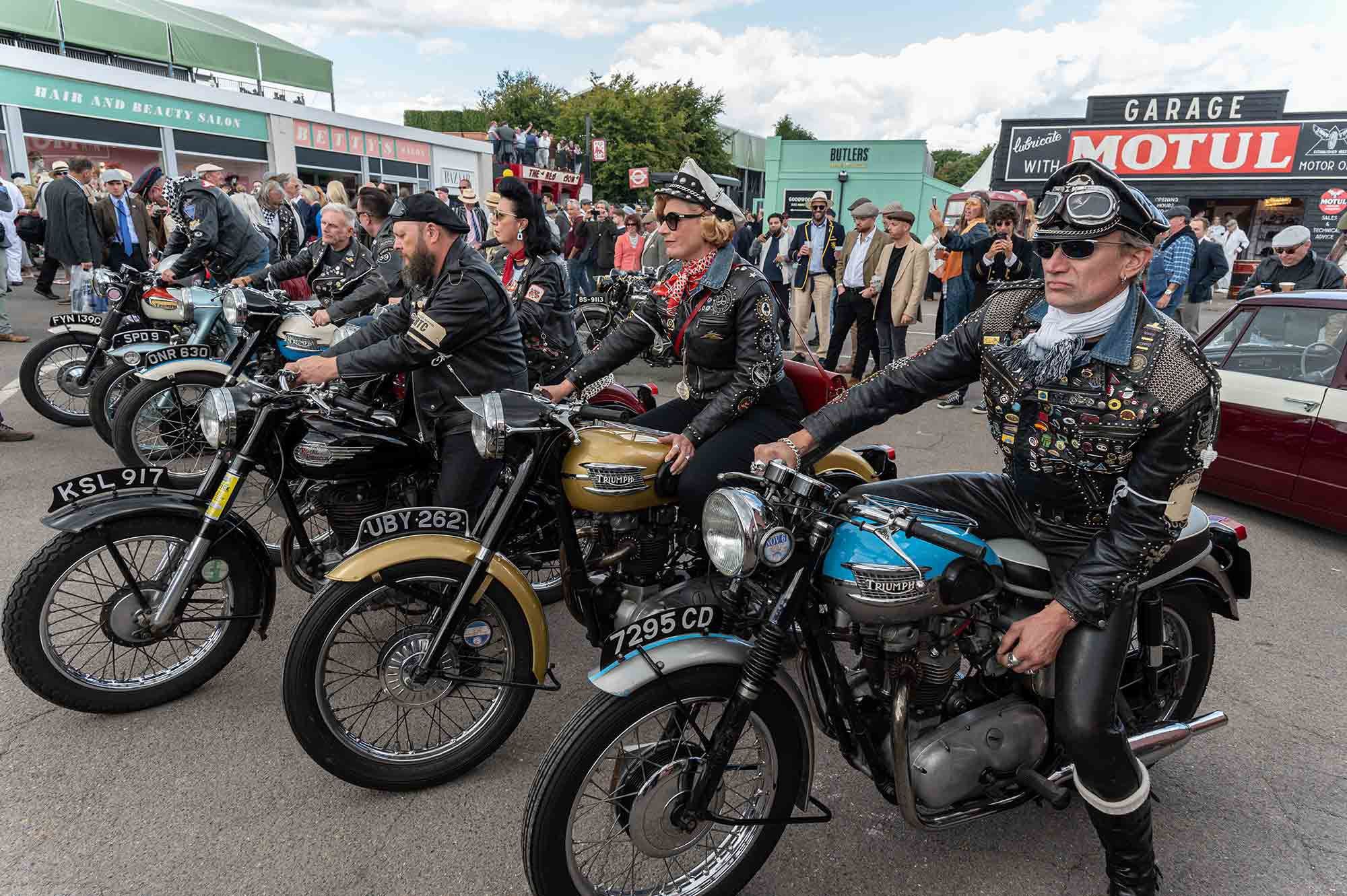 Peak high-octane years? Hard to argue with the Fifties and Sixties, celebrated here by a bunch of Rockers at the Goodwood Revival, the ultimate petrohead party. (Oli Tennent/)The timing of this gathering, held as it was in our current threshold moment in the history of transportation, brought a unique tension to the occasion. The efficacy and convenience of petroleum fuels is undeniable, but it's clear human mobility is in a time of flux. Goodwood Revival is a spectacular celebration of petroleum power's abundance, its convenience, and the huge transformation it brought to the world. In 1900, the streets of any major American or European city were a sea of horses and wagons, punctuated by the occasional trolley. By 1910, autos and motorcycles were everywhere. By the 1960s, the hi-test was flowing and tire smoke was blowing as horsepower climbed to intoxicating heights. We love the freedom of movement we've enjoyed in the last century.
But as the world strives to burn less, governments are, ahem, asking vehicle manufacturers to look for salable alternatives that make sense for the time and place. What works to move us through the heart of London or other major cities may not get us to Saskatoon or down the farm roads of Wisconsin, and we probably won't cross Utah on BMW's electric
CE 04
scooter anytime soon. I certainly would have been delighted to ride a CE 04 across London during our trip. BMW has made significant investment in electrics, hybrids, and alternative fuels vehicles, even introducing not long after this trip the BMW M Hybrid V8 race car that will debut in the IMSA GTP class in 2023. We are here for exciting forms of propulsion.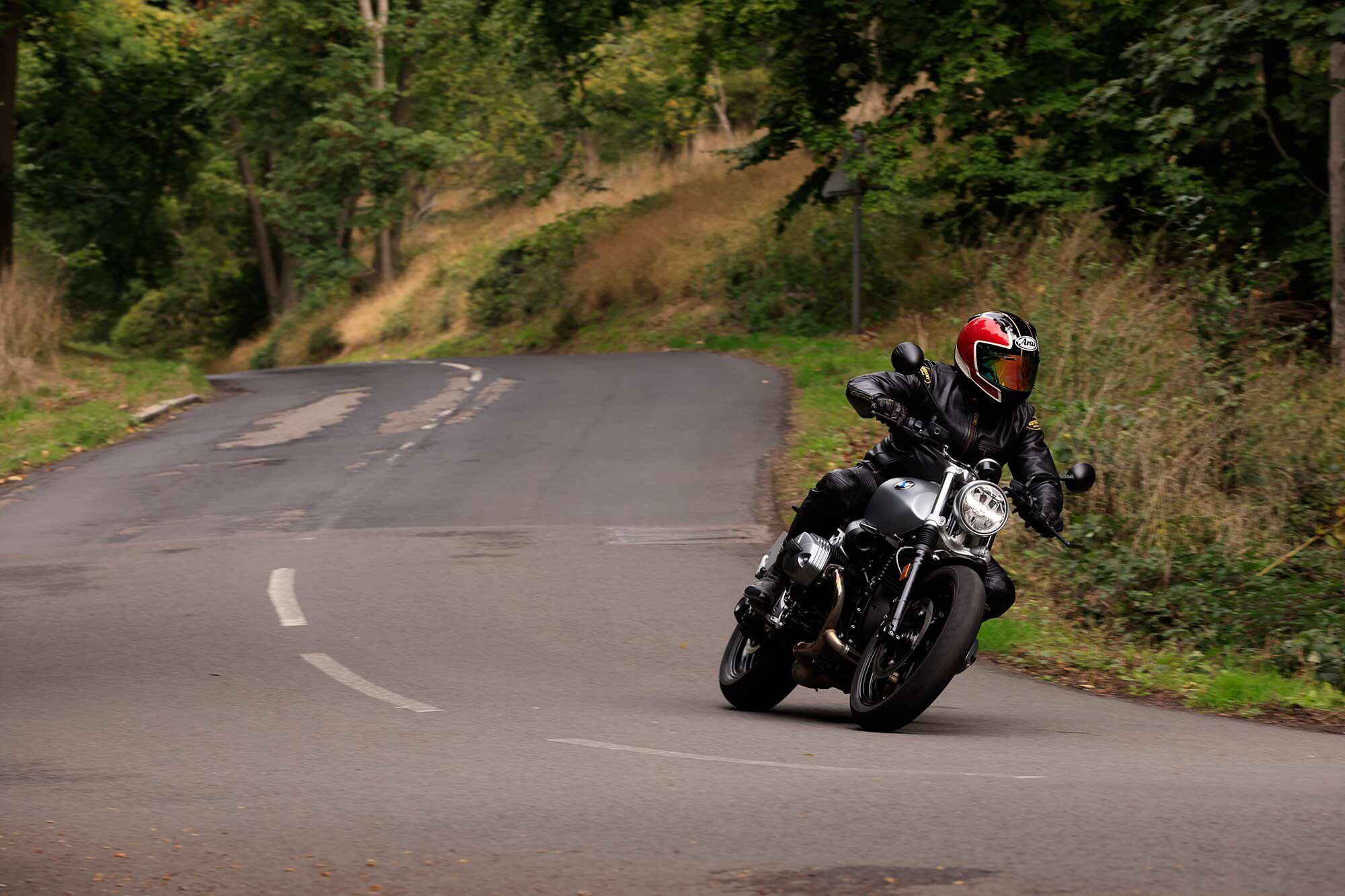 The R nineT Scrambler was at home on British backroads. Vintage black Vanson leathers seemed right for this American journalist on a retro-inspired tour. ( BMW/)On this tour we were using petrol power, R nineTs and R 18s in both roadster and bagger/touring variants carrying us north to Oxford. In the absence of an electric scooter, I thought leaving London would best be executed on an
R nineT Scrambler
, thanks to its relative agility and lightness. It did a fine job of reminding me of the old days while being much better than the old days, keeping the best of the flat-twin hum and allowing me to take for granted much more horsepower, better fueling, excellent brakes, a slick gearbox, and loads of grip. Outside the city, the agile bike was very much in tune with the cadence of British backroads and we enjoyed a periodically sporting pace. There isn't much else to report from the ride to Bletchley except that seemingly half of Great Britain appears to be under road construction in the summer months, and it needs it.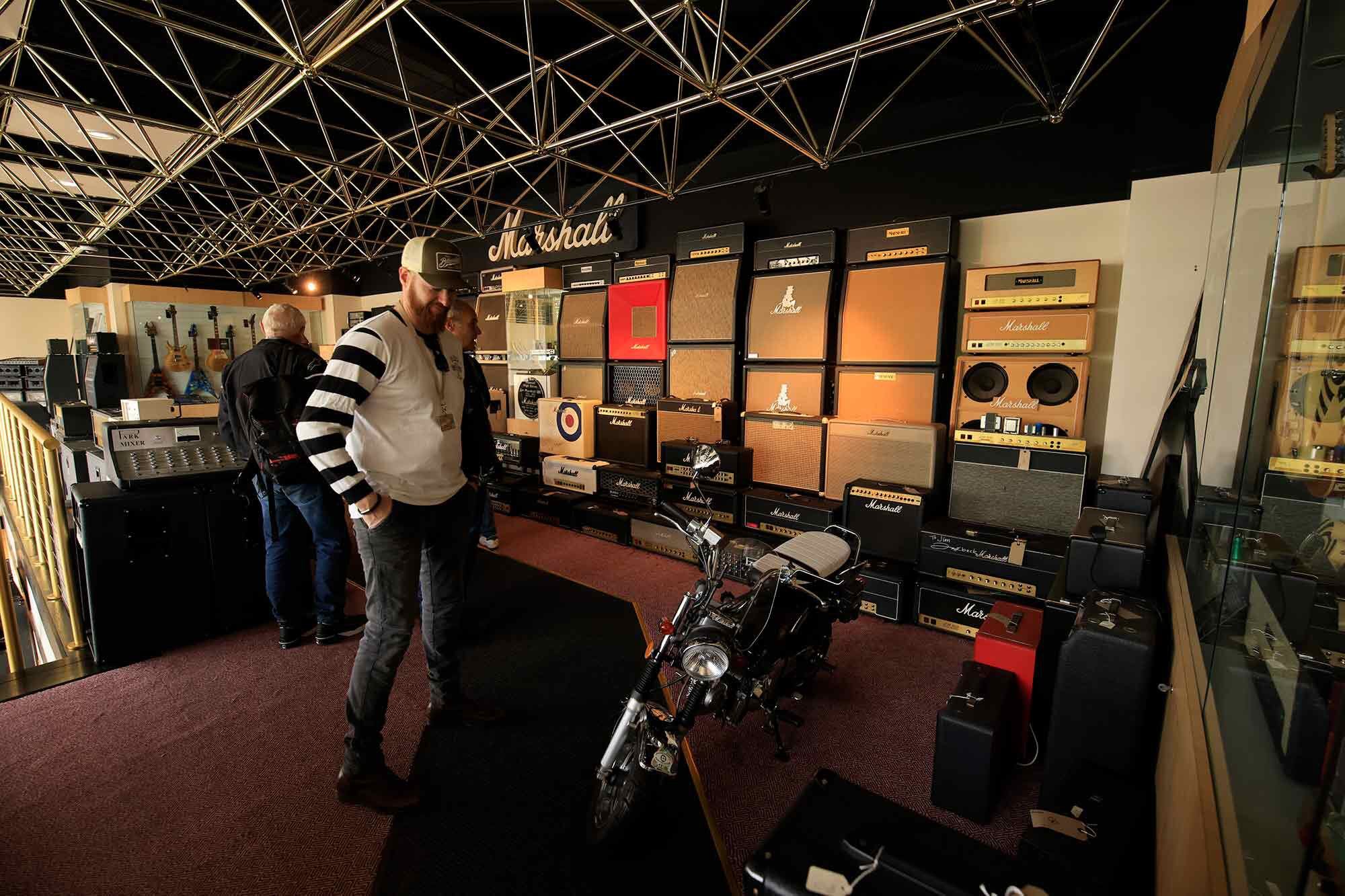 Dominic Thönnes from BMW product management checks out the Marshall Amplification museum above the main reception area. Here, famous amps, including Marshall No. 1, are on display. (BMW/)Bletchley? Yes, the poetically named town is the home of Marshall Amplification, purveyors of the Marshall stack and builders of the Very Loud amps that helped blast The Who and Jimi Hendrix to stardom and countless other acts (and fans) to glorious tinnitus. This English factory still produces hand-wired tube amps in cabinets built in the on-site woodshop and covered in Tolex fabric by a guy using scissors, rollers, tuckers, and folders. It was all very much a throwback to English cottage industry ("We've always done it like this") and had the inspiring combination of human touch and the suggestion of chaos beloved by musicians—at least Marshall musicians.
Editor Hoyer thrashing around on a Fender Stratocaster trying a few different Marshall amps and cabinets in Marshall Studio. Totally worth doing, if not worth recording… (BMW/)Marshall has added a recording studio complete with a Holy Grail Neve mixing board and three-fifths of the patch board from the Abbey Road studio used by the Beatles. Metallica happens to have the other two-fifths. I have to admit, the songs they played that had been recorded at Marshall Studio sounded amazing. This was in stark contrast to the butchering I gave the Strat they handed me when I asked if we could turn on an actual Marshall amp in the studio and make some noise. Perhaps if I practice more, I might make it as a rock 'n' roller next year.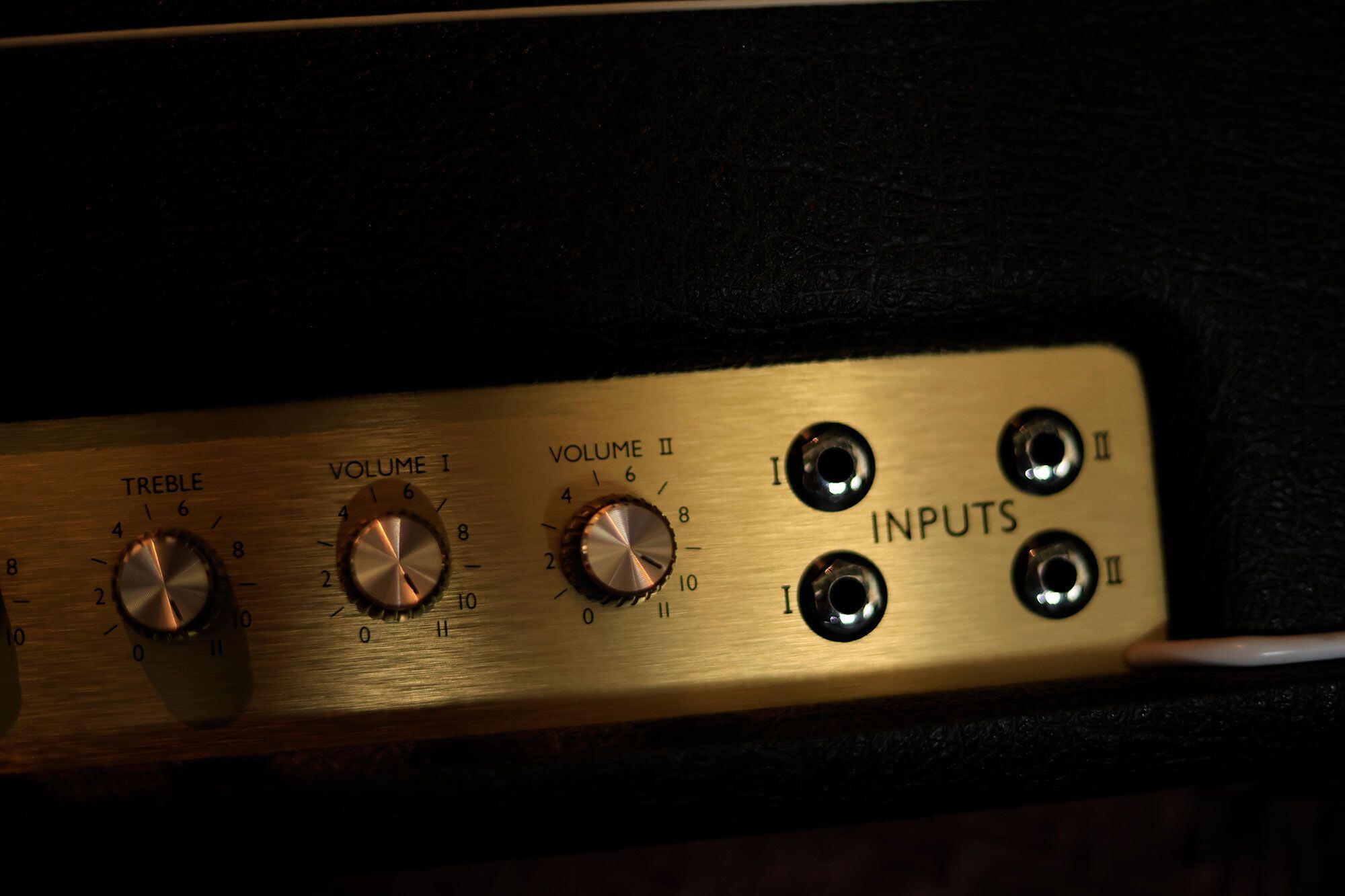 "It goes to 11" Marshall head in the museum headquarters. Rock on! (BMW/)We saw the the real "it goes to 11? Marshall head used in the classic rock 'n' roll comedy
Spinal Tap
, plus a bunch of other historic gear including Marshall number 1, mounted in glass with a mirror underneath so you could see the point-to-point wiring, caps, transistors, and other bits. This was the amp that came as a result of The Who's Pete Townsend and John Entwistle asking Jim Marshall if he could make something louder than the American amps of the day, which were apparently too quiet and also in short supply. Jimi Hendrix showed up one day and bought six, full price. To this day, everybody, no matter how famous, buys their Marshall amps. If somebody asks for one for free, Marshall just says, Well now, Jimi Hendrix paid for his, mate, and are you bigger than Hendrix?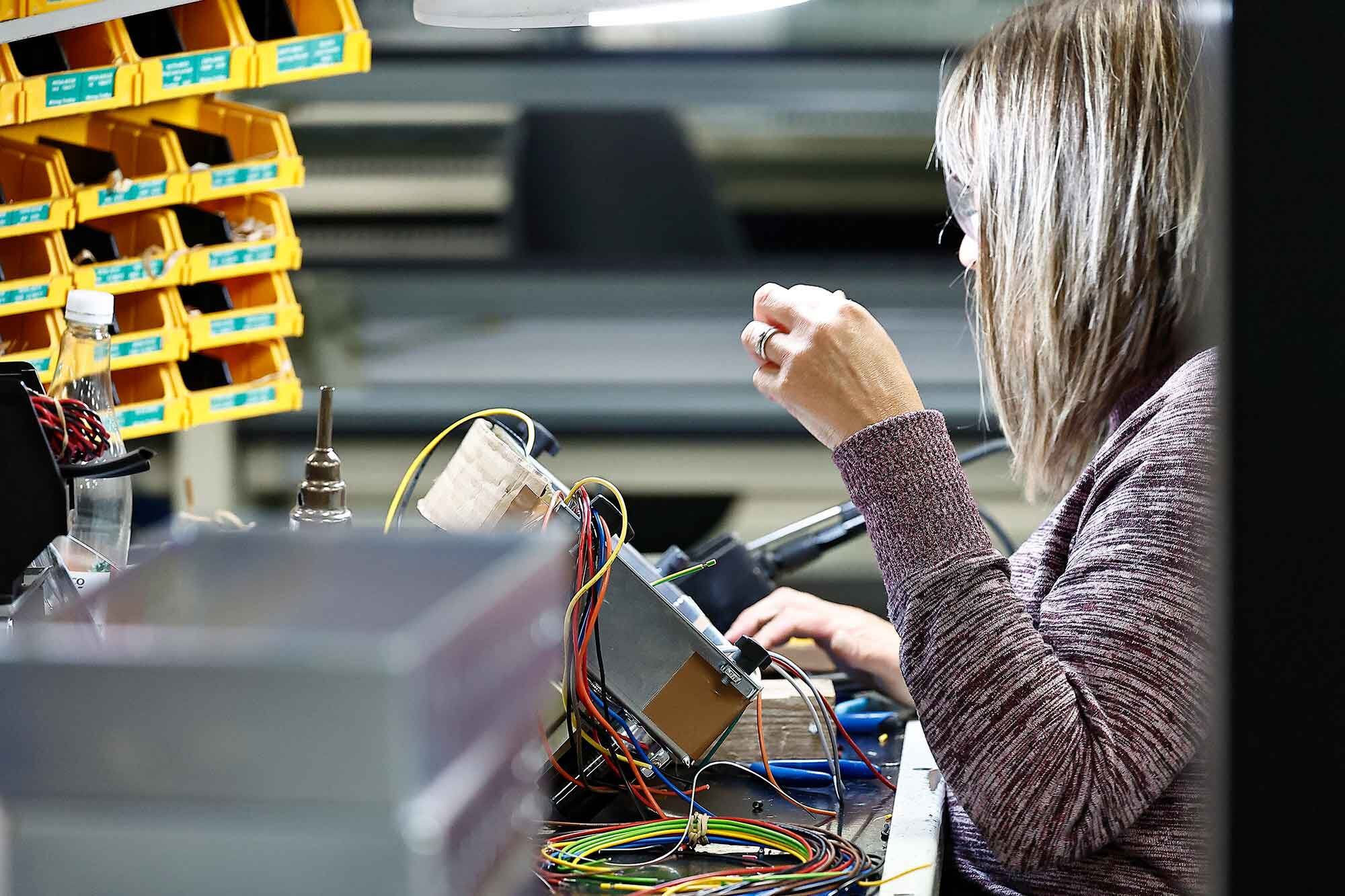 Soldering enthusiasts unite! In the hand-wired production line where amps are built using the same techniques as the original Marshalls from the early 1960s. (BMW/)A bonus of the factory tour was that, as a tube-amp-repairer hobbyist and soldering enthusiast myself, I had the rare opportunity to talk with a woman who'd been hand-making the stuff here for years. I finally have the secrets, though perhaps not the wherewithal to use them.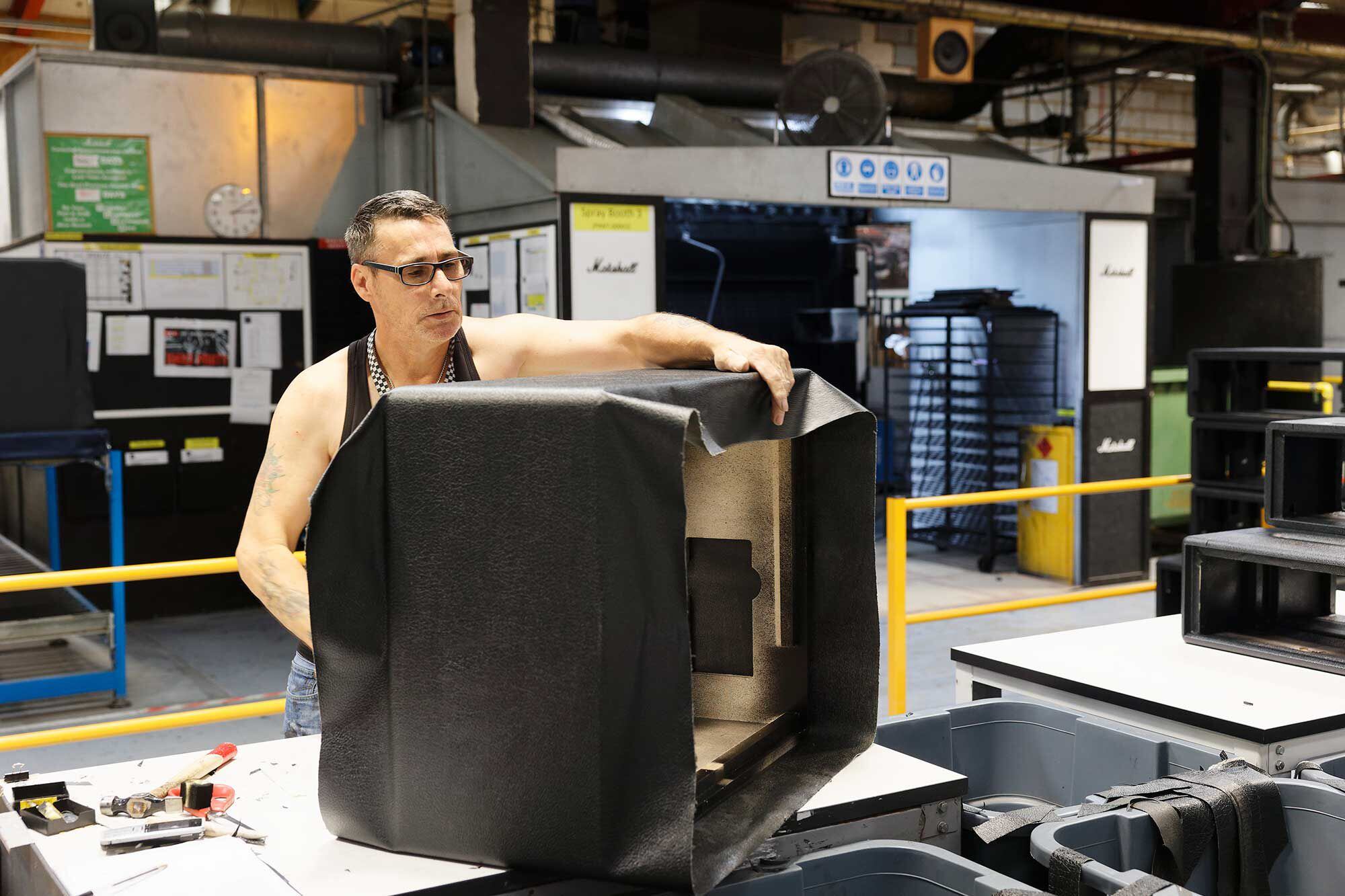 Fan of handmade? Marshall amplifier cabinets are completed in the on-site woodshop and sent to this fellow's workbench, where he hand-applies the Tolex covering with a lot of skill and a few simple tools. (BMW/)Those who aren't paying attention to BMW's partnerships might be lost as to why we'd take a spin to Marshall, but the historic amp company was a partner on the sound systems for the
R 18 B and Transcontinental
. The systems do rock, and also—look, I'm just reporting the facts here—roll.
Our future robot overlords practicing for world domination? No, just a modern automated car factory in the heart of England, cranking out a Mini every 67 seconds, three shifts a day, five days a week. (BMW/)In perhaps the starkest conceivable contrast, at least in manufacturing terms, our stop the following morning was the Mini plant in Oxford, a paragon of automation, organization, and cleanliness. As someone who's owned more SU carburetors than he can count, I was most entertained by seeing the Mini museum, complete with token Morris Minor, Mini-designer Alec Issigonis's first big project at Morris before his smash hit with the original Mini. But watching new Minis being rapidly made before our eyes was a true insight into mass manufacturing of complex goods. Our tour guide Nigel (yes!) said a new Mini is made every 67 seconds for three shifts five days a week, and that 25 percent of production there is now the battery-electric Mini. Also that solar panels provide 2 percent of the factory's power needs.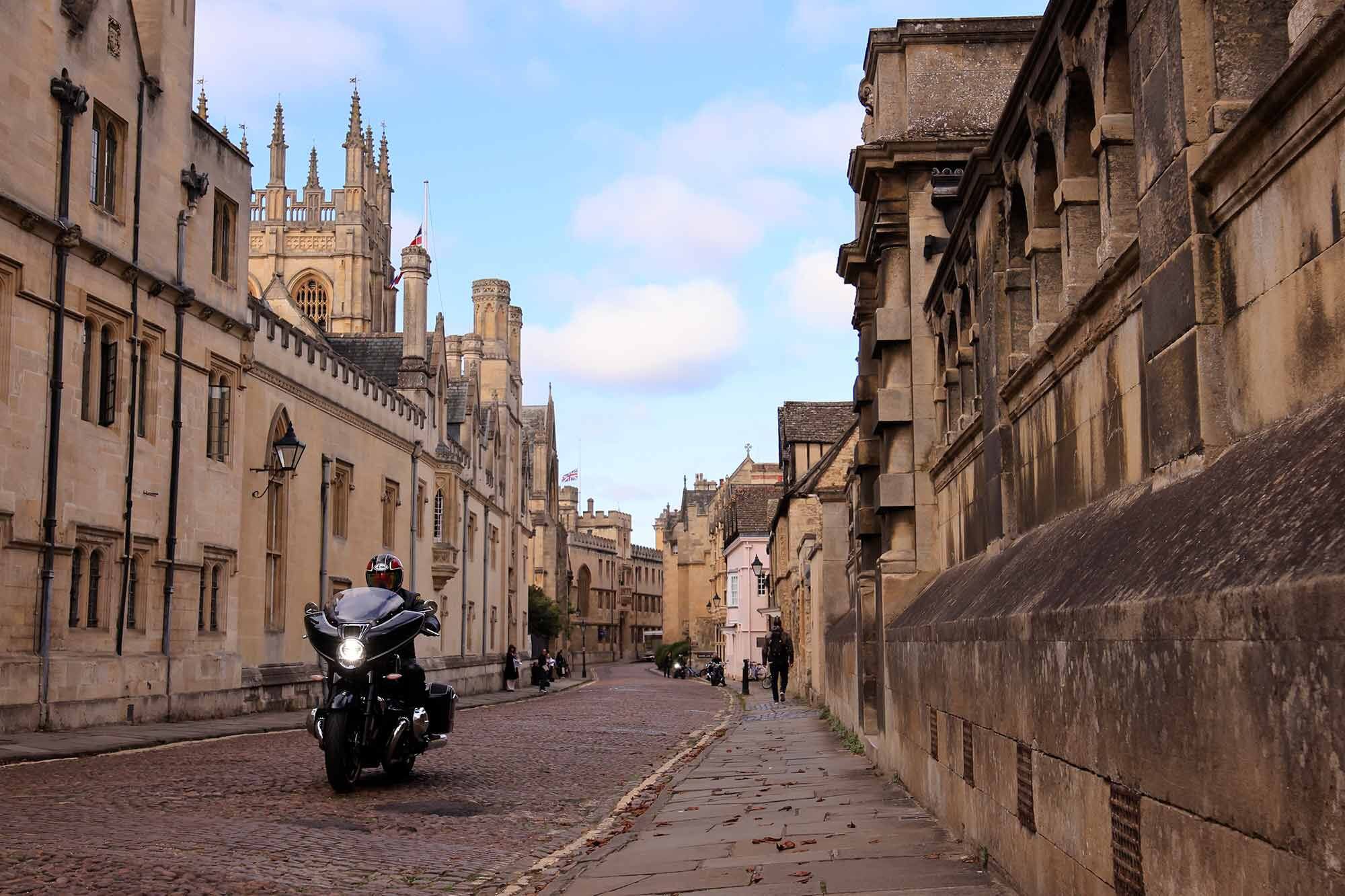 On a cooler evening in Oxford the protective fairing, heated grips, and heated seat of the R 18 B were welcome. A long, heavy bagger feels slightly incongruous on Britain's tighter roads but was a treat on the motorways earlier in the day. (BMW/)While our September day's low-60s Fahrenheit is not "winter," it's a ways from summer, so it was nice to enjoy the heated seat and grips on the R 18 B bagger. Why do I now bring up that I once saw a Cadillac in Tunbridge Wells southwest of London? Because, since I wasn't here for the glory days of the Eighth Air Force, never had America looked bigger to me than in that moment, as the fins on that '59 Eldorado trimmed hedges on
both
sides of the road. The R 18 B, with its BMW flat-twin heart in an American-cruiser silhouette, intentionally longer, heavier, and at least as low as a Harley-Davidson, gave me a similar feeling riding on the narrow green lanes of England. The better part of the day on motorways was comfortable and relaxing. Crawling along in first or second gear through city traffic, or speeding along winding backroads, I will take an R nineT every time.
Practicing to race the Revival next year or sucking it in on the saddle once again? (BMW/)On the riding days, I wore vintage black two-piece Vanson leathers (first-model AR1 jacket on top) in honor of our retro-inspired bikes and also as a possible second wardrobe for the Revival in case they needed a fill-in Manx racer for the Barry Sheene Memorial Trophy. Alas, it wasn't to be on the riding front, but maybe next year? If anyone with an entry needs a swift, safe racer who's sympathetic to the equipment, has tons of experience managing heat in drum brakes, and isn't a bad vintage mechanic, I promise to lose at least one stone—that's 16 American pounds, folks—by next year. Might be able to get a story placed here, also. Just sayin'.
Glorious icing on the internal combustion cake at the Goodwood Revival? Thirty-six cylinders' worth of Spitfire flying in formation over the racecourse and landing at the on-site Goodwood Aerodrome. (BMW/)Questions in my mind about renewable energy or the future of transportation dropped away as soon as our bus driver turned the key on that 73-year-old Bedford. Euphoria set in when I heard, then saw, three Supermarine Spitfires flying overhead, doing rolls in formation as we entered the Goodwood grounds. From there on out it was pure sensory overload: 1950s V-16 BRM Grand Prix car engines, V-12 Ferraris, 500 Manxes, and every manner of internal-combustion glory making the sounds that move us.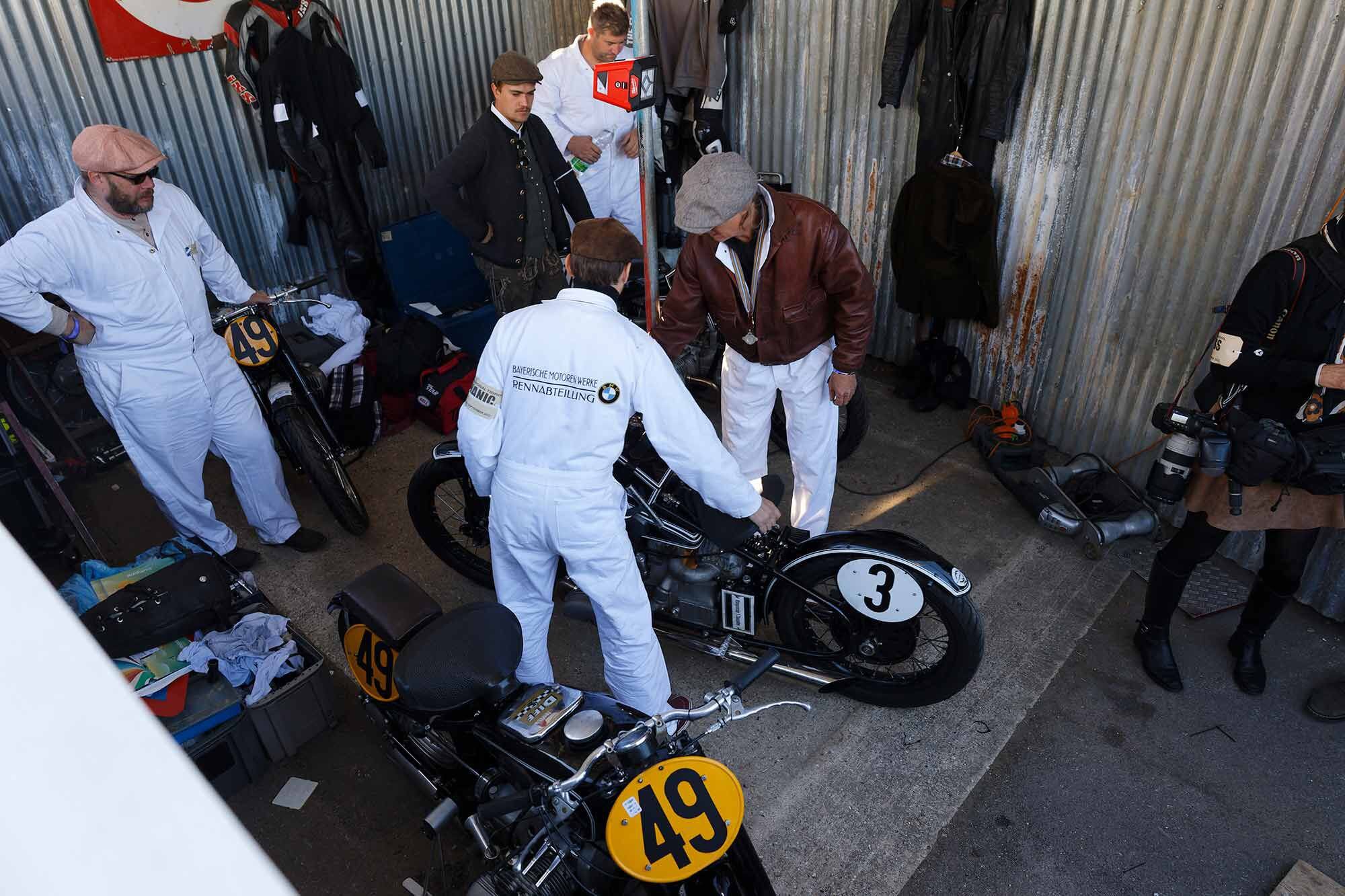 The number 3 BMW R 57 supercharged racebike might have been the loudest machine in the paddock. (BMW/)Perhaps the loudest among them was one of the 1928 BMW R 57 Kompressor Grand Prix racers ridden by Claus Clausen and Roland Resch. We happened to be there when one of the scrutineers was taking a sound meter reading as the number 3 R 57 warmed up. It blew 131.5 db, significantly louder than any guitar amp I have ever stood in front of, at least since I missed the last Who concert I heard about in 1982.
The actual sound meter reading of 131.5 db taken at the tailpipe of the BMW R 57 supercharged racebike. This might get you banned at any other race meeting, but at Goodwood, the race official holding the meter had a huge smile on his face and surely a ringing in his ears. (BMW/)It was glorious. Norbert Knerr, head of BMW Classic brand management, said the 1929 R 57 Kompressor, a 500cc supercharged OHV flat-twin, made about 75 hp at the wheel. Hand shift and shaft drive, the R 57 has no rear suspension and uses a trailing link fork with a quarter-elliptical leaf spring and friction dampers. If you've never seen a friction damper, it's a bit like a clutch with circular discs and plates clamped in a stack. They work better than you might think, but they aren't used anymore, not even on door closers.
Front leaf spring and friction dampers on Eugene Laverty's 1929 BMW R 57 Kompressor racebike. (BMW/)Eugene Laverty was racing the number 11 bike with its owner Herbert Schwab. His first practice outing on the 2.367-mile Goodwood course for the race meeting was exciting, essentially beginning with a violent, out-of-the-saddle tank-slapper and a trip across the grass. The 1929 R 57 had a hydraulic steering damper mounted, but the team removed it, thinking it wasn't effective. After Laverty went across the grass, they put it back on. He also said they changed the seat springs to a softer rate, which we all laughed about as "rear suspension tuning" on this rigid bike. Factory riders get the best treatment.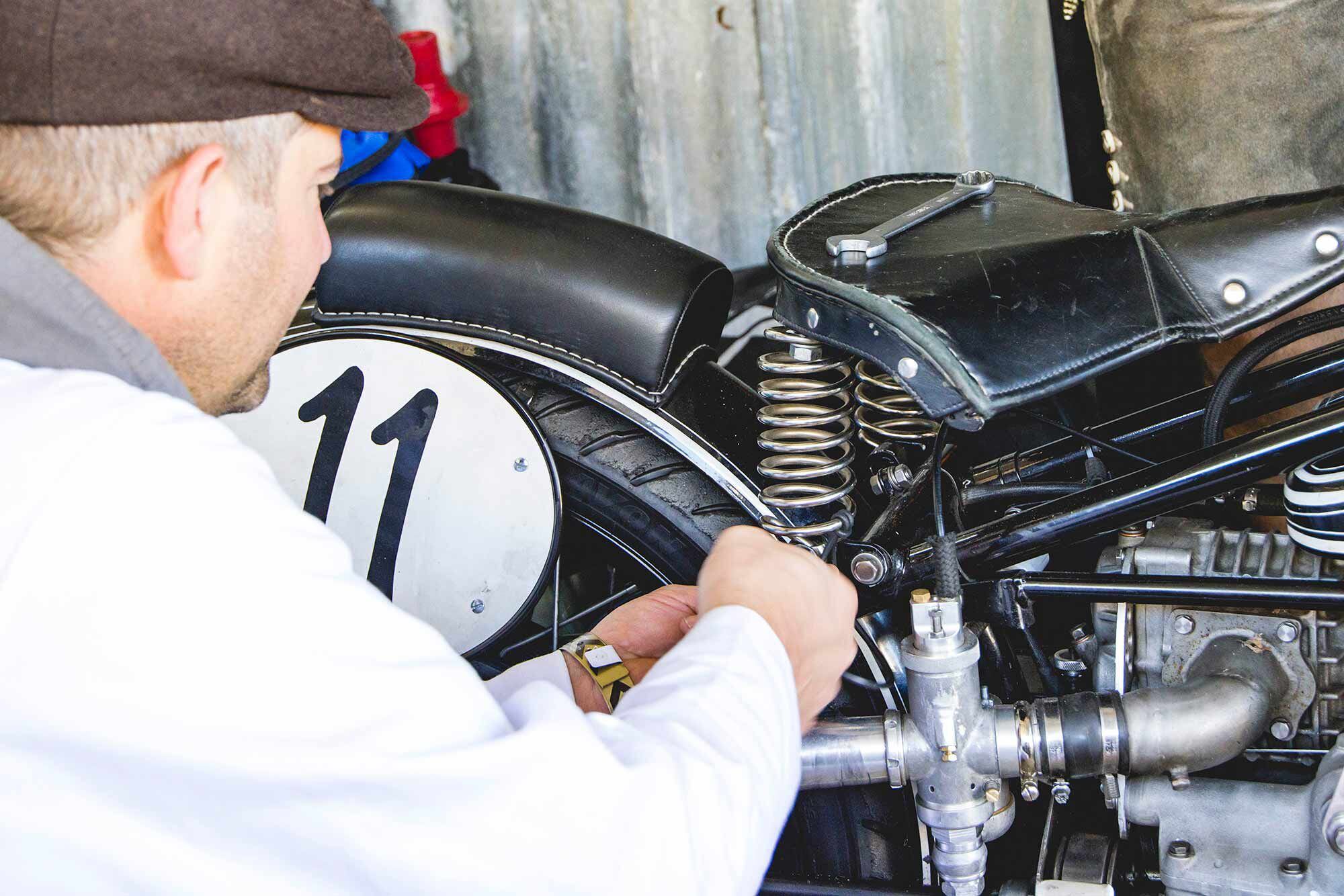 We like to think this is the moment that the mechanic "tuned" Laverty's seat springs for better lap times, but we are pretty sure he is simply tying the rubberband to the spring that helps support the long intake and carburetor. (BMW/)Laverty also commented that altering his steering style at the bars during the two-rider team race in the latter stages helped stabilize cornering and knocked a second off his lap times. This helped them make eighth place in Saturday's race. He was looking forward to Sunday with his newfound technique and it turned into a fourth place, which is pretty impressive given that the other top 14 bikes were all from the 1950s and had actual rear suspension. Josh Brooks and Ben Kingham won that Sunday race on a
Vincent Black Shadow
, while Saturday James Hillier and George Thomas won going away on a very fast Matchless G80CS.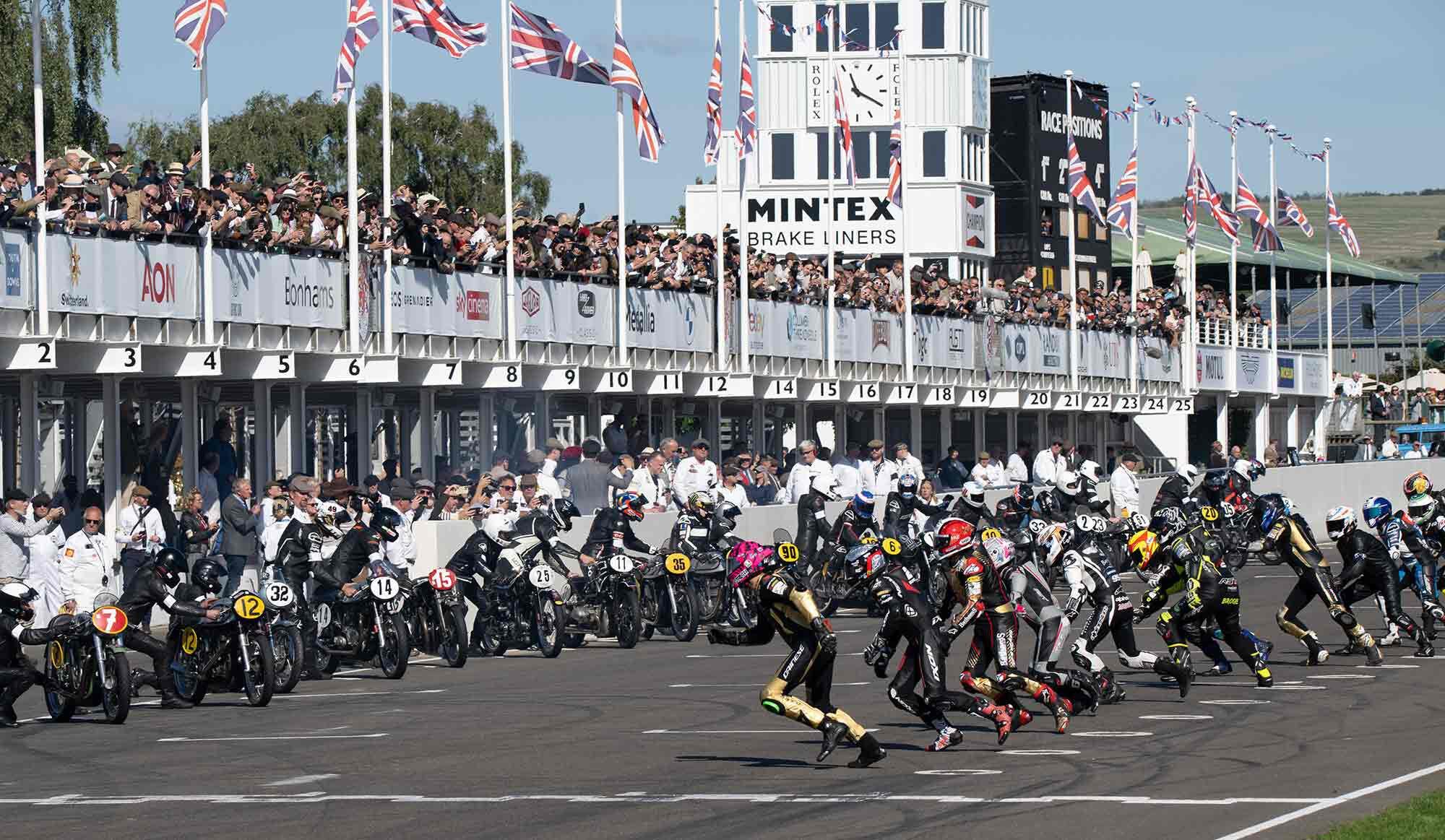 The motorcycle races begin with the fabled Le Mans start, riders running across the track to their motorcycles. Of course the bikes are also running because a big British racing single mostly doesn't like to start in a hurry. (Oli Tennent/)It was exciting to see a full grid of glorious
Manx Nortons
and some choice
Velocettes
, from a hot-rod MSS 500cc single in a Norton Featherbed to a one-of-three 1936 MT 500 OHC factory racer with girder fork. Triumphs, Royal Enfields, and Matchless were fielded, as well as a Gilera and four-cylinder MV Agusta, and the paddock area was perfectly retro right down to a fellow inflating his tire with a foot pump. There wasn't a compressor in sight. We motorcycle enthusiasts humbly ask for more bikes, more races, and a larger paddock.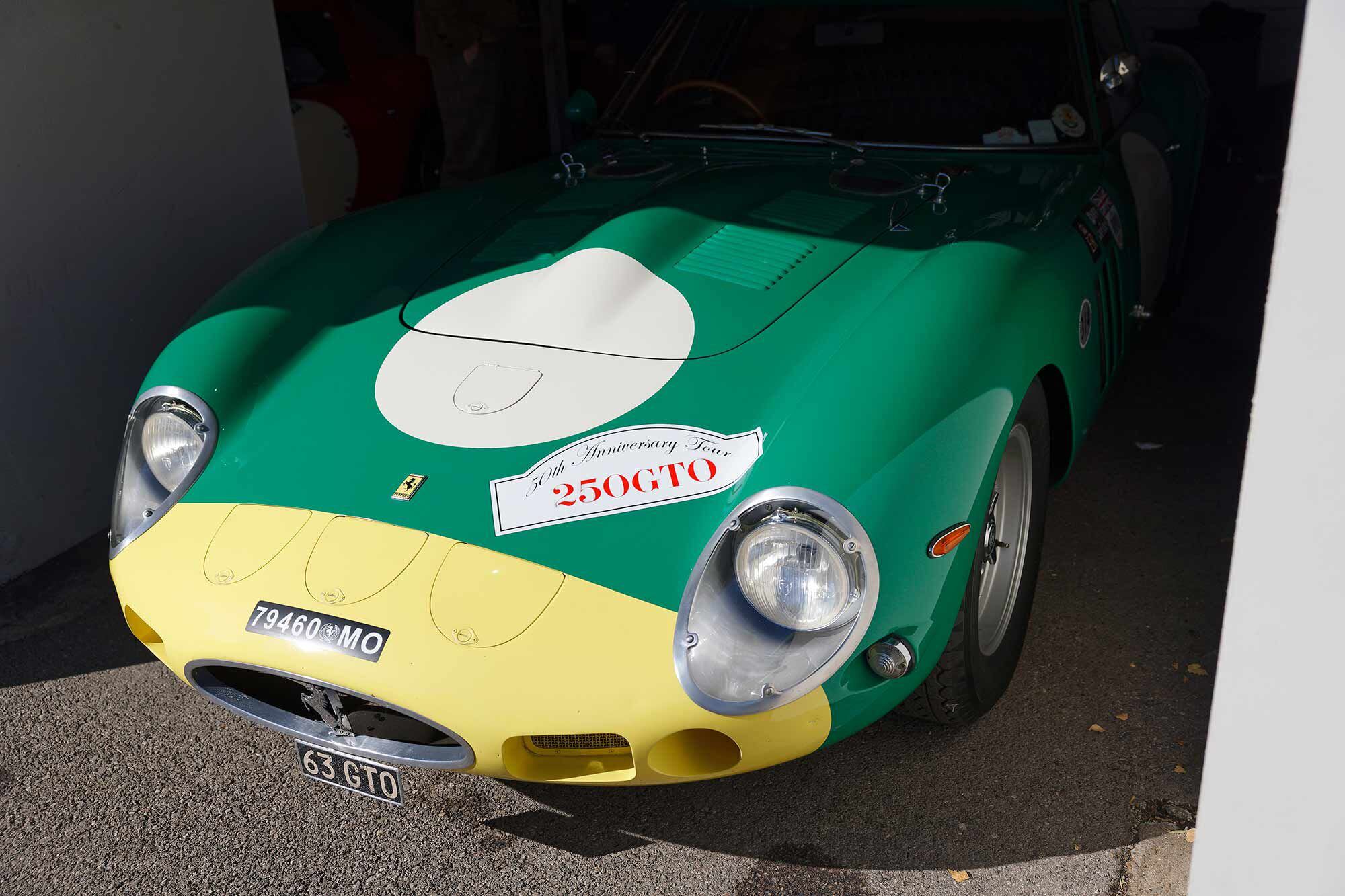 A Ferrari 250 GTO will set you back something like $50–$70 million. There were three at Goodwood Revival 2022. (BMW/)Walking the car paddocks and displays revealed three Ferrari 250 GTOs, among many historic Ferraris, Jaguars, Alfas, Fords, MGs, Triumphs, BMWs, and so many arcane marques we've never heard of as to add to the overload. Out in the grass beyond the track was the airfield with Spitfires, Hawker Hurricanes, P-51 Mustangs, and other aircraft, set up on a mock military camp and adjacent to a field filled with surely every tiny 1923-39 Austin Seven ever made. There was a steam-powered hay baler making bales all weekend, and if that wasn't enough, the merry-go-round was also steam powered.
Hundreds of motorcycles were parked around the Goodwood Revival grounds, both civilian and military. The level of dedication and thorough embrace of this event are embodied by this couple astride a wartime Ariel. (Oli Tennent/)Vintage motorcycles were scattered around the entire event grounds, tucked in and leaned against walls, and parked in circles not far from the "UFO crash" near the tunnel under the track. Goodwood is so thoroughly celebratory, so perfectly staged down to the finest detail, that no motorcycle or car event I have attended comes close for pure suspension-of-disbelief happiness. It is so absolutely, utterly focused on the enthusiasts that nearly all embrace it with period dress and positive attitudes. This means, therefore, that its elevation to the next level is
by
the fans.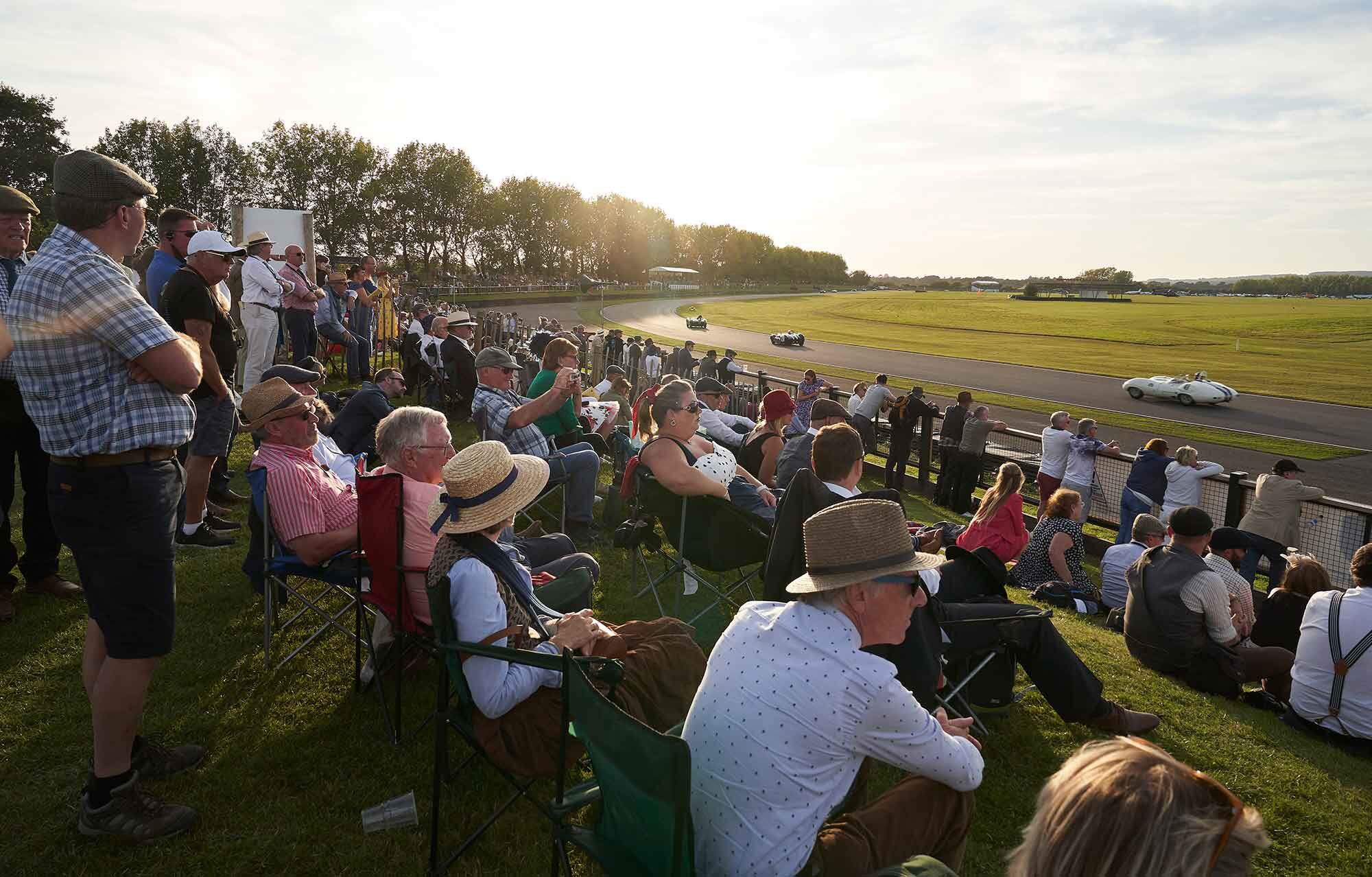 The Goodwood Revival delivers ambiance like no other race meeting in the world. (Oli Tennent/)And every time something glorious goes past on full throttle ripping the sky open with sound, anyone who has ever felt the deep satisfaction of speed is reminded of the transformational nature of transportation for its own sake. Never mind the fact that motorcycles and cars also make getting to the store a lot easier.
Zounds the sounds! There are so many amazing cars and races here, but, alas, only two motorcycle races. We humbly request a greater mix of bikes and more races while thoroughly appreciating the four-wheel heroes on track. (Oli Tennent/)Motorized movement will always feel good. How it sounds, how it looks, and what it burns or doesn't will almost certainly change. But we have a hard time envisioning a Goodwood Revival populated by silent vehicles. It rather seems like it would be a rock concert without amps. Perhaps we have just imprinted on the loud and fast, and our parents or parents' parents who grew up on ukuleles and string quartets might disagree.
Which just shows that generations make the world they want by working with what they have. Goodwood definitely felt like the best part of the past, but we in the present can't neglect our job of planning a workable future. And we should be sure to build something to celebrate, something loud, something fast, something real.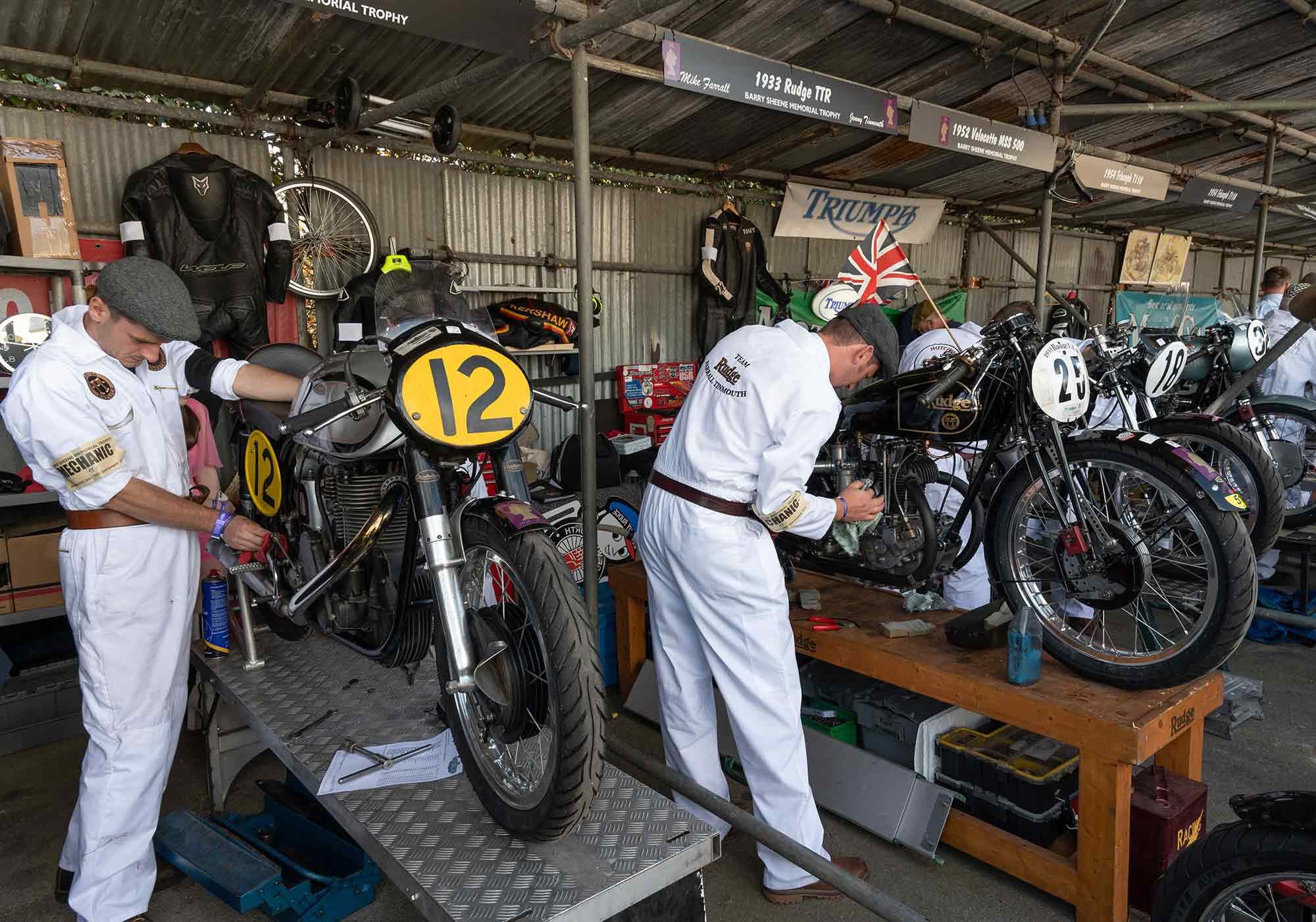 No vintage event we've attended nails the vibe as perfectly as the Goodwood Revival, although covered paddock work areas were an unknown luxury to most riders in the Continental Circus of the Fifties and Sixties. (Oli Tennent/)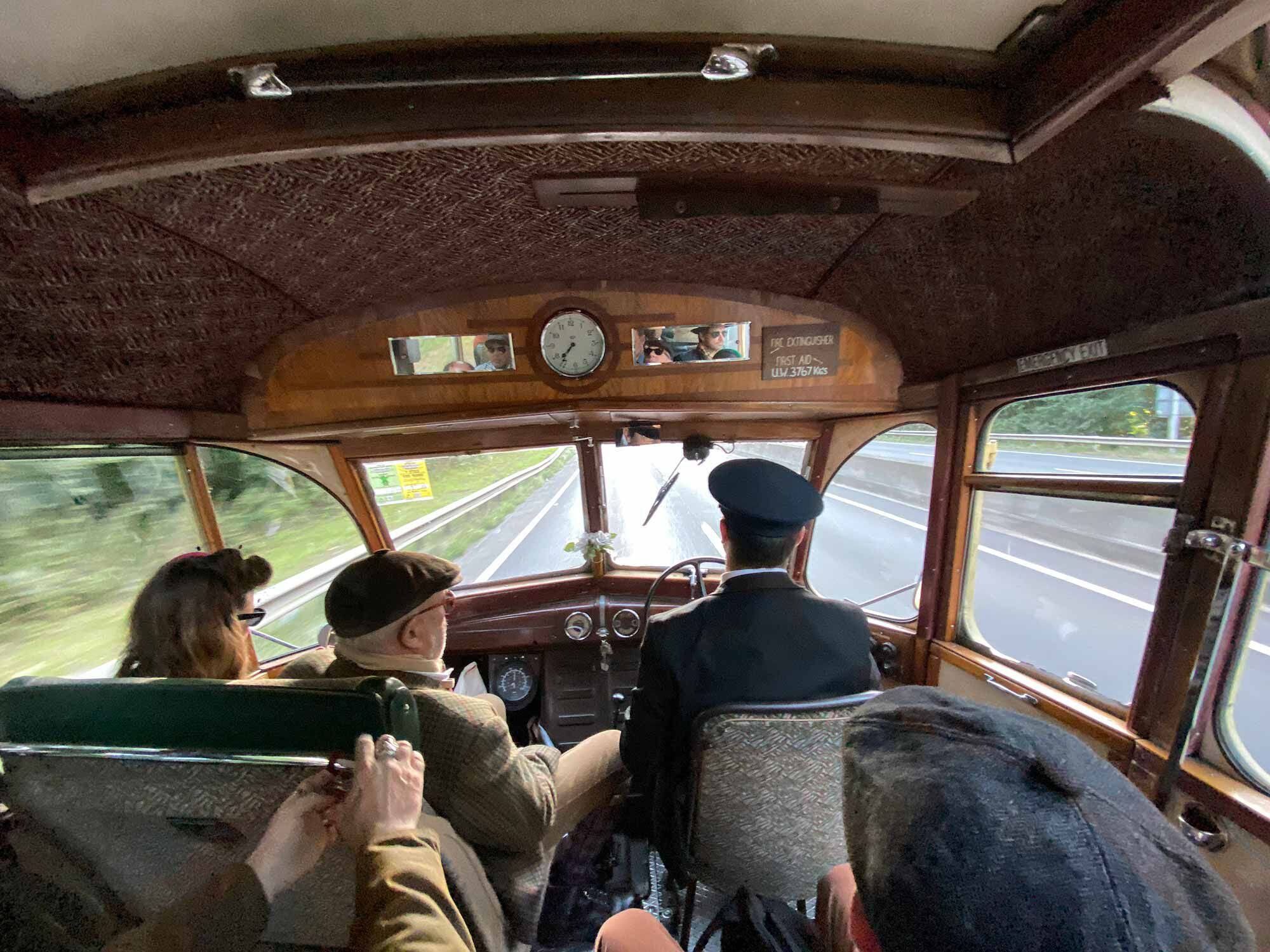 Cheating death at 42 mph on the motorway. Interior point of view in the 1949 Bedford OB 29-seat motor coach on the road to the Goodwood Revival. (Mark Hoyer/)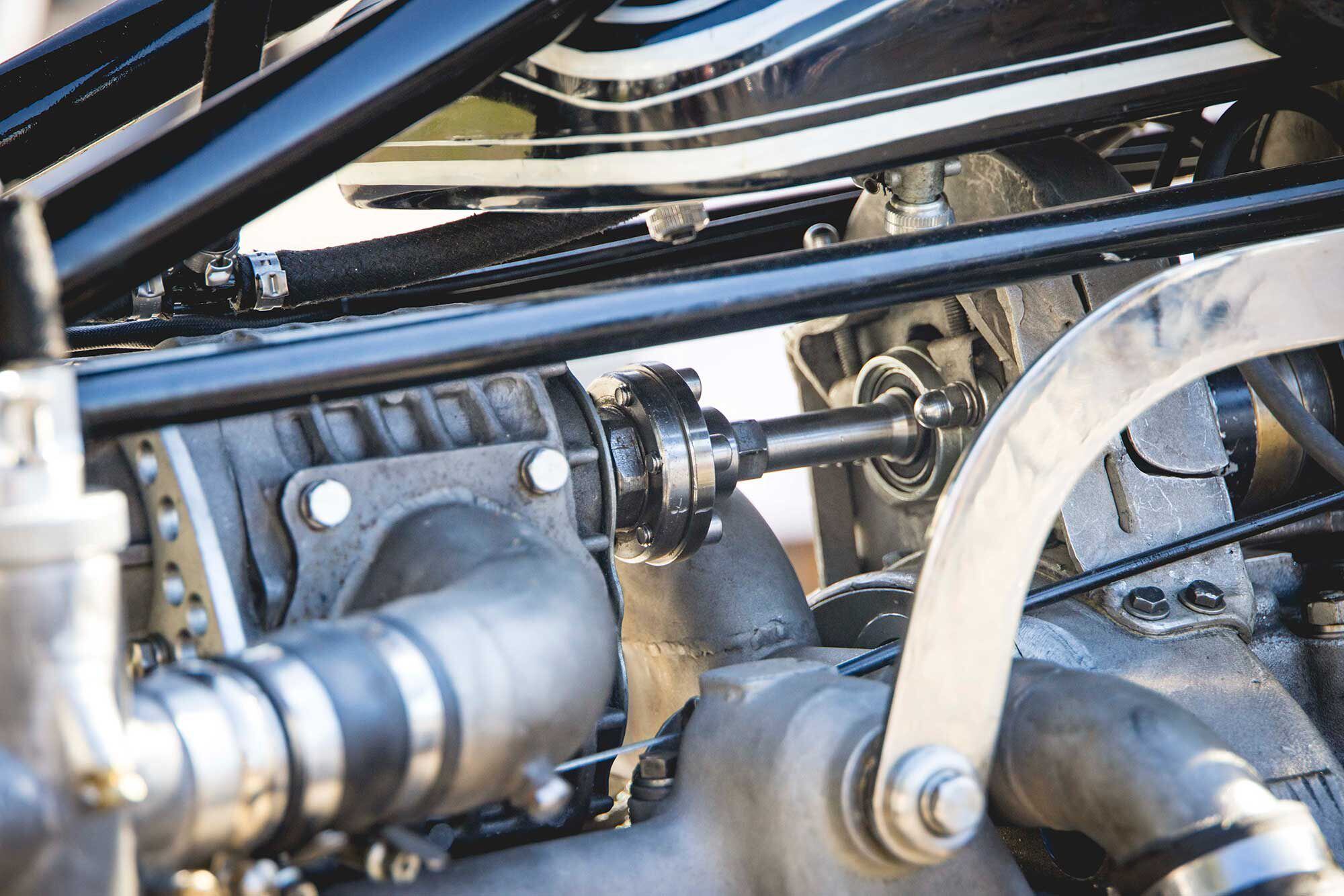 For a prewar 500cc flat twin to make something like 75 hp at the rear wheel, it requires this shaft-driven supercharger, or a Kompressor, as the Germans would call it. (BMW/)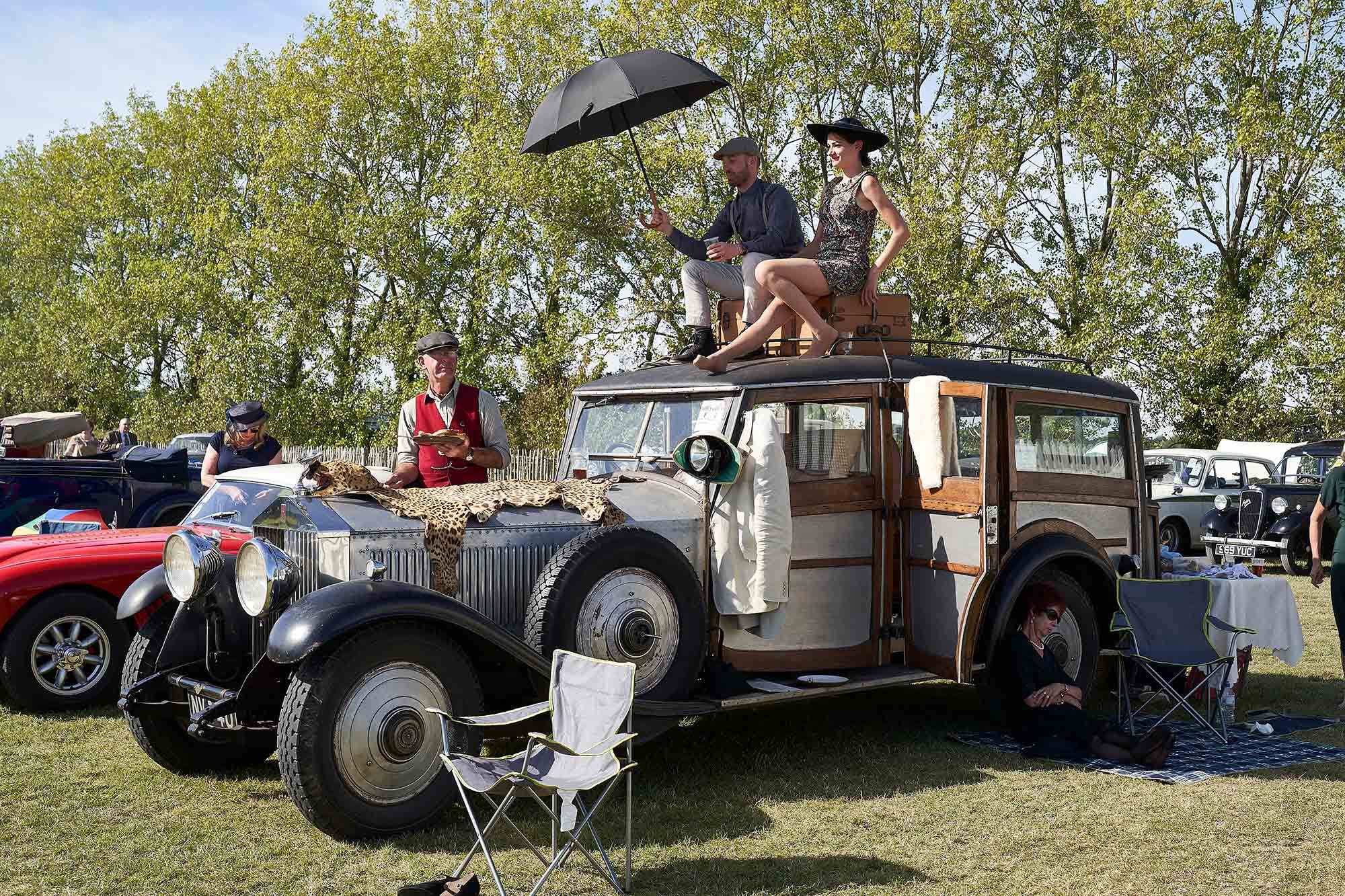 Just like at NASCAR? OK, maybe a little bit different as this couple enjoys the rooftop view on a Large Horsepower Rolls Royce. (Oli Tennent/)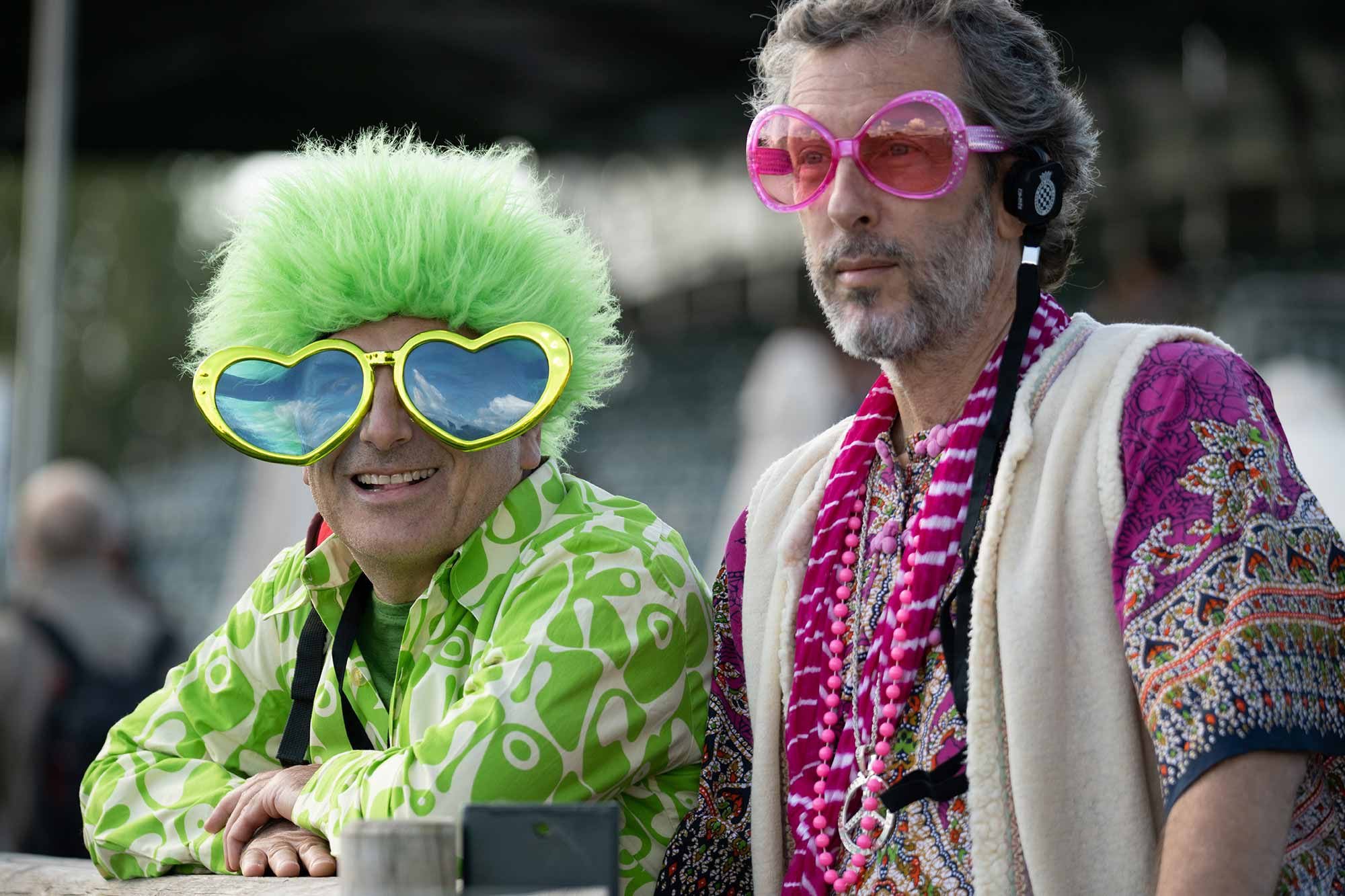 It isn't all tweed, flat caps, and boiler suits. (Oli Tennent/)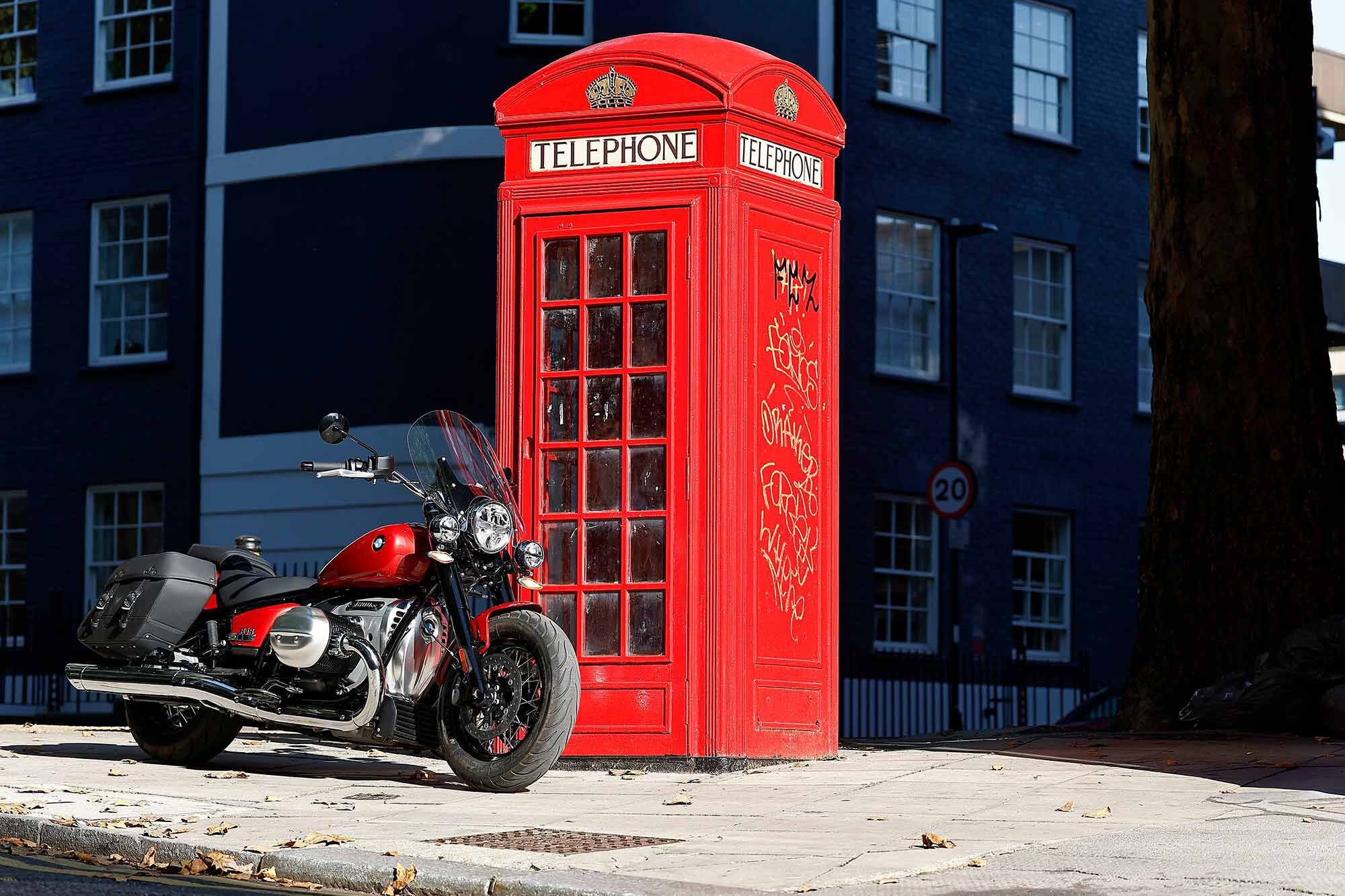 It's not possible for an American visiting England to skip running a picture of a motorcycle and a classic British phone box. The question remains, is there really a working telephone in there now? (BMW/)
The UFO crash site at Goodwood, complete with actors protesting and lads in military dress telling you there is "No need for photos, sir! Just move along. Nothing to see here." (BMW/)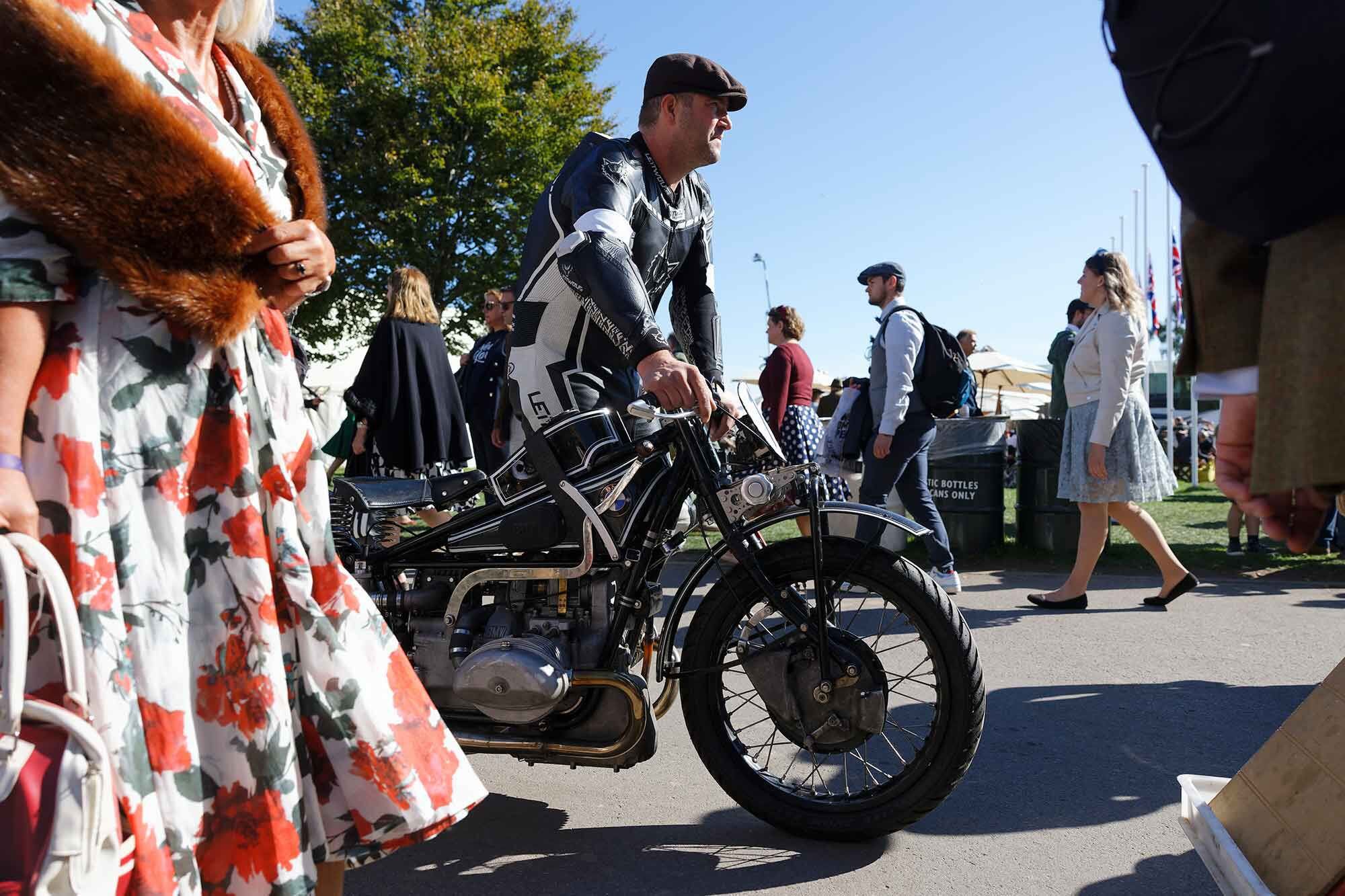 Owner/racer Herbert Schwab walks his 1929 BMW R 57 Kompressor to the start of the race to join teammate Eugene Laverty. (BMW/)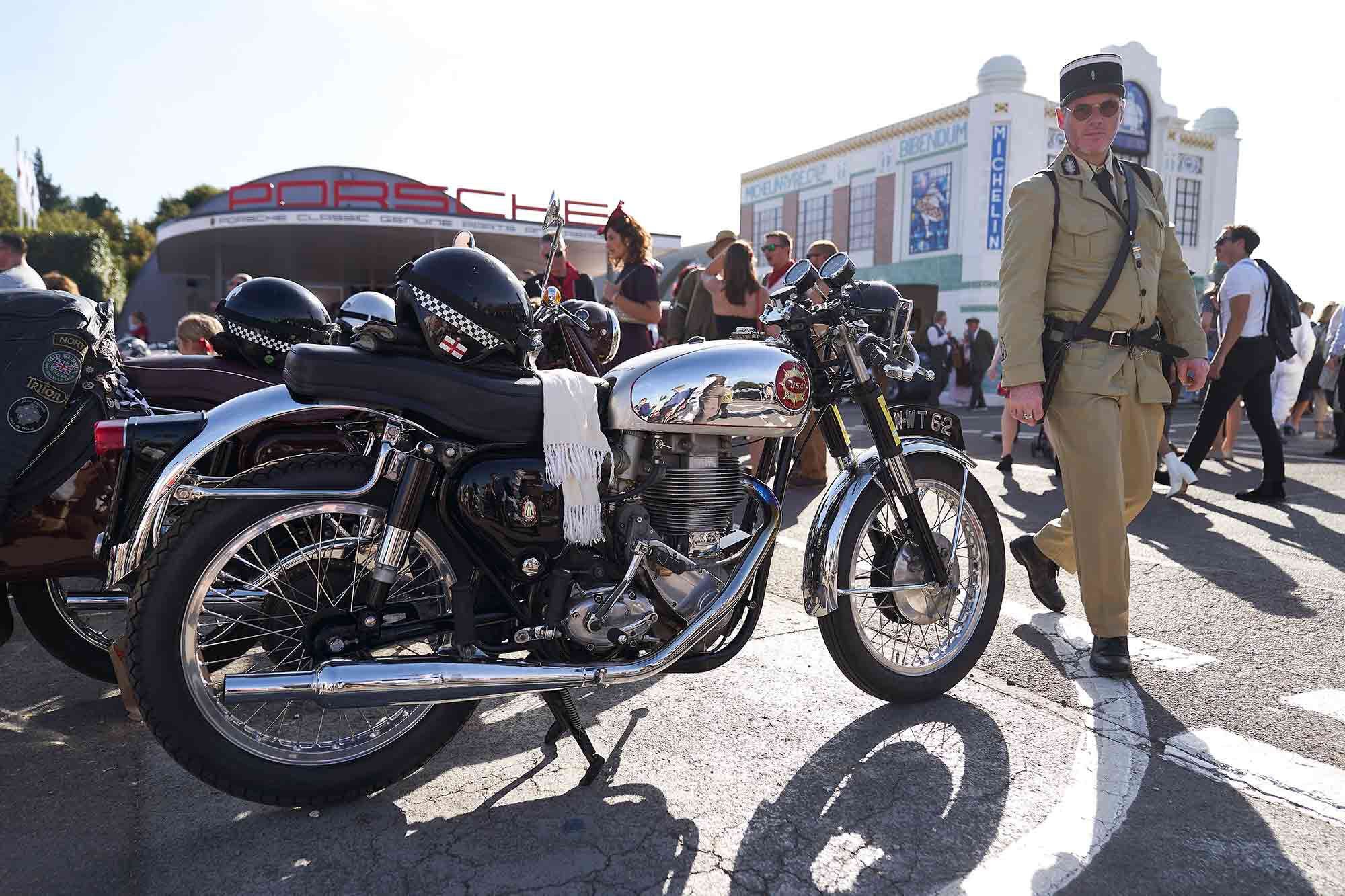 The very thorough vintage vibe is augmented by hundreds of classic bikes parked on event grounds. (Oli Tennent/)
Union Jack at half staff for the Queen. A cannon fired to mark the beginning and end of a minute of silence in Queen Elizabeth II's honor during our Saturday visit. (Oli Tennent/)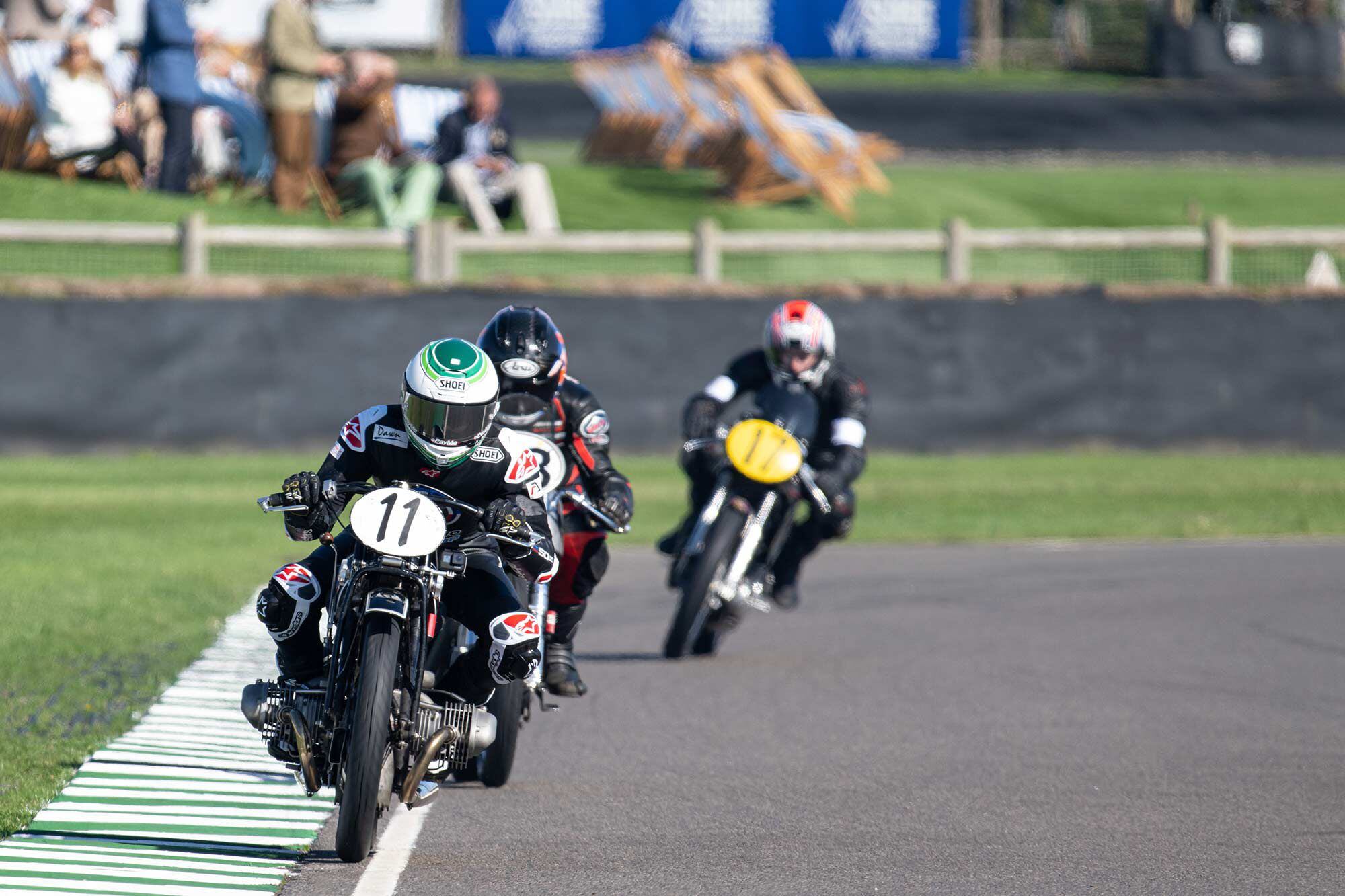 Laverty leads a small pack during race one at the 2022 Goodwood Revival. (Oli Tennent/)