More, flatter torque. Fewer emissions. What's not to like? We owe it all to valve lift.
Click here to view on their site.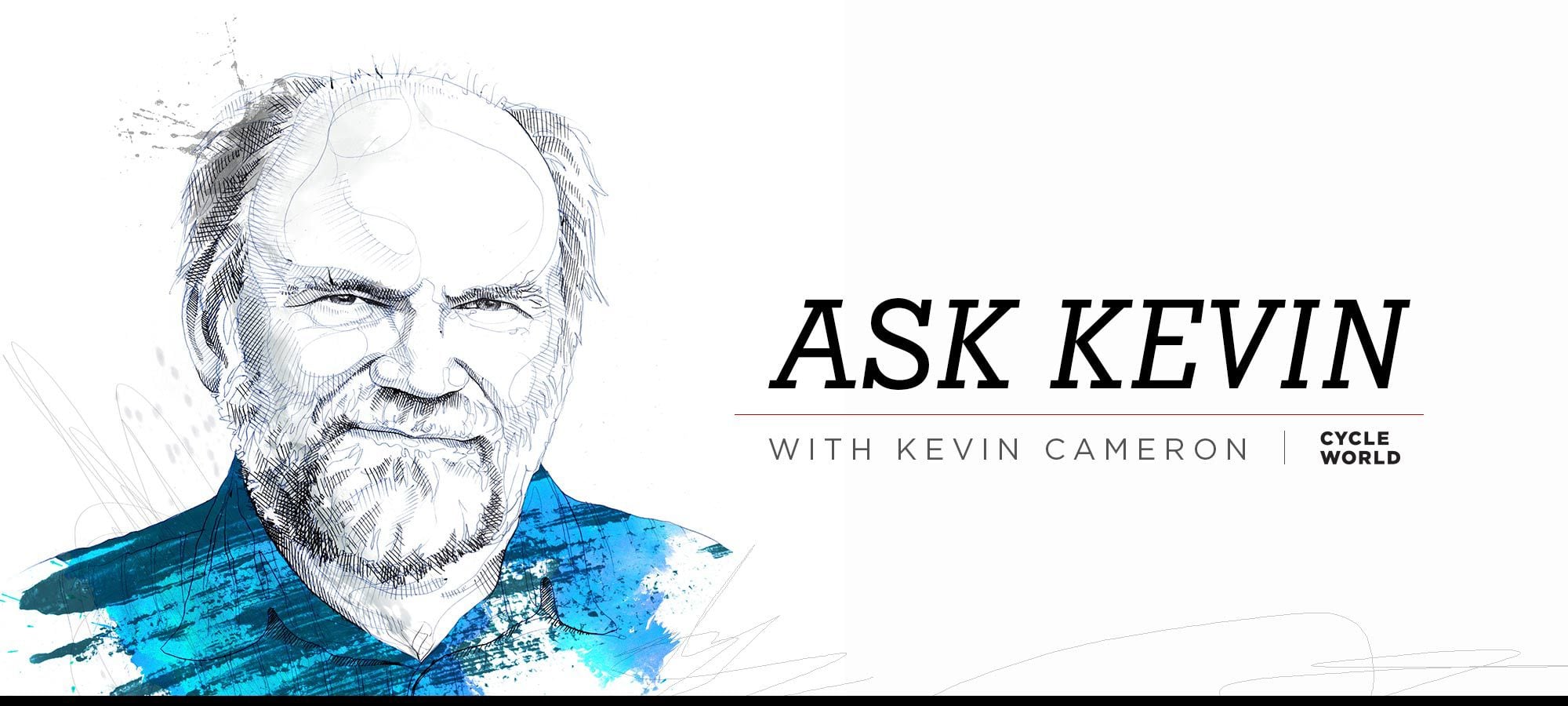 Kevin Cameron has been writing about motorcycles for nearly 50 years, first for
Cycle magazine
and, since 1992, for
Cycle World
. (Robert Martin/)What's so interesting about valve lift? For one, valve lift is the key to the superflat, easy-to-ride torque curves of today's
Euro 5-compliant motorcycle engines
.
Valve lift is just what it sounds like—the maximum distance to which the cam(s) in an engine lift the valves during their 720-degree cycle of opening and closing. One way of getting a broader understanding for valve lift is to look at it as a percentage of valve-head diameter.
In the early days of motoring, it was normal to lift valves to only 15 to 17 percent of valve-head diameter. Why so little? Before the 1920s, there was no science behind cam design, so hand-drawn cam-lobe shapes often produced uncontrolled accelerations that valve springs couldn't make the valves follow. The result was
valve float
(failure of the valve train to follow the cam contour), which leads to damage when the valves and piston collide, or when the valves hit their seats at high speed and bounce.
The lower the valve lift, the less difficult were such dynamic problems. To make up for the flow-restricting effect of low valve lift, builders just increased valve diameter.
Valve Lift, Curtain Area, and Included Angle
Remember, the flow area through a valve is the distance around the valve head (its perimeter) multiplied times the valve lift—the "
curtain area
."
This method of providing more flow area resulted in valves so big that two of them would not fit within the small cylinder bores fashionable in the 1920s. One way to provide the room for bigger valves was to tip the valve stems widely apart (90 or 100 degrees) so they were located on two longer sides of an isosceles triangle whose base was the cylinder bore. Developed by Fiat for a Grand Prix car engine of 1922, this concept was accepted as "best practice" for many years, and was the origin of the deep "hemi combustion chamber." Motorcycle engines strongly influenced by this tradition were the Gilera and
MV four-cylinder
racers of the late 1940s to early '60s, and
Edward Turner's production Triumph twins
.
Related:
Smooth Operators
Thoughtful engineers did some arithmetic and announced that valve lifts equal to 25 percent of valve-head diameter would produce flow area equal to that of the port serving the valve. Think about this: What that means is the entire time the valve is open,
save for the instant of peak lift
, the valve is restricting the port. Disregarding that logic, the use of valve lift equal to 25 percent of head diameter went on for years.
Valve Overlap
Because engines needed more air than they could get using these ideas, performance improved when valve overlap was added, and the intake valve stayed open longer after bottom center. The first allowed residual exhaust gas above the piston at TDC, end of exhaust stroke, to be drawn away by negative wave action in a properly dimensioned exhaust pipe, while the latter allowed the kinetic energy of the inrushing intake flow to continue filling the cylinder after bottom dead center.
Trouble was, such extended cam timings weakened engine torque at lower revs, narrowing the engine's powerband.
Valve overlap
at lower revs allowed backflow from the exhaust pipe, and when intake velocity was low late intake valve closing allowed the rising piston to push slow-moving charge back the way it came. Racers called this "
megaphonitis
" and it was responsible for the narrow power of the classic British singles such as
Manx Norton
and Matchless G50.
Then came the four-valve revolution of the 1960s, changing almost everything for the better. Because two smaller intake valves had 42 percent more total perimeter than a single large valve of the same head area, the curtain flow area created per millimeter of valve lift was 42 percent greater than for the single intake. That, in turn, meant it was no longer necessary to resort to long valve overlaps (some two-valve engines were given over 80 degrees of overlap!) or very late intake closings. That in turn closed the door on much of the losses described in the previous paragraph. The result was just as much or greater power, but
with a wider and flatter torque curve
.
When Japanese motorcycle manufacturers focused their R&D on four-valve engines, they tossed aside the old belief that there's no need to open valves to more than 25 percent of their head diameter. Their view was, "Let's get the valve out of the way as quickly as possible and get some real flow going early!"
In the two-valve days nobody played much with higher valve lift because with two heavy valves, adding more lift would ask too much of the valve springs, resulting in the usual mechanical trouble. Or, with the traditional wide valve-stem included angle, higher lift during overlap ran a very real risk of the valves hitting each other. But two smaller intake valves having the same head area as a single bigger valve
weigh a lot less than that single large valve
. This made higher valve lifts possible because they could be achieved without resorting to ultrastiff valve springs. Soon four-valve engines began to appear that were opening their paired intake valves to
40 percent
of valve-head diameter.
Four-Valve Designs
When four-stroke motorcycle roadracing resumed as MotoGP in 2002 it was quickly learned that traditional soup-up methods produced unrideable machines. Every organization with F1 engine design experience that has tried its hand at MotoGP has failed—the first was Cosworth, creators of
Aprilia's three-cylinder "Cube,"
the most powerful bike on the circuits but with mysteriously slow lap times. BMW built prototypes, but test rider
Jeremy McWilliams
included them in his category of "high-siders"—their sudden, narrow power was magnetically attracted to gravel. Same when Ilmor designed a V-4 for the 800cc era.
Related:
Cracking the Throttle, Cracking the Code
What worked better were engines with wider, flatter torque delivery that was easier for the
fast-developing electronic rider aids
to "civilize." The problem that had stopped the F1-based engines was that of precisely matching engine torque to the very limited traction offered by a motorcycle's small single tire footprint. The more constant engine torque could be made, the easier it became to match it to tire grip.
What was required to achieve such constant torque was shorter valve timing, with higher valve lift to compensate. Higher valve accelerations were necessary to climb that taller hill in less time. By 2004 some MotoGP teams were already working their metal valve springs so hard that they had to change them
every evening
on race weekends. The result was the adoption of
pneumatic springs
and the use of every possible means to lighten and stiffen valve trains and make them better able to survive such short duration and high lift.
Valve Lift and Emissions
Next came the problem of meeting tightening vehicle emissions standards. A biggie here was valve overlap—the period around TDC at the end of the exhaust stroke when the exhaust valve(s) have not yet completely closed yet the intake(s) have begun to lift. The longer this overlap period, the greater the window through which some fresh charge could be lost straight out the exhaust, to become off-scale counts of unburned hydrocarbons. And so that window had to be closed, shortening overall valve timing and again requiring that valve lift be increased to compensate. And that, ladies and gentlemen, is why ultralight finger followers have been replacing traditional and heavier cup-type cam followers in new production engine designs.
The wide, flat engine torque that works best in MotoGP and World Supers required the creation of high-acceleration valve trains that could supply the required performance despite shorter overall valve timing and higher valve lift. That has happily turned out to also be an important tool in meeting Euro 5 emissions limits.
When I see the torque curves of recent motorcycle engines, and they are not "curves" at all but are almost rectangular (wide and flat) I think of them as "Euro 5 torque curves."