The SV650 has experienced peaks and valleys of popularity over the years, but the current model is true to Suzukiís original fun-loving intent.
Click here to view on their site.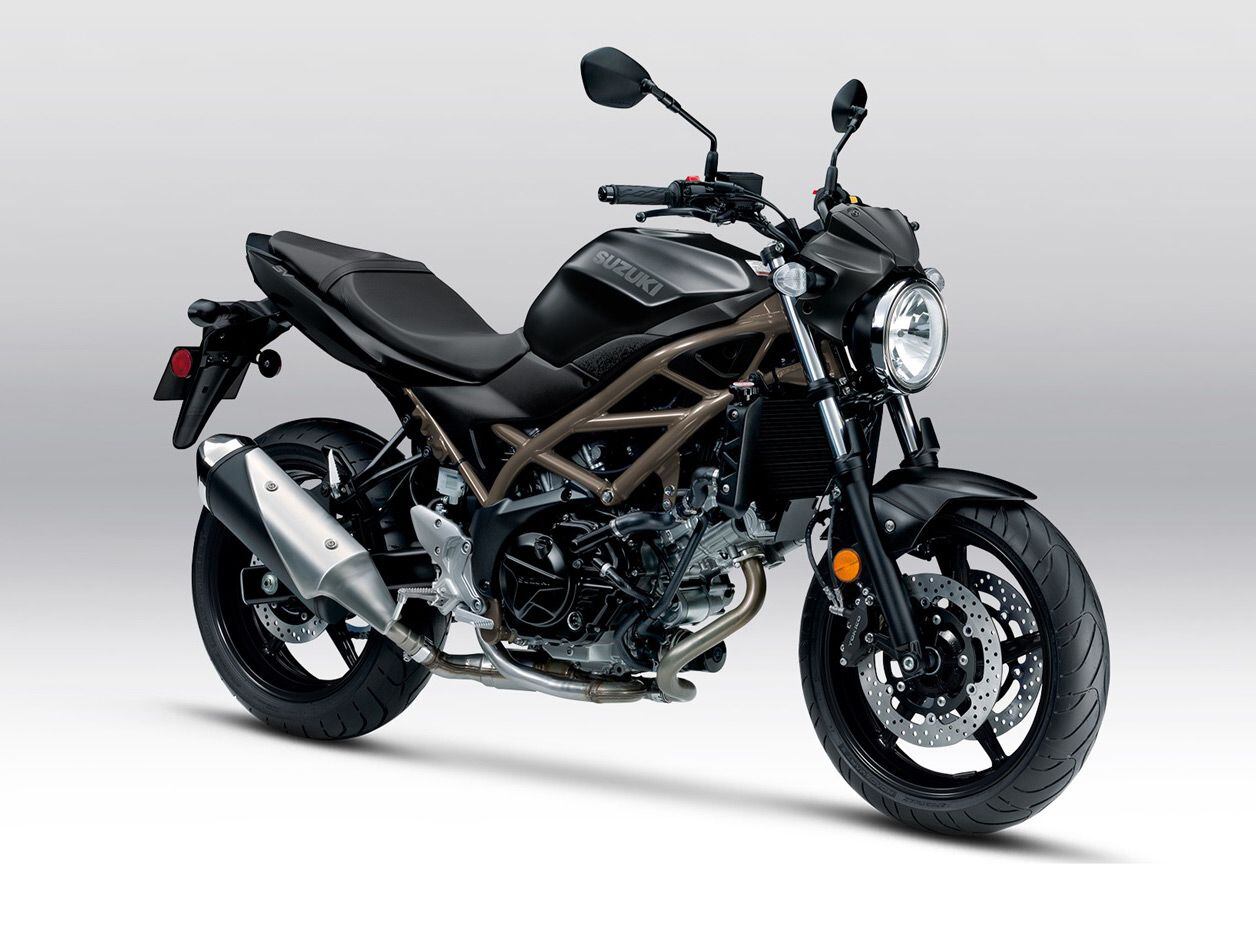 The SV650 has been Suzukiís standard bike flagship since 1999. (Suzuki/)Ups
Unique-for-its-class V-twin engine
Attractive price tag
Narrow seat
Great sound
Tried-and-true design
Downs
Tried-and-true design means no significant updates in recent years
Below-average front brake performance
Heavier than a majority of its competitors
Verdict
For those looking for a great first, second, or even one-and-only bike, the SV650 is a great bet. Todayís crop of competitors puts serious pressure on this proven platform, but the current SV remains true to its roots as a straightforward, simple, charismatic, and capable all-arounder.
Overview
The Suzuki SV650 is an iconic V-twin-powered middleweight. When it entered the fray in 1999, it set a high bar for standard motorcycles everywhere, because it did everything well and seemed to love it. The SV happily served everyone from first-timers to old-timers, many of whom kept them on as long-timers. Itís the rare motorcycle that can be both a first and a forever bike.
While it was wonderfully successful in its first few years, the SV650 unfortunately lost loyal fans when it was restyled and redesigned as the Gladius and SFV650 in 2009 and 2013, respectively. These bikes were heavier and decked out in bodywork that might charitably be called ďfunky.Ē Fortunately, it made a comeback in 2017, and got a tasteful follow-up in 2019 with the addition of the cafe-styled
SV650X
. The revised standard had returned to its roots, and was* approachable, straightforward, and most of all, fun.
Since its return to the tried-and-true design, the SV has introduced a new generation of enthusiasts to its combination of peppy, character-rich V-twin power and agile but predictable road manners. That combo makes it both a highly capable and entertaining commuter and a fun canyon carver.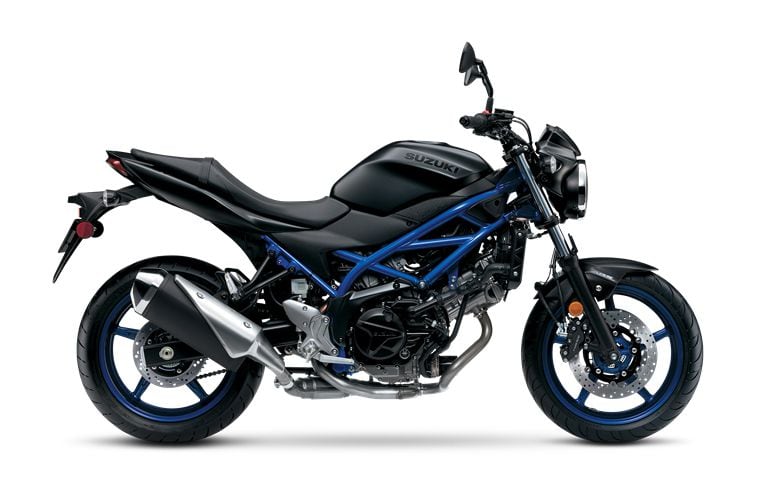 The SV comes in two iterations, one with ABS (shown here) and the other without. (Suzuki/)Updates for 2022
Why mess with success again? Suzuki learned its lesson the first time. Maybe a little too well, as the SV650 hasnít seen a major update in years.
Pricing and Variants
The SV650 is available with or without ABS ($7,749/$7,299).
Competition
Middleweight standards from around the world are coming at the Suzuki in droves. This includes three options from Japan and two from Europe: Yamahaís MT-07, Kawasakiís Z650, Hondaís CB650R, Triumphís Trident 660, and Apriliaís Tuono 660.
One thing to consider here is that the majority of the competition is powered by parallel-twin engines, with only the Honda CB650R using a four. Suzukiís V-twin gives it a notably different character, not to mention a much better sound.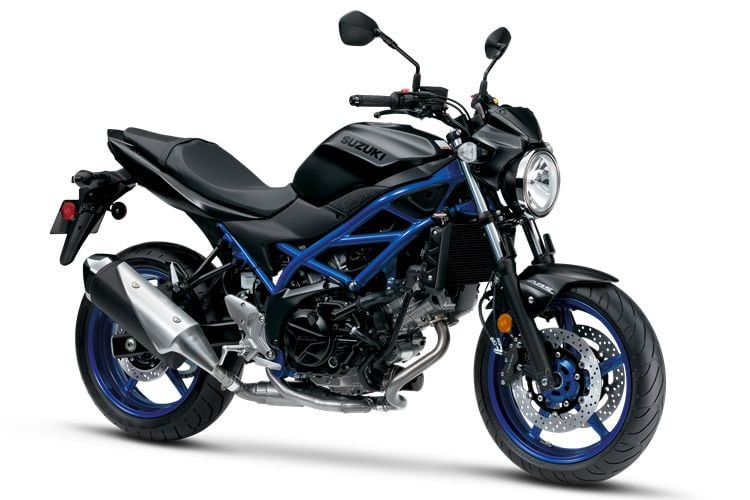 The 645cc V-twin engine in the SV is unique, configuration-wise, in the standard bike category. (Suzuki/)Powertrain: Engine, Transmission, and Performance
The SV650?s proven 645cc V-twin engine has plenty of low- to midrange power for passing traffic, pulling smoothly to its 10,000 rpm redline. In other words, thereís plenty of room to stretch the engineís legs at higher speeds. The intake and 2-into-1 exhaust also give fantastic tones. In our
past review
, the engine ďdisplayed the epitome of perfect fueling, sweet gearbox action, and easily managed throttle response.Ē
A useful feature for new riders is the bikeís low-rpm assist, which adjusts engine speed to help prevent stalling during takeoff. Startup is also an easy task; with a single press of a button, the Easy Start System runs the motor until the bike fires up. No need to pull in the clutch if the bikeís in neutral; make use of the free hand to adjust the mirrors, close your visor, or whatever, as the bike springs to life.
Producing a measured 69.3 hp at 8,530 rpm meant it produced more peak horsepower than its
2017 rivals
, but today, peak horsepower figures for middleweights is up in the 70Ė80 range (weíre looking at you
Trident 660
,
CB650R
, and
Tuono 660
).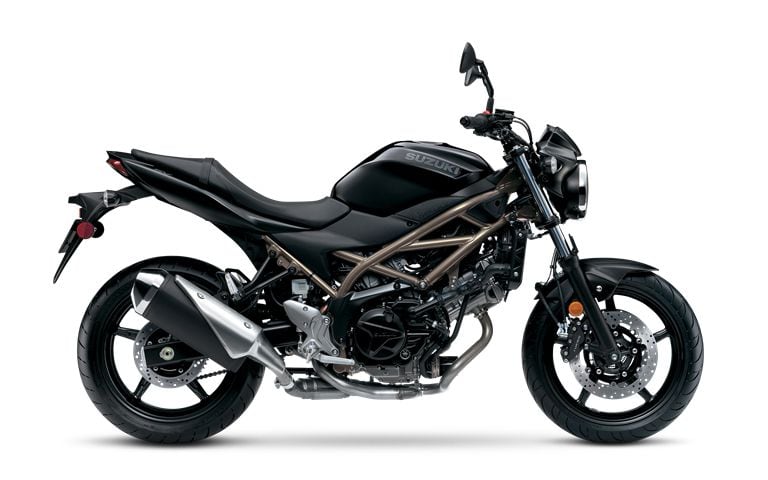 A narrow seat and wide handlebar give the SV650 its relaxed ergonomics. (Suzuki/)Handling
At a claimed 437 pounds, todayís ABS-equipped model is about 8 pounds lighter than the previous-generation SFV650, but 20 or more pounds heavier than current competitors, with the exception of the CB650R. Although this impacts agility somewhat, it aids in overall stability. In an earlier
comparison with the Kawasaki Z650 and Yamaha FZ-07
,
Cycle World
commented, ďThe SV650?s mellowed yet relatable charm is more apparent on the road. Itís not the lightest-handling bike in the group, but itís the most stable, predictable, and planted on a twisting canyon road and feels totally refined.Ē
Suspension is handled by a telescopic fork and link-type rear shock for a firm and sporty ride. These components are nonadjustable, with the exception of preload at the rear.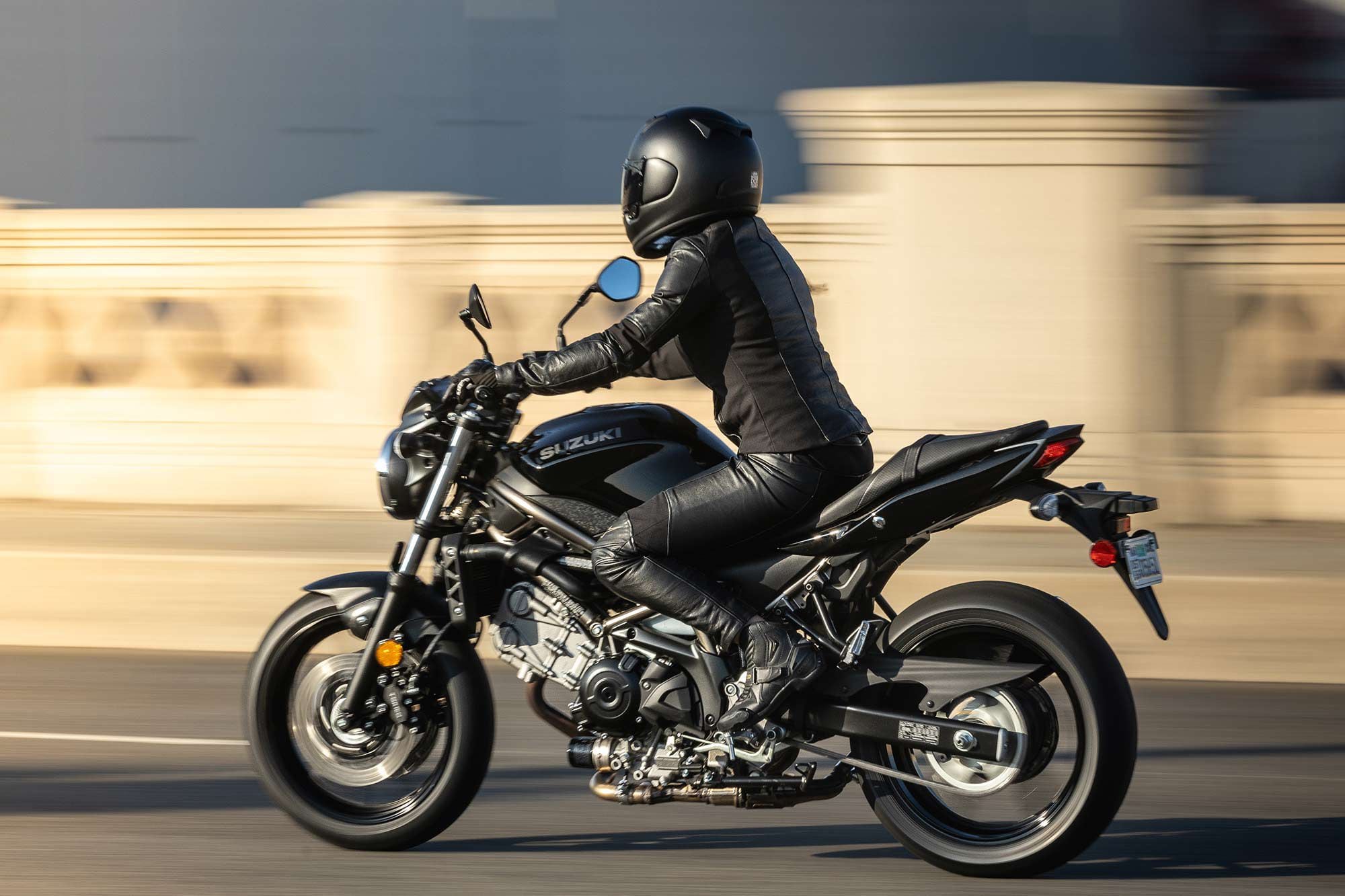 Sometimes itís OK to not overengineer a motorcycle. Suzukiís straightforward approach to motorcycle design makes the SV650 a capable and practical motorcycle for everyday riding. (Suzuki/)Brakes
Braking is handled by two four-piston Tokico calipers and a pair of 290mm floating stainless steel discs up front and a single one-piston caliper and 240mm disc out back. These contribute to good stopping power; however, we found the two front units lacking in bite and power, with numb feedback overall.
Testing the
brakes against its 2017 competition
showed that the SV needed more room to come to a stop. From 60Ė0, the SV stopped in 139 feet, which isnít bad, but the FZ-07 and Z650 did it in 136 and 132 feet.
Fuel Economy and Real-World MPG
We averaged 48 mpg during our testing. This was right in between the FZ-07 (51 mpg) and Z650 (47 mpg).
Ergonomics: Comfort and Utility
The SV650?s ergonomics are relaxed and comfortable. The point where the seat and tank meet is narrow and the handlebar is wide. It is relatively heavy, but the seat height is an admirably low 30.9 inches which makes keeping the bike upright at stops doable.
Although extended periods of time on the seat may cause discomfort, the overall riding position is neutral enough to make it an all-around comfortable commuter and weekend ride.
Electronics
Starting up the SV is a simple affair. The Easy Start System only requires a short press of the starter button while the bike is in neutral in order for the bike to come to life. Pulling in the clutch is not necessary.
A basic LCD display, halogen headlight, and LED taillight are standard; ABS is a $450 option.
Despite the suspensionís minimal adjustability, the spring and damping rates are well chosen, keeping the chassis nicely under control at a rapid pace in the twisty pavement sections without being too stiff at lower speeds on imperfect urban tarmac. (Suzuki/)Warranty and Maintenance Coverage
Suzuki offers a one-year limited warranty for the SV650 with the option to extend with Suzukiís Extended Protection plan.
Quality
Although, or perhaps because, this Suzuki hasnít had a recent update and the components are no longer cutting-edge, this bike is ridiculously reliable.
2022 Suzuki SV650/ABS Claimed Specifications
MSRP:$7,299 (non-ABS)/$7,749 (ABS)Engine:645cc, DOHC, liquid-cooled V-twinBore x Stroke:81.0 x 62.6mmTransmission/Final Drive:6-speed/chain
Cycle World
Measured Horsepower:69.3 hp @ 8,530 rpm
Cycle World
Measured Torque:44.2 lb.-ft. @ 8,000 rpmFuel Delivery:Electronic fuel injectionClutch:Wet, multiplateEngine Management/Ignition:Engine control module/electronic transistorizedFrame:Steel trellisFront Suspension:41mm telescopic fork; 4.9 in. travelRear Suspension:Link-type shock, preload adjustable; 2.5 in. travelFront Brake:Dual 4-piston Tokico calipers, full-floating 290mm discs w/ ABS (optional)Rear Brake:1-piston caliper, 240mm disc w/ ABS (optional)Wheels, Front/Rear:Cast aluminum; 17 in. / 17 in.Tires, Front/Rear:120/70-17 / 160/60-17Rake/Trail:25.0į/4.1 in.Wheelbase:56.9 in.Ground Clearance:5.3 in.Seat Height:30.9 in.Fuel Capacity:3.8 gal.Claimed Wet Weight:432 lb. (non-ABS) / 437 lb. (ABS)Contact:
suzukicycles.com