Click here for full story...
The 2022 Kawasaki Ninja 650: A Next Level Ninja for the Initiated
Contents
Kawasaki
, after all.
The
big Japanese bike brands
are all pros,
especially
when it comes to making sport bikes, so it shouldn't surprise you to learn that this year's Ninja 650 ABS is an extremely well-balanced offering. It's also pretty much exactly the same as
last year
'
s
Ninja 650—although the colors have been updated to Metallic Graphite/Graphene Steel Gray and Pearl Robotic White/Metallic Carbon Gray.
The engine's still a digitally fuel-injected 649cc parallel twin that spits out 67 hp @ 8,000 rpm and 47 lb-ft of torque at 6,700 rpm. It still has an assist & slipper clutch (just like the Ninja 400), an economical riding indicator, and ABS. Unlike its smaller sibling, the 650 offers smartphone connectivity via Bluetooth—but these were all on last year's model as well. And like that version, you can also pay an extra $200 to get the bike with distinctive KRT graphics.
Seriously, though—if it ain't broke, why fix it? The 2022 Ninja 650 is still a truly excellent all-rounder when it comes to mid-size sport bikes, and it certainly offers enough "oomph" to hang with rivals like the Honda CBR650R or Yamaha MT-07—earning it a well-deserved spot in the
2022 Kawasaki Motorcycle Lineup
.
The 2022 Kawasaki Ninja 650 ABS starts at $8,299 USD / $9,299 CAD. It's also available in the US without ABS for $7,899 USD.
On this page:
we've curated specs, features, news, photos/videos, etc. so you can read up on the new 2022 Kawasaki Ninja 650 ABS in one place.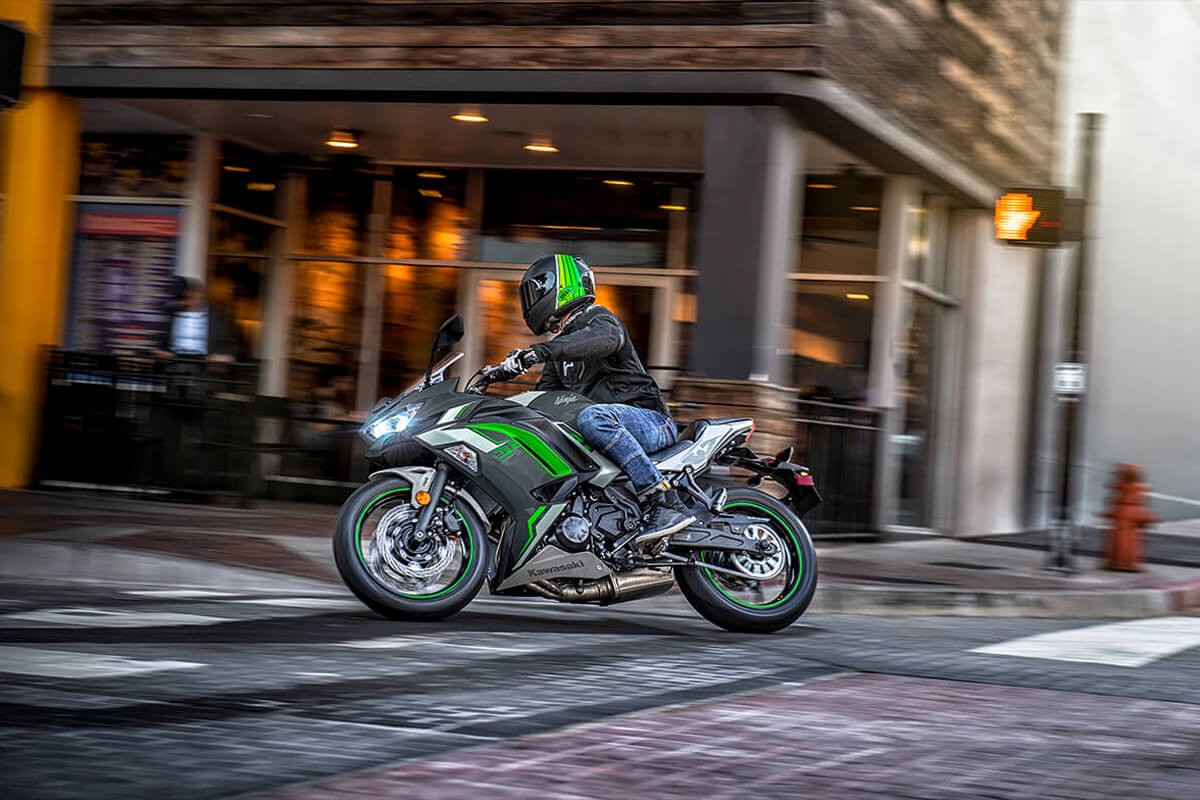 Model Overview
</p>
General Info
Price: $8,299 USD / $9,299 CAD
Key Features:

Assist & slipper clutch
Economical riding indicator
Bluetooth smartphone connectivity
Horizontal back-link rear suspension
Main Specs
Engine: digitally fuel-injected 649cc parallel twin
Power: 67 hp @ 8,000 rpm
Torque: 47 lb-ft of torque at 6,700 rpm
Dry Weight: 423 lbs (192kg)
Seat Height: 31.1 inches (790 mm)
Competitors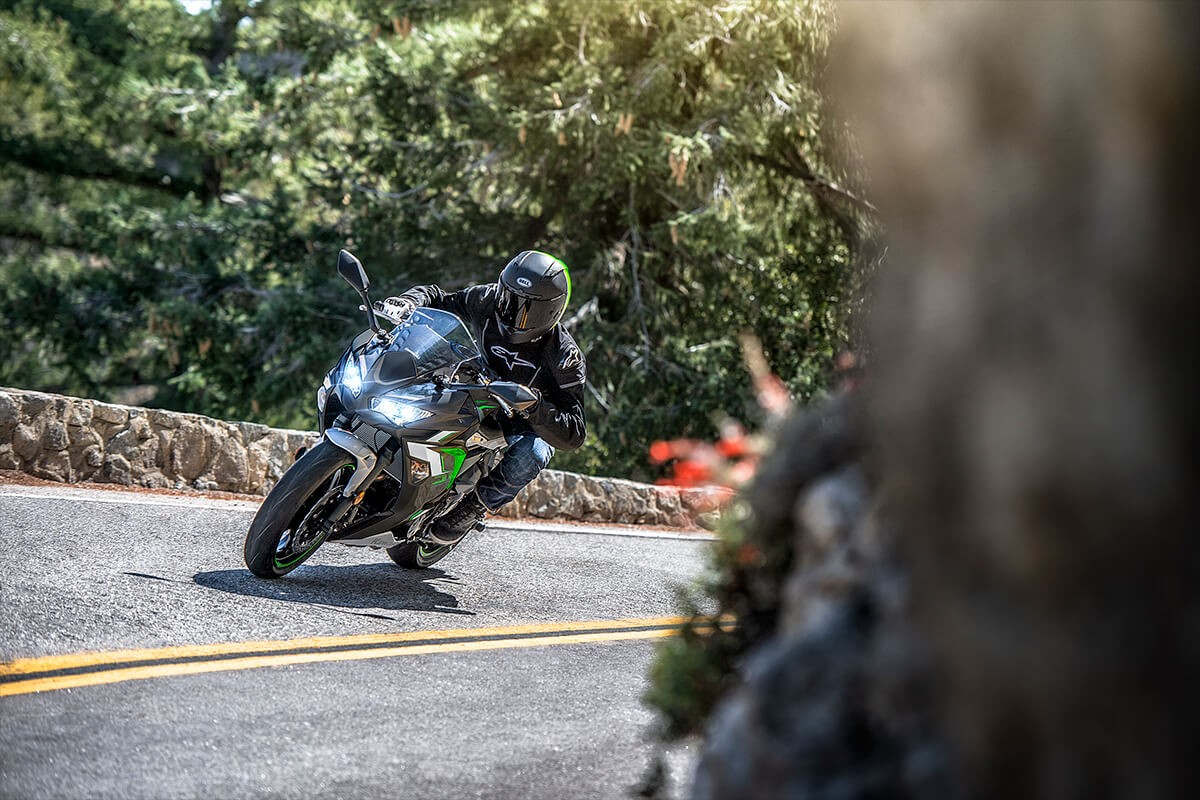 2022 Kawasaki Ninja 650 Specifications
ENGINE
Engine649cc, 4-stroke, Parallel Twin, DOHC, 8-valve, liquid cooledPower67 hpBore x Stroke83.0 x 60.0mmCompression Ratio10.8:1
Fuel SystemDFI® with dual 36mm Keihin throttle bodiesStarterElectricLubrication
DRIVETRAIN
ClutchTransmission6-speedFinal DriveSealed chain
CHASSIS
Suspension Front41mm hydraulic telescopic fork/4.9 inSuspension RearHorizontal back-link with adjustable spring preload/5.1 inBrakes FrontDual 300mm petal-type discs and 2-piston calipers and ABSBrakes RearSingle 220mm petal-type disc and single-piston caliper and ABS
Tires Front120/70×17Tires Rear160/60×17Fuel Tank Capacity4.0 galColorMetallic Matte Graphenesteel Gray, Pearl Robotic White/Metallic Carbon Gray
ELECTRICAL
IgnitionTCBI with electronic advanceSpark PlugsHeadlightLEDTail LightLED
DIMENSIONS
Overall Length80.9 inOverall Width29.1 inOverall Height45.1 inWheelbase55.5 inGround Clearance5.1 inSeat Height31.1 inCurb Weight423.4lb*
WARRANTY
Warranty12 MonthsKawasaki Protection Plus12, 24, or 36 months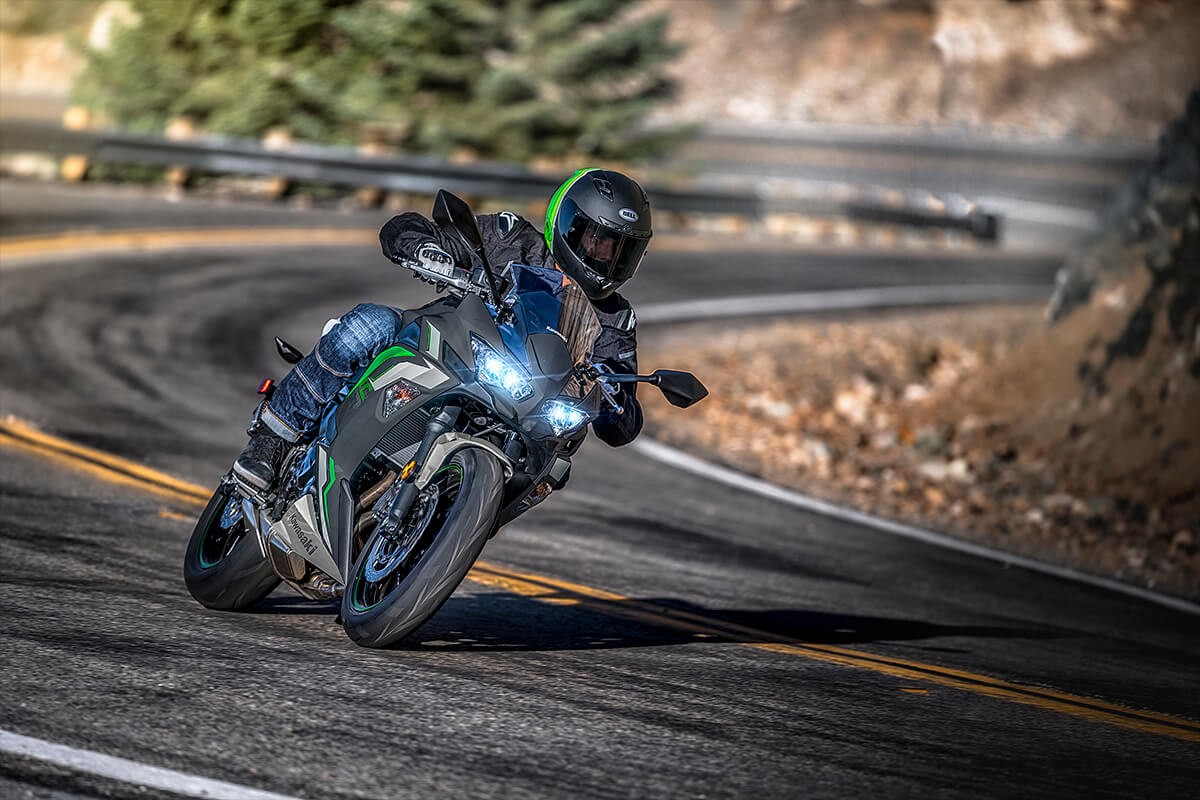 2022 Kawasaki Ninja 650 Features
Assist & Slipper Clutch
Based on feedback from racing activities, the Assist & Slipper Clutch uses two types of cams (an assist cam and a slipper cam) to either drive the clutch hub and operating plate together or apart.
Under normal operation, the assist cam functions as a self-servo mechanism, pulling the clutch hub and operating plate together to compress the clutch plates. This allows the total clutch spring load to be reduced, resulting in a lighter clutch lever feel when operating the clutch.
When excessive engine braking occurs – as a result of quick downshifts (or an accidental downshift) – the slipper cam comes into play, forcing the clutch hub and operating plate apart. This relieves pressure on the clutch plates to reduce back-torque and helps prevent the rear tire from hopping and skidding. This race-style function is particularly useful when sport or track riding.
Dual Throttle Valves
Late-model sport bikes often use large-bore throttle bodies to generate high levels of power. However, with large diameter throttles, when a rider suddenly opens the throttle, the unrestricted torque response can be strong. Dual throttle valve technology was designed to tame engine response while contributing to performance.
On models with dual throttle valves, there are two throttle valves per cylinder: in addition to the main valves, which are physically linked to the throttle grip and controlled by the rider, a second set of valves, opened and closed by the ECU, precisely regulates intake airflow to ensure a natural, linear response. With the air passing through the throttle bodies becoming smoother, combustion efficiency is improved and power is increased.
Economical Riding Indicator
Using high-precision electronic control for engine management, Kawasaki models can achieve a high level of fuel efficiency. However, fuel consumption is greatly affected by throttle use, gear selection, and other elements under the rider's control. The Economical Riding Indicator is a function that indicates when current riding conditions are consuming a low amount of fuel. The system continuously monitors fuel consumption, regardless of vehicle speed, engine speed, throttle position and other riding conditions. When fuel consumption is low for a given speed (i.e. fuel efficiency is high), an "ECO" mark appears on the instrument panel's LCD screen. By riding so that the "ECO" mark remains on, fuel consumption can be reduced.
While effective vehicle speed and engine speed may vary by model, paying attention to conditions that cause the "ECO" mark to appear can help riders improve their fuel efficiency – a handy way to increase cruising range. Further, keeping fuel consumption low also helps minimize negative impact on the environment.
ABS (Anti-lock Brake System)
Kawasaki ABS systems use front and rear wheel sensors to constantly monitor wheel speed. Should information from either of the sensors indicate that wheel lock has occurred, the ABS ECU directs the pump in the ABS unit to modulate brake fluid pressure (releasing and reapplying pressure so that traction can be regained) until normal operation resumes. ABS offers rider reassurance that contributes to greater riding enjoyment.
2022 Kawasaki Ninja 650 Photos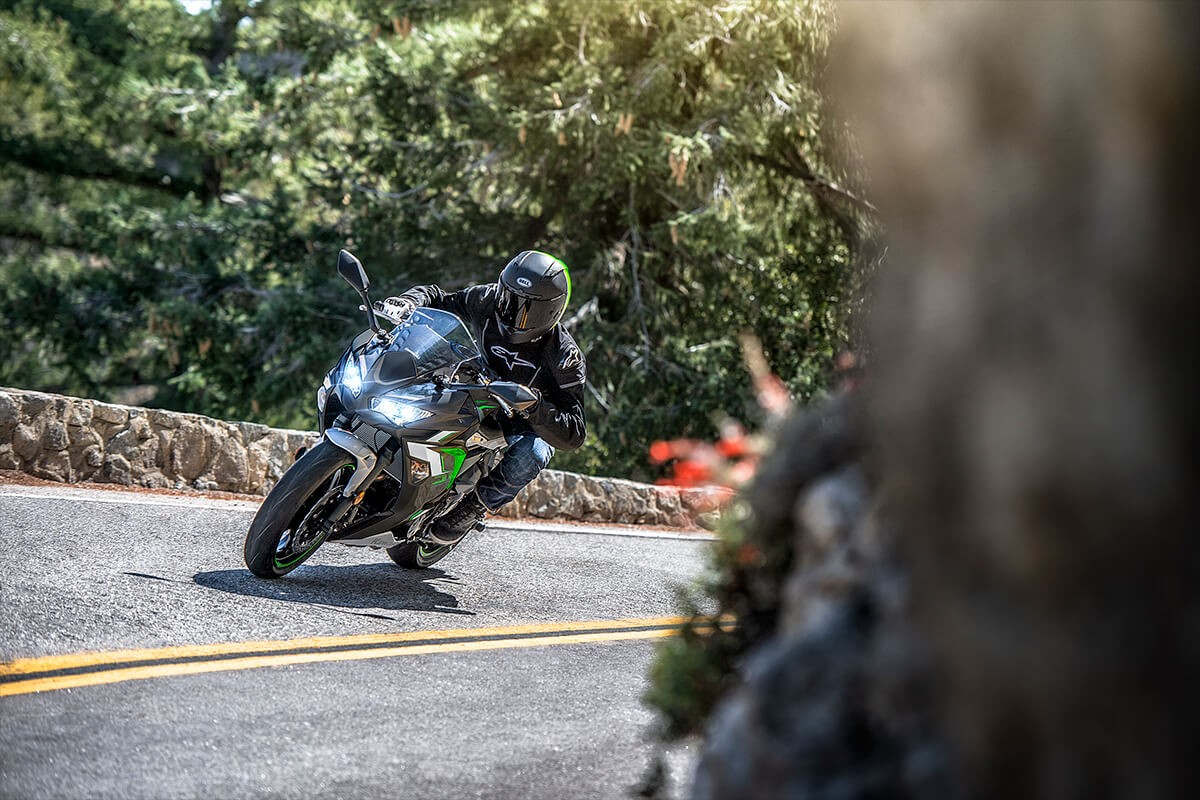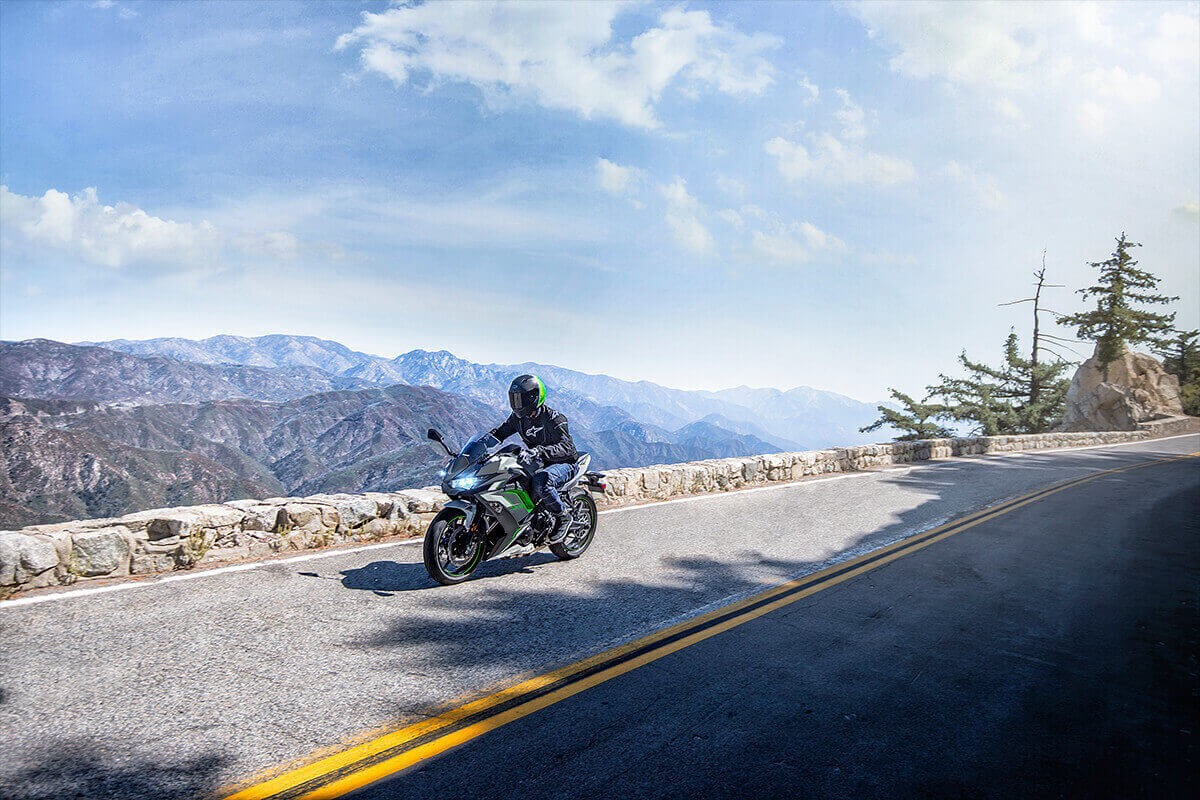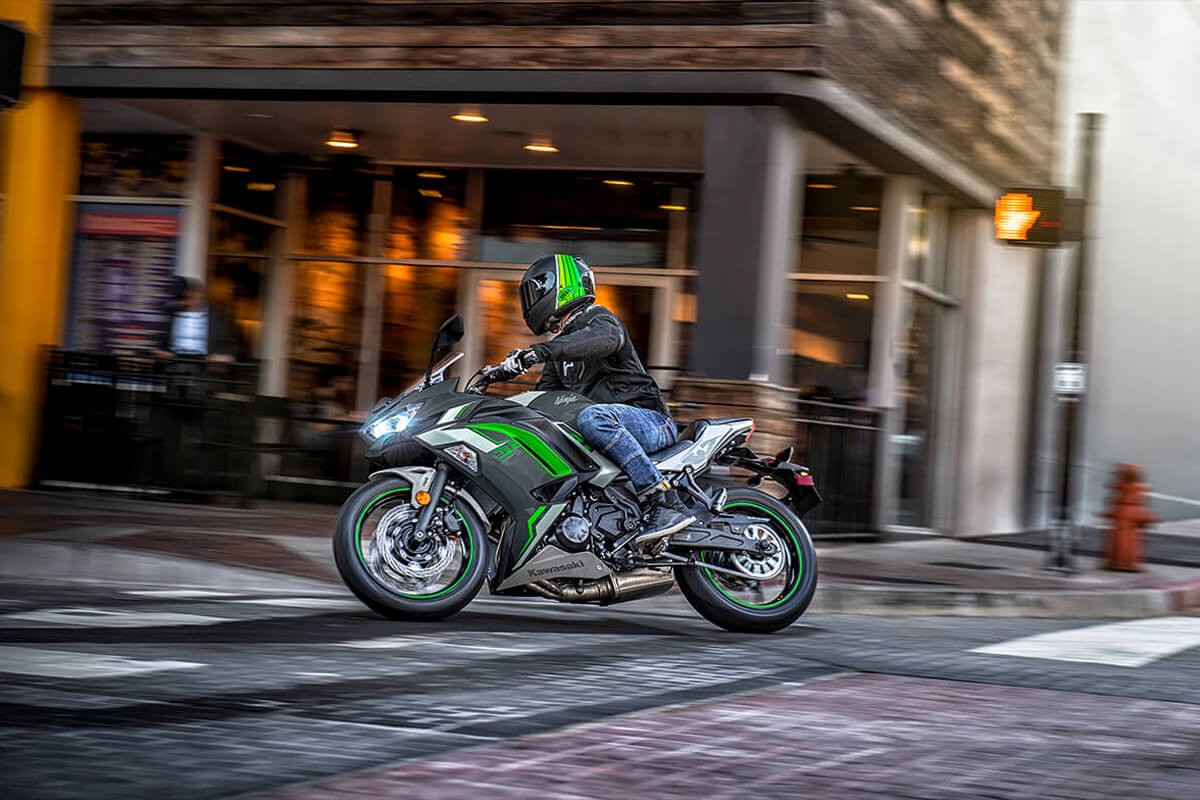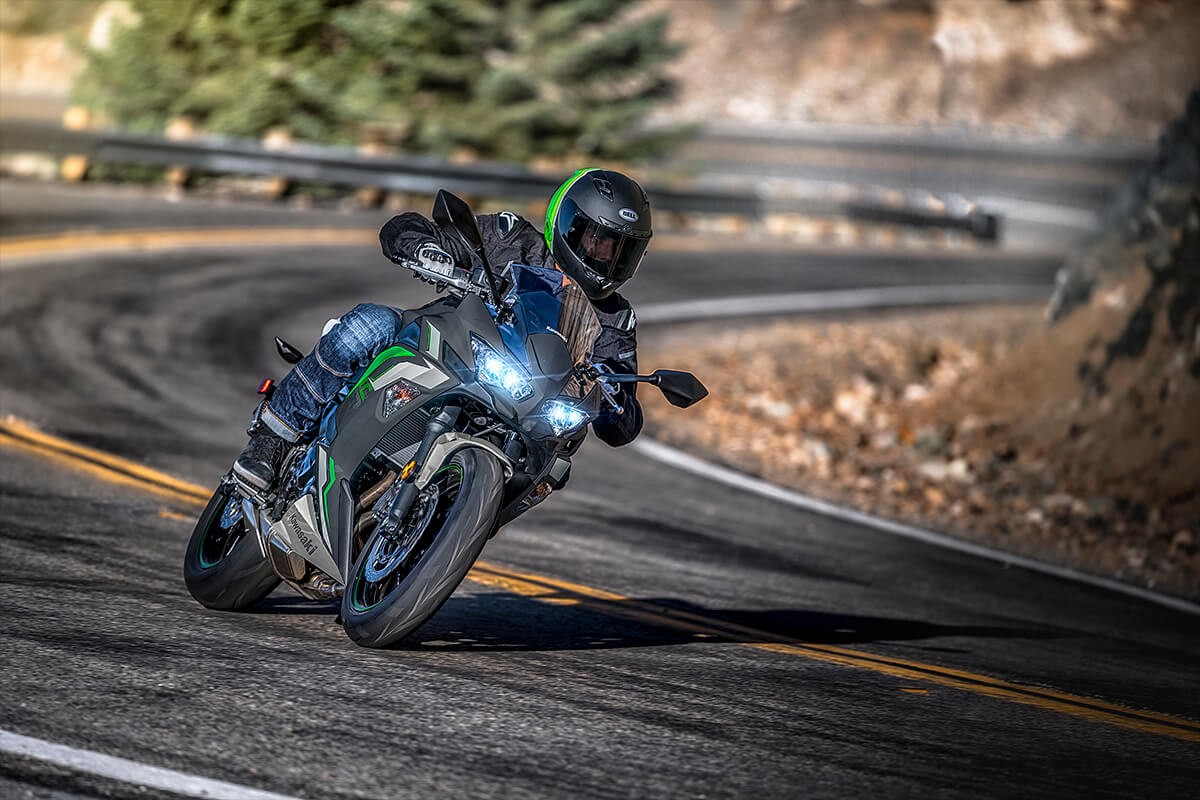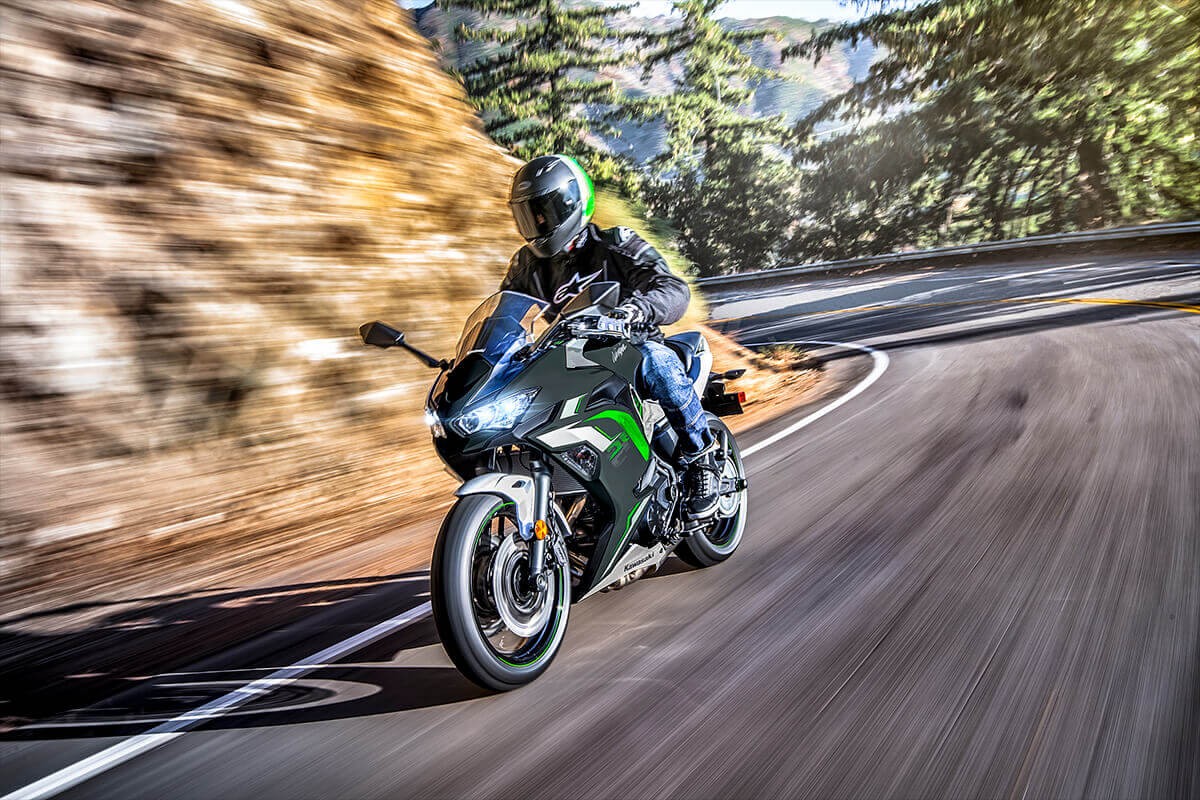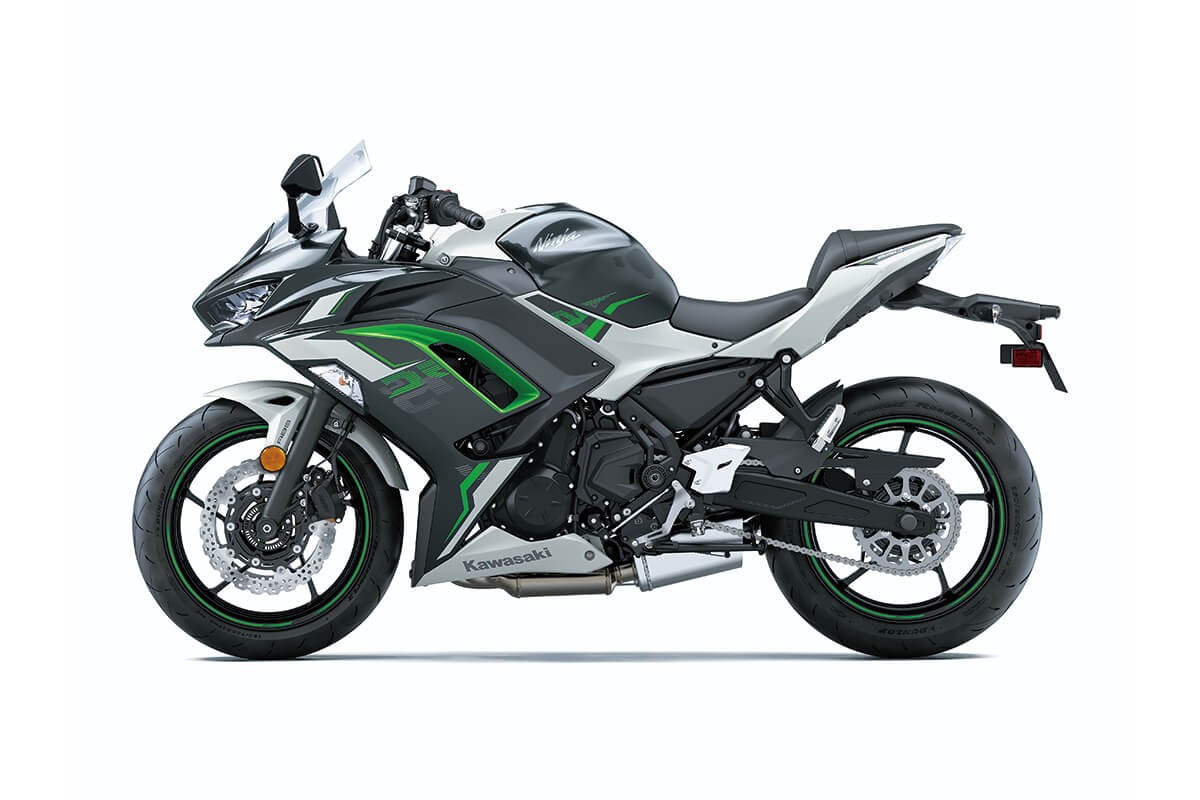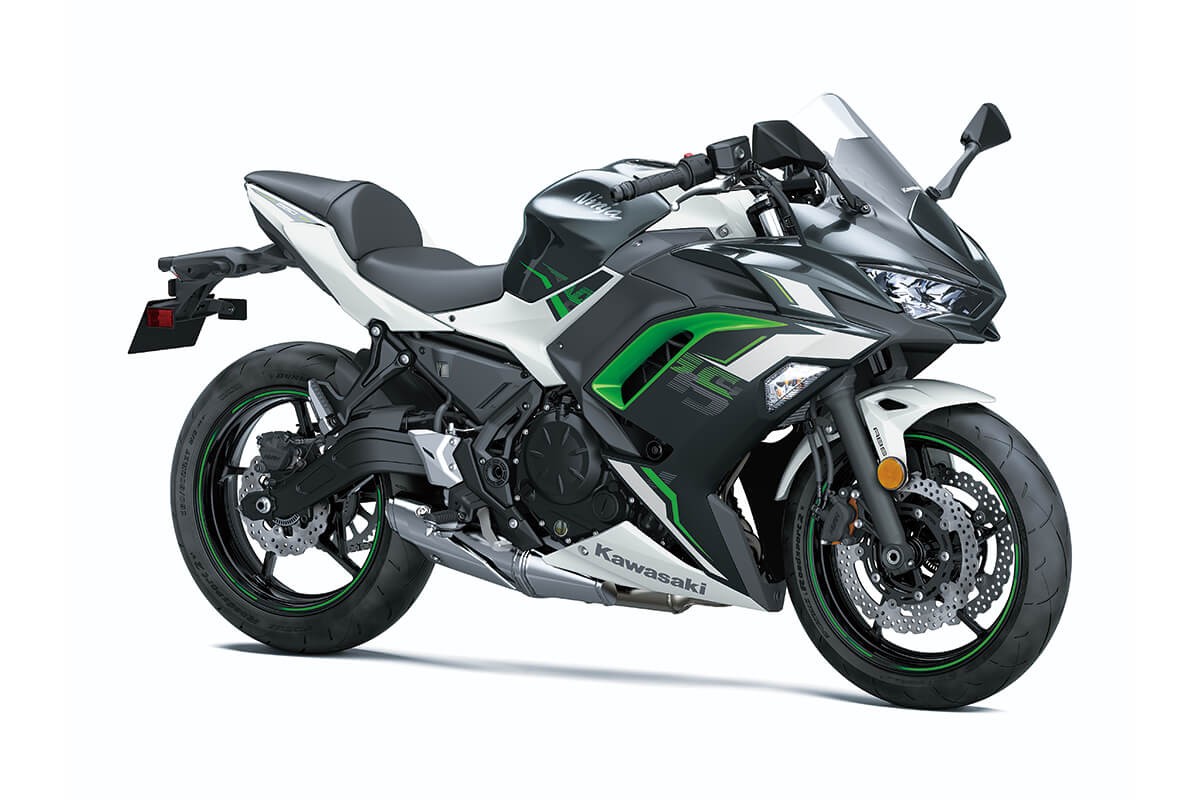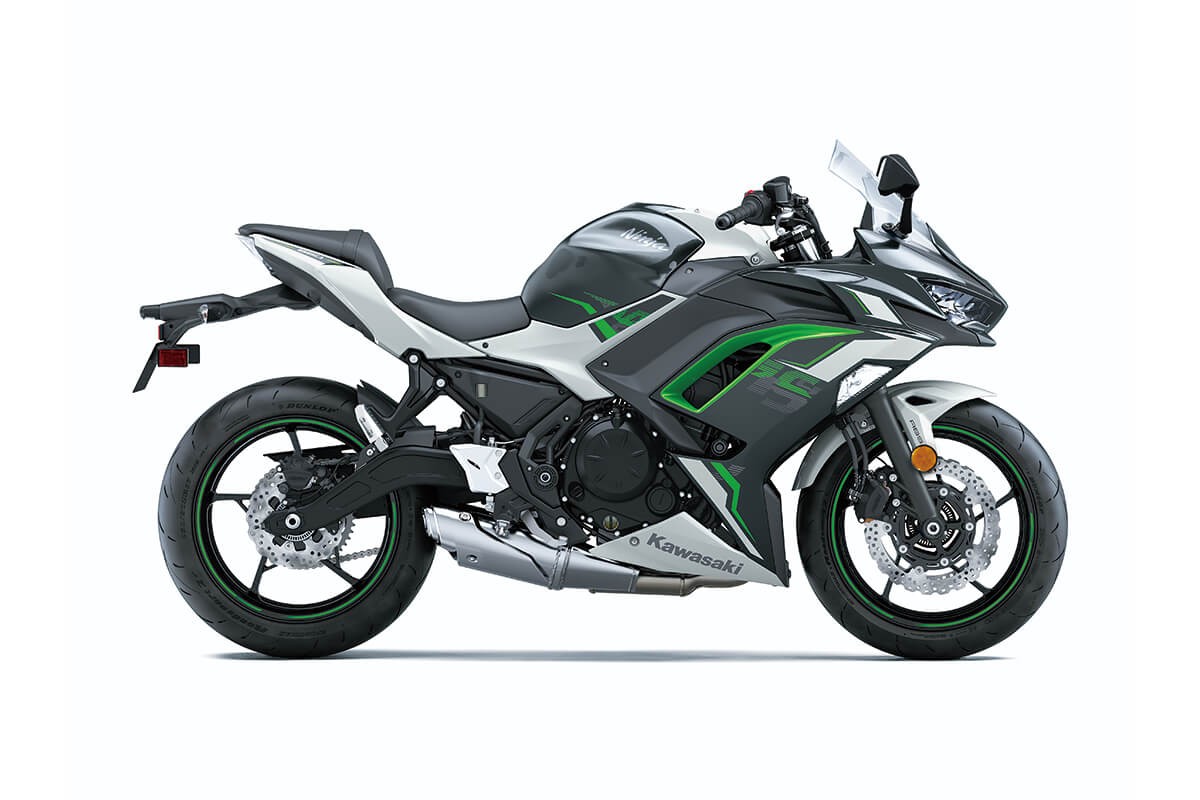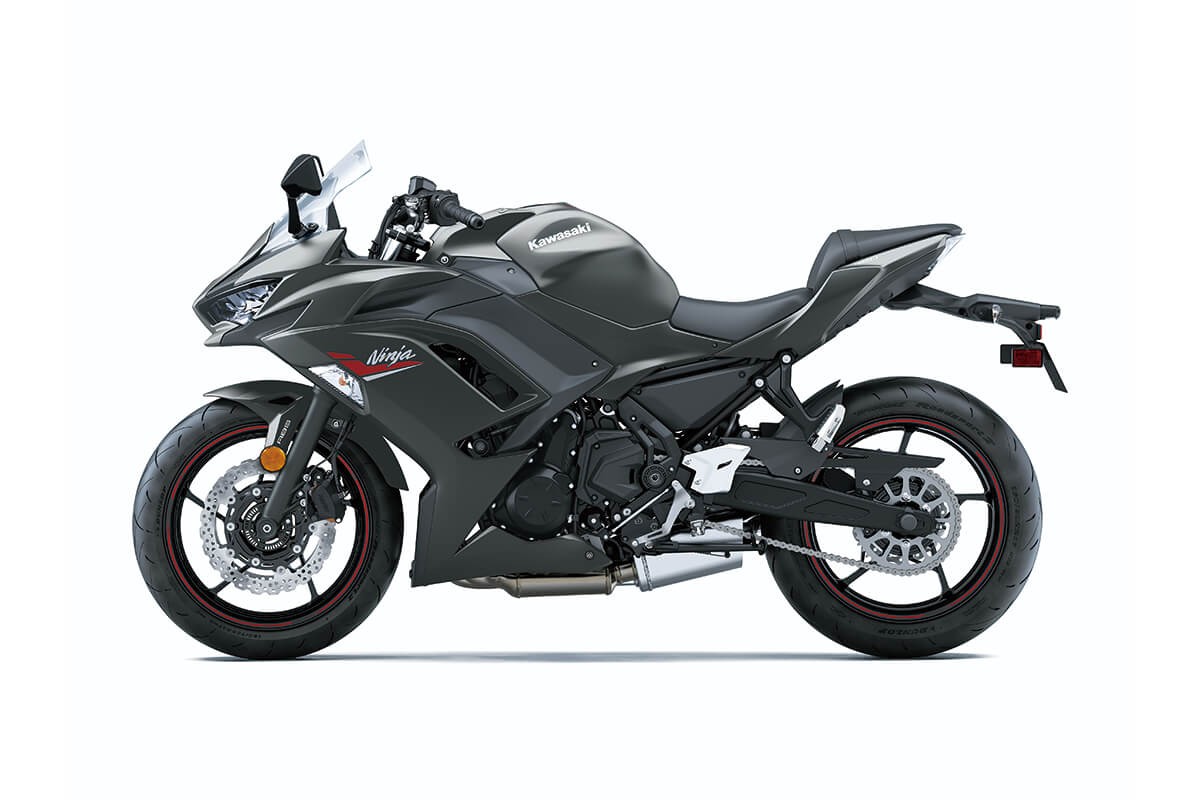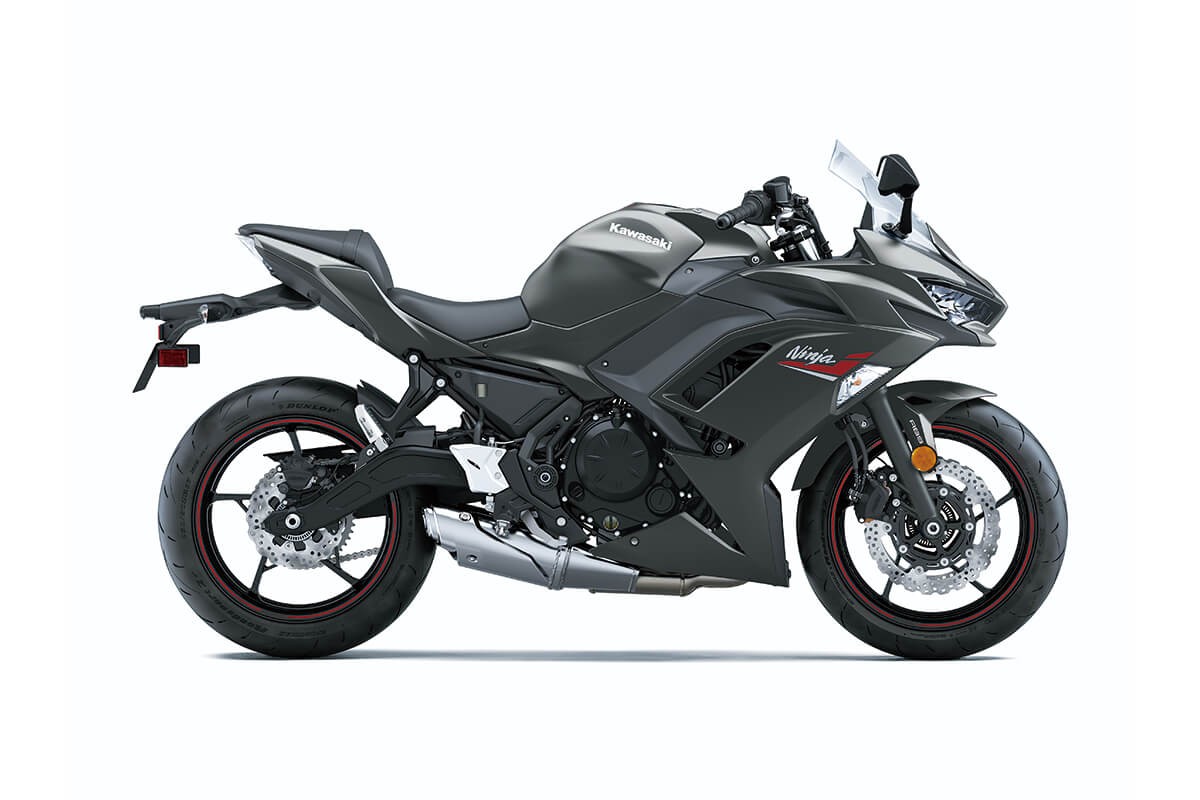 2022 Kawasaki Ninja 650 Videos
2022 Kawasaki Ninja 650 New Color Walkaround Review
2022 Kawasaki Ninja 650
Links
Kawasaki Official Websites
Social Media Links
The post
2022 Kawasaki Ninja 650 [Specs, Features, Photos]
appeared first on
webBikeWorld
.