Editorial Note: It rained during the qualifying session for the Red riders, resulting in their unusually slow lap times.       More, from a press release issued by Team […]
The post
World Endurance: Team HRC On Provisional Pole At Suzuka 8-Hours
appeared first on
Roadracing World Magazine | Motorcycle Riding, Racing & Tech News
.
Editorial Note:
It rained during the qualifying session for the Red riders, resulting in their unusually slow lap times.
2022 FIM Endurance World Championship - Overall Qualifying Classification (average of the 2 bests times) - Overall Qualifying Classification (average of the 2 bests times)

More, from a press release issued by Team Suzuki Press Office:
GUINTOLI CONFIRMED OUT OF SUZUKA 8 HOURS AFTER TEST ACCIDENT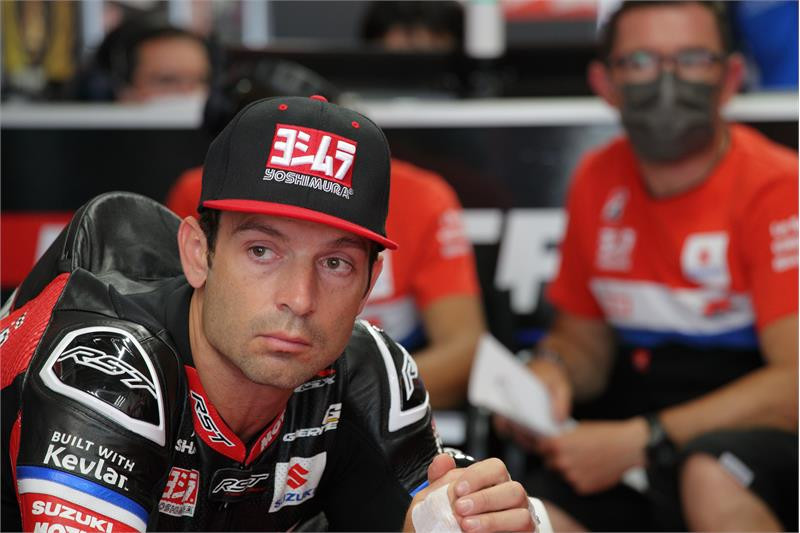 Sylvain Guintoli. Photo courtesy Team Suzuki Press Office.
Yoshimura Suzuki Endurance Racing Team Motul's Sylvain Guintoli will not participate in the Suzuka 8 Hours Endurance World Championship third round that take place this weekend.
After an injury during the Suzuka test earlier this week, Guintoli has flown back to the UK for treatment on his injured left arm.
Unfortunately Guintoli has sustained a hand injury and will not be able to race this weekend but prepare himself for the final round Bol d'Or 24 Hours in September.
Said Guintoli:
"I am really gutted I can't race this weekend. Returning to the Suzuka 8H after 2 years was a great challenge, but unfortunately it's impossible for me to race. We are leading the World Championship and I was looking forward to try to win this fantastic race. I wish the Team and my Team mates all the best, I know there are very strong and I can't wait to be back at the Bol d'Or for the next and final race of 2022."
More, from a press release issued by Kawasaki:
KRT Trio Overcome Early 8 Hours Challenges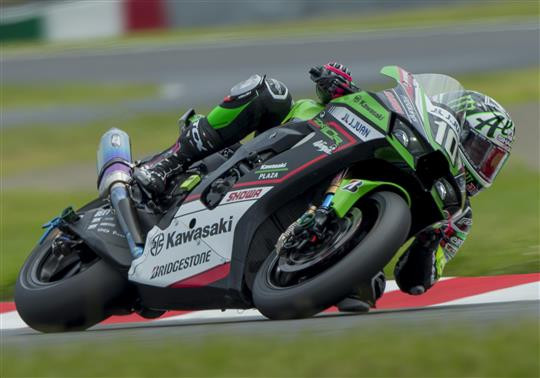 Alex Lowes (10). Photo courtesy Kawasaki.
The first day of official qualifying for the 2022 Suzuka 8 Hours EWC race got underway on Friday 5 August. Official KRT riders for Suzuka, Leon Haslam, Alex Lowes and Jonathan Rea were met with changeable track conditions as they progressed towards final qualifying on Saturday.
The highly experienced three-rider official KRT Suzuka 8 Hours are no strangers to racing and also winning at the 5.821km long 'figure eight' circuit in Japan.
Haslam has been in Suzuka for some time, testing and preparing for the race weekend, while Lowes and Rea have recently travelled from the WorldSBK race weekend in Most, Czech Republic. Lowes's recovery from an intestinal infection has been continuing, despite an uncomfortable weekend in Most and long flights and travel connections to get to Japan.
On track, the riders have been pleased with the improvements they have made to their machine's set-up as they approached the first two official qualifying sessions. All three riders got a chance to qualify, with Haslam inside the blue group, Lowes in the yellow group and Rea the red group.
After two super-hot days of testing earlier this week Friday provided changeable weather, with falls of rain at unfortunate times almost spoiling the team's best-laid plans.
These challenges were finally overcome and all three riders now move on to Saturday's Free Practice Three – with the subsequent Top Ten trial then finalising the starting grid for Sunday's race.
The 43rd Suzuka 8 Hours race itself will take place on Sunday 7 August.
Jonathan Rea
, stated: "The tests have been great so far. I have really enjoyed every minute even though we came from the Most WorldSBK round with some difficult travel and connections. I arrived here feeling quite good and felt no jet lag. The first practices were positive. We found the same bike that we left at the previous test, so I am really happy with that. The next target was to qualify for the top five trial – which is like a super one-lap 'Superpole' for qualifying, to determine our grid position. I was really nervous. Being the red group rider I got bad weather in both my qualifying sessions. I actually missed out on the first qualifying because we timed it wrong with the tyre. I was out of the qualifying percentage. But in the second session, with lots of spots of rain around the track, we finally put it in fourth place. All three of us have been consistently fast, working with old tyres, so I feel good for the race. I feel we have one of the strongest line-ups with Alex and Leon. I have a lot of confidence in them and I hope they have the same confidence in me. I am looking forward to the race as a team. Everyone speaks the same language and the atmosphere is really good. In the riders' room we have been hanging out, laughing and joking, so I cannot wait to get stuck into the racing."
Alex Lowes
, stated: "It has been a tough week for me at the start. I didn't feel the best in Most and travelling here I was struggling a bit. But, since getting to Japan I have been feeling better every day. On track it has been great with the guys, we have a happy atmosphere in the team, we are working hard on the bike to improve the settings so that all three guys are feeling comfortable. The weather has not been the typical Suzuka 8 Hours weather. We have had some rain and it was really, really hot the first two days after we arrived. Now it is not so hot. There have been some wet laps, some dry laps. It has been a little bit changeable but that is also the forecast for the race itself, so we have to be prepared to adapt to every situation. All the qualifying was not too bad for me this morning so I am looking forward to the race now."
Leon Haslam
, stated: "We came out early to make a test, which was extremely hot. We had a very busy time on Tuesday and Wednesday. Qualifying was OK. We just did two laps and the weather was not so kind in the afternoon. The lap time wasn't so bad because I managed to make one clean lap and I feel we are making steps – every day, every session – for the race on Sunday."
Guim Roda, KRT Team Manager
, stated: "The qualifying sessions today have been quite a lot of fun. There was a big tension and emotion because the weather made a big effect. In the first qualifying Jonathan could not push because it started to rain, so we were outside the 108% of the fastest qualifier rules. Rea could not race in the Suzuka 8 Hours after the first qualifying! Leon and Alex made good job securing the 'Top Five Trial' in dry conditions – which was the target – taking third position overall. We were more than 0.8 seconds from the team classified in sixth place. In the second Q the target was for JR to finish at least one lap inside this 108%, but in the middle of first lap it started to rain! That's why we decided to get out on track quickly. He was one of the first to exit. That meant he could finish the first lap with time enough to stay inside 108% and make the race. This weather situation made us run a bit crazy, but his is life…Tomorrow we will have chance to go for a time attack during the 'Top 10 Trial.' Sitting in front of a TV on Sunday, to enjoy the 8 Hours race, would be a very good plan for all the fans."
Joining the KRT squad on track at Suzuka are several other Ninja ZX-10RR equipped teams across Superbike and Superstock classes. The famous #11 machine of Webike SRC Kawasaki France with riders Randy de Puniet, Etienne Masson and Florian Marino is expected to feature among leading teams in Superbike while Kawasaki Plaza Racing Team with riders Ryosuke Iwato, Yuta Okaya and Naoki Kiyosue, vie for honours in the Superstock category.
More, from a press release issued by Yamaha:
YART Yamaha Secure Provisional Front Row Start at Suzuka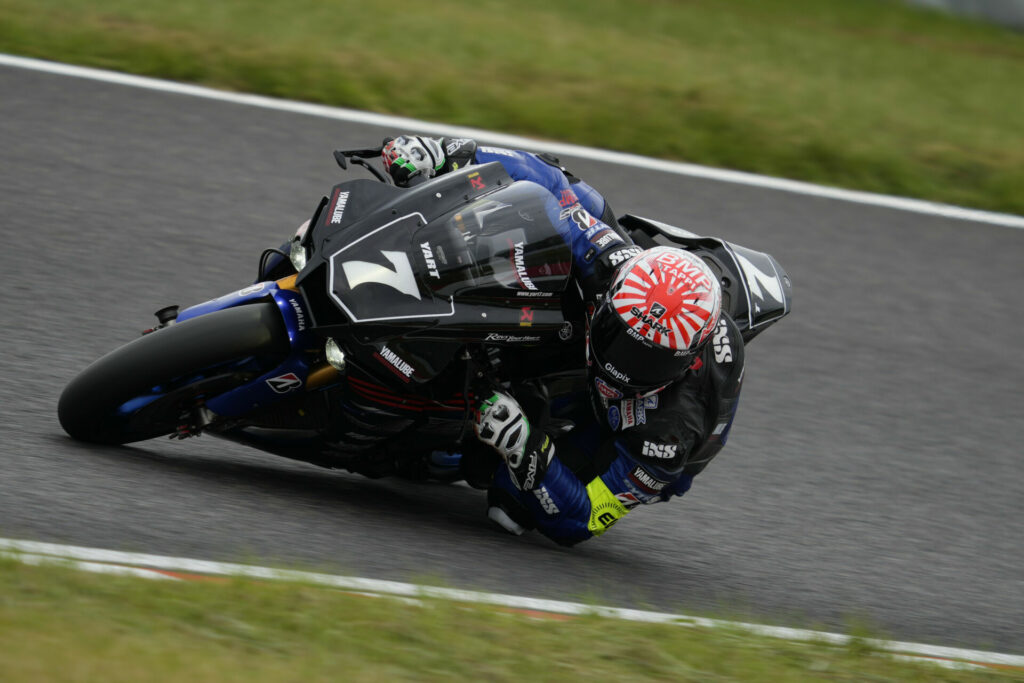 Niccolo Canepa (7) on the Yamalube YART Yamaha. Photo courtesy Yamaha.
The Yamalube YART Yamaha Official EWC Team impressed despite tricky conditions at the 43rd edition of the Cola-Cola Suzuka 8 Hours Endurance Race to finish second overall during qualifying and claim their place in the Top 10 Trial on Saturday.
Mixed conditions greeted the FIM Endurance World Championship (EWC) teams on Saturday for the third round of the season in Japan as temperatures rose to over 30 degrees Celsius, but sporadic rain showers meant setting a fast lap time was all about timing during the two 20-minute qualifying sessions for each rider. The Austrian squad of Niccolò Canepa, Karel Hanika, and Marvin Fritz got off to a great start by completing the first Free Practice session in P2 with a 2:06.408, already improving on their best time during the pre-race test earlier in the week as they continue to take the fight to their factory rivals at the historic endurance race.
In EWC, the average of the two fastest riders' best times is used to give the overall qualifying classification. Canepa led the way for the team by setting a blistering 2:05.863 in the dry first Yellow session, making him the fastest-ever EWC rider on a Yamaha around the 5.821km Suzuka Circuit. He also broke his 2019 record as the fastest Italian rider to lap the track by almost a second in the process. His time was so good that the team decided not to send the 34-year-old out in his second session of the day as the rain had arrived by that time, making it impossible to improve.
Fritz, who took to the track first in the Blue session, backed up his teammate with a 2:06.138, which, when combined with Canepa's lap, gave the team an overall time of 2:06.001. This was good enough to secure second on the overall timesheets, just 0.283s behind the leaders, and guarantee the team entry into the Top Ten Trial. The track was damp by the time of the German's second session, so the 24-year-old rider focused on race pace yet still managed to set a 2:07.760 to showcase the potential of the Bridgestone-shod YART Yamaha #7 R1 even in mixed conditions.
It was a frustrating day for Hanika, as each time he headed out on slicks in his Red qualifying sessions, the rain started to fall, which meant he had no chance to improve on his teammates' time. After a minor crash in Qualifying 1 when the rain first arrived, the Czech rider used the rest of his track time to complete as many laps as possible to gather data and experience in the mixed conditions, which could prove vital with more rain forecast over the weekend. Pushing hard on wet tyres in the second session, the 26-year-old set a 2:20.643 before coming in to change to slicks for one final push with only a few minutes remaining, but as he went out again, the rain returned, ending any chances he had to improve his time.
After a strong qualifying performance, the Yamalube YART Yamaha Official Team also managed to top the timesheets during a wet Night Practice with a 2:23.908, highlighting their pace, whatever the conditions. They are back in action for the final Free Practice session at 2:15 pm local time (UTC+9) on Saturday, before the all-important Top 10 Trial that will decide the final ten grid positions at 3:30 pm.
Niccolò Canepa – 2:05.863
Yamalube YART Yamaha Official EWC Team
"I am very happy about today! To set a 2:05.863 was incredible, as it is the fastest lap by a Yamaha rider in EWC here at Suzuka, and only a handful of riders have ever broken the 2:06 barrier at Suzuka.* The YART Yamaha R1 was working perfectly, and I could have set a better time as I made a small mistake on my fastest lap that cost me a couple of tenths. Still, the time shows our potential and, most importantly, we qualified for the Top 10 Trial. I hope it stays dry tomorrow, as I have never had the chance to ride in the Top 10 Trial before, despite qualifying for it on several occasions. We feel strong for the race and have already beaten all our expectations. Because we are the underdogs against the factory teams, we are not under any pressure, so I look forward to seeing what Saturday brings."
Marvin Fritz – 2:06.138
Yamalube YART Yamaha Official EWC Team
"As a team, we had a great qualifying session, although Karel was really unlucky as both of his sessions were wet. Niccolò made an amazing lap time, the best time by a Yamaha at Suzuka in the EWC, which is incredible when you compare the size of our team with our factory rivals. I am happy with my lap time, we made some good improvements to the electronic setup on the bike, and I think we have a really good pace in wet and dry conditions. The team has been incredible, and I want to thank them all for their hard work. We can't wait to get back in action tomorrow!"
Karel Hanika – 2:20.643
Yamalube YART Yamaha Official EWC Team
"That was one of the hardest qualifying sessions in my EWC career! I felt so good after the test earlier in the week and Free Practice. My pace was really fast, and I could do good lap times even on used tyres, so I was looking forward to trying the soft tyre during qualifying to set a hot lap. Sadly, the conditions in both my qualifying sessions were tricky, and it was not possible. I had a small crash in the first session on my out lap after contact with another rider, and after that, it was raining too hard for slicks, so I could not set a fast time. In the second session, I started on slick tyres, but it immediately started raining heavily, and I had to come in to switch to a full-wet setup. Within three laps, I set a 2:20.623, which is a pretty good time in the wet, so we were happy with the end result. It was a tough day for me, but I am happy that the team did such a good job. Niccolò and Marvin were both really quick, and the most important thing is that we qualified for the Top 10 Trial. The YART Yamaha R1 was working superbly with the Bridgestone tyres in the wet and the dry, and we are confident about our race pace no matter the conditions."
Mandy Kainz
Yamalube YART Yamaha Official EWC Team – Team Manager
"We are delighted with the qualifying result today, especially as the conditions made it very tricky to time it right to set a good lap time. Niccolò set the best time by a Yamaha in the EWC at Suzuka, and you can't ask for anything more. Marvin was also really fast, and to qualify in second provisionally to secure our place in the Top 10 Trial was excellent. Karel was so unlucky! His pace has been incredible all week, but every time he went out to set a fast lap on slick tyres, it started to rain. Despite this, it allowed us to gather vital data in the wet, and his pace shows that we can be fast, whatever the conditions. We are already looking forward to the Top 10 trial on Saturday, and we are confident we can continue to fight with our factory rivals."
The post
World Endurance: Team HRC On Provisional Pole At Suzuka 8-Hours
appeared first on
Roadracing World Magazine | Motorcycle Riding, Racing & Tech News
.