Click here for full story...
2022 Honda PCX
: The Economical Choice For Commuting
Contents
Honda's
smaller scooters but are looking for something with a little more potential for errand running? The 2022 Honda PCX was designed for getting things done, and its no-fuss attitude makes your daily commute easy and fuel-efficient.
This scooter brings many more features to the table than what you would find in the highly popular Ruckus or Metropolitan. As with all motorcycles, more power = more features. This 157cc single-cylinder mill brings highway potential to Honda's line of scooters for their
2022 model year,
meaning it has a lot more commutability than some of their smaller models.
To back up this recently updated 157cc engine, this
Japanese-made bike
features a V-Matic automatic transmission that makes riding a breeze thanks to shift-less operation so you can maximize your concentration on the road and surroundings. Honda has also included a 30L storage compartment located under the seat that with the capability of storing most regular full-face helmets.
The 2022 Honda PCX starts at $3,899 USD / NA CAD
On this page:
we've curated specs, features, news, photos/videos, etc. so you can read up on the new
2022 Honda PCX
in one place.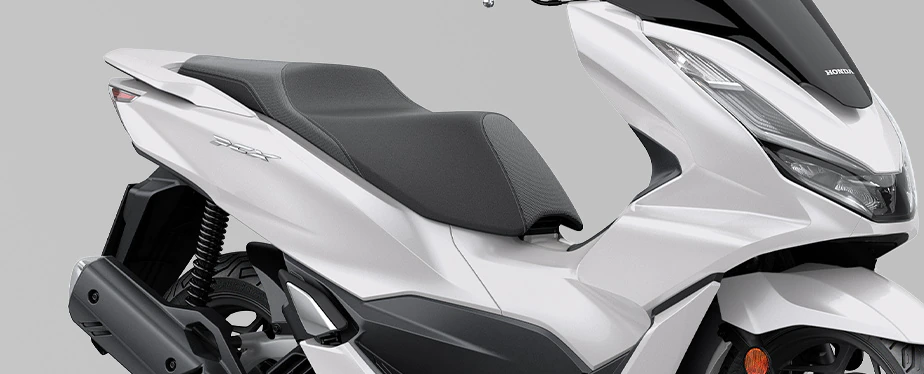 Model Overview
</p>
General Info
Price: Starting at $3899 USD / NA CAD
Key Features:

Optional accessories
Modern styling
30L storage located under the seat
150cc engine capable of conquering faster roadways
Main Specs
Engine: 156.9cc liquid-cooled 80º single-cylinder
Power: 15.8 horsepower
Torque: 11.1 lbs-ft
Wet Weight: 288 lbs (130.6 kg)
Seat Height: 30.1 Inch (764.5 mm)
Competitors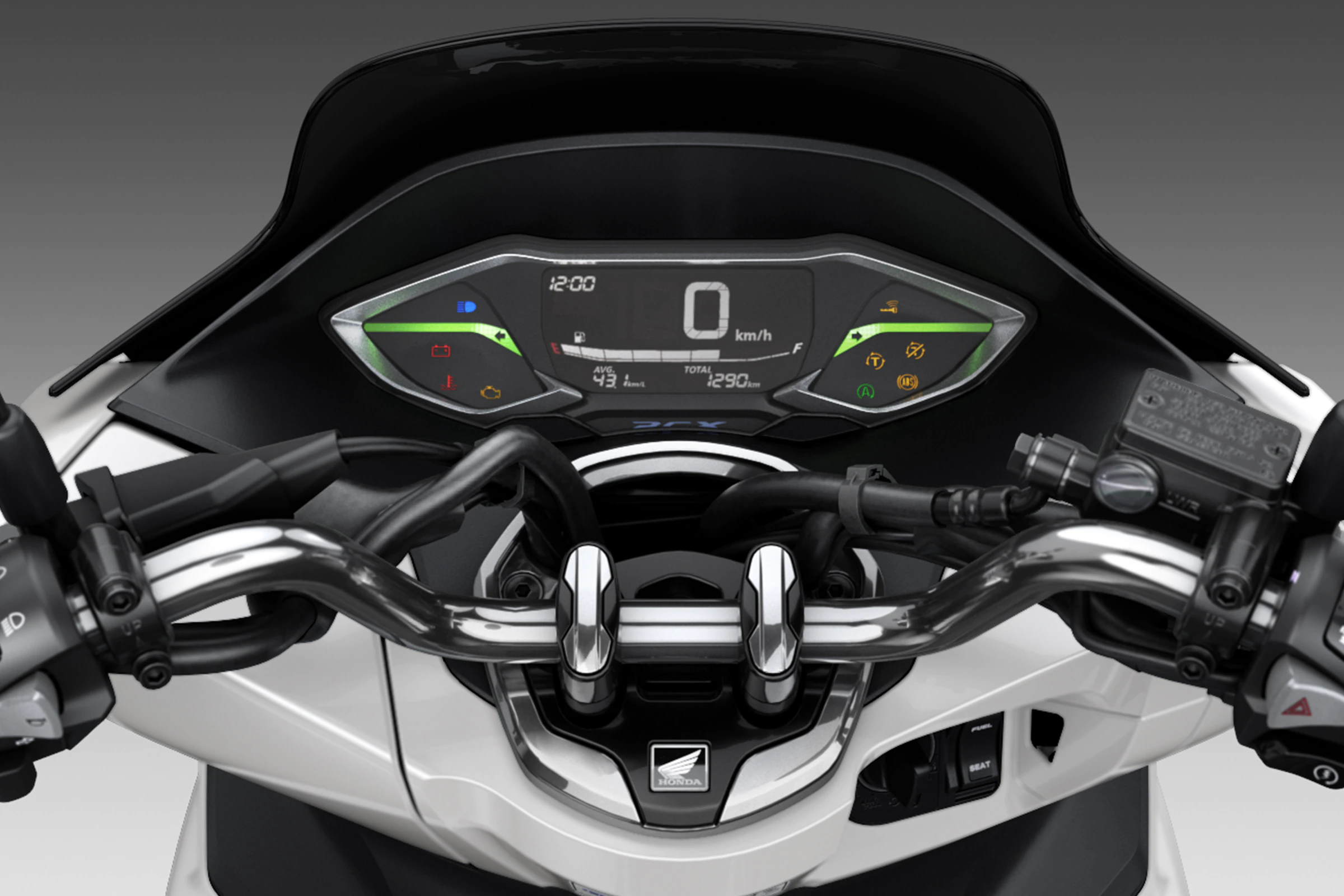 2022 Honda PCX Specifications
ENGINE
Engine156.9cc liquid-cooled 80º single-cylinder four-strokePowerBore x Stroke60mm x 55.5mmCompression Ratio12.0:1InductionPGM-FI; 28mm throttle bodyStarterElectricValve TrainSOHC; four valves
DRIVETRAIN
ClutchTransmissionAutomatic V-Matic belt driveFinal Drive
CHASSIS
Suspension Front31mm telescopic fork; 3.94 inches of travelSuspension RearTwin shocks; 3.7 inches of travelBrakes FrontHydraulic w/ single 220mm disc and CBSBrakes RearMechanical w/ single 130mm drum and CBSTires Front110/70-14Tires Rear130/70-13Fuel Tank Capacity2.1 gallonsColorPearl White
ELECTRICAL
IgnitionFull transistorized ignitionSpark PlugsHeadlightTail Light
DIMENSIONS
Overall LengthGround ClearanceTrail3.1 inchesWheelbase51.7 inchesRake (Caster Angle)26.5°Seat Height30.1 inchesCurb Weight288 pounds (Includes all standard equipment, required fluids and a full tank of fuel–ready to ride)
WARRANTY
WarrantyTransferable, unlimited-mileage limited warrantyExtensionExtended coverage available with a HondaCare Protection Plan®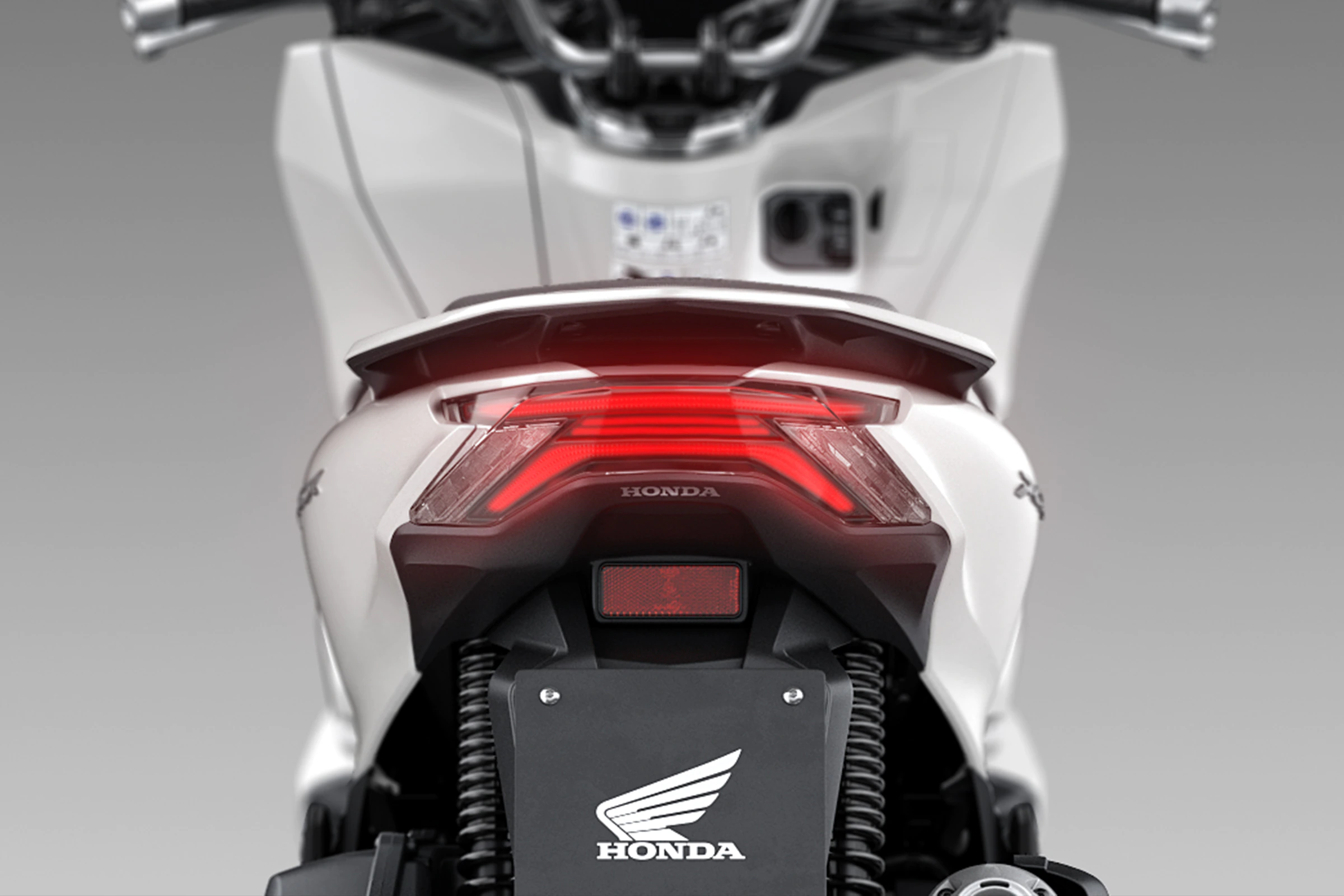 2022 Honda PCX Features
COMFORT
RIDER COMFORT
The long, plush seat is even more comfortable than it looks. Plus, you'll give your co-pilot an incredible view thanks to the stepped passenger section.
CONVENIENCE
UNDER-SEAT STORAGE
Flip the seat open and you'll see a surprisingly large amount of storage room, enough for most full-face helmets or an evening's worth of groceries. The main compartment locks for security and is weather-resistant, too. With a full 30 liters of capacity (nearly eight gallons), it's plenty big enough for everyday use.
EASY TO PARK
The PCX gives you the choice of both a sidestand and a centerstand. That makes it easy to park for a fast dash into a store (the sidestand) or when you need to park it upright in a tighter space (the centerstand). With a lot of other scooters, you only get one or the other.
ELECTRIC START
Turn the key, press the button and the PCX's fuel-injected engine starts right up and runs smooth, even in colder weather.
FRESH STYLE
With the PCX, you enjoy world-class style and premium features. Check out the large, central LED headlight, integrated LED turn signals, and easy-to-read LCD instrumentation, all which help give the PCX a premium look and feel.
THE "X" FACTOR
Take a look at the PCX's "X"-shaped tail lamp. It uses multi-optics technology, emitting bright light in an eye-catching design.
FUEL CAPACITY
The PCX is incredibly fuel efficient–its large 2.1-gallon fuel tank means you can go even longer and ride even further between fill-ups.
TECHNOLOGY
OPTIONAL ABS
The PCX offers our front-wheel Anti-Lock Braking System (ABS) giving you the power to make confident stops, even in less-than-ideal conditions.
12-VOLT CHARGING PORT
The PCX features an integral USB-type socket in the fairing storage compartment, making it super easy to keep your personal electronics charged up while you're on the go.
FRAME
Great handling starts with a solid chassis design, and that's where our latest PCX really shines. It uses a duplex-cradle design rather than the more common "underbone" style.
V-MATIC TRANSMISSION
With the Honda V-Matic

automatic transmission, just start the engine, twist the throttle and go. That means no shifting, ever—you concentrate on the road ahead and enjoy the ride! The V-Matic is a continuously variable design, so you'll never feel it lurch from one gear to another.
PERFORMANCE
4-VALVE ENGINE
The PCX's engine displaces 156.9cc, for plenty of get up and go. The eSP+ technology (enhanced smart power) uses a new four-valve design with a bore/stroke ratio specially designed to lower emissions and provide responsive performance.
PGM FUEL INJECTION
The PCX features liquid cooling and Programmed Fuel Injection (PGM-FI) for great performance in all traffic conditions. Plus the PCX offers impressive fuel efficiency.
HYDRAULIC CAM-CHAIN ADJUSTER
The engine in the PCX features a hydraulic cam-chain adjustment that's totally automatic. This eliminates a routine maintenance point—another example of how Honda engineers make the PCX even easier to own.
ROLLER BEARING CRANK
The PCX engine uses special, low-friction roller bearings in the crankshaft to help give you a smooth-running powerplant that gets great mileage too.
2022 Honda PCX Photos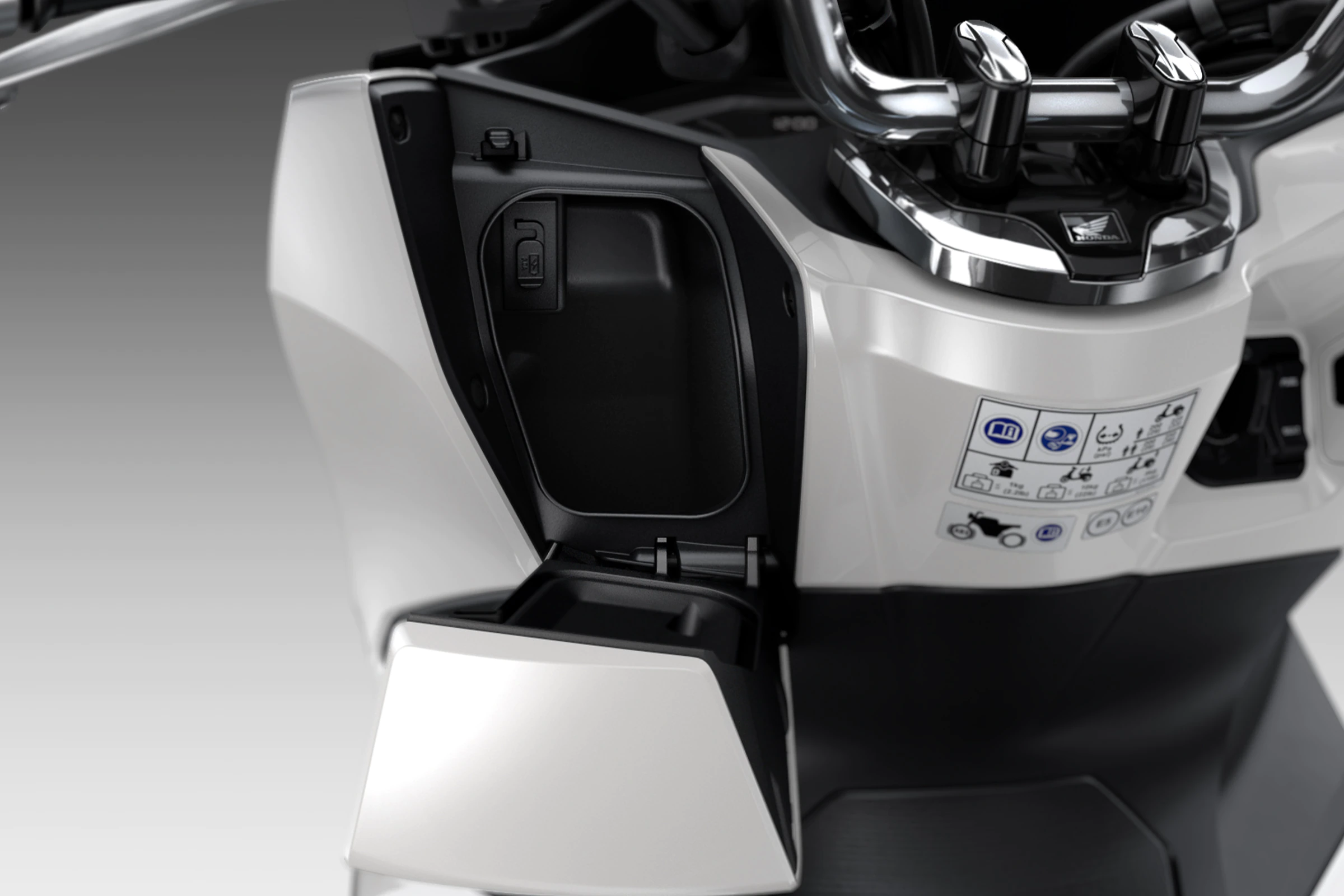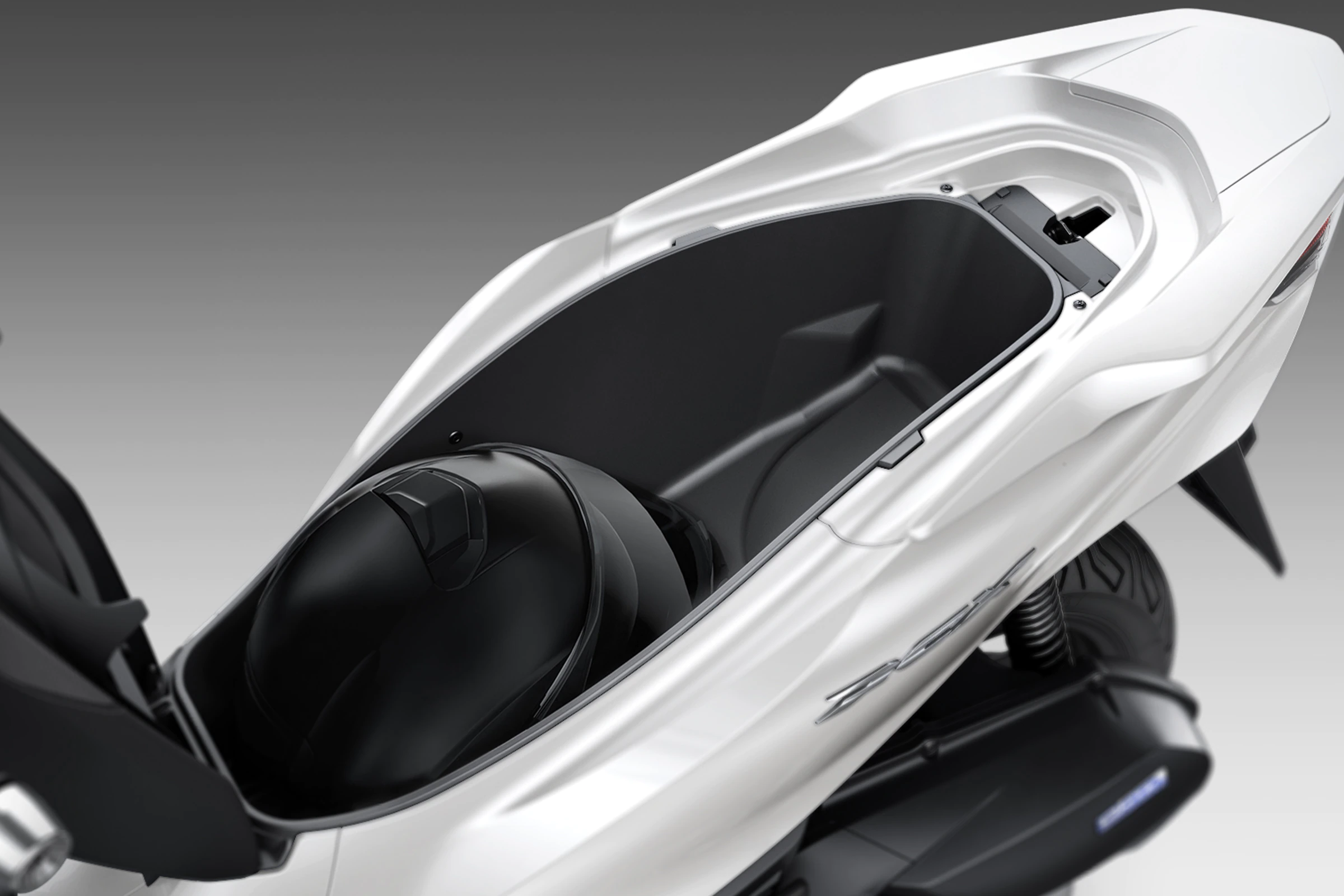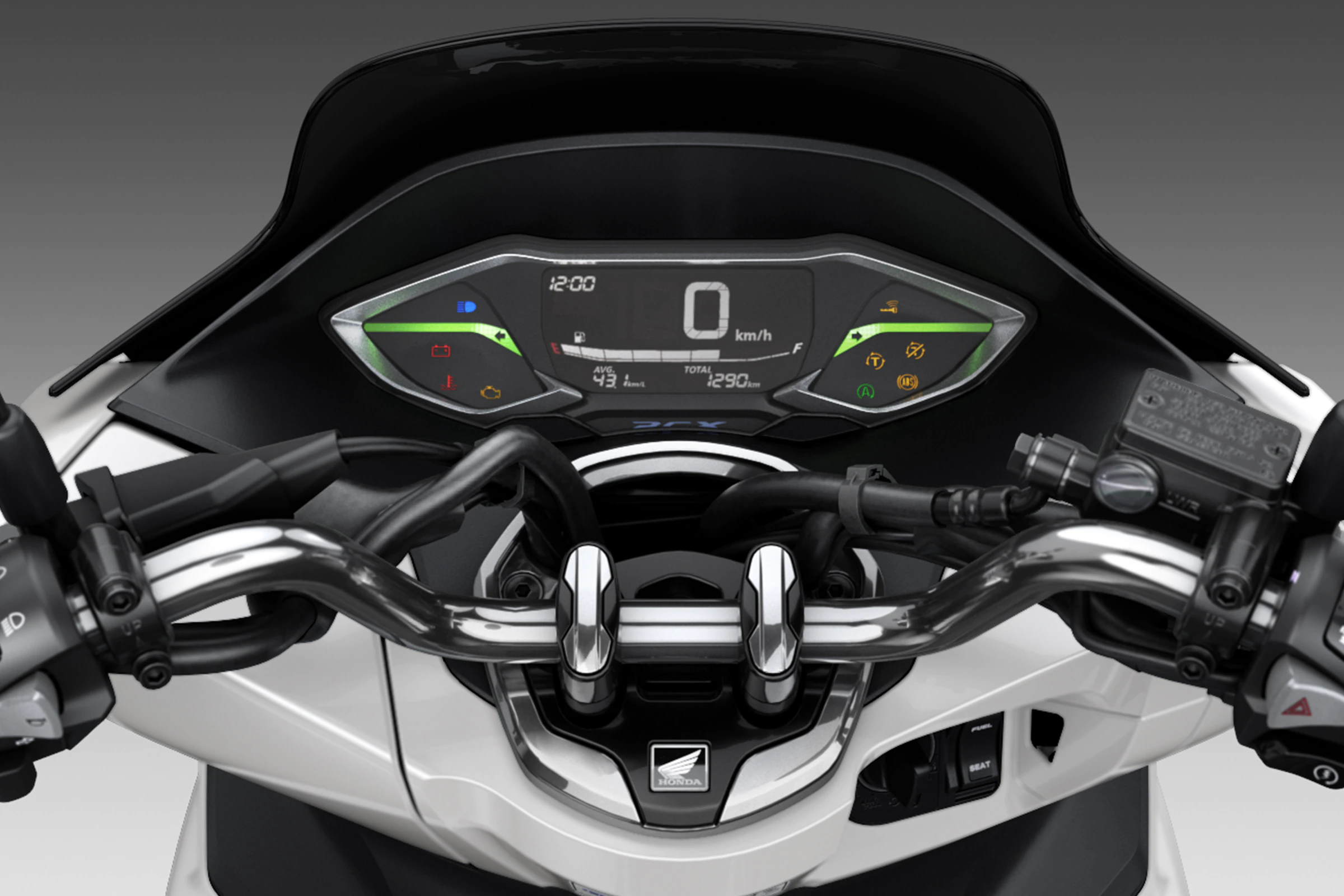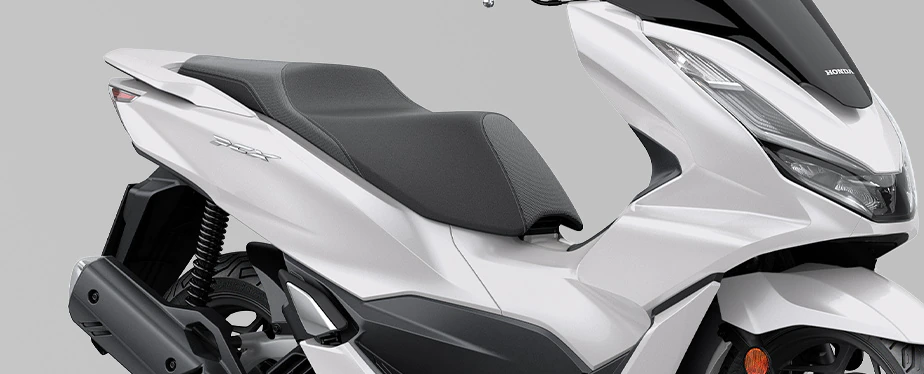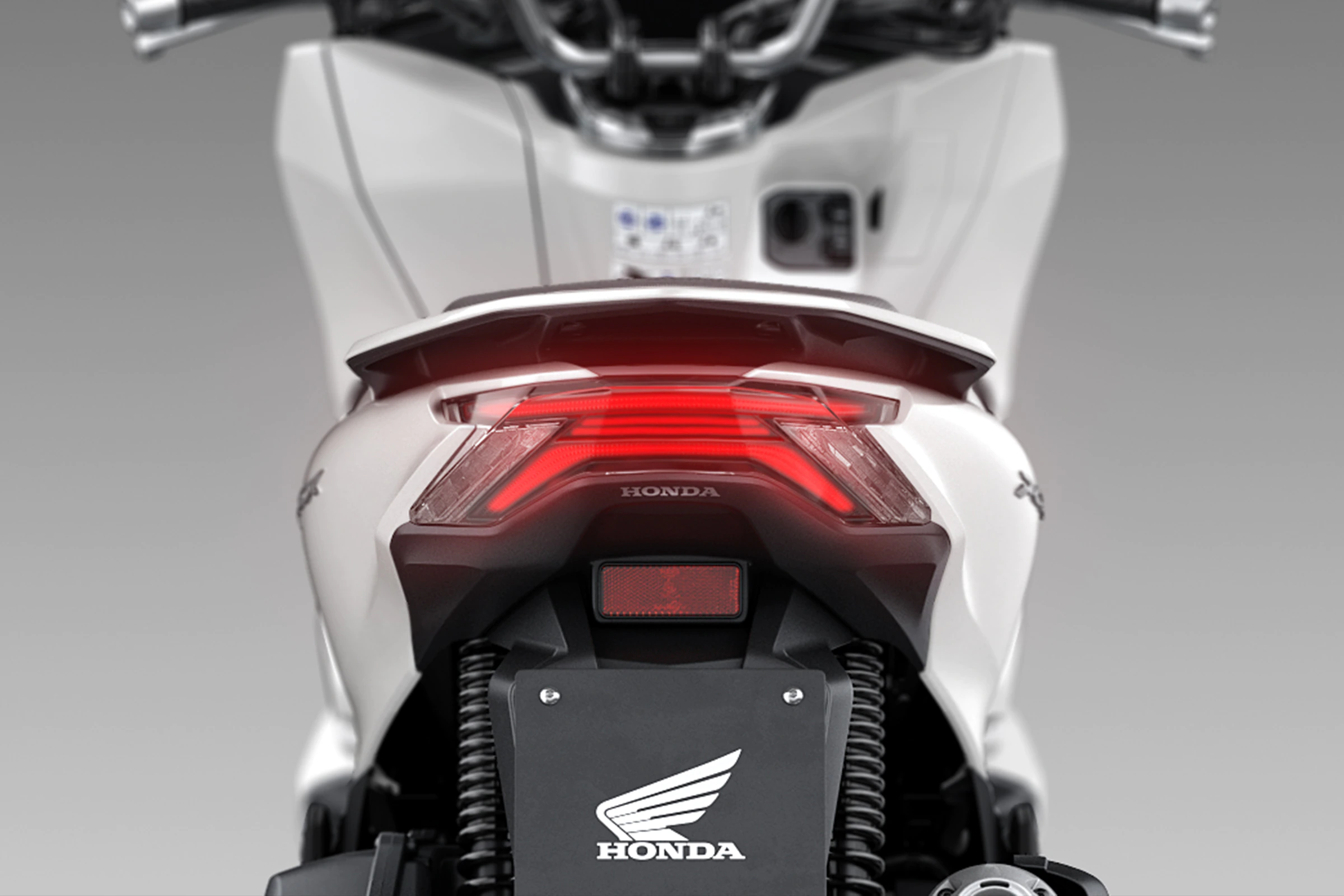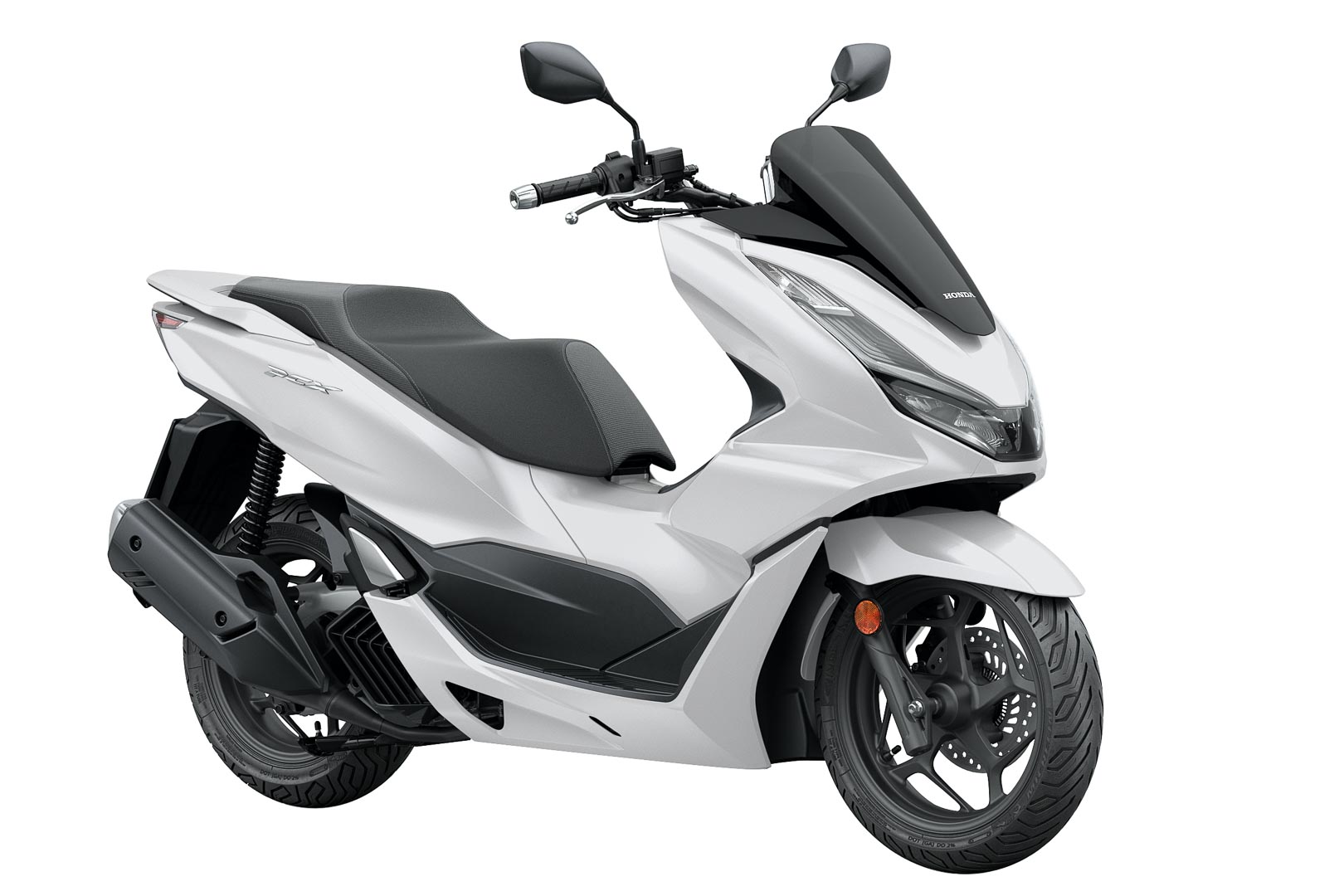 2022 Honda PCX Videos
Honda PCX150 Review – Beyond the Ride
Honda Reveals New 2022 PCX Premium Scooter
Links
Honda Websites
Other Links
The post
2022 Honda PCX [Specs, Features, Photos]
appeared first on
webBikeWorld
.