If you think you've seen these bikes before, you're not wrong. GasGas' SM 700 and ES 700 are still a blast in their new colors.
Click here to view on their site.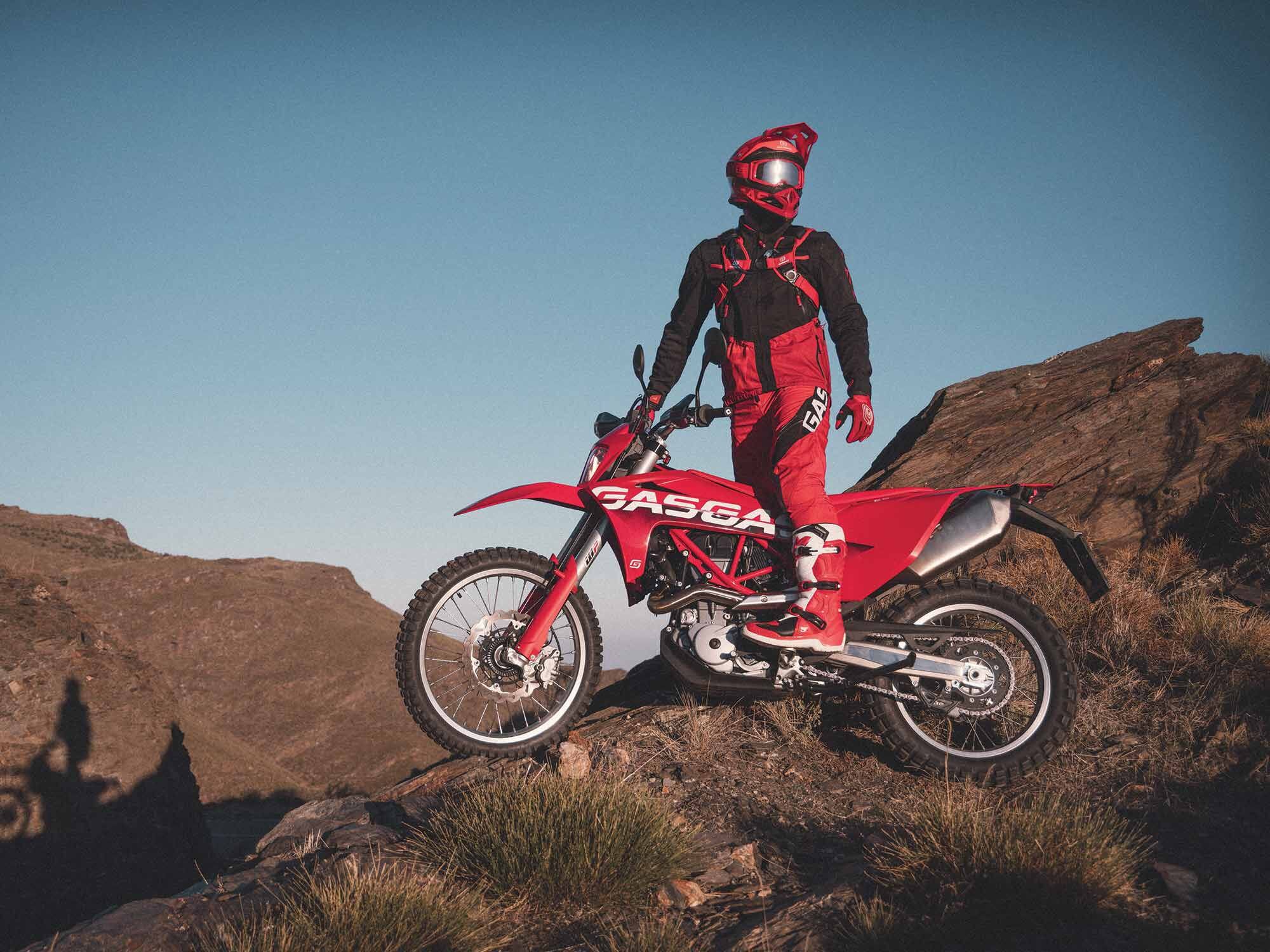 GasGas 700 models share many similarities with KTM and Husqvarna bikes based on the same 690 platform, with small spec updates and styling changes differentiating them. (GasGas/)Since the group that owns
KTM
and
Husqvarna
purchased
GasGas
, the Spanish brand has undergone a full relaunch with a clear message: GasGas bikes are all about having fun. That fun now extends to street models with the new
SM 700 supermoto
and
ES 700 dual sport
. For those in the US, you'll have to wait until 2023 for that fun as the 2022 model is only available in markets outside of the States.
Yes, these new GasGas models look suspiciously like the orange 690 and the white 701. They are, of course, based on the same 690 platform, with small spec and color changes. In fact, the
enduro model
is purely a matter of giving the bodywork a different plastic pigment. The GasGas SM 700 gets a set of cast 17-inch wheels in place of the spoked hoops on the Husky and KTM.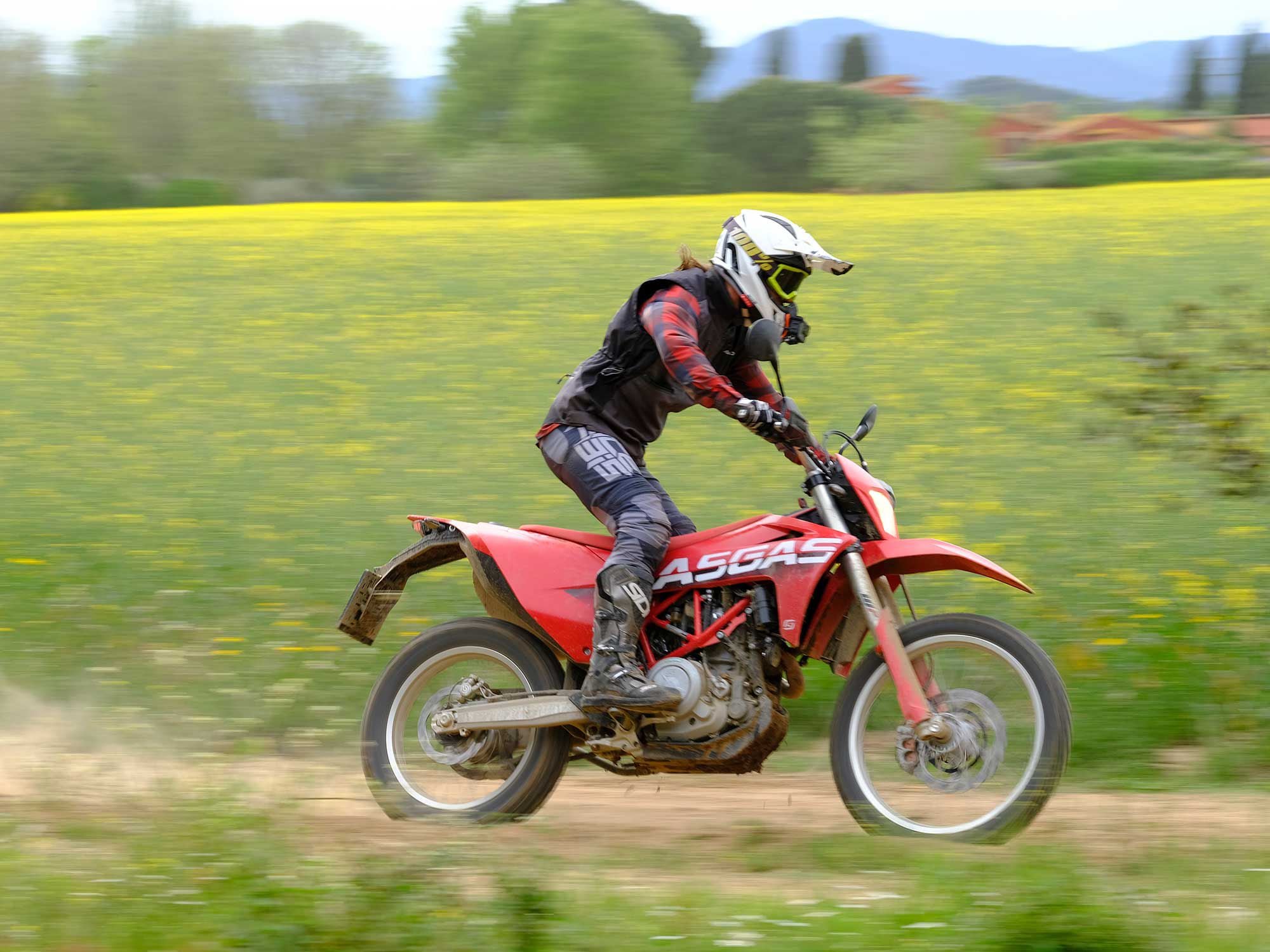 The 2022 GasGas ES 700 has 9.6 inches of suspension travel both front and rear. (GasGas/)These cast wheels save 1.1 pounds of rotating weight, but they also carry their weight closer to the center of the wheel, reducing inertia. Essentially this makes the wheels easier to rotate, benefiting both acceleration and braking, while reduced centrifugal forces help the bike when changing direction. Cards on the table here; the benefits versus the spoked wheel setup on the KTM weren't obvious enough to notice on an isolated ride. A back-to-back test on the same day would be the way to see that. On the other hand, the cast wheels look absolutely stunning, so that's a win already.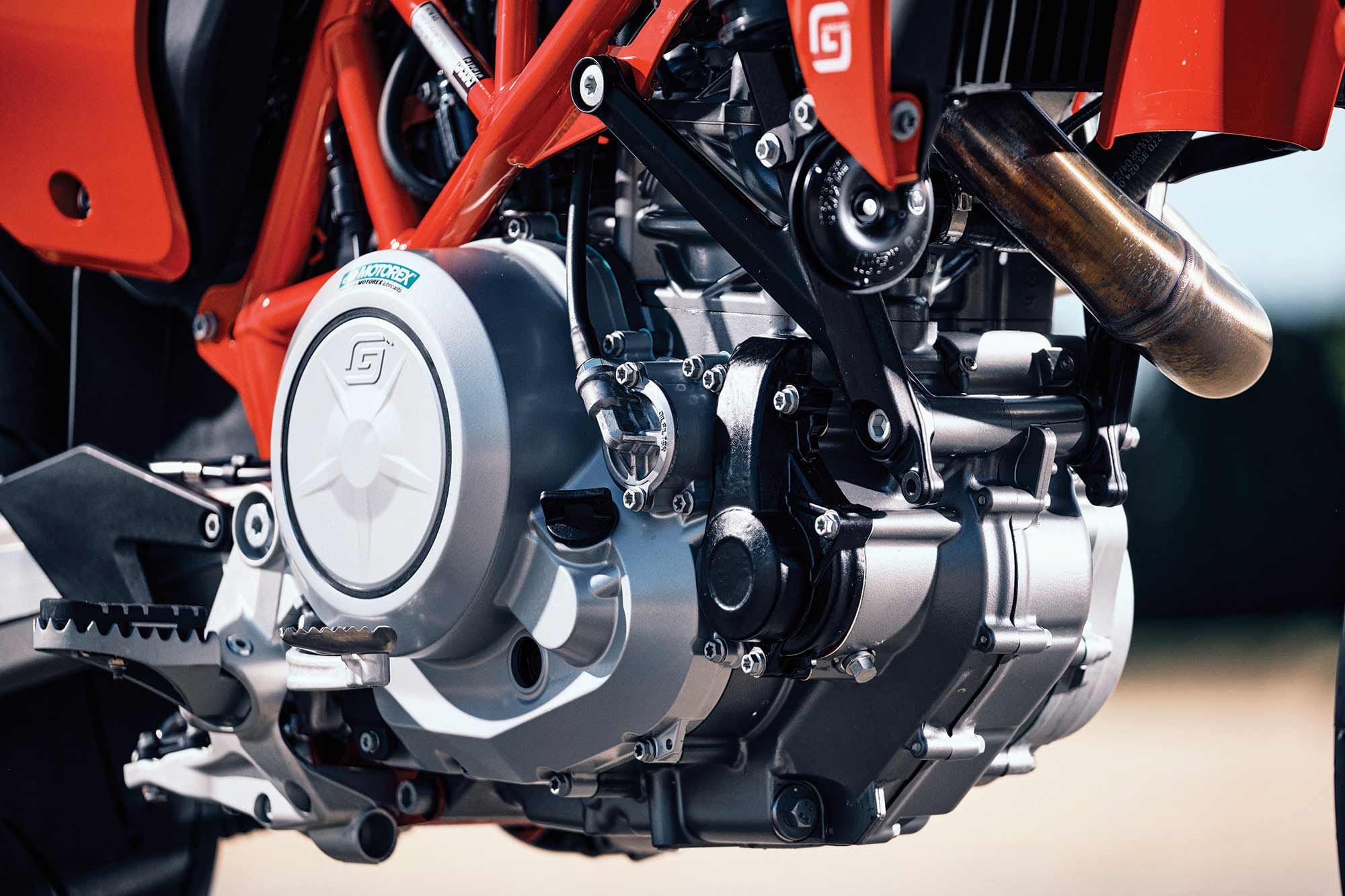 Both SM and ES 700 models share the same engine with a claimed 74 hp and 54 pound-feet of torque. (GasGas/)Aside from the wheels on the
supermoto
version and a few tins of red paint, these two bikes are pretty much on par with the KTM 690, and that's not a bad thing. Remember, GasGas has only been in its current guise for a couple of years; that's not enough time to design and develop distinct new models. At the bikes' launch, the GasGas staff explained that there would be more differentiation from the other two brands in the future, and right now the bikes are about getting the name out there. With the GasGas policy being more about fun than race wins, although they'll certainly take the trophies when they can—see
Dakar
2022—these two bikes have arguably found their true home.
SM 700: The Hooligan Streetbike
The SM 700 is the kind of bike that makes good behavior impossible, a proper bad influence on everyone. With a claimed 74 hp in a sub-330-pound bike, it feels more alive and more playful than any other streetbike that comes to mind. Supermoto purists may find it a little heavy, but the payback is a bike that can be ridden daily without spending every other evening changing the oil and filter. For riders coming from anywhere else in the motorcycle circus, it's light, flickable, and a whole ton of fun.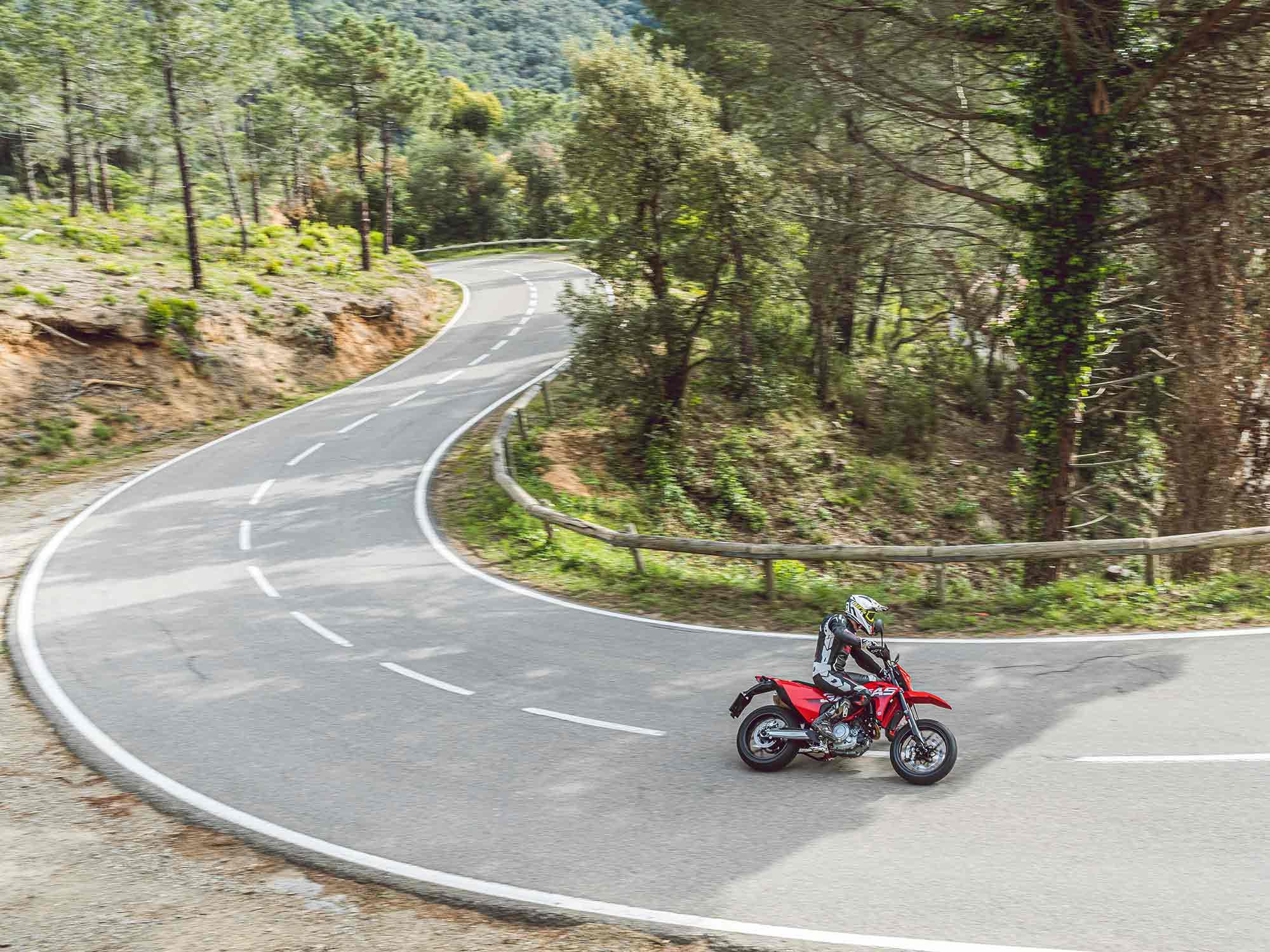 Available now in Europe, the GasGas 700 models won't be in American riders' hands until 2023. (GasGas/)The test kicked off with one of the craziest street rides in a long time. Led by a crazy Austrian supermoto racer, it started out with a nice sedate bit of city cruising. From the saddle, we enjoyed some sightseeing in Barcelona, one of the world's most beautiful cities. Then a short highway stint, where our only complaint was a fair whack of windblast at highway speeds, no surprise on a bike like this. But a lack of vibration, thanks to twin balancer shafts, made it more comfortable than any single-cylinder supermoto should be.
And just when it seemed like one of those pleasant, sensible chill-out rides, a mountain pass appeared and the world exploded. Our racer guide stamped down three gears, hustled up a wheelie, and proceeded to attack the next 50 miles of road like he'd left the gas on at home. Every corner entry got painted with a fresh telltale line from rear tires, every apex saw impossible lean angles, and every straight was a blur of gearshifts and wheelies.
Ridden like this, the SM 700 is one of the most rewarding experiences on the road. The harder you ride it, the more it comes alive; it feels totally at home sliding into a turn, dragging a peg midcorner, and then hovering the front wheel out onto the next straight. It's mental. Just plain bonkers. It's crazy, crazy, we tells ya.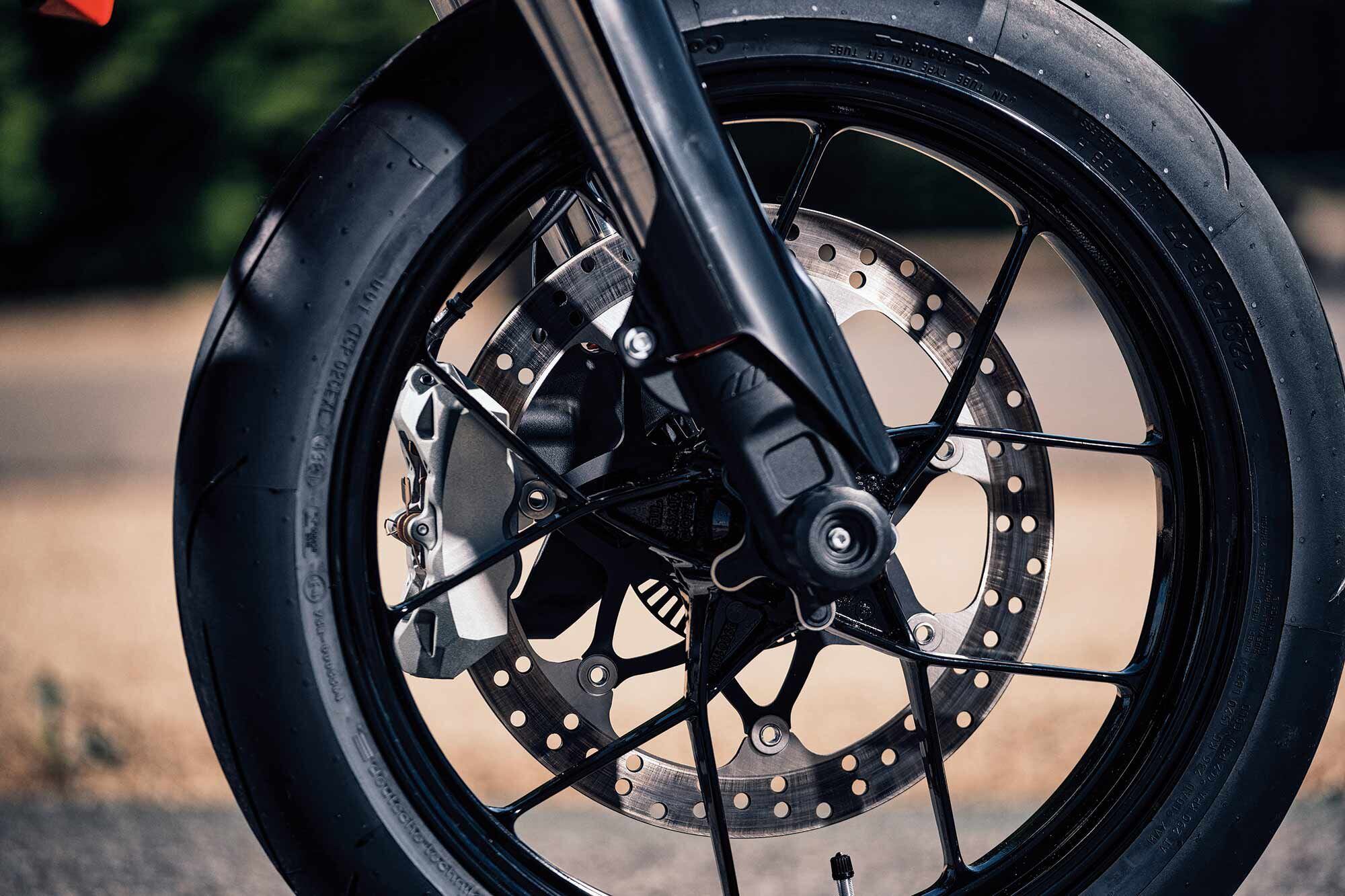 The GasGas SM 700 comes with 17-inch wheels front and rear, making sporty tires readily available. (GasGas/)There's an old, old discussion about riding middleweight 600cc
sportbikes
versus their 1,000cc open-class counterparts, how the lighter ride lets you really work the bike hard and use its capabilities to their limits. The SM 700 takes that principle a step further.
On the right road, with enough bumps and tight turns, you'd be hard-pressed to keep up on any sportbike. Its combination of lightweight chassis, punchy engine, and supple suspension lets you wind around impossible turns and charge bumpy sections in a way that would have a sportbike shaking its bars in protest and leaving its rider in need of months of physical therapy to realign their spine. Get on a faster, smoother road and the SM's advantage soon disappears, but it still has enough power to be fun, and real-world roads usually aren't that smooth anyway. Plus, if your domain is faster roads and highways, both the SM and ES 700 have adjustable triple clamps so the fork offset can be tweaked for a calmer ride.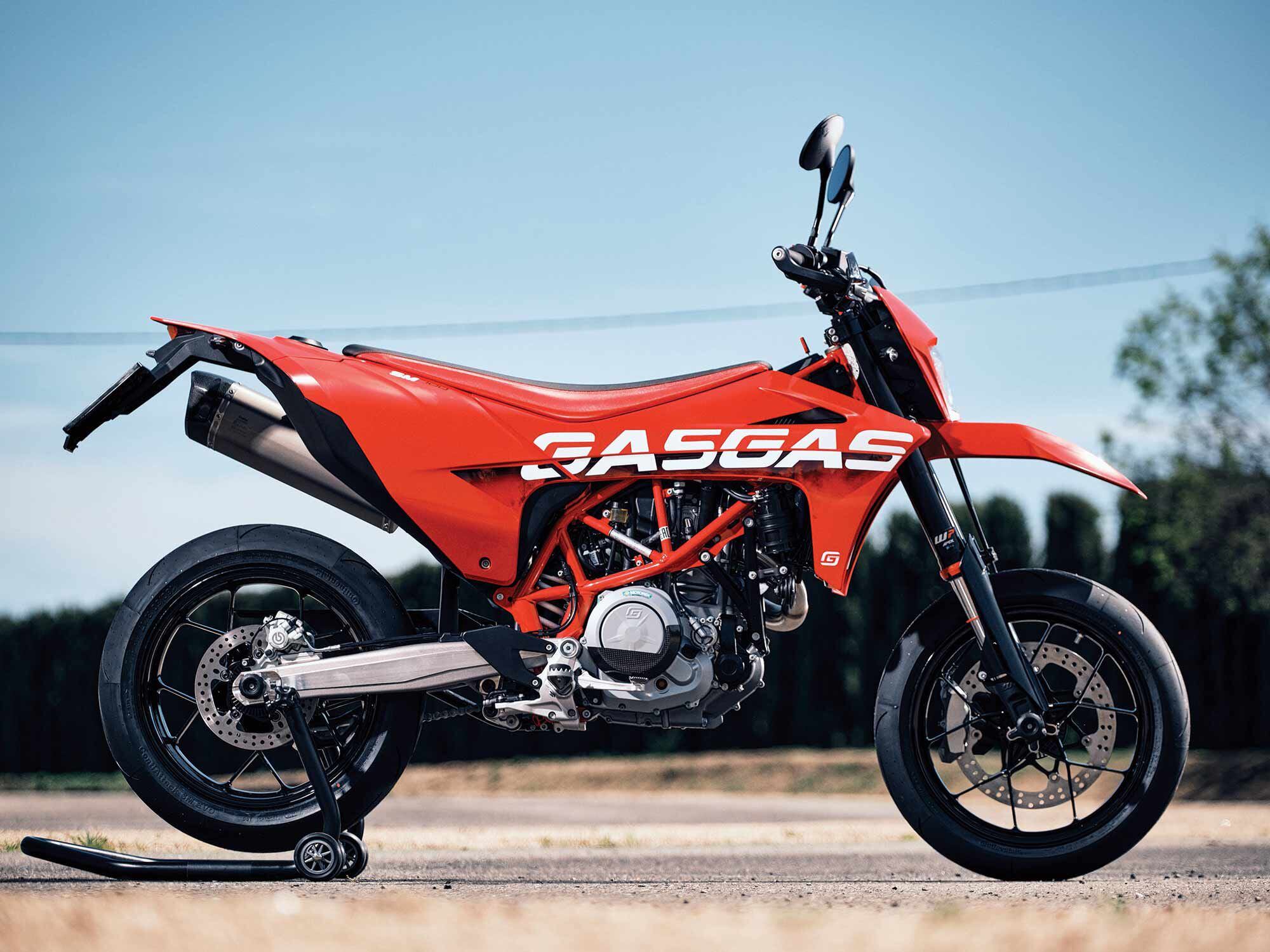 Although US pricing has not been announced, the 2022 SM 700 in Europe has an MSRP of 11,499 euros, and 11,299 for the ES model. (GasGas/)At the end of the madness, we rolled into a fancy house with a long driveway and a hedge shaved into the shape of a
MotoGP
bike. Normally, the fancy-pants details of these things are just tinsel, not important to the motorcycle and not worth noting. But in this case, someone called in a favor from a friend or something, and suddenly we were invited to play on Sete Gibernau's private backyard racetrack. What's more, Sete stepped into the role of on-track instructor for the afternoon, coaching us on line choice, braking, and body position.
Testing a more traditional knee-down riding style on Sete Gibernau's private backyard racetrack, the SM 700 delivered the same sharp steering that made it such a joy on the road. (GasGas/)When switching to a more traditional knee-down style at Sr. Gibernau's request, the SM 700 obliges by delivering the same sharp steering and quick direction changes that made it such a riot on the road. Sustained high-rpm track riding did start to demonstrate a few vibrations through the handlebars, resulting in tingly fingers after 15 minutes or so.
ES 700: Last of the Big-Single Dirt Bikes?
After the wild time on the SM, the start of the enduro ride on the ES was a welcome break. Winding along dry hard-packed trails the ES is smooth, easygoing, always ready to hop off a tree root or slide out of a turn. From a
dirt bike
perspective it's smooth, easy to ride, and comfortable on the positive side, a touch soft and heavy on the negative. From the
adventure bike
perspective it feels light, nimble, and super capable, but also a little too tall, a little too eager, and lacking wind protection. That's the thing with this bike; it is the very definition of dual sport, an off-road bike capable of useful road performance.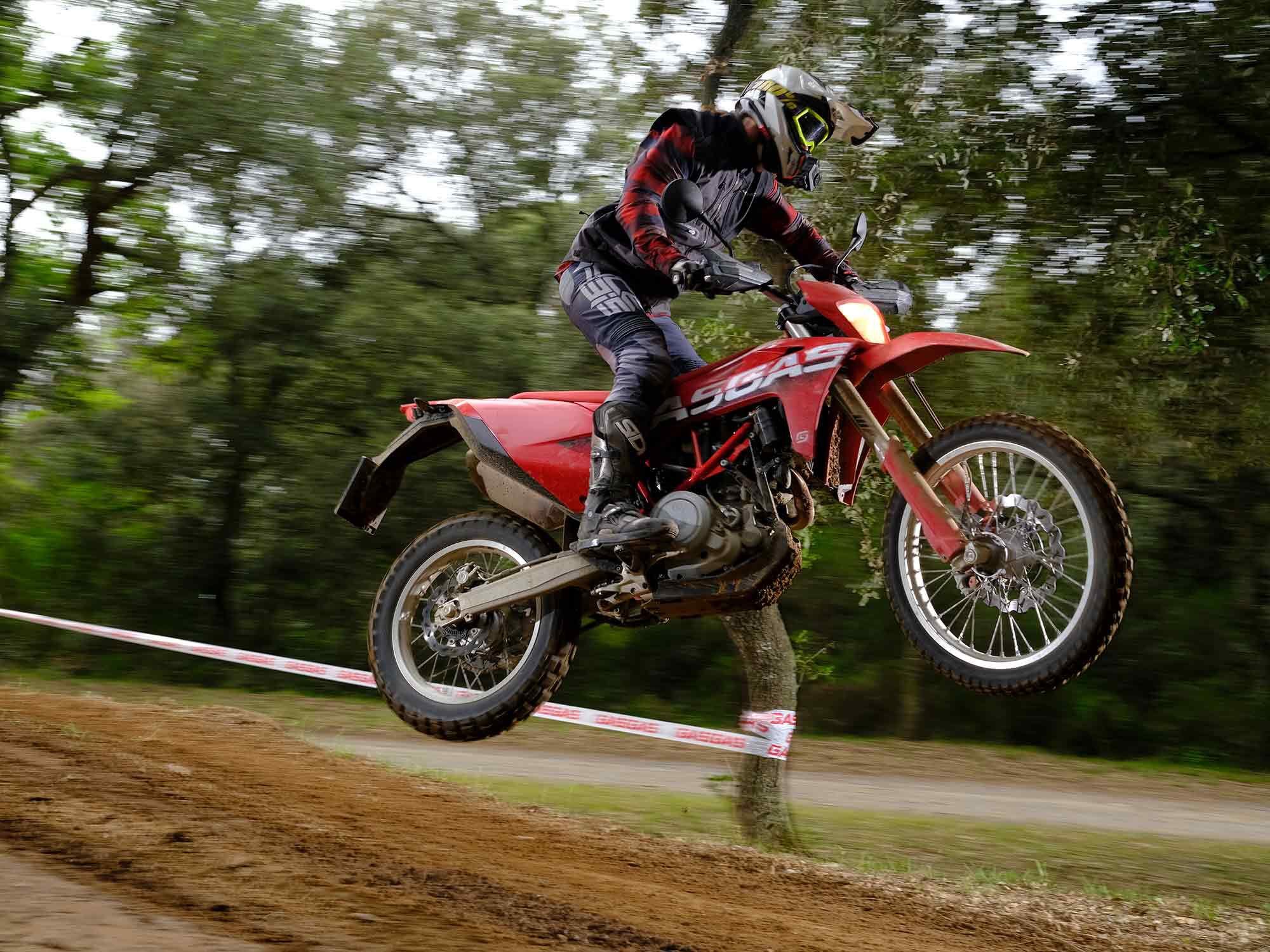 The ES 700 showed impressive capability for its size. (GasGas/)Compared to a twin-cylinder adventure bike, this one sets up camp further in the off-road world at the cost of some creature comforts and road performance. But unlike anything in the enduro world, the ES 700 has on- and off-road ABS and traction control systems, a quickshifter, service intervals of 6,000 miles, and the ability to cruise happily at 70 mph.
Turning off the main tracks and beginning a descent into some really enjoyable enduro terrain, we found the usual rocks, root steps, river crossings, and ruts all showcased the ES 700?s ability compared to bigger adventure bikes. In a group of very mixed abilities, the bike does a good job of looking after less experienced off-road riders, not least in being relatively easy to pick back up, at least by ADV standards. The tall 36.8-inch seat height is the main hurdle, particularly for shorter riders; it's wise to give some thought to foot placement when stopping on uneven terrain.
After an enjoyable trail ride through stunning scenery and exploring the bike's travel capabilities, it was time for craziness again on two enduro loops, a woods track, rally terrain, and a mellow motocross track. The ES is no flyweight competition bike, but its ability to send it off a jump or slot into a rutted turn in the woods is impressive for its size. On rougher terrain the fork could be a little more precise, but overall the ES displayed impressive versatility. Any extra effort it requires in the turns is forgiven as soon as a straight allows the rider to unleash that 74 hp motor.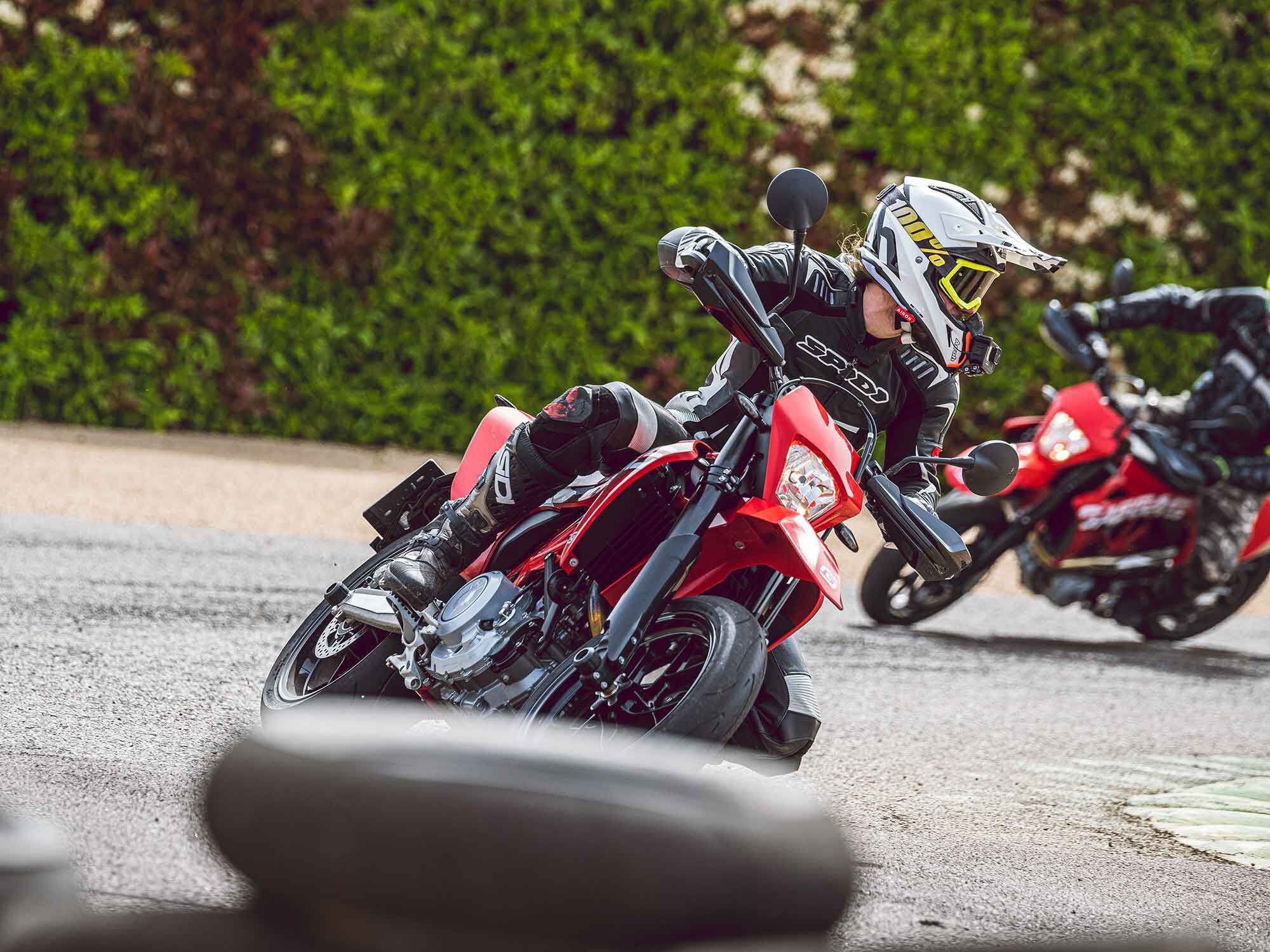 "It feels totally at home sliding into a turn, dragging a peg midcorner, and then hovering the front wheel out onto the next straight." —Chris Northover (GasGas/)Verdict
After a full day of supermoto skids, enduro jumps, and all-round childish behavior, it seems it might be the truest dual sports out there. In a single day the SM went from city sightseeing to covering highway mileage, from wild mountain pass hooning to stunt riding, from racetrack tutoring to going placidly back to base at the end of it all. The ES enduro version achieves the same range of use, but replaces asphalt antics with easy trail riding, flat-out woods track charging, and a few laps of the moto track. The SM is never going to lay down a lap record around Laguna Seca, nor will the ES trouble the leaderboard at a GNCC round, but you could absolutely take them to either of those places and have an absolute riot. And then ride home again.
As they are, the two new—well, new in red—700s from GasGas are another option for those who have the 690 and 701 in their sights. They are phenomenal bikes for the right person. Some will find them too intense and impractical. More hardcore riders will find them too big and heavy compared to a pure competition machine. But for the person who wants a supermoto that can actually be useful, the SM 700 is a Goldilocks bike. The ES 700 enduro bike strikes a different but equal balance as a very capable adventure bike for those who would sacrifice the speed and comfort of a twin-cylinder machine for a lighter bike with more off-road performance. And for the dirt bike rider who wants to do a little traveling and more mileage, the ES does 6,000 miles between services and will happily take you as far as your riding skill allows.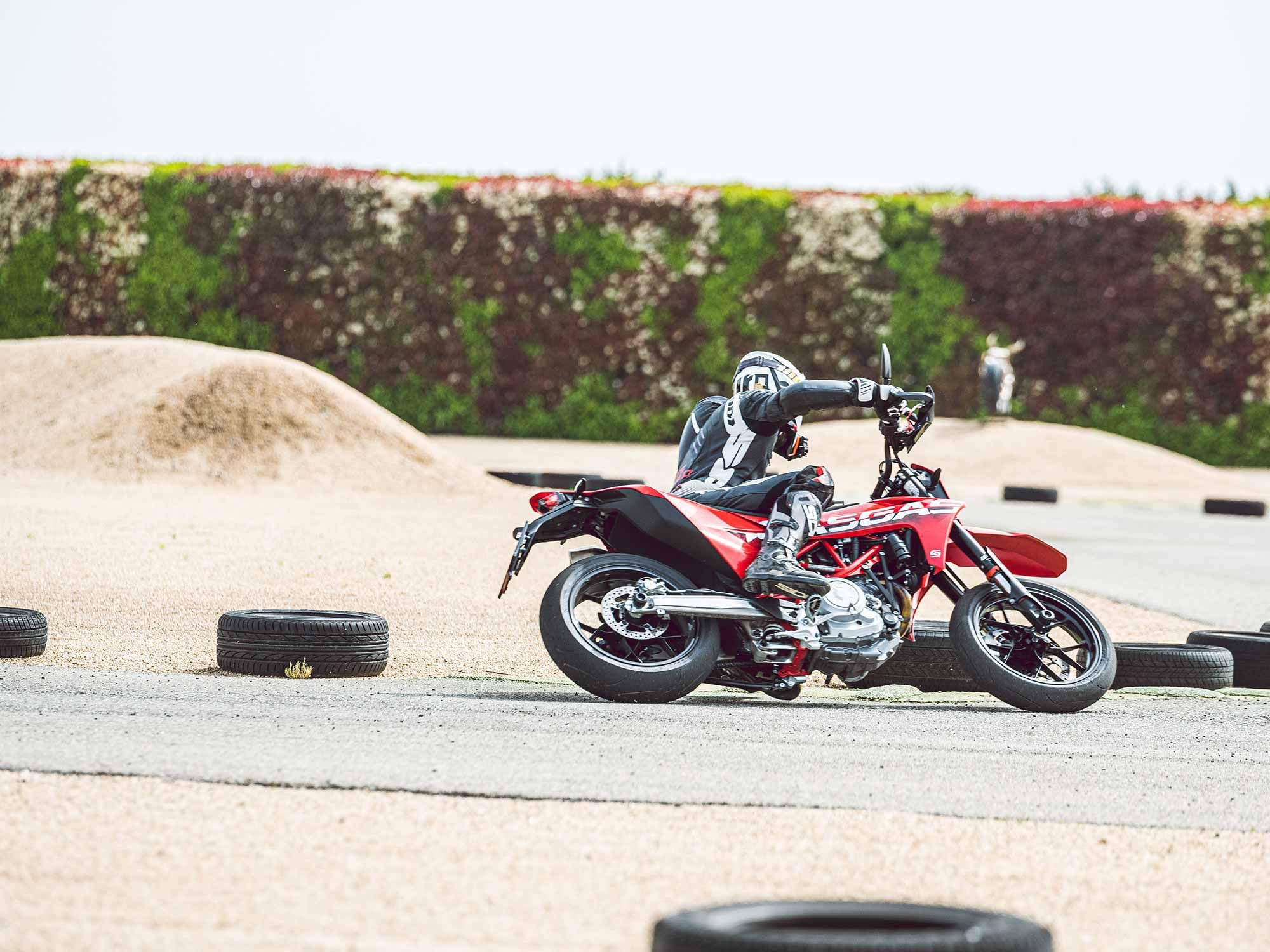 Both the SM and ES 700 have adjustable triple clamps so the fork offset can be adjusted to suit the rider's preference. (GasGas/)2022 GasGas ES 700 Tech Specs
Engine:692.7cc, DOHC, liquid-cooled four-stroke singleBore x Stroke:105.0 x 80.0mmTransmission/Final Drive:6-speed/chainClaimed Horsepower:74.0 hp @ 8,000 rpmClaimed Torque:54.0 lb.-ft. @ 6,500 rpmFuel Delivery:Electronic fuel injection w/ 50mm throttle body, ride-by-wireClutch:Wet, multiple disc APTC slipper; hydraulic operationEngine Management/Ignition:ElectronicFrame:Chrome-moly tubular steel trellis, powdercoatedFront Suspension:48mm WP Xplor, compression and rebound damping adjustable; 9.8 in. travelRear Suspension:WP Xplor shock, fully adjustable; 9.8 in. travelFront Brake:Brembo 2-piston floating caliper, 300mm disc w/ Bosch 9.1 MP lean-sensitive ABSRear Brake:Brembo 1-piston caliper, 240mm disc w/ Bosch 9.1 MP lean-sensitive ABSWheels, Front/Rear:Spoked wheels w/ aluminum rims; 21 in./18. in.Tires, Front/Rear:90/90-21 / 140/80-18Rake/Trail:27.7°/4.6 in.Wheelbase:59.1 in.Ground Clearance:10.6 in.Seat Height:36.8 in.Fuel Capacity:3.6 gal.Average MPG:54.7 mpgClaimed Dry Weight:322 lb.Contact:
gasgas.com
2022 GasGas SM 700 Tech Specs
Engine:692.7cc, DOHC, liquid-cooled four-stroke singleBore x Stroke:105.0 x 80.0mmTransmission/Final Drive:6-speed/chainClaimed Horsepower:74.0 hp @ 8,000 rpmClaimed Torque:54.0 lb.-ft. @ 6,500 rpmFuel Delivery:Electronic fuel injection w/ 50mm throttle body, ride-by-wireClutch:Wet, multiple disc APTC slipper; hydraulic operationEngine Management/Ignition:ElectronicFrame:Chrome-moly tubular steel trellis, powdercoatedFront Suspension:48mm WP Xplor, compression and rebound damping adjustable; 8.5 in. travelRear Suspension:WP Xplor shock, fully adjustable; 9.5 in. travelFront Brake:Brembo 4-piston floating caliper, 320mm disc w/ Bosch 9.1 MP lean-sensitive ABSRear Brake:Brembo 1-piston caliper, 240mm disc w/ Bosch 9.1 MP lean-sensitive ABSWheels, Front/Rear:Cast aluminum rims; 17 in./17. in.Tires, Front/Rear:120/70 ZR 17; 160/60 ZR 17Rake/Trail:26.4°/4.3 in.Wheelbase:59.1 in.Ground Clearance:9.3 in.Seat Height:35.4 in.Fuel Capacity:3.6 gal.Average MPG:54.7 mpgClaimed Dry Weight:322 lb.Contact:
gasgas.com