Click here for full story...
Before the new year could begin, Indian Motorcycle was here to tease a shoulder at their new 2024 models and a collaboration that turned the heads of not just those who ride for the street—a private early showcase hosted at
The Brand Amp
in Costa Mesa, CA.
Lured by the promise of free tacos, Indian didn't disappoint as we weren't just salivating at the food.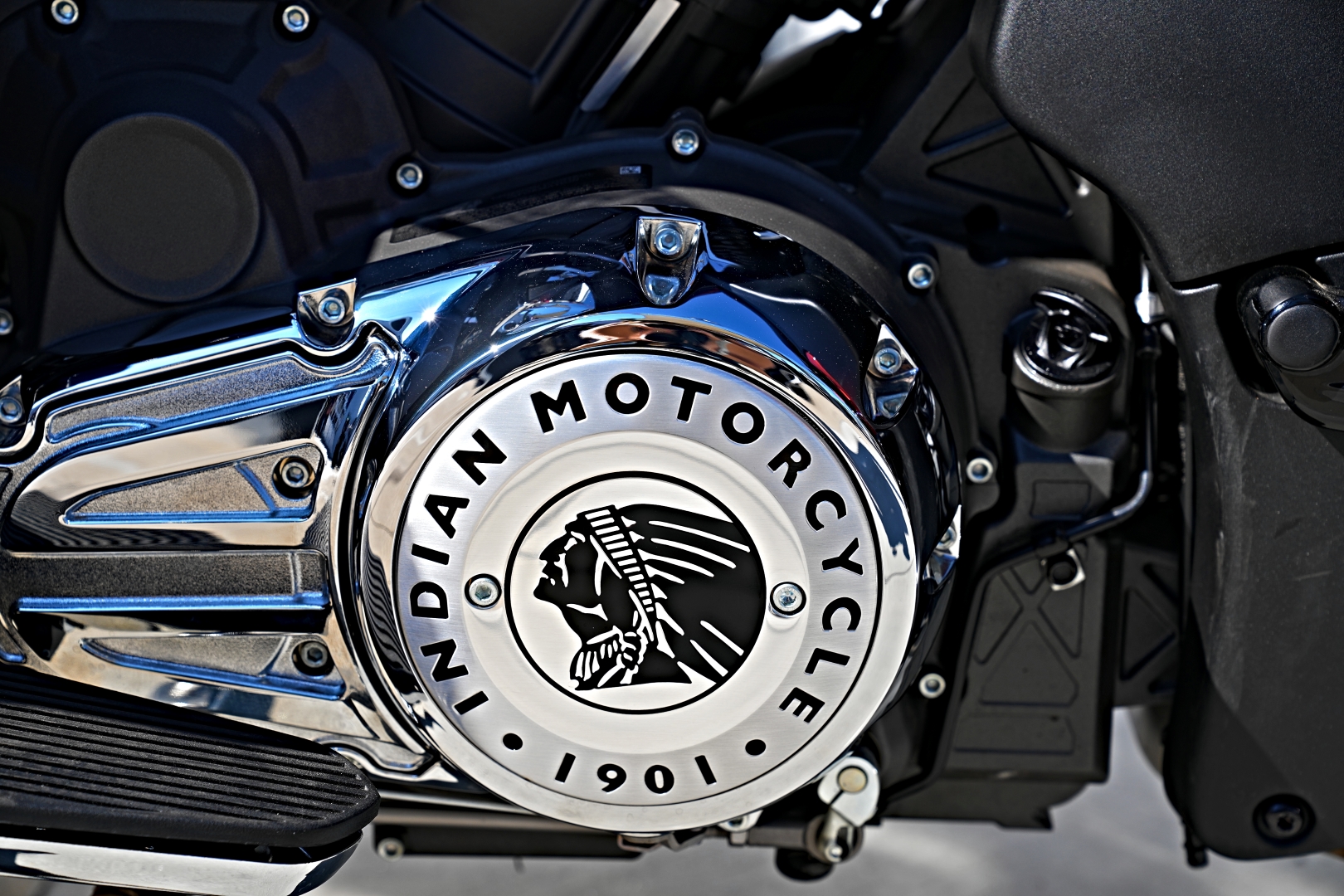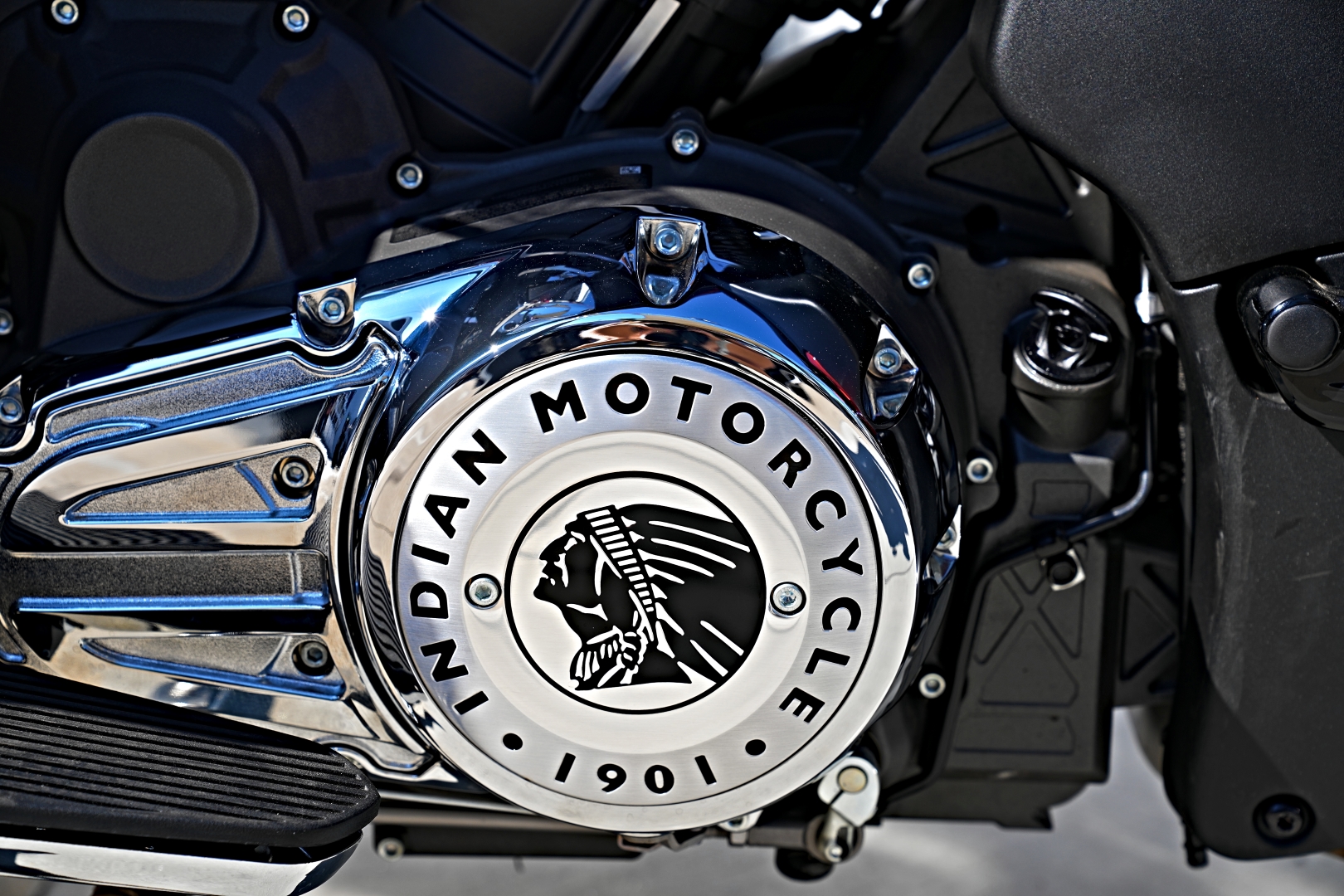 Indian Motorcycle Company sigil against engine.Lining up their models like an NFL draft, we could feel why Indian has the heart of
American Motorcycles
. In just ten years, they've been able to revamp and reconstruct how they build to match every type of rider. Mike Dougherty, President of Indian Motorcycle, describes them as "…new models and trim offerings …to meet the diverse tastes and needs of our global riding community. Riders are choosing Indian Motorcycle".
It is a true testament of a company that doesn't just build but takes the feedback of what riders want. And though they emphasized that the focus was on improving fit and finish while revamping coloring, we huddled like children at Christmas at what was under the blackened Indian capes.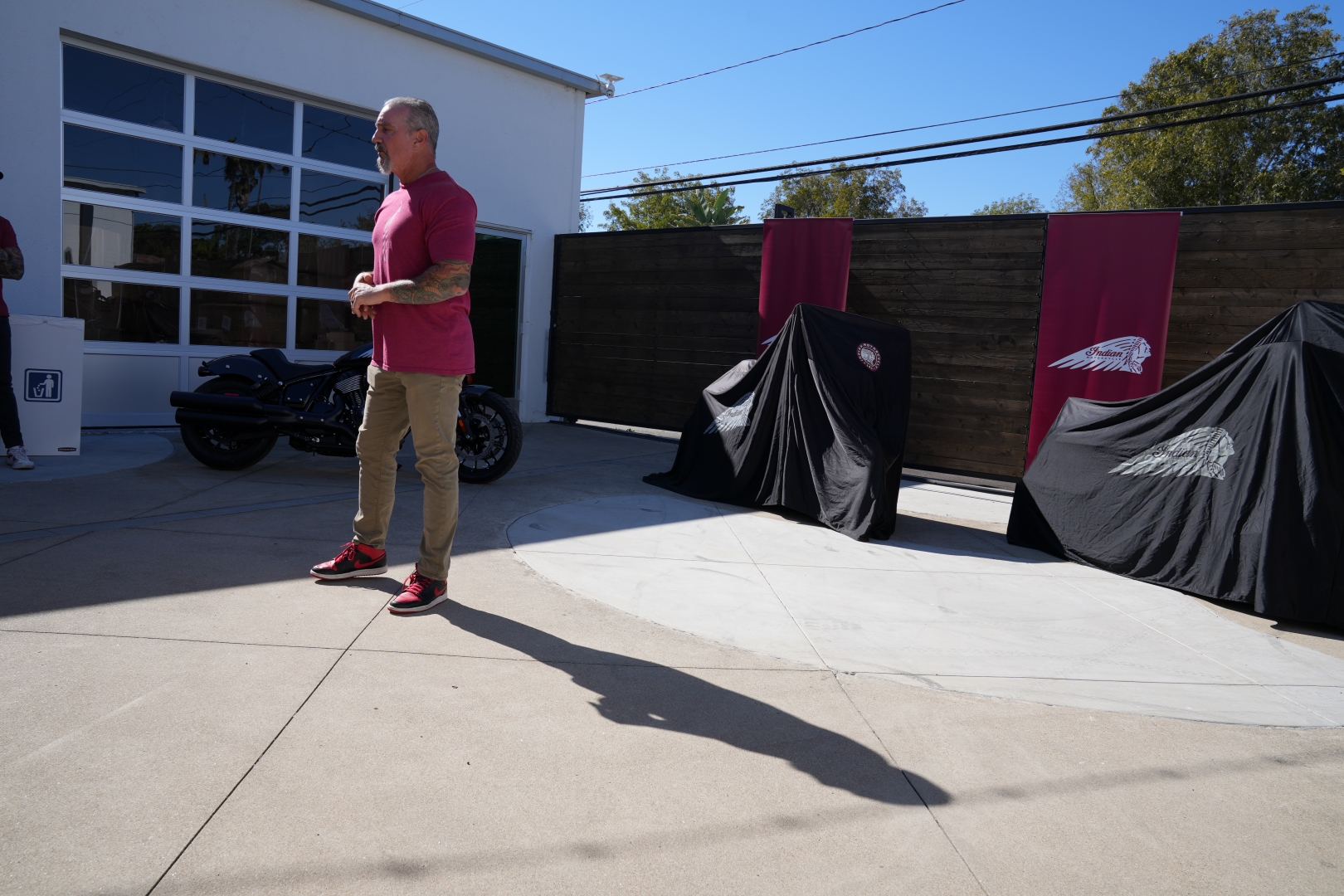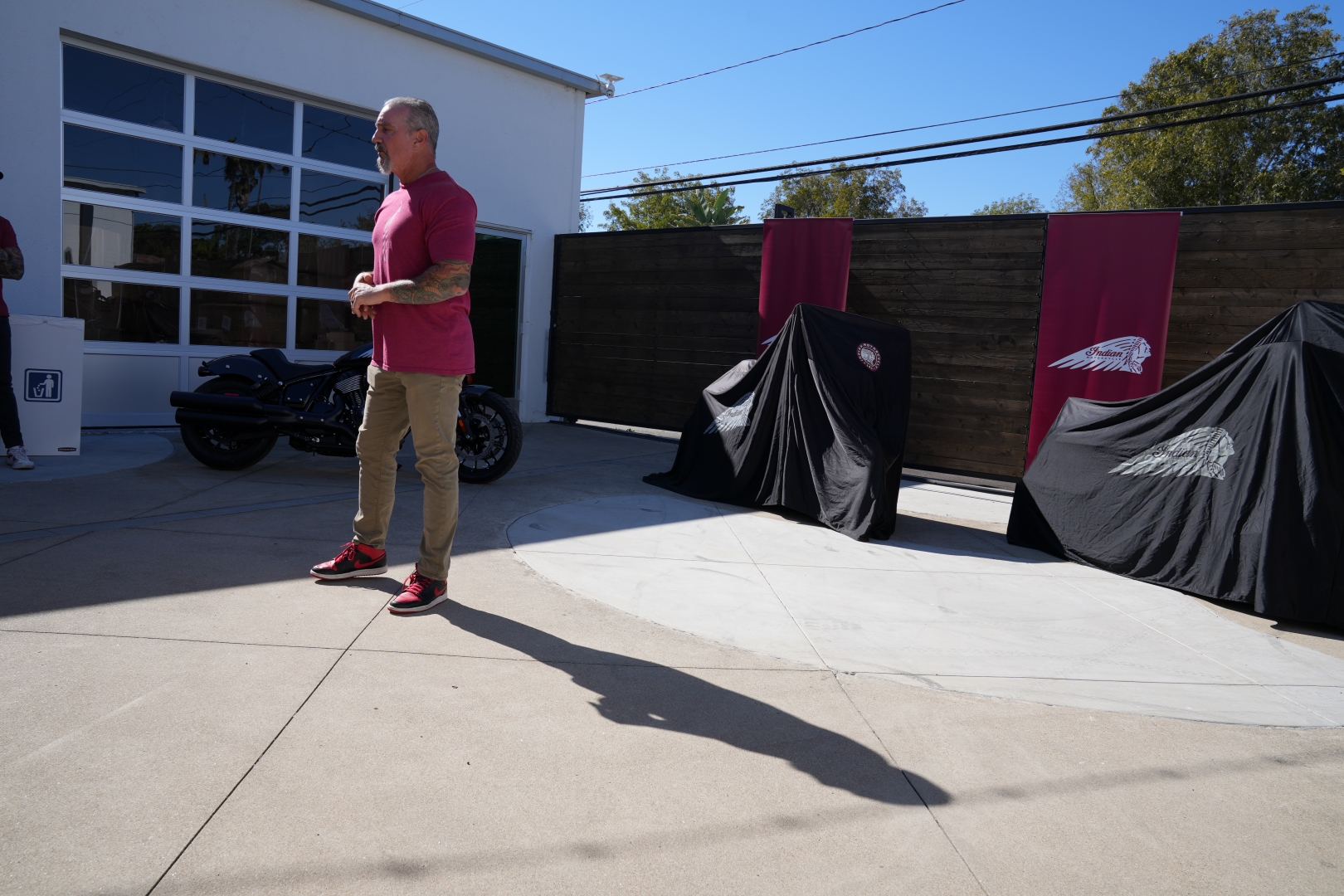 Indian Motorcycle reps are about to unveil their newest 2024 editions.Though we were told we wouldn't get to test-ride anything, the anticipation of a new bike made me wish for a ride more than a taco.
2024 Indian Pursuit
Before unveiling these black brides, they gave us some details about their Indian Pursuit.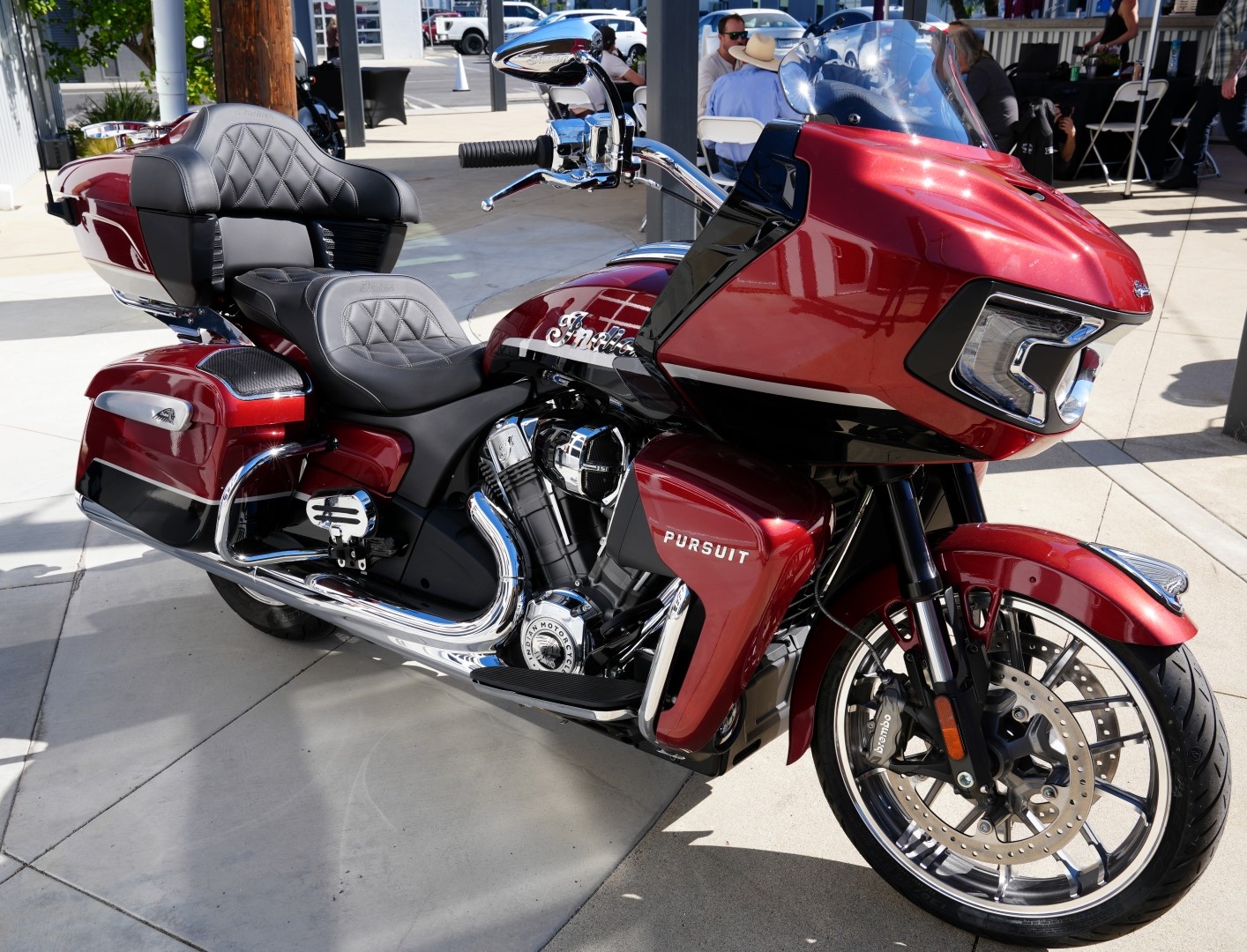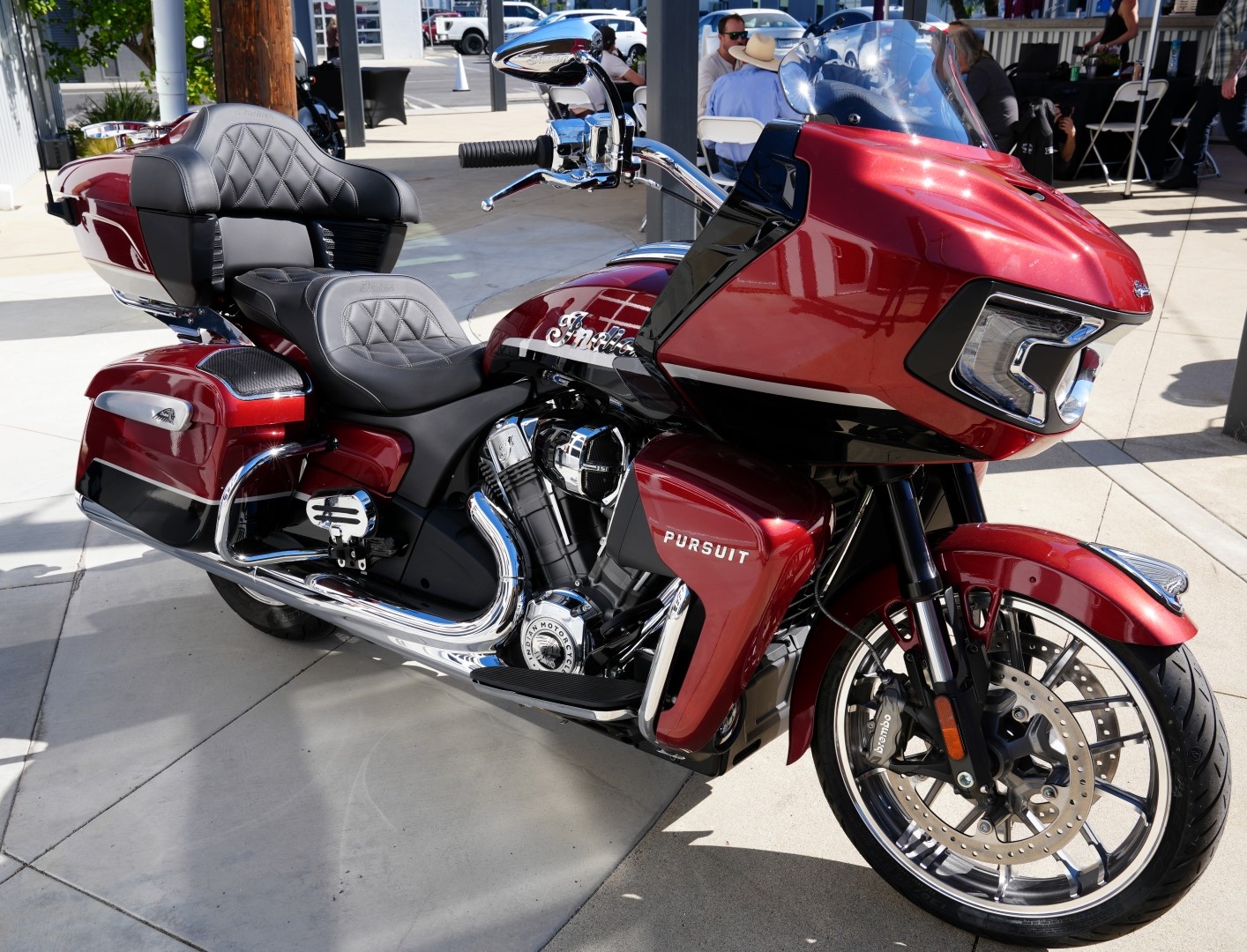 IMC Red Indian Pursuit Dark Horse.It gave us lady-in-red vibes with 122 HP behind it. A sleeker, smoother, and stealthier look with the Pursuit Dark Horse was in a vibrant cherry red with chrome and black detailing. It has a new blacked-out gloss dash and tinted flared windshield. Additionally, saddle bags were updated to have an easier clip opening. It was pretty, but it became metal real fast when they demoed the new up-to-800-watt powerband audio system.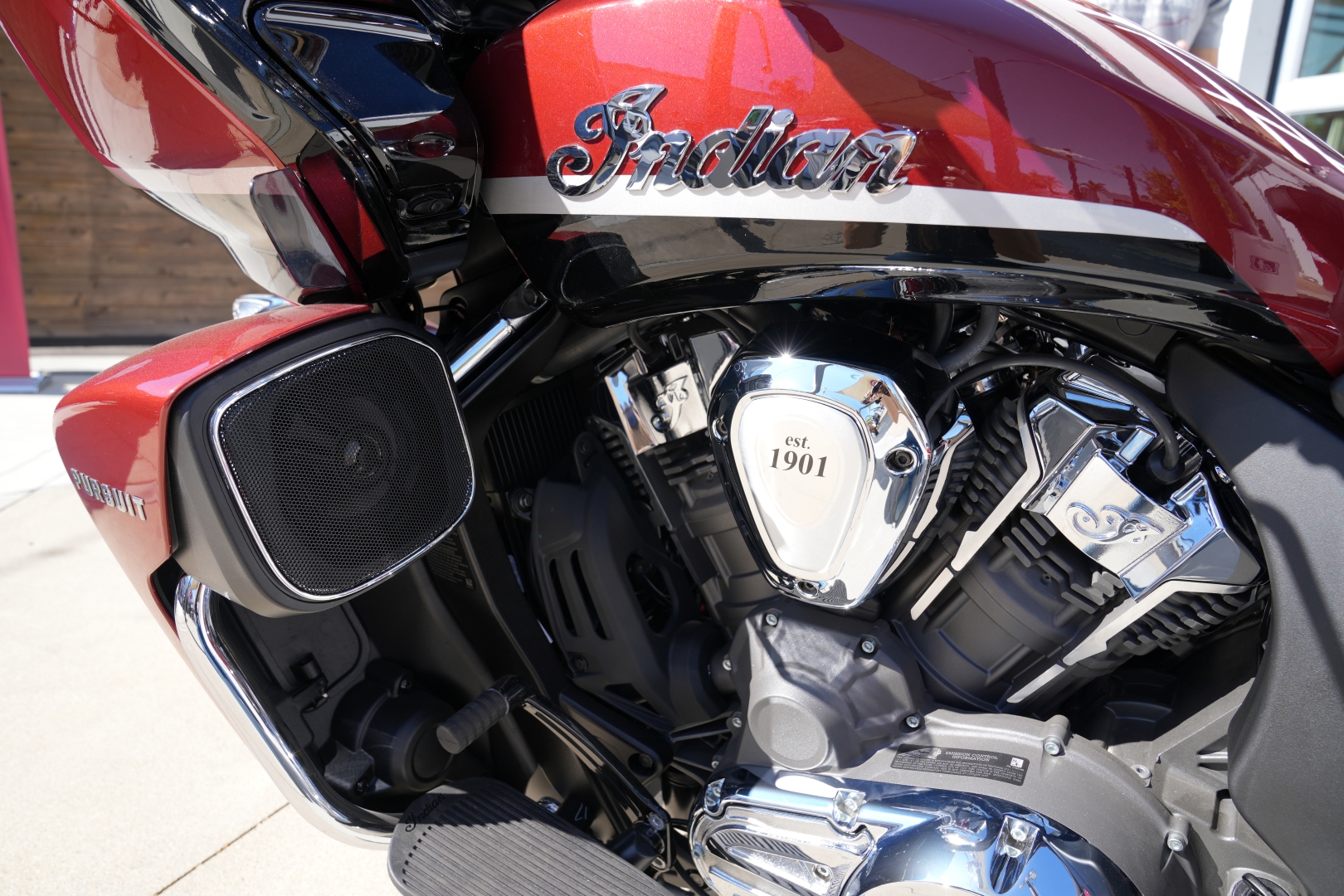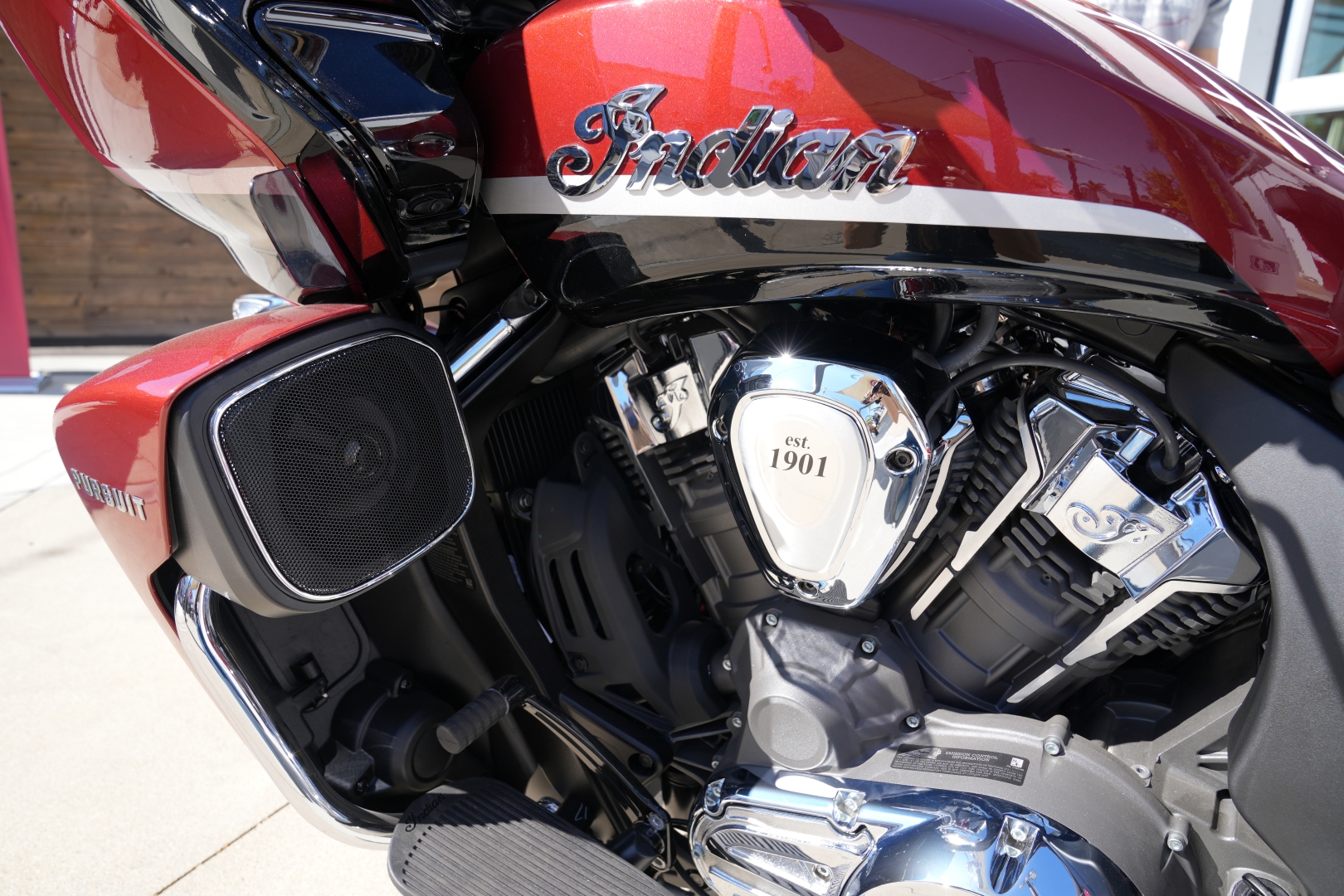 One of three upgraded speakers has an under-glow LED Backlight on the Indian Pursuit Darkhorse.
Indian's PowerBand Audio
We liked seeing the rock concert come out of a beautiful design. For riders that want to see their bikes come alive, Indian's new audio kits have a
Bass Boost Tune
that makes your music have a deeper bass while auto-optimizing in real time so nothing is distorted when the neighbors hear you coming around the block.
All 2024 and newer Indian motorcycles will come standard with the
Bass Boost Tune
, easy to install, but the king of the baggers crown not included.
2024 Challenger Elite
Moving on to the first mystery unveiling, we found that it was Indian's Challenger Elite. A new revamp that gives you a first-class ticket feel. This ultimate bagger is designed for riders seeking the essence of America paired with comfortable luxury. It has five-star hotel features already made with custom stitching, heated grips, adaptive LED lights, an adjustable flair windshield, passenger floorboards, and
Smart Lean technology
that optimizes you and your passengers' suspension with a button.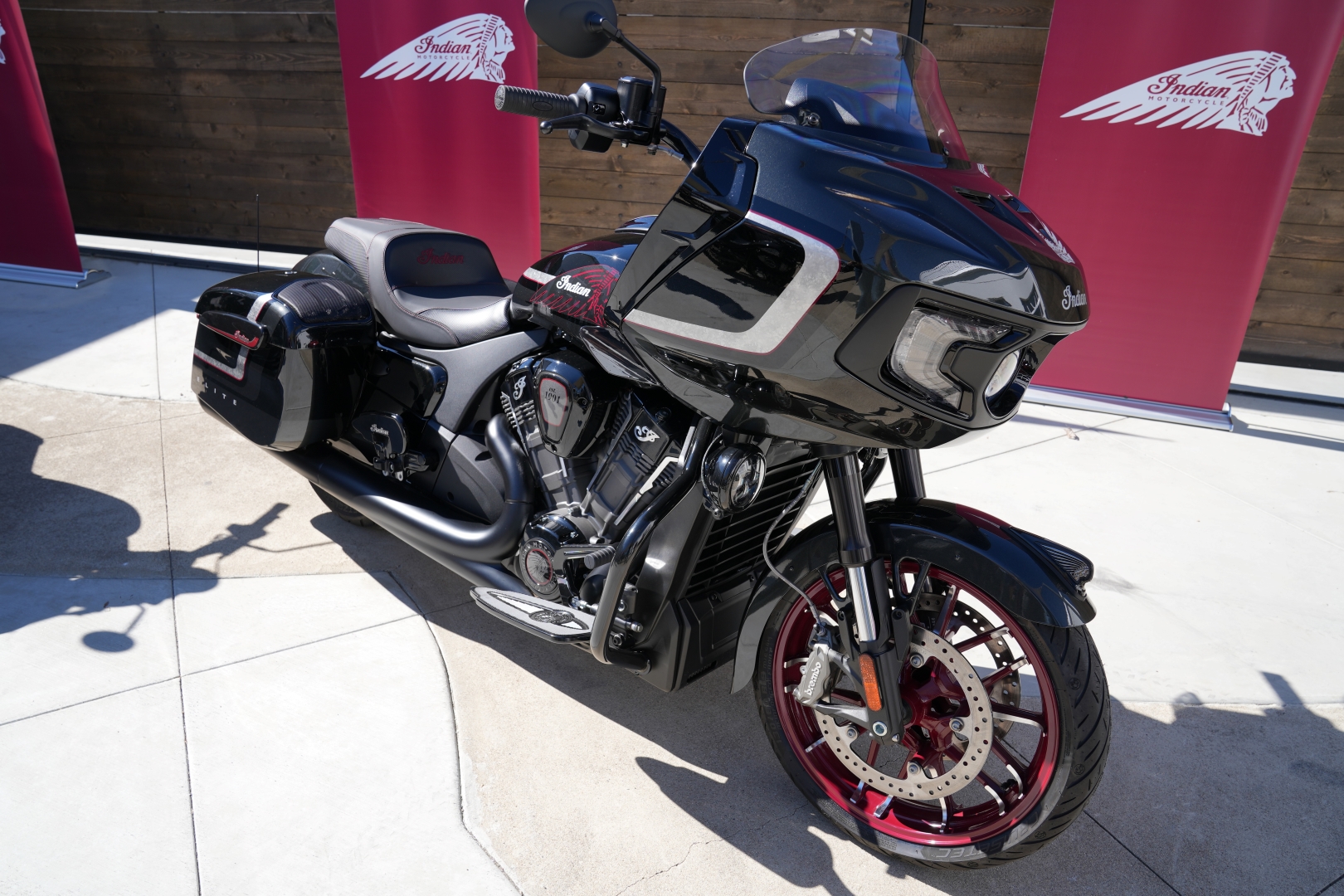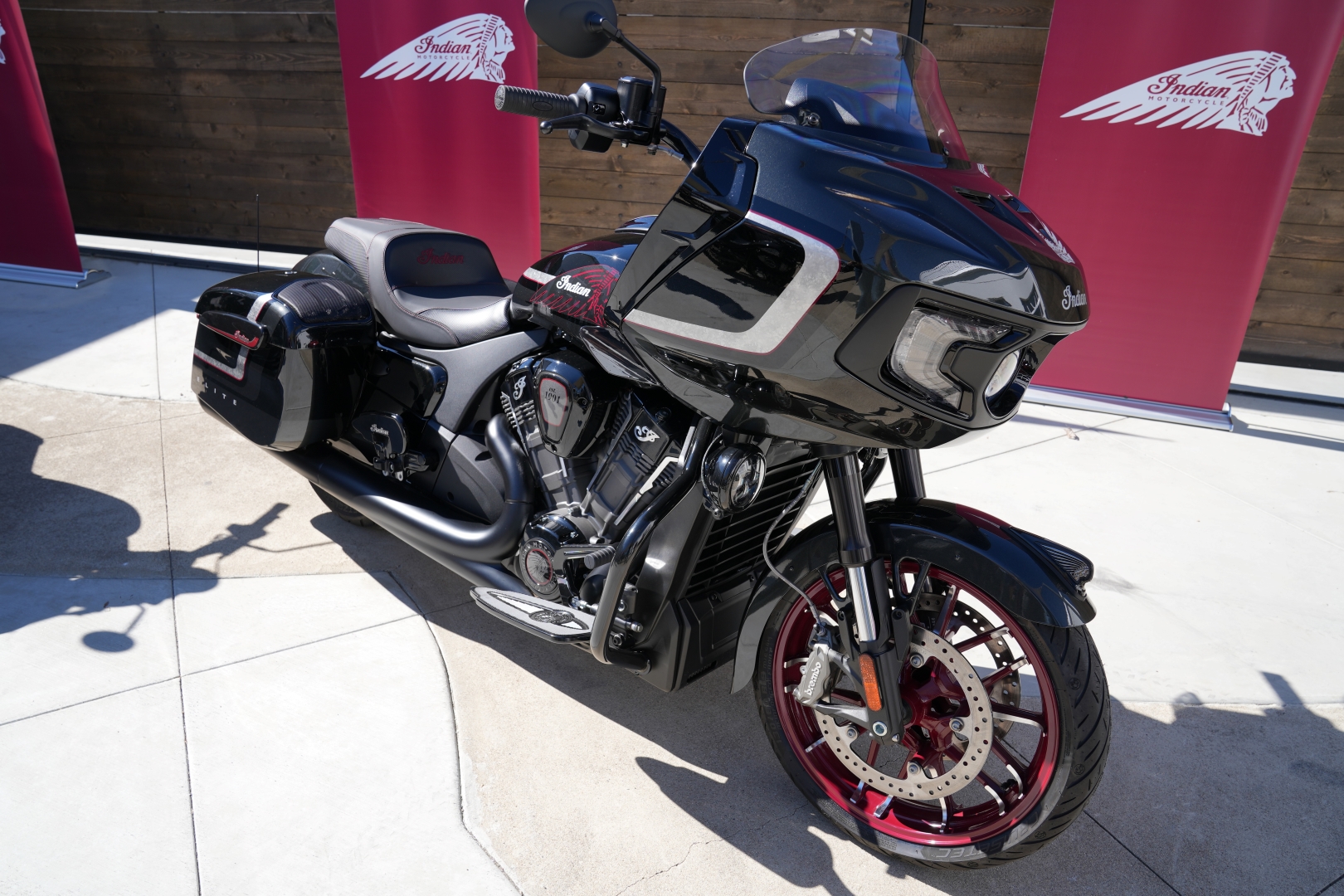 Indian Challenger in Black charcoal.This Challenger was given a* Charcoal Candy paint scheme with silver acid-etched muscle strips pin-striped perfection with IMC (Indian Motorcycle company) red, matching the wheels.* It's a Thunderdome-worthy tuxedo etched on a badass bagger. With only 325 made, we see the craftmanship in every acid muscle stripe adorned with individual spray-on acetone to give it that apocalyptic flare before it's glossed over.
Indian's attention to detail embodies not just horsepower and design but a symphony of personalized artistry, where each stroke and line becomes a brushstroke of American expression on the canvas of open roads.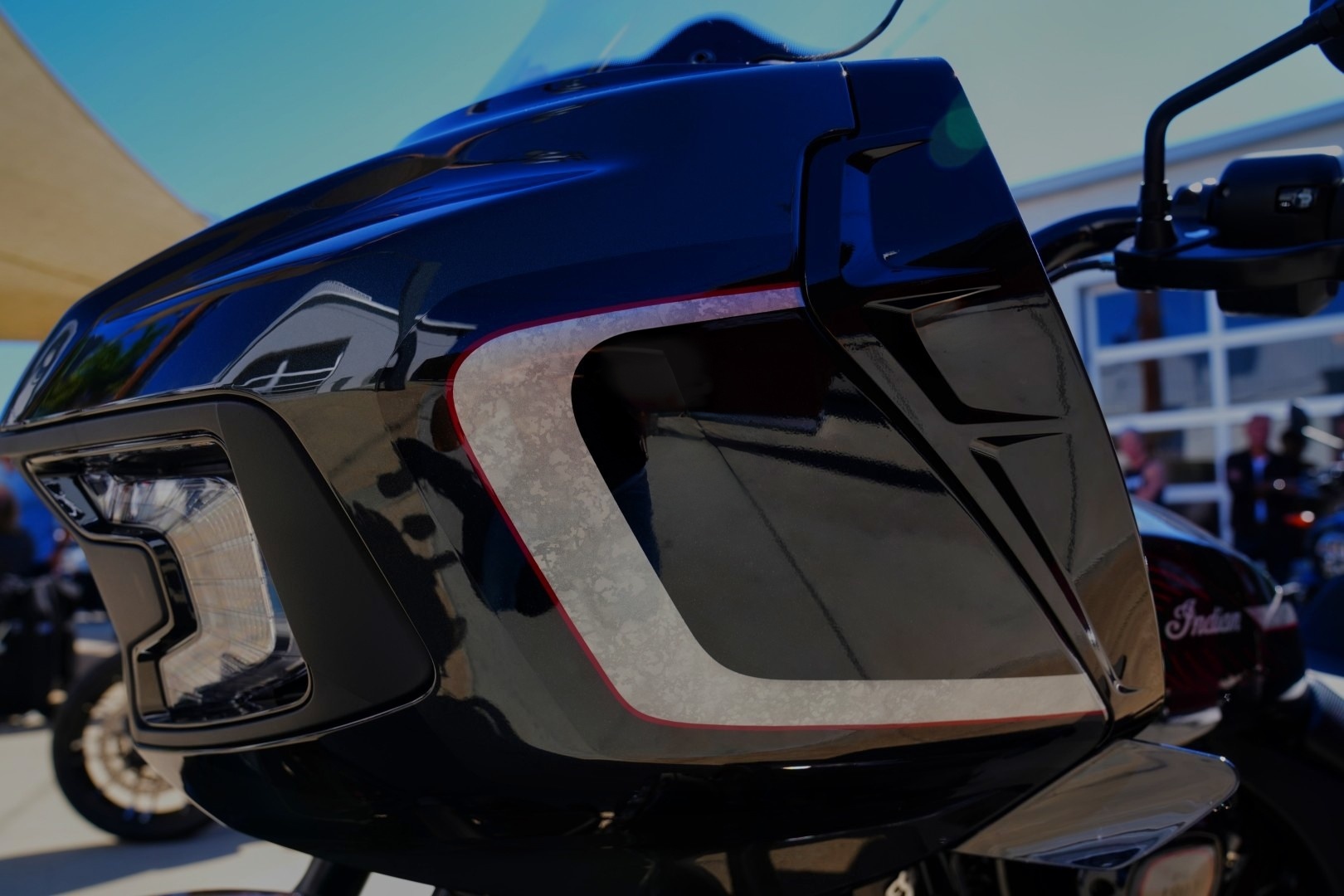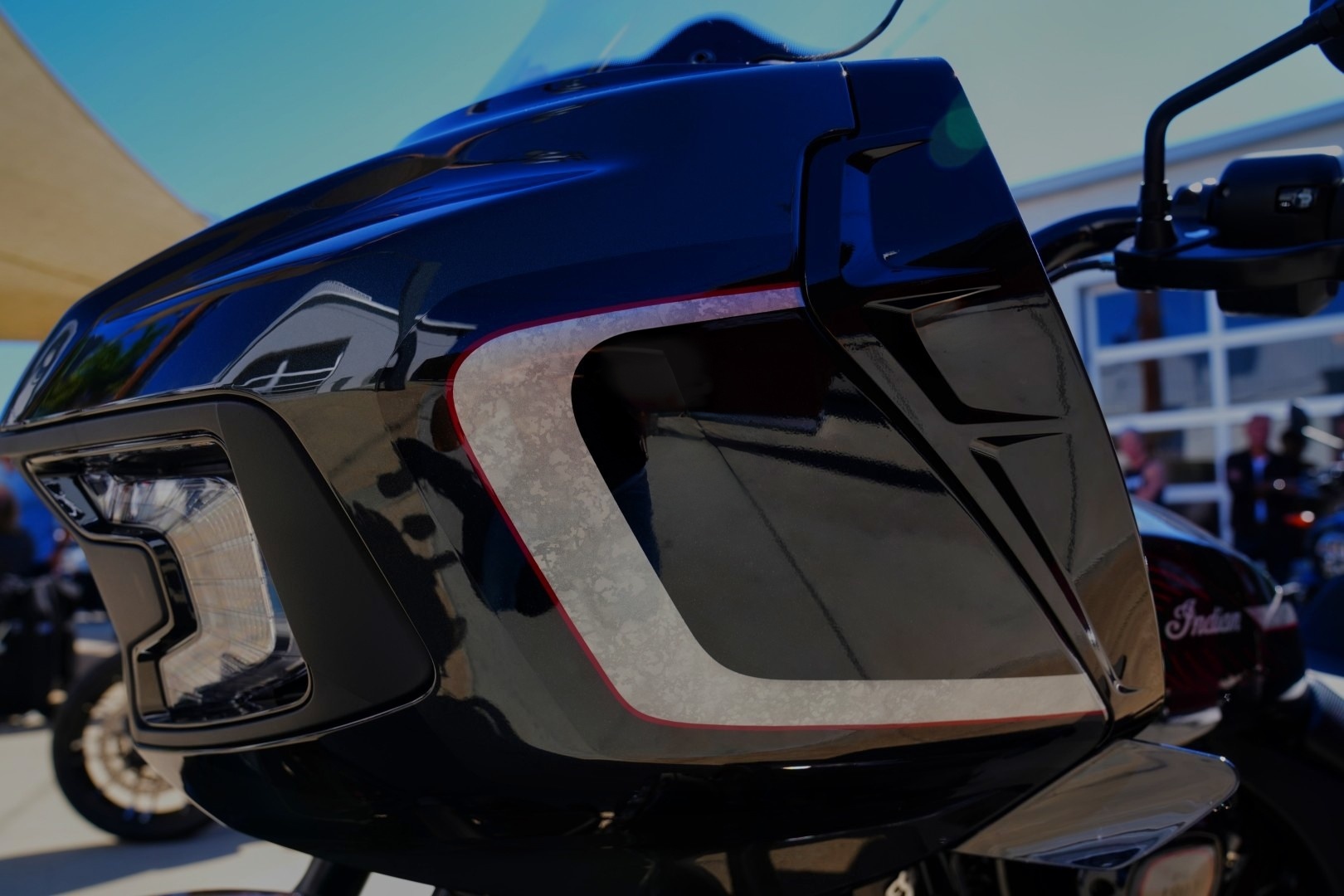 Indian Challenger Elite with silver acid detailing and red Pinstripe.
2024 Indian FTR x 100% R Carbon
The last unveiling had us wondering what* Indian was heading into 2024 with if we just saw two styling baggers with a purse worth of goodies. With a more petite frame, we know it's not a bagger but something new with a lot of old.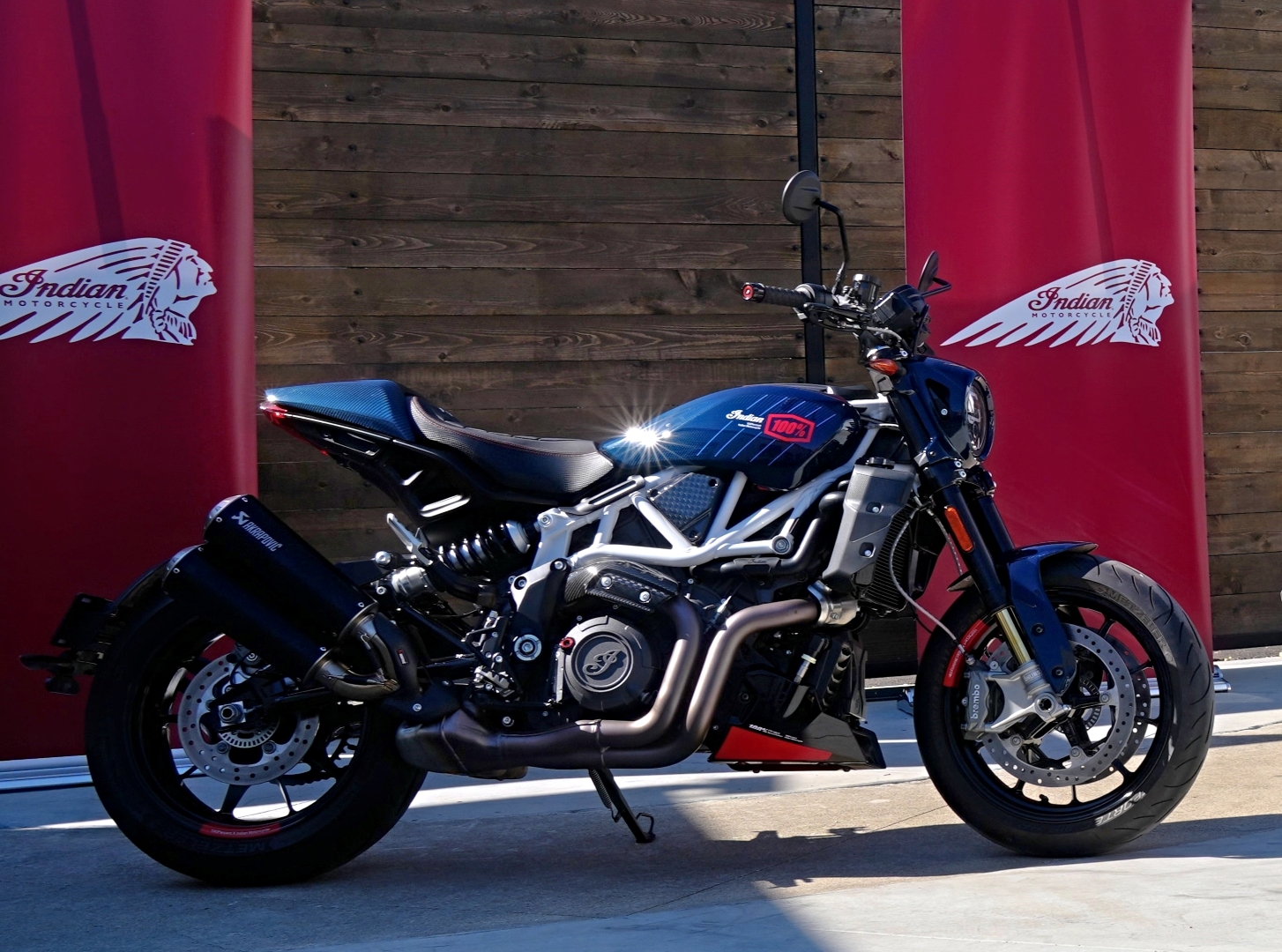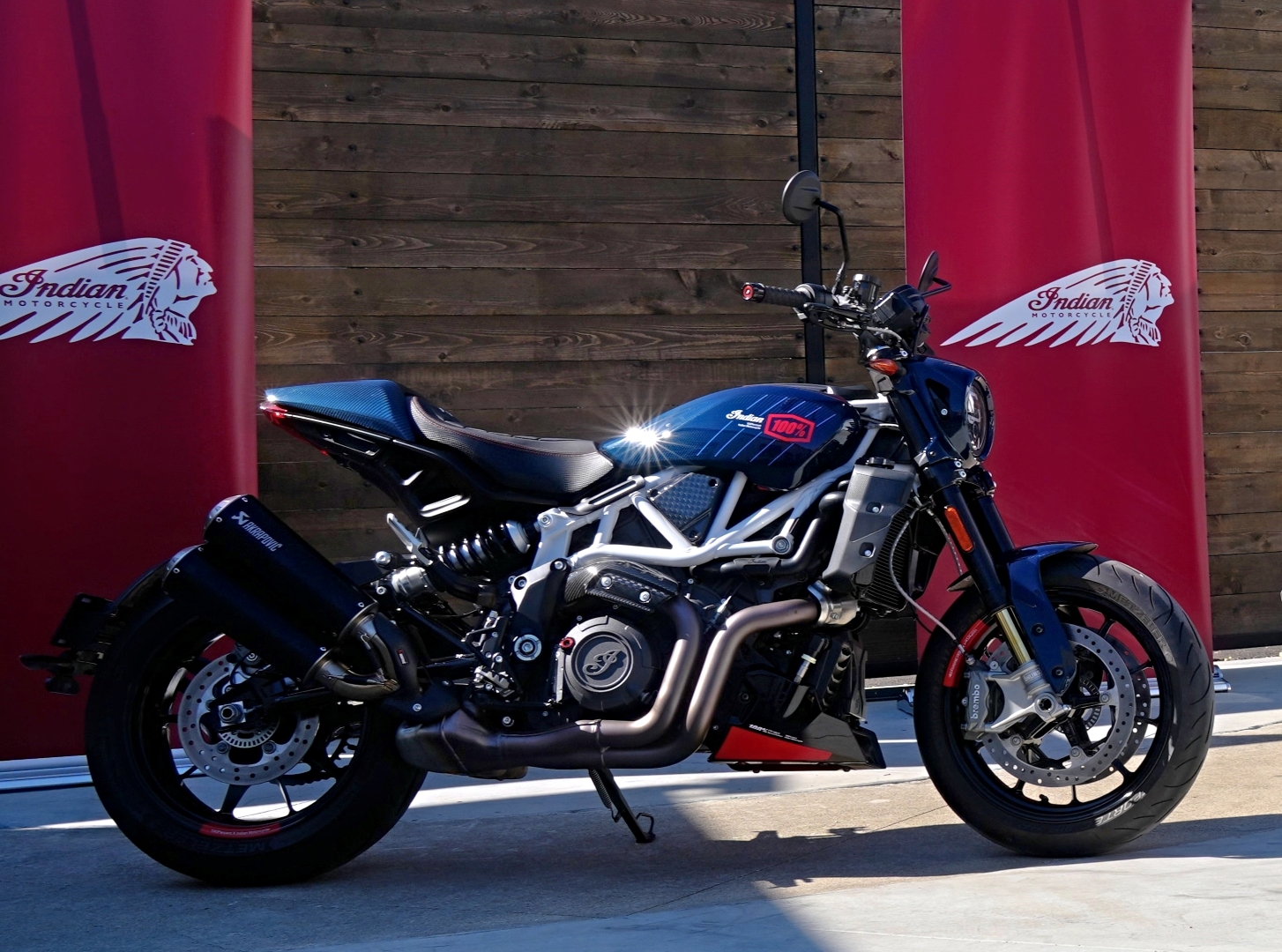 Indian FTR x 100% R Carbon with Blue detailing.To celebrate Indian's 123 years of making history in motorcycling, they've teamed up with the famed action sports brand 100% for a revamp of the R Carbon. A 1200 cc race-ready machine now has the partnership of a brand pioneered in American Motocross. A bike made by the classic heritage of American muscle with a brand sewed together by racers in the dirt.
With a catchphrase that asked, "How much effort do you give?" we can see that this collaboration gave the best.
A 120-horsepower V-twin with 87 ft-lb of torque ready to give 100%. This 1200 is dressed up with new Brembo brakes, a black finished Akrapovi? exhaust, a blacked-out front fork, and a rear shock spring. It's covered in the engine's carbon fiber components, chain guard, and heat shield. In addition, it's wrapped in a blue candy-striped coloring with custom 100% detailing. The frame is in snow white to bring your attention to its lines and is finished with classic IMC red accents to complete the look.
A sinister, sophisticated style with a well-thought-out partnership gives the FTR a new reason to ride.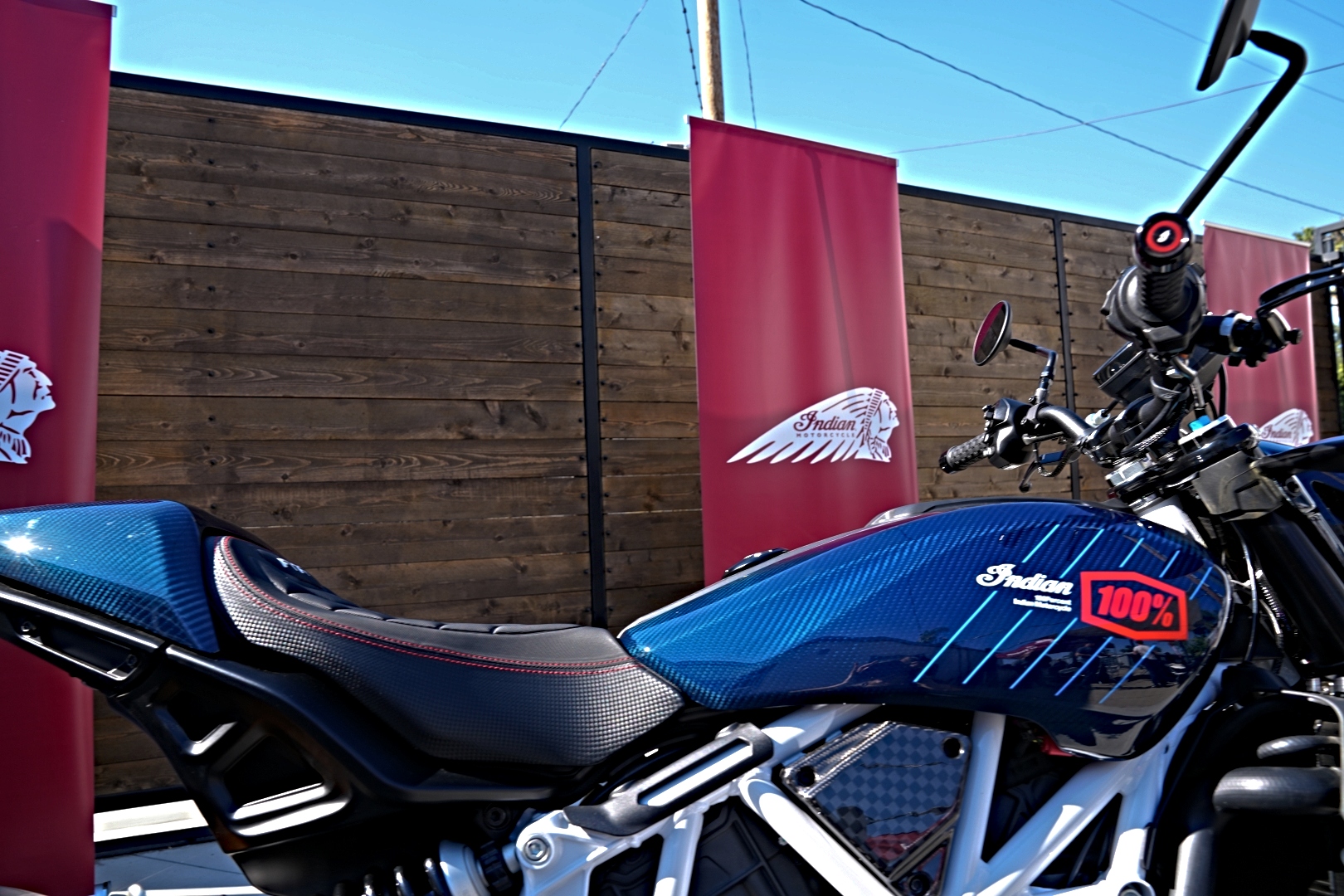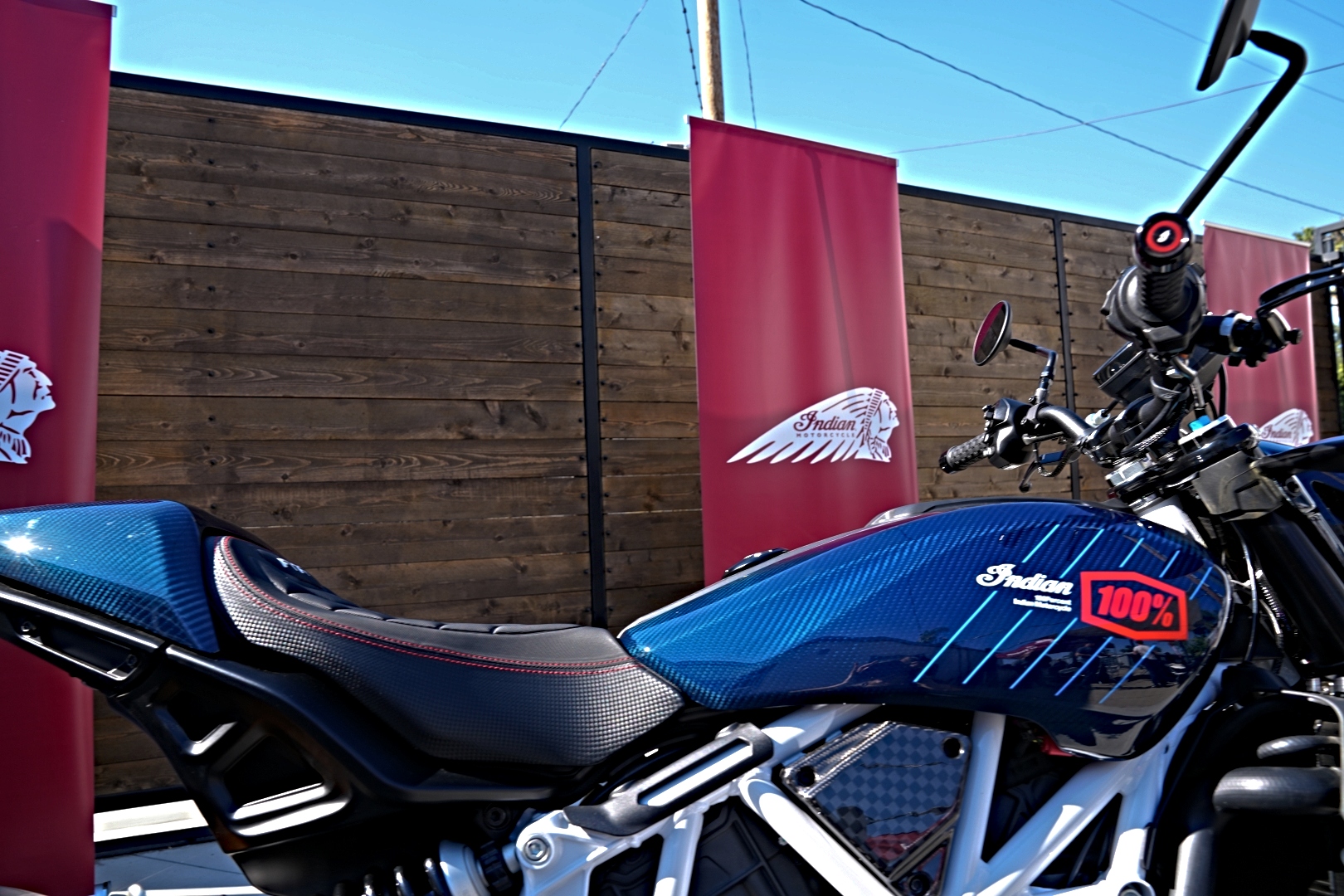 Indian FTR x 100% R Carbon with limited edition paint job.While oogling the new candy on display, I now understood why 100% CEO was here during this event, and it was none other than to show us how much he feels Indian and 100% share in the rich history of street and dirt. We spoke to him about his thoughts about the future of this partnership to see if this means 100% is bringing IMC into the dirt.
There was no confirmation yet, but his enthusiasm to work with this company was enough to get my imagination running with an Indian dirtbike. Again, there is no confirmation, but the grinning possibility is there.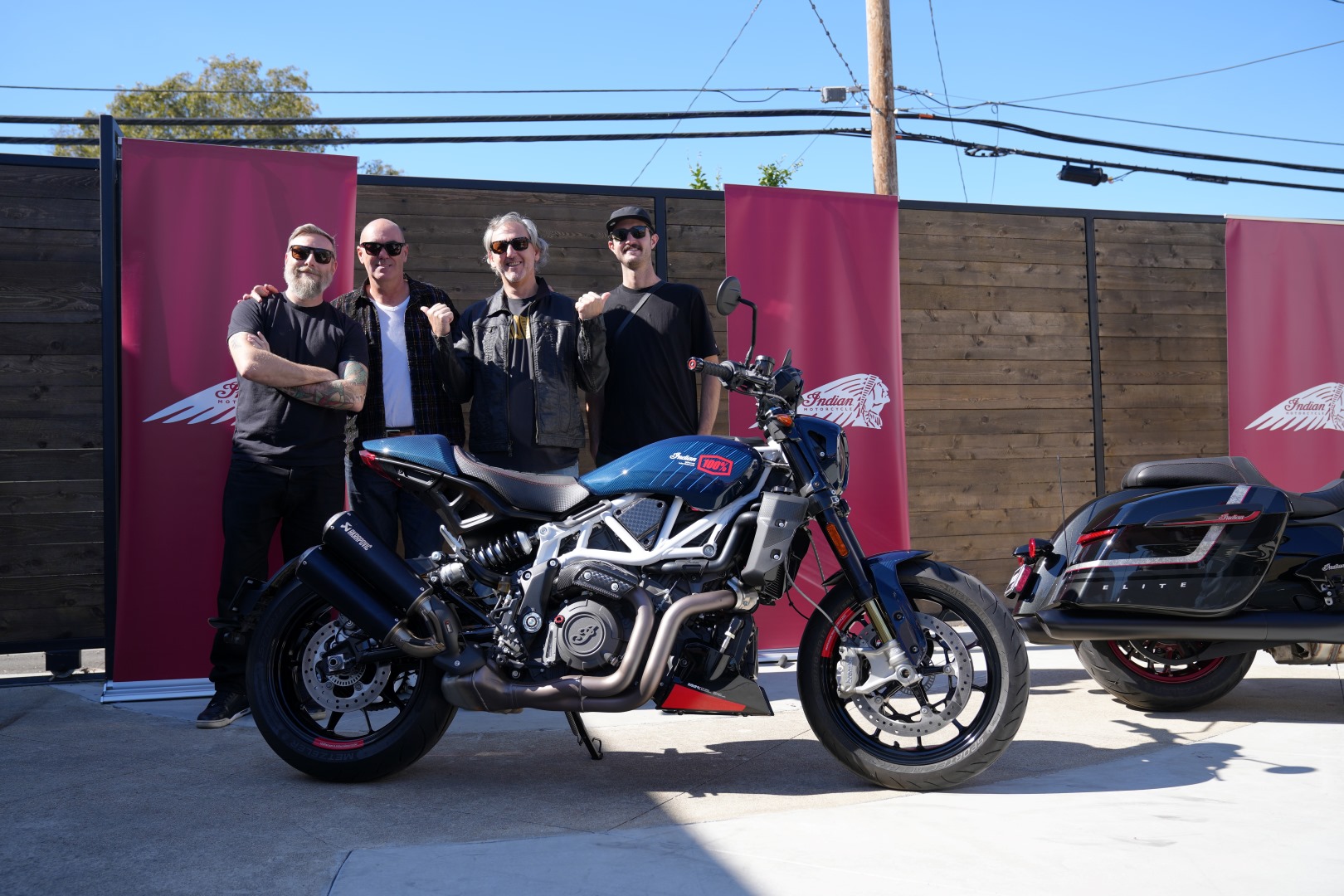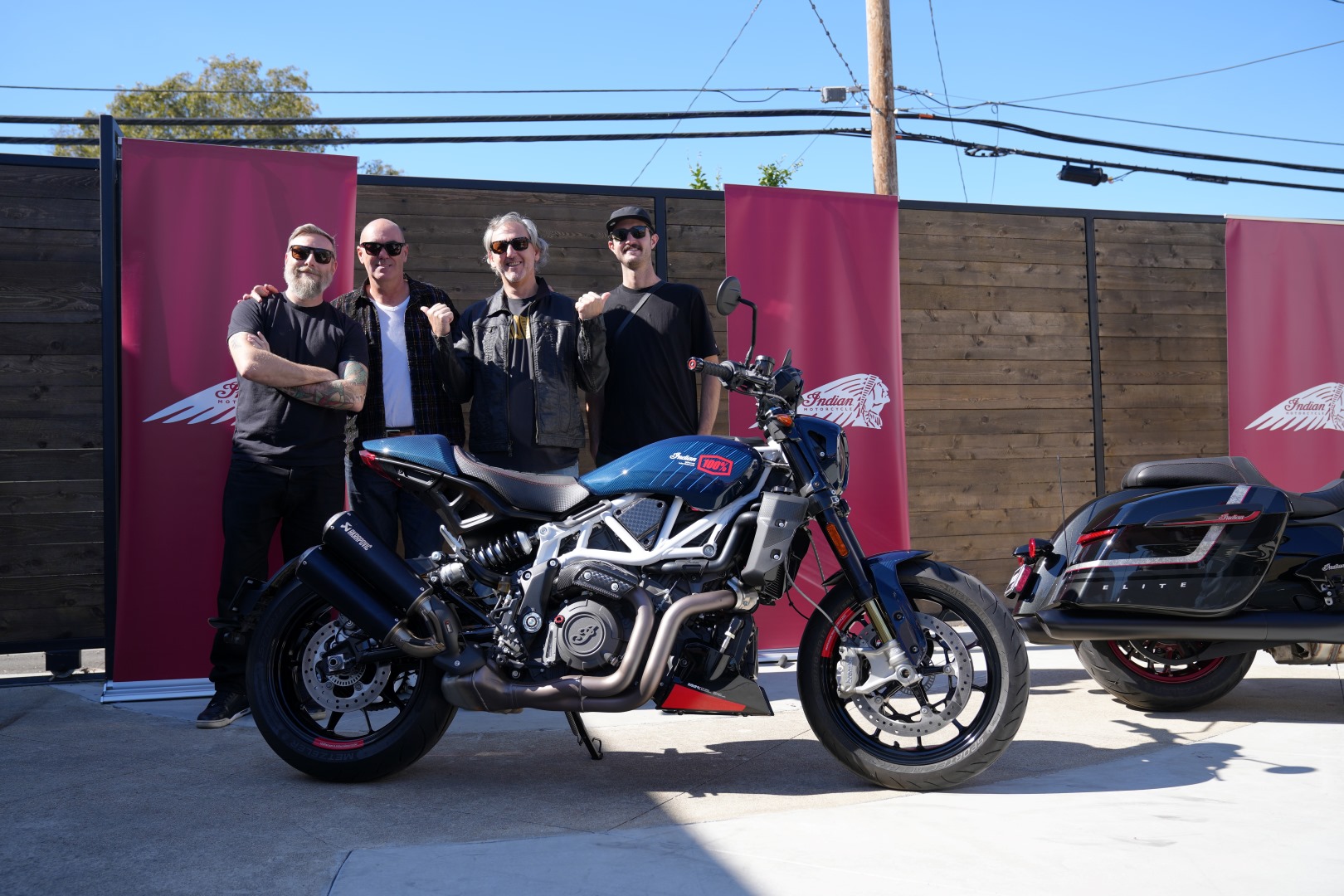 100% CEO Ludo Boinnard and crew pose behind FTR x 100% R Carbon.Local Indian reps also informed us that this will be a full apparel lineup collaboration with sunglasses as well. You also get free shades when purchasing one of these limited babies. And even though the FTR turned my head, my eyes were on the "Tokyo Night S2" mirrored lenses.
After our questions, the second mouthwatering display—the tacos- was out.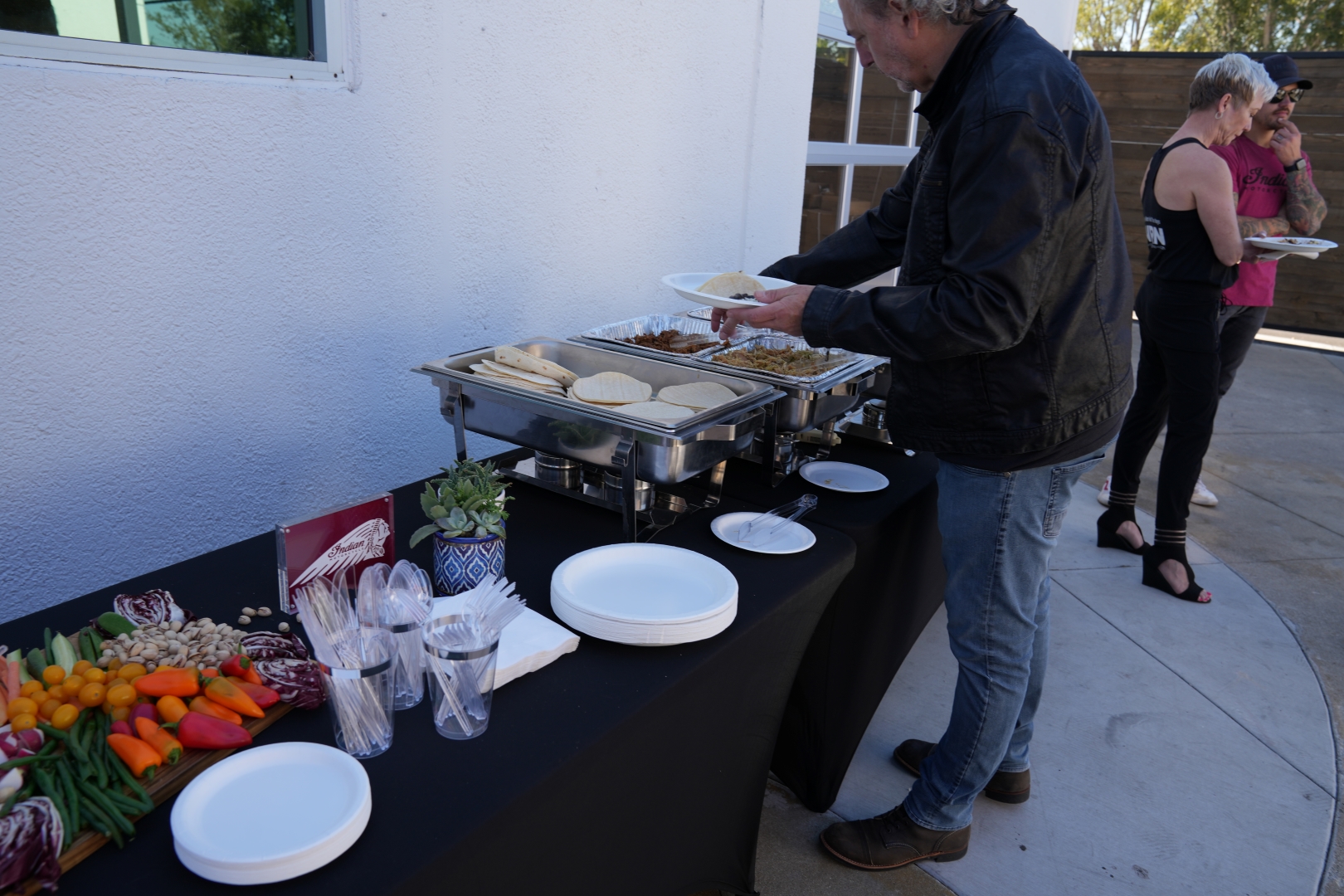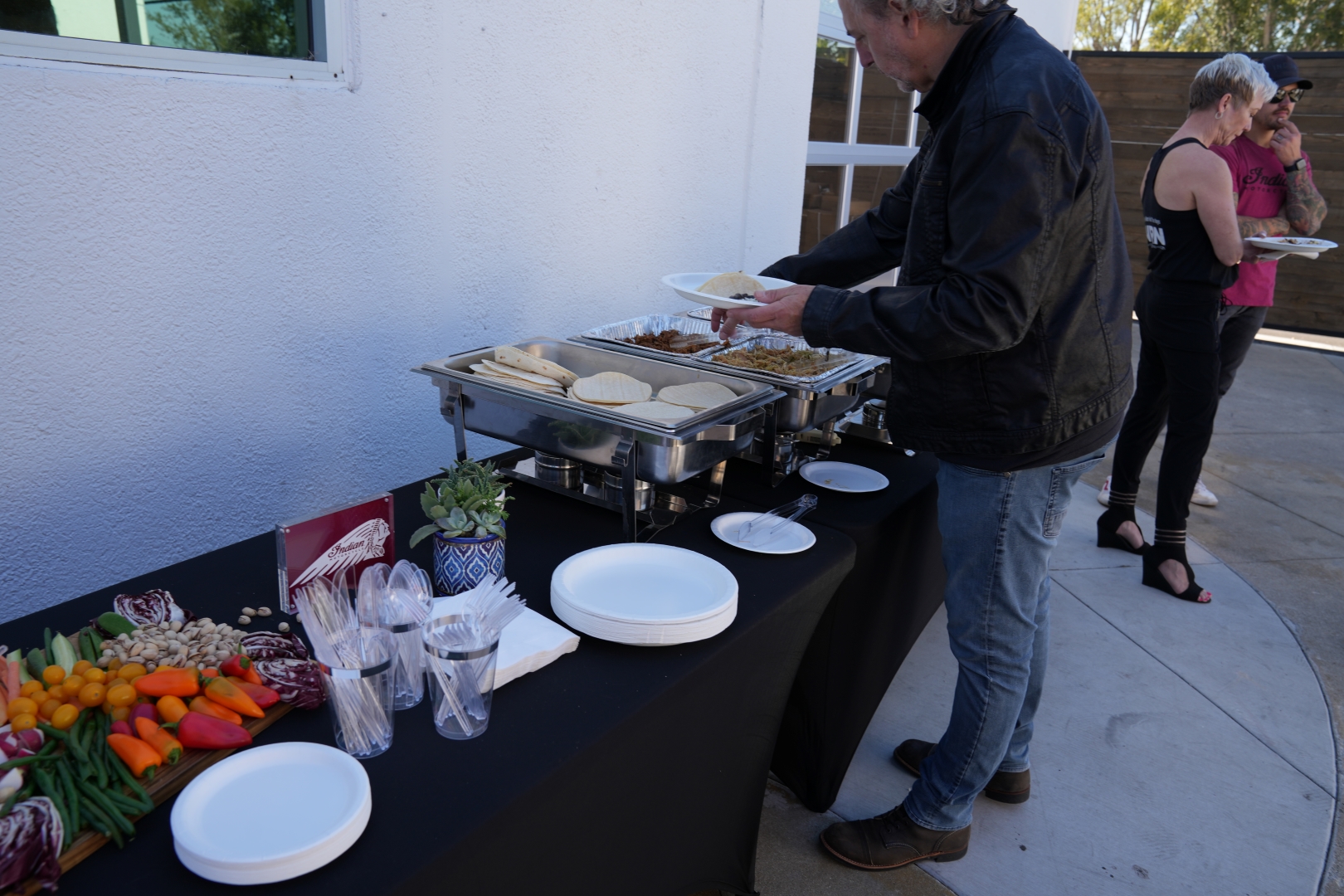 The taco Buffet courtesy of IMC.
The 2024 Indian Motorcycles Lineup
Coming into 2024, we can expect to see the Challenger Elite and the new FTR at the forefront, but that doesn't mean the rest of this year's lineup wasn't glammed up, too. IMC informed us that their 2024 lineup will still be there for their Scout, Chieftains, Roadmasters, Pursuits, Baggers, and touring models but with 16 new colorways.
Their new Powerband audio with updated LED will be in every 2024 bagger and touring model. There will also be hard lowers for the Chieftain, Roadmaster, Indian Challenger, and Indian Pursuits. In addition to low-profile trunks and touring trunks, 2024 Cheif and Scout models will now have more Fairing options. And many will feature new blacked-out panels for a stylish, classic look.
It's a great continuation to a lineup that has America's heart. This showcase presented how IMC will keep breathing life into their models; for them, it's about using the products as brand levers. Collaboration is the fresh juice that keeps us returning to the possibility of what could be around the corner.
This time, it was a brand that fueled itself with racing champions. We don't just see 100% as an offroad or motocross signal. We see it as a catalyst for Indian's patriotism to American riding and racing. It's a throwdown note that doesn't just say it's giving effort. It says we're ready to rock you.
And we're here for it.
For more information, check out the
Indian Motorcycle website
.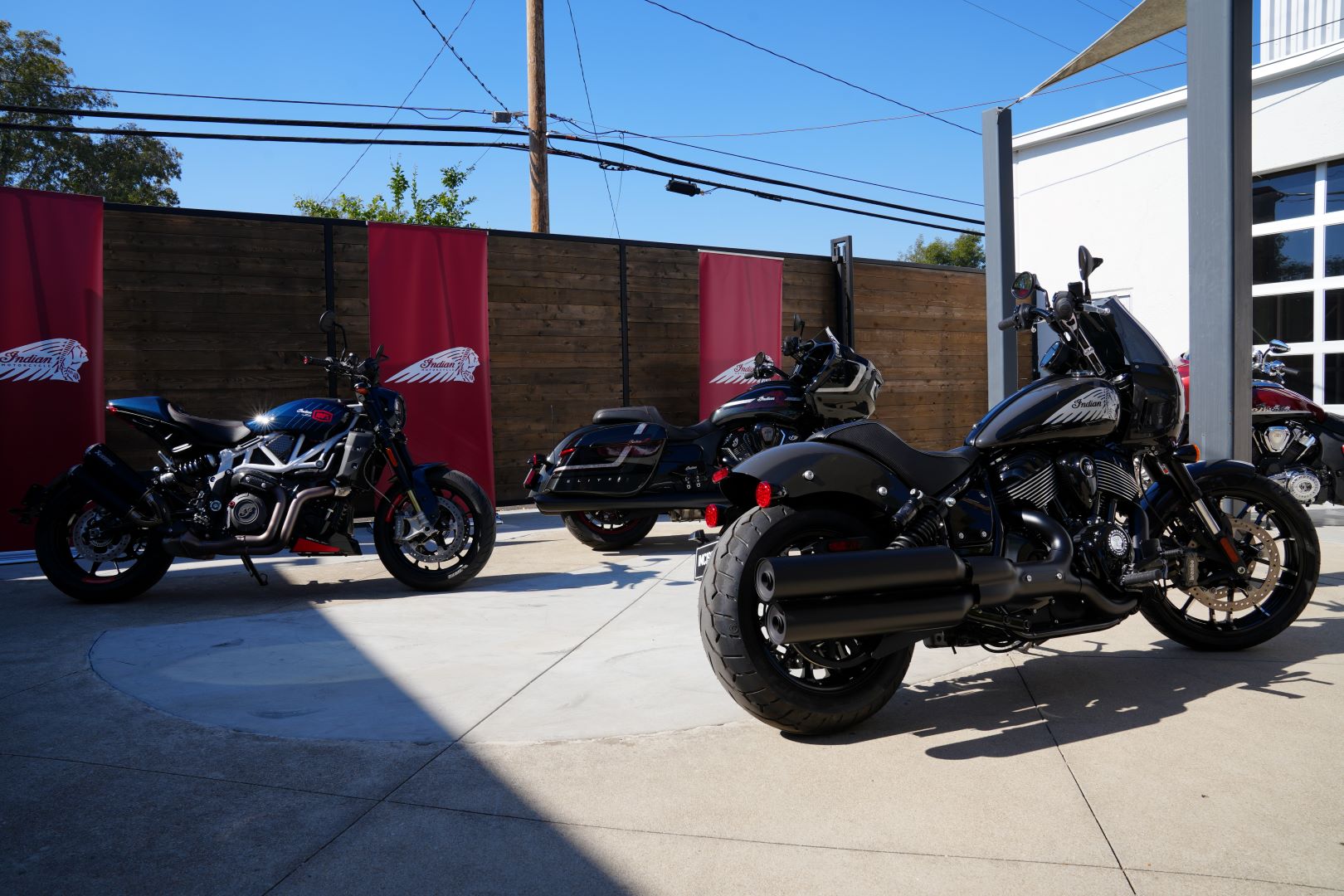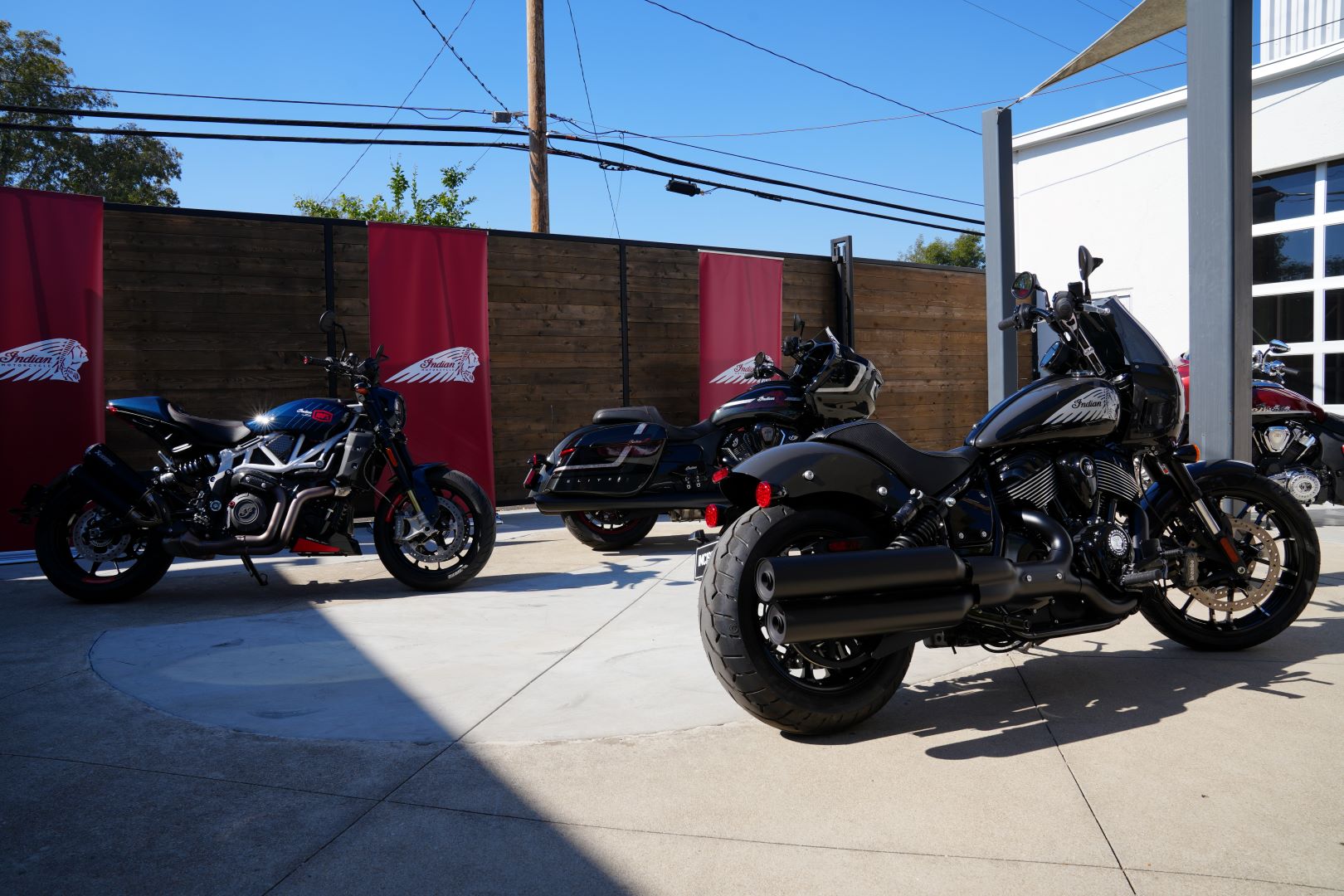 Back left FTR x 100% R Carbon, middle left Challenger Elite, and middle front Sport Chief.
Indian Motorcycle MY24 Showcase Photo Gallery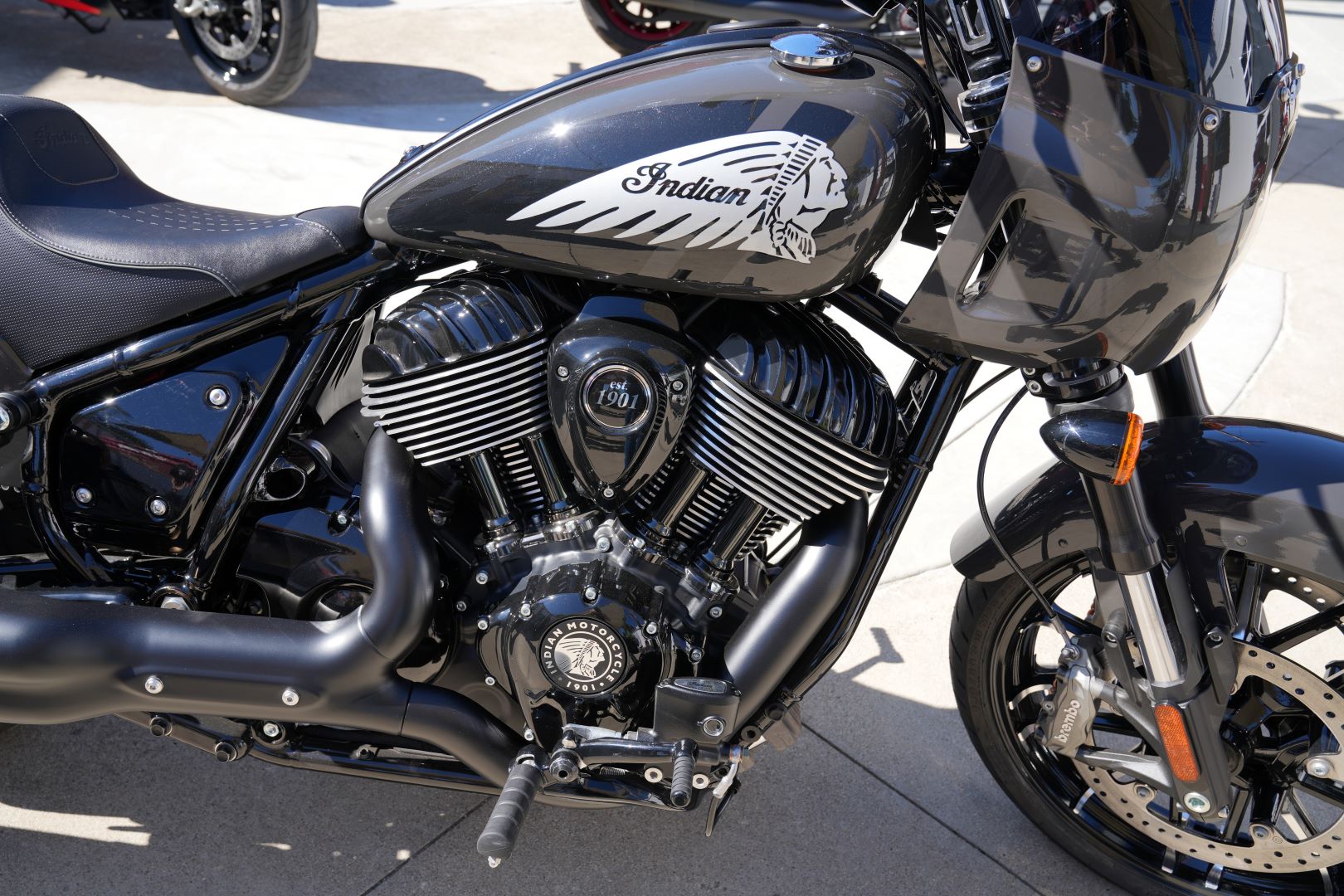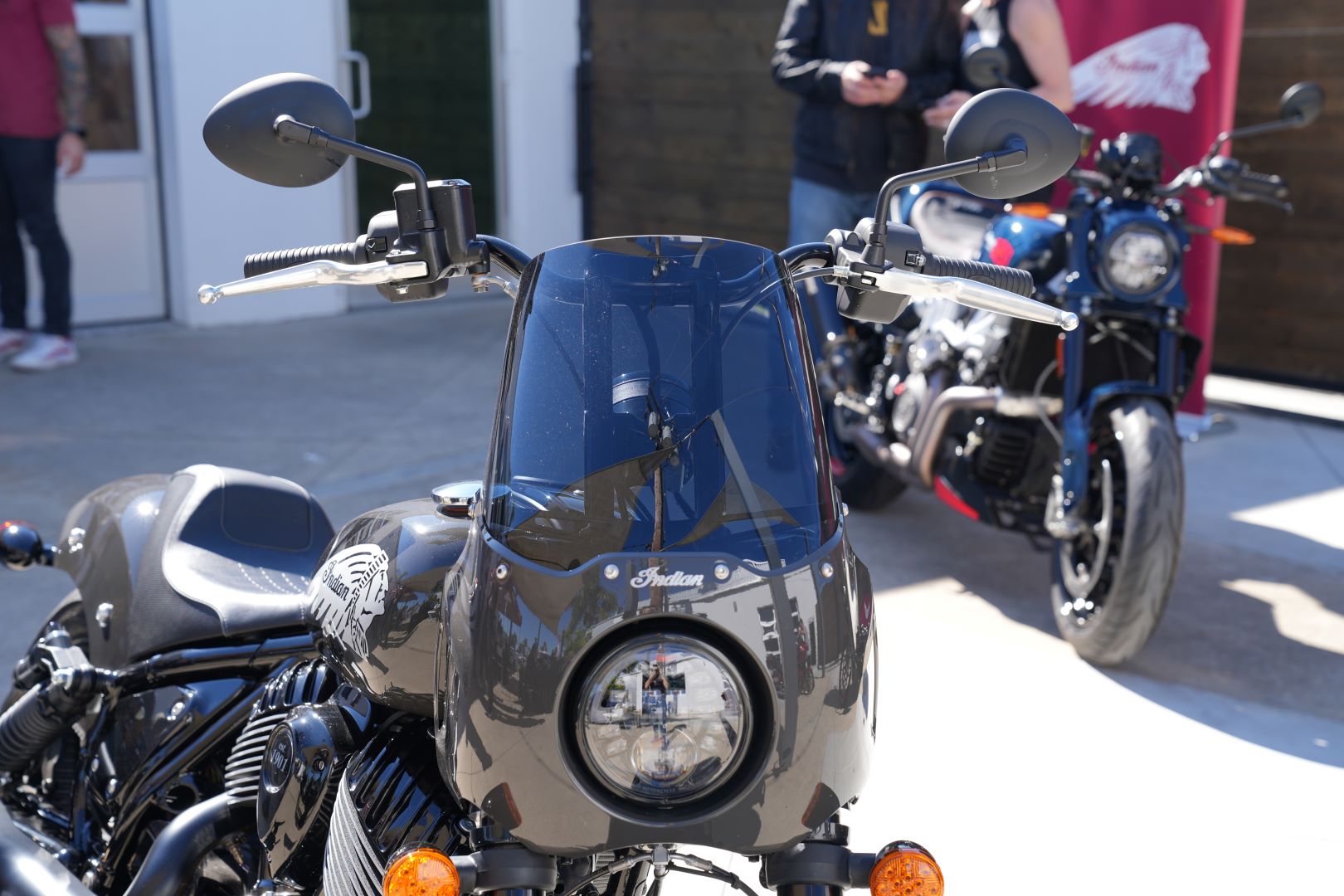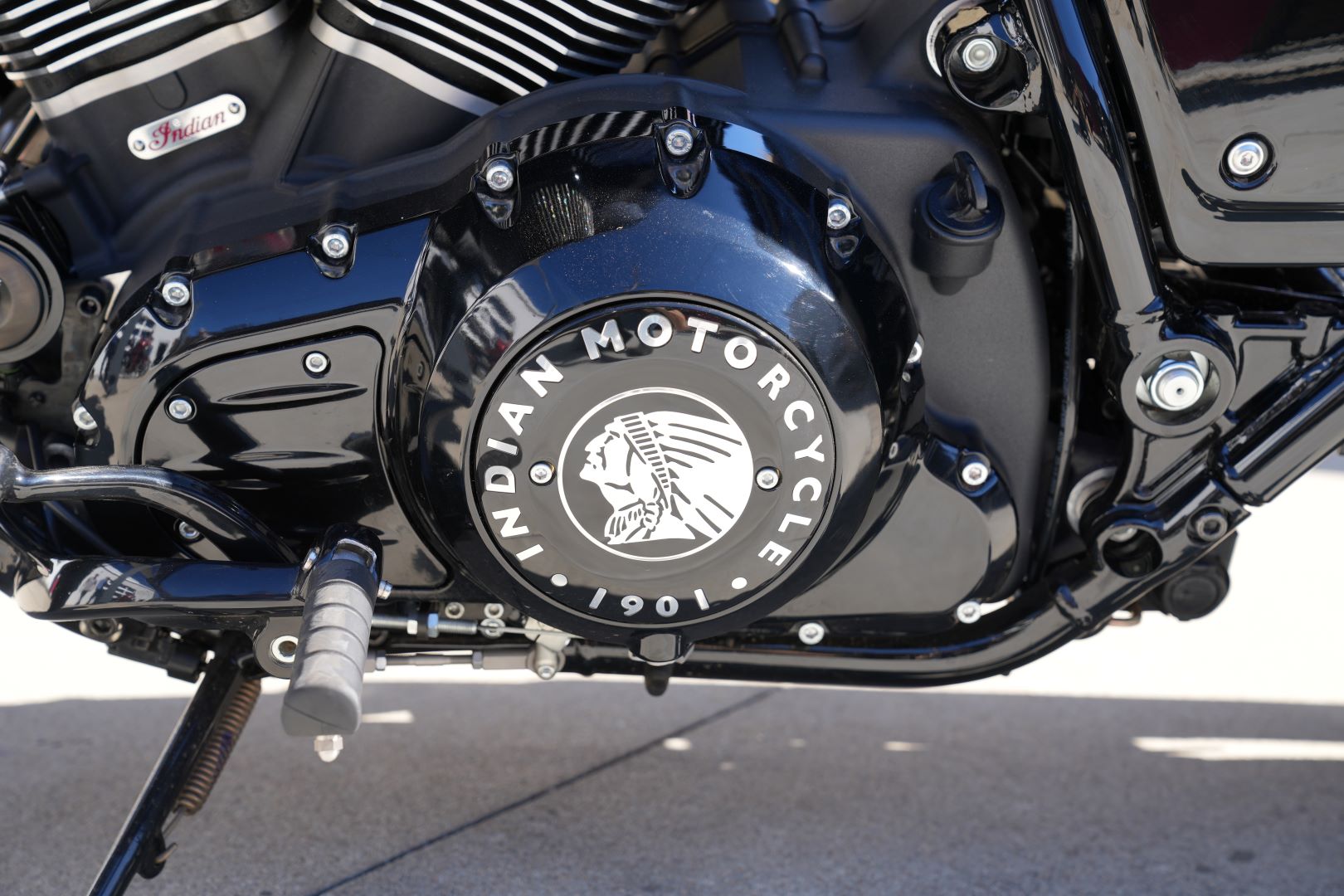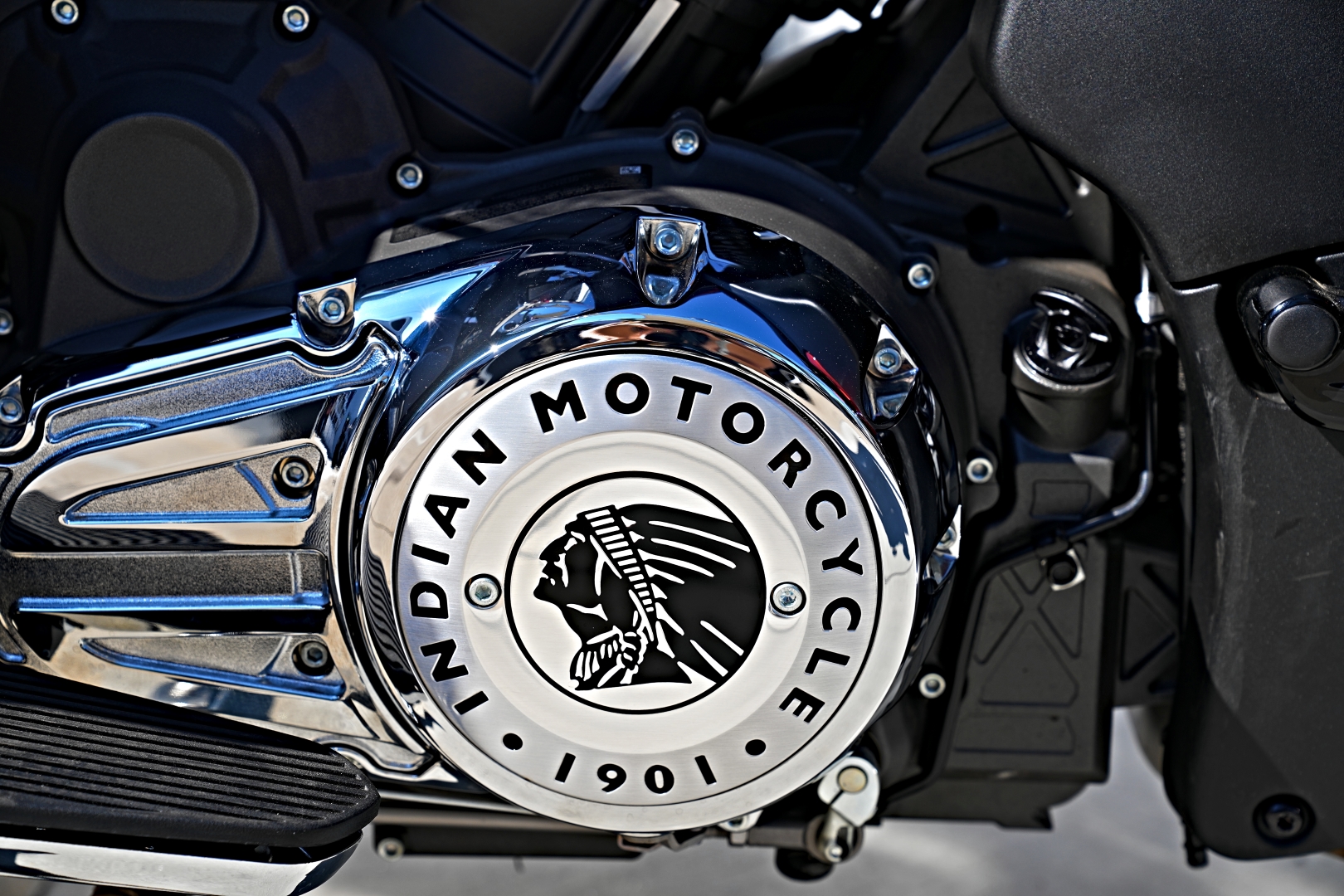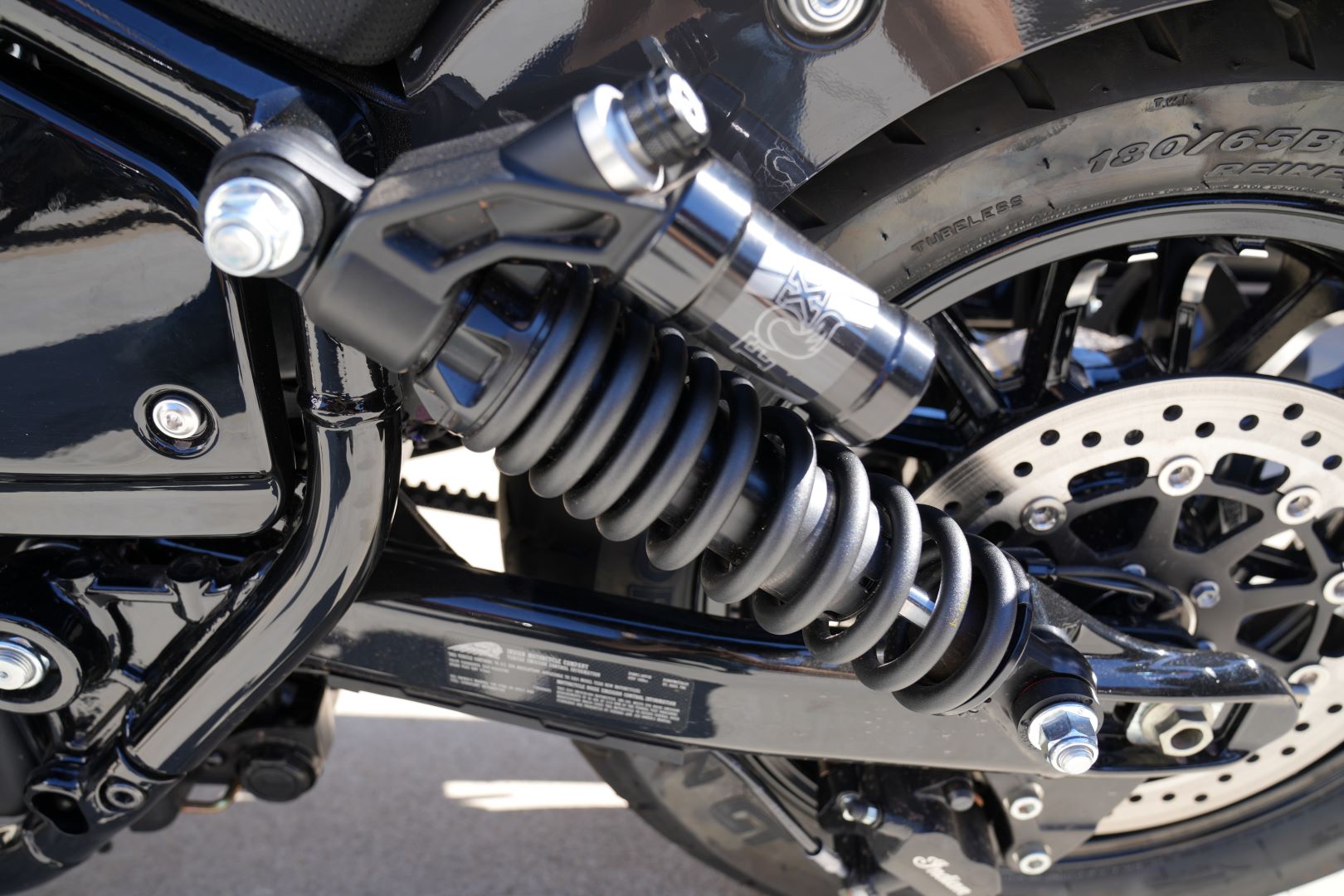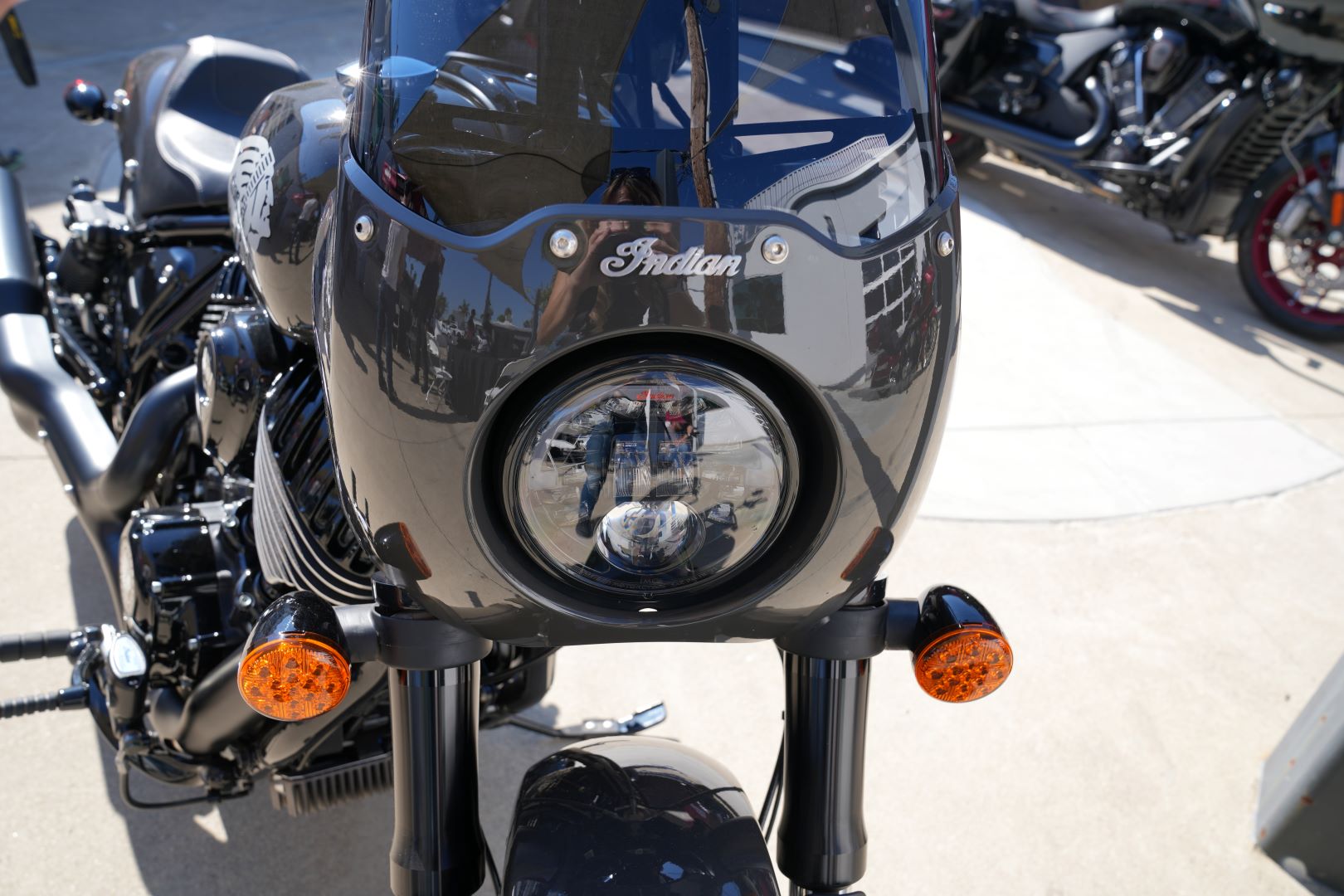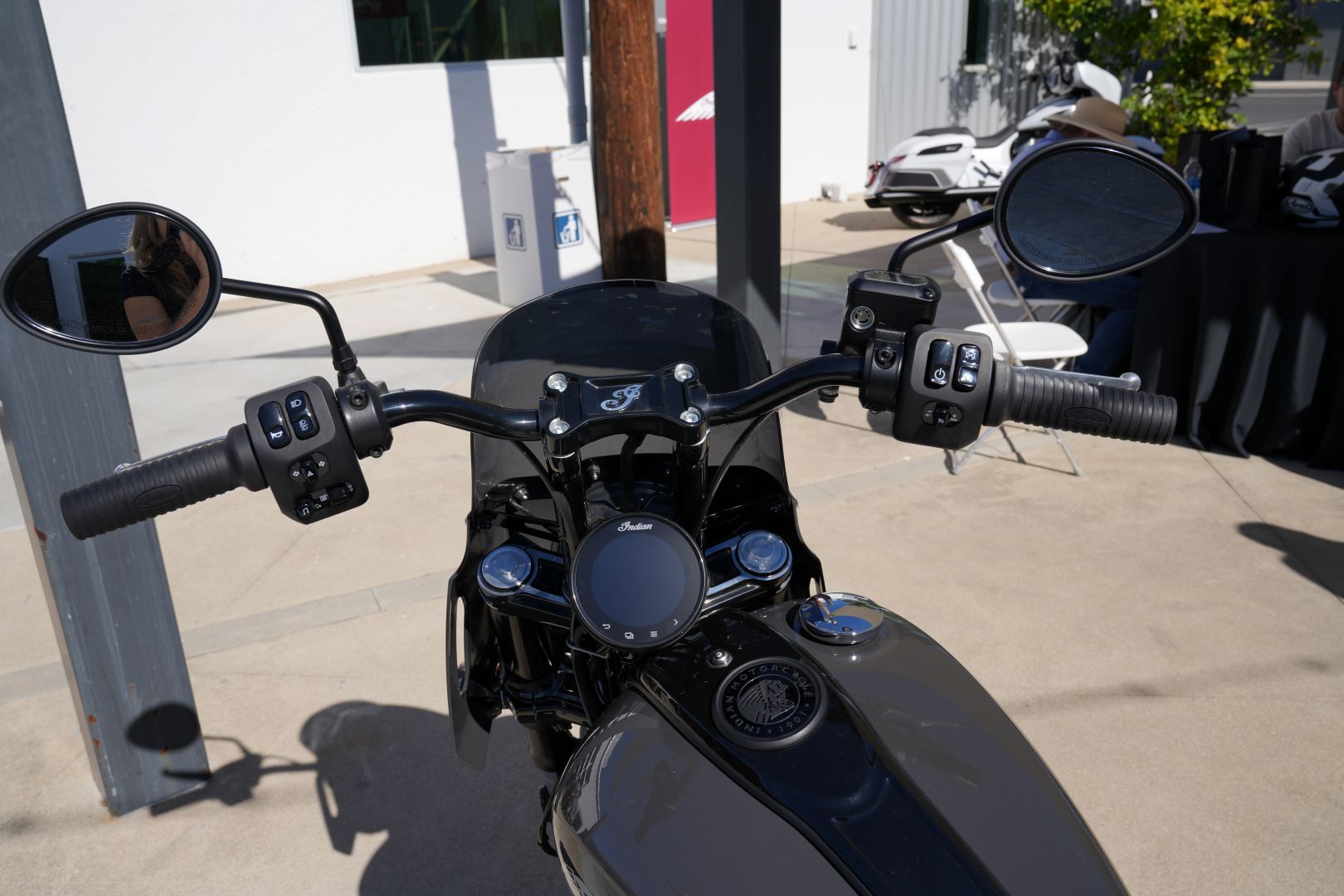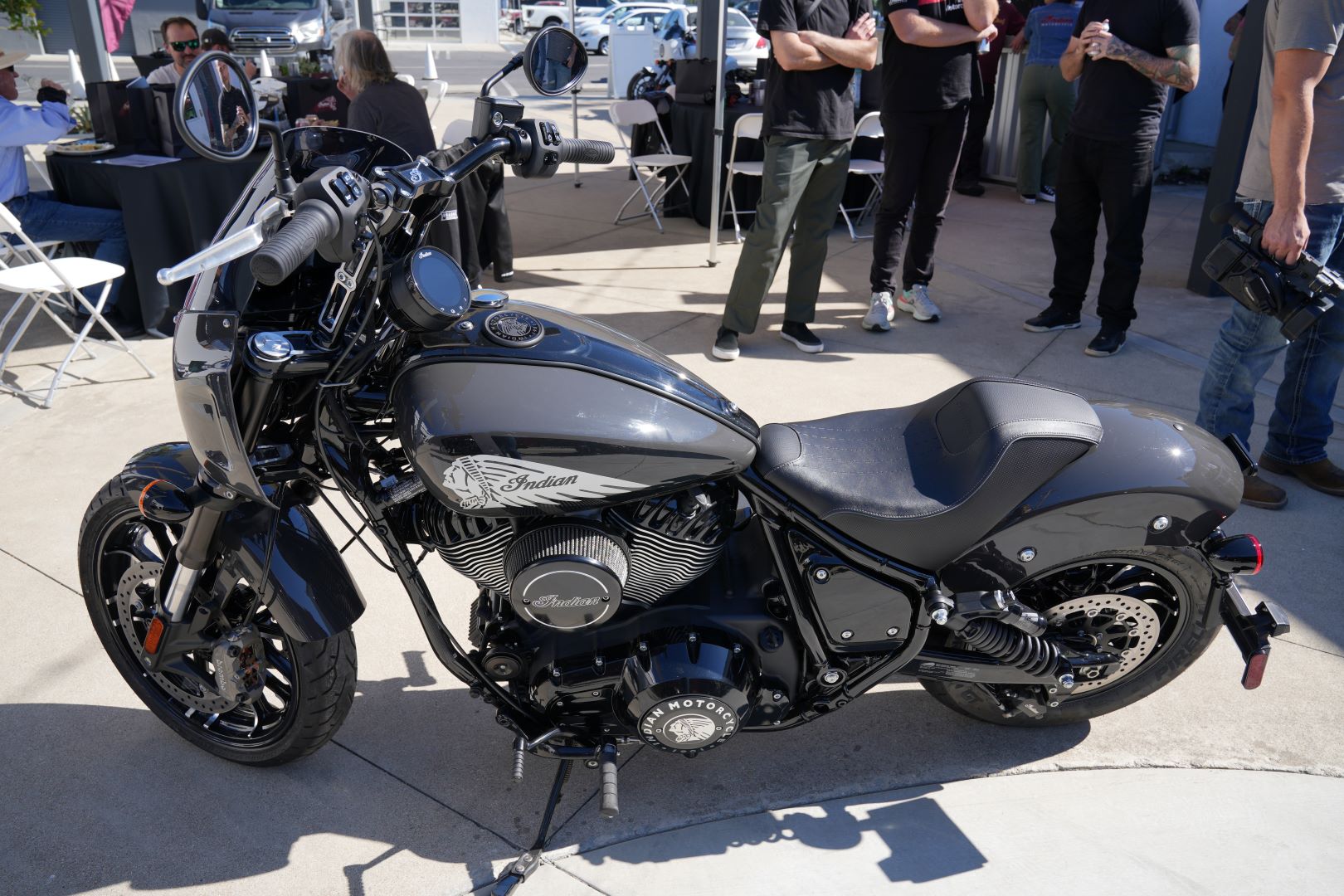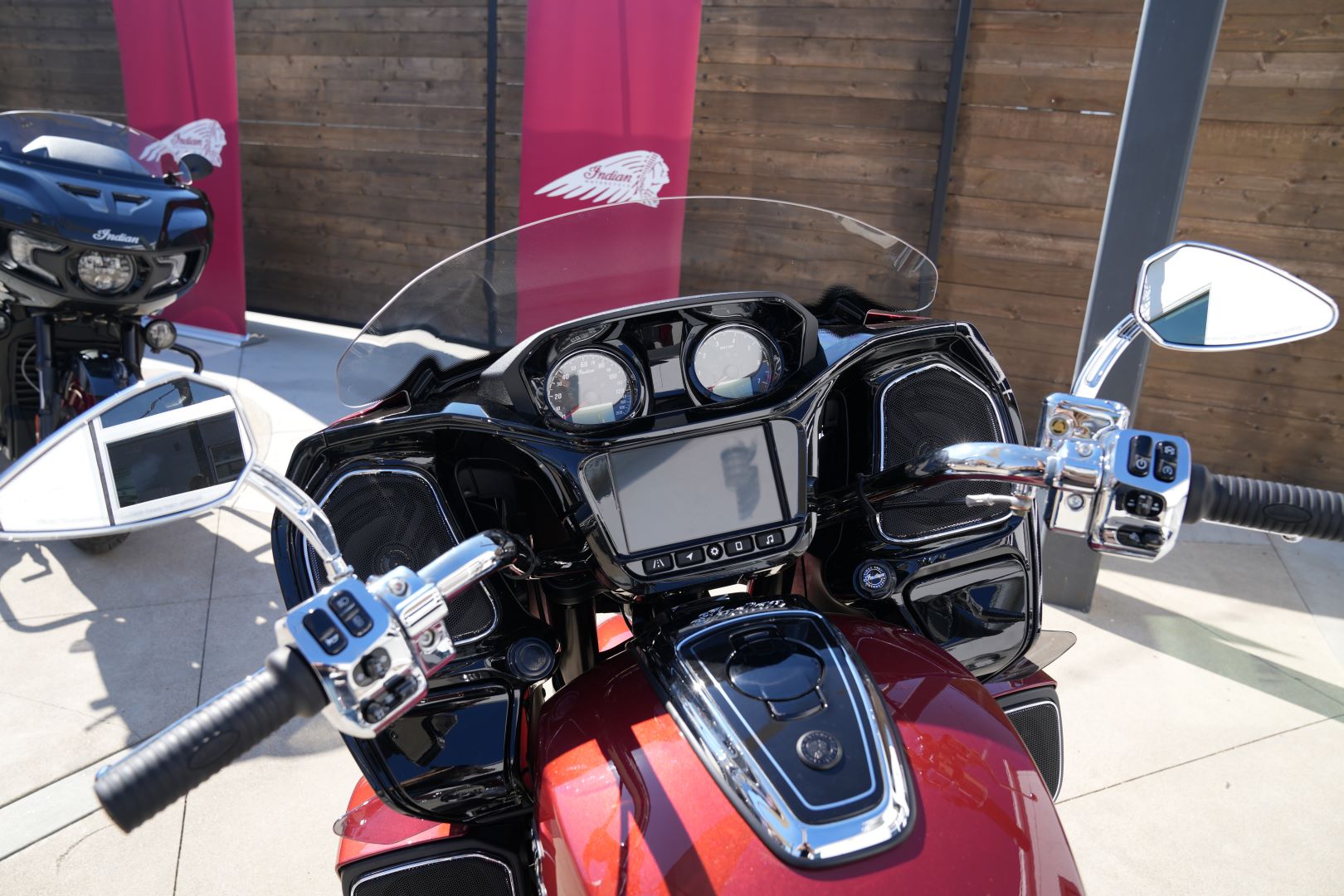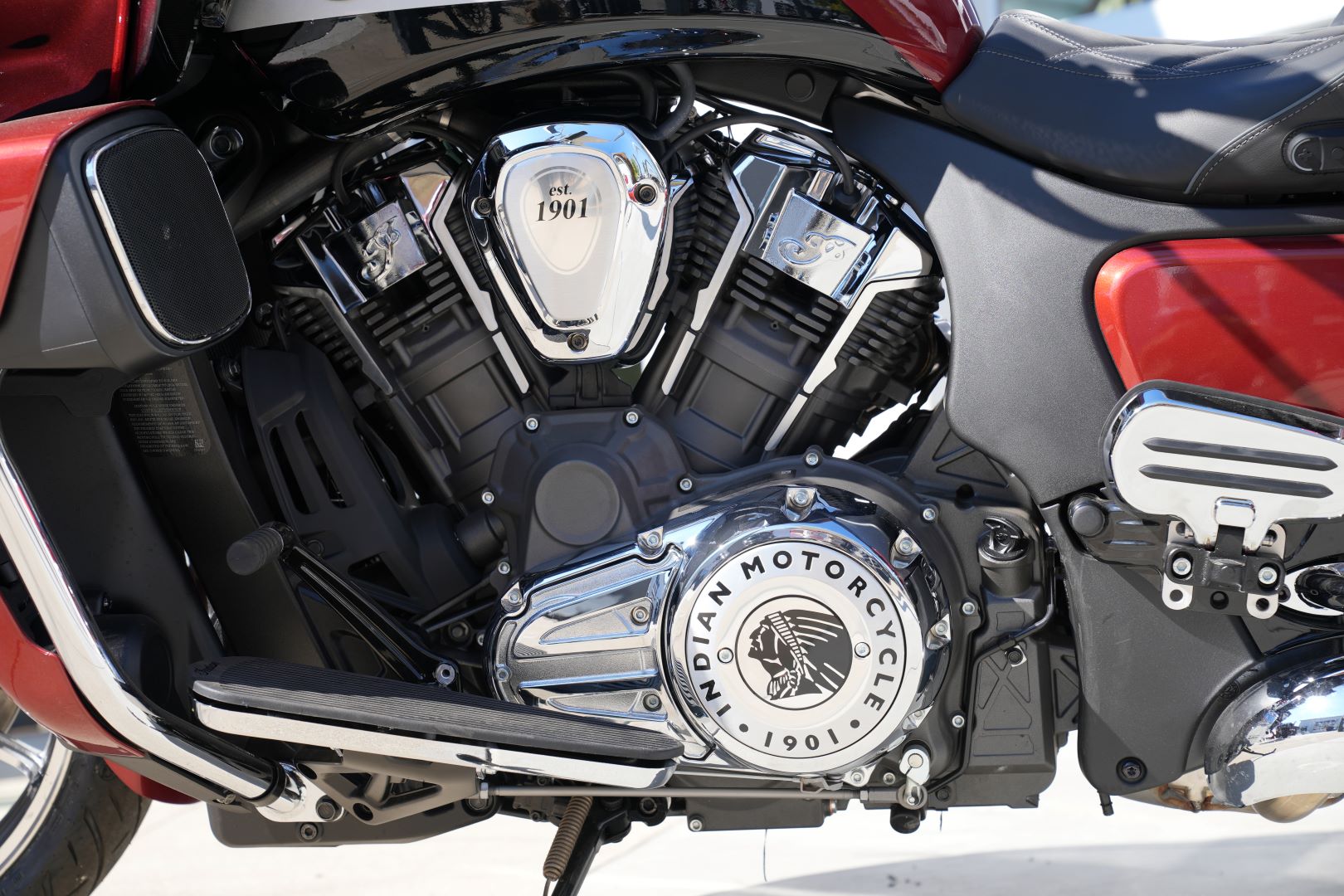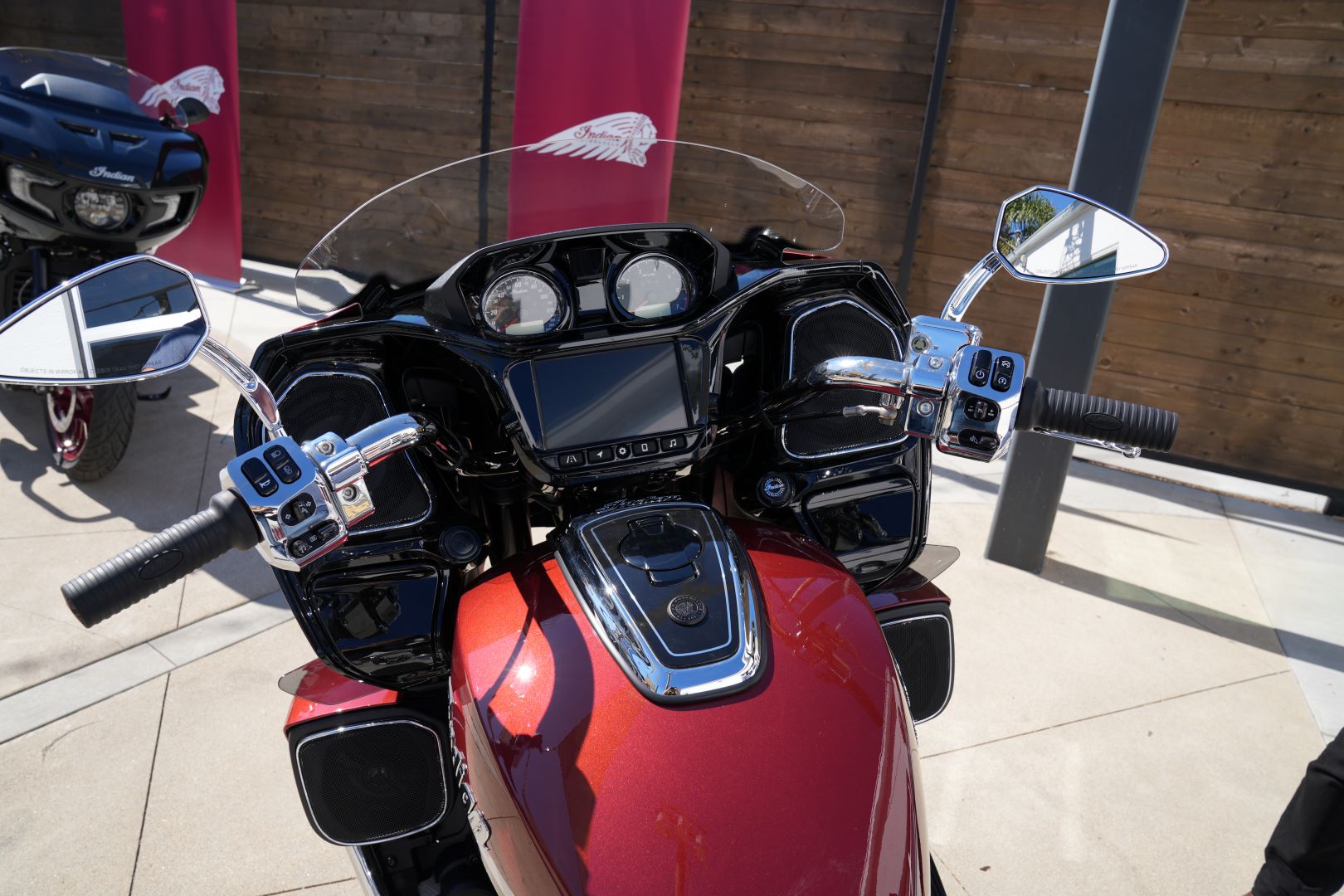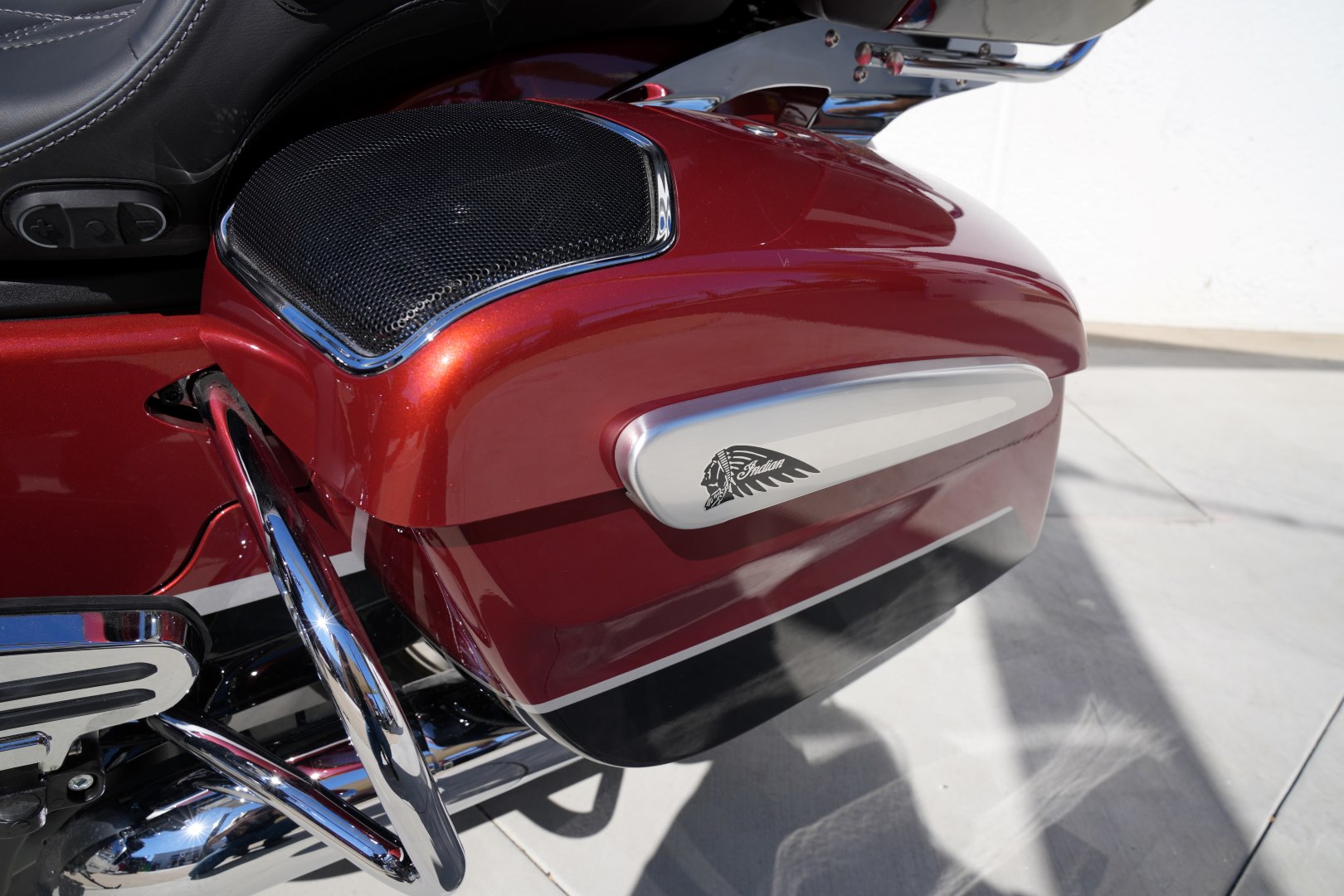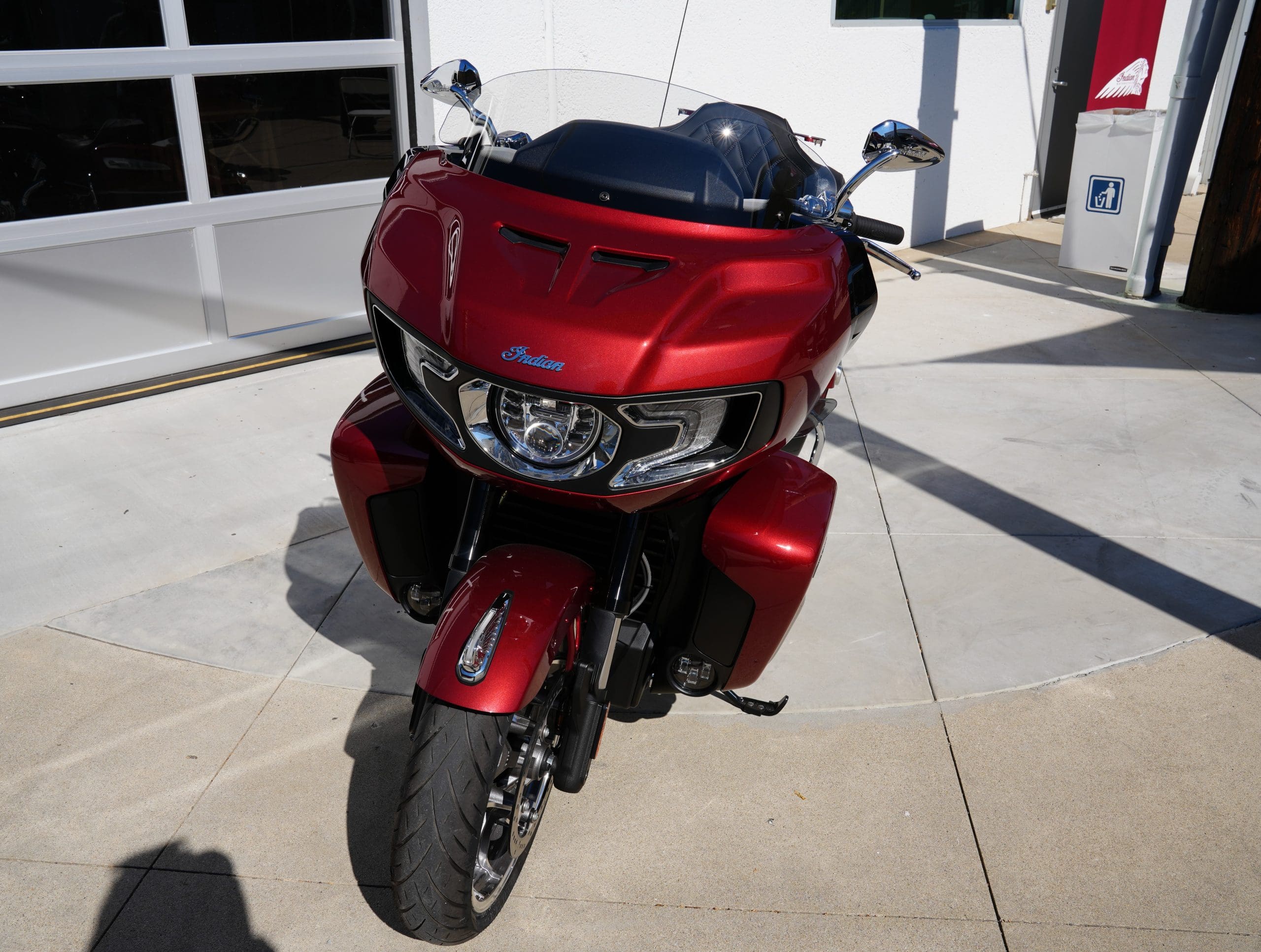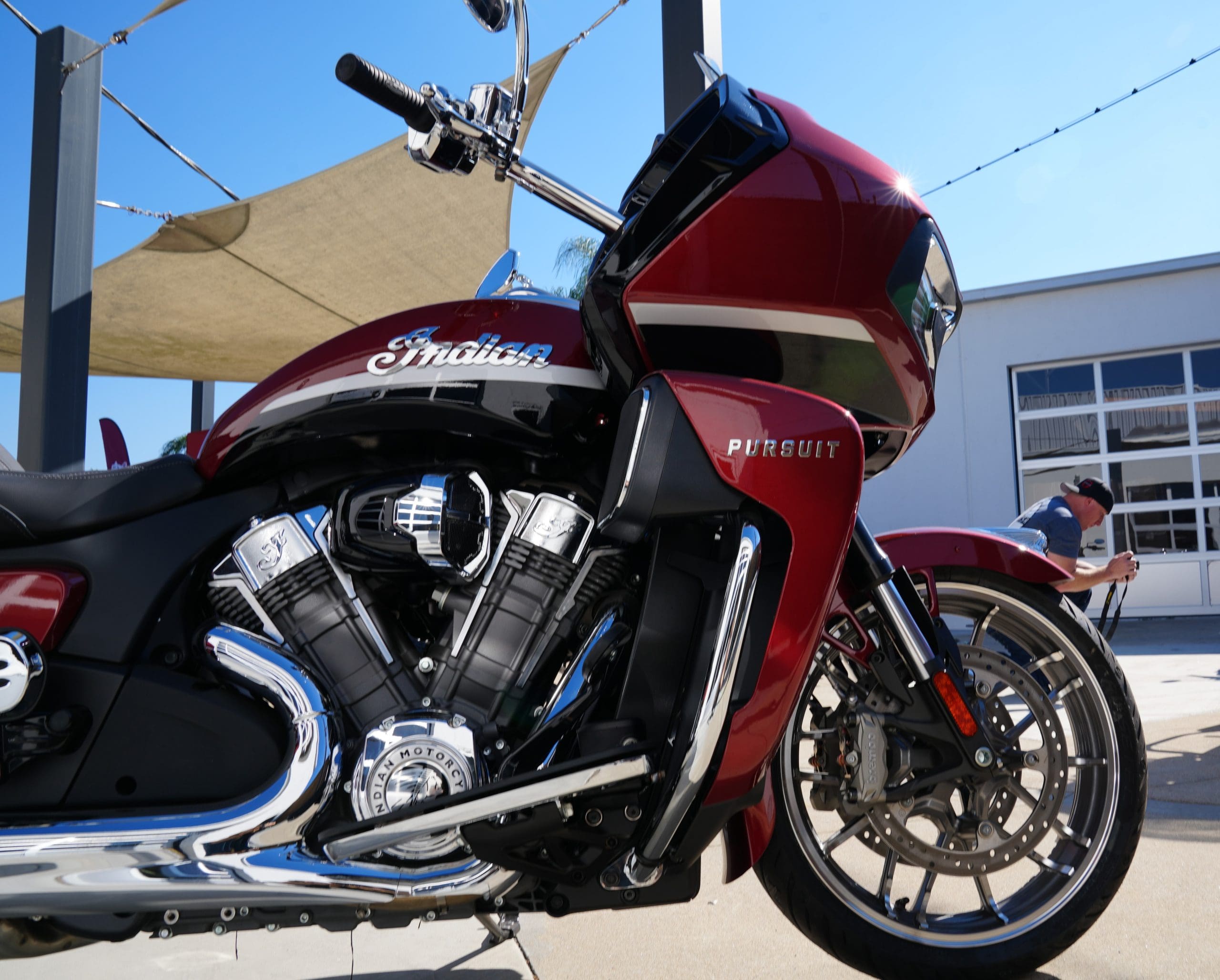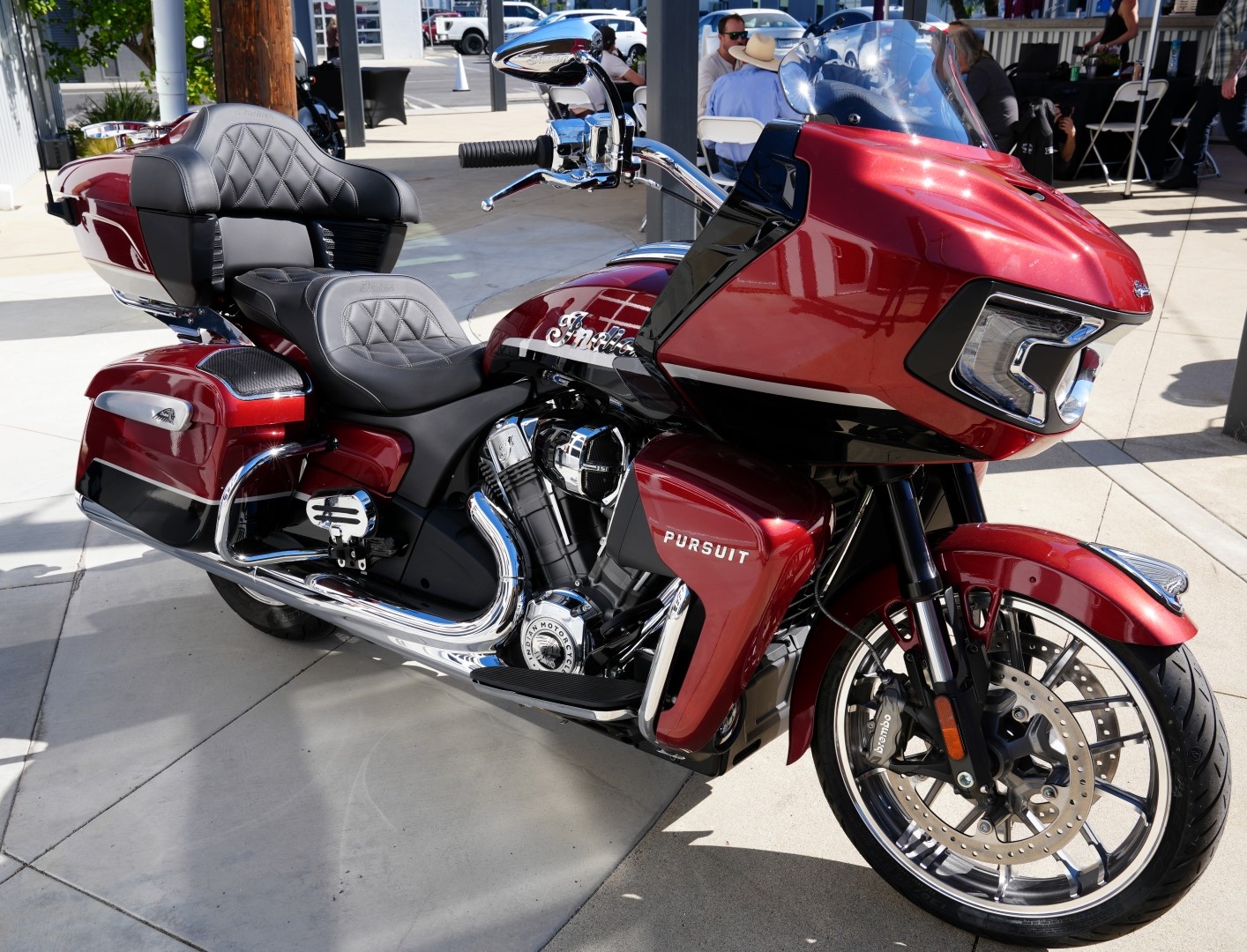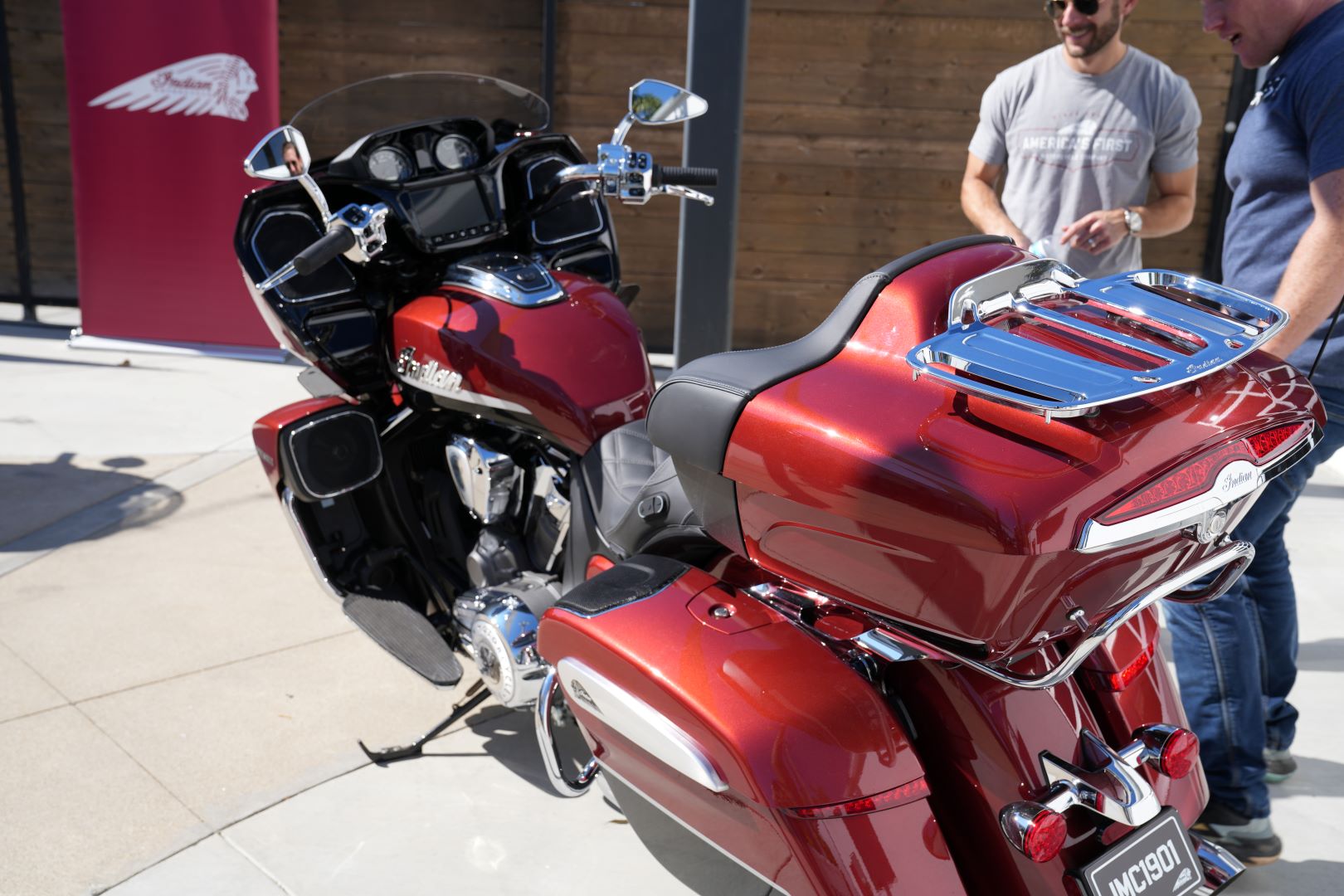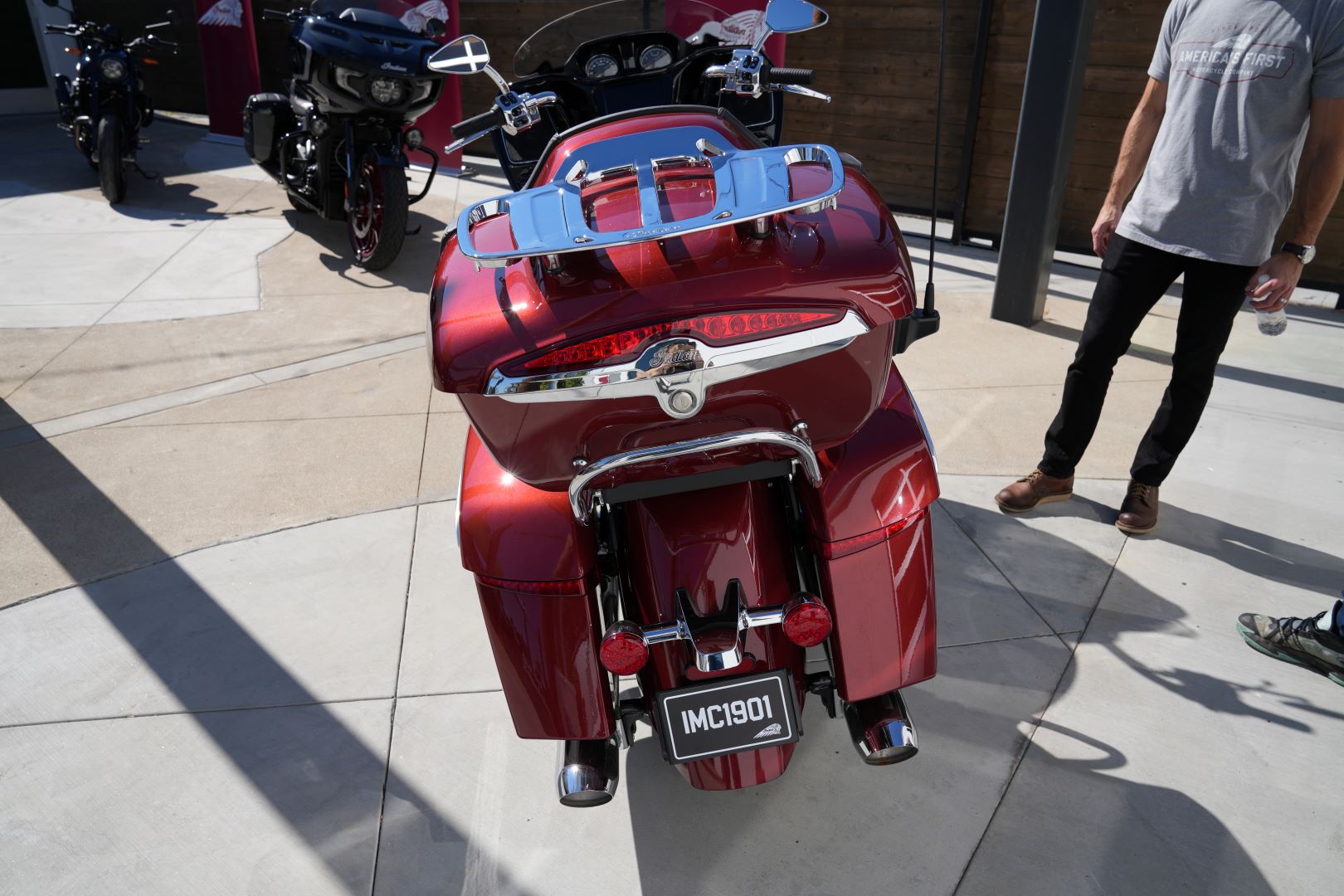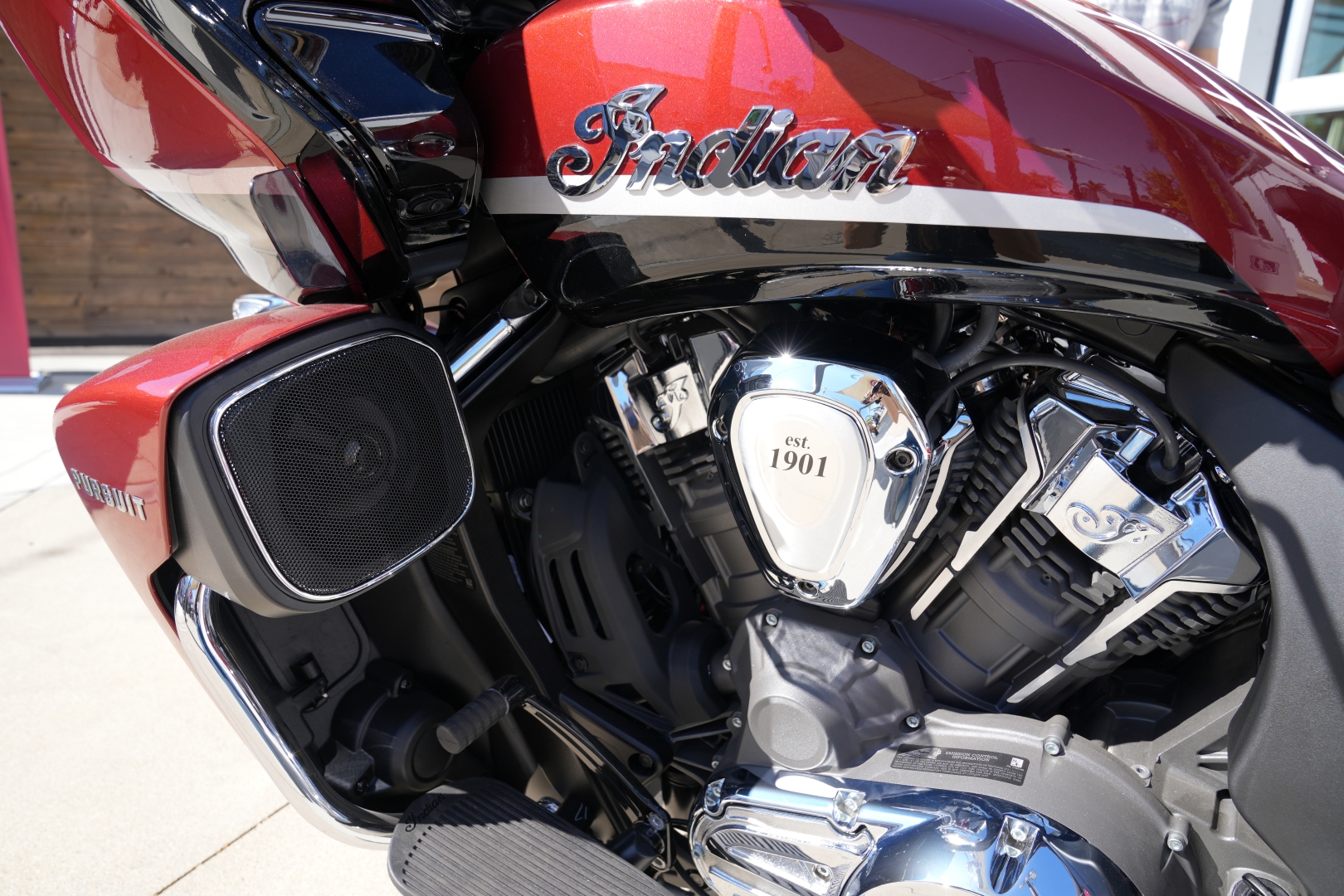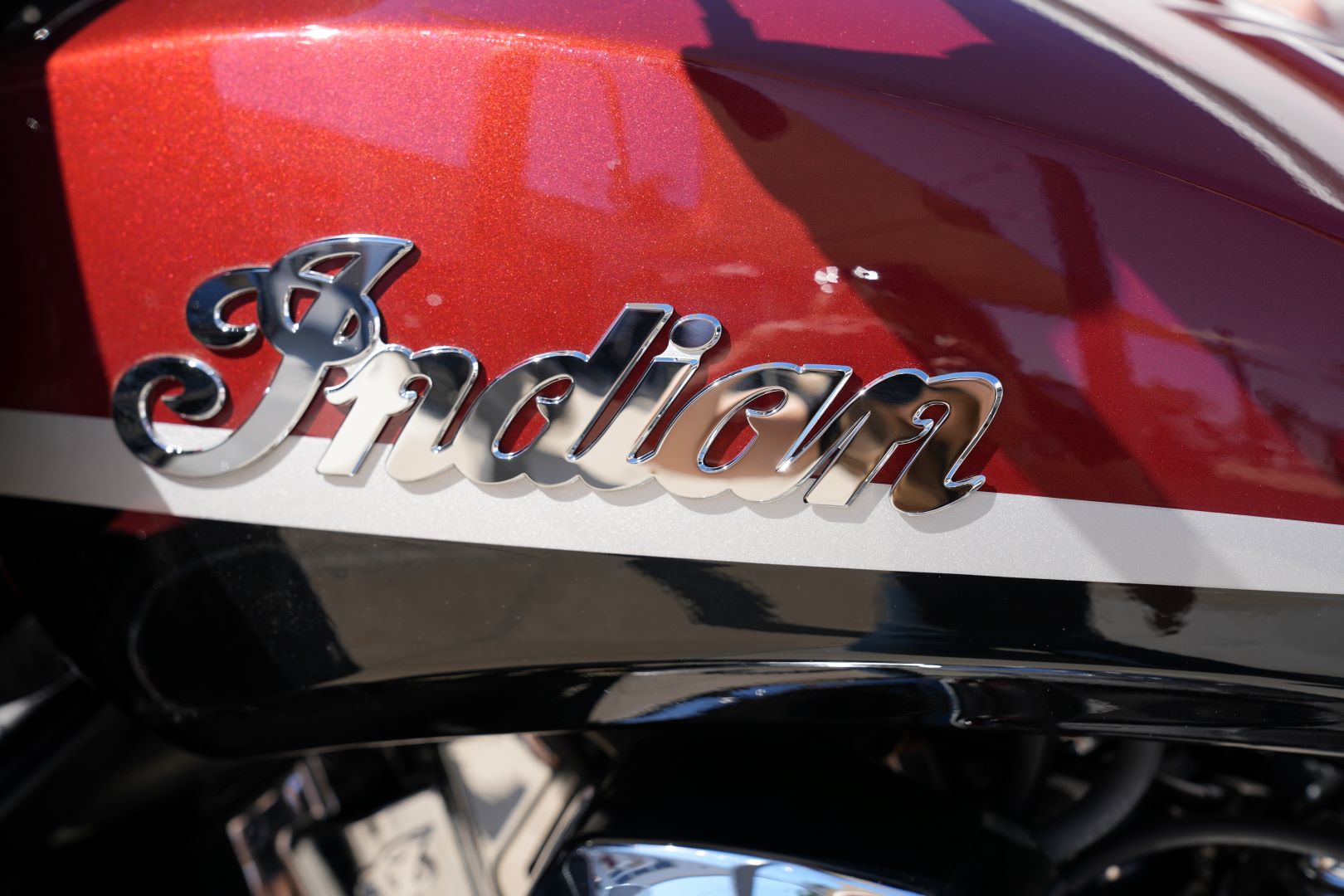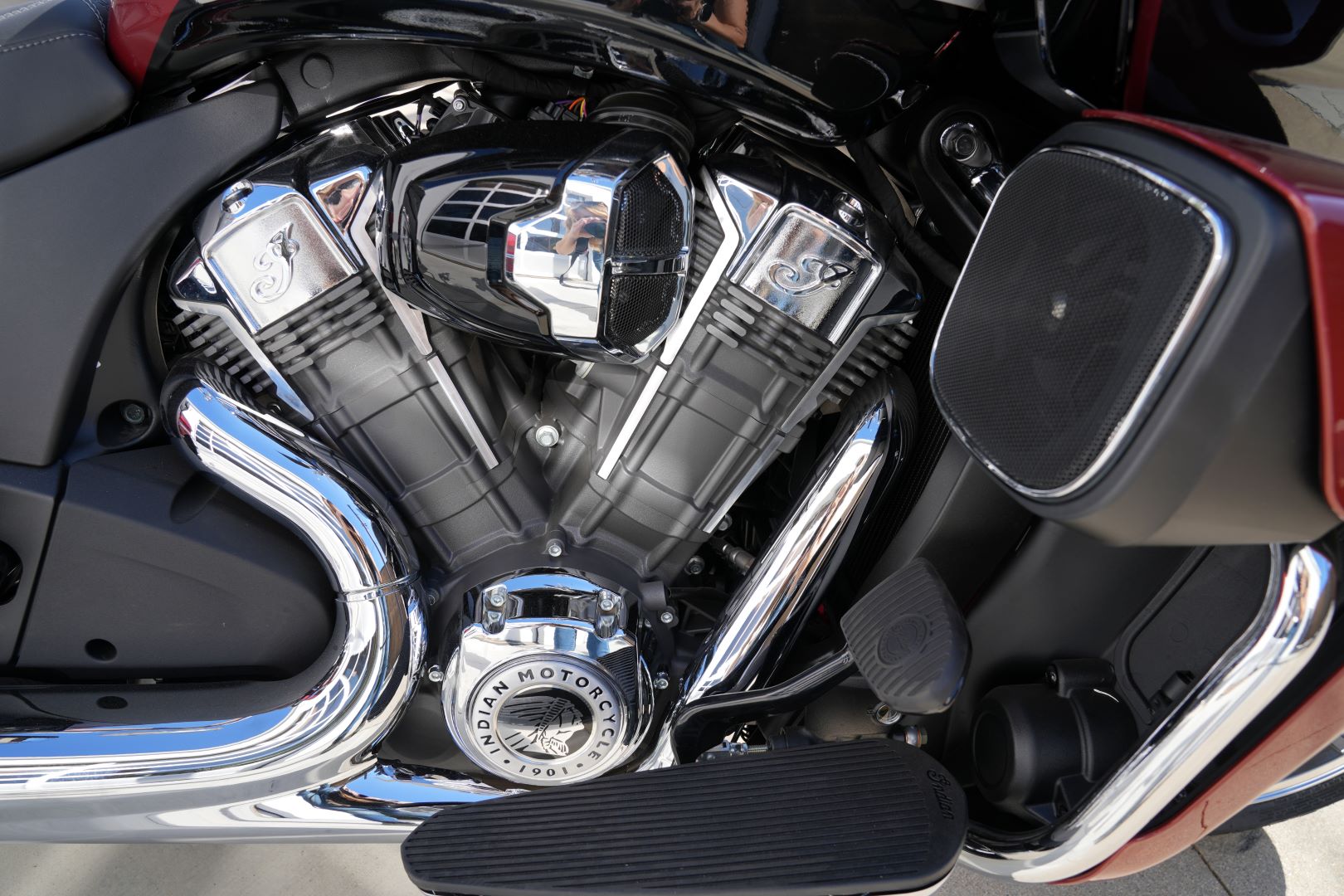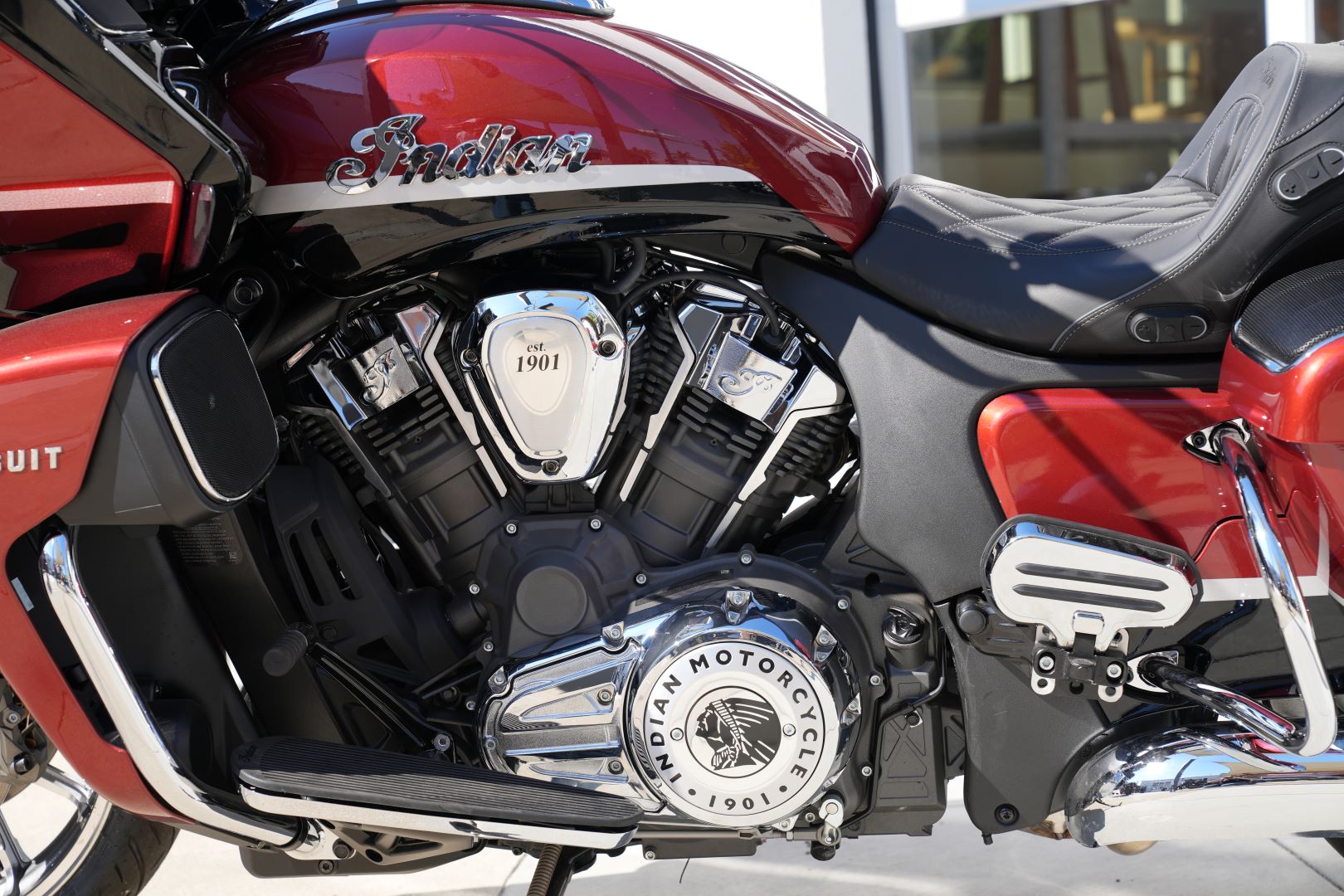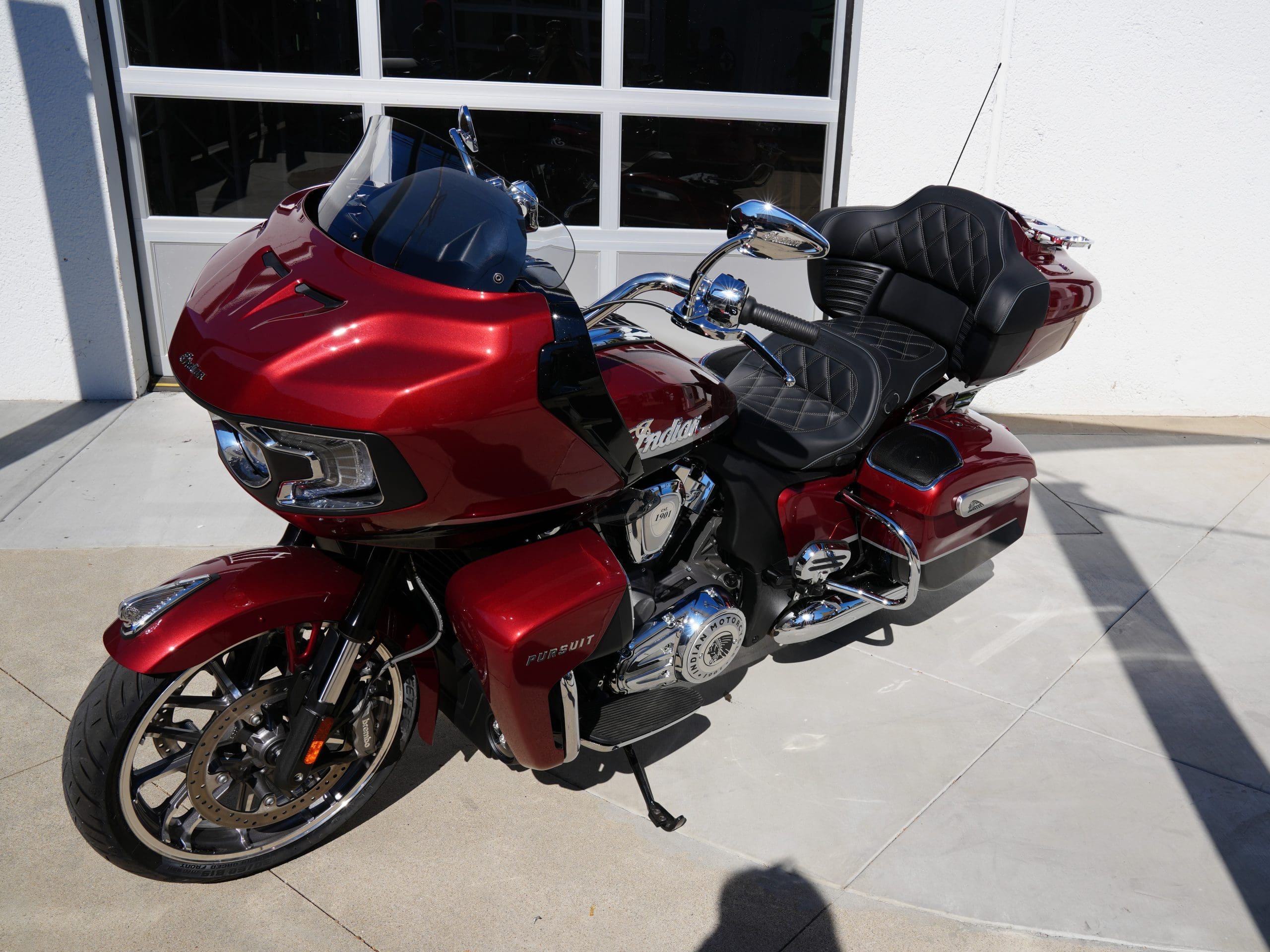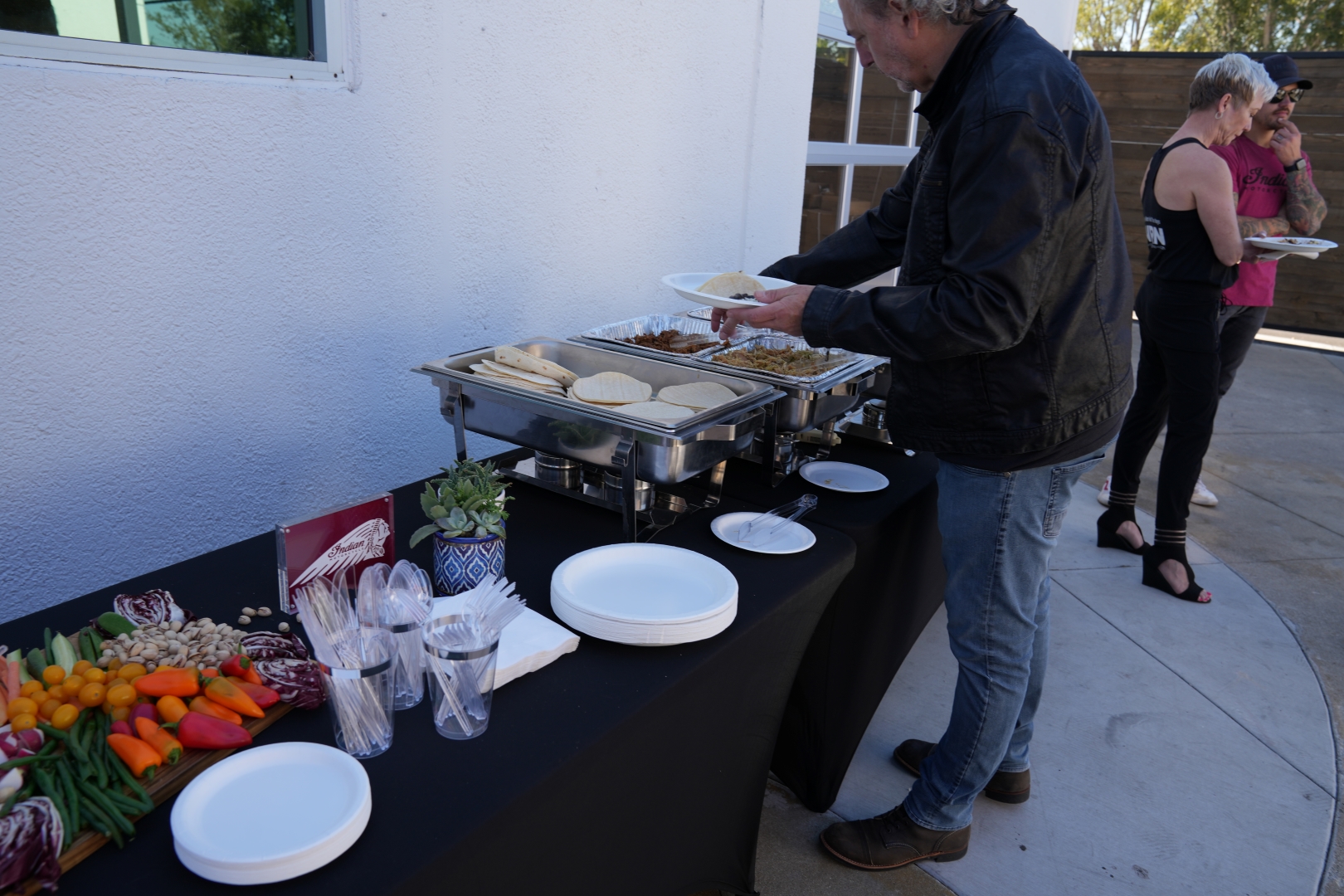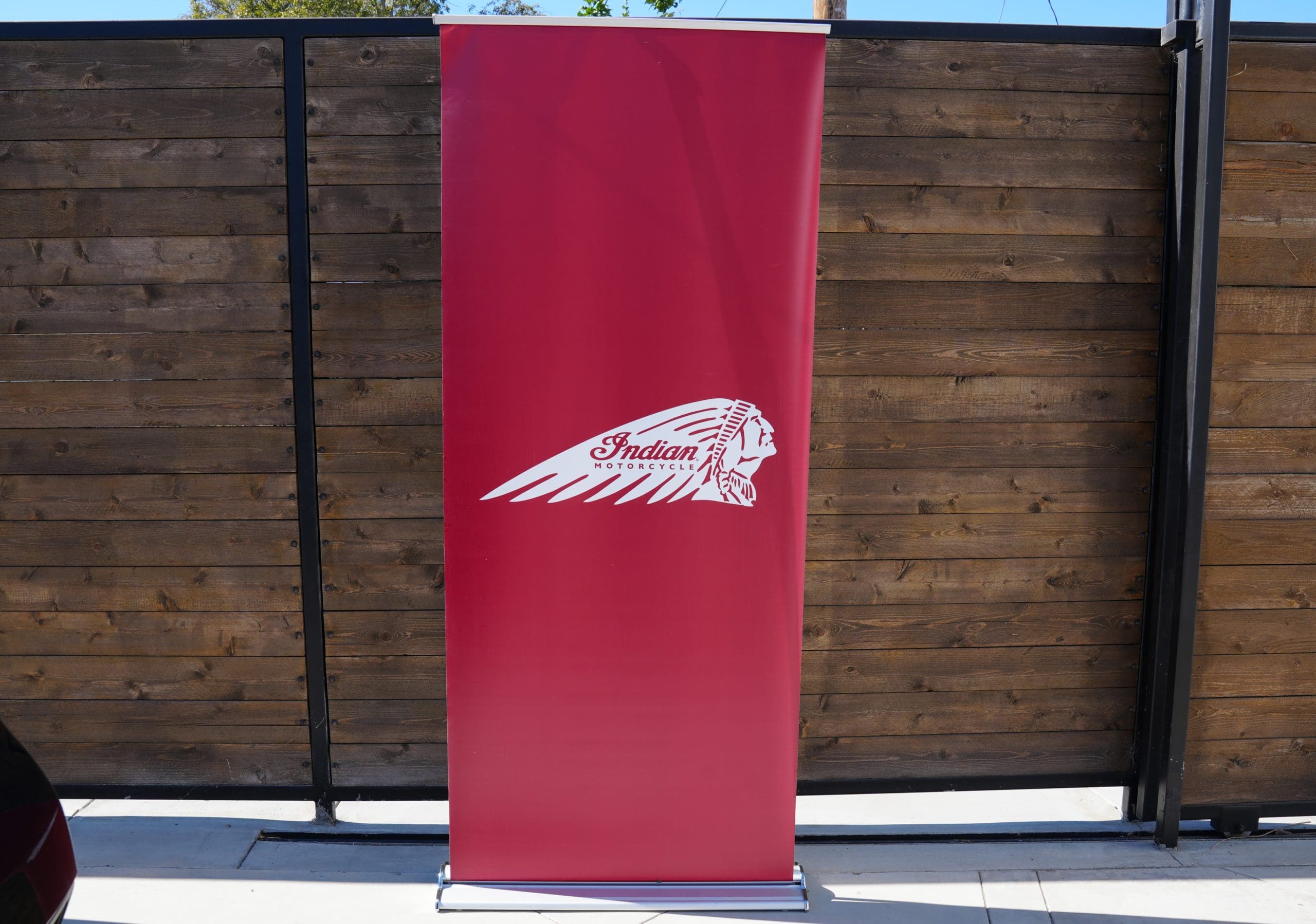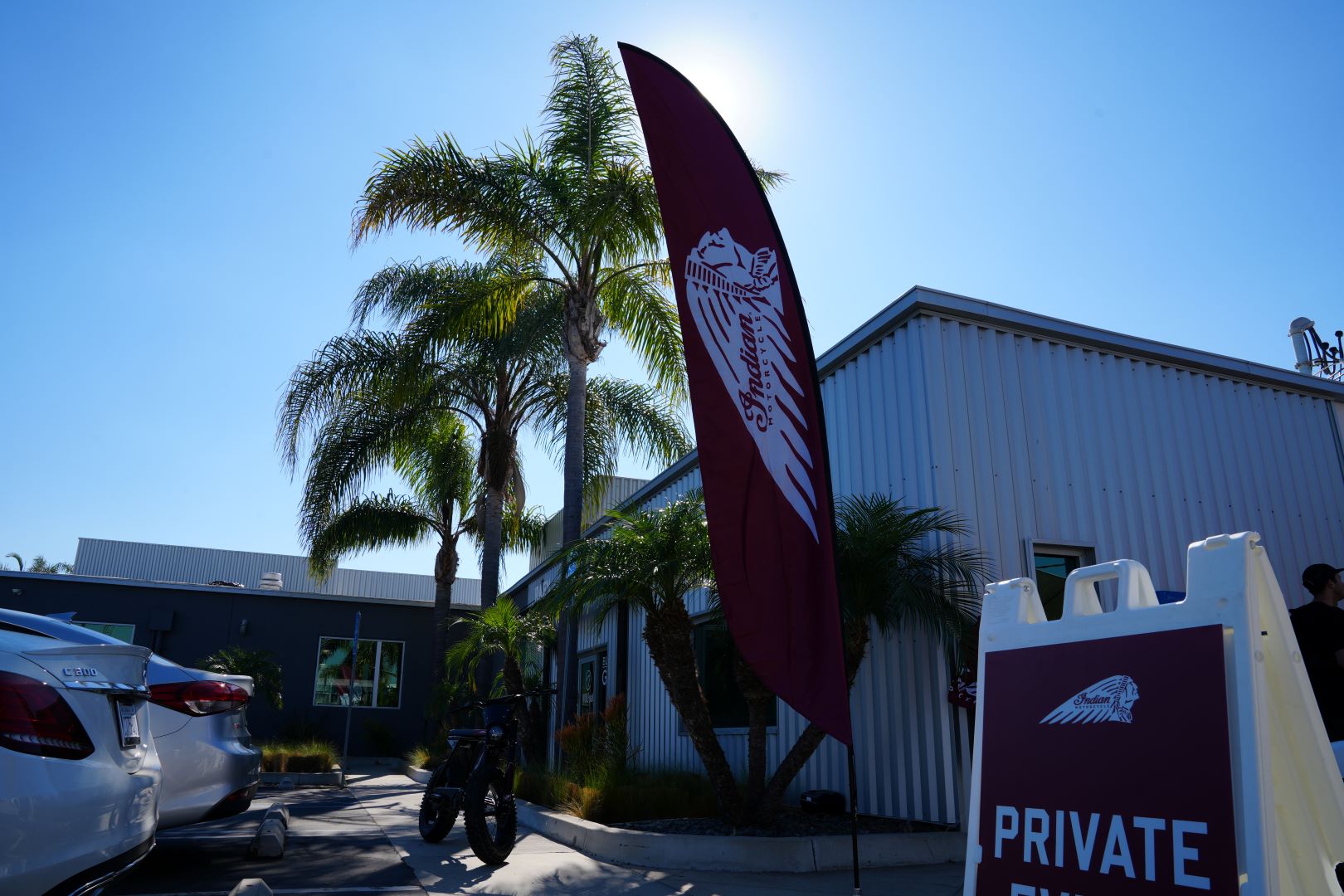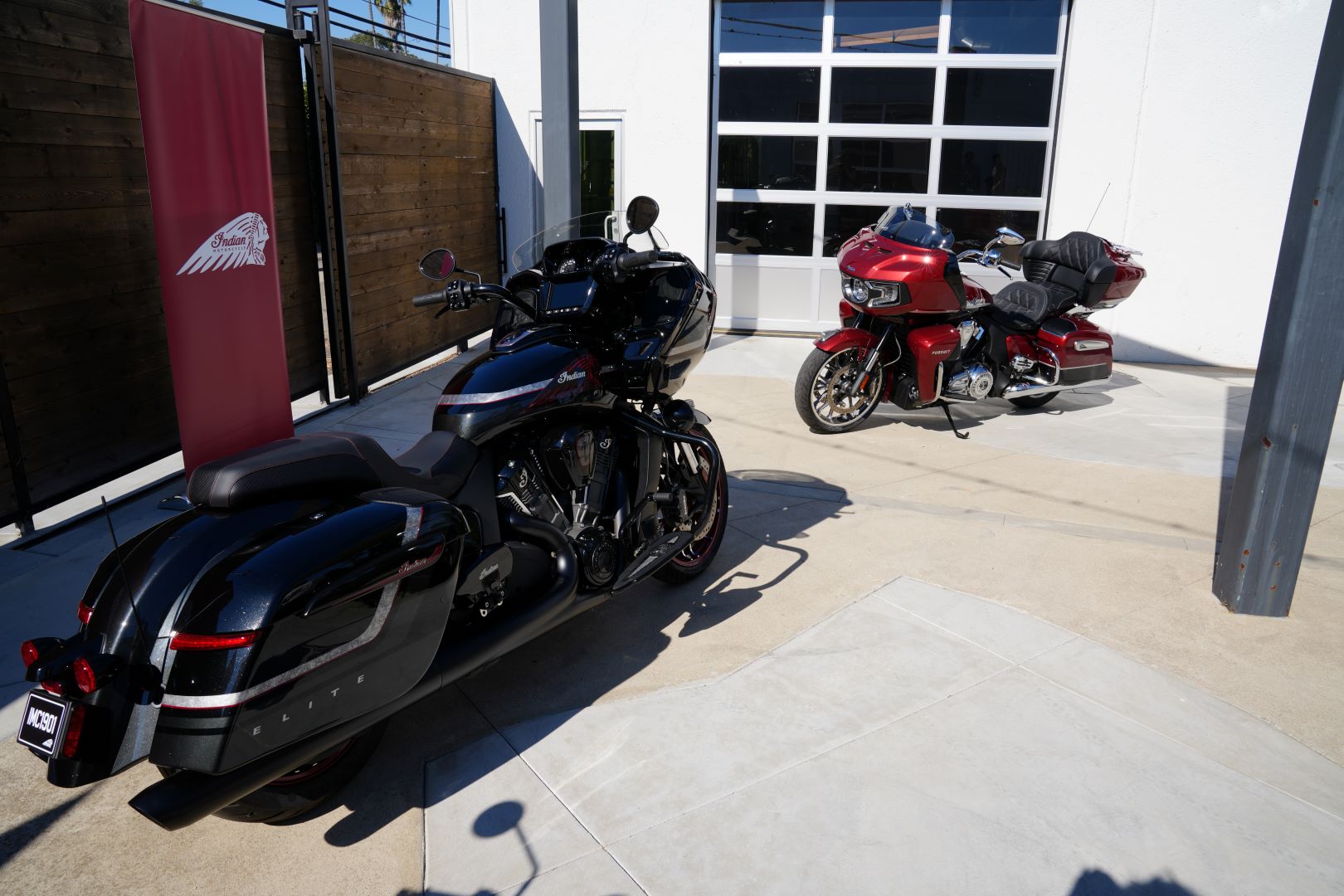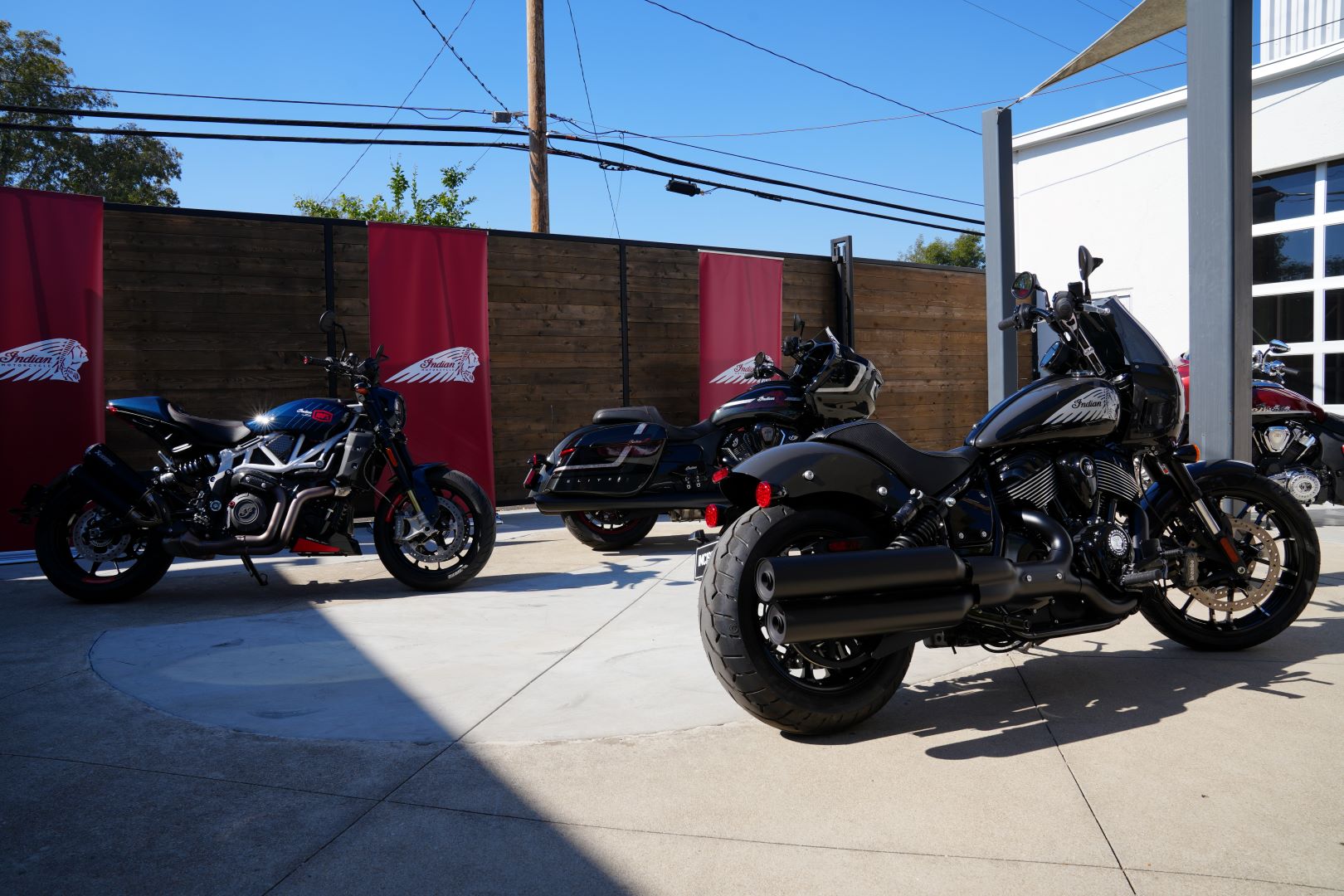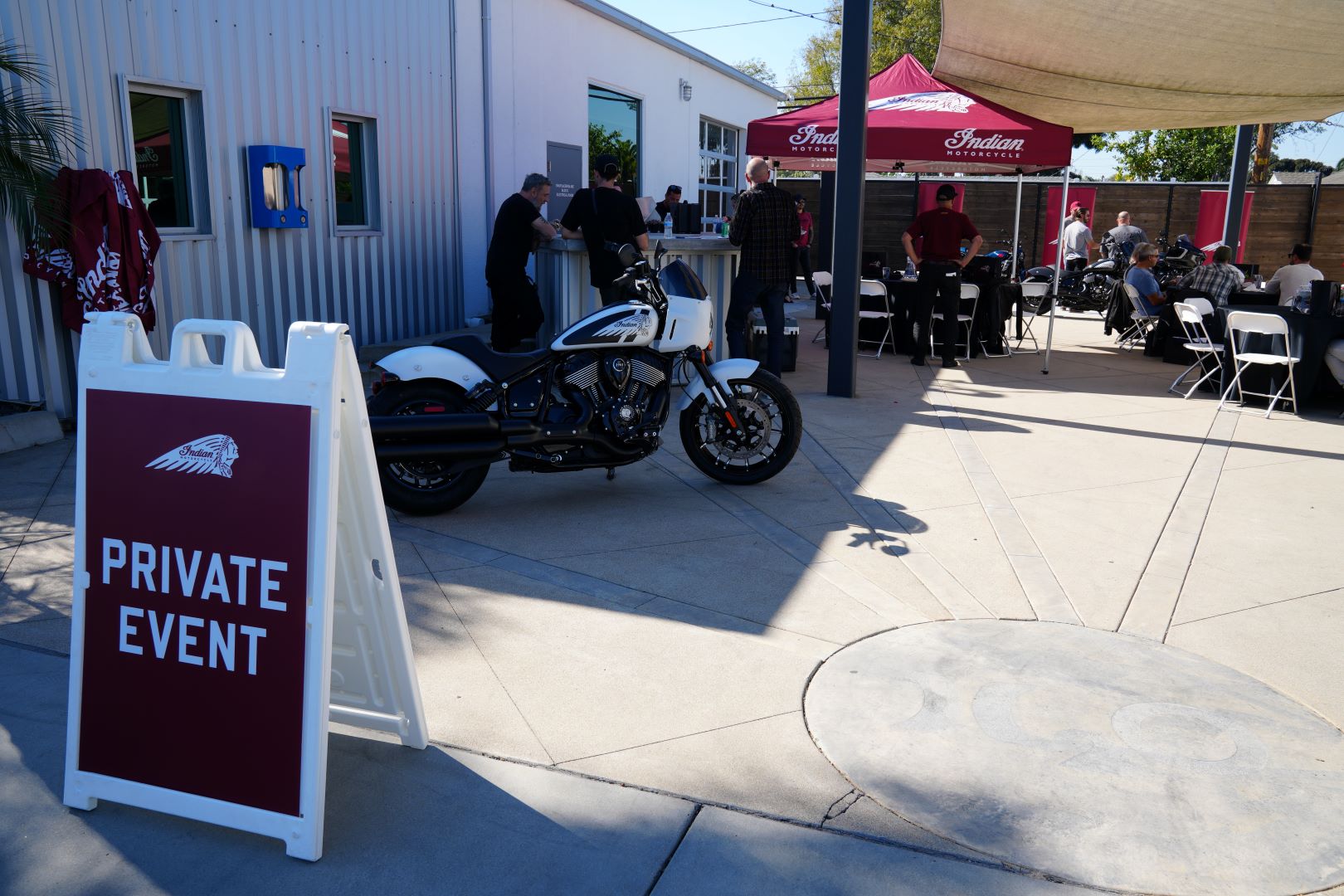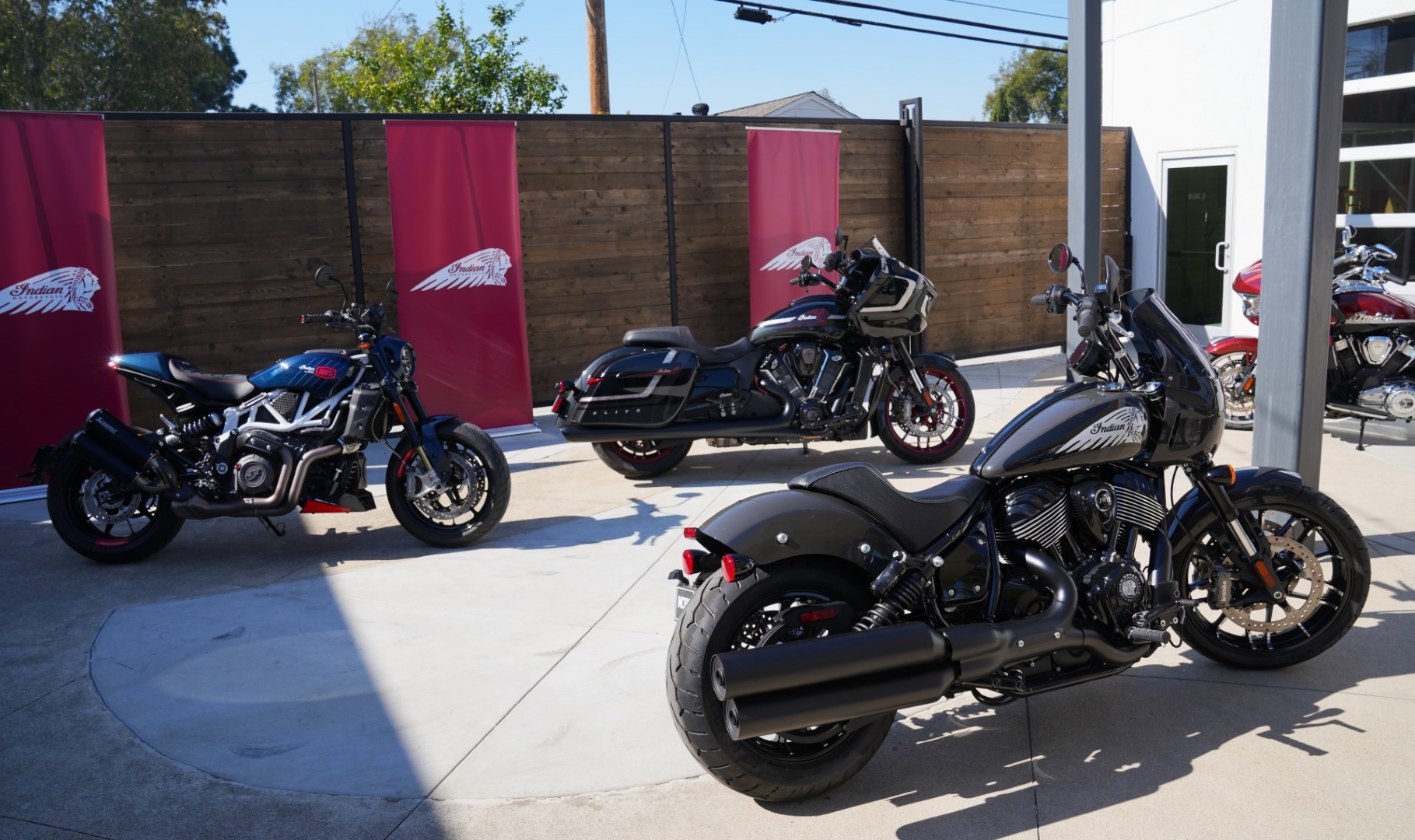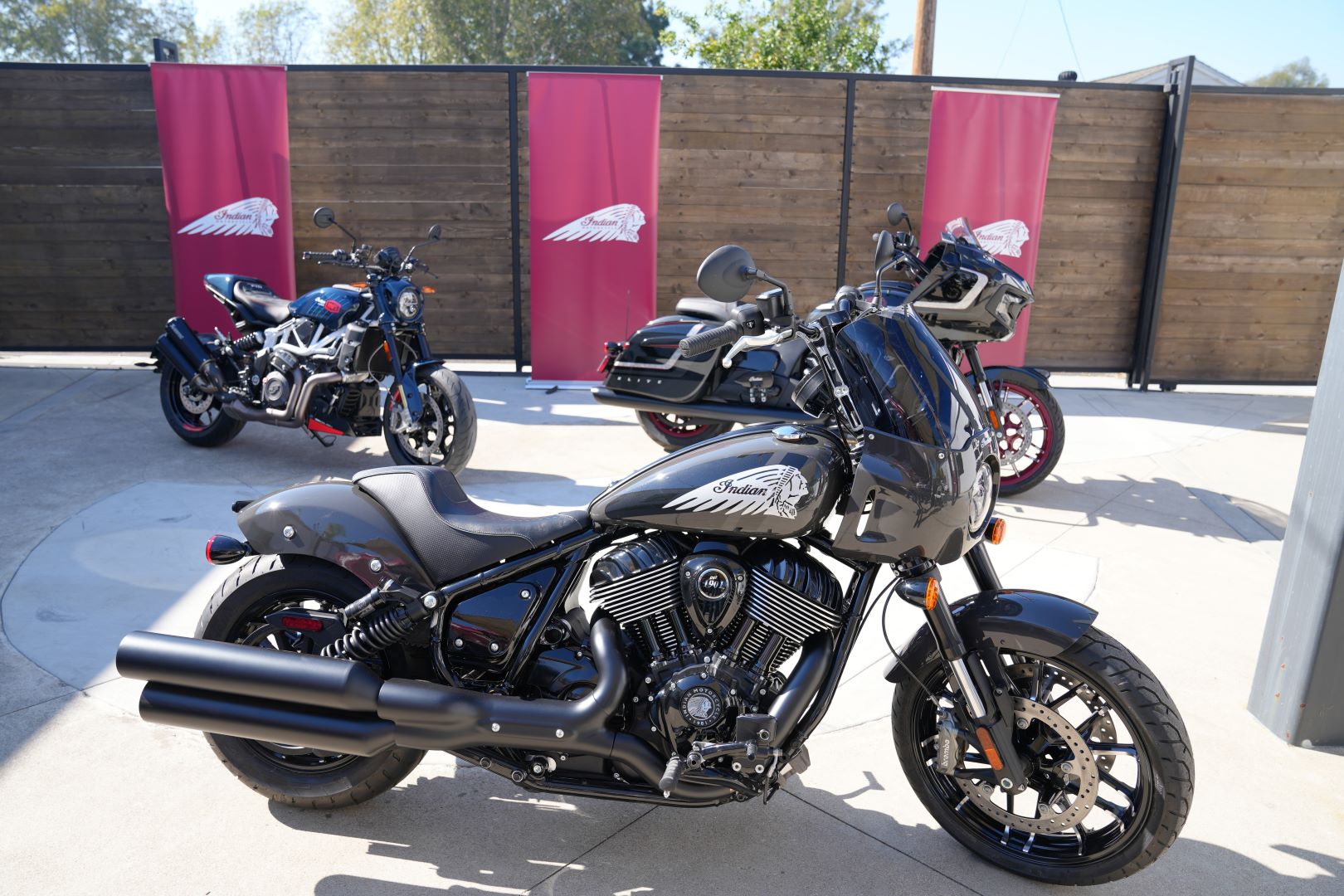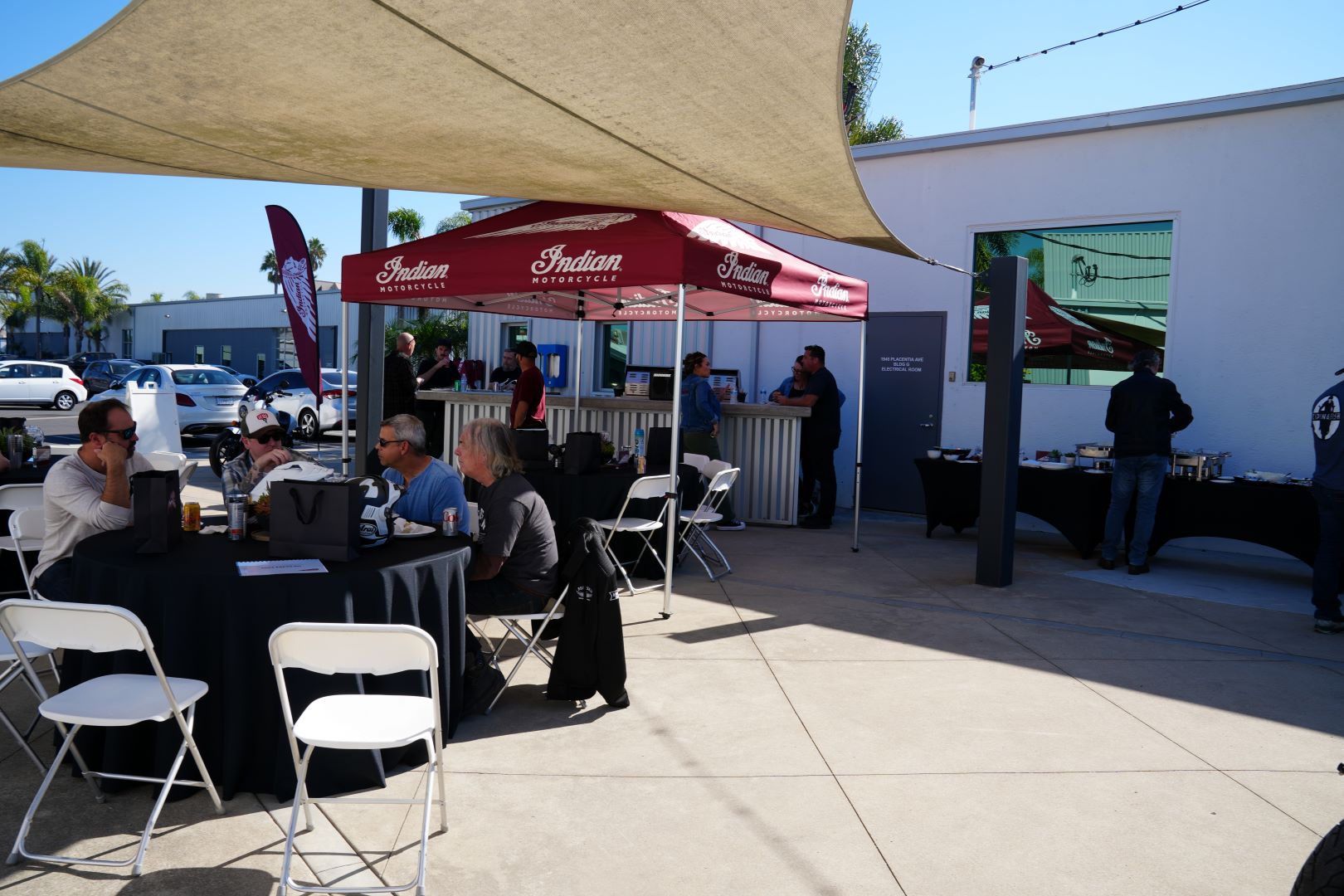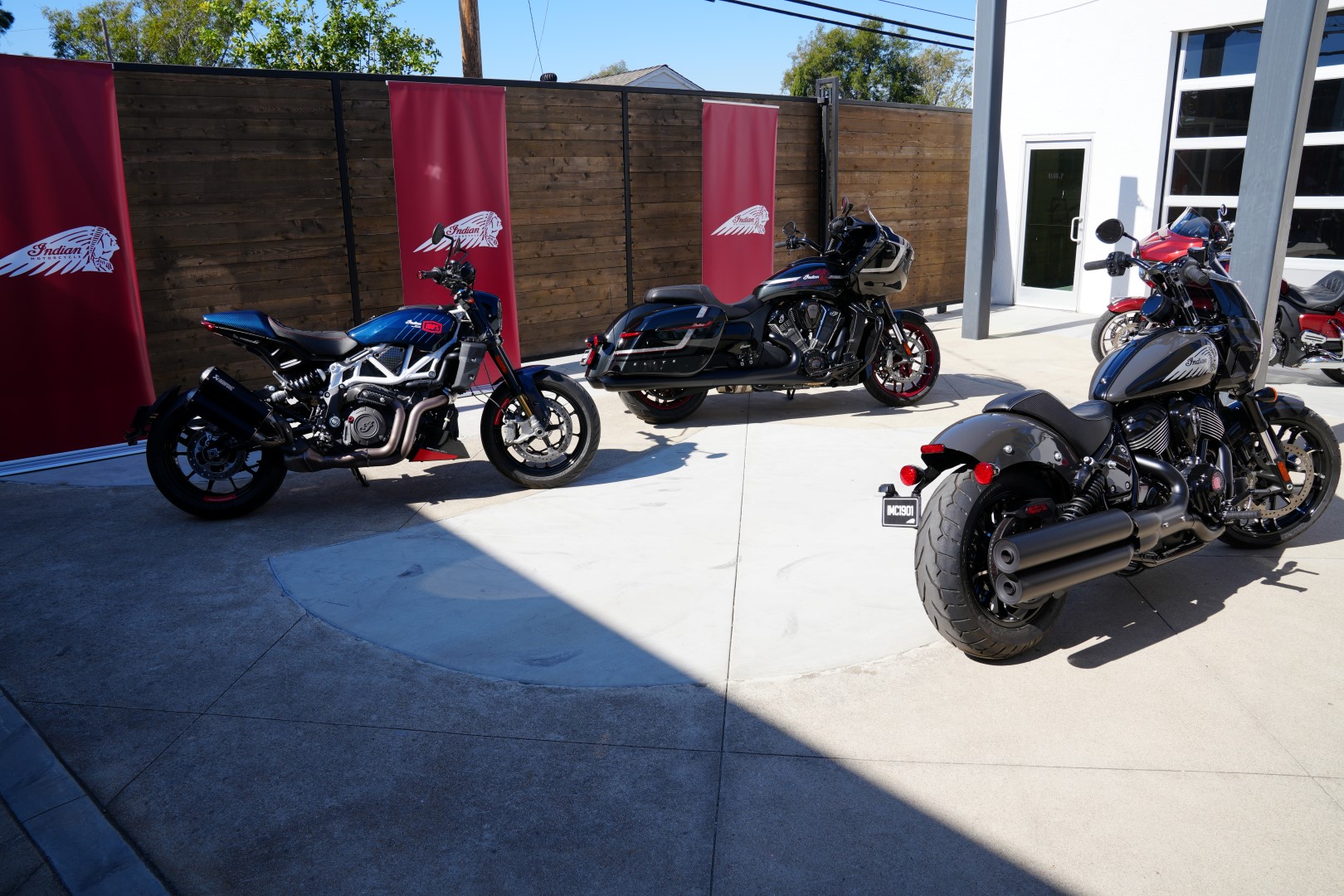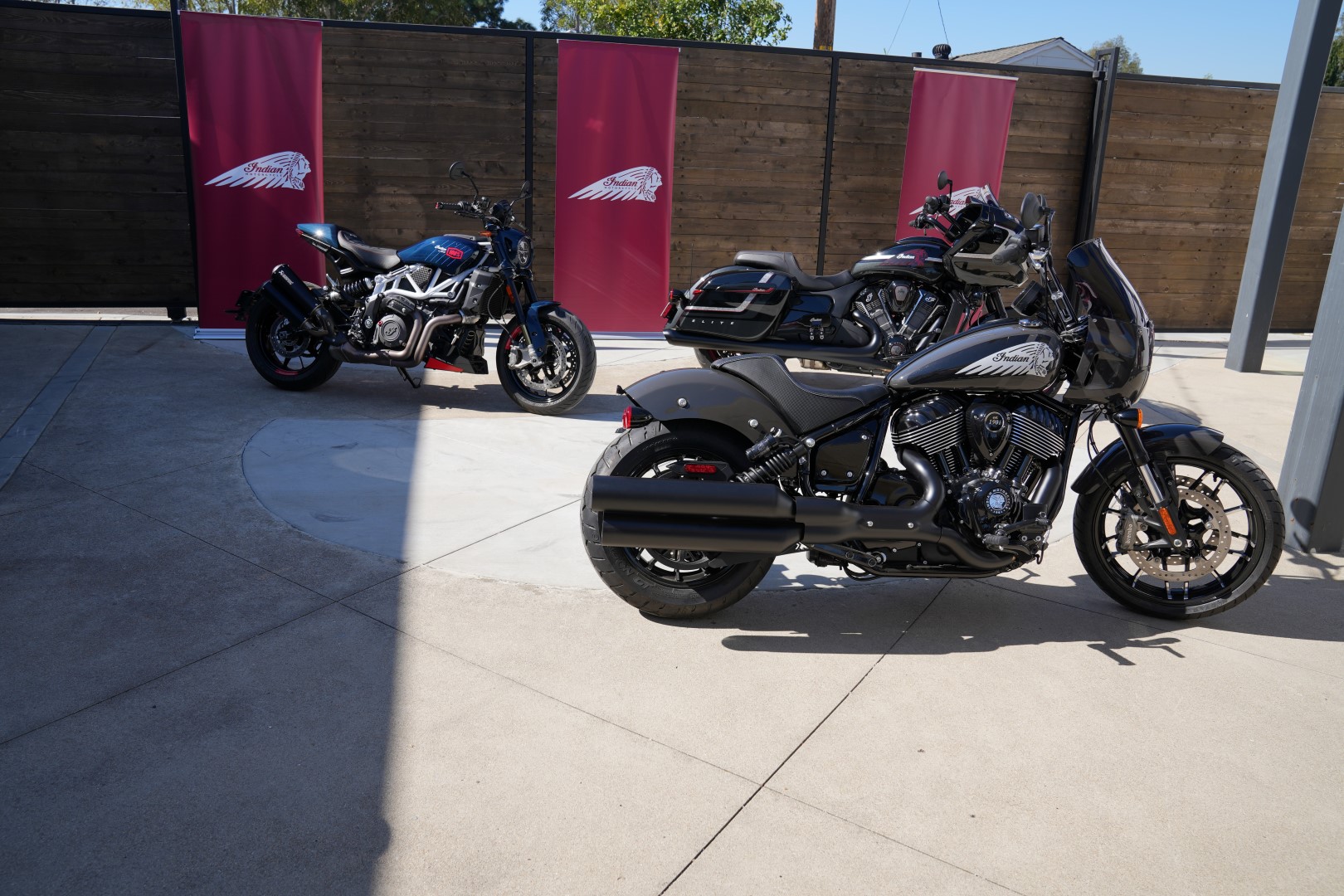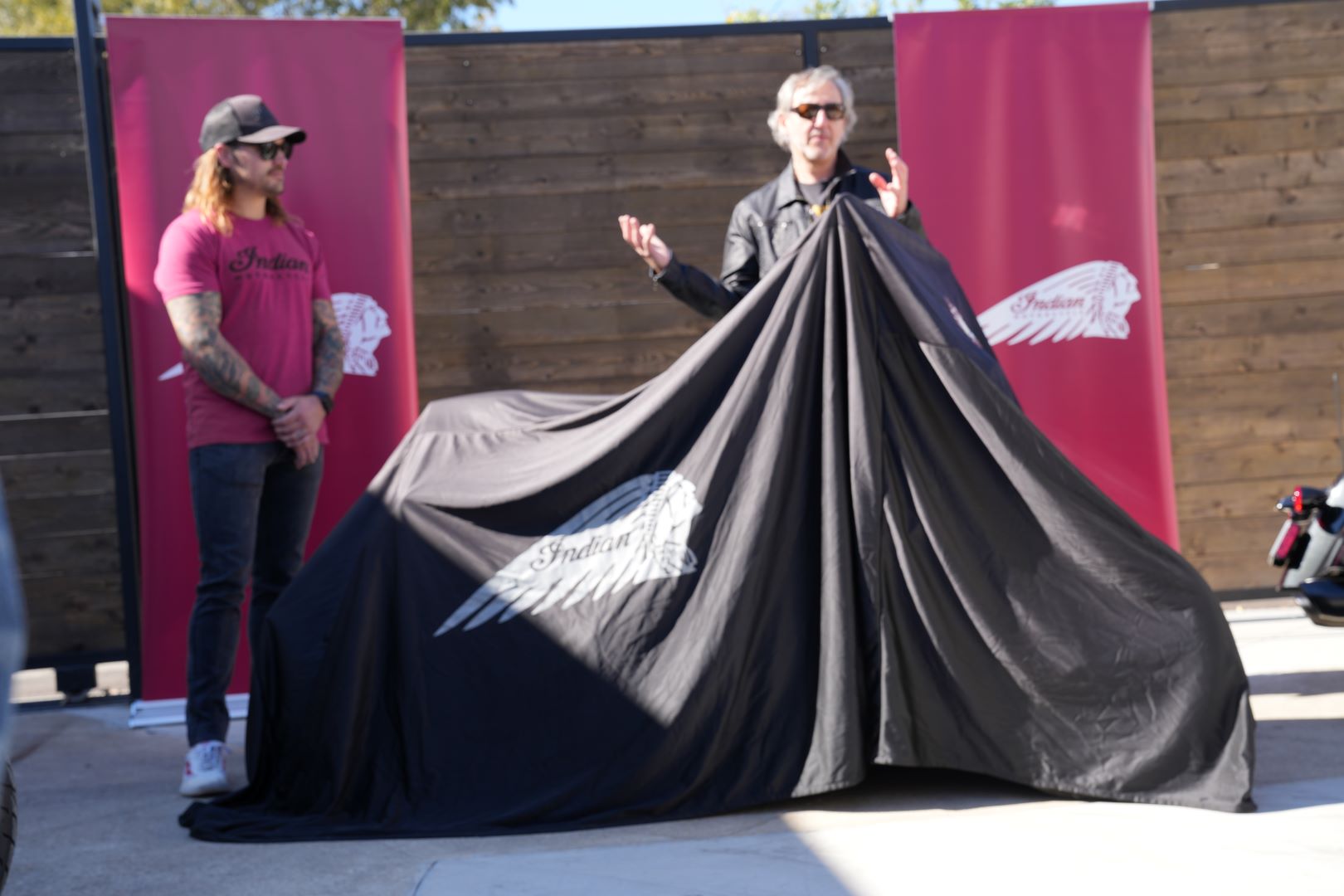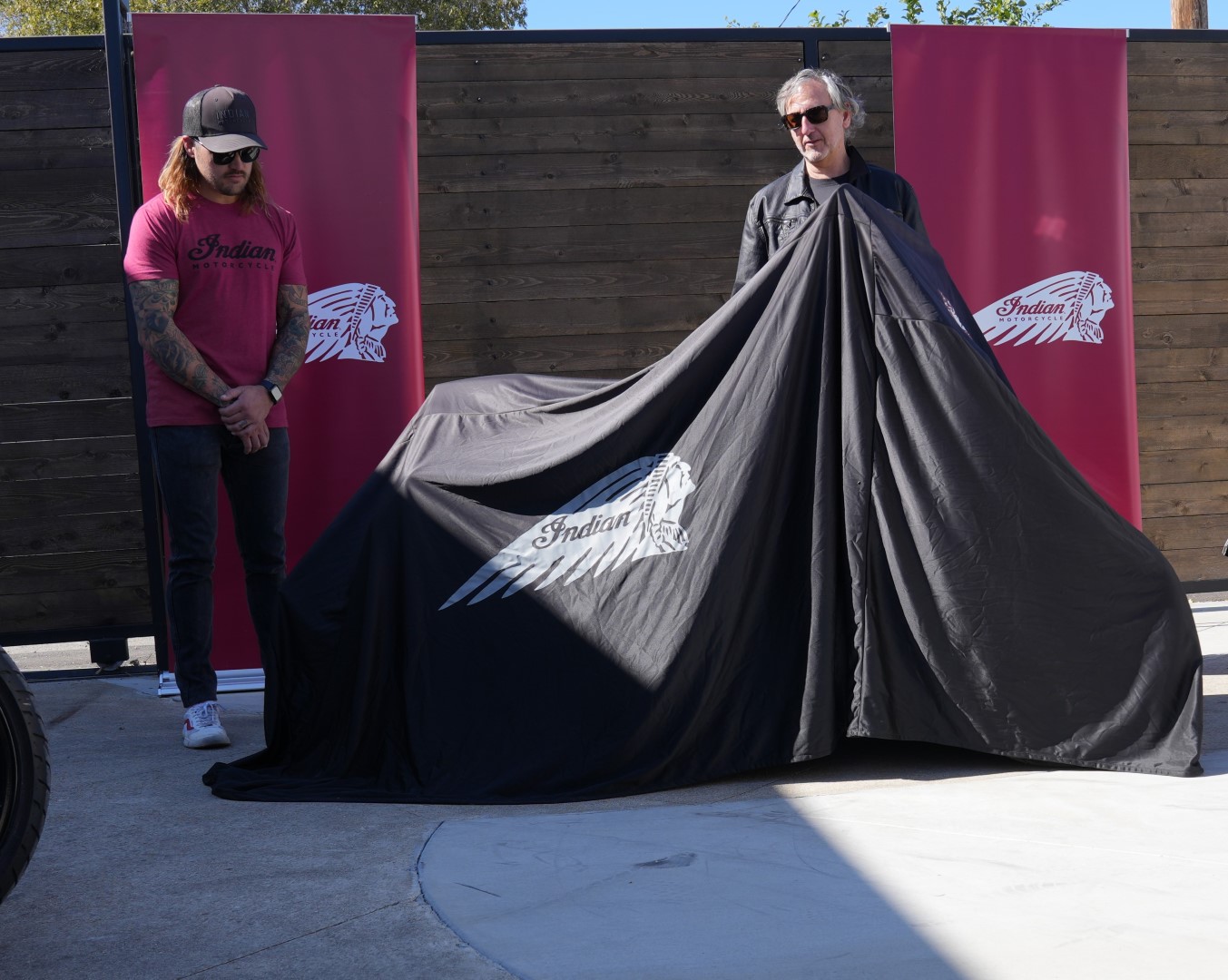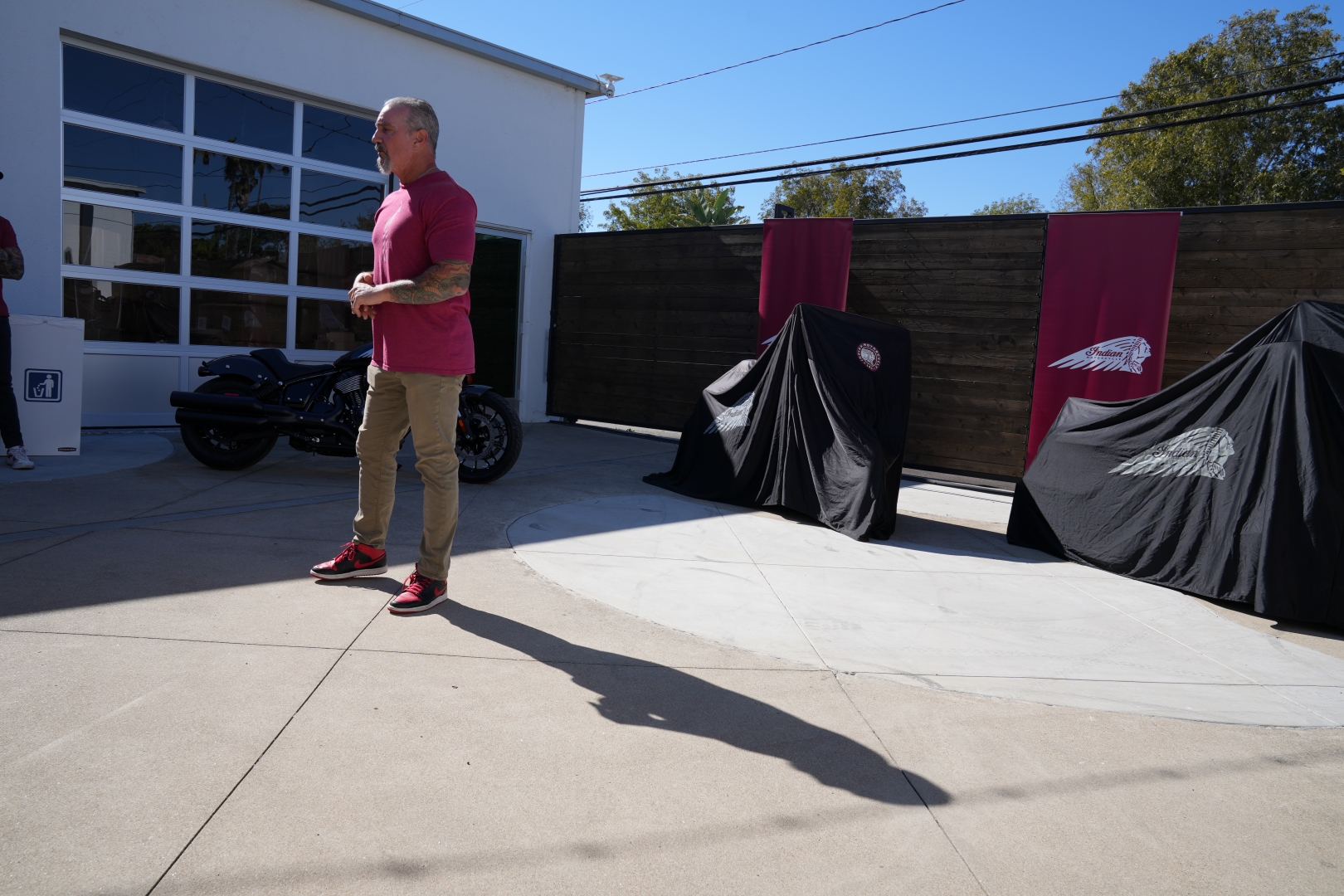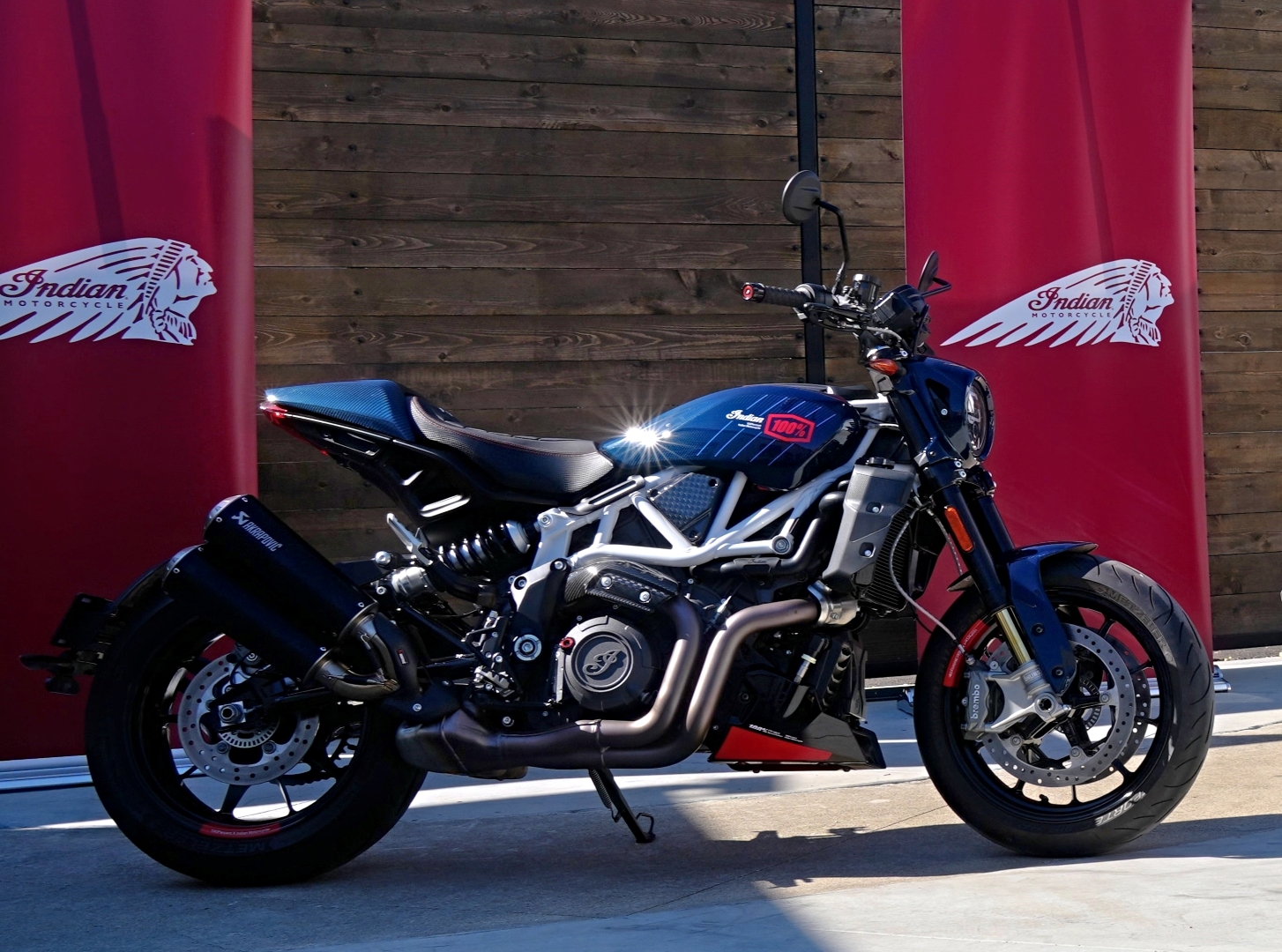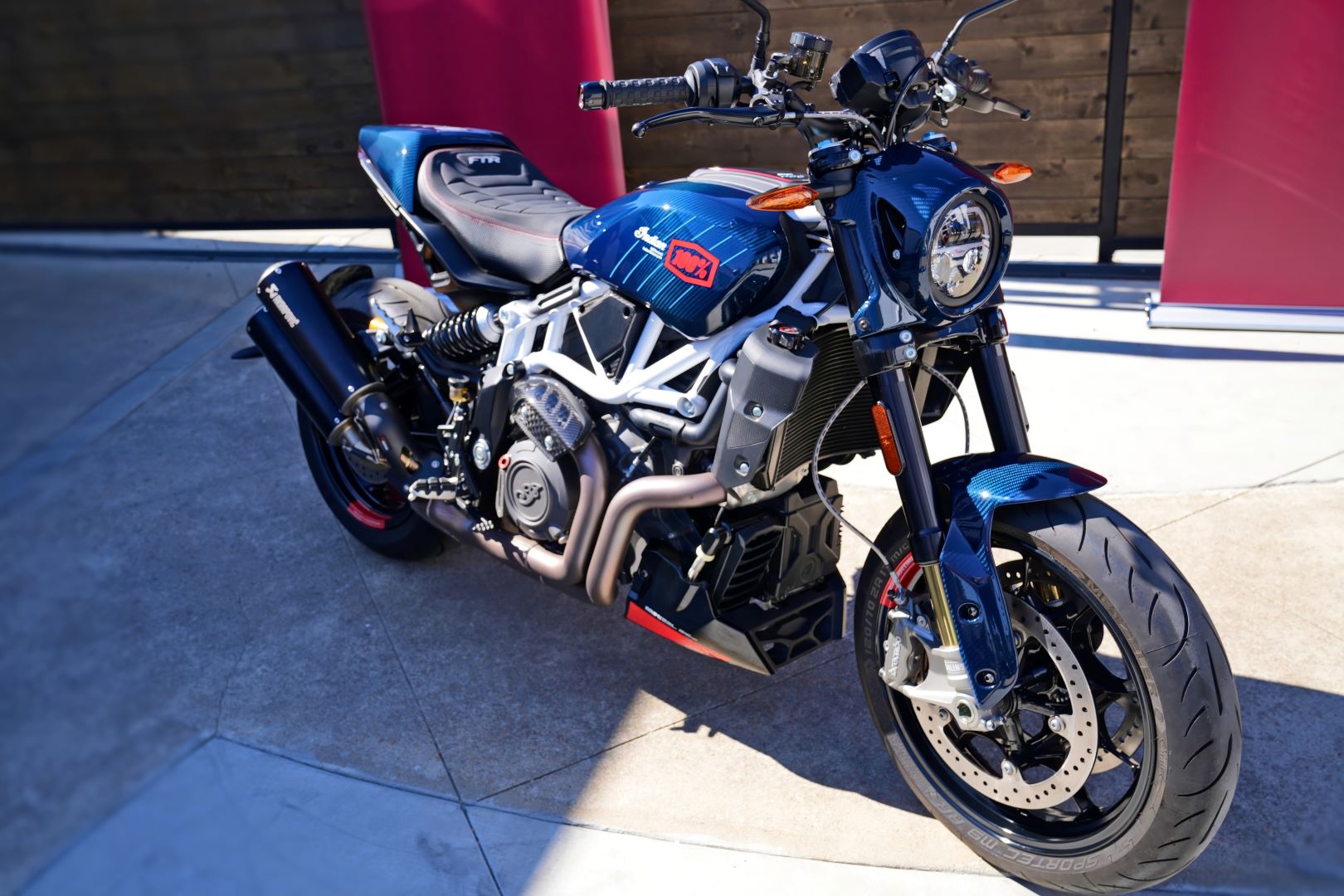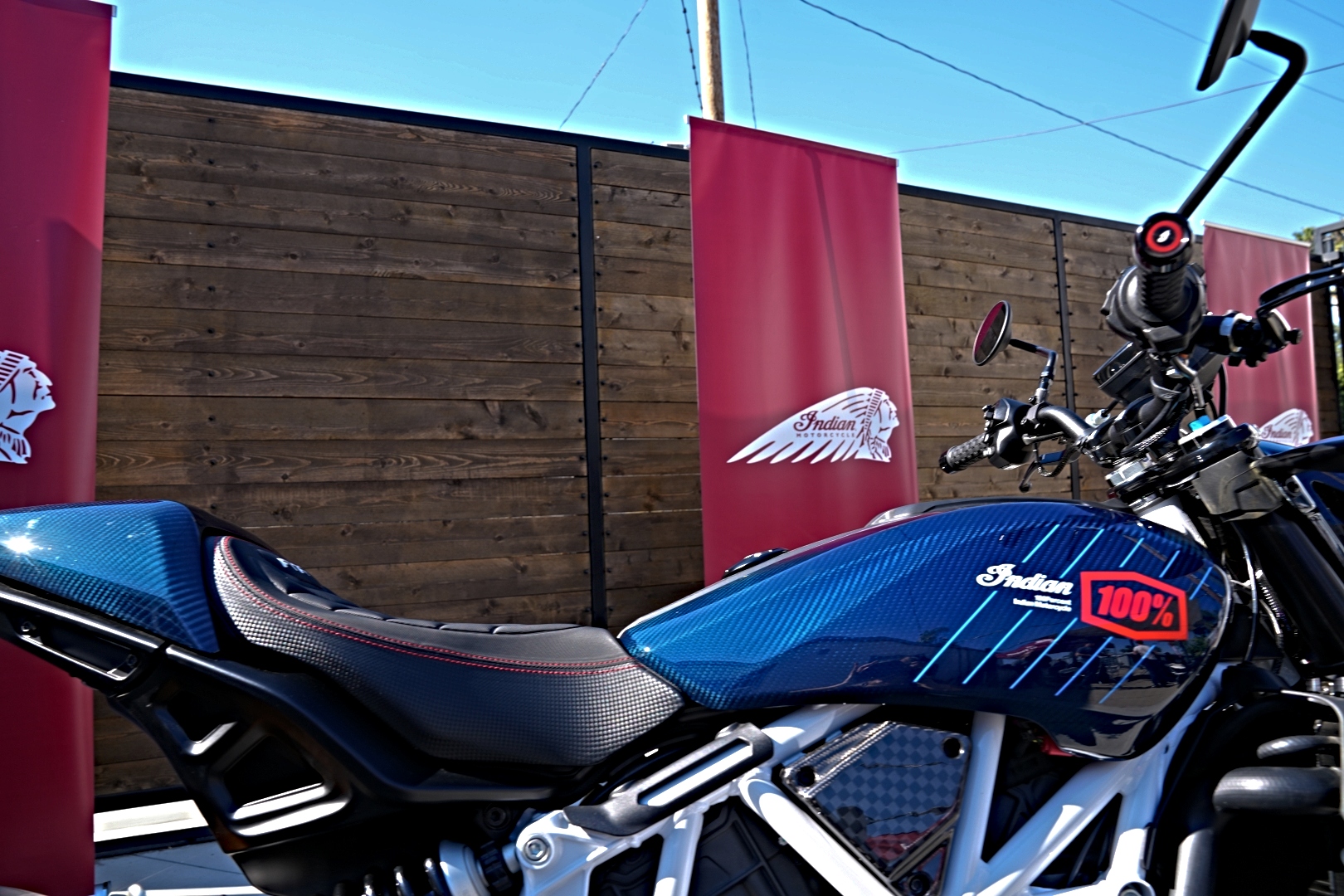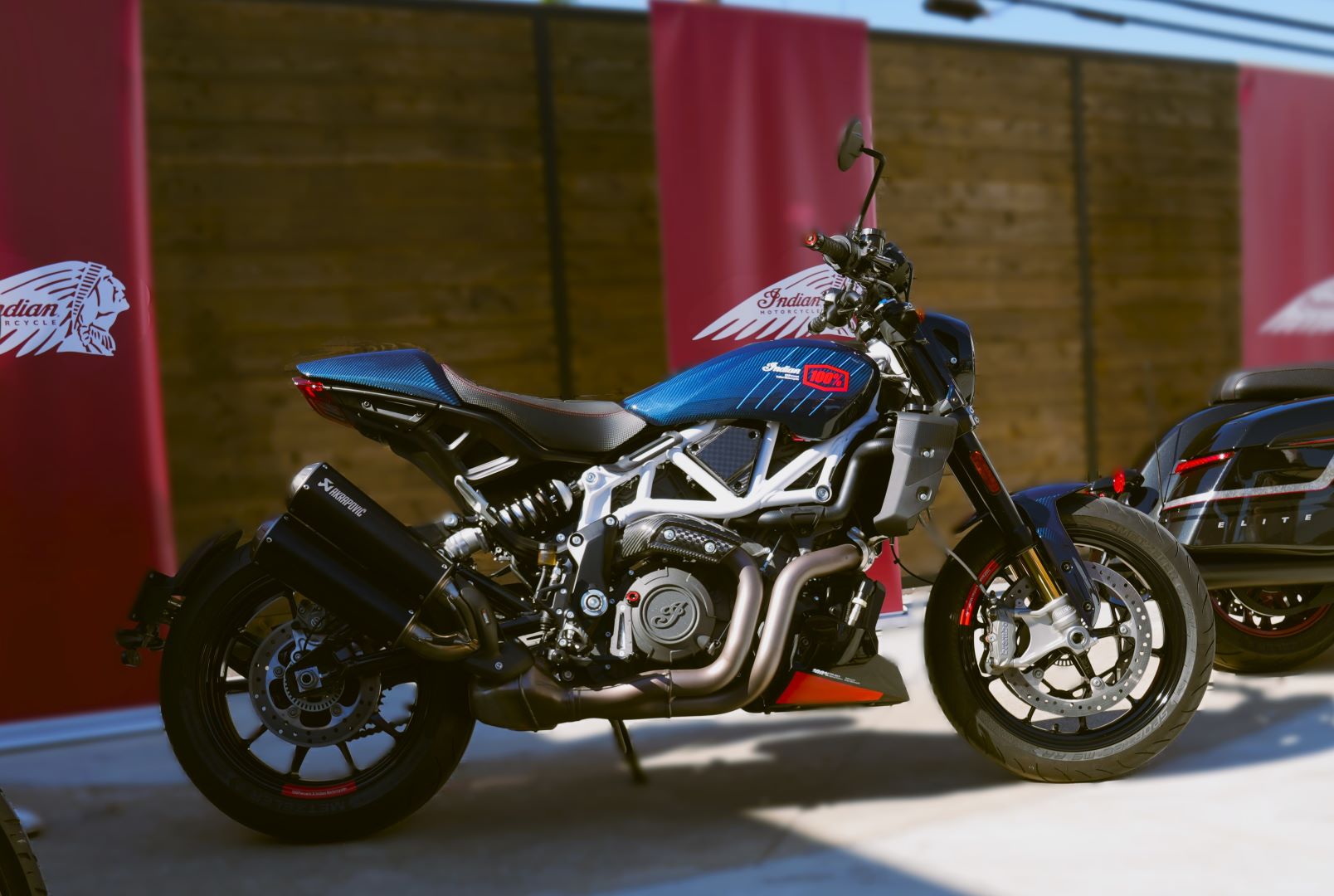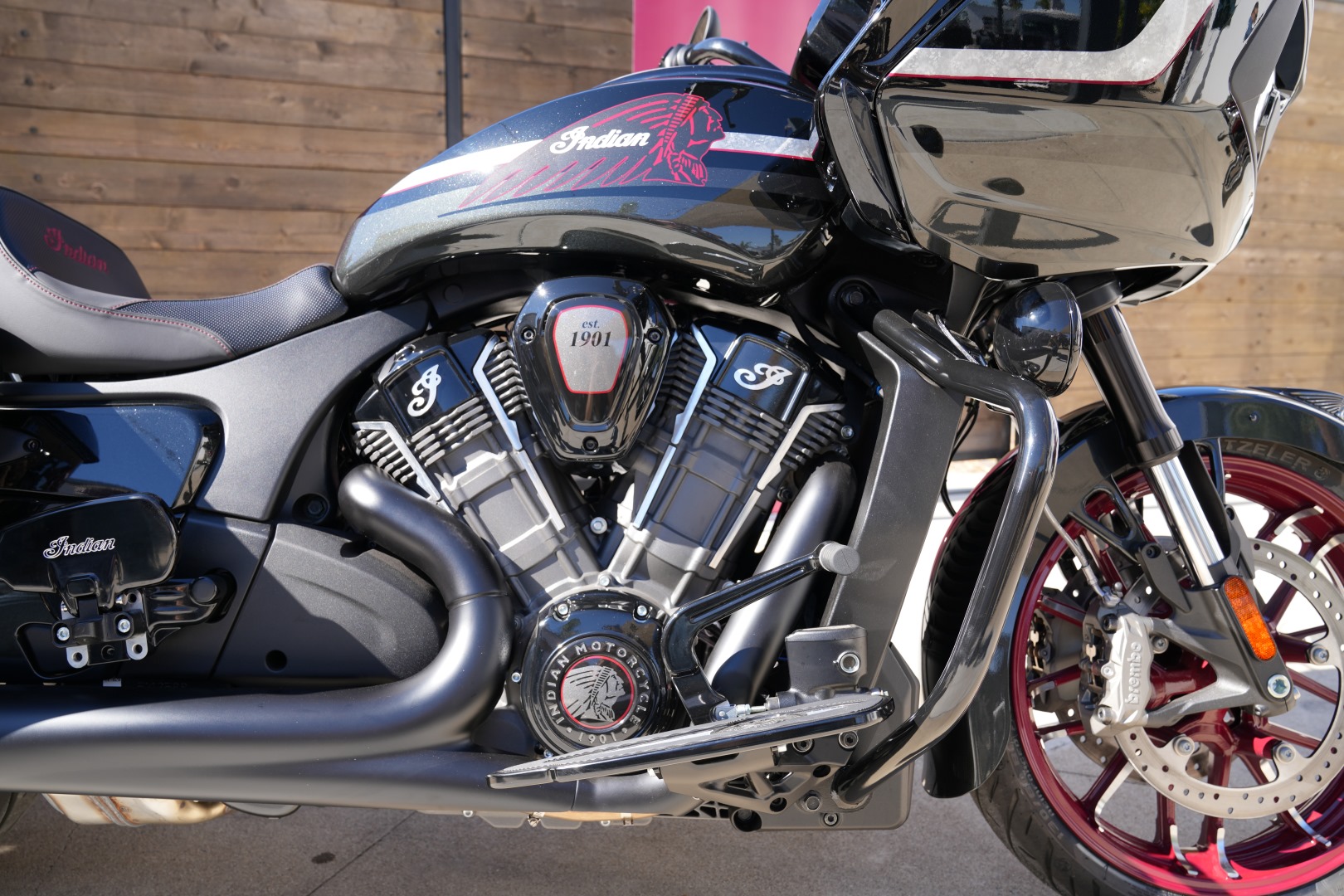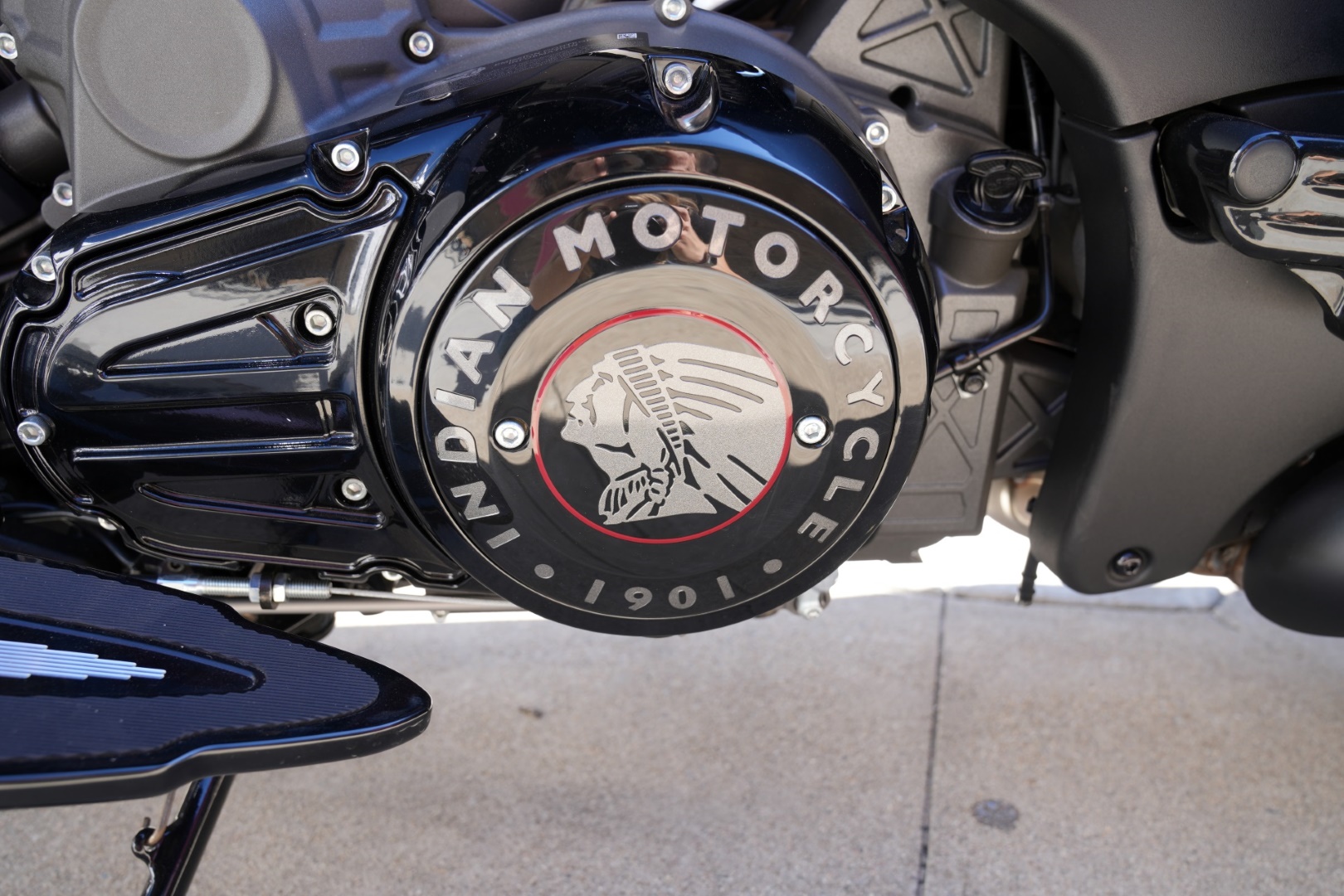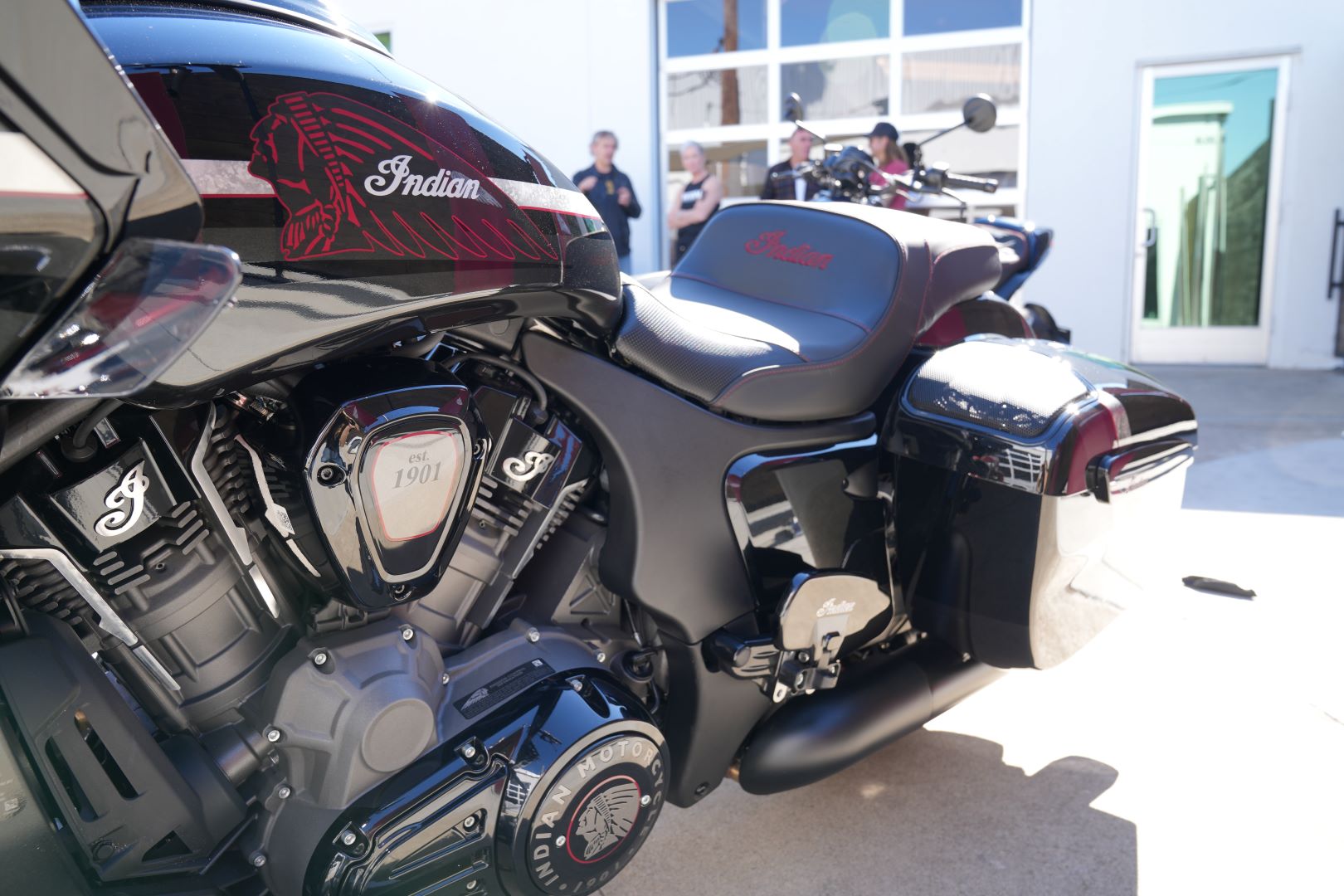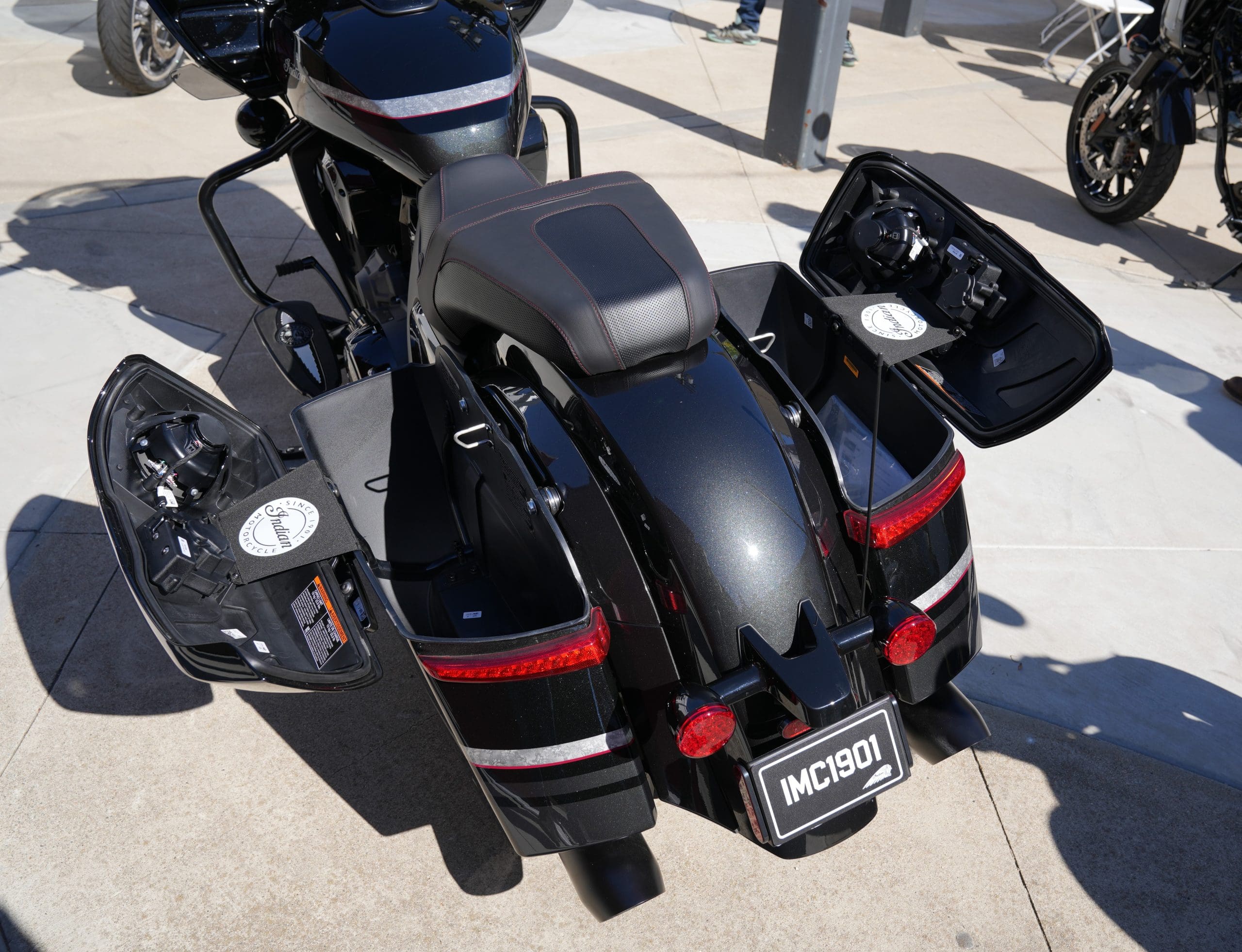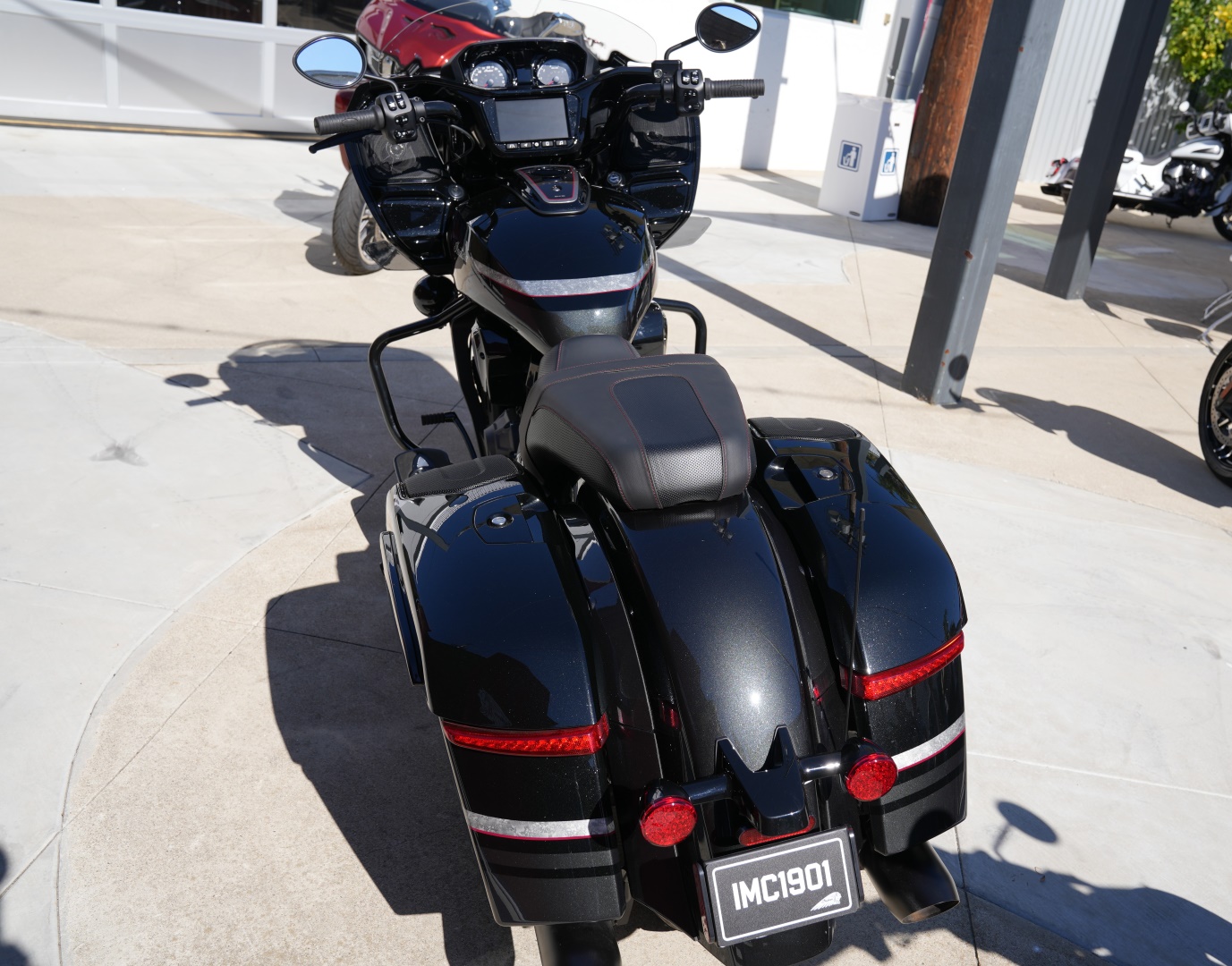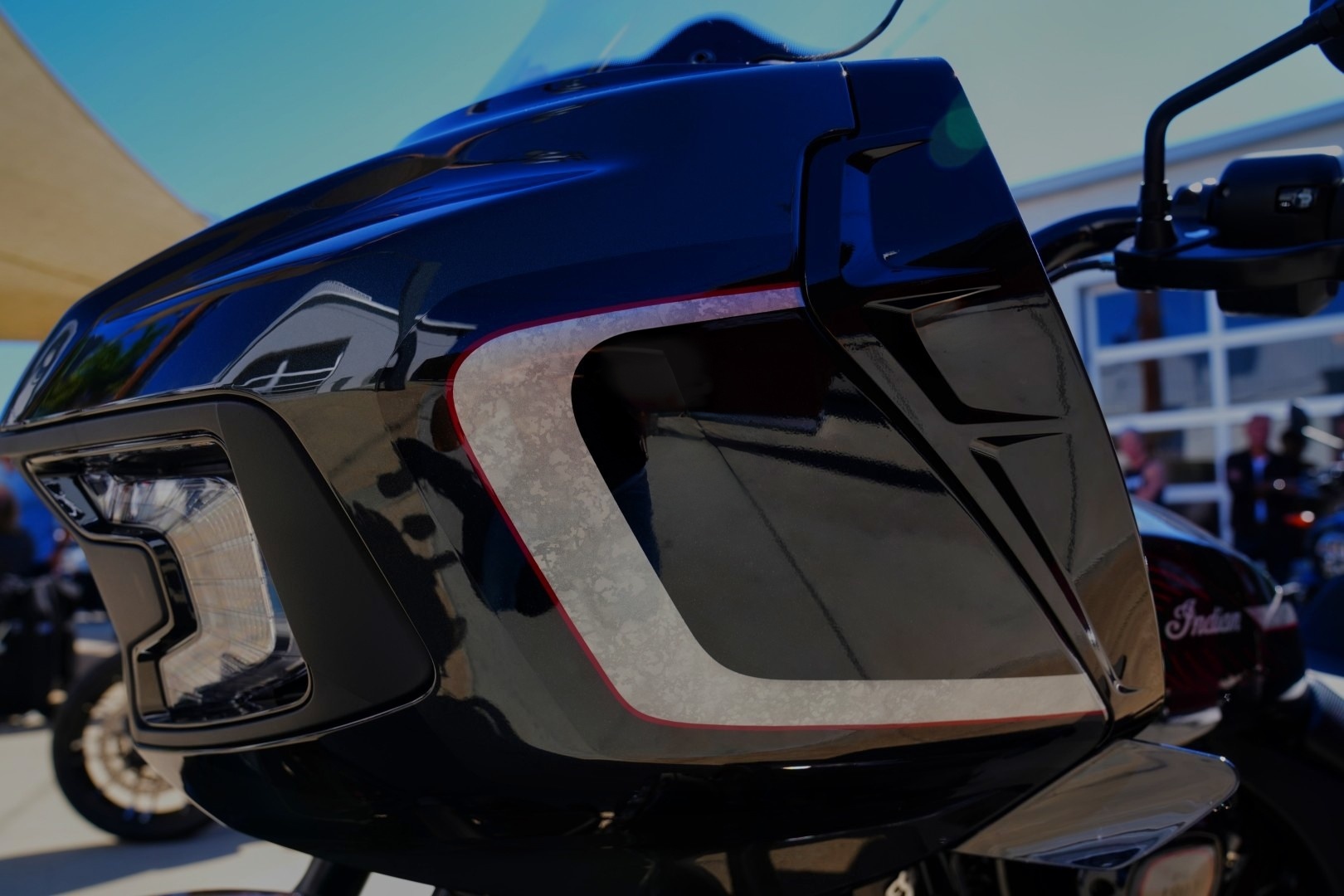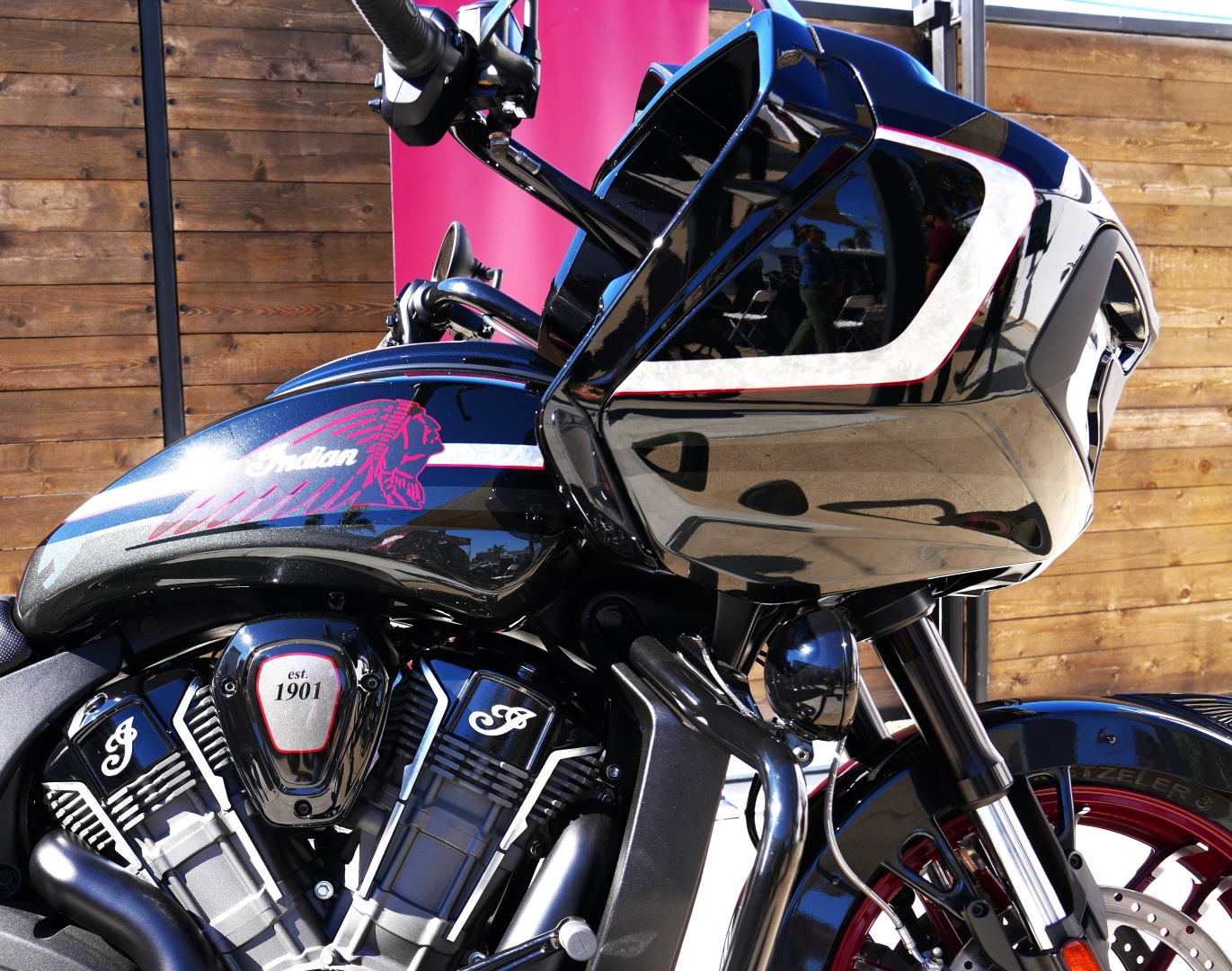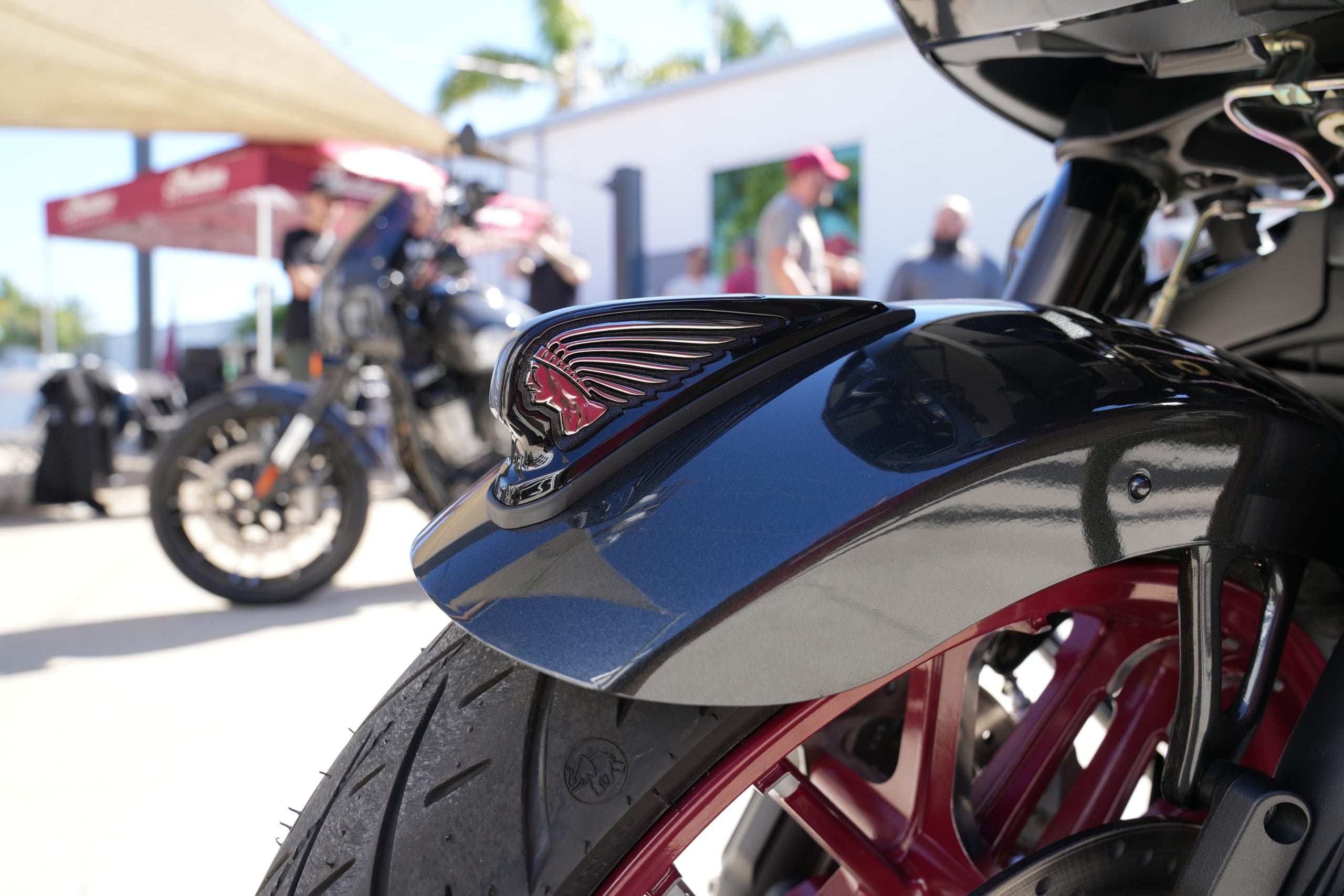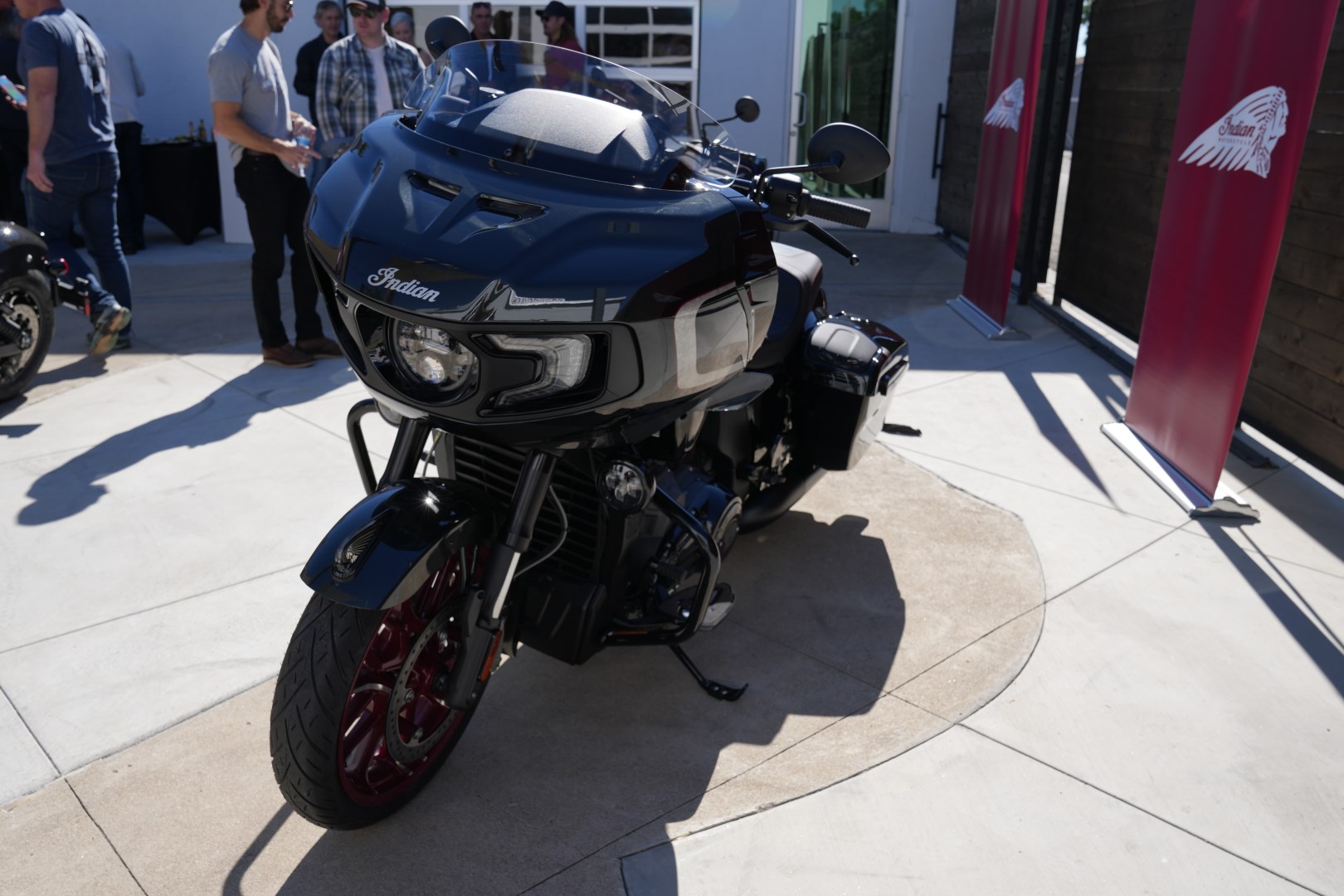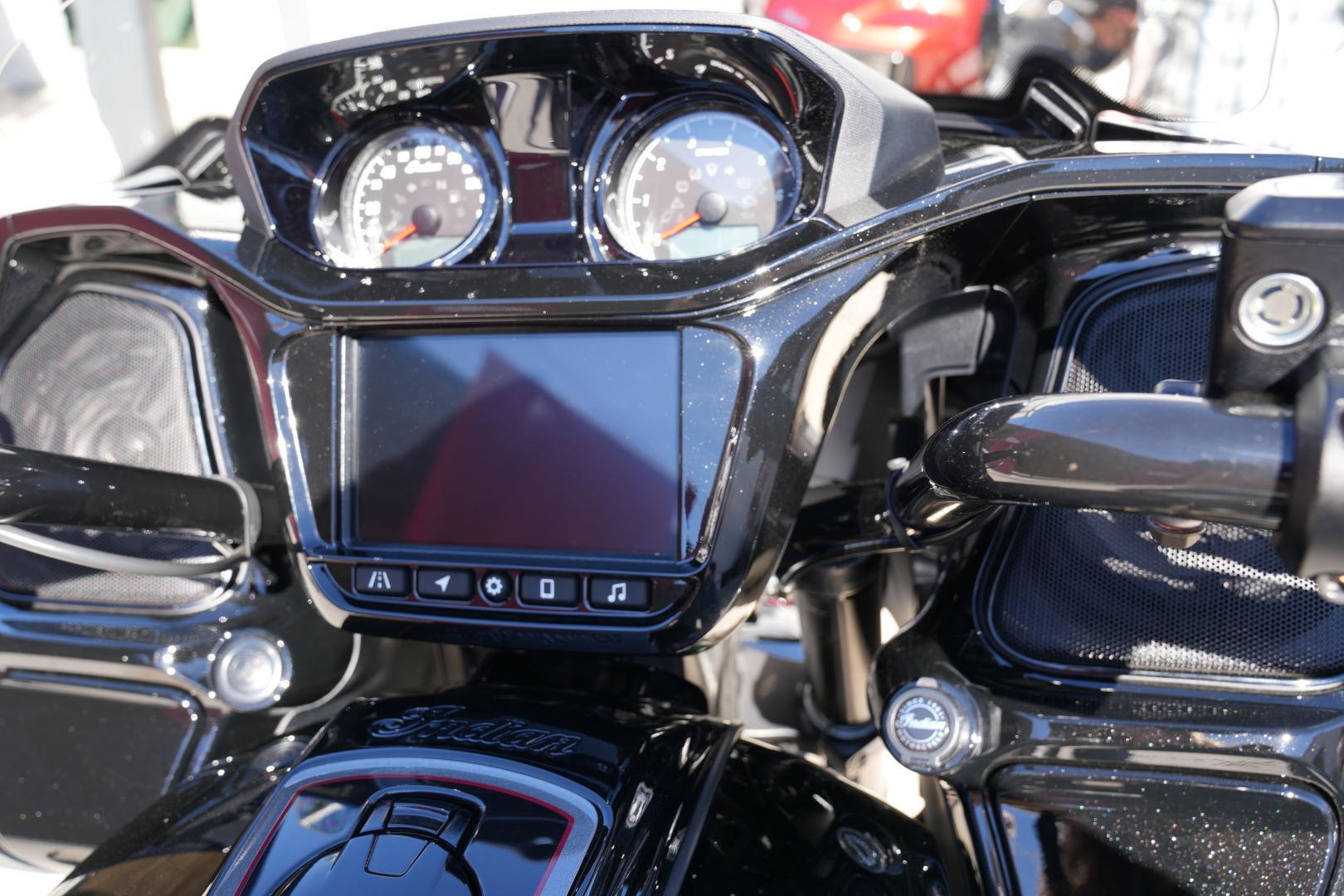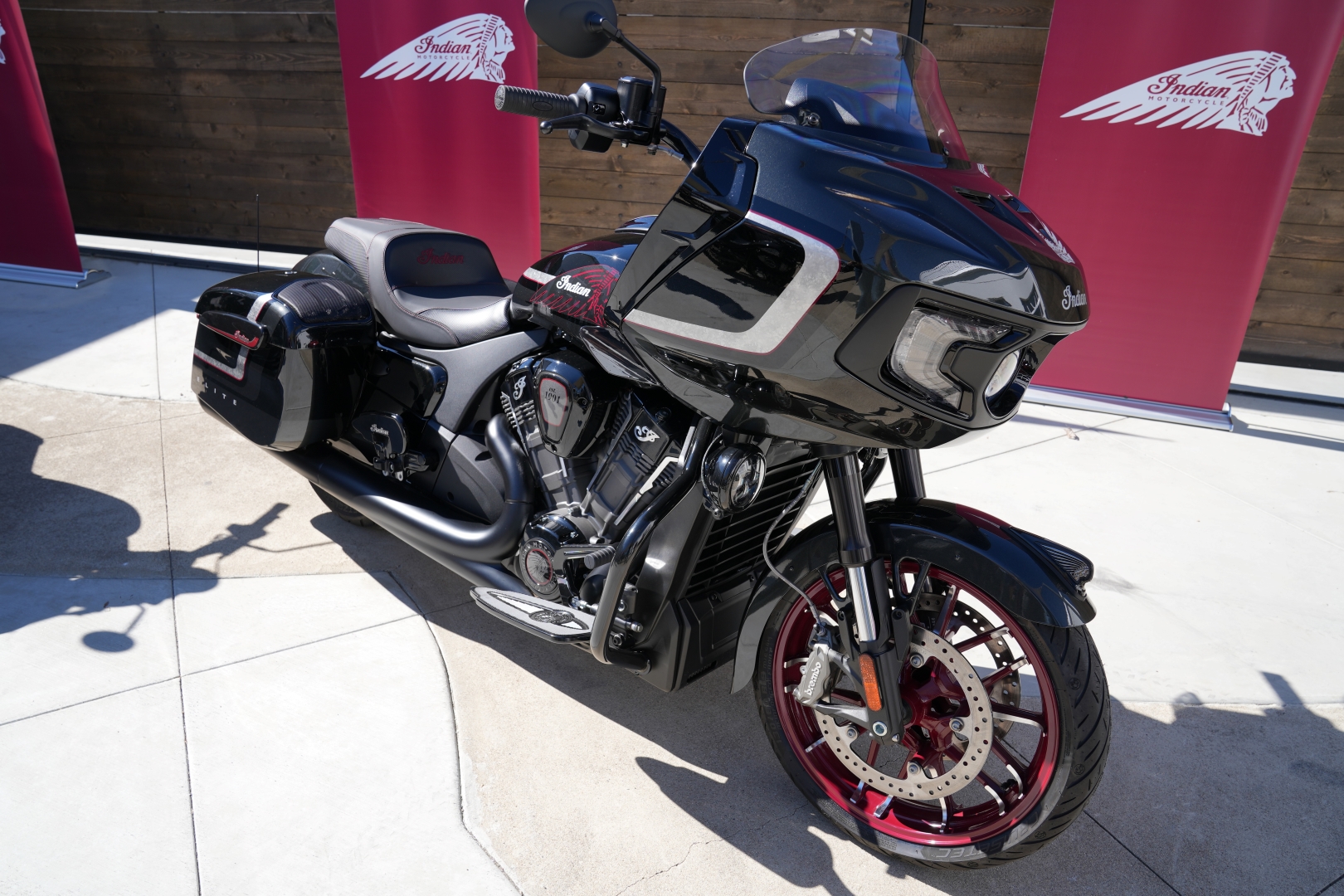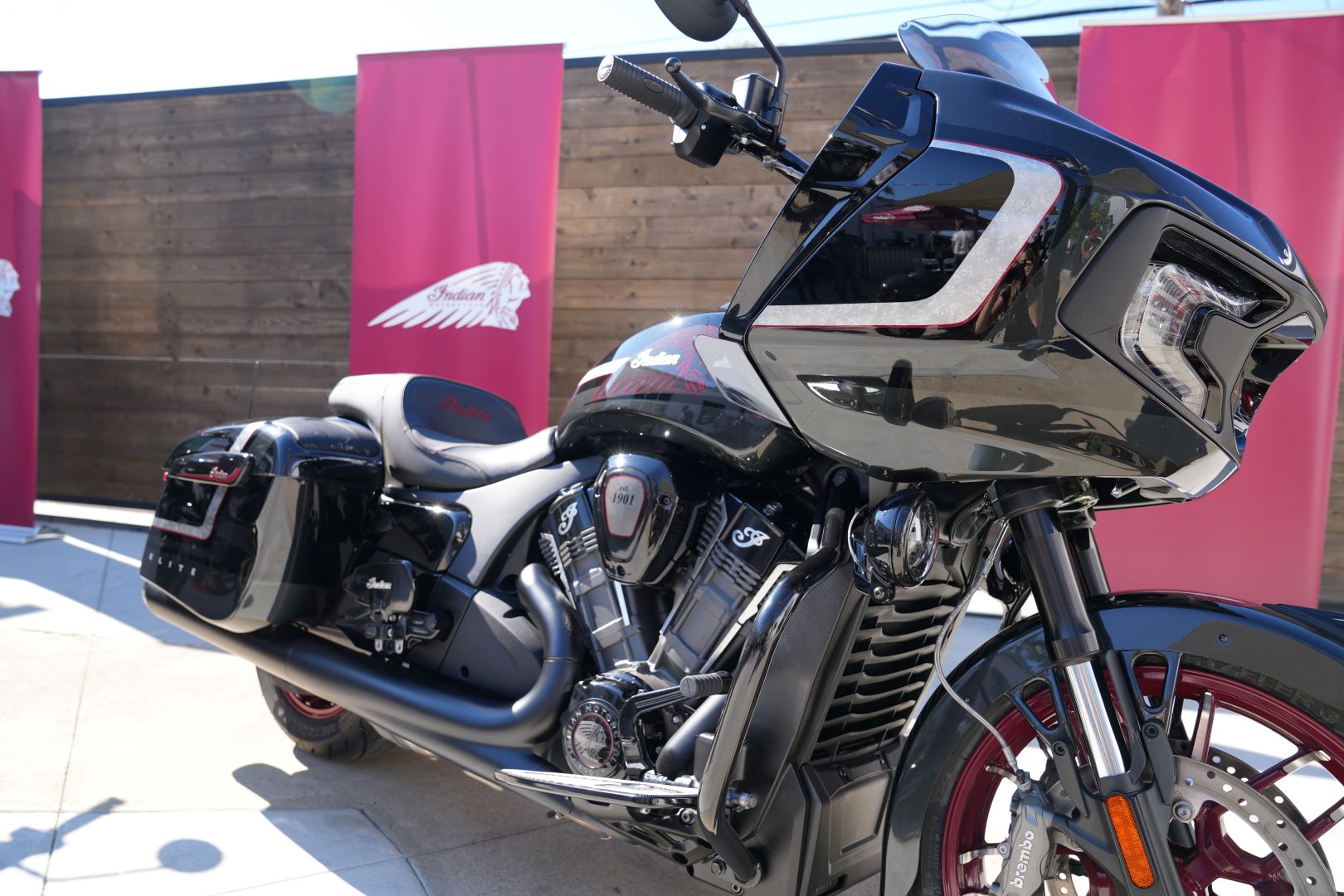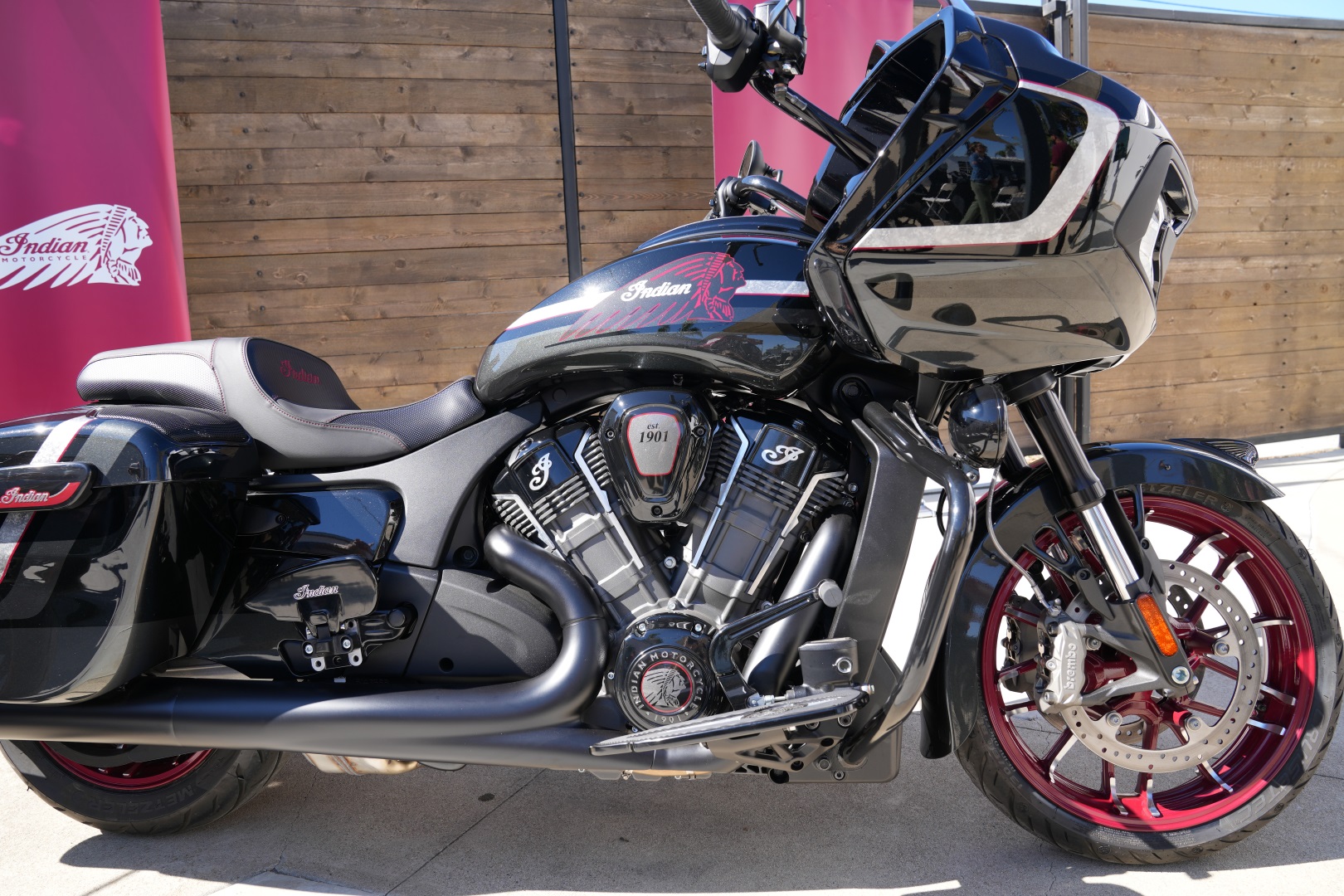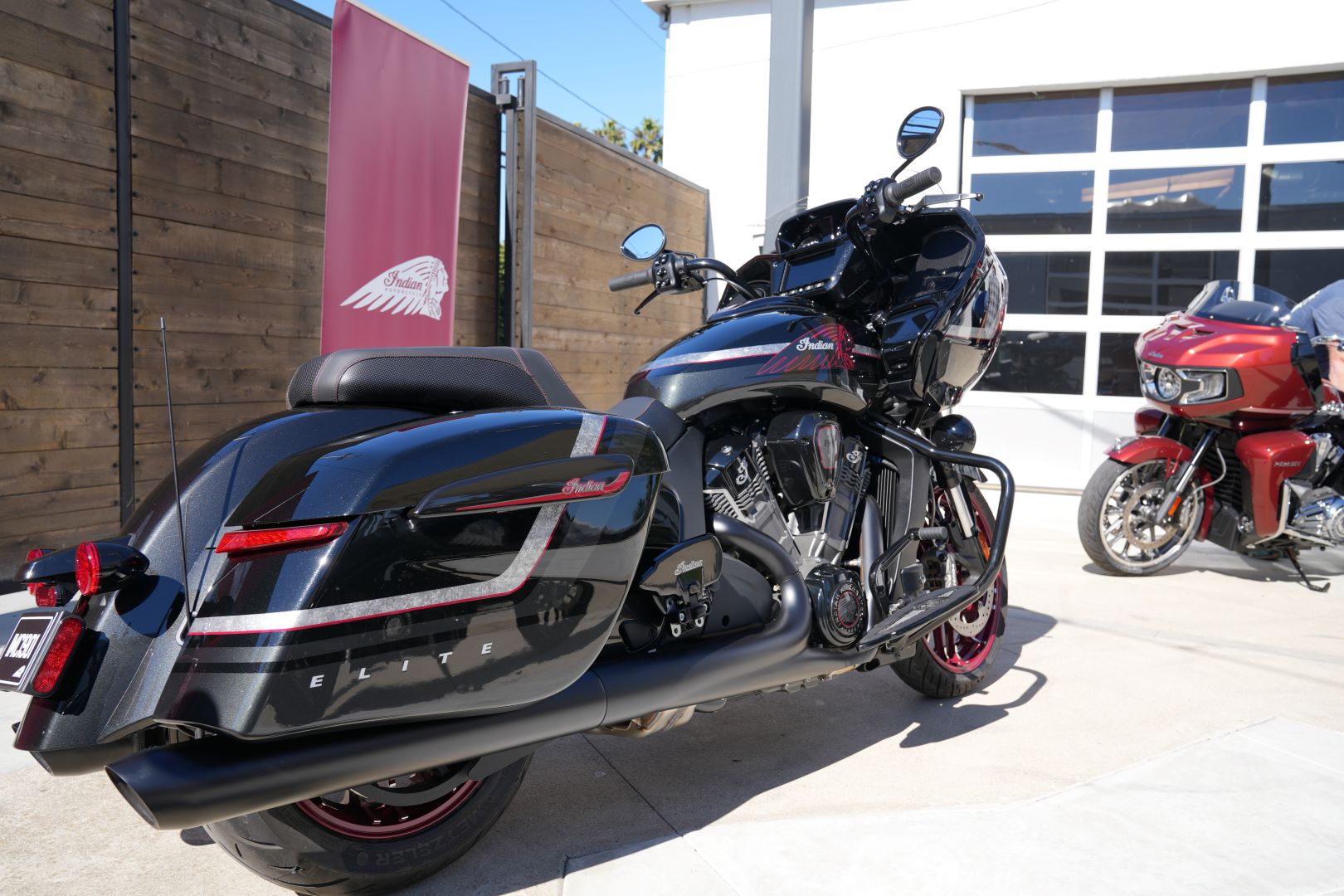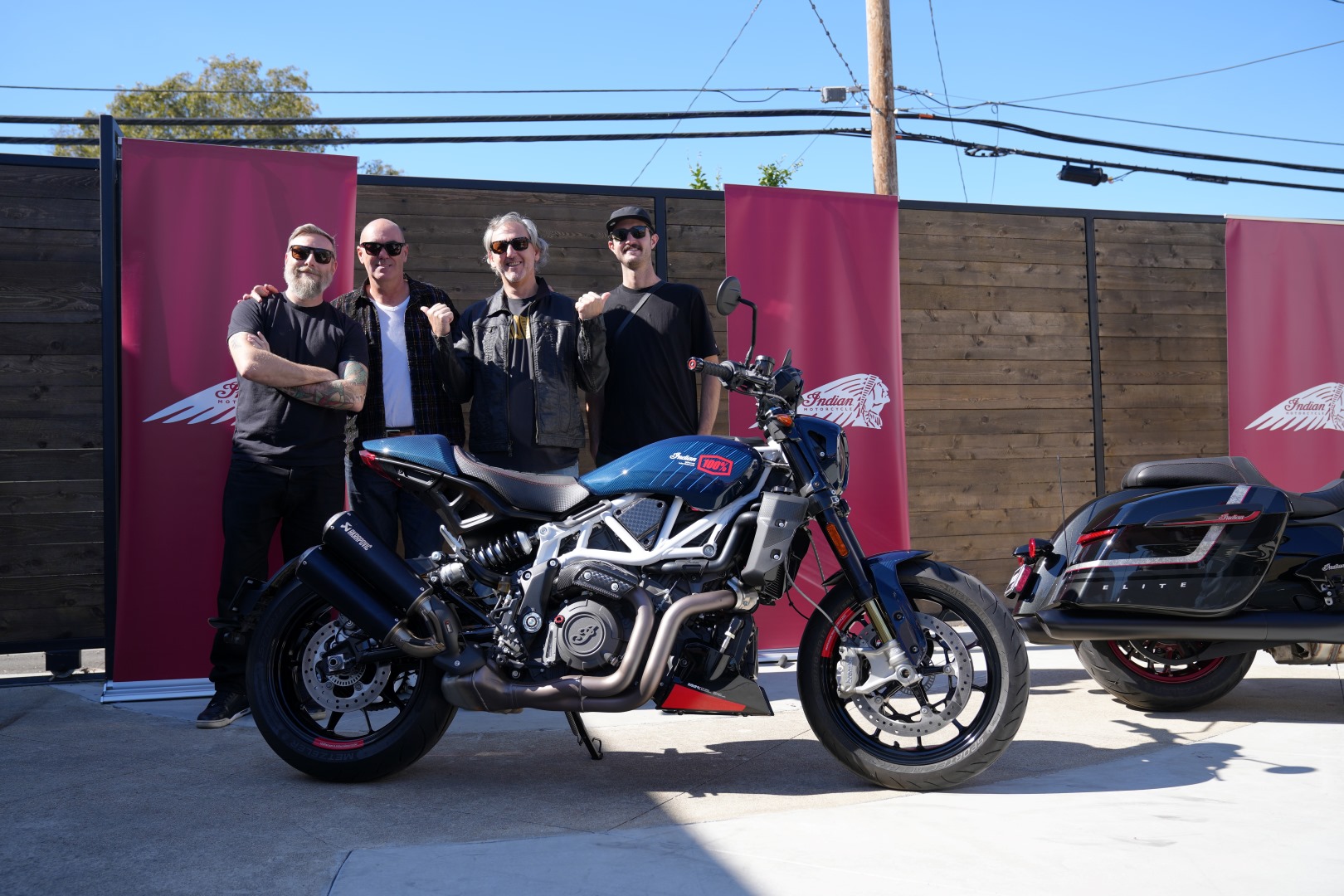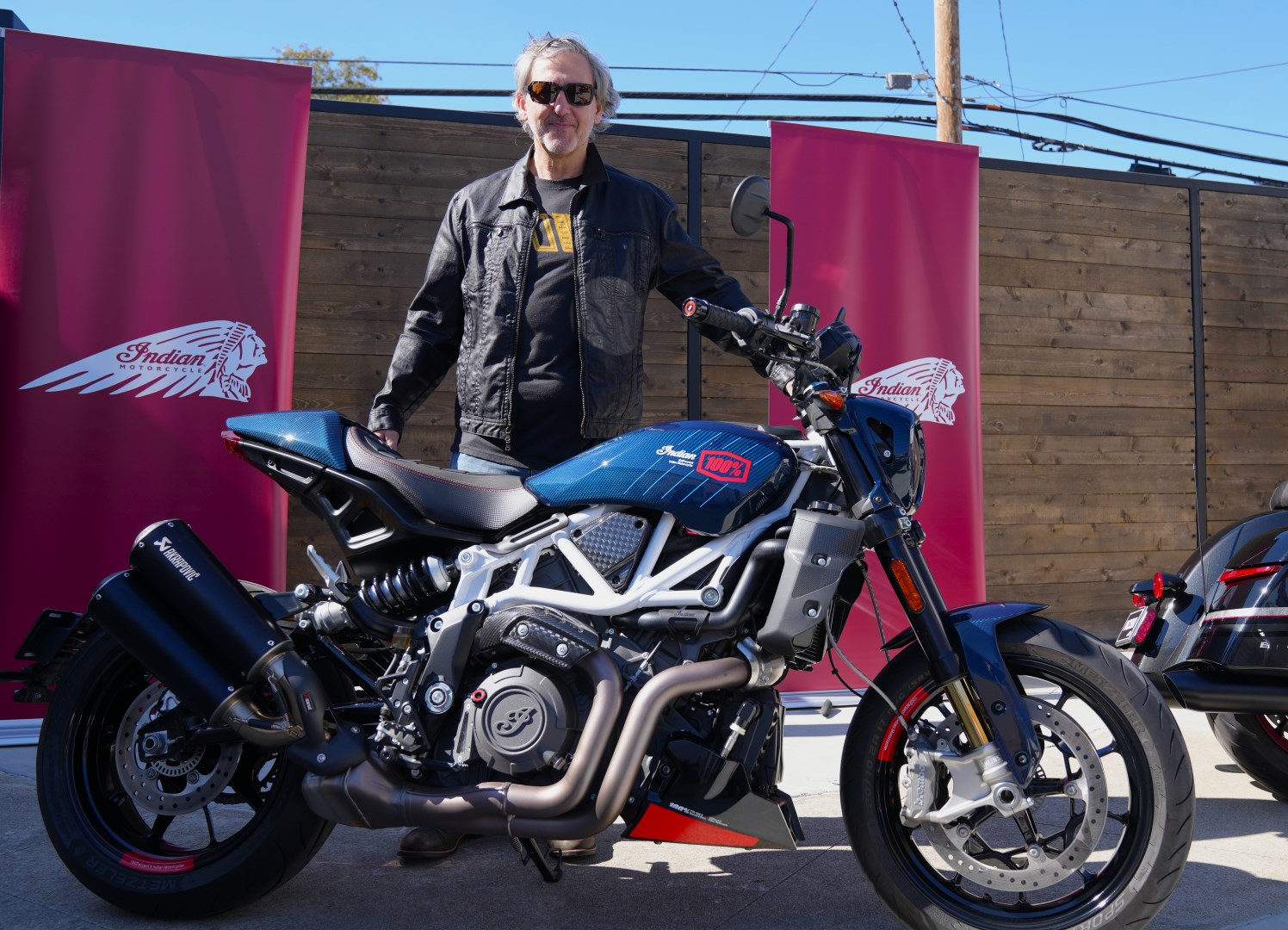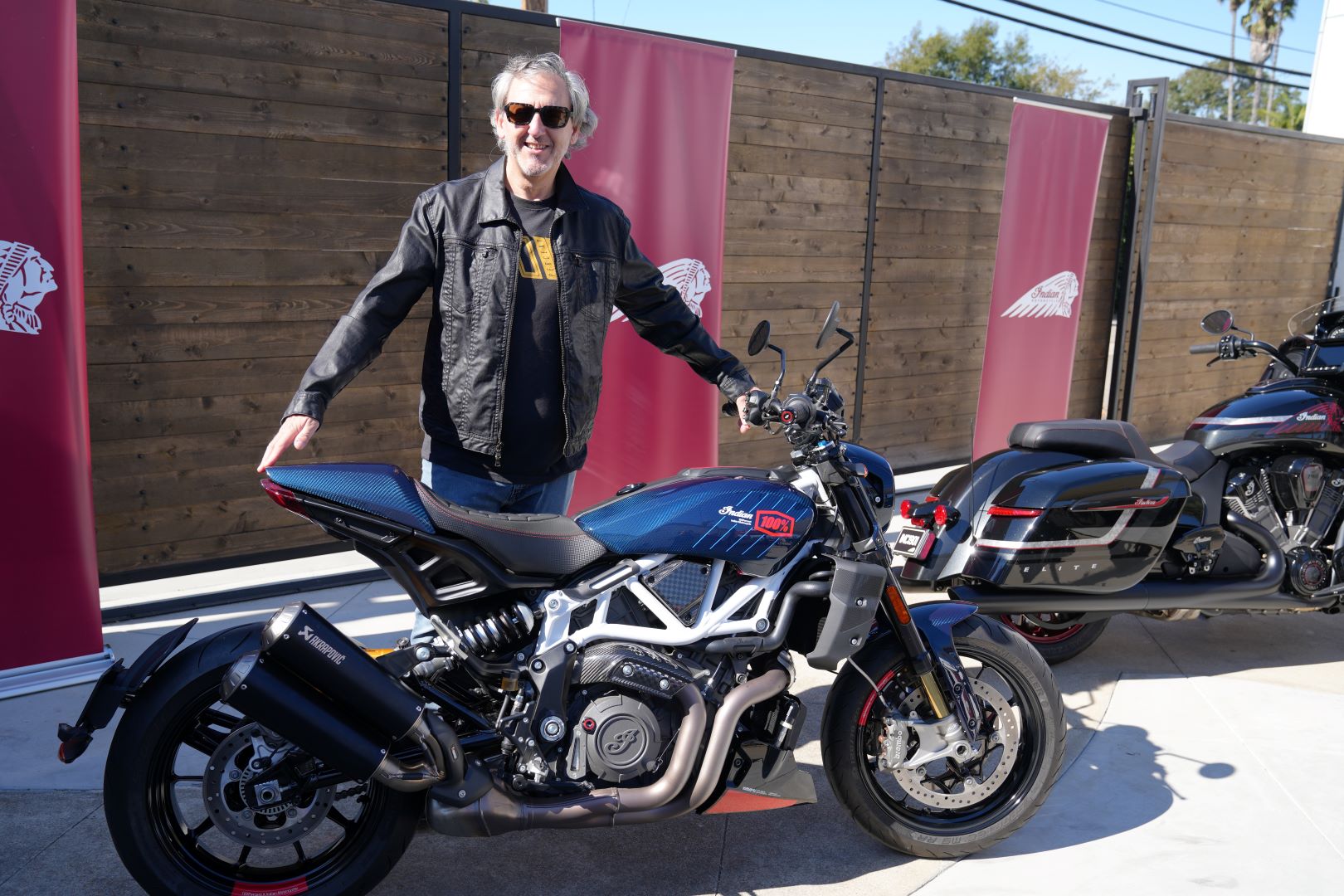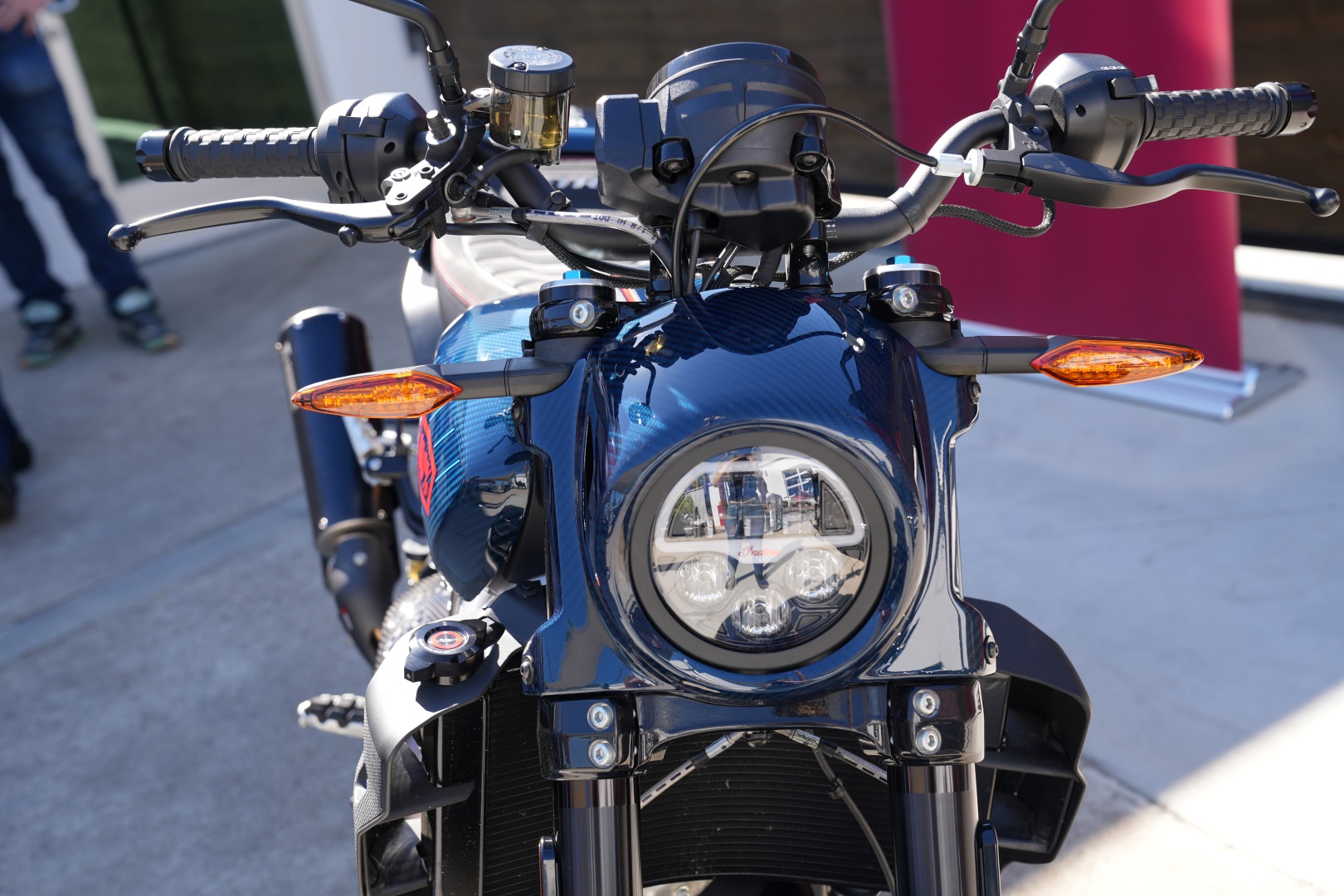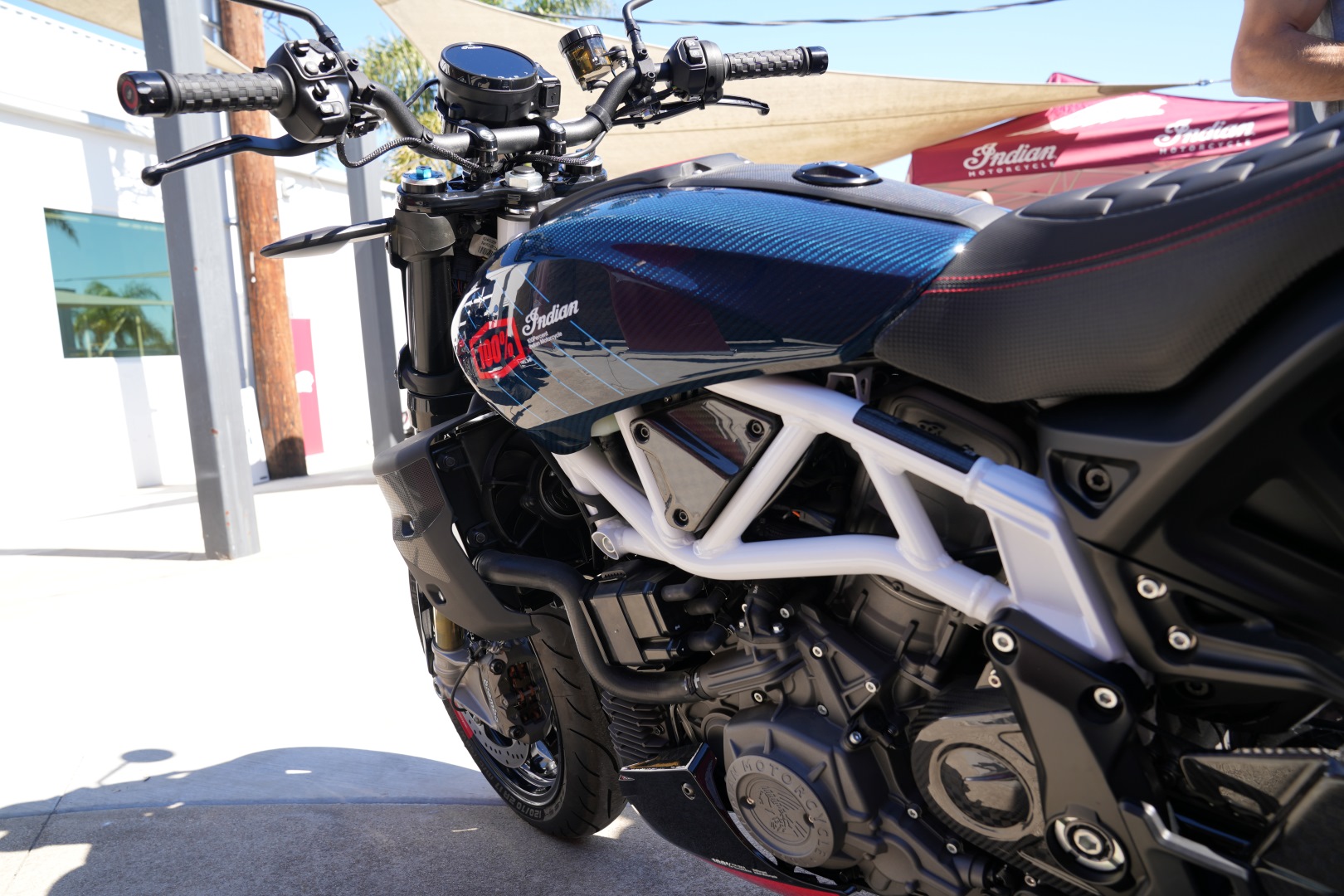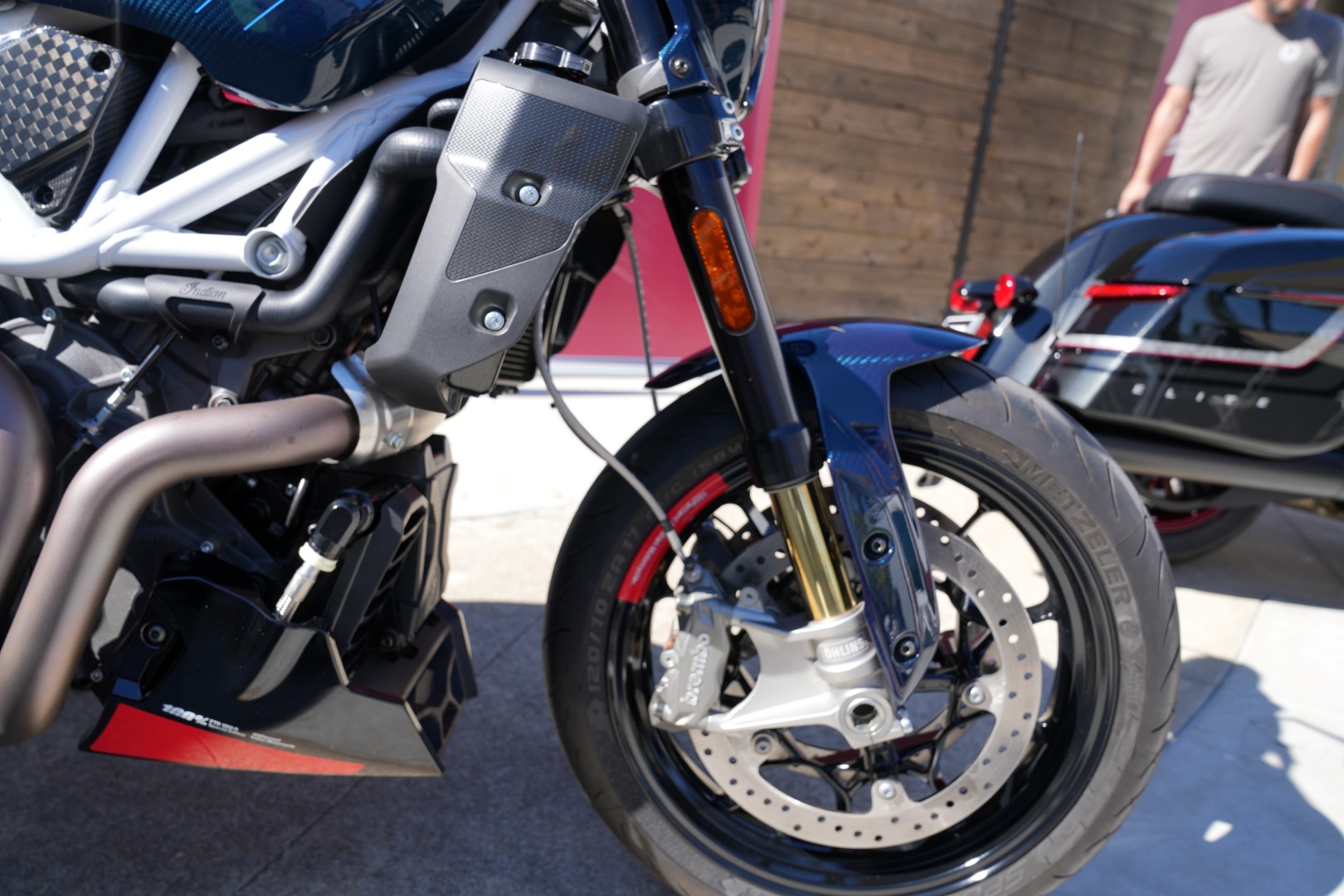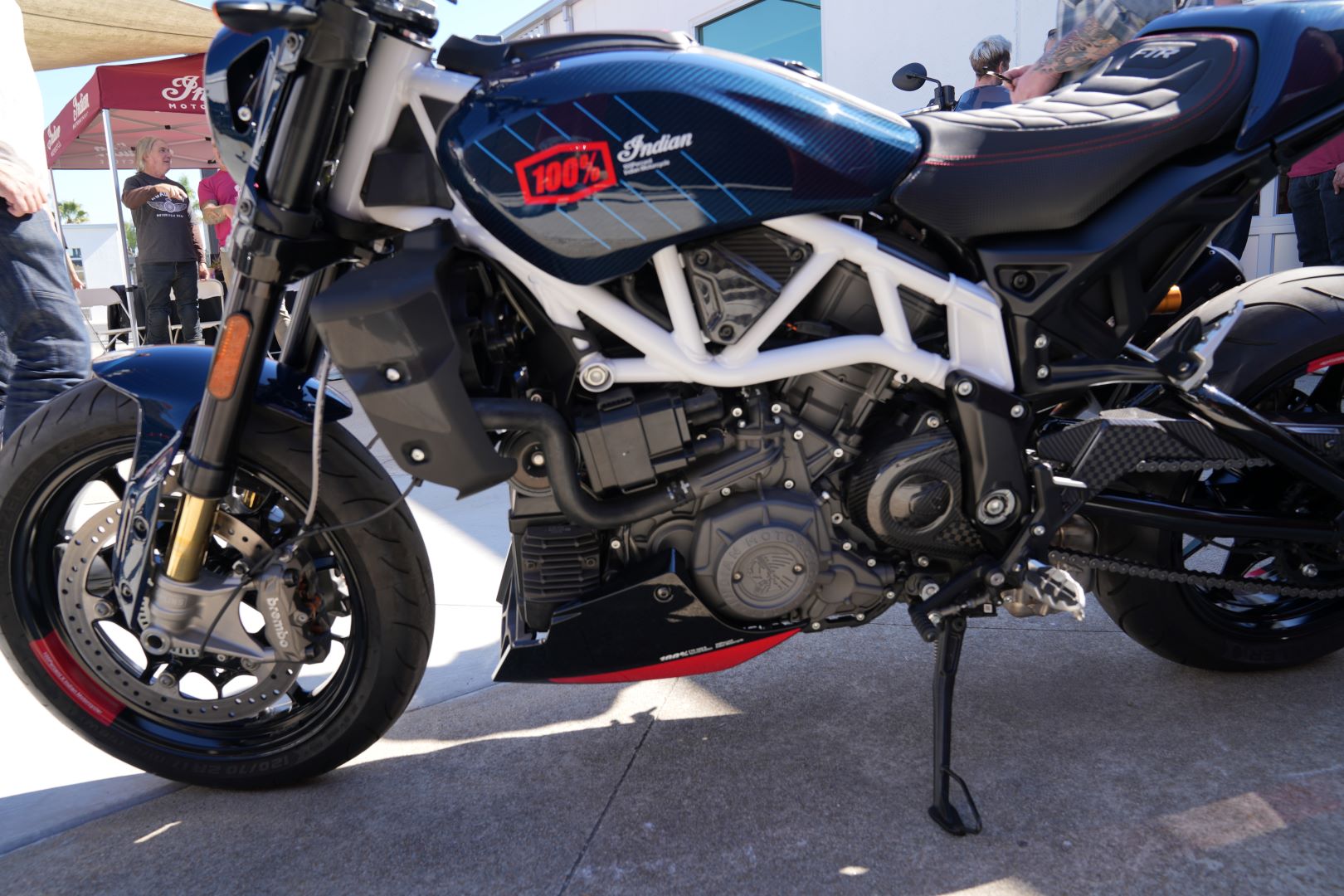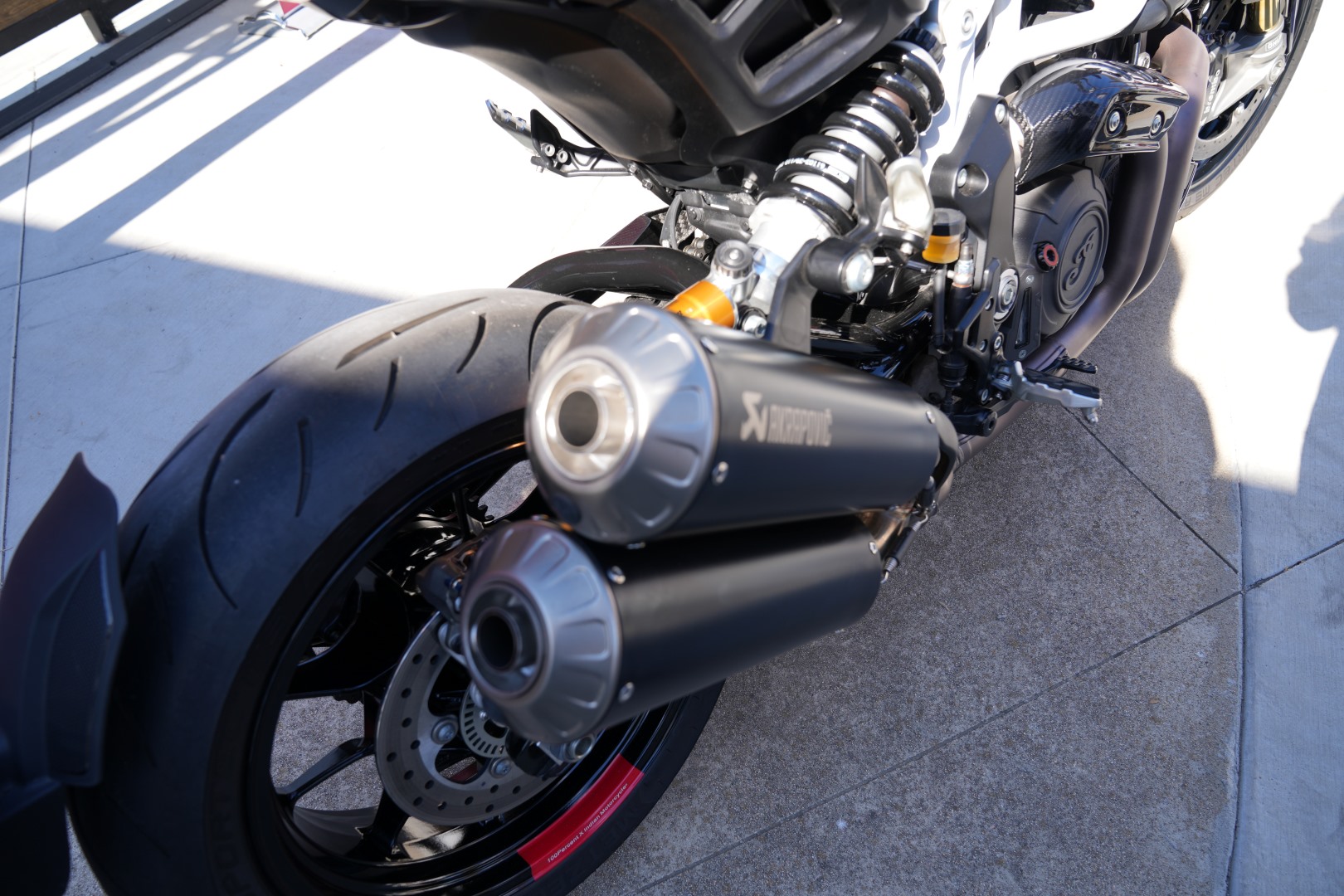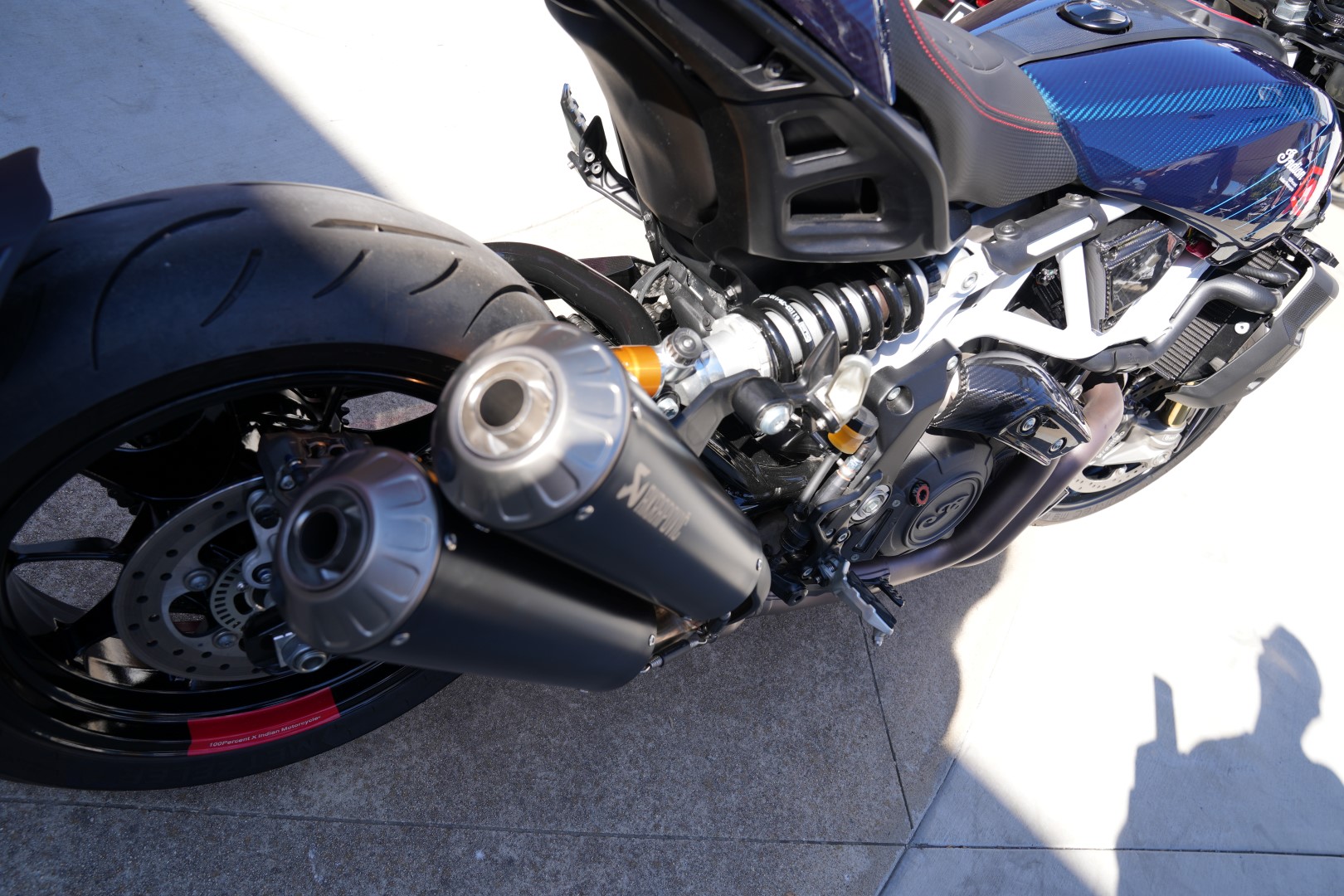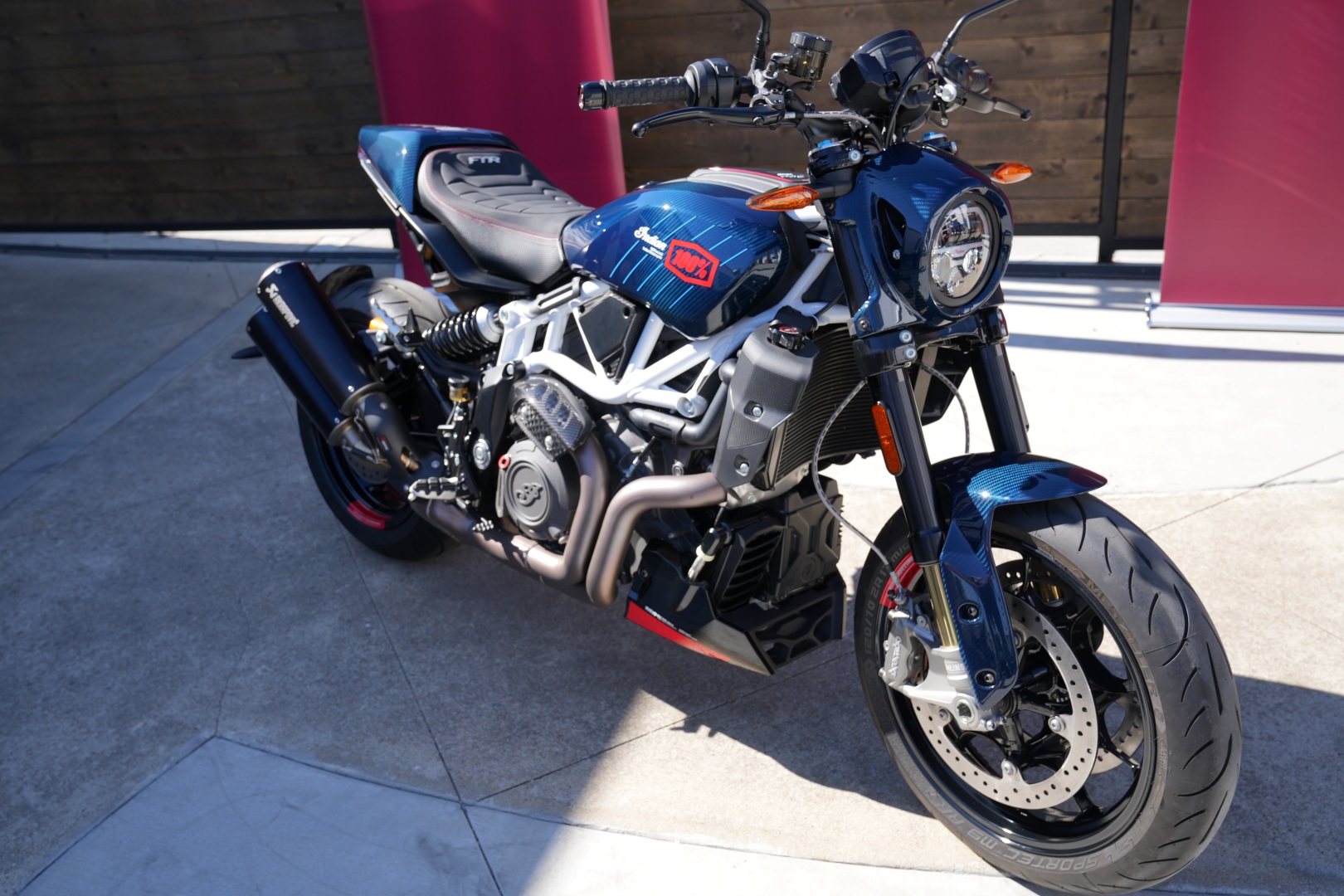 The post
Indian Motorcycle MY24 Showcase
appeared first on
webBikeWorld
.