NO ROADS, NO PROBLEM: RACE ANYWHERE WITH THE 2024 KTM 1290 SUPER ADVENTURE S AND KTM 1290 SUPER ADVENTURE R   KTM announces availability of the 2024 KTM 1290 SUPER […]
The post
KTM's 1290 Super Adventure Models Get New Liveries For 2024
appeared first on
Roadracing World Magazine | Motorcycle Riding, Racing & Tech News
.
NO ROADS, NO PROBLEM: RACE ANYWHERE WITH THE 2024 KTM 1290 SUPER ADVENTURE S AND KTM 1290 SUPER ADVENTURE R
KTM announces availability of the 2024 KTM 1290 SUPER ADVENTURE S and KTM 1290 SUPER ADVENTURE R, a pair of high-performance Adventure machines that leaves no road or trail out of reach. Wrapped in new livery for the new year, each class-leading model is engineered to conquer mile after mile on all types of terrain.
The benchmark stays but will you go further? The KTM 1290 SUPER ADVENTURE S removed limits and boundaries for any motorcyclist curious to #DARE2ADV. How? The power, versatility, assurance, and technical excellence prompted riders to race into the unknown; safe in the knowledge that what they had underneath them would handle any requirement with a deft touch. For 2024 KTM has taken the rich base of the KTM 1290 SUPER ADVENTURE S and added a fresh sheen.
Eyes will be drawn to the new shade, a more neutral but elegant hue of KTM's graded gray aesthetic. The gray stretches all the way through to the forged aluminum subframe, engineered to offer a lower seat (at 34.2 in/869 mm or 33.4 in/849 mm), superb load-carrying capability, and contain a raft of components. The classy colorway spreads across the bodywork; chiseled to prioritize agile handling, front-end confidence, comfort, protection and houses the 6.07-gallon (23-liter) three-part tank with superlative fuel range. The tone is as fetching for a swift dash into the office as it would be for a blast across country borders.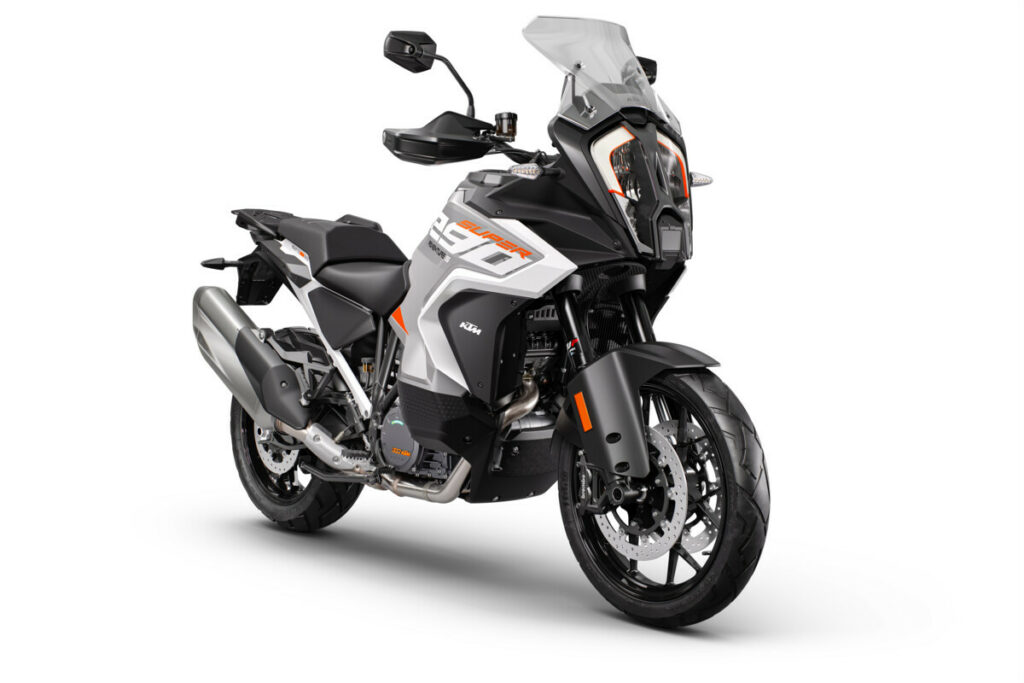 A 2024-model KTM 1290 Super Adventure S. Photo courtesy KTM.
Roaming roads everywhere and anywhere with the 2024 KTM 1290 SUPER ADVENTURE S is easy thanks to innovative navigation software. The 7" TFT display is a cinch for customization due to the infographics and menu system that gives the rider full control over the RIDE MODES, advanced WP Semi-Active Suspension, ABS settings and Adaptive Cruise Control: the combination of intuitive handlebar switches and access to the technical possibilities of the KTM 1290 SUPER ADVENTURE S is a major calling card for one of the company's flagship models. Adventurers can also count on extra options with their navigation plotting. The KTMconnect App now boasts Turn-by-Turn+ guidance and waypoints markers while on the go and without having to stop and adjust any mobile device. The same functionality also extends to audio tracks and listing 'Favorites' when it comes to phone calls. Hands on the grips not only means gobbling more mileage but safer and more enjoyable interactions with the KTM 1290 SUPER ADVENTURE S.
Let's remind ourselves why the KTM 1290 SUPER ADVENTURE S is the ultimate high-performance Adventure bike. With a twist of the throttle, the V-Twin LC8 rumbles to life, unleashing a devastating spectrum of power, allowing the rider and machine to glide on cruise, dip through traffic, or devore highways with glee. The compact heart of the bike is carefully regulated by one of KTM's most advanced electronic management architectures: it administers the suspension configuration and reaction, ride height, ABS, RIDE MODES, Tire Pressure Management, Anti-dive and more. The unit fits inside a light chrome-molybdenum stainless steel frame honed for handling the short blasts and mountain passes, as well as the long haul. The rest of the package befits a premium motorcycle for traveling: the LED lights, reengineered windscreen and adjuster, multi-part saddle, and light aluminum side-stand. The list and the specs have already been met with wide acclaim. The KTM 1290 SUPER ADVENTURE S can be elevated even further with optional electronic packs, a Quickshifter+, and WP Suspension Pro, amongst other upgrades.
The second generation of the latest KTM 1290 SUPER ADVENTURE R will give a second wind. While the KTM 1290 SUPER ADVENTURE S will pound the roads and cope with the dust, gravel and light, loose ground, the 'R' is orientated for hardcore offroad adventurers who want and need premium kit to level any landscape or terrain.
KTM redefined the upper-end of the Adventure motorcycling segment with the rejuvenated KTM 1290 SUPER ADVENTURE R in 2022. The winning combination of power, light weight, offroad agility and handling unearthed from years of DAKAR, Rally and Enduro excellence, state-of-the-art electronics and WP suspension, unbeatable travel features and styling meant that KTM was the only choice for riders that craved a bike that could do anything and go anywhere. The fresh, sporty 2024 white colorway and distinct orange frame are a nod to this race-bred lineage.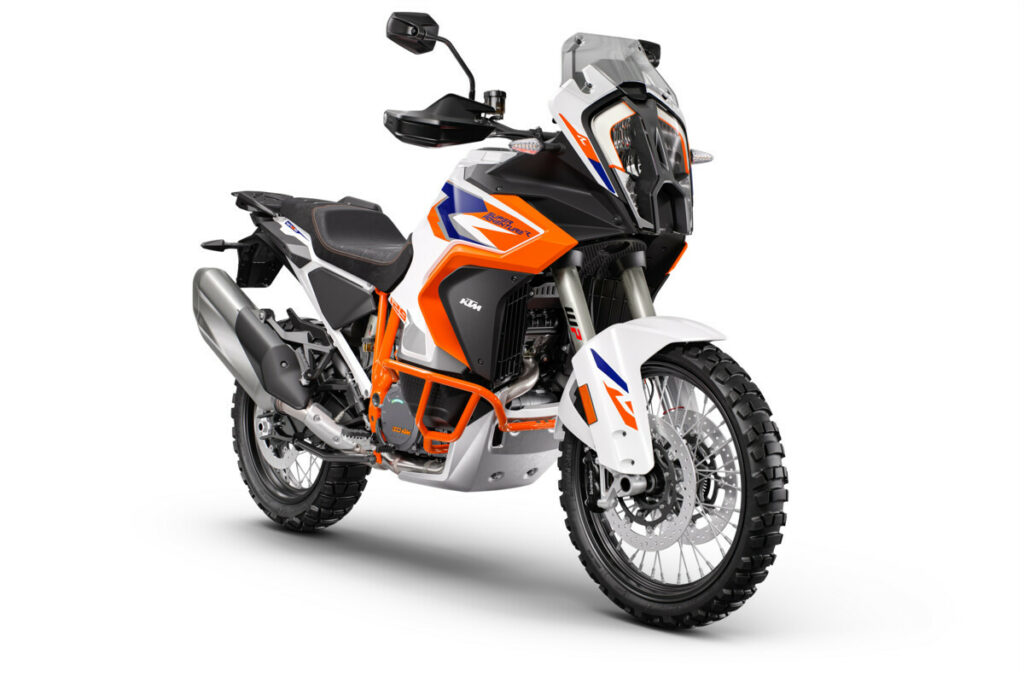 A 2024-model KTM 1290 Super Adventure R. Photo courtesy KTM.
The KTM 1290 SUPER ADVENTURE R delivered acute offroad positioning by harnessing all of the company's experience, nuance and confidence in the sector, R&D and through competition. A model that can conquer a mountain trail as effortlessly as a mountain pass can count on the fabled LC8 engine, with an optimized heat system to disperse temperatures out and away from the rider, to deliver torque as gently or as forcefully as possible, depending on the terrain and the rider's needs. All this control comes by way of the electronic rider suite which will churn out power suited for whatever the roads, rocks, or sand have in store.
The KTM 1290 SUPER ADVENTURE R was enabled for the rigors of multiple surfaces by the advanced 48 mm WP XPLOR suspension, featuring split cartridge forks and the modifiable rear shock with 220 mm of travel. The XPLOR materials and the stock settings have been tested and refined for the characteristics of the KTM 1290 SUPER ADVENTURE R. The suspension funnels the maximum level of feedback through the ALPINA aluminum spoked wheels; with an improved sealing system appropriate for tubeless tires. The 2024 KTM 1290 SUPER ADVENTURE R carries Bridgestone AX41 tires as stock.
KTM invites all riders to #DARE2ADV, so the KTM 1290 SUPER ADVENTURE R comes with everything people would possibly need to roam the globe and feel protected and capable while in the wilderness. From elements like a low screen, adjustable handlebar positions, honed and lightened bodywork, single-piece seat (34.6 in/880 mm), engine guards, and a robust skid plate, the KTM 1290 SUPER ADVENTURE R is ready to meet any demand.
The KTM PowerParts collection is full of gear and protection for anybody to 'align' themselves further with their 2024 KTM 1290 SUPER ADVENTURE S or KTM 1290 SUPER ADVENTURE R. In case there are any bike components that riders feel are missing for their particular trip – such as luggage, crash bars, or more aesthetic touches – then the options are plentiful.
Highlights of the 2024 KTM 1290 SUPER ADVENTURE RANGE
// KTM 1290 SUPER ADVENTURE S:new gray color scheme with prominent black and hints of orange
// KTM 1290 SUPER ADVENTURE R: stand out from the trekkers on the trail with a brand new sporting white color and graphic scheme
// Never get lost or have direction doubts thanks to new Turn-by-Turn+ guidance and more travel navigation options
// Dependable LC8 V-Twin engine means a world without limits and a motor that will conquer any condition or landscape
// ChroMo stainless steel light chassis weighing just 22.04 lb (10 kg) and sculpted for cornering stability and more feeling under acceleration but based on long-travel Enduro sensibilities
// KTM 1290 SUPER ADVENTURE S: Sophisticated WP Semi-Active Suspension hardware and software smooths out every route, all the time, any time
// KTM 1290 SUPER ADVENTURE R: WP XPLOR suspension represents some of the most capable hardware on any KTM offroad orientated motorcycle
// Adjustable and customizable ABS settings and RIDE MODES to traverse all terrain and meet any demand
// Standing or sitting: ergonomics are a winner for comfort and confidence. Further options across the bikes with a wide selection of KTM PowerParts (11 different seats)
// The complete adventure travel motorcycle with features such as: RACE ON remote key system, illuminated switches, 7" TFT dash board, adjustable windshield, LED lights and simplistic but advanced dashboard interactivity
Few excuses remain. The newest edition of the KTM 1290 SUPER ADVENTURE S and KTM 1290 SUPER ADVENTURE R will be poised in KTM Authorized dealers from December 2023 onward. Get moving, get exploring with FULL THROTTLE ADVENTURE.
The post
KTM's 1290 Super Adventure Models Get New Liveries For 2024
appeared first on
Roadracing World Magazine | Motorcycle Riding, Racing & Tech News
.