Honda's CB1000R Black Edition is sporty and good-looking, but more importantly, a solid buy in the streetfighter segment.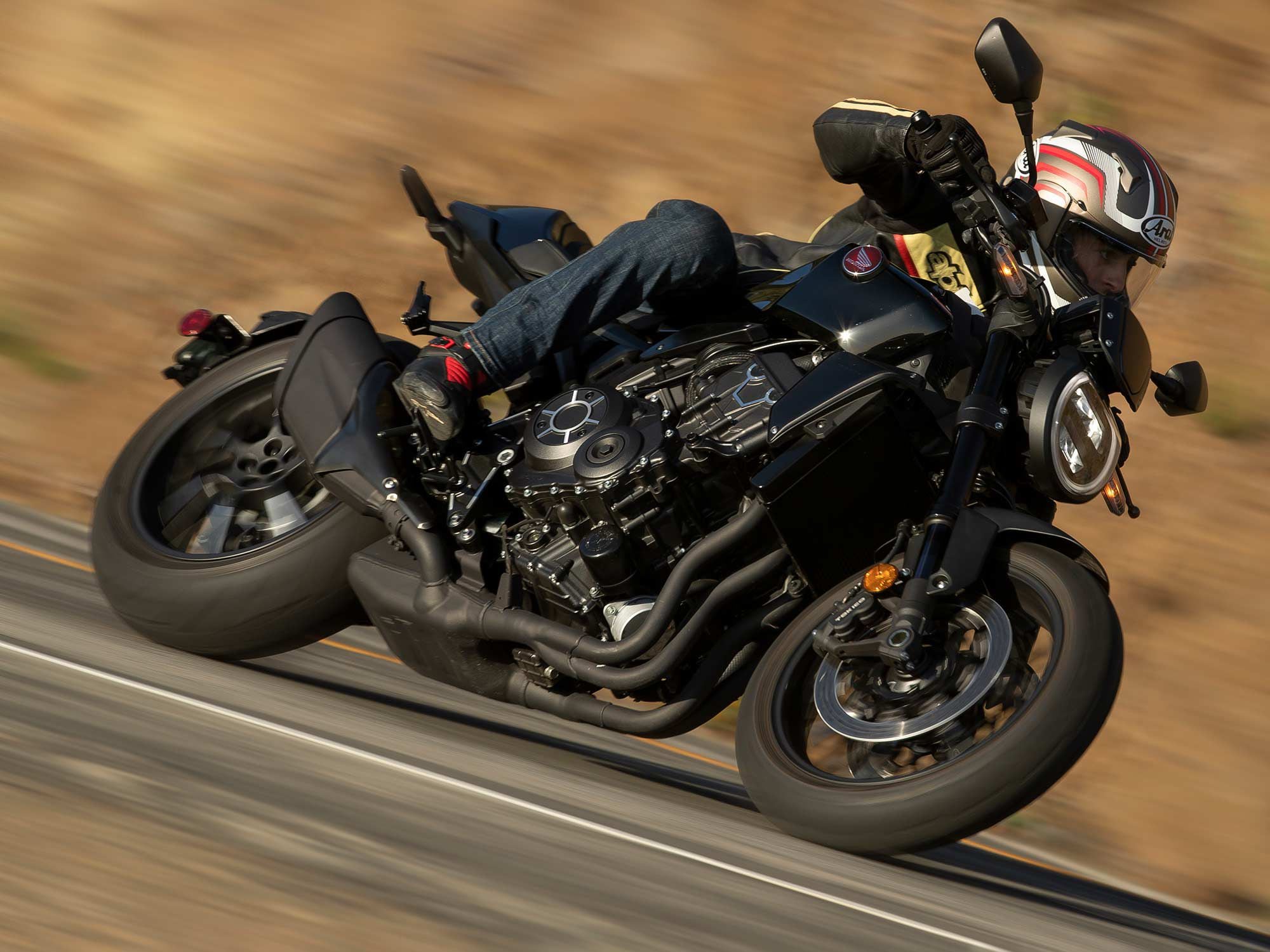 There's only one flavor of Honda's CB1000R available in the US: the Black Edition. (Adam Campbell/)
Honda
's
CB1000R
Black Edition is the sensible liter-class streetfighter. Not for Honda are the wild excesses of a
KTM 1290 Super Duke R
or the
Ducati Streetfighter V4
.
No
, Honda seems to declaim with this bike,
you don't need all the horsepower of a liter-class race replica. You need strong, balanced performance, good looks, and an attractive price
. Then it proceeds to deliver exactly that.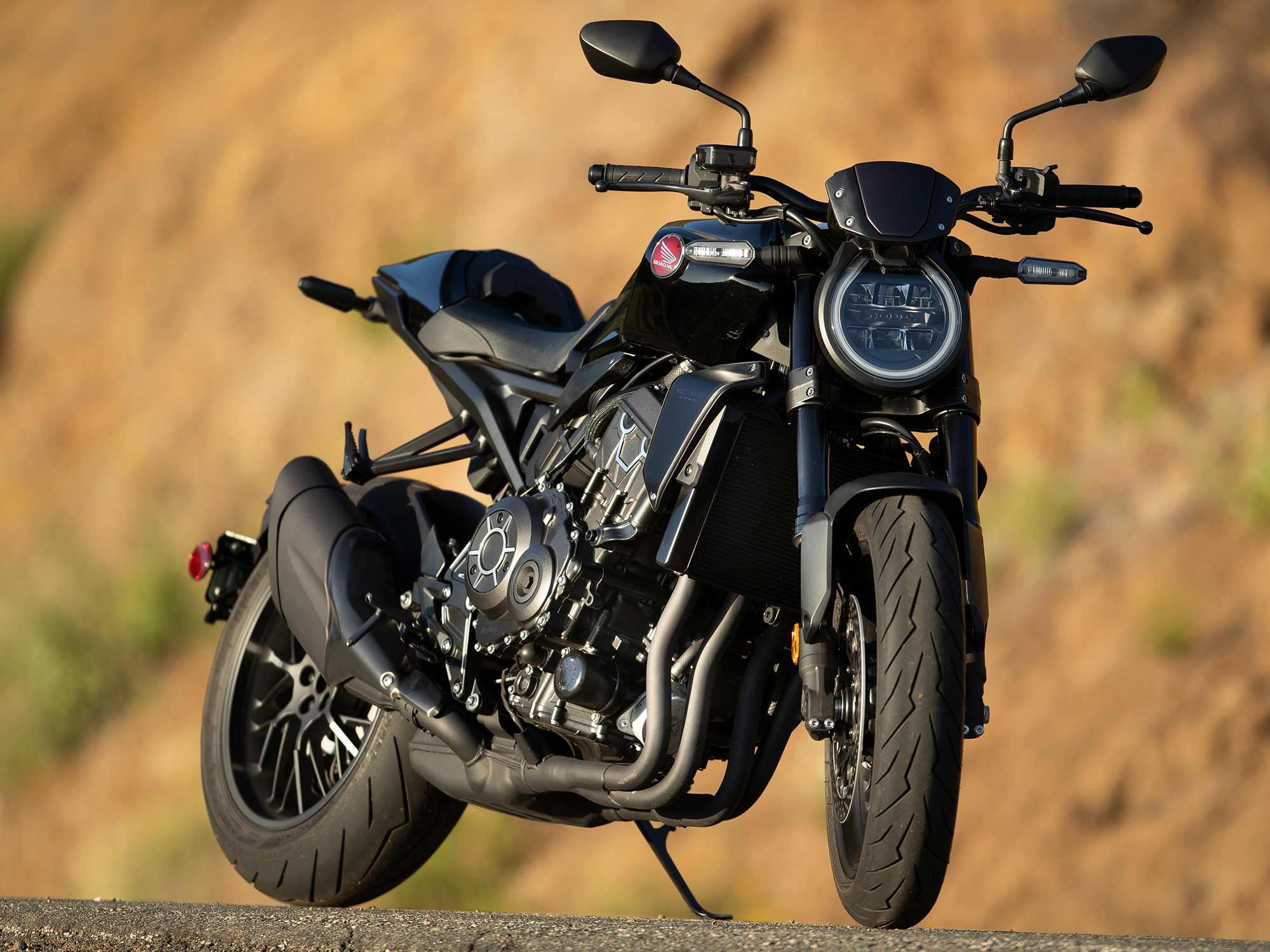 Honda's CB1000R has a retro-modern style that the manufacturer calls Neo-Sports Café. (Adam Campbell/)The only version of the CB1000R sold in the United States is the Black Edition, a midnight special dipped entirely in shiny carbon, set off with polished aluminum highlights on the wheels, engine, and footpeg brackets, and a stainless exhaust. The not-quite-classic coffin-shaped gas tank bears a retro-modern Honda "Wing" logo that, if not for the red background, could have been salvaged from a mid-'60s Super Hawk. The front headlight is retro-modern as well, a riff on a 7-inch-round incandescent, except it's slammed back against the huge upside-down fork tubes, carries two distinctive rectangular LED reflectors surrounded by a light-pipe halo, and flows at the top into the rectangular form of the full-color LCD instrument panel. It's a good-looking bike, traditional and modern at the same time, and one that often elicits unsolicited compliments.
Info is conveyed via a full-color 5-inch TFT dash. (Adam Campbell/)The heart of the CB1000R is an updated and retuned version of the powerplant that first appeared in the
2004 CBR1000RR
. It's a short-stroke (75mm bore by 56.5mm stroke) four-cylinder screamer that's been reworked for torque and equipped with the latest two-way slipper clutch for a light pull. Even so, it still redlines at 11,500 rpm. On the dyno, it peaks at 121.8 hp, with a noticeable jump in the torque curve at 6,500 rpm. And the gearing is substantially shorter than on the original CBR race replica, so that first gear tops out at about 72 mph.
Short gearing and 1,000cc of displacement launches the bike hard, with the front wheel effortlessly skimming the ground. Similarly, measured performance is strong, though far from exceptional for a literbike: The CB sprints the quarter-mile in 11.1 seconds, traveling 128 mph at the end. A dash from a stop to 60 mph takes just 3.3 seconds, a time that's as much wheelie- as power-limited. That quarter-mile time and trap speed are a little quicker and faster than that of a
Yamaha MT-09 SP
, but behind that of the fire-breathing end of the liter-class streetfighter spectrum.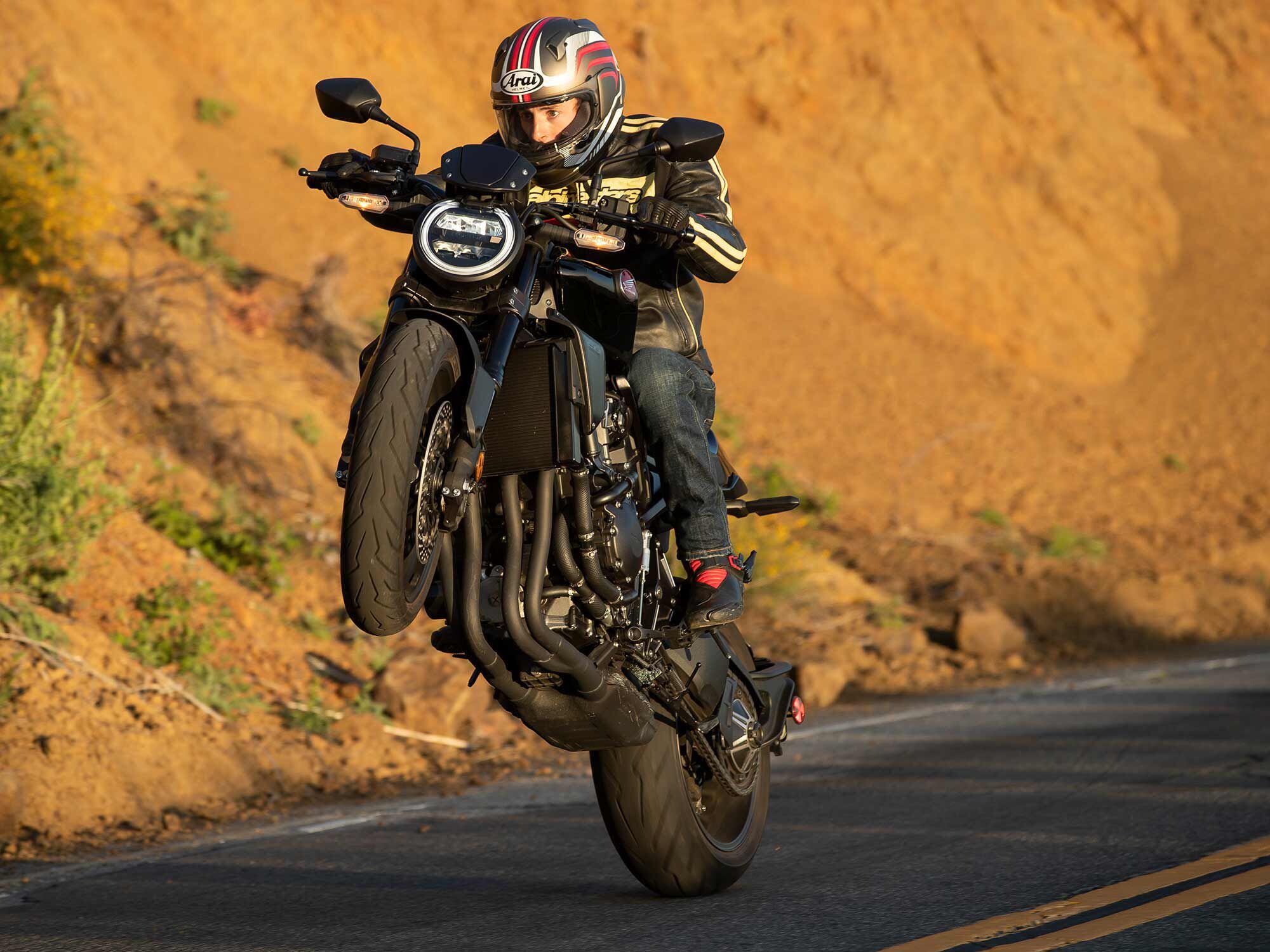 It may be powered by a retuned past-generation superbike engine, but there's still plenty of punch in the CB1000R Black Edition. (Adam Campbell/)But the riding position and ergonomics tell you more of the bike's character than the Superbike-sourced-but-detuned engine. The pegs are planted directly underneath you, and the reach from the 32.8-inch seat height isn't as short as that of many supersport bikes, so your legs aren't tightly folded. The seat itself is well-padded and wide enough for comfort on multihour rides. The handlebars rise enough to have you leaned forward slightly, enough to balance the wind at 80 mph but not enough to make you wish for a back massage after a day of riding. This is a gentleman's express of a sportbike.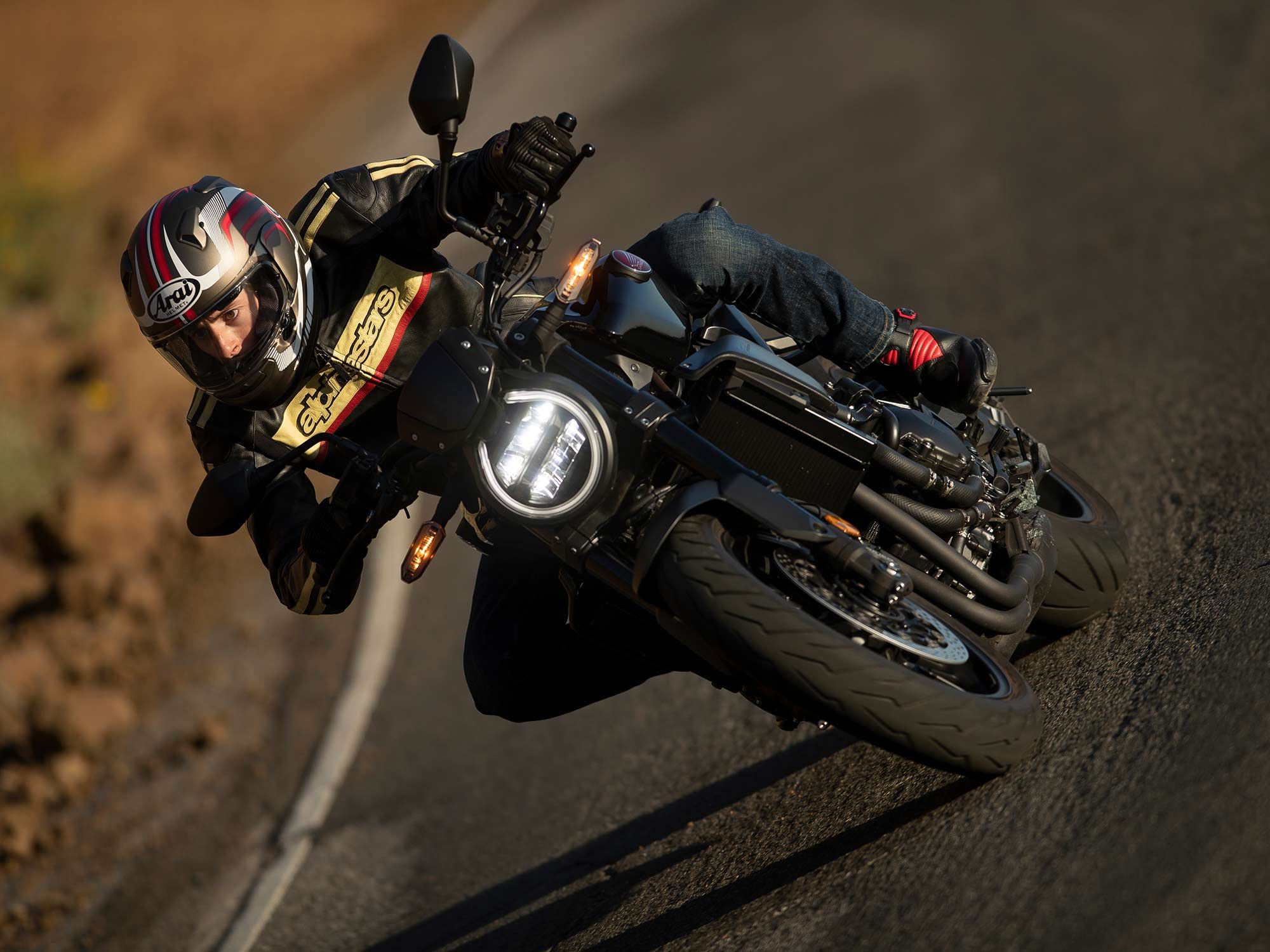 Ergonomics are just sporty enough for attacking the canyons, but not so sporty that fatigue quickly sets in. (Adam Campbell/)You notice the attention to detail every time you operate the machine: The brake and clutch levers are perfectly profiled to present only gently rounded edges, something you might not notice until you jump directly onto another manufacturer's sportbike where the edges are just a bit squarer and a bit less comfortable. The quickshifter works effortlessly for clutchless upshifts and downshifts. When you do need the clutch, the effort on the CB is light, while the front brake is powerful without being touchy. The ABS system will eventually intrude as you brake harder, but the pulsing through the brake lever or the pedal is reasonably minimal, enough to let you know you're on the limit without distracting. Stopping distances are also good without being exceptional: 34 and 135 feet from 30 and 60 mph, respectively.
Stopping power from the CB1000R's front brake is impressive, and the ABS works well without being distracting. (Adam Campbell/)On winding roads, the CB's 25 degrees of rake and 3.8 inches of trail work with big Pirelli Diablo Rosso tires (120/70ZR-17 front, 190/55ZR-17 rear) to produce handling that's stable, competent, and reassuring. The not-very-long 57.3-inch wheelbase and relatively conservative steering geometry produce a machine that simply goes where you want, without either twitchiness or less-than-responsive steering. Instead, the big CB quickly gives you the impression of being on your side, and of being a machine that is unlikely to surprise you with unexpected behavior. Part of that predictability comes from the compliant and well-damped Showa suspension. The Big Piston fork simply absorbs even the big bumps without a hint of harshness.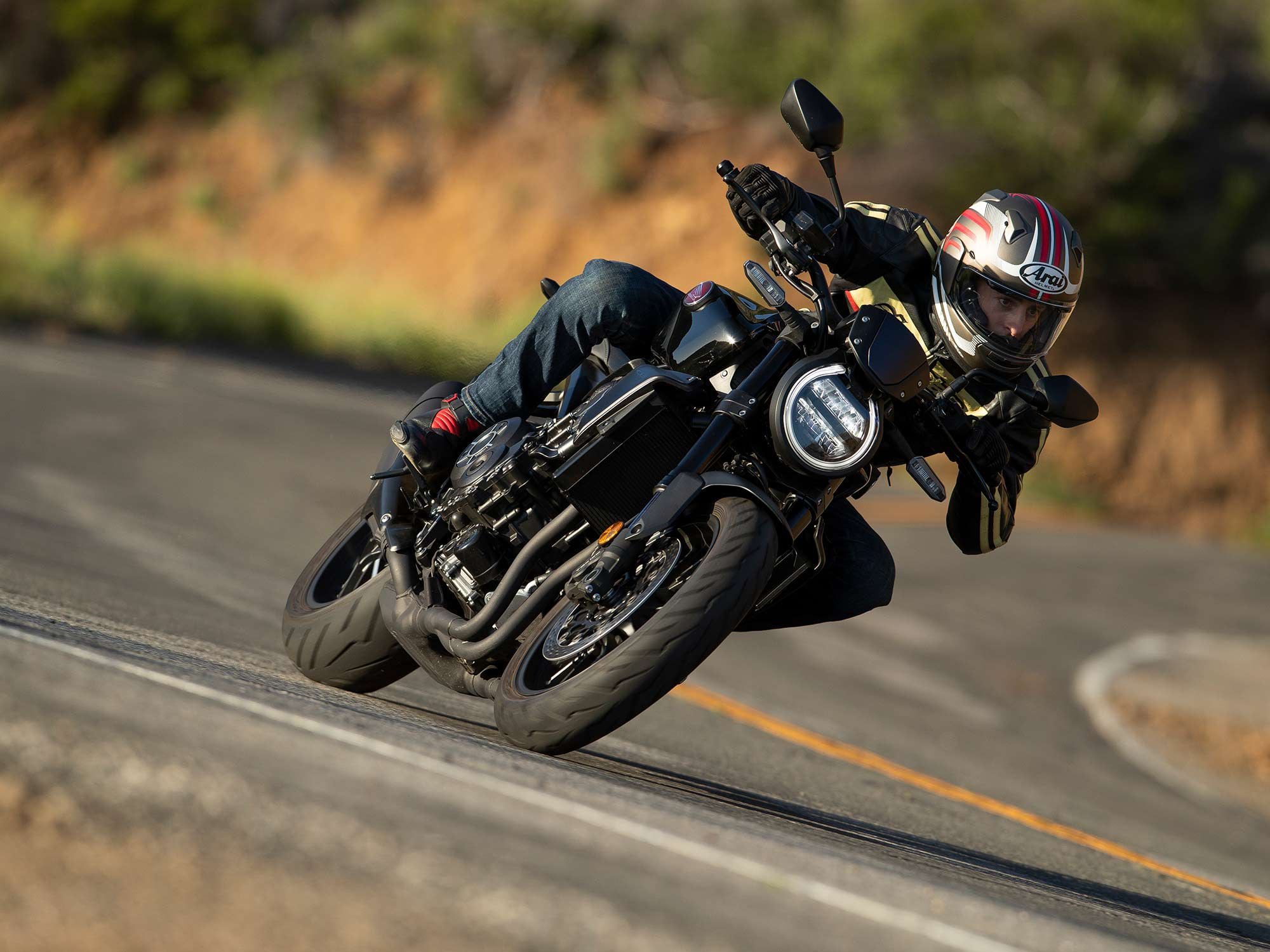 Bumpy backroads don't upset the CB1000R Black Edition's chassis, thanks to a balanced suspension with well-sorted damping. (Adam Campbell/)As for the electronic aids, the CB has traction control, ABS, and multiple throttle maps, but lacks a six-axis inertial sensor that would allow the various systems to be aware of the bike's cornering attitude and to adjust their operation accordingly. Such cornering-aware systems are rapidly becoming the standard and can be found in sub-$10,000 machines, such as the Yamaha MT-09. While the CB does not have the latest tech, it has an attractive TFT-color display and dedicated switch gear that allows its rider to quickly change operating modes. The four modes available are Standard, Rain, Sport, and User. Sport mode offers the most power and the sharpest throttle response—almost too sharp at times—and the least engine-braking and the least intervention of the traction control. Standard mode tunes everything back just a bit and offers a satisfyingly smooth throttle. Rain mode offers noticeably less power and slower response, and somewhat surprisingly has a higher level of engine-braking. User mode is just that. Perhaps an ideal normal setting would be the Standard (number 2) throttle-and-power map, with minimal engine-braking and traction control selected.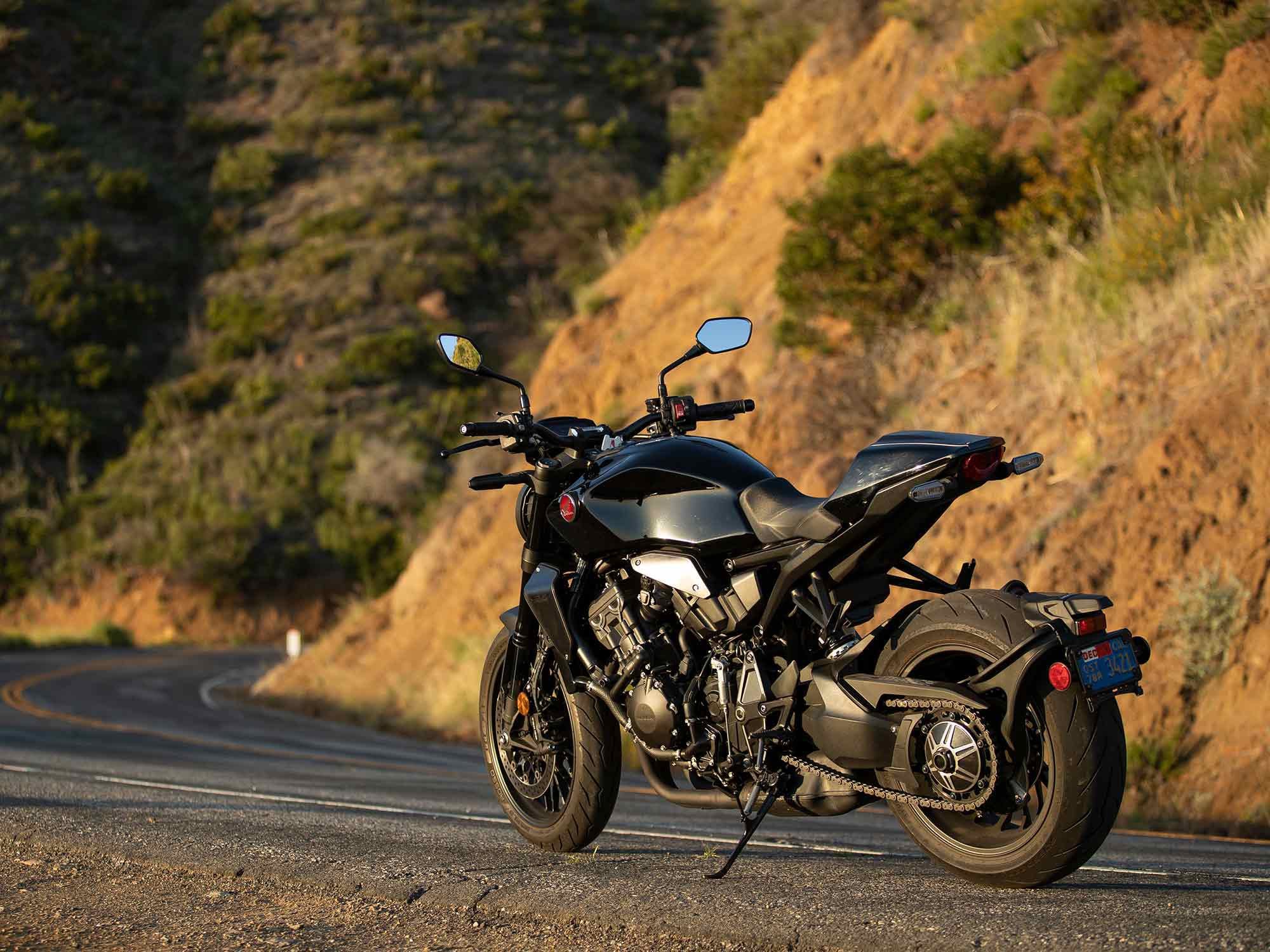 It's hard to find many faults with the 2022 Honda CB1000R Black Edition. (Adam Campbell/)The menus for selecting many displays and other functions aren't always exactly intuitive; even resetting the tripmeters requires a read of the owner's manual the first time or two. And one of the only ergonomic failures on the machine can be found in the left-hand switch assembly housing the mode and cursor switches. It has a shrunken turn-signal switch, with the emergency flasher switch placed immediately to its right. In more than two months of riding, we found ourselves still occasionally hitting the flasher switch when trying to turn off the turn signal. It was a small thing, but still annoying, and one that could have been prevented with a small raised barrier to shield the flasher switch.
But when your main complaint of a motorcycle is the placement of the emergency flasher switch, you know the machine is competent indeed. With the CB1000R, Honda has prioritized solid sporty performance, good distinctive styling, and an ergonomic package that makes the CB more versatile than many other sportbikes or streetfighters. And in doing this while holding the price to $12,999, it has also made the machine something of a value proposition. All hail the CB1000R, the most sensible streetfighter.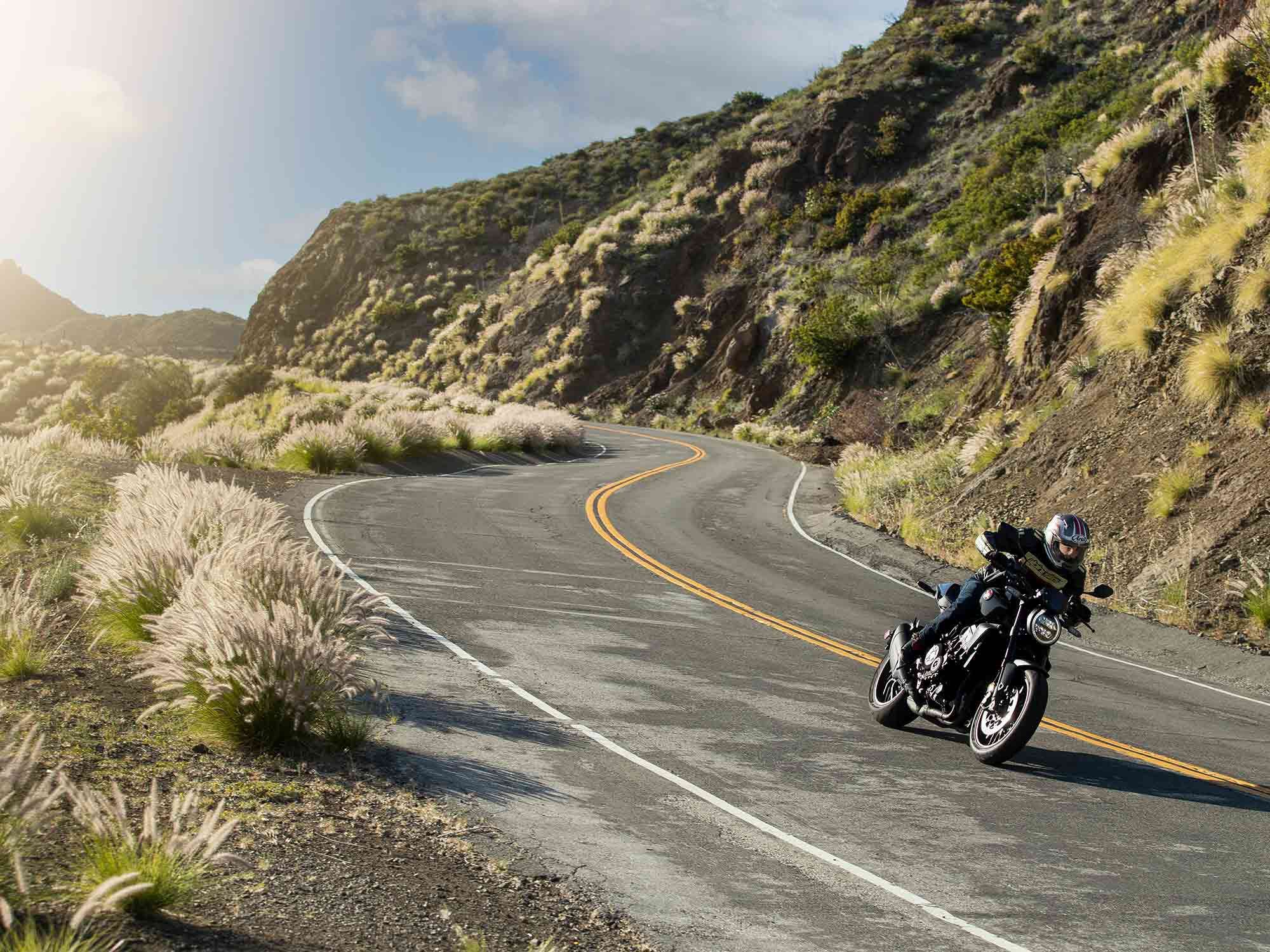 At $12,999, the CB1000R Black Edition is a bargain in the naked or streetfighter category. (Adam Campbell/)2022 Honda CB1000R Black Edition Specifications
MSRP:$12,999Engine:DOHC, liquid-cooled inline-four; 4 valves/cyl.Displacement:998ccBore x Stroke:75.0 x 56.5mmCompression Ratio:11.6:1Transmission/Final Drive:6-speed/chain
Cycle World
Measured Horsepower:121.8 hp @ 9,800 rpm
Cycle World
Measured Torque:68.8 lb.-ft. @ 8,200 rpmFuel System:PGM-FI fuel injection w/ 44mm throttle bodies, ride-by-wireClutch:Wet, multiplate slipper/assist; cable-actuatedFrame:Steel backboneFront Suspension:43mm Showa SFF-BP fork, spring preload, rebound, and compression damping adjustable; 4.7 in. travelRear Suspension:Single Showa shock, spring preload and rebound damping adjustable; 5.2 in. travelFront Brake:Dual radial-mounted 4-piston calipers, full-floating 310mm discs w/ ABSRear Brake:1-caliper, 256mm disc w/ ABSWheels, Front/Rear:Cast aluminumTires, Front/Rear:120/70-17 / 190/55-17Rake/Trail:24.7°/3.8 in.Wheelbase:57.3 in.Ground Clearance:
Cycle World
Measured Seat Height:32.8 in.Fuel Capacity:4.3 gal.
Cycle World
Measured Wet Weight:468 lb.Contact:
powersports.honda.com
Cycle World
Measured Performance
Quarter-Mile:11.11 sec. @ 127.81 mph0–30 mph:1.58 sec.0–60 mph:3.31 sec.0–100 mph:6.42 sec.Top-Gear Roll-On, 40–60 mph:2.80 sec.Top-Gear Roll-On, 60–80 mph:3.31 sec.Braking, 30–0 mph:33.99 ft.Braking, 60–0 mph:135.41 ft.
Click here for full story...