On January 22, Yamaha Motor Corp., U.S.A. hosted an event to celebrate the renewed partnership of Monster Energy and Yamaha Racing. The event coincided with the AMA Supercross round in […]
The post
MotoGP: Exclusive Interview With Quartararo
appeared first on
Roadracing World Magazine | Motorcycle Riding, Racing & Tech News
.
On January 22, Yamaha Motor Corp., U.S.A. hosted an event to celebrate the renewed partnership of Monster Energy and Yamaha Racing. The event coincided with the AMA Supercross round in San Diego and featured appearances by Yamaha Pro riders, including 2021 MotoGP World Champion Fabio Quartararo, who had just traveled in from the official Monster Energy Yamaha team introduction in Jakarta, Indonesia.
Quartararo arrived to the event early, stayed late, chatted freely with anyone who approached him, and indulged an exclusive interview request from Roadracingworld.com without hesitation.
Roadracingworld.com:
In December, you announced on social media that you broke your left hand while riding motocross, but we never saw any details about the incident. Is it a big secret?
Fabio Quartararo: No, just embarrassing (laughs). I went over a jump and I was too long. So, I landed in the flat and went over the handlebars.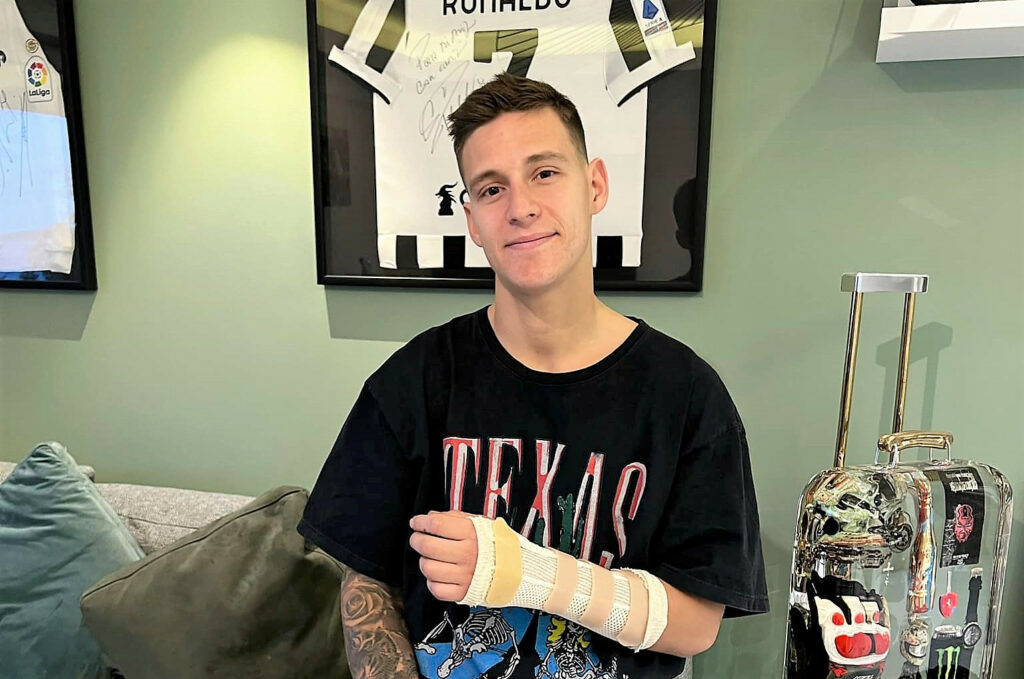 Fabio Quartararo with his freshly broken left hand. Photo courtesy Fabio Quartararo.
RW.com:
And exactly which bones did you break?
FQ: I donít know how you say in English, but itís like pyramidal [triquetral] and semi-luniare [lunate], the one on top of the radius and [ulna]. Itís more in the hand than wrist.
RW.com:
But not the scaphoid?
FQ: No, no, no. Not the scaphoid. I was scared that it was the scaphoid, but it was OK.
RW.com:
How is it now?
FQ: Itís good. Itís five weeks, close to six weeks right now, and I will be back on a motocross [bike] on Tuesday [January 24]. Iím really looking forward to riding again.
RW.com:
When you tried the new Yamaha YZR-M1 at the Misano test you were very happy. And then when you tried the new bike again at Valencia you were not so happy. Was the feeling that different?
FQ: Yes, I would say the feeling was pretty bad. At Misano and Barcelona (Catalunya), it was pretty good, so Iím really looking forward to the next test in Sepang.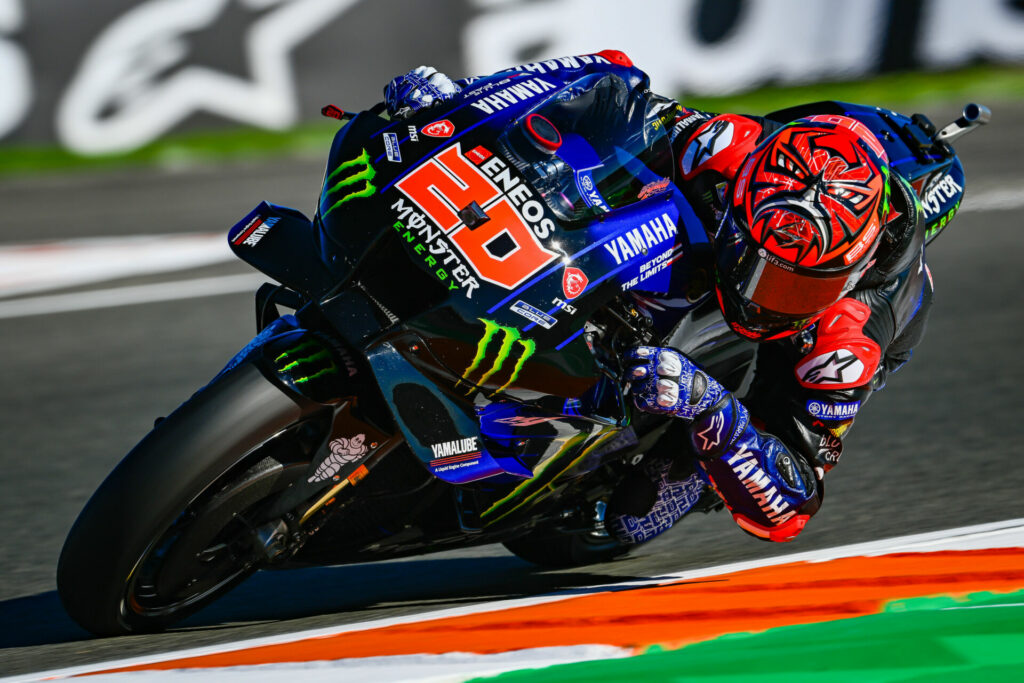 Fabio Quartararo (20) testing the 2023 YZR-M1 at Valencia. Photo courtesy Dorna.
RW.com:
Will you know itís better on the first lap?
FQ: Yes, straightaway. In the first five laps, I will know if the bike is good not, especially on the top speed. For the chassis and everything you need to do more [laps], but on the engine I will know straightaway if it is better or not.
RW.com:
This year we will have two races each MotoGP weekend. Will you change how you train to prepare for the races?
FQ: Yeah. Itís going to be different and you need to be able to adapt quite quickly on the new format. We will need to be super smart and the team will need to understand how fast we need to adapt race by race.
RW.com:
I imagine with the shorter sprint race you can be full gas and not worry about the tire?
FQ: Exactly. No worries about the tire. The fuel, we will still have a [capacity] regulation, but letís see. I donít have much info about it, but itís going to be great.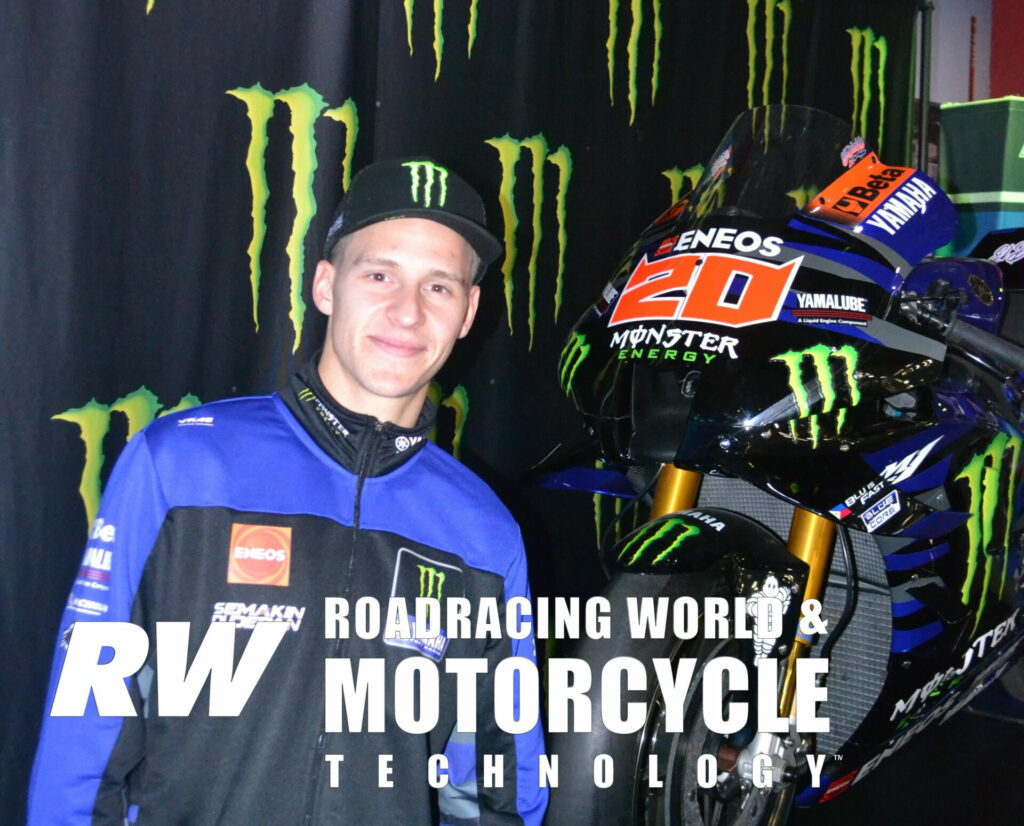 2021 MotoGP World Champion Fabio Quartararo and his Monster Energy Yamaha YZR-M1 in its new, 2023 livery. Photo by David Swarts.
RW.com:
We were writing something recently and we remembered that you are still the second-youngest rider in MotoGP (23 years old) even though you have been there four years. Crazy, yes?
FQ: Yeah, itís pretty nice. Itís a nice feeling. I think it means that I was pretty young when I started and we are doing pretty well.
RW.com:
Do you see yourself racing for a long time?
FQ: It depends on whatís a long time for you, but I wish to be 10 more years in MotoGP. It depends a lot on how itís going with injuries. Hopefully, I will not get so many injuries, but of course I would like to ride until Iím 32 or 33.
RW.com:
If I were to say there is something about you that reminds me of Valentino [Rossi], your personality or the way you show your emotions, would that be something you would agree with?
FQ: Of course, to have my personality is something great because some riders can be super fast but donít have the personality. And I feel like OK, I have my own personality. Itís different to the other one, but itís true that many people say the charisma I have is close to Valentino. This is a great thing.
RW.com:
Thank you.
FQ: You are welcome.
Quartararo said he planned to stay and train in Southern California for the next two weeks, before traveling directly to the pre-season MotoGP tests at Sepang.
The post
MotoGP: Exclusive Interview With Quartararo
appeared first on
Roadracing World Magazine | Motorcycle Riding, Racing & Tech News
.