To stay current with the latest technology and ahead of the competition, KTM has been on a two-year development cycle with its middleweight Adventure platform. The KTM 790 Adventure and 790 Adventure R were launched for 2019, then they evolved into the KTM 890 Adventure and 890 Adventure R for 2021, and now we have […]
The post
2023 KTM 890 Adventure*| First Ride Review
first appeared on
Rider Magazine
.
For 2023, the KTM 890 Adventure gets updated suspension, bodywork, electronics, ergonomics, and more. (Photos by Francesc Montero & Sebas Romero)
To stay current with the latest technology and ahead of the competition, KTM has been on a two-year development cycle with its middleweight Adventure platform. The KTM 790 Adventure and 790 Adventure R were launched for 2019, then they evolved into the KTM 890 Adventure and 890 Adventure R for 2021, and now we have updated versions for 2023.
KTM unveiled the 2023 version of the more off-road oriented 890 Adventure R at its Adventure Rider Rally in Idaho last September, and the 2023 KTM 890 Adventure was announced two months later. The standard model and the R are mostly the same, differing only in terms of suspension, tires, seats, windscreens, and color/graphics.
Related: 2021 KTM 890 Adventure R | Long-Term Ride Review
When the platform debuted for 2019, KTM said the 790 Adventure was designed to be the most off-road capable touring bike and the 790 Adventure R was designed to be the most touring-capable off-road bike. They were head and shoulders above anything else in the category, and they shared
Rider Magazine's 2019 Motorcycle of Year
award.
The 2023 KTM 890 Adventure is available in orange and black colorways. These two are shown with some of KTM's PowerParts accessories, which include slip-on exhausts, luggage, and various orange-anodized bolt-ons.
KTM has continued its two-pronged approach. To handle its more rugged mission, the 890 Adventure R is equipped with higher-spec WP XLPOR suspension, which mostly accounts for its higher price ($15,199 versus $13,949 for the standard model tested here). It also has Mitas Enduro Trail+ tires, a single-piece seat perched 34.6 inches off the ground, a short windscreen, and rally-inspired graphics.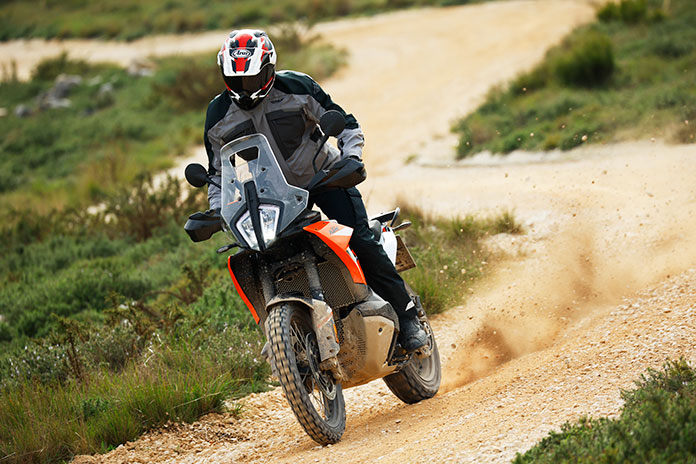 To make the 2023 KTM 890 Adventure more off-road capable, the suspension settings were softened and knobbier Pirelli Scorpion Rally STR 70/30 tires replaced the previous model's the 90/10 tires.
At the press launch for the 890 Adventure in Obidos, Portugal, KTM representatives said that many customers end up buying the R over the standard model because they perceive the higher-priced one as being the better of the two. But it really comes down to where and how someone rides. If they spend most of their time on the road with occasional forays in the dirt, if their off-road riding style is more exploratory than aggressive, and if they tour with a passenger, the standard model is a better overall fit.
Related: 2023 KTM 890 Adventure R | First Look Review
In that vein, KTM made the 890 Adventure more off-road capable without sacrificing its street manners or road-going comfort. New damping settings for its WP APEX suspension are less sporty, geared more toward touring comfort with or without a passenger and compliance on rough off-road terrain. The fully adjustable 43mm inverted fork has an open-cartridge design with compression in the left leg, rebound in the right leg, and new finger-turn adjusters on the fork caps. The Progressive Damping System rear shock is adjustable for rebound and preload, with an adjuster knob for the latter under the left side of the seat. And like the R, the 890 Adventure has 7.9 inches of suspension travel front and rear, 9.2 inches of ground clearance, and 21-inch front and 18-inch rear wheels.
The 2023 KTM 890 Adventure has a taller, steeper windscreen with a center cut-out that reduces buffeting.
On the technology front, there's a new ABS unit that works in conjunction with the 6-axis IMU, and as before, there are two ABS modes: Road (full intervention front and rear, lean-angle sensitive) and Offroad (less intervention at the front, no intervention at the rear, and no compensation for lean angle). Also unchanged are the three standard ride modes (Street, Rain, and Offroad) and an optional Rally mode, all of which adjust throttle response, power, and MTC (Motorcycle Traction Control).
In the past, a rider had to select ABS mode and ride mode separately. On multiple occasions on previous models, I've switched over to an off-road mode, headed down a trail, and only then realized I was still in Road ABS mode. Now, when either Offroad or Rally mode are selected, Offroad ABS is automatically selected, while Road ABS is the default for Street and Rain modes.
For better road-going comfort, the 2023 KTM 890 Adventure's seat has 10mm more foam. It can be set at one of two heights: 33.1 or 33.9 inches.
Gear Up:
A new feature on several 2023 KTM models is Demo mode, which allows a new owner to use and evaluate optional electronic upgrades for 1,500 km (932 miles) before paying for them. After the distance limit has been reached and the bike is keyed off, the options are deactivated. The owner then has the option to return to the dealer to pay for them to be reactivated. On the 890 Adventure, those options include Rally mode, Motor Slip Regulation (MSR), Quickshifter+, and cruise control, which can be purchased individually or all together as part of the Tech Pack ($549.99).
2023 KTM 890 Adventure in Black
There's also an upgraded 5-inch TFT display with new graphics, a more intuitive menu system, and color-coded pictograms of the bike – when ABS is turned off at the rear wheel, for example, it changes from green to red. With the optional Rally mode, there's a high-contrast, minimalist Rally display that shows the slip-adjust setting, which can be changed on the fly via the up/down arrows on the switchgear. An optional connectivity unit allows the bike to be paired to the KTMconnect app via Bluetooth, which enables Turn-by-Turn+ navigation as well as music and calling functions when connected to a helmet communicator. A new call-out function lets riders create a favorites list of 10 phone numbers for quick access.
The 2023 KTM 890 Adventure has a 5-inch TFT display with new graphics. The orange-anodized triple tree and brake fluid reservoir cover are PowerParts accessories.
See all of Rider's KTM coverage here.
To underscore the 890 Adventure's newfound off-road worthiness, at the press launch, KTM organized a challenging route near the coast of Portugal. It was a winter day that started off cold, foggy, and damp. Our ride leader was Giacomo Zappoli, KTM's Product Marketing Manager Offroad & Travel, a young, energetic Italian who has competed in hard enduros and rally raids. After just a few miles of wet pavement, we turned onto a rough gravel road riddled with roots, ruts, and puddles, and before I had even gotten my "dirt legs," we were throttling our way through deep sand. Alrighty then, game on.
The KTM 890 Adventure has 7.9 inches of suspension travel front and rear, 9.2 inches of ground clearance, and 21-inch front and 18-inch rear wheels.*
Throughout the day, we switched frequently between paved and unpaved surfaces. The asphalt ranged from wet to dry, flat to curved, and rural to urban, along with some sketchy roundabouts. The off-road terrain included loamy single-track winding through trees, dodgy farm roads lined with ancient stone walls, packed-down gravel on a 6th-gear ridgeline dotted with wind turbines, and even a shortcut between paved sections that had us roosting our way through a small garbage dump. The variety provided the perfect opportunity to test every ride mode repeatedly in its intended environment, and the automatic selection of the appropriate ABS mode meant there was one less thing to worry about.
The 890's softer suspension settings felt spot-on for the variable terrain, and the new Pirelli Scorpion Rally STR tires, which have a roughly 70/30 on/off-road ratio compared to the 90/10 ADV tires on the previous model, were appreciated. Countless rocks pinged off the beefier aluminum engine protector, which also covers the front and sides of the lower fuel pods on the horseshoe-shaped fuel tank. The tank's design, introduced on the 790, carries most of the fuel down near the rider's feet, reducing the bike's center of gravity for better handling.
Bird's eye view shows how narrow the seat is in front, which reduces its effective stand-over height.
Though unchanged for 2023, KTM's 889cc LC8c parallel-Twin remains a compact, well-balanced, lively engine. When we put a 2021 890 Adventure R on Jett Tuning's dyno, it made 90 hp at 8,200 rpm and 62 lb-ft of torque at 6,200 rpm at the rear wheel. The ride modes allow the engine's character to be tailored to conditions, and the Twin's flexibility, responsiveness, and auditory rumble are well-suited to an adventure bike that will be pressed into different roles and provide enough excitement to keep things interesting.
Inspired by the KTM 450 Rally – which clinched the top two positions in the 2023 Dakar in the hands of Kevin Benavides and Toby Price – the new bodywork on the 890 Adventure has a more integrated front fairing that includes larger tank and side panels. The connection between the fairing and the frame now uses two forged aluminum components, providing additional strength as well as more load-bearing capacity for large GPS devices (there are USB and 12V outlets on the dash). The new windscreen is taller, has a steeper pitch, and includes a vertical lip at the top, as well as an opening in the center that reduces buffeting at high speed. Wind protection and airflow were noticeably improved, and the taller screen didn't interfere with terrain reading during tricky off-road sections.
On the 2023 KTM 890 Adventure, whenever the Offroad or Rally ride mode is selected, the Offroad ABS mode is selected automatically.
Comfort was further enhanced with an extra 0.4 inch of foam in the seat, which increases the height of the dual position seat by the same amount to 33.1/33.9 inches. To compensate for the added height, the seat has been made narrower in the front to make the effective stand-over height roughly the same. Since I have a 34-inch inseam and ample curb weight of my own, I appreciated the seat's additional support but did not mind the extra height, even in the higher setting with rear preload cranked up a bit. Lower seats and a lowering kit are available as accessories.
Our test ride on the 890 Adventure certainly lived up to the bike's name. I made heavy use of the brakes as I adapted to the rapidly changing conditions – both the front lever and rear pedal were easy to modulate – and the ABS intervention did its job without fail. Late in the day, as the hide-and-seek sun had dried out the pavement and we did our best to keep up with Zappoli on a particularly serpentine stretch of road, I gassed it exiting a corner and felt the rear step out. Before I could even think "Oh, sh…!" the TC light flashed and the moment passed.
The 2023 KTM 890 Adventure has a beefier engine protector that also protects the lower pods on the horseshoe-shaped fuel tank.
Back at the hotel, my fellow North Americans and I went directly to the bar; we did not pass Go and we did not collect $200. We ordered tall glasses of beer, toasted each other, and recounted highlights of the day. We had been out in the elements, challenging ourselves, exploring a new area, and having fun. That's what adventure is all about.
2023 KTM 890 Adventure in Orange
2023 KTM 890 Adventure Specs
Base Price:
$13,949
Price as Tested:
$14,499 (Tech Pack)
Website:
KTM.com
Warranty:
2 yrs., 24,000 miles
Engine Type:
Liquid-cooled, transverse parallel-Twin, DOHC w/ 4 valves per cyl.
Displacement:
889cc
Bore x Stroke:
90.7 x 68.8mm
Horsepower:
105 @ 8,000 rpm (factory claim)
Torque:
74 lb-ft @ 6,500 rpm (factory claim)
Transmission:
6-speed, cable-actuated slip/assist wet clutch
Final Drive:
X-ring chain
Wheelbase:
59.4 in.
Rake/Trail:
25.9 degrees/4.2 in.
Seat Height:
33.1/33.9 in.
Wet Weight:
474 lb (claimed)
Fuel Capacity:
5.3 gal
Fuel Consumption:
52.3 mpg (claimed)
The post
2023 KTM 890 Adventure*| First Ride Review
first appeared on
Rider Magazine
.