Cuong-Nutz's Ninjer 265cc build
Posted January 17th, 2013 at 05:55 PM by
cuong-nutz
Updated January 25th, 2013 at 12:17 AM by
cuong-nutz
---
Well after 20k+ miles, my motor has stopped running. It was getting harder and harder to start at the last track day of the 2012 season. I barely managed to get it to start for the last session of the year.
I later find out that I had low compression, roughly 70 psi in each cylinder doing a dry test. Wet test brought compression way back up. So.... rings aren't sealing. Here's the thread:
http://www.ninjette.org/forums/showthread.php?t=120502
I have 2 options. Get a "new" motor or rebuild my current one. I opted to rebuild my current one as it seemed to be cheaper and I didn't want to take any chances with a used motor.
There are no oversized rings for the Ninja 250 so that leaves you with having to bore your block and put in bigger pistons. You have 2 options for pistons: JE Pistons and Wiseco. I opted for Wiseco since they were a $100 cheaper. You can go bigger with a 64mm Piston, but that will require you to resleeve your block.
Here's JE Pistons Ninja 250 App chart:
http://www.jepistons.com/Catalogs/Po...inja_250r.aspx
Wiseco:
http://www.wiseco.com/ProductDetail....10&AppID=44588
You will have to navigate the search function to find the other pistons available.
I went with the 64mm 12.5:1 pistons which will turn the 250 into a 265cc bike.
My right arm is not fully healed yet from my motorcycle accident but I am eager to get back on the road on two wheels. Also, my gas guzzling 5.7L Tundra is burning a hole in my shallow pockets.
@
alex.s
, It is indeed easier to remove the carbs by dropping the motor than having to take all that fairings and doodads off!
I don't have a floor jack so I just used my old tires to prop the motor up while I removed the bolts securing the longblock to the frame. The motor probably weights less than a hundred pounds but don't quote me on that. It wasn't heavy to lift even with a bum right arm. I ran into a snag when trying to undo the starter cable. The damn nut was on there good and I didn't have a thin enough wrench to hold the lower nut to keep the stud from spinning. I ended up disconnecting the other end of the starter wire from the starter relay.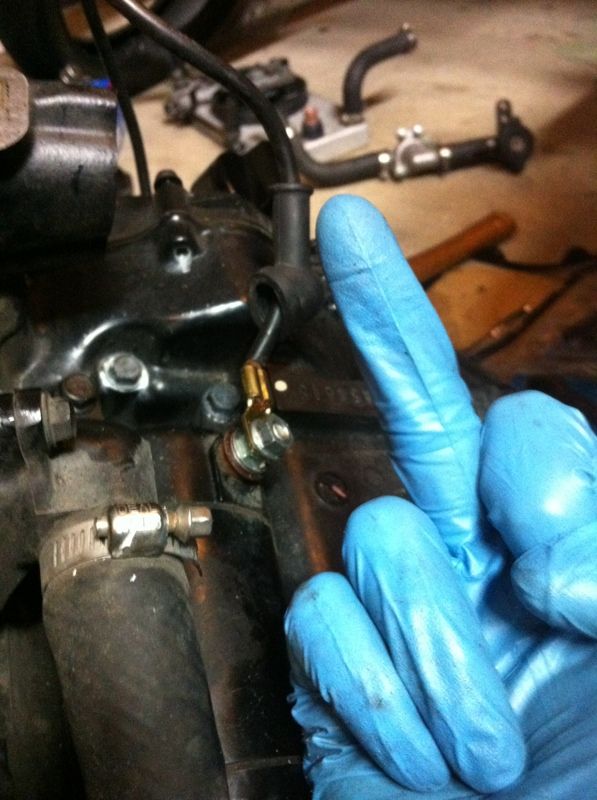 I ordered a new headgasket and base gasket from CheapCycleParts since RonAyers was giving me problems still and their site seems slow for some reason.
I may end up going with ditching the airbox altogether since it gave me hell the first time trying to tune the carbs and I KNOW I'm going to spend some time tuning the carbs again with this set-up. I'll just have to clean my filter more frequently.
Updated: 1-21-13
I finally removed the cylinder head to reveal what was hidden. Cylinder walls looked glazed over as they have a very mirror like sheen to them. Well, figured out that the cylinder block just pops off. Its just held together by those dowel pins. the 2nd ring on the one of the piston appeared to be stuck but playing with it loosed it up.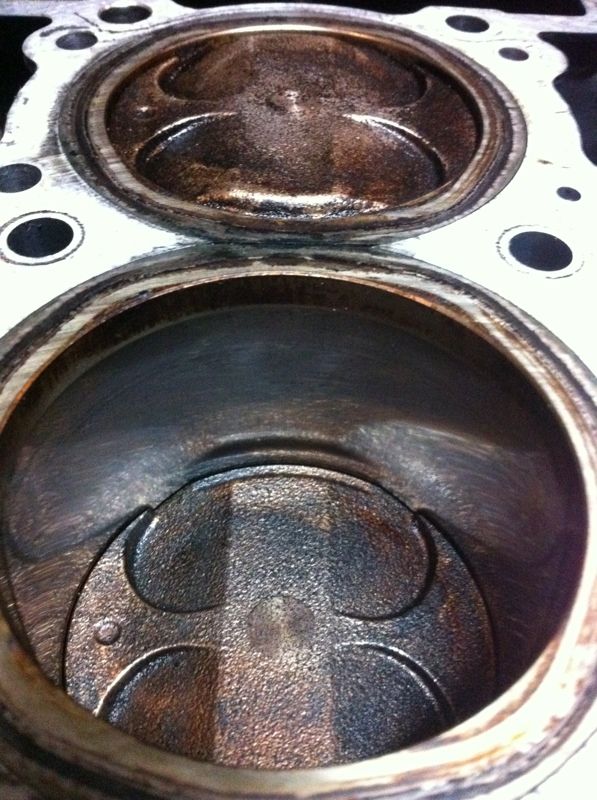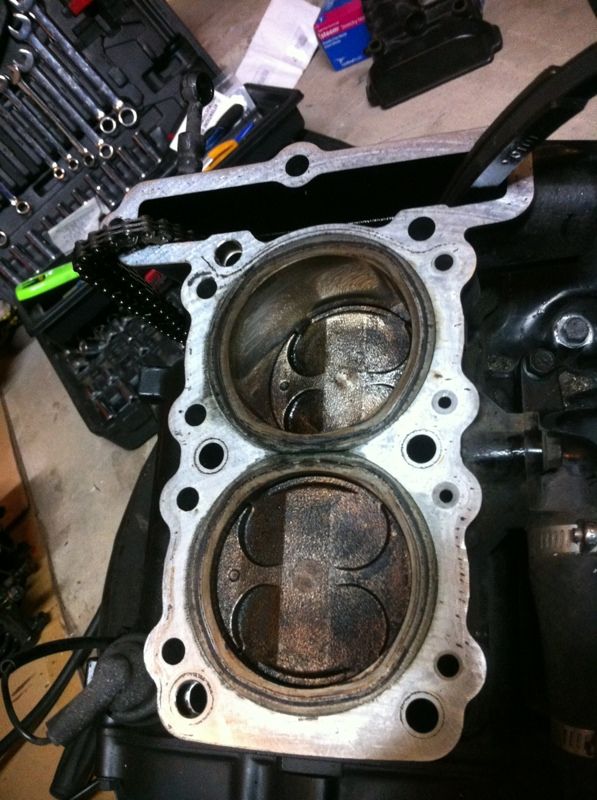 So Shiny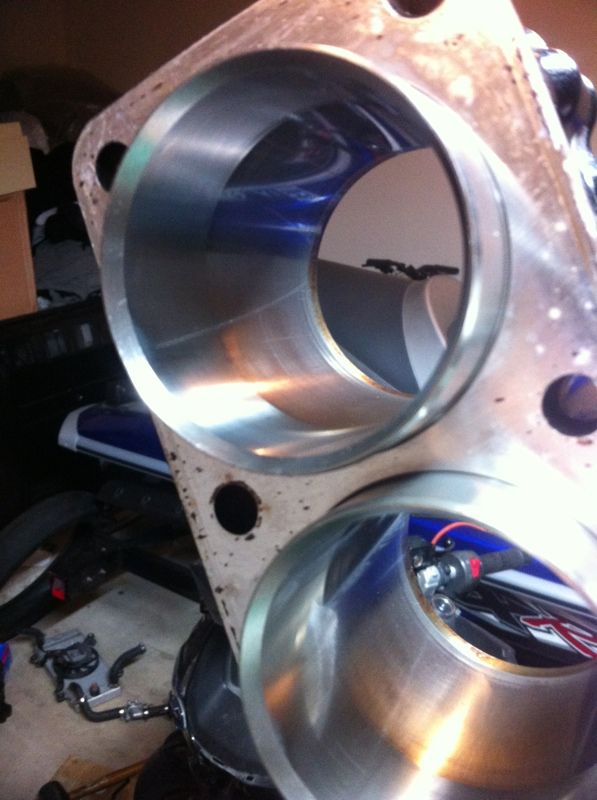 One side of the second ring appeared to be stuck. Notice the crud past the first ring. No bueno.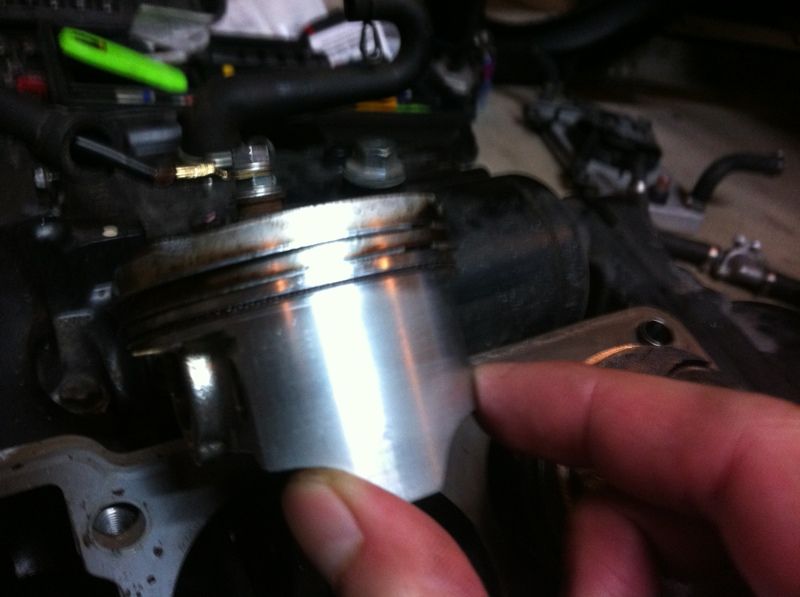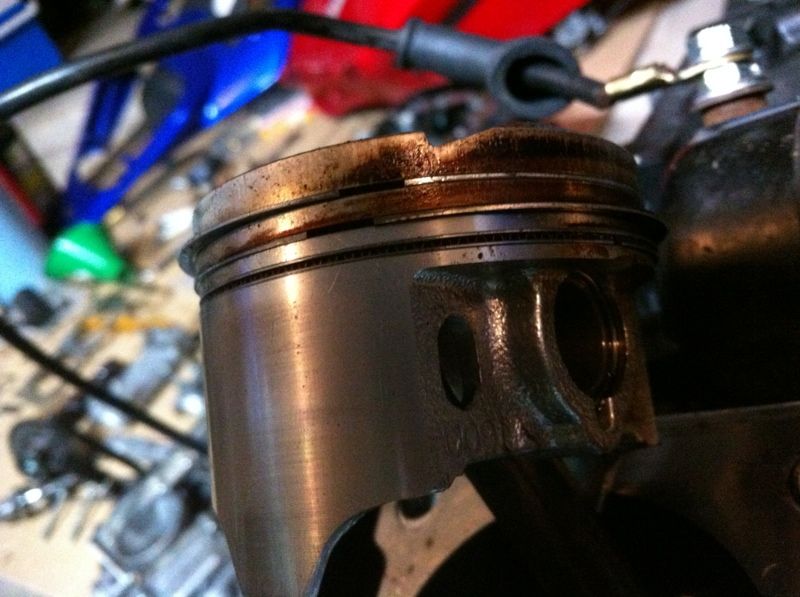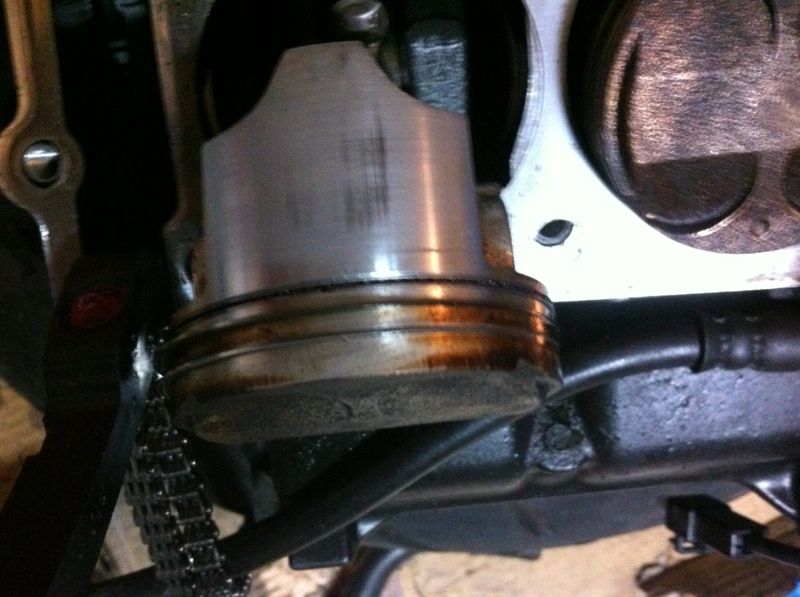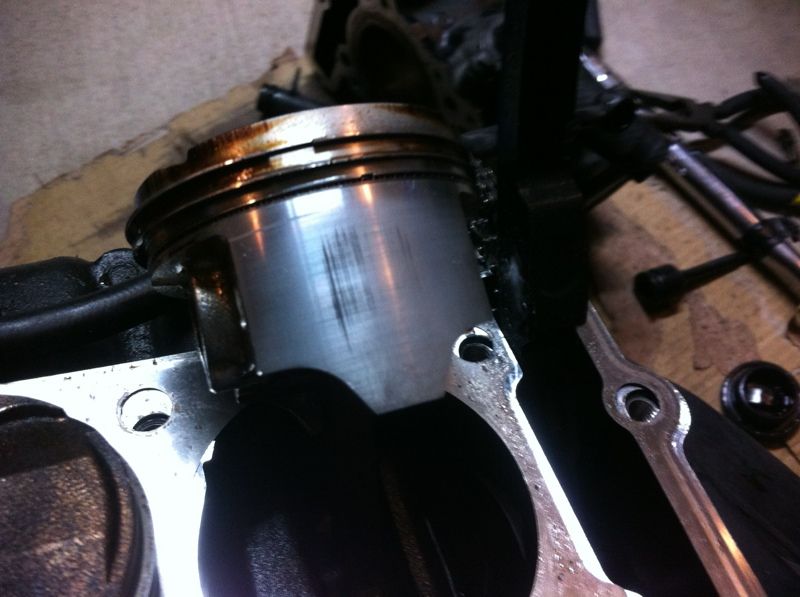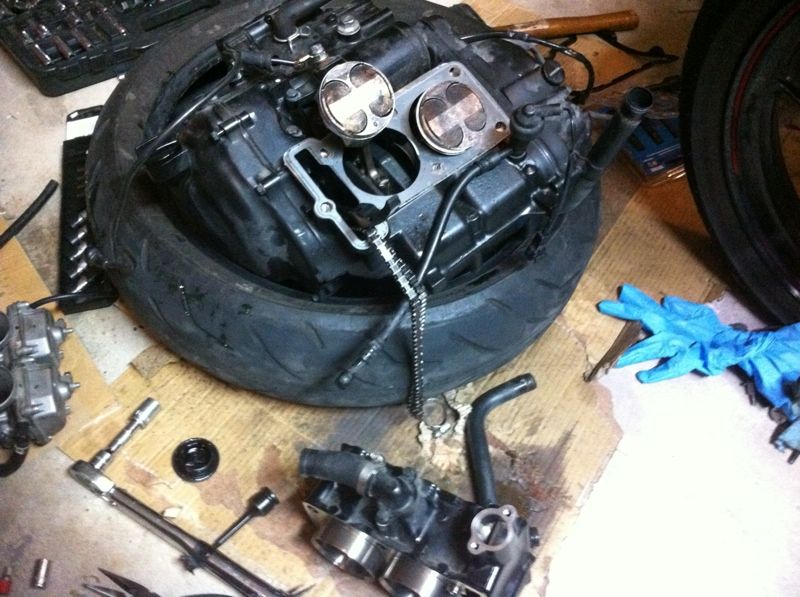 Update: 1-23-13
Everything arrived today: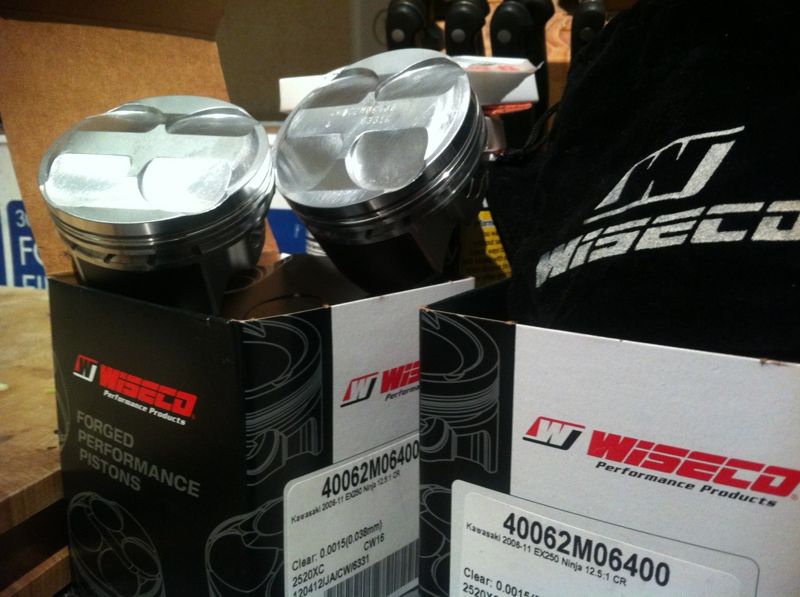 Just need to drop the cylinders off to get bored out.
I was thinking to myself(dangerous thing for me to do) and wondered that couldn't someone install pistons from the pregen and it'll bump up their compression for some slight gains?
Single Pod filter or Individual pod filters?
I wonder what jet's I'll need.
Comments
Posted January 18th, 2013 at 08:40 AM by

alex.s




Posted January 21st, 2013 at 06:08 PM by

cuz